Last Updated on May 29, 2023
Writing long articles provides certain advantages. The most notable one is that it allows you to exhaustively cover the essential aspects of a topic.

Sadly, not everyone who comes across long posts will have the time or patience to read through them. Many will simply skim through the content to get a general idea of the material or scan through it looking for specific facts. But while these two reading techniques may prove effective in certain scenarios, they might still cause your readers to miss the essence of your article. One way to address these challenges is to summarize the content.

Article summaries give your readers an overview of the main points covered in the post. They can then determine whether reading the entire piece is worth their time.

However, drafting informative content summaries can be agonizingly time-consuming if done manually. Even if you wrote the article yourself, you'll still need to give it an in-depth read to pick out the key points. Fortunately, there are certain artificial intelligence (AI) software that promise to condense your content fast, regardless of its length and complexity.

Most summary generators work online and can be accessed easily with a laptop or smartphone. Others come with applications that you can download and install on your device. The fact that these programs are powered by artificial intelligence speaks to their remarkable accuracy.

Let's look at the 12 best AI tools to help summarize long content.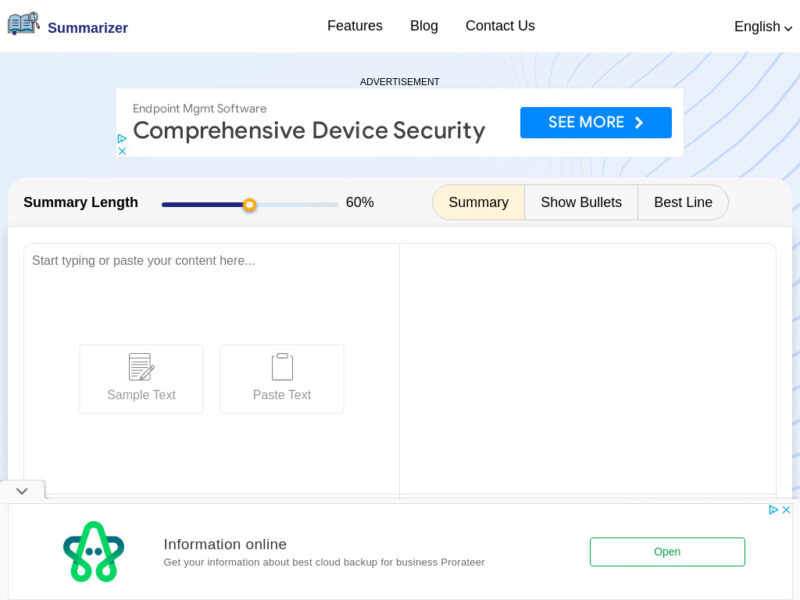 Pricing: Free

Summarizer is an online artificial intelligence algorithm that condenses your articles while preserving their key points. The tool is designed to summarize content with incredible speeds. It also maintains the original context, giving your readers an accurate preview of what the write-up is all about. You can get your summaries in various lengths and languages. You can also have the summaries in bullets or one lines.

Summarizer's efficiency has much to do with how it operates.
When you feed content into the program's dashboard, it first detects the best sentences from each paragraph. This allows it to understand the article's essence and context.
The tool then proceeds to give an overall score of each selected sentence based on other key parameters, such as length, accuracy, structure, quality, and optimization. That way, it can understand the importance of each line and how it relates contextually with the other sentences in the passage.
Finally, the algorithm summarizes the content based on insights gathered from each sentence and paragraph.

The text summarizer displays the word count before and after the summarization. This allows you to determine whether you need to trim down the summary further or flesh it a bit.

Summarizer also lets you generate summaries for different types of content. These range from essays and blog posts to sales copies, video snippets, and company descriptions, to mention but a few.

To use the tool, you'll need to type your text into the input box or upload a file. Next, verify the reCAPTCHA and then click on the "Summarize Now" button. Once your summary has been generated, you can click on the "Download" button to download it in .docx format or copy and paste it anywhere you like. Lastly, click on the "Clear" button to start a new session.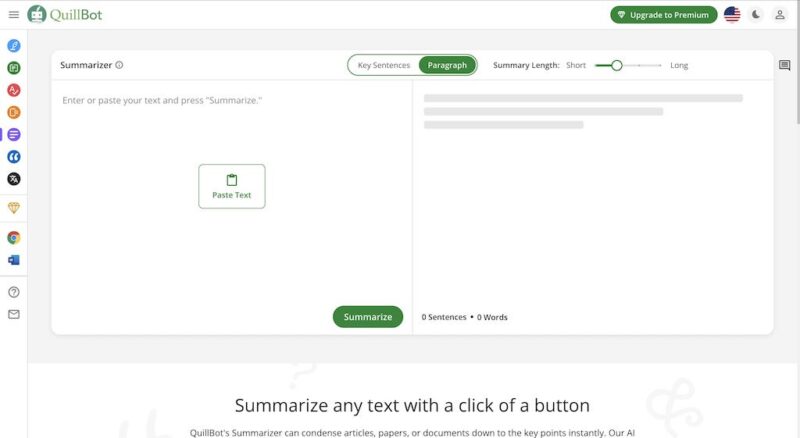 Pricing: Premium plans start from $4.17/month (if billed annually); a free version also available

QuillBot's Summarize is an AI-powered algorithm that summarizes articles and documents instantly without losing their original meaning. The algorithm uses Natural Language Processing (NLP) to find important details in a text and then condenses the passage based on this information.

There are two ways to summarize your passages using QuillBot's Summarize.
The first is by using the Key Sentences feature which lists the most important points in bullet points. You can determine the number of bullets to get from each summary by simply adjusting the summary length slider.
The next feature is the Paragraph Mode which displays the summary in a unique paragraph. This function also lets you control how long the paragraph is by using the summary length slider.

QuillBot will give you the word counts for both the original document and the summarized piece. The tool is a top recommendation for busy professionals who need to generate insightful reports or document summaries quickly. It comes with advanced editing features that can help you improve your writing quality. These include a spellchecker, a grammar checker, and a vocabulary builder.

There's a plagiarism checker too. So, you can rest assured that all generated summaries are original.

But unlike Summarizer that's 100% free, QuillBot's Summarize comes with both free and premium plans. The cheapest paid bundle begins from $4.17/month if billed annually. It goes without saying that the full extent of this program's features will depend on the package you subscribe to.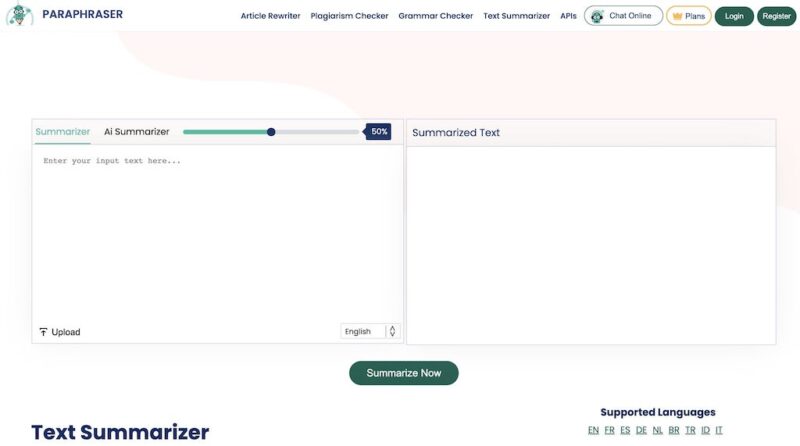 Pricing: Paid plans start from $7/week; a free limited-feature plan available

A quick peek into this text summarizer's pricing plans reveals that there are no free bundles. However, there's a free limited-feature basic plan that you can enjoy before opting into the premium packages, the most affordable of which starts from $7 per month. While that may sound costly for an article summarizer, there are numerous reasons to subscribe to Paraphraser's monthly subscription fees.

First, this tool summarizes your documents to your preferred length. It can condense any write-up, including articles, research papers, and books. The program relies on the concept of abstractive summarizer, which entails using the NLP technology to generate quick summaries while keeping the general idea intact.

Paraphraser is easy to use too. Simply insert the text into the text area or upload a file into the dashboard. Then, click on the "Summarize" button to generate a condensed copy. You can also play around with other features, such as selecting Show Bullets, Ranked Base, Best Line, and Summary Length.

Paraphraser supports eight different languages, including French, Spanish, Indonesian, German, and Turkish. The tool was developed for different clientele, such as students, journalists, article writers, and copywriters. It also provides instant results regardless of the word count.

You even get to choose from different rephrasing modes, including Fluency, Standard, Creative, and Smarter. The incorporation of a plagiarism checker ensures that all deliveries are 100% unique.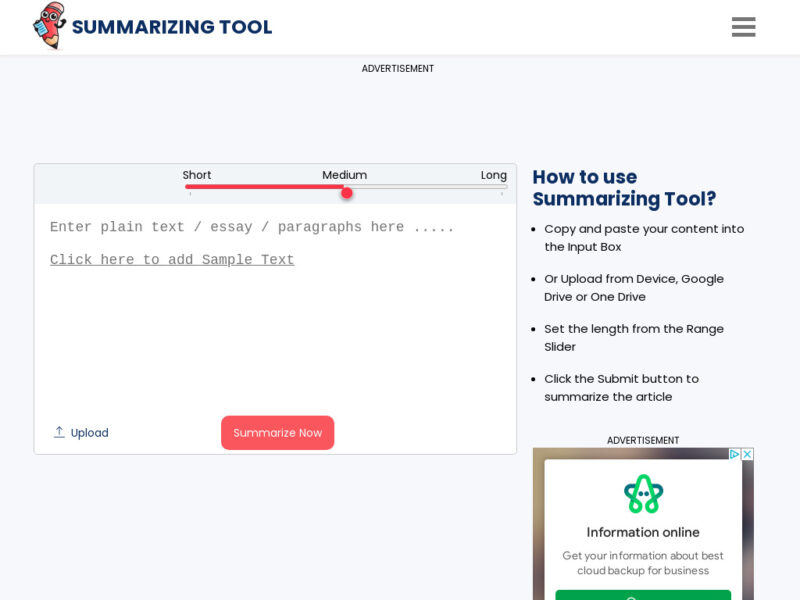 Pricing: Free

Summarizing Tool is a 100% free online platform that provides unlimited text summarization in eight different languages. The program uses advanced artificial intelligence technology to generate accurate and precise summaries without altering the meaning of the original article. It picks important notes from every input and combines them into a coherent summary.

This tool provides versatile results too. You can choose to have your summaries in bullet points, general paragraphs, or best lines.

Summarizing Tool makes light work of the often-tedious process of text condensation. The software abridges documents of any length within no time. It's one of the few article summarizers that come with both an Article Rewriter and Plagiarism Checker tool.

You can use the rewriter tool to paraphrase your content before or after condensing it, while keeping the main idea intact. The plagiarism checker stealthily trawls each sentence to ensure none of it is imported directly from the internet.

To use Summarizing Tool, copy-paste text into the Input Box or upload a file from your device's library, One Drive, or Google Drive. The program supports files in any format.
Next, you'll need to set the length from the Range Slider and then click on the Submit button to generate a summary.
The generated copy will appear in the output section. You can download it directly to your device or copy-paste it anywhere you like.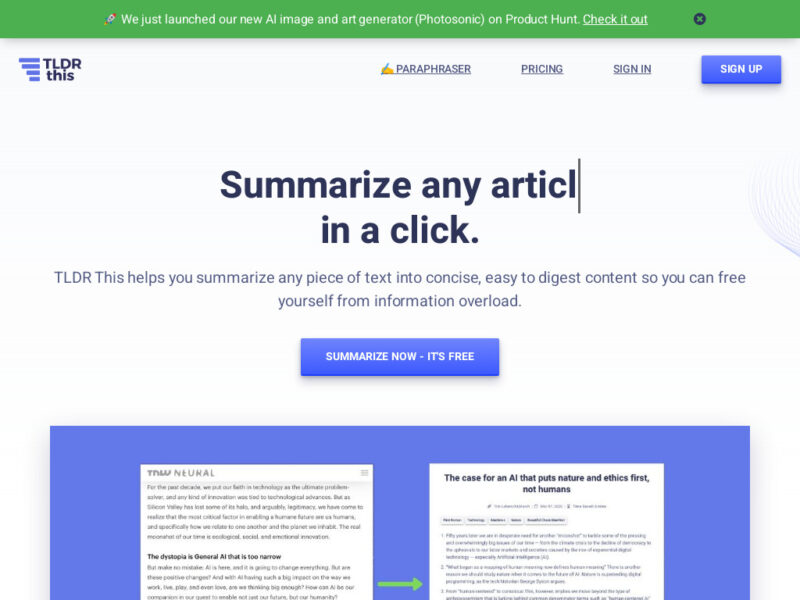 Pricing: Premium plans start from $4.00/month; a free version also available

TLDR This is a text summarizer designed with speed and efficiency in mind. The software's developers understand that you sometimes need to condense lengthy reports or papers into their essence without losing the gist. As such, they came up with an AI-driven program that lets you abridge write-ups instantly without breaking a sweat.

TLDR This quickly reads every input to extract the most important details out of it. The tool zeroes in on the most relevant points from the document while filtering out generalities, flowery language, weak arguments, and unfounded speculations. It then displays a concise output that only features the crux of the article.

There are tons of features that you can unlock to tweak your article summaries for the right audience. The most notable one is a Keyword Detection function which provides insights on the content's SEO-friendliness.

Many article summary generators are notorious for displaying intrusive ads that may slow down your sessions. However, it's assuring to know that TLDR This is distraction-free. The platform eliminates all manner of online distractions, including ads, pop-ups, and graphics. That can make a huge difference in terms of enhancing your mental focus while reading the text summaries.

As one of the most user-friendly article summary generators, TLDR This can benefit anyone who needs to have their content condensed. Its primary target clients include freelance writers, students, teachers, and journalists. You only need an internet-enabled device and stable Wi-Fi to access the program's webpage. The tool also functions as a browser extension for Google Chrome and Mozilla Firefox, which further speaks to its accessibility.
Pricing: Plans start from $7.99/month; a free version also available

The name of this tool suggests that it operates exclusively as a document paraphraser. However, the program is also widely known for its impressive article summarization capabilities.

Paraphrase Tool leverages the latest AI technology to effectively convert long-form texts into their shorter versions. The program doesn't lose the meaning or context of the original document. Every output captures the gist of the original article and your readers will immediately have a general idea of the write-up without needing to skim or scan through it. The tool also restructures and simplifies complex sentences, making it comprehensible for readers of different literacy levels.

As with any reliable online article summarizer, Paraphrase Tool implements an intuitive dashboard. You don't need to sign up for an account to use the program. Simply type or copy-paste a text into the input field, or upload a file straight from your device. You can also try a sample text for a sneak preview of how the tool works before trying it out using your own articles.

Paraphrase Tool is available in over 50 languages. The free plan supports text summarization in up to 3,000 characters.

However, note that Paraphrase Tool's free package only supports article summarization. You'll need to subscribe to the premium bundles if you wish to unlock the application's most outstanding feature – text paraphrasing.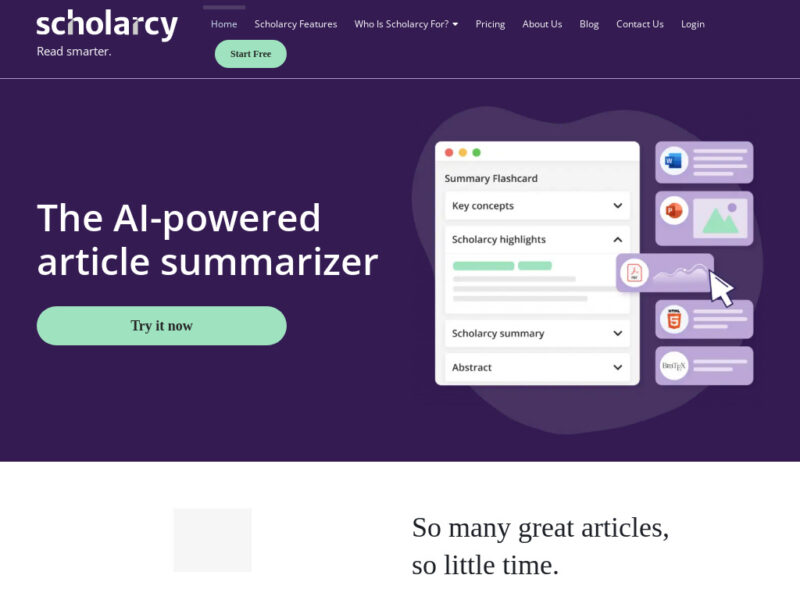 Pricing: Premium plans start from $9.99/month; a free trial version available

If you're looking for the best online article summarizer for scholars and academicians, then Scholarcy is the perfect tool for you. But as you shall find, this application can suit pretty much anyone who needs to have their documents trimmed. That includes marketing managers trying to generate condensed sales copies, freelance writers looking to shorten their lengthy articles, etc.

Scholarcy carefully reads every input you feed into it. It then quickly breaks down the document into bite-sized sections, assigning each section key information from the original text. Some of the insights you can get using this tool include the main findings of a study, study participants, limitations of the study, and data analyses.

According to Scholarcy's developer, the tool can reduce the time taken to manually appraise a study by over 70%. The software creates your summaries in Word Doc or PDF formats. It also lets you auto-generate links to open-access versions of cited sources, which you can configure to extract the figures, tables, and images in the summarized text.

Scholarcy has also proven effective at synthesizing research papers or articles with lots of text density into easily comprehensible copies.

The tool comes with a browser extension for Google Chrome and Microsoft Edge. Its Chrome and Edge plugin integrates seamlessly with numerous open-access repositories like OSF Preprints, arXiv, and biorXiv, as well as its own Scholarcy Library.
Pricing: Premium plans start from €9.90/month; a free version also available

Resoomer provides an effortless way to generate document summaries. Like Scholarcy, this platform is especially popular with academic content creators.

Resoomer receives your text input and then trawls it to pick out the main points. It achieves that by gathering key ideas and phrases from the original document. Once grouped together, the software can quickly identify the most critical points in these phrases and construct a relationship between them. It then condenses the phrases by removing unnecessary words.

But Resoomer doesn't just abridge your documents. The platform's web page is also designed to boost your understanding of academic papers by distilling complex ideas into concise summaries. These capabilities can be especially useful for budding writers.

Resoomer is also easy to use.
Simply copy-paste text or upload documents into the provided fields and then hit the red "Resoomer" button to get the tool to work. Remember to select your preferred language from the 10+ options available.
Once generated, you can export the work in PDF or Word Doc files. There's also the option of paraphrasing the abridged versions of your article further to make them completely unique.

The best part is that Resoomer is 100% free as long as you use it for text summarization. The service also comes with premium plans if you'd like to unlock additional features.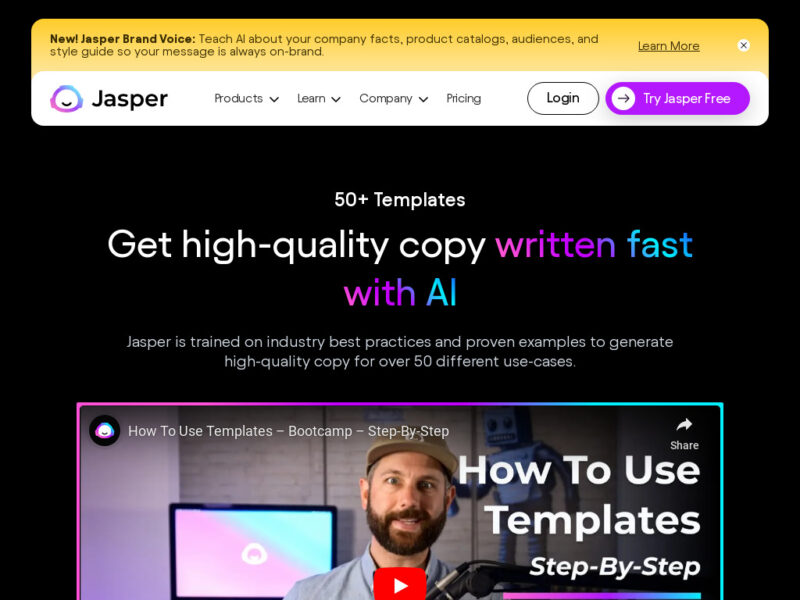 Pricing: Plans start from $39/month

You probably already know Jasper as an AI writing assistant that's capable of generating different types of content, including blog posts, marketing copies, and product descriptions. The tool can create content from scratch or come up with the next couple of lines depending on how you prompt it. However, Jasper AI has also been making waves in the recent past for its article abridging capabilities.

Jasper can be your dependable ally when you need to transform longer write-ups into their condensed versions fast. The tool identifies critical themes in a text and then uses these ideas to generate a concise summary of the entire document. You can generate summaries in split seconds regardless of your original article's character length.

Jasper is capable of whipping article summaries in your preferred lengths too. Simply activate the "commands" feature within a boss mode template to define how long you'd wish the summaries to be.

You'll realize that Jasper is considerably more expensive than most online article summarizers. But that's because each premium bundle comes with a slew of nifty features besides article summarization. These include a paragraph generator, content improver, sentence expander, company bio, etc.

To use Jasper for article summarization, head to the "templates" section and then click "text summarizer" at the bottom of the page. Add your document to the text box and then define the number of outputs required. Note, however, that you'll need an account to use any of Jasper's services.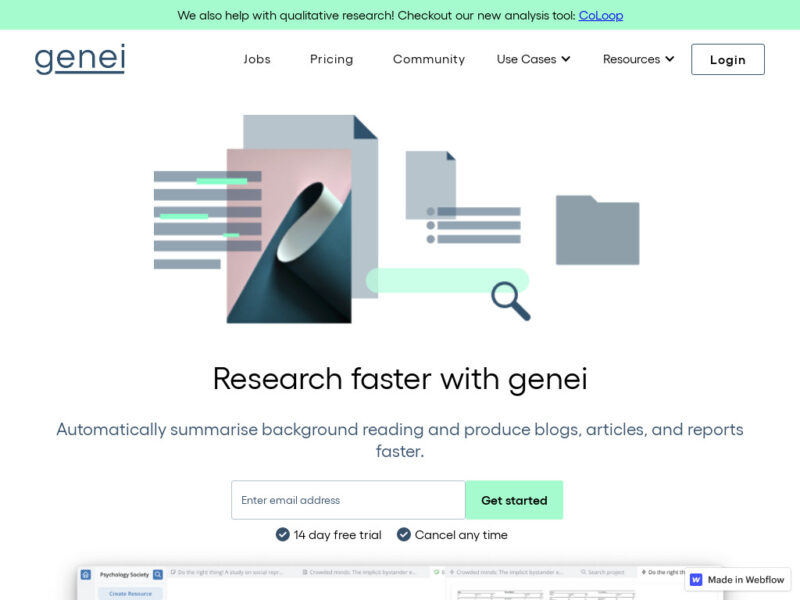 Pricing: Plans start from £9.99/month

Genei may be a less preferable option if you're looking for an affordable article summarizer. The tool has no free plans and the cheapest premium bundle costs £9.99 (about USD 12.42) per month. That's despite the fact that, unlike Jasper, this software works primarily as a document shortener. However, the program comes with plenty of redeeming features that make it a go-to article summarizer.

First, Genei promises to summarize your documents incredibly fast. The tool quickly reads through articles to extract the main points and then uses the key ideas to generate an abridged version of the document. Summaries include figures, graph, and table extraction.

Genei has also earned the trust of various renowned organizations, including Berkeley University, Harvard University, Stanford University, and Oxford University. Students from these institutions continue to heap praises on the software for its superfast speed and intuitive dashboard.

And while Genei doesn't have free plans, it's great to know that all premium packages include a 14-day free trial. Sign up for an account and test-drive the software for two weeks before committing fully to it.

Each premium plan lets you upload an unlimited number of projects. You also get access to cloud-based notes & annotations and Genei's knowledge base. Other noteworthy features include email & chatbot support, multiple export functionalities, and priority server access.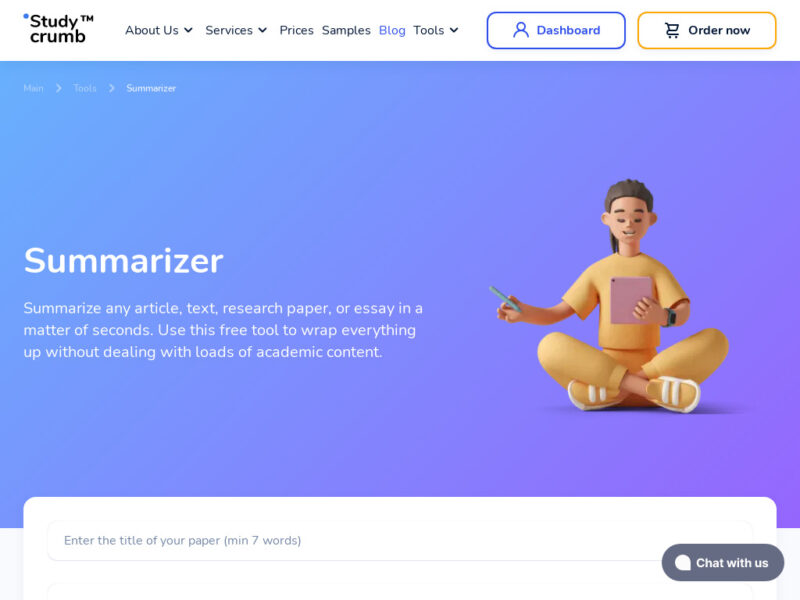 Pricing: Customized for other services; free for article summarization

Specialization is one of Study Crumb's key defining features. This tool was developed specifically for students who need help writing academic content. That means it functions primarily as a writing assistant.

However, Study Crumb also maintains one of the most efficient document shortener tools, simply known as Summarizer. Using this function, you can reduce any article, paper or essay into its condensed versions in a matter of seconds.

Study Crumb levies customized fees on most of its other services. Fortunately, the Summarizer tool is 100% free to use.

To use Summarize, you'll need to head to this website (https://studycrumb.com/summarizer/) and then enter the title of your paper. The title should be a minimum of seven words.
Next, feed the text of the paper you wish to abridge into the section below and hit Summarize.
Within a few minutes, Study Crumb's Summarize will display an abridged version of your paper in a detailed report. The report highlights the summary ratio as well as the original character length vis-à-vis the summary length.

If you're satisfied with the results, click "Summarize another text" to clear the summary and start a new session. If you need to shorten the output even further, you can simply copy it and paste it into the new session. And needless to mention, the summaries will be 100% unique each time.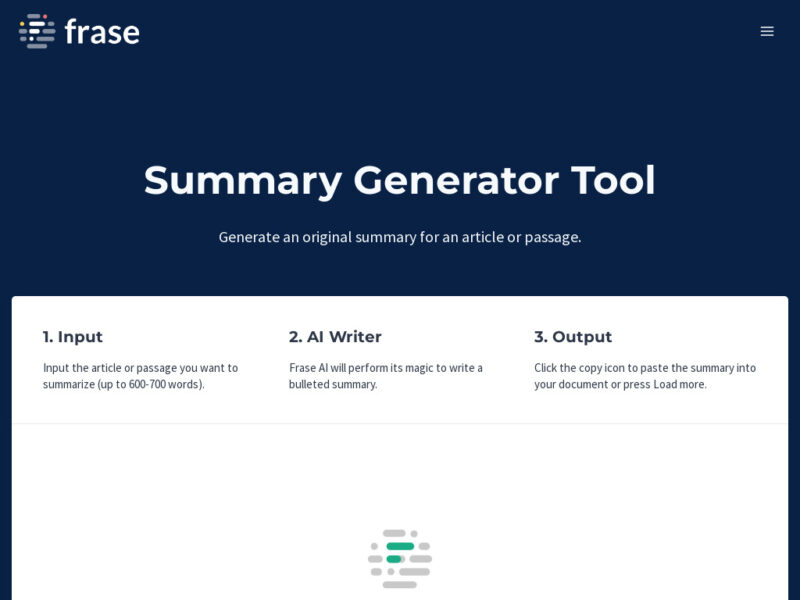 Pricing: Plans start from $14.99/month for other services; free for article summarization

Frase.io's Summary Generator is an AI-driven article shortener that quickly analyzes your content for key points and then generates a bulleted summary. The tool is a perfect fit for writers who need to have long-form write-ups condensed into their essence.

Summary Generator boasts a user-friendly interface too. The intuitive dashboard makes the article summarization procedure faster and more effective.

The tool works pretty much like most article shorteners on this list.
You begin by typing or copy-pasting content into the provided field, or uploading a document from your device or the cloud. The software supports input of up to 700 words.
After receiving your article, Summary Generator will quickly read the content to get an overview before distilling it into a bulleted summary. You can click on the Copy icon to paste the generated summary into your document or hit Load for more.

Article summaries generated using Frase.io may require minimal editing to fine-tune them to your needs. However, it's great to know that the tool produces accurate summaries that are free from spelling mistakes, grammatical errors, and plagiarism. So, any additional editing will only focus on improving aspects like style or tone.

Frase.io also comes with several features like custom questions and key insights, making it easy to hone in on the information you're looking for.
Summary
These article summarizers can come in handy when you need to distill long documents into their bare essentials. The tools can significantly reduce the time you'd otherwise take manually trimming down content. Besides, most of them are either 100% free or come with generous trial periods.