Last Updated on May 31, 2023
The continued adoption of artificial intelligence (AI) has brought into focus the technology's limitless possibilities. AI is no longer viewed primarily as a futuristic concept. The technology is pretty much here with us and affecting our daily lives in various ways.
Generative AI is undoubtedly one of the most intriguing aspects of artificial intelligence. The concept basically entails using AI to create different types of media content, including articles, song lyrics, images, audio, videos, GIFs, and three-dimensional (3D) models.
3D AI generation is still in its nascent stages. However, it's already proving to be the most innovative aspect of generative AI.
Using AI 3D generators, product designers and marketers can create interactive three-dimensional models from simple text commands. Some of these tools also let you prompt them with image or video inputs.
A quick online search will turn up several AI text-to-3D converters that promise to help you kick-start your 3D generation career. However, choosing the best tools may prove a bit challenging, especially if you're interacting with these apps for the first time.
We've taken the liberty of reviewing the 15 best AI text-to-3D generators to help you narrow down your search. Go through this list and hopefully, you'll find the right tool for your 3D creation needs.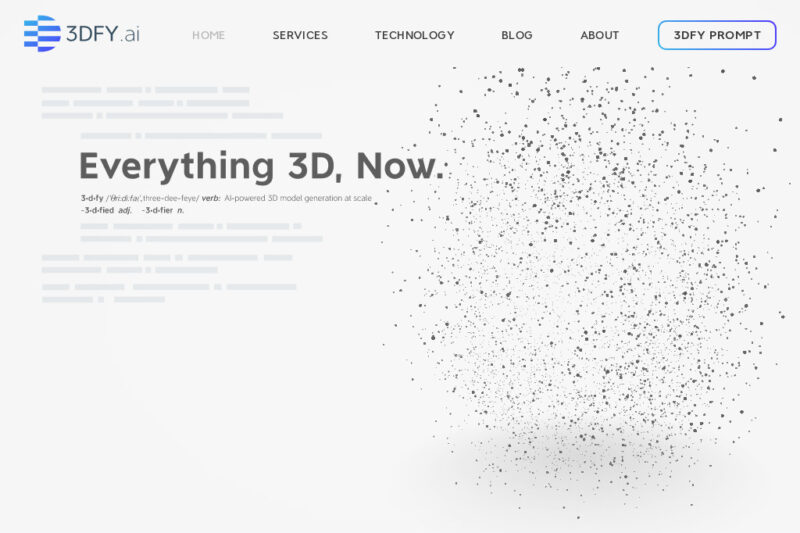 Pricing: Undisclosed
3DFY.ai is a cutting-edge framework that utilizes the power of artificial intelligence to solve the two-dimensional (2D) and 3D problem in different types of domain. The tool uses the most advanced form of generative artificial intelligence to create high-quality 3D models from simple text commands within split seconds.
With 3DFY.ai, companies no longer need to worry about purchasing expensive and time-consuming scanners or hiring human personnel to aid with 3D creation. For startups, that can translate into thousands in monthly savings.
The tool's time-saving feature is also a huge blessing to small businesses. The time you'd have spent trying to create 3D models manually can now be invested in other equally important aspects of your company.
3DFY.ai works primarily as an online service. That makes it highly accessible. You don't need to download the tool into your PC or mobile phone to enjoy its impeccable text-to-3D generation services.
It's also great to know that you can prompt 3DFY.ai using images in addition to text. That's an added bonus considering that many 3D models nowadays are actually synthesized from images and photos. Simply type your text or upload an image to the provided field and let the tool do the rest.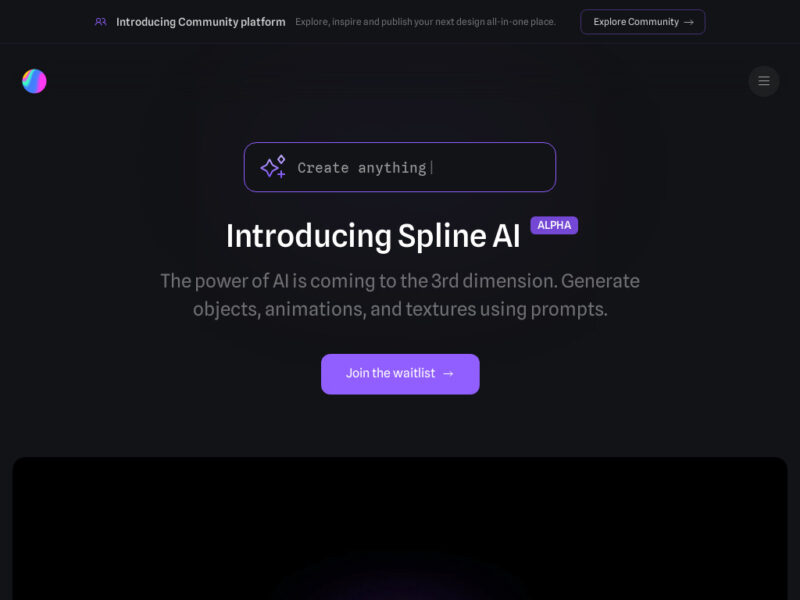 Pricing: Paid plans start from $7/month; a free version also available
Spline AI is a revolutionary program that converts texts to realistic three-dimensional images incredibly fast. Many of the tool's users describe it as the most efficient text-to-3D converter ever designed.
Prompting Spline AI is as simple as feeding it your text-based commands. The idea is to keep the sentences long enough to be comprehensible and short enough to produce precise models. For instance, a prompt like "a warrior riding a white horse" would be more elaborate and specific than simply saying "a warrior on a horse."
Once it receives the commands, Spline AI will quickly convert them into 3D objects that meet the precise descriptions. There's also the option of generating lifelike animations out of your prompts. This feature can be particularly beneficial to budding filmmakers trying their hands at animation movies. The program is also trained to generate seamless textures and landscapes.
The best part about Spline AI is that it can even generate images that do not exist in the natural world. Just describe the mythical creature or fantasy object and allow the tool to quickly whip a 3D model out of it.
The incorporation of collaborative features makes Spline AI one of the best 3D generators for large teams working on a project. You can access the tool from any device and implement the many editing features in real-time to fine-tune the generated models to your liking.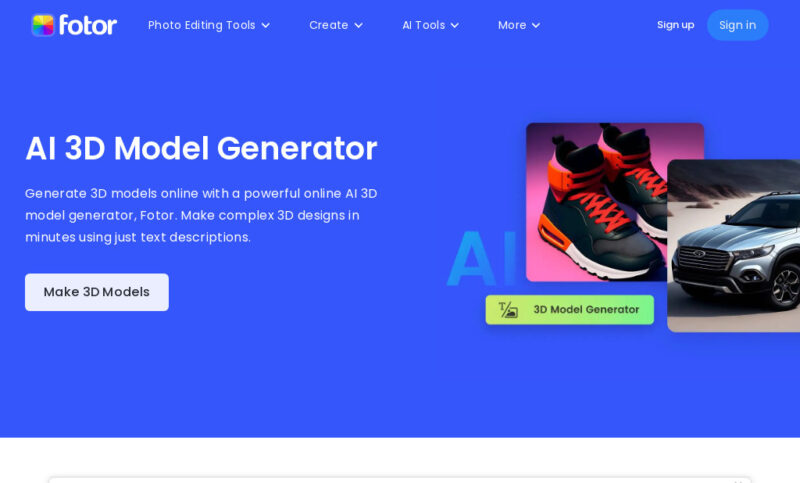 Pricing: Credits-based: a free trial available
Fotor is an online stock image database that needs little introduction. The website has been pre-trained on millions of popular images that you can seamlessly convert to 3D. But it's its text-to-3D converter tool that's truly outstanding.
By simply inputting short sentences in the text bubble, Fotor will quickly output 3D images that aptly fit those descriptions. In the interest of creating relevant models, the software lets you narrow down your descriptions by specifying details like type, field, and style.
Game developers can create unique and detailed game characters with Fotor's online 3D generator. The tool is particularly suitable for developers who need to churn out a huge amount of game characters quickly. It also maintains randomly generated mockups of 3D pre-designed models to give inexperienced developers more design ideas. These mockups come complete with key phrases.
Besides game developers, Fotor can also be an invaluable asset for product designers. The 3D maker can create fantastic prototypes and help expedite the often-tedious product design process. The tool is able to generate all manner of prototypes, including those of furniture, appliances, and automobiles.
Architects may also benefit immensely from Fotor's 3D maker to create insightful house plans.
Pricing: Free
Luma AI's developers understand how difficult it can be to create high-quality 3D models from inconclusive text and image commands. To address this problem, they trained their 3D generator with category-specific datasets.
In other words, Luma AI will create relevant 3D models even if your descriptions aren't so comprehensive. The tool is intelligent enough to figure out what you might have wanted to generate based on your inconclusive commands. It will then fill in the missing info and produce an image that's very similar to your original intention.
User-friendliness is another area where Luma AI outsmarts many other 3D makers. The tool lets you capture images, landscapes, or products using your iPhone and then quickly convert them into their 3D versions. It can be a useful asset for travel photographers, vloggers, and on-the-go product designers.
And the best part is that you don't need to capture very clean photos. The app only needs a faint idea of the image to produce detailed 3D models. Just remember to use iPhone 11 or newer.
The cherry on the cake is that Luma AI also supports 3D generation from a live video feed. It doesn't get better than that.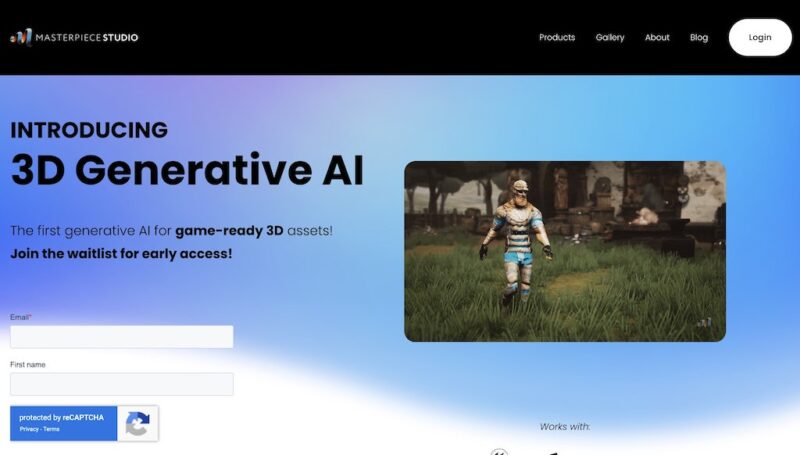 Pricing: Premium costs undisclosed; a free trial available
Masterpiece Studio is a revolutionary three-dimensional creative suite designed to take the hassles out of 3D generation. The software was developed by the same creative minds credited with reimagining 3D creation, which says a lot about its efficiency as a 3D maker. It comes with a powerful 3D generative tool that can whip lifelike 3D models from text, image, or video commands.
As a text-to-3D maker, Masterpiece Studio relies primarily on advanced Natural Language Processing (NLP) technology to convert each description to a model, despite the length. It can create 3D images from simple words like "bear" or more elaborate sentences like "polar bear fishing in winter."
Masterpiece Studio is also designed to be user-friendly. Simply generate the models you're looking for, edit the output, and use or share it with your collaborators.
The tool lets you generate both 3D models and animations. Whichever output you choose to create, it's great to know that Masterpiece Studio will render it in a matter of seconds.
Game developers can use this 3D maker to churn out game characters while product designers can also leverage the software to craft prototypes.
Pricing: Free
Despite its name sounding similar to the infamous word "Ponzi," you can rest assured that this 3D generator won't try to rip you off. In fact, the software is 100% free to use, which means you have nothing to lose even if you only test-drive it.
The goal of Ponzu is to help 3D asset designers and developers generate realistic, high-quality textures from text prompts. The tool targets three primary clients, namely:
• 3D asset designers looking to generate high-quality textures in diverse styles
• 3D developers seeking to improve their models with realistic textures
• Design studios looking for fast and efficient texture generation
This text-to-3D generator implements a robust editing function that you can unlock to align the output further to your needs. You also get numerous artistic styles to create more personalized models.
Ponzu's customization abilities extend to its lighting control features. The program lets you customize both ambient and directional lighting to produce precise textures.
Ponzu also stands out for its unmatched speed and simplicity. The 3D maker implements an intuitive dashboard that anyone can quickly navigate without needing prior artificial intelligence or programming knowledge. And once prompted, it only takes a few seconds to generate photorealistic models.
Pricing: Paid plans start from $20/month; a free version also available
Right off the bat, it's important to point out that Simplified AI isn't exclusively a text-to-3D generator. The tool provides a complete suite of generative art features, including the ability to create original articles, rewrite content, and generate images. That explains why its premium plans start from as high as $20 per month.
Simplified's text-to-3D generator converts texts into high-quality 3D models at an unprecedented rate. The tool dramatically reduces the time, money, and effort human personnel would take to create the same 3D models. And while the cheapest premium bundle goes for $20 per month, there's a free version that you can try before upgrading to the paid plans.
To use Simplified, simply visit its online page and write a prompt about the 3D models you'd like to create. The software occasionally features a list of commonly requested prompts to get you started.
After feeding in your commands, select options from the dropdown menu based on the Type of Server, Style, Shot, and Filter. This makes your prompts more specific, allowing the tool to create accurate models out of them.
Lastly, click Generate and watch the magic unfold right before your eyes. You can use the images as they are or generate additional models from them.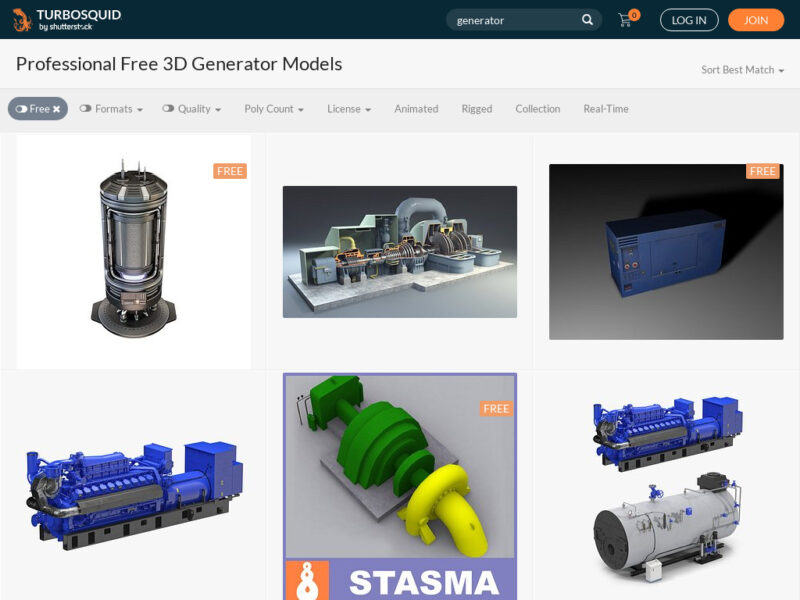 Pricing: Free
Many developers who produce 3D models at a large scale have certainly used TurboSquid at some point.
This 3D maker utilizes groundbreaking generative AI technology to create tailored 3D models from any command you feed into it. The program can create models in any category, and the output quality is fantastic.
TurboSquid dedicates itself to granting anyone access to the same high-quality 3D assets that were previously exclusive to skilled modelers and developers. The company's goal of mainstreaming the creation of three-dimensional models has made it a darling of both new and seasoned developers. The service is 100% free and readily accessible online.
TurboSquid recently announced the introduction of a breakthrough 3D model standardization known as StemCell. The new technology will allow 3D artists to create models from scratch, upload it to TurboSquid's servers, and then receive their files back in multiple formats.
StemCell's introduction was born out of TurboSquid's quest to democratize access to 3D models. The technology will have 3D customers feel as if they're using a native file despite the app they're working on.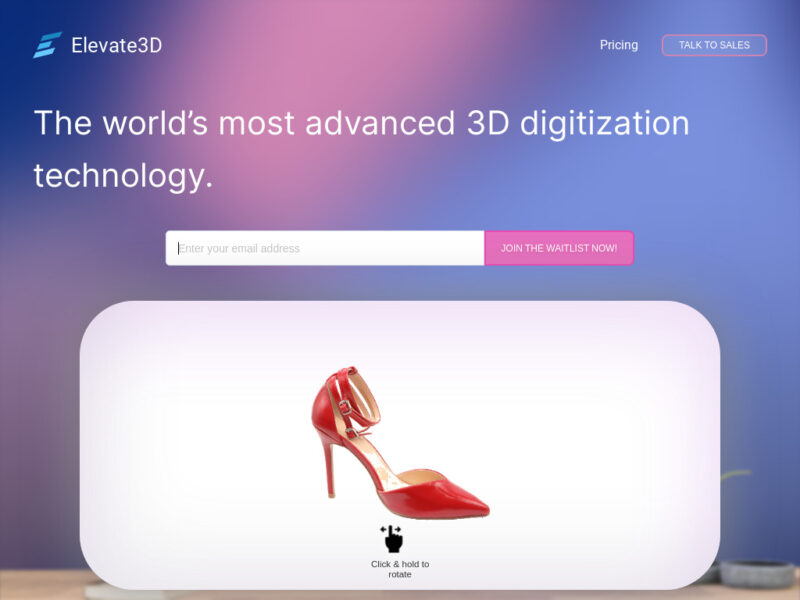 Pricing: Undisclosed
Elevate 3D bills itself as "the world's most advanced 3D digitization technology," and it's easy to see why that description aptly fits the company.
First, Elevate holds the prestigious title of being the first commercial service to automate the process of creating photorealistic 3D visualizations of products from 360-degree recordings. The software uses cutting-edge technology to render the most detailed 3D models you'll hardly find elsewhere. And while that process may sound long and intricate, it's anything but.
The tool lets you record 360-degree videos using your usual product photography setup. You don't need to make any special adjustments to your camera. So, pretty much anyone can use this 3D generation program.
Elevate's 3D maker also integrates with numerous e-commerce applications like Salesforce, Shopify, and WooCommerce for higher customer engagement. You can easily sync the software with your e-commerce platform to improve how your clients and prospects interact with your products.
According to the software's developers, Elevate 3D can ramp up sales by up to 40%. That's because the app's 3D renderings will have your customers feel like they're interacting with your products at a physical store.
Pricing: Undisclosed
Lumirithmic is another company that's pushing the limits of 3D rendering to make your products and characters stand out. Although the software developer is relatively new, its founders possess impressive resumes in generative AI and artificial intelligence in general.
One of Lumirithmic's founders is credited for creating the lightstage image-control system, which would later receive the Academy Award for LightStage. However, it's the company's recent 3D generator that truly positioned it as a trendsetter in AI adoption.
This software works primarily as a 3D facial scanner. It provides product designers, game developers, and moviemakers with affordable access to the once-expensive facial capture technology.
The fact that the program readily works on your PC or smartphone also eliminates the need for bulky cameras and lighting accessories. Besides, it saves the time you'd otherwise need to set up these equipment to produce high-quality 3D models.
And while Lumirithmic is more of an image-to-3D converter, it's an excellent tool for those who want to create realistic facial doubles. You can use it to generate movie-grade avatars in a remarkably short time.
Pricing: Credits-based; a free trial available
Meshcapade lets you leverage the power of automation to reduce the need for human 3D modelers. You can use the tool to produce unlimited 3D assets at superfast speeds. The application provides unhindered access to an online repository of customized 3D assets that you can quickly incorporate into your new game, animation, or product description.
Like all 3D makers on this list, Meshcapade works with textual commands. Simply enter a text in the provided field and then let the program take it from there.
The Meshcapade platform was created mainly to allow developers to escape into a world of limitless 3D possibilities. The website helps streamline the process of generating realistic 3D avatars. Businesses can easily create product prototypes without having to incur additional expenses purchasing the same.
The app lets you generate different kinds of models too, from random fantasy-themed characters to accurate doubles. All creations take into account lifelike aspects like shape, size, and motion.
Meshcapade supports prompts from multiple input systems. You can command it from your 3D scanner, laptop, or smartphone. Moreover, the platform fully integrates with game engines and graphics software.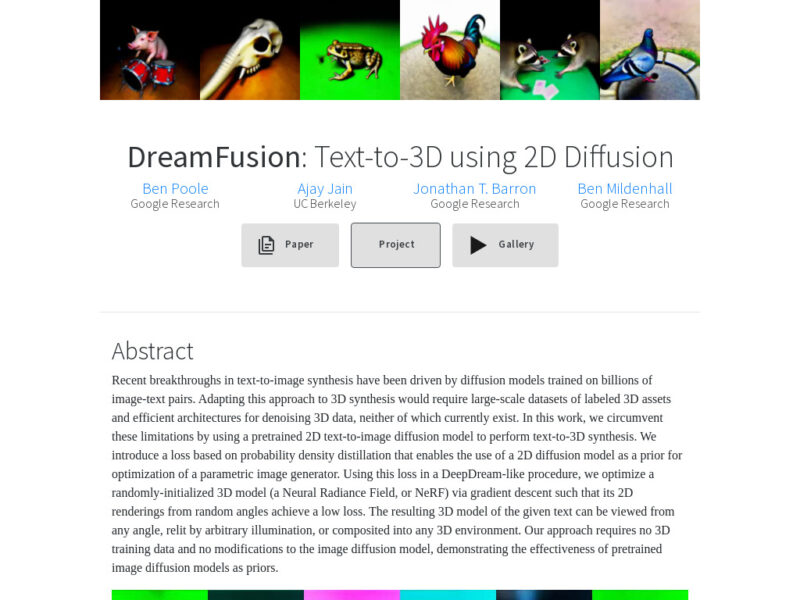 Pricing: Free
Google's DreamFusion has deservedly earned a spot among the best text-to-3D converters in the market.
The software borrows much of its 3D generative capabilities from its powerful diffusion models that have been trained on billions of text-image pairs. It adapts text-image synthesis to output accurate 3D images regardless of the length and complexity of the text prompts.
DreamFusion's text-to-image generative model is known as Imagen. When prompted, the tool activates this model to create and optimize a 3D scene. This ensures the input commands come back in three dimensions and not simple images.
DreamFusion also introduced a loss function called Score Distillation Sampling (SDS) that's based on probability density distillation. Using this function, users can activate a 2D diffusion model, which would then create a perfect environment for generating 3D models.
SDS allows DreamFusion users to optimize randomly-initialized samples in an arbitrary parameter space, including a 3D space. The program utilizes a 3D scene parameterization similar to Neural Radiance Fields (NeRFs) to identify differentiable mapping to enhance the model's scene and geometry.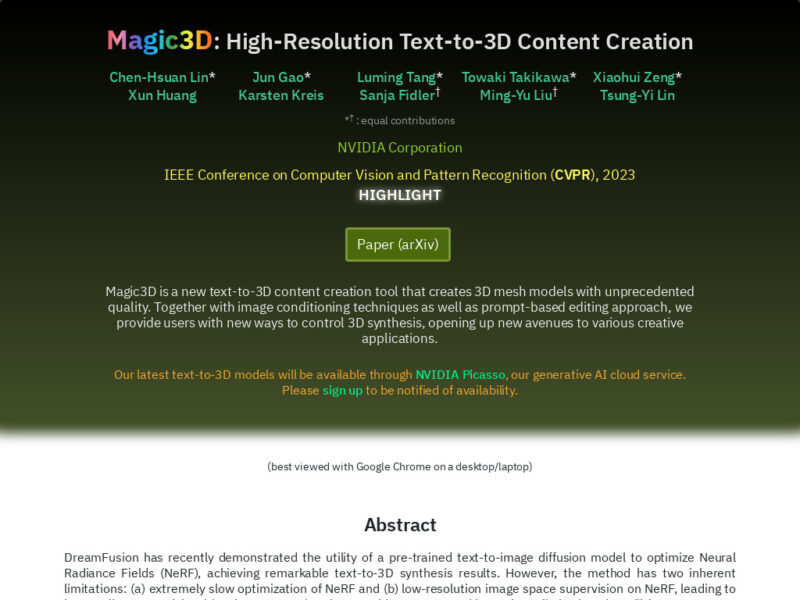 Pricing: Free
We've just highlighted how DreamFusion utilizes a pre-trained text-to-image diffusion model in optimizing Neural Radiance Fields to achieve impressive text-to-3D renderings. While this method is incredibly effective, it has two glaring drawbacks.
First, it results in slow NeRF optimization. And secondly, there's low-resolution image space supervision. That means you may take a considerably long duration to generate less-than-perfect models. If you consider these limitations way too inconveniencing, then you might want to try Magic 3D by Nvidia.
Magic 3D is a groundbreaking text-to-3D generation program that creates three-dimensional mesh models with superfast speed and top-notch quality. The tool uses a combination of image conditioning techniques and a prompt-based editing approach to provide its users with innovative ways to play around with their 3D renderings.
Magic 3D's developer – Nvidia – claims that the new technology can create high-quality 3D mesh models in about 40 minutes while also achieving higher resolution. That's more than two times faster than DreamFusion, which reportedly takes 1 ½ hours.
Magic 3D's latest text-to-3D models are currently available through NVIDIA Picasso – the company's generative AI cloud service. Needless to mention, signing up for an account gives you access to NVIDIA's huge library of AI media.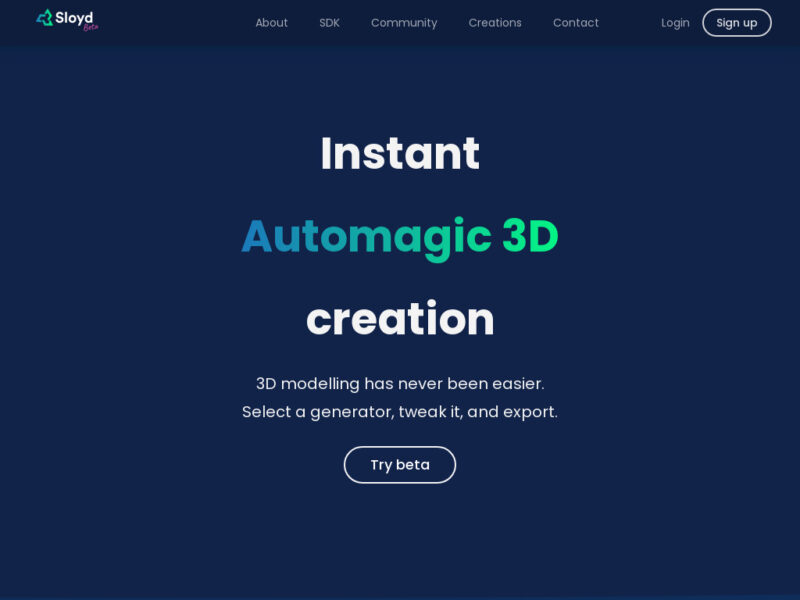 Pricing: Free
Many software programs promise a hassle-free 3D modeling experience but terribly fail to meet user expectations. However, Sloyd AI is a noteworthy exception.
First, this tool fulfills the need for quick and easy 3D synthesis. The process is as simple as inputting your commands and generating 3D models from them. You can export the creations immediately or tweak them further to suit your brand's needs.
Sloyd AI is capable of synthesizing a wide spectrum of lifelike models. Whether you need to generate a rendering of common scenarios or an out-of-this-world image, you can trust the program to kick in and deliver.
With Sloyd AI, you no longer have to watch lengthy tutorials or enroll in an AI class to become adept at 3D generation. Just think of any model and let the tool bring your imagination into reality.
Sloyd AI maintains a massive library of AI generators to help you create any artwork you need. But besides its ever-expanding online library, it's assuring to know that this software still lets you customize any generated art as desired.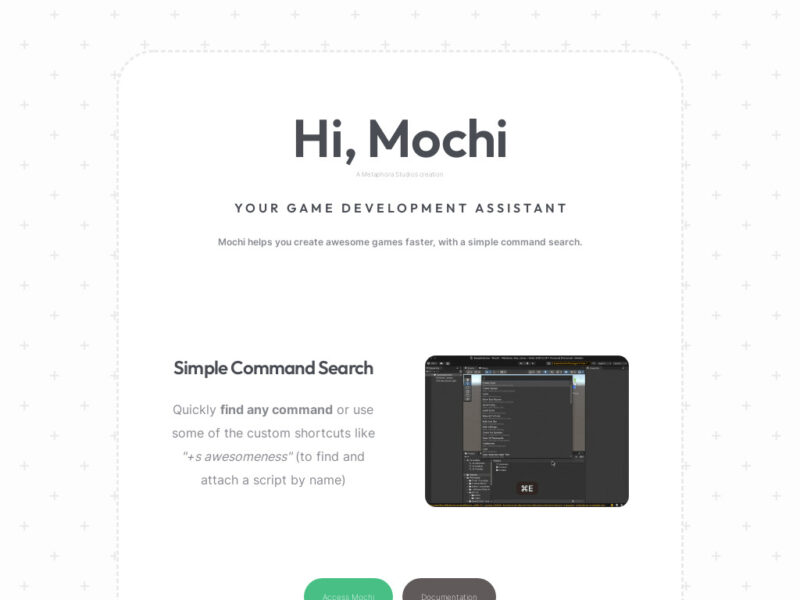 Pricing: Free
Mochi and Sloyd share a near-similar vision of mainstreaming access to digital assets through their innovative 3D generators.
This program was designed primarily to streamline the creative workflow and optimize productivity for game developers. However, it can benefit anyone who needs to create a 3D model but is pressed for time.
One of Mochi's biggest highlights is its automated text-to-image mapping function that lets you use natural-language commands to synthesize any 3D model. The tool is a plugin that integrates seamlessly with other productivity applications for hassle-free digital asset creation.
Mochi is also easy to use. That's all thanks to a clean dashboard that implements plenty of intuitive functions. To make the most of the tool, you'll need to prompt it using natural-language commands like "create…," "add…," or "set…" You can create models from scratch or personalize a selected item from the platform's library.
Lastly, it's interesting to know that Mochi doesn't only synthesize 3D models. The software also provides a slew of design tools, including custom shortcuts and features to improve an object's visibility in the game.
Wrap Up
Not too long ago, generating 3D models used to be an expensive and time-consuming affair. But all that changed with the emergence of artificial intelligence.
As a parting shot, always define your needs before selecting the best text-to-3D generator. Insist on programs that can quickly whip 3D models from simple text prompts and other command types, such as images and videos.