Last Updated on May 19, 2023
Your company has recently launched its flagship product and sales have already begun streaming in fast and furious. But as you start to monitor your clients' shopping patterns, you soon realize that a decent percentage of those customers come from non-English-speaking audiences.
You know this because you're receiving feedback in foreign languages. Some of your clients are also calling in to make inquiries but conversing in what can only be described as a remote semblance of the English language.
Since every client matters, it's imperative that you act swiftly to avail your products and services in a language that every member of your target audience can understand. And there are only two ways to go about that. You can either implement traditional translation methods or take advantage of artificial intelligence (AI) translation software.
AI translation software are programs that automatically translate words from one language into another. These tools typically use an aspect of artificial intelligence known as machine translation. Some are entirely AI-driven while others utilize the combination of machine translation and human assistance to guarantee accurate and unique translation to the target language. The incorporation of human assistance is also instrumental in terms of applying figurative language, stylistic devices, and other intricate language aspects that might be beyond the scope of machine translation.
Below are the 15 best AI translation services to tap into non-English-speaking audiences.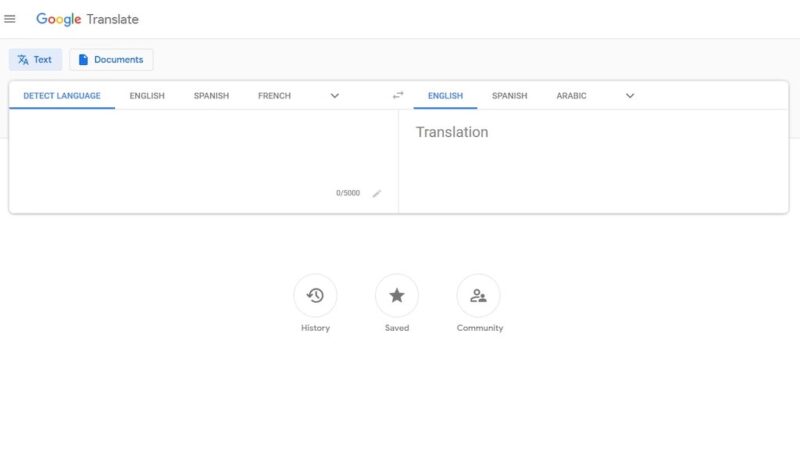 Google Translate serves well over 200 million clients daily, enough to make it the most popular AI-driven translation service. The software uses neural machine translation to convert text, images, documents, and even websites from one language to another.
Translate by Google comes with a website interface and a mobile application that's compatible with both Android and iOS devices. The tool also offers an API that developers can utilize to build browser plugins and other software applications.
Google Translate is also one of the most user-friendly AI translation tools available. To use the software, simply pick your language pairs and begin inputting characters in the provided field for real-time translation.
This AI translation assistant can convert documents up to 5,000 characters into your target language. As of April 2023, the tool supported over 133 different languages at various levels.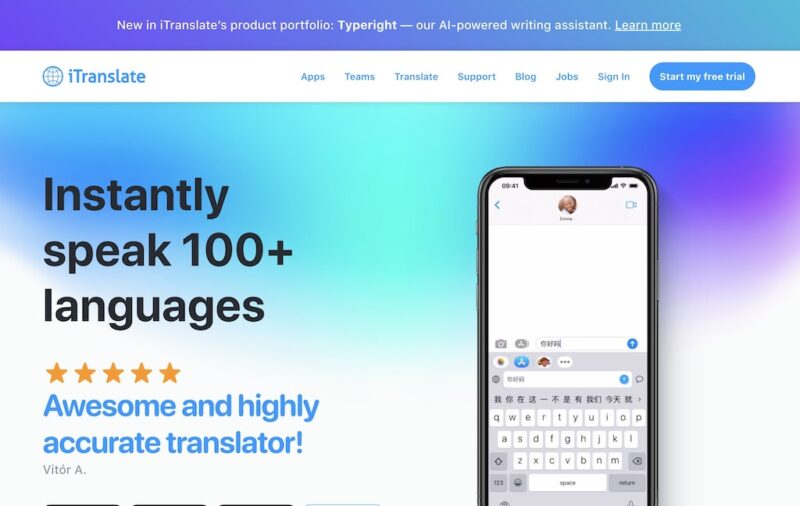 iTranslate is an AI translation service developed for clients from diverse industries and walks of life. Whether you're a student, entrepreneur, traveler, employer, or medical staff, you can leverage this powerful tool to translate documents into over 100 languages.
The software comes with a Text Translation function that converts text-based drafts into the selected languages. There's also a Voice Translation feature that uses voice recognition technology to translate your spoken words into your desired languages. This particular feature currently supports up to four languages offline.
Users can also leverage iTranslate's Camera Translation service. Simply launch the application on your mobile phone and then hover your phone's camera over a document, menu, card, or road sign. The tool will translate the wording in real time.
The last noteworthy feature is the Keyboard Translation, which can come in handy while chatting with friends all over the world.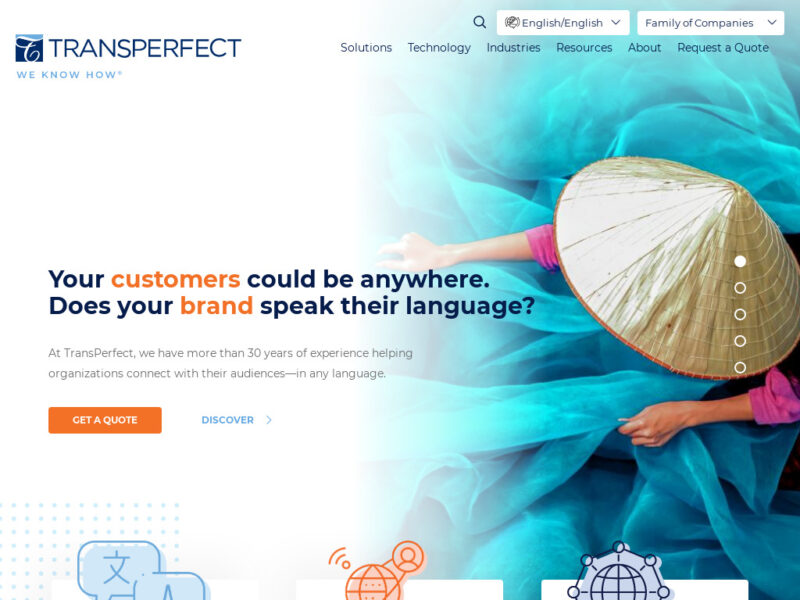 TransPerfect has been around for about three decades. That already says a lot about its credibility as a translation service. After working with human translators for years, the company eventually introduced machine-assisted translators.
TransPerfect is committed to helping its clients tap into their global audiences by providing them with a range of services under numerous brands.
One such brand is GlobalLink AI which utilizes leading neural machine translation technology to quickly convert texts and documents into multiple languages. There's also GlobalLink Connect which lets clients integrate their content and resource management systems with TransPerfect's online translation services. Another outstanding service is GlobalLink OneLink which leverages the power of AI translation to manage numerous versions of a website launch.
With its complete suite of services, it's unsurprising that TransPerfect has maintained its dominant position if the global language translation industry for years.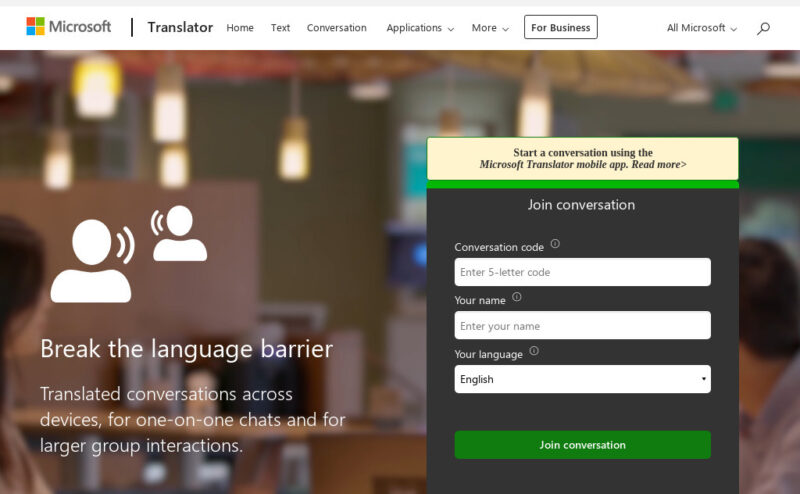 Microsoft and Google have been worthy competitors for years. So, wherever there's a Google product, you can be sure a Microsoft version of the same product is never far away.
Microsoft Translator shares one significant similarity with Google Translate – user-friendliness. To use this AI translator, simply download the app to your iOS or Android device and begin conversing with it. Then, the conversation code with your collaborators, who can join the session using the Translator app or directly from the website.
Microsoft Translator works incredibly fast too. Written or spoken words are automatically converted into the target language within a fraction of a second. The software also supports picture and screen translation.
Translator by Microsoft supports over 70 languages, including various dialects of the same language. And since the software is built into Office, you can use it directly from your documents, inbox, and presentations.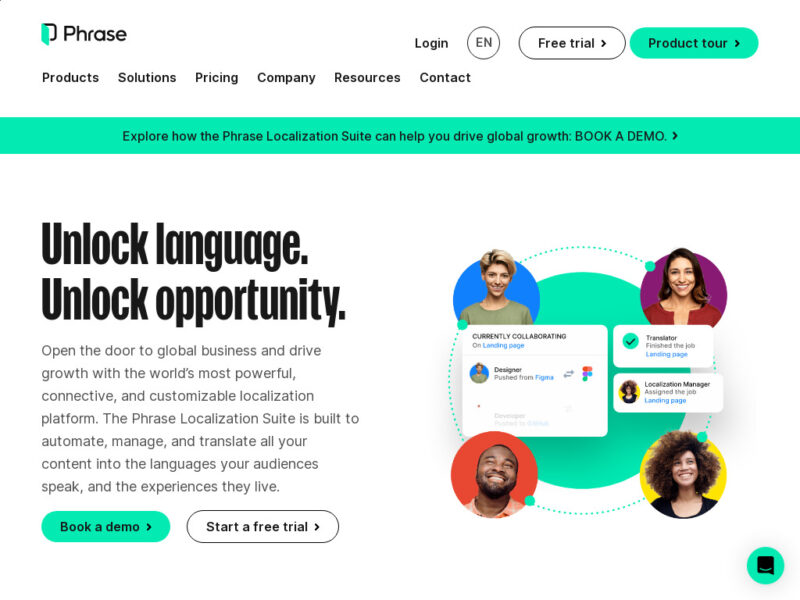 Formerly known as Memsource, Phrase is a computer-assisted translation software and management system launched in 2011.
The tool was originally intended for enterprises and language service providers. However, it currently enjoys a clientele drawn from various industries. Among its notable clients include Uber, Zendesk, Vistaprint, and Supercell.
Like other tools on this list, Phrase can translate texts or documents into multiple languages. The software also integrates with over 50 apps, a time-saving feature that can help you streamline your workflows.
Phrase comes with a clutterless dashboard that makes it fun to interact with. Users can also enjoy a range of other automated services related to language translation.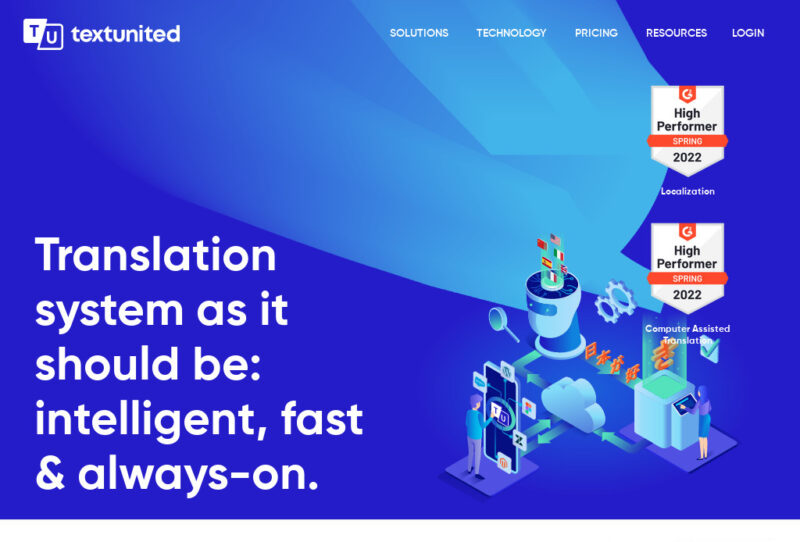 Numerous renowned companies worldwide use TextUnited's language translation services to achieve exceptional customer support and accelerate international growth. Examples of these organizations include the United Nations, Stanford University, OECD, DPS, PLEXUS, and Boston Scientific.
One reason behind TextUnited's smashing popularity is its straightforward user interface. The software maintains a clean dashboard with all the important functions within sight.
TextUnited is effective at translating both short texts and long documents. It can even translate an entire website, allowing your online shoppers to browse through your e-commerce store with ease.
There are collaboration tools that let you work on a document with your team. Other cool features include terminology management, a translator database, and order management.
If you're averse to using Microsoft Translator for some reason, then you might consider this AI translator by the same company.
Bing Microsoft Translator is part of Microsoft Cognitive Services. That means it seamlessly integrates into Bing, Microsoft Office, Microsoft Edge, SharePoint, Skype, Visual Studio, and other applications in the same family.
Bing Microsoft Translator supports both text and speech translation via cloud services. The software also lets you translate images and links. It currently supports over 100 languages and integrates with dozens of other third-party applications.
This AI translator also comes with a translation memory. At the bottom of the dashboard is a list of widely-used words ready to be translated by you. The words are split into various categories, such as Greetings, Dining, Dates, Travel, Emergency, and Technology.
Official Website Link: https://www.deepl.com/
Sometimes all you want from an AI translator is an application that guarantees accurate and nuanced translations. Well, that's pretty much what you get with DeepL.
DeepL is one of the few software that doesn't impose a text limit or mess up your document structure. That means you can translate documents of unlimited characters while maintaining the formatting. However, you'll have better luck working with short-to-mid-length documents.
This software has also garnered a reputation for its intuitive interface and integration with Windows, Android, and iOS devices.
DeepL currently supports over 25 languages. The tool also integrates with numerous applications in addition to providing encrypted cloud storage.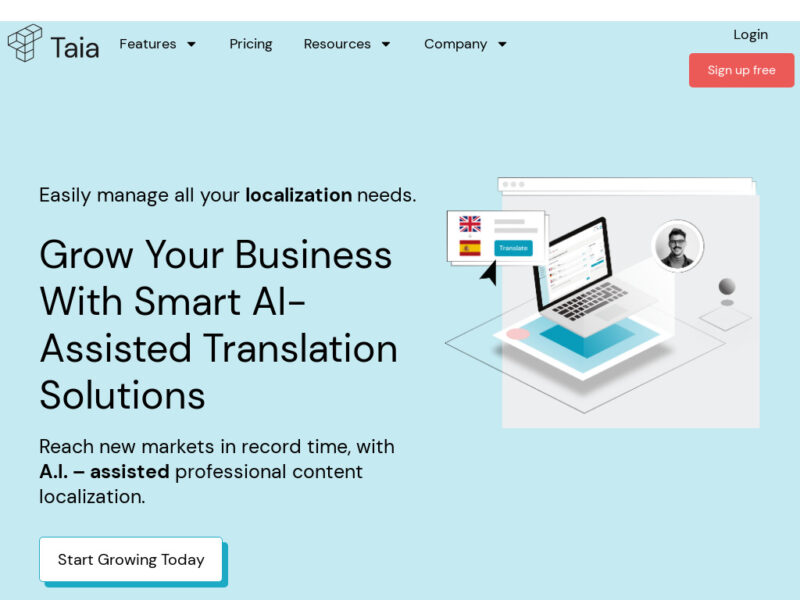 Taia proudly offers accurate translations in over 90 languages. The software enjoys up to 99.4% translation accuracy and quality. That's due to the combination of cutting-edge artificial intelligence translation technology and professional human translators.
Assignments are first run through Taia's powerful machine translators. The next level of translation involves real people adding a human touch to the translated pieces.
This combination guarantees the best results by ensuring your documents are proofread for coherence and style issues. Besides, it ensures the final copy is in the specific dialects it was intended for.
Now, the involvement of human translators usually means assignments can take hours to be ready. However, that's not the case with Taia. The software promises super-fast translation speeds without compromising the quality.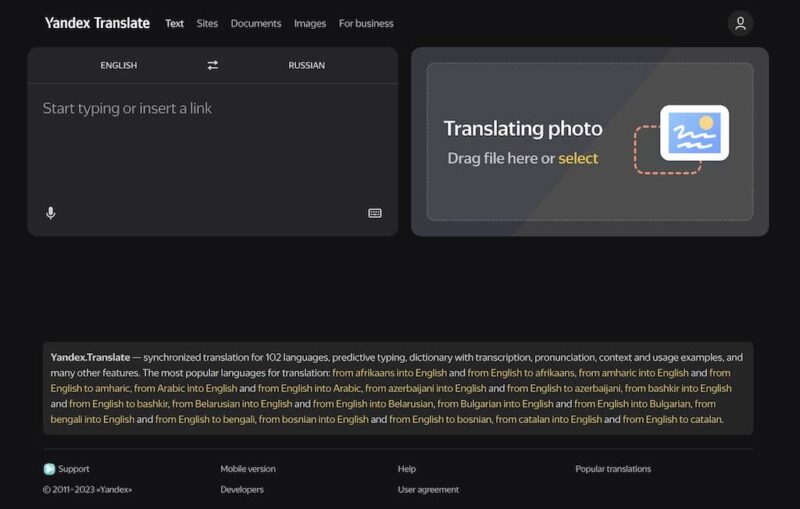 Yandex Translate is an AI-powered translation program that supports over 100 different languages. These range from globally-spoken tongues like English and French to fairly localized ones like Amharic, Mongolian, Afrikaans, and Zulu.
The software even supports more esoteric dialects like Esperanto, Elvish, and Emoji. That makes it an excellent pick for clients who're keen on tapping into local overseas markets.
Like Taia, Yandex Translate uses a hybrid model of machine translation and human-assisted translators. The machine translation technology includes both neural network deep learning and statistical approaches to deliver near-accurate copies.
You'll also love Yandex Translate for its ease of use. Simply select your language pairs and then paste the text on the provided fields. You can also translate voice, images, documents, and websites.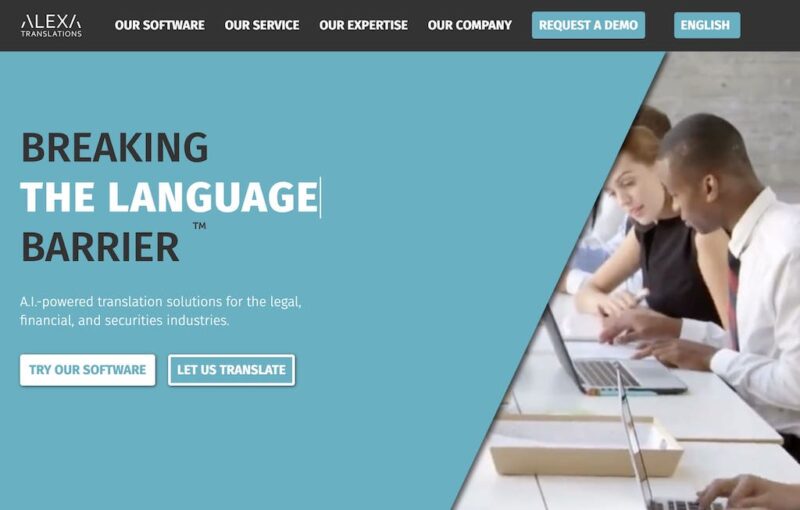 The name "Alexa" is probably most synonymous with virtual assistant solutions. However, Alexa Translations has been a global leader in translation services for slightly over two decades now. And no, this service has no direct relationship with Amazon Alexa.
Alexa Translations stands out for its incredibly fast translation speeds. According to some users, the tool can translate up to 30,000 words per minute with near-human accuracy.
The program is just as effective at web and link translations as it is for simple texts and documents. Plus, it doubles as a transcription service.
Alexa Translations should also be your go-to AI translation application if you're looking for client-specific results. The software is specially engineered for the Canadian financial and legal industries. However, pretty much anyone can take advantage of its fast and 99%+ translation capabilities.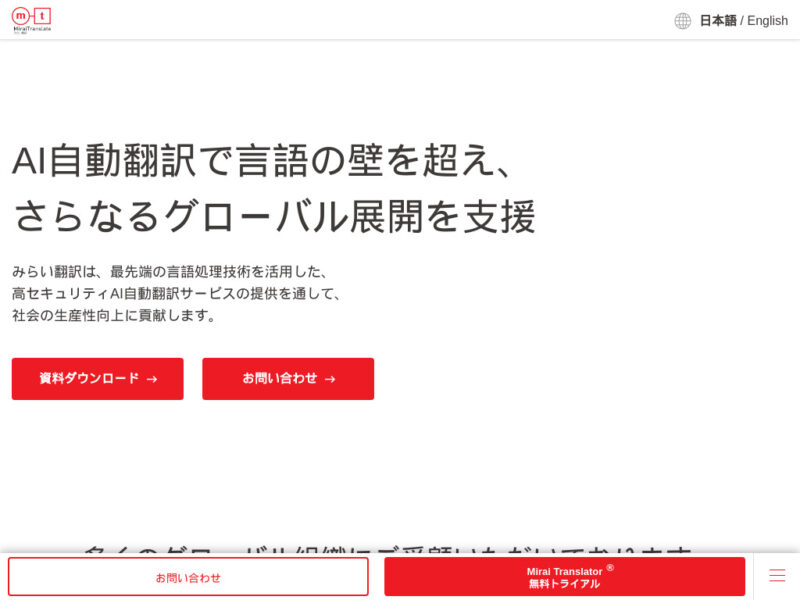 Here's another artificial intelligence translation software used by many large corporations!
Mirai Translate is a cloud-based API service that uses a neural machine translation approach to convert texts and documents into multiple languages within seconds. The tool supports numerous file formats. You can prompt it using simple texts, documents, photos, or links. The program also uses speech recognition technology that lets you convert speech or audio to multiple languages.
In terms of specialization, Mirai Translate is best suited for companies dealing with multilingual corporate document translation. The software comes with a user dictionary function that lets you translate text and files by group.
According to Mirai Translate developers, this software provides the same accuracy levels as a businessperson with a TOEIC score of 960. The tool also guarantees your online security by preventing hackers from intercepting your files.
TextCortex is widely regarded as the number one AI translation service, and it's easy to see why.
For starters, this tool works primarily as a plugin. That makes it fairly accessible. The software uses advanced machine learning and algorithms to read and interpret files in the selected languages. It's effective for translating various types of content into 10+ different languages.
TextCortex integrates with over 30 applications for improved productivity. These include Twitter, Facebook, LinkedIn, and Google Docs. To make the most of this extension, you'll need to download it first. Then, paste the text you wish to translate, pick your preferred output language, and hit the "Translate" button.
There are several editing features you can use to fine-tune the translated pieces further. These include a Rewrite function that paraphrases the original content, Expand function for fleshing out the original piece, and an Autocomplete function that works as a generative content feature.
Amazon, along with Google, Apple, Meta, and Microsoft, comprise the Big Five tech giants. The company has maintained significant market dominance in various sectors, including e-commerce, cloud computing, digital streaming, online advertising, and artificial intelligence. One of its most innovative AI products is Amazon Translate.
Amazon Translate uses neural machine translation technology offered by the company via an API. The tool supports both real-time and batch translation of text and documents from the source to the target language. It's more suited for businesses than individual users.
What makes Amazon Translate so effective is that it treats each word independently while also remembering relationships between words within the same clause. It also has a custom terminology that helps maintain consistency with internal naming conventions.
Besides, there's a "Do Not Translate" feature for when you need to preserve a document's message.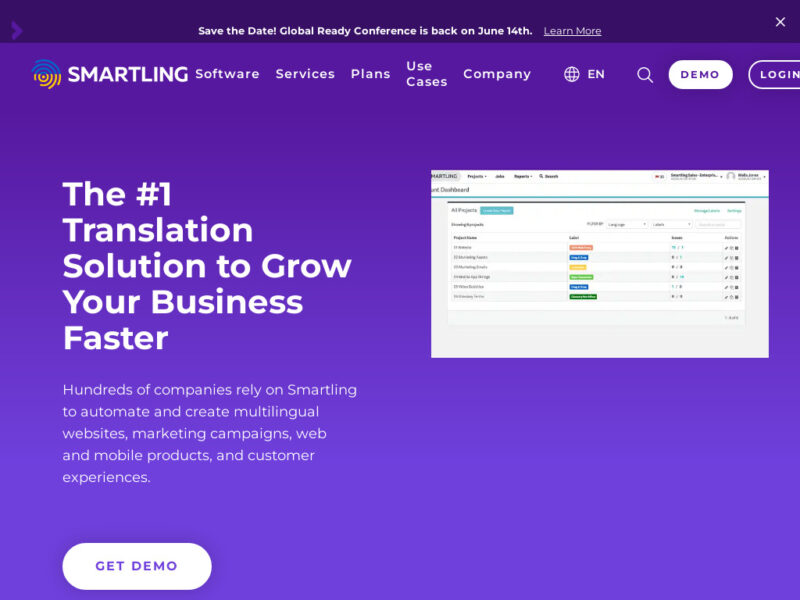 Smartling is a translation management system suitable for translating a variety of files into dozens of languages. The software works incredibly well with texts, documents, links, and even pictures.
Smartling uses a cloud management platform that streamlines your translation process. The tool doesn't just translate your documents word for word. It takes things a notch higher by simplifying the complexities in certain terms to achieve contextual meaning.
Your audience won't have to read your documents or website multiple times trying to get the meaning.
Smartling also checks the boxes in terms of speed and accuracy. There's the option of translating your docs strictly using AI or combining the technology with human translators for improved accuracy.
Final Word
AI translation software can make a huge difference in terms of tapping into non-English-speaking audiences.
Feel free to download any of the above-listed applications whenever you'll be looking for a reliable machine-assisted translation service.