Last Updated on March 9, 2023
As a digital creative, there are occasions when you need a quick video but do not have the time or creative juices to produce it from scratch. Perhaps you require a video to test-drive or promote a new product, educate your target audience, or simply for entertainment purposes. This is where AI video generators come in.

An AI (short for artificial intelligence) video generator is a tool that produces videos from scratch. These services can create videos in resolutions nearly as high as human-generated videos.

Although commonly used for video production, many AI video generators also come with editing software that can fine-tune existing videos. Editing capabilities can range from background removal to image cropping, and color manipulation, depending on the software selected.

Below are the 12 best AI video generators to kick-start your video production career.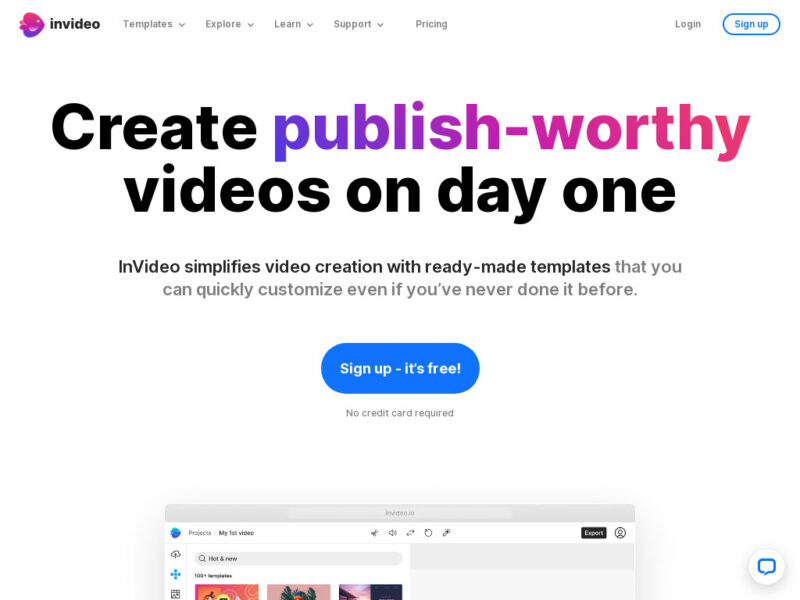 Pricing: Paid plans start from $15/month; a free plan also available

InVideo is an AI video generator that boasts over 7 million customers spread across 190 countries. But what is it about this tool that makes it so popular?

For starters, InVideo maintains at least 6000 templates that you can readily deploy to create powerful videos. These range from promotional videos to introductory videos, YouTube videos, and ad videos.

Videos generated by InVideo can be up to 40 minutes long. That's more than enough duration to create lengthy clips, such as product descriptions and instructional videos.

The service has a free video-sharing feature that lets you seamlessly share the generated videos with your other project collaborators. A text-to-speech (TTS) functionality translates your speeches into audios, ensuring that your videos have enough audio content to go by.
Pricing: Paid plans start from $12/month; a free plan also available

Veed is similar to InVideo to the extent that the two AI video generators come with both a freemium plan and flexible payment plans. But that's pretty much where the similarity ends.

Veed beats InVideo in terms of ease of use. The software is famous for its easy one-click function that lets you add auto-subtitles to your videos. This feature is invaluable when you need to generate quick videos to use on social media platforms like YouTube and TikTok.

In addition to its primary role as a video generator, Veed also comes with video editing capabilities. You can use the tool to remove unsightly backgrounds and mask background noises, as well as add extra filters and effects to your content.

Better yet, Veed comes with a transcription feature that you can activate to translate your video's audio into text. The service can produce videos as long as 30 minutes. Its free version supports an upload limit of 250 MB and export length of 10 minutes.
Pricing: Paid plans start from $29/month; a free plan also available

Elai is run by a team of global experts located in different cities worldwide. That makes the service highly accessible to digital creatives spread around the world.

Variety is one of the top features of Elai as an AI video generator. The video maker lets you create a wide range of videos from simple text, including instructional videos, prank videos, documentary videos, etc.

There's also the option of generating clips of varying lengths and in over 60 languages. Elai is particularly recommended for creators looking to make training videos without requiring actors, voiceovers, or post-production.

Another reason to consider Elai is its ability to generate high-quality videos based on the links to articles or blog posts. And the process is incredibly fast, requiring only three clicks of the mouse. You begin by copy-pasting the URL or HTML and then select one of the templates in Elai's library. Next, review the video and effect any changes before finally downloading it.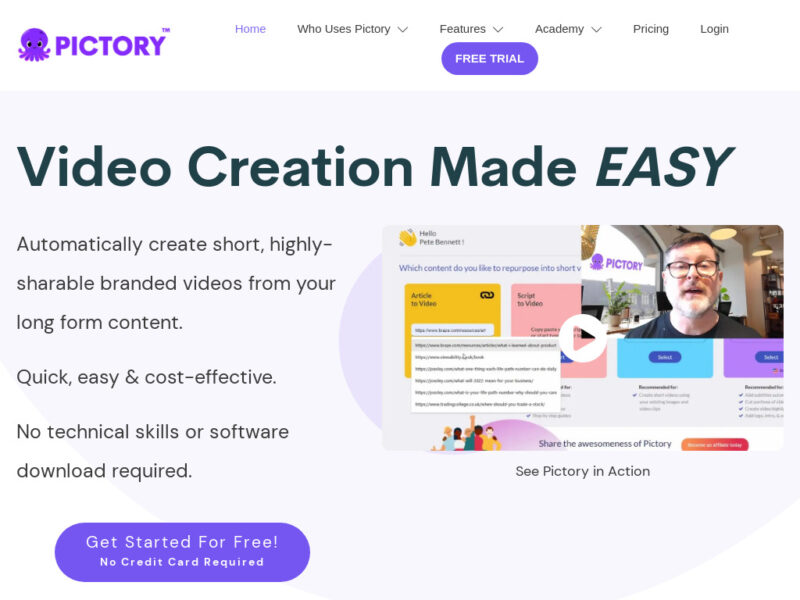 Pricing: Paid plans start from $19/month; a free plan also available

Pictory relies on AI technology to create high-conversion videos from simple text and audio. The tool also doubles as a media editor.

In addition to helping you generate videos from articles and scripts, Pictory also allows you to tweak existing videos. You can use the platform to edit podcasts, webinars, and Zoom recordings, among other similar presentations.

Pictory sports a neat, clean, and easy-to-use interface. You can create professional videos using this service in a few minutes even if you've never used video generators before. The videos are rendered in 16:9, 1:1, or 9:16 aspect ratios on text-to-video.

It would also interest you to know that Pictory is a cloud-based service. Therefore, it works on all computers and internet-enabled mobile devices.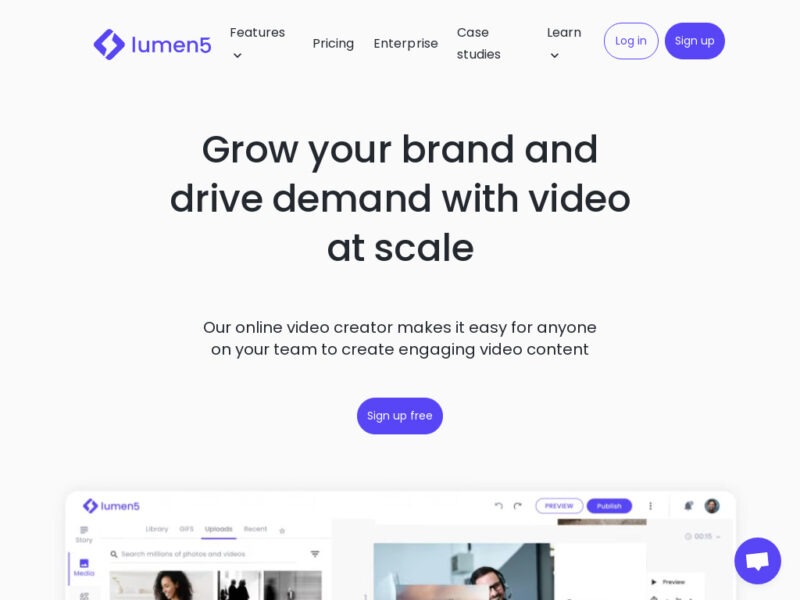 Pricing: Paid plans start from $15/month; a free plan also available

A user-friendly drag-and-drop interface makes Lumen5 an outstanding AI video generator. But it's by no means the tool's only selling point. Lumen5 uses powerful machine learning to help you convert any whitepapers, blog posts, and other written content into compelling videos.

The entire process takes place with a single click of a button. You only need to input a URL to your website to get started with the video-making solution. After that, the program will import content from your site, including texts and images, to create a relevant and compelling video. Lumen5 uses algorithmically determined timing for each scene to produce the best visual output possible.

What if the document you're seeking to create video for isn't online?

Well, there's no need to fret. You'll simply need to copy and paste the content or type it directly to Lumen5 and let the app take it up from there. Try out Lumen5 today and find out why this AI video generator is trusted by numerous established brands, including Salesforce, Siemens, Cisco, and PWC.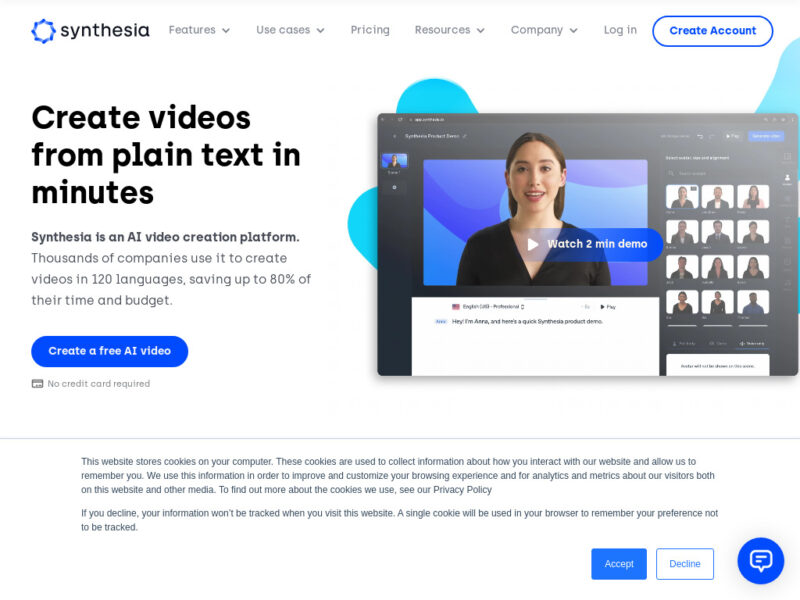 Pricing: Plans start from $30/month

The apparent lack of a freemium plan is a notable drawback to Synthesia. But as you shall find, it's not enough reason to dismiss this AI video generator.

Synthesia lets you create professional videos in a matter of seconds. That's all thanks to innovative features, such as text-to-video, a built-in screen recorder, and the ability to customize your background color and music. The tool is available in over 120 languages. You can use it to generate multi-lingual videos to target clients and prospects located in different regions of the world.

There are over 55 templates and 65 built-in avatars to experiment with. A video sharing feature lets you share clips with your team and request for inputs before the final copy comes out.

Although Synthesia doesn't have a free plan, the paid version comes with a demo through which you can test-drive the video maker before purchasing a subscription.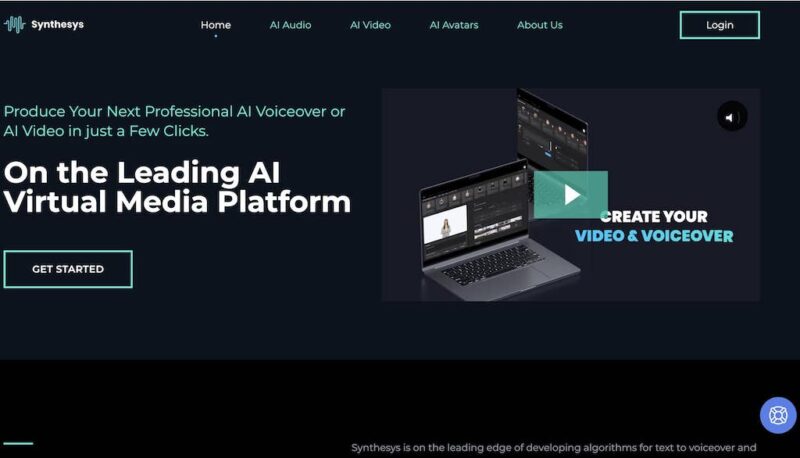 Pricing: Plans start from $23.25/month

Not to be confused with Synthesia, Synthesys is a separate AI video generator. The platform was developed by a global leader in the design of algorithms for text-to-voiceover and videos for commercial purposes.

Synthesys deploys its advanced Text-to-Video (TTV) technology in transforming static scripts into dynamic video presentations that can be rendered in over 65 languages. The tool relies on 74 real Humatars that convert typed-out text into videos so realistic that they feel like they were voiced by real humans.

What's more – there's a voice bank containing over 250 unique vocal styles to choose from.

You'll also love Synthesys for its advanced customization. Videos created using this tool come without pesky watermarks. Editing features and an easy-to-use interface makes Synthesys a go-to AI video generator.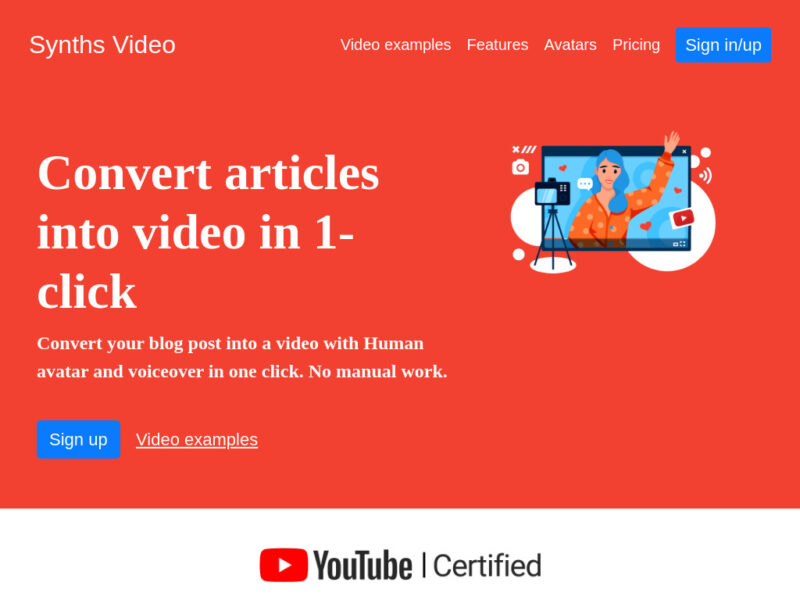 Pricing: Plans start from $399/month

With prices starting from as high as $399/month, Synths Video is undoubtedly the most expensive AI video generator out there. So, how did the tool make the list?

To begin with, Synths Video is reasonably easy to use. To use the tool, all you need to do is write a blog post and upload it to its dashboard. The app will then trawl the content and convert it into high-quality, relevant videos that you can readily upload to your website or social media platforms like YouTube.

Synths Video also comes with over 40 human avatars. The characters are designed with natural, humanist lip movements. Without close inspection, your intended audience will never know that you generated the videos.

Synths Video provides support in over 30 languages. It also lets you download the generated videos in high resolutions, such as HD (1920 x 1080).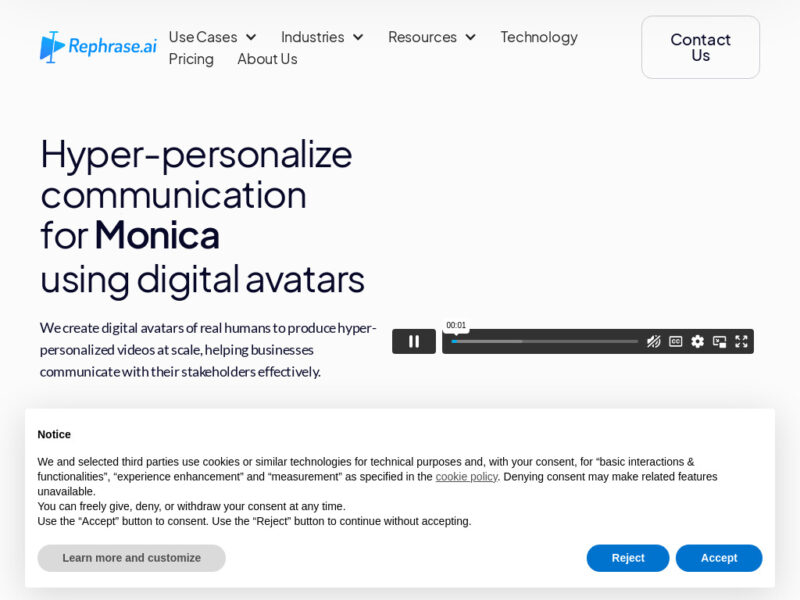 Pricing: Plans start from $15/month

Rephrase.ai uses advanced deep-learning algorithms to create high-quality, business-grade videos. The platform comes with a variety of video editing tools. You can avail these tools to fine-tune your newly-created videos or edit preexisting ones.

Another excellent thing to love about Rephrase.ai is that it allows you to select your preferred AI voice. The voice you opt for can vary depending on the objective of the video. For instance, the voices used in prank videos will differ considerably from those in product descriptions.

Rephrase.ai supports multi-user access. In other words, you can seamlessly collaborate with your team while generating videos from this platform.

There's ample room for customization too. You can integrate elements that align with your brand into Rephrase.ai-generated videos. And despite what the name suggests, this tool doesn't alter the fundamental meaning of your content while making videos out of it.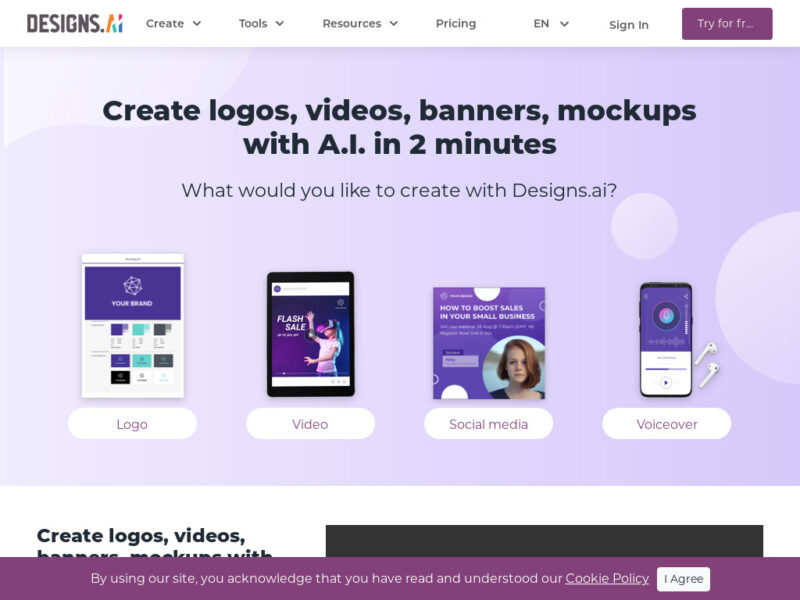 Pricing: Plans start from $29/month

Designs.ai is an online AI video generator tool that maintains a rich library of ready-to-use video-making templates. There's the option of using a template as is or customizing it further to suit your brand's needs. Part of the customization process includes adding your company logo, personalized images, and audios.

Like most AI video generators on this list, Designs.ai prides itself on its ease of use. The tool's dashboard is tidy and comes with no ads besides explainer videos on how the platform operates.

Designs.ai also supports collaboration. You can work on a project with up to 15 members depending on the package you subscribe to.

The most affordable bundle – the Basic Plan – costs $29/month and comes with a free trial. There are also the Pro and Enterprise Plans, with the latter offering the most customization of the three packages.
Pricing: Plans start from $10/month; a free plan also available

The most outstanding feature of this AI video maker (besides its cute name) is the wide range of video editing capabilities it comes with. In fact, Wisecut is primarily marketed as a video editor.

The tool deploys AI and voice recognition to edit videos automatically and deliver high-quality outputs. It integrates with YouTube, enabling you to upload your generated videos directly to the video-sharing website.

Wisecut is free to use. To use the video maker, simply copy-paste or type in your content into the provided area within the platform's dashboard and select your preferred voice actor. The tool will pick it up from there.

Wisecut also supports auto subtitles and auto cut silences. And while its effects are somewhat limited, they're more than enough to kick-start your video production journey.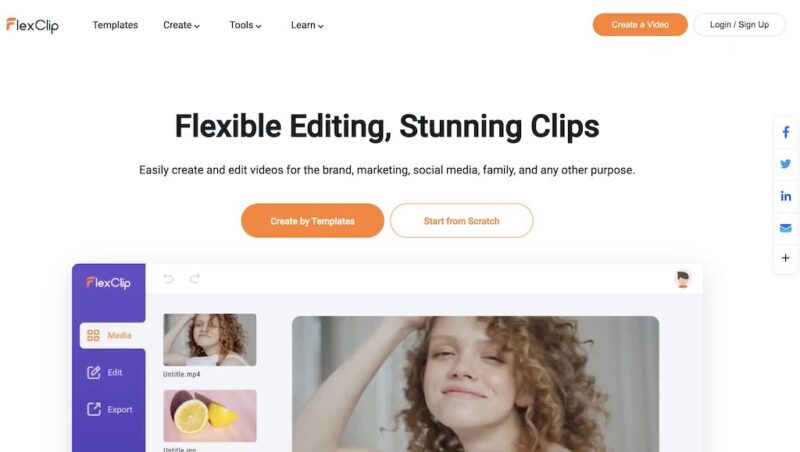 Pricing: Paid plans start from $5.99/month; a free plan also available

FlexClip comes with a rich library containing millions of royalty-free stock media. Therefore, you can use this tool to generate original videos without looking over your shoulders for fear of copyright infringement.

FlexClip's vast collection of media also includes templates. The majority of these templates come ready to deploy. However, there's also the option of personalizing them to suit your personal taste or business needs.

As you would expect of any reliable AI video generator, FlexClip is remarkably easy to use. The platform's simple interface lets you create or edit videos in a few seconds.

FlexClip also checks the boxes in terms of payment flexibility. There are four different payment plans, one of which is free.
Wrap Up
AI-powered video generators have tremendously revolutionized the video production industry.

Whether you're pursuing a career in digital marketing or just need an original video to share on social media, you might want to give due consideration to the above-reviewed tools.