Last Updated on May 31, 2023
Artificial intelligence (AI) may have been dismissed as a fanciful imagination during its nascent years. But the technology has since developed into a juggernaut. Even those who initially opposed AI, citing reasons like its potential to render the human workforce redundant, have since embraced this transformative technology. And if recent projections are anything to go by, then AI will be an indispensable part of our daily lives in the not-so-distant future.
Content generation is among the many industries that have benefited immensely from artificial intelligence. There are numerous AI tools and software that let creatives generate content and then help to edit the output. We also have applications that play the reverse role – generating content from scratch and then inviting creatives to give it a human touch. Voice cloning is a noteworthy application of generative AI programs.
In this post, we look at the 10+ voice cloning tools in the market. But in the interest of those encountering this word for the first time, we'll start from the beginning by highlighting what voice cloning entails.
Introducing Voice Cloning
Voice cloning, also known as voice synthesis, refers to technology that utilizes artificial intelligence, deep learning, and text-to-speech (TTS) to generate synthetic voices that resemble a person's natural voice. It's akin to creating a copy of the person you intend your script to sound like.
The voice cloning technology came as a blessing to content creators, game developers, and filmmakers. Using the right tool, you can create realistic voiceovers to go with your vlogs, computer games, or television documentaries. And the best part is that voices aren't generally protected by copyright. So, you can clone any celebrity's voice provided that you do not portray the voice as belonging to them to gain undue commercial advantage.
Now, you may stumble upon some publications using the terms "voice cloning/synthesis" and "voice generation" interchangeably. However, these phrases do not exactly denote the same thing.
Voice generation is a broad term that encompasses the random creation of human (sometimes even non-human) voices. The output may not necessarily resemble the voice of a specific person. On the other hand, voice cloning deals with synthesizing voices of real people. These may range from celebrities to politicians, movie characters, or even your own voice.
Based on the descriptions, it's logical to infer that voice cloning is a special type of voice generation.
10+ Best AI Voice Cloning Tools
Pricing: Paid plans start from $89.00/month; a free trial available
Beyondwords is a voice cloning software that provides instant access to text-to-speech voices from some of the best TTS services, such as Google WaveNet, Microsoft Azure, and Amazon Polly. The tool combines the power of these speech-to-text synthesizers with its natural language processing (NLP) algorithms and publishing tools to create a voice that's as realistic as possible.
Each time you prompt Beyondwords, the tool analyzes your text using NLP. It then converts the text into vocal synthesis markup language (SSML). There are more than 550 premium voices spread across over 140 different language locales.
Beyondwords is also one of the few voice synthesizers that give its users access to ethically created voices. That's due to its collaboration with numerous voice actors who contribute their talent exclusively to its platform.
The app also integrates with many content management system (CMS) software for improved productivity.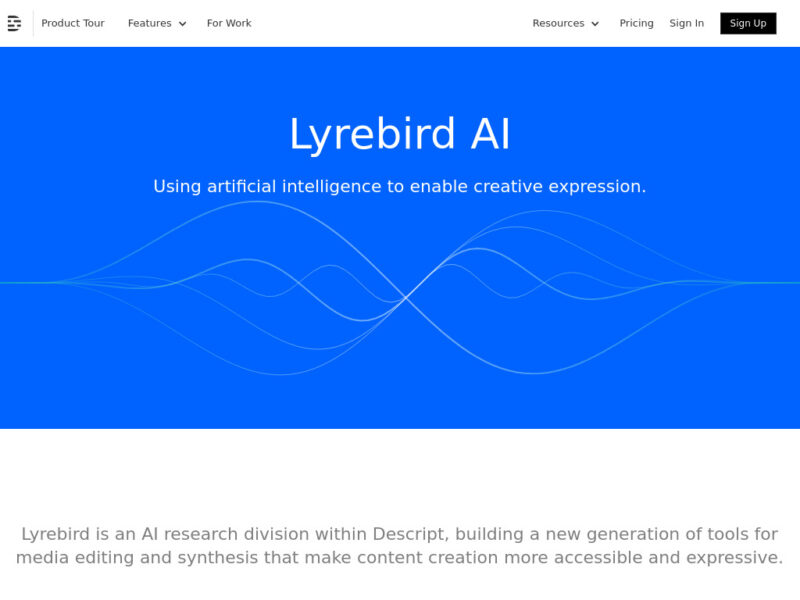 Pricing: Paid plans start from $12.00/month; a free version also available
Lyrebird AI by Descript provides a slew of media editing and synthesis features designed to automate your workflows and streamline the often-tedious content creation process. Voice cloning is one of its noteworthy offerings.
The platform has been around for slightly over five years. It was established by Alexandre de Brébisson, Jose Sotelo, and Kundan Kumar, former PhD students at the prestigious Montreal Institute for Learning Algorithms (MILA). The trio founded Lyrebird while working under Yoshua Bengio, who would later receive the Turing Prize in 2019 for his outstanding works in neural networks and deep learning.
One of Lyrebird founders' primary motivations was to create a user-friendly voice cloning software. The app's dashboard is clean and intuitive.
To use Lyrebird AI, you simply input a sample of your voice and train it to sound like you. You can then type or copy-paste the script you wish to generate voice for and the tool will do the rest. As you might expect, Lyrebird also has plenty of voices that you can readily deploy for your projects.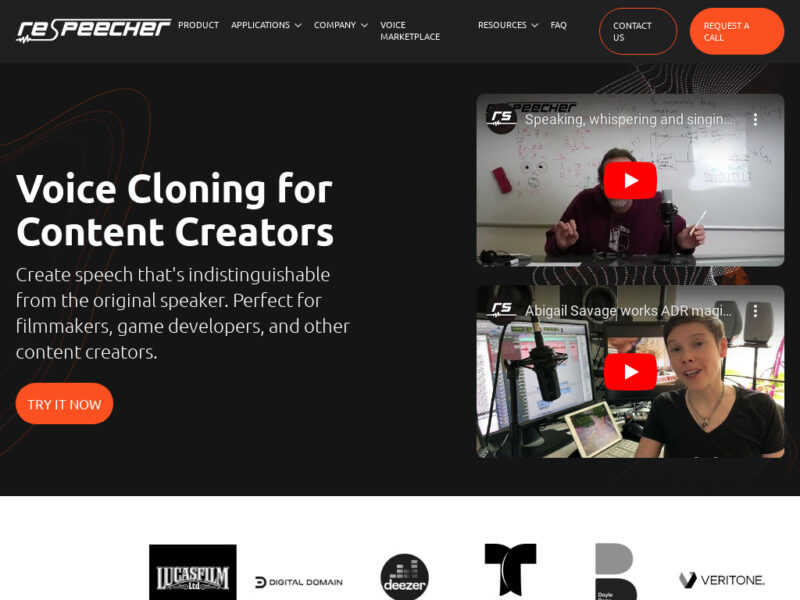 Pricing: Paid plans start from $199.00/month; a 3-day free trial available
With premium packages starting from as high as $199 per month and considering there are no free plans, Respeecher is undoubtedly one of the most expensive voice cloning tools. However, the software comes with plenty of redeeming features that will have you auto-renewing your monthly subscription.
For starters, Respeecher generates near-accurate voice clones that are almost impossible to distinguish. The software is also effective at blending the speaker's emotions into the voices. This way, the output doesn't have to sound so robotic.
But perhaps Respeecher's unique selling point is its ability to combine classical digital processing algorithms with its proprietary deep generative modeling techniques. This gives the final output higher clarity and human touch. Besides, you can tweak the voice to portray the speaker as a child or cartoonish character.
And while Respeecher doesn't have a free version, the service comes with a generous 3-day free trial. You can clone over 100 voices during the trial period.
Pricing: Paid plans start from $27.00/month; a free version also available
If you're looking for a voice synthesizer that offers many features as Respeecher but at a fraction of the cost, then you might consider Synthesys. This software comes with a free version, and premium plans start from $27 per month.
Synthesys was designed to be exceptionally user-friendly. Anyone can work their way around the tool without requiring prior programming knowledge.
The software also works in a few clicks. It can generate professional voiceovers using its text-to-speech technology or videos using its text-to-video (TTV) technology in a matter of seconds if properly prompted.
Synthesys maintains a massive library of voices too, which are sorted into female and male voices. Whether you pick a voice from the database or clone your voice from scratch, it's assuring to know that the software guarantees extremely lifelike output every time.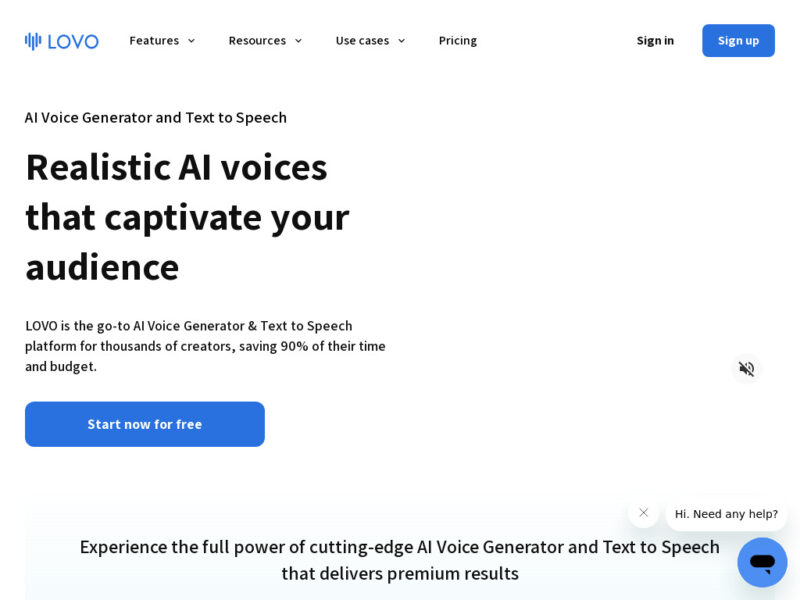 Pricing: Paid plans start from $19.00/month; a 14-day free trial period available
Here's another voice cloning alternative to Respeecher. Although this software doesn't come with a free version, users can test-drive it for two weeks free of charge before subscribing to the premium plans, which begin from $19 per month.
But affordability isn't Lovo.ai's only drawcard. The voice synthesizer boasts one of the world's largest libraries of AI voices (500+ in 150+ languages).
Many Lovo.ai clients also laud the software for producing the most natural and lifelike voices ever. The company continually updates its voice synthesis models. This allows users to generate voices for use in a wide range of industries, including vlogging, entertainment, education, gaming, and news, to mention but a few.
One of its latest products is Genny, a next-gen artificial intelligence voice generator equipped with TTS and TTV capabilities. The generator can produce high-quality, realistic voices while simultaneously offering video editing features.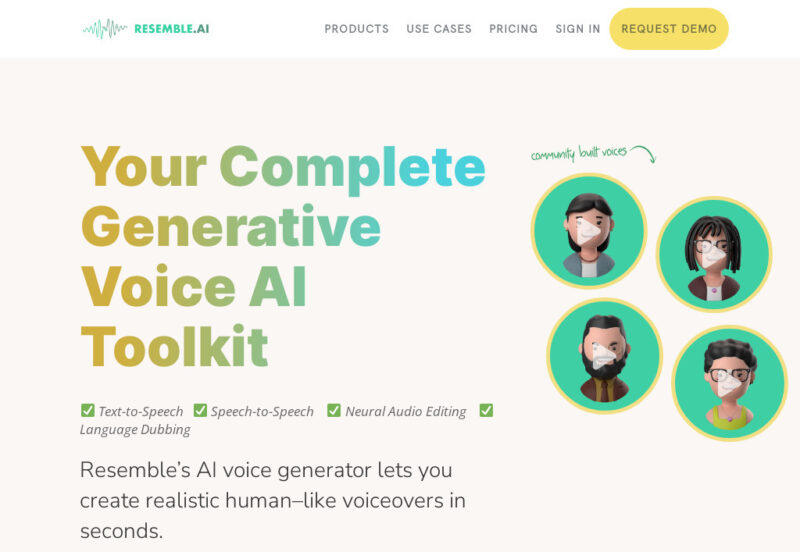 Pricing: Uses a Pay-as-you-Go Model that starts from $0.006/second
While many voice synthesizers charge fixed fees for their services, Resemble uses the flexible pay-as-you-go model. Fees start from as low as $0.006 per second.
Perhaps it's due to its flexible pricing plan that this software enjoys the approval of renowned brands like Netflix and the World Bank Group.
Superfast voice generation speed is another unique feature of Resemble. The tool uses real-time realistic speech-to-speech technology to convert your voice prompts into the target voice. It provides granular control over each intonation and inflection, which makes the output less robotic and more human. You can also experiment with a range of emotions, including happy, sad, angry, etc.
There's a Resemble Fill feature that lets you blend human with synthetic voices. Moreover, this voice synthesizer lets you target a global audience with its 50+ languages.
Pricing: Paid plans start from $20.00/month; a free 30-minutes trial available
Coqui is a voice synthesizer that promises to clone your voices in as little as three seconds. The software lets you design your own voices from scratch or choose an audio from a preloaded list.
There are voice control features to make each copy as realistic as it can be. Some of the ways to unlock the voice control function include tweaking the style, adjusting the pace, and dictating the pitch. And the best part is that you can do all these for each sentence, word, or character.
Coqui also provides generative AI emotions. You can add a touch of happiness, sadness, or anger, depending on the desired effects in the final output.
Coqui supports multiple takes too. In other words, users can clone and save different versions of the same voice, then decide on the perfect one later on.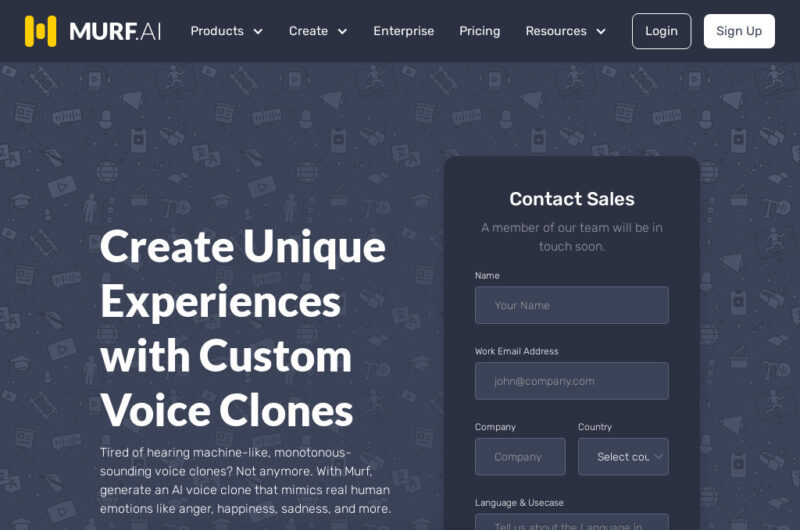 Pricing: Paid plans start from $19.00/month; a free version also available
Murf is a custom voice clone developed for a wide range of clients. Whether you're a gamer, vlogger, filmmaker, or voiceover artist, you'll find this tool suitable for your voice cloning needs.
Murf generates voices so natural-sounding that no one will ever know that AI created the results. Not even the actual person whose voice has been cloned. Thanks to its incredible accuracy, you can clone multiple voices within a short duration as you won't have to repeat the process each time.
Like most tools on this list, Murf lets you experiment with a range of emotions. You can infuse a dash of happiness, somberness, anger, etc. into the results.
But Murf doesn't stop there. The software provides a slew of voice editing features to fine-tune the results further. You can also collaborate with your team using Murf's collaborative and access control features.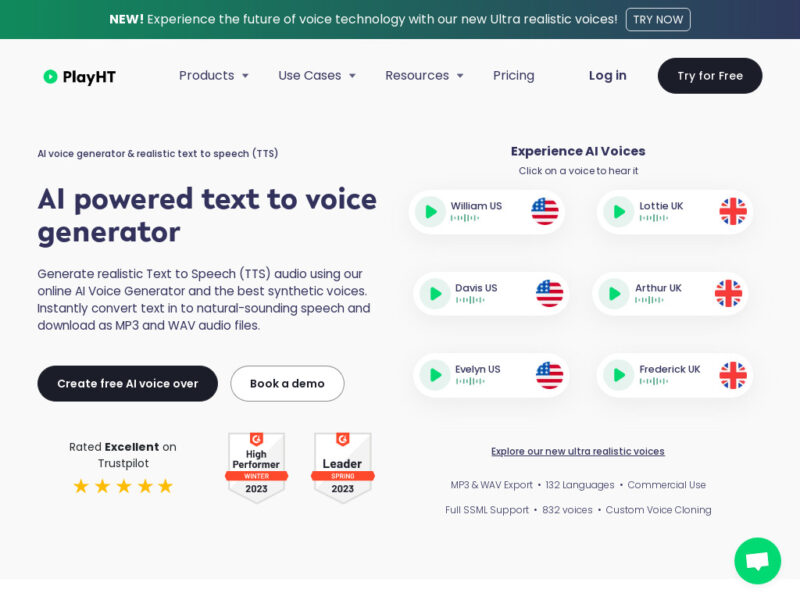 Pricing: Paid plans start from $29.25/month; a free version also available
Play.ht is another voice cloning software that needs little introduction. The tool utilizes a powerful text-to-voice generator that allows its users to create high-quality, professional-sounding audios from text prompts.
Play.ht also maintains a robust text-to-speech editor that's readily available online. The editor lets you tweak the videos to your liking. Some of the customization features include the ability to choose unique speech styles and pronunciations. It's also worth noting that Play.ht's text-to-speech editor works in real-time. Which means you can convert text into voices and fine-tune the results on the go.
After generating your voices, you can take advantage of Play.ht's secure storage to store your files for future reference. Creations can be exported in MP3 or WAV file formats.
Play.ht has also been ranked among the best text-to-speech plugins for WordPress. WordPress users can leverage the software to embed audio widgets on their websites for better SEO and content engagement.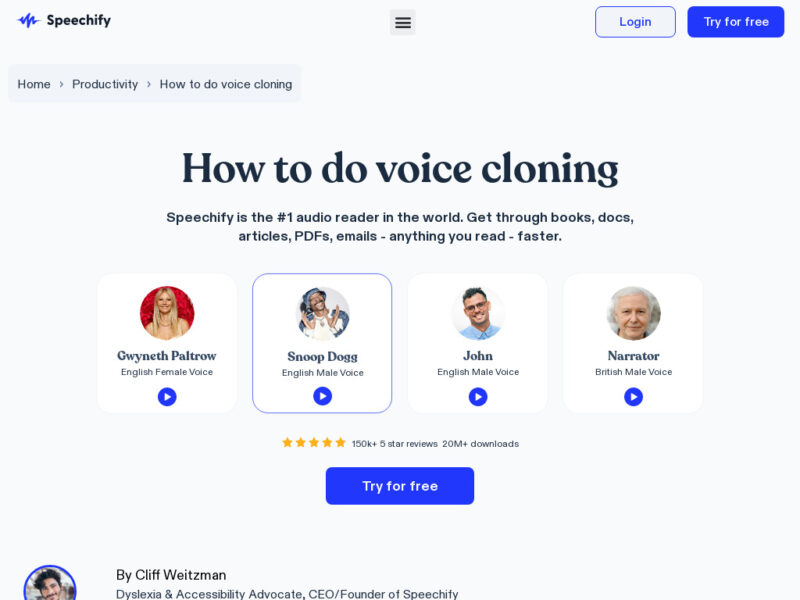 Pricing: Paid plans start from $139/year; a free version also available
Voice cloning is an intricate process that often requires a great deal of time. However, applications like Speechify allow you to synthesize fairly lengthy voices in a few seconds.
Speechify promises to convert text in any format into realistic human speech. You can prompt the software using simple texts, articles, documents like PDFs, and even emails. Within no time, it will convert the commands into high-quality audios.
There are several voice control features at your disposal in addition to over 200 natural-sounding voices to pick from.
You'll also love Speechify for its compatibility with multiple operating systems. While the software works online, it works seamlessly with Windows and macOS. It also works on all mobile devices, including android and iPhone. What's more, you can download it as a Chrome extension and clone voices as you browse.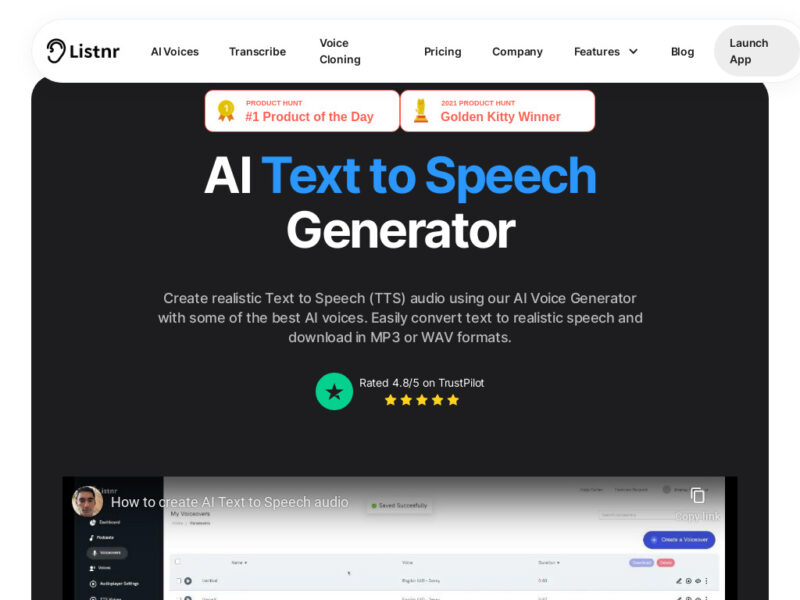 Pricing: Paid plans start from $19/month
Listnr is a voice cloning tool best known for its wide range of customizable features. The AI text-to-speech audio synthesizer converts text to speech in multiple formats, including genre selection, accent selection, and pauses.
Listnr enables you to embed a customized audio player into your blog or website. This is an ingenious SEO strategy that increases your content's access by especially tapping into your visually challenged followers.
Alternatively, you can use Listnr to generate realistic voices and upload the results manually onto your blogs. The tool supports audio exports in MP3 or WAV file formats.
Listnr is also an excellent recommendation for podcasters. That's due to its slew of podcast creation and publishing tools. The platform supports more than a dozen languages and dialects. It also provides read-listen and watch-listen features, which can go a long way in boosting conversation rates.
Pricing: Costs a one-time fee of $97
According to Speechelo's website, this voice cloning tool can convert any text prompts into 100% human-sounding voices with only three clicks. That's enough to make it one of the most reliable voice synthesizers on the market.
Speechelo's text-to-speech engine provides several voice control features. These include the ability to add inflections and select the right reading tone for your audios. For instance, you can choose to read text in normal tone, serious tone, or joyful tone to generate voices that capture these tonal variations. The tool even takes into account breathing sounds and long pauses while cloning voices.
Speechelo supports over 30 natural languages and dialects. The software is also compatible with multiple devices and operating systems, including Windows, macOS, Linux, Android, and Chrome.
Last but not least, Speechelo integrates with several video creation software, including Adobe Premier, iMovie, Audacity, Camtasia, etc.
Final Word
The above-reviewed programs are reliable when you need to clone lengthy or multiple voices fast. The tools let you convert texts into natural-sounding audios that you can edit further to your liking.
Just remember that while voices aren't typically protected by copyright, it's best to check with a celebrity before using their voice for commercial purposes.