Last Updated on March 9, 2023
A great deal of time is lost sending emails and making phone calls to your employees or clients trying to establish their availability. What if there were tools that could take away these hassles and let you invest your precious time in other equally important aspects of your business? Well, fortunately, such tools exist in the form of scheduling software.

Scheduling software are pretty much what the name implies – services that automate the process of creating and maintaining schedules. These software could be cloud-based or local computer programs.

Although they're alternatively known as employee scheduling software, scheduling tools go way beyond maintaining appointments with your staff. The programs can also help you send important reminders to your clients and prospects. They're a convenient replacement for emails and phone calls, many of which are usually ignored or forgotten.

So, whether you're a small-time entrepreneur or a blue-chip company manager, scheduling software can go a long way in optimizing your organization's productivity. We've gone ahead and reviewed the 18 best scheduling software and booking apps that your business may need. Read on and be inspired.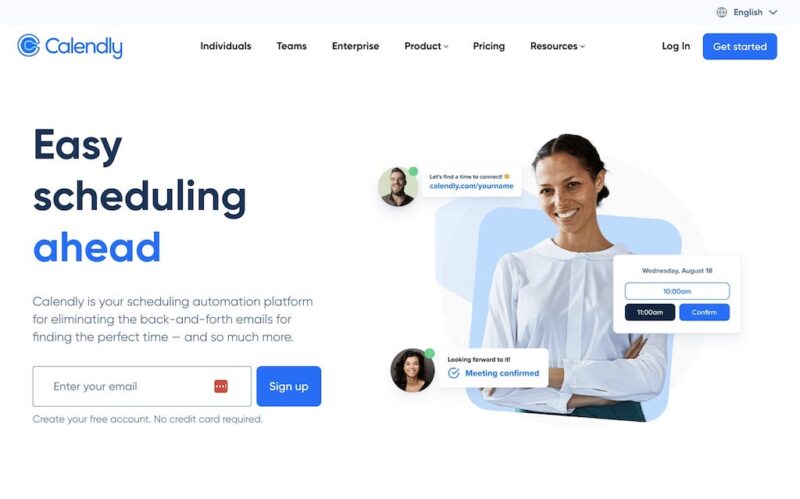 Pricing: Paid plans start from $8/month; a free plan also available

Calendly is a household name in the scheduling software market. This app is highly rated for its user-friendliness and cost-efficiency.

To schedule meetings and appointments using Calendly, all you need to do is create your calendar rules and share the URL to your scheduling page. Your collaborators can then start setting up their appointments based on your availability and preference in terms of the meeting types you'd want to have.

Calendly is also a time-saving scheduling software. That's due to its ability to automate several administrative tasks, such as sending email reminders and follow-ups.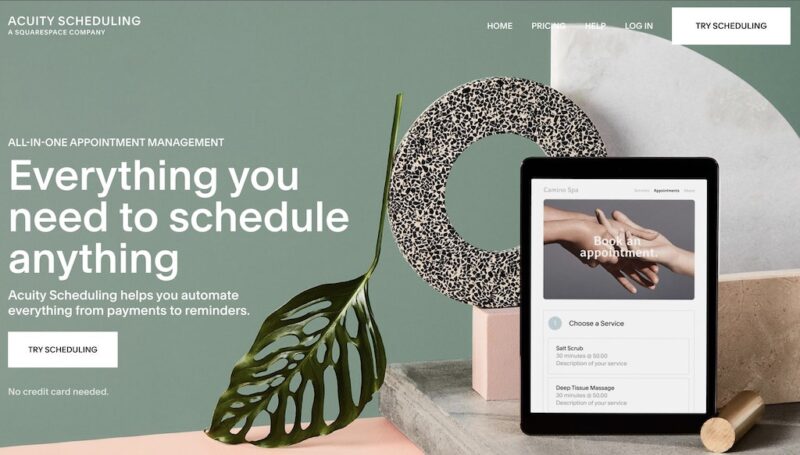 Pricing: Plans start from $14/month; a free trial available

Acuity Scheduling shares one fundamental similarity with Calendly. Both apps provide basic scheduling features and lots of business administration capabilities.

Not only does this scheduling software help you plan meetings with your employees and clients. It also provides other client management features like automated invoicing, in-app sales of subscriptions, automatic time zone updates, and customizable intake forms.

Acuity Scheduling integrates with many other calendar apps for improved productivity. These include Google, Outlook, Office 365, and iCloud. Integrations with secure payment gateways (such as PayPal and Stripe) and compatibility with both Android and iOS devices are other amazing things to love about the software.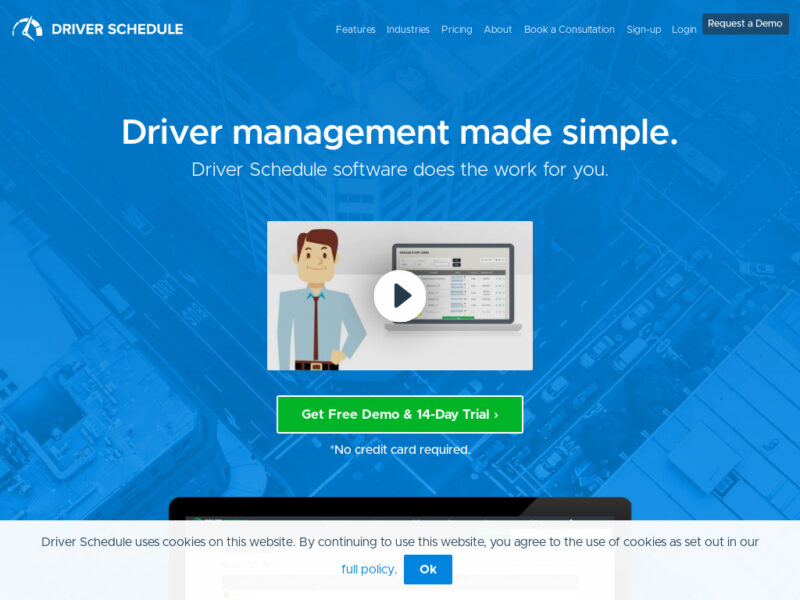 Pricing: Plans start from $3/month; a free trial available

Driver Schedule is a one-stop solution for all your scheduling needs. The service provides several basic appointment tools and a slew of other cool features.

It lets you schedule employees and shifts for better payroll tracking. You can also plan for tons of other activities, including upcoming training and employee time-offs. The ability to set consistent policies and rules ensures your collaborators are at par with your expectations for each meeting.

Driver Schedule is available as a software-as-a-service (SaaS) product, which means that it's primarily a web-hosted service. The tool is also downloadable to both iPad as well as iPhone and Android devices.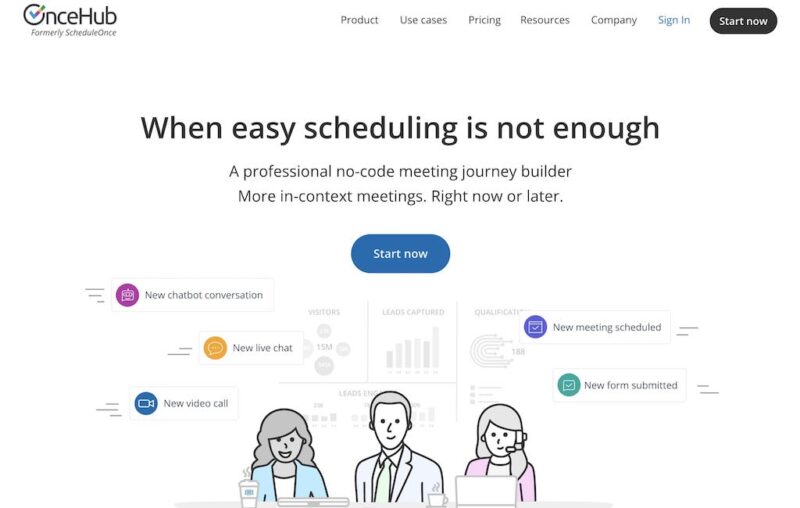 Pricing: Paid plans start from $10/month; a free plan also available

ScheduleOnce is an excellent recommendation if you're looking for a software that enables you to book appointments with your prospects.

With ScheduleOnce, your leads won't need to wait forever for a response from your business after filling out your company's 'Contact Us' form. Instead, the tool will prompt them to determine the most convenient time they'd wish to have an introductory product demo or phone call with you. The whole process is then automated from there.

ScheduleOnce integrates seamlessly with several calendars, including Google, Outlook, iCalendar, Office 365, and Exchange. The software also supports integrations with mobile applications, social media platforms, customer relationship management (CRM) tools, and a host of other productivity apps.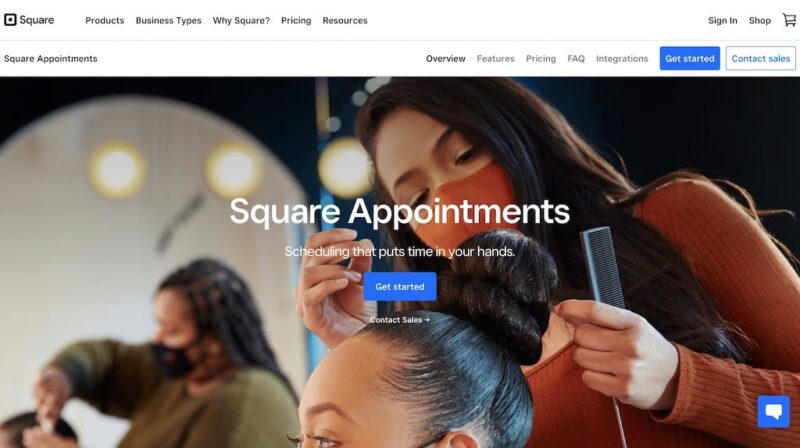 Pricing: Paid plans start from $29/month/location; a free plan also available

Square Appointments is a booking software by Square, the renowned payment processor. The service readily integrates with the Square payment gateway, which makes it easier to get all your appointments directly paid for during the booking process.

And to prove that you mean business, this tool levies a charge on late cancellation and no-show fees.

Square Appointments is easily accessible via both Android and iOS devices. The software is also available in freemium and premium plans. Its location-based pricing makes it especially cost-effective for businesses with at least four users.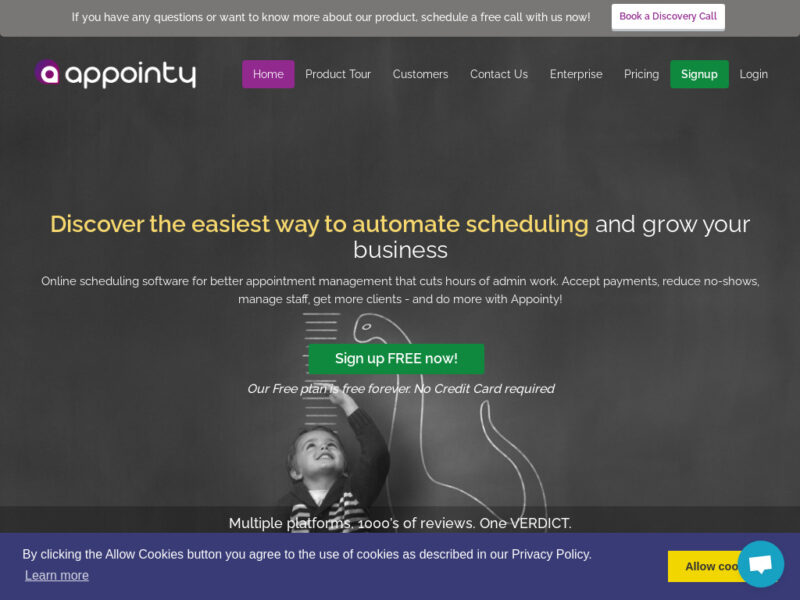 Pricing: Paid plans start from $19.99/month; a free plan also available

A bit of a learning curve is required before you can get the hang of this scheduling software. Some users have also reported problems with the app's premium versions.

However, there are numerous positive things to report about Appointy. The software especially stands out for its simple booking and appointment process. It also boasts responsive customer support. Appointy integrates with Square, PayPal, Stripe, and Authorize.NET. It also syncs with Zapier and over 1,000 other applications. Website and mobile compatibility give you freedom of access.

There are up to three different paid plans to choose from, each of which comes with reasonable free trial periods. Besides, you can take advantage of the freemium plan that supports one staff member.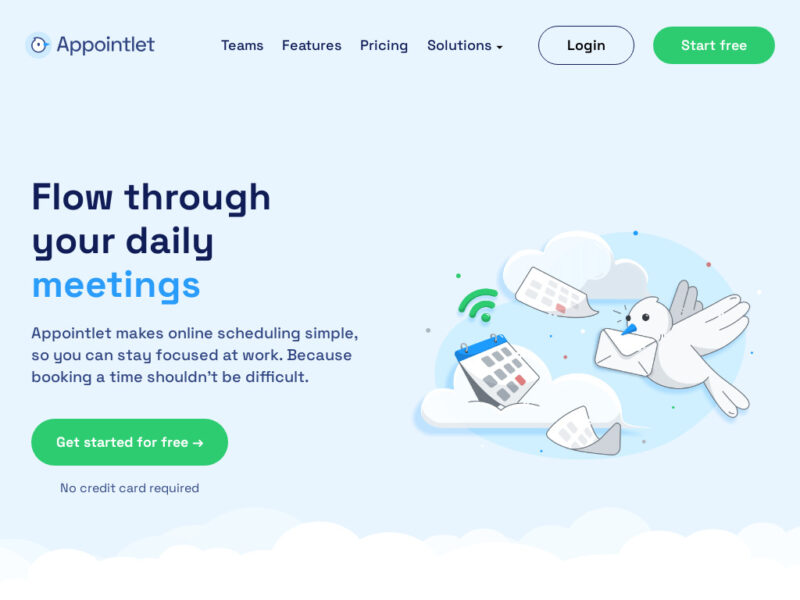 Pricing: Paid plans start from $8/month; a free plan also available

Despite their near-similar names, Appointlet and Appointy are two distinct scheduling software. Appointlet boasts three plans, two of which are premium and one a freemium package. All plans come with unlimited booking as well as the ability to cancel and reschedule your appointments.

Appointlet enables you to customize your appointments based on your availability. You can then create booking pages and send them to customers and prospects.

Like all scheduling software on this list, Appointlet integrates with numerous services, including your website, landing page, email, and social media.
Pricing: Paid plans start from $9/month; a free plan also available

The main thing that sets Bookafy apart from other scheduling software is the manner in which it handles calendars between collaborators. This tool allows you to enable two-way calendar syncing when you want both parties to view each other's schedules. Alternatively, you can opt for one-way syncing to allow someone to view your calendar but without needing to see theirs.

Bookafy offers flexibility in terms of meeting participants. You can schedule one-on-one meetings with your prospects or plan joint staff briefings. There are also options for activating one-off and recurring appointments.

For every scheduled meeting, Bookafy automatically generates an active link for a Zoom or GoTo Meeting conference. Seamless syncing with calendars and payment methods makes this scheduling software truly worth checking out.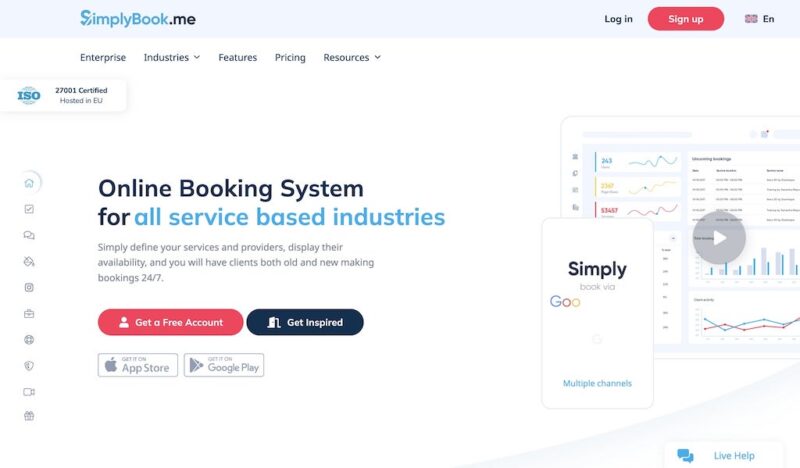 Pricing: Paid plans start from $8.25/month; a free plan also available

The name of this scheduling software paints a clear picture of the simplicity of its operations. SimplyBook.me is so easy to use that you require ZERO software knowledge to navigate its dashboard.

The tool comes with multi-lingual support, which makes it a preferable option for businesses with a global reach. Popular available languages include English, French, German, Spanish, Chinese, Russian, Portuguese, and Korean.

SimplyBook.me is also social media-friendly. In addition to making online appointments via your website, the tool lets your employees and customers schedule appointments via a link on your Facebook and Instagram profiles. There are also tons of app integrations, including with multiple payment options. Your clients can choose to pay via PayPal, Skrill, Stripe, Alipay, and Mollie.
Pricing: Paid plans start from $5/month; a free plan also available

Unlimited appointments is one of the top features many people look for in scheduling apps. That's especially true for large companies targeting multiple prospects at a go.

Setmore appreciates the significance of scheduling unlimited appointments and provides the same as its core feature. The software also offers affordable payment plans. There's a freemium version that supports up to four users and two premium bundles.

Both premium plans cost $5/month. However, they differ in their offerings depending on whether you're a growing professional business or a large and established team. Common features across all plans include unlimited appointments, email reminders, payment acceptance, customized booking page & notifications, and iOS & Android compatibility.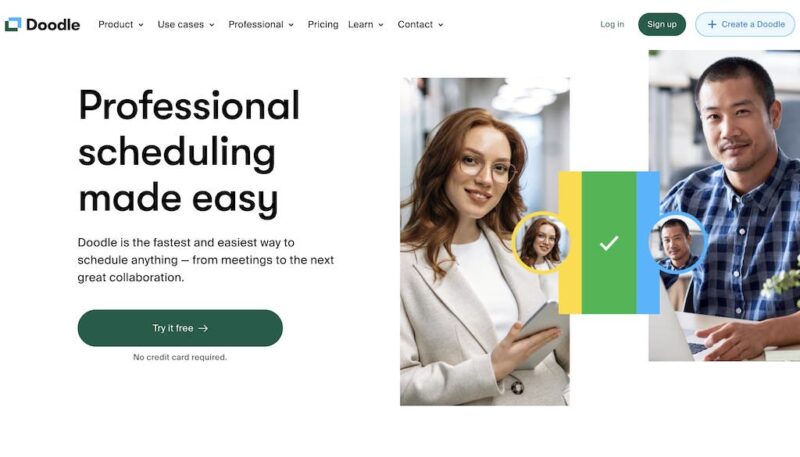 Pricing: Paid plans start from $6.95/month; a free plan also available

There are thousands of Doodle reviews out there, the majority of which cite it as the best scheduling software. And it's not difficult to agree with these observations.

Doodle makes it incredibly easy to organize meetings and events with your staff, clients, prospects, and even family and friends. The software supports unlimited appointments and unlimited booking pages. It also offers group polling and video integrations.

Doodle doesn't display intrusive ads either. The app syncs with Microsoft Teams, Webex, and Zoom web conferencing. Added to its multi-lingual support, this is undoubtedly a scheduling application you want to check out.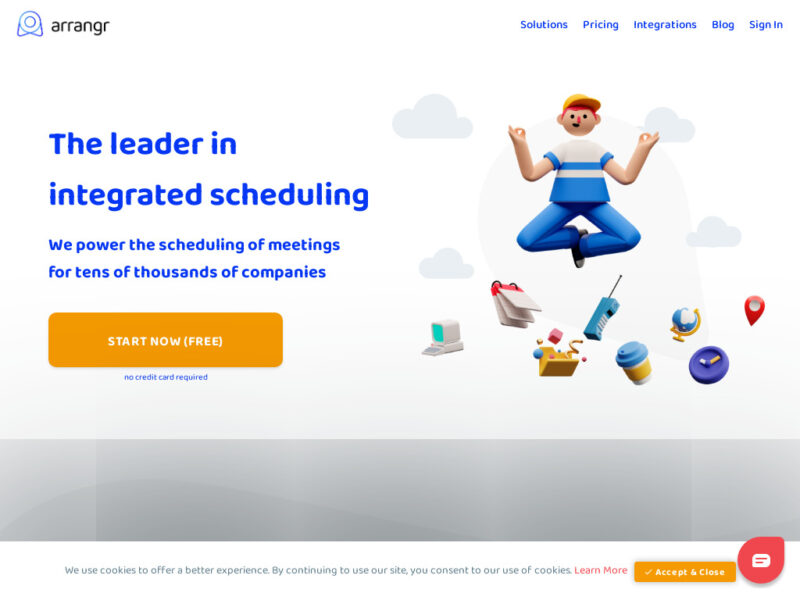 Pricing: Paid plans start from $3.99/month; a free plan also available

Arrangr is a smart scheduling platform that lets you plan a meeting in as little as 30 seconds. The software allows users to determine their most convenient meeting times, places, and methods.

Arrangr is a partner with HubSpot. That means you can easily launch and send meeting invitations to contacts within the HubSpot ecosystem.

In addition to HubSpot, Arrangr integrates with GoToMeeting, Zoom, Skype, Slack, and Apple iCloud Calendar, to mention but a few. The tool is also compatible with all popular calendars, including Google, Microsoft, and Apple.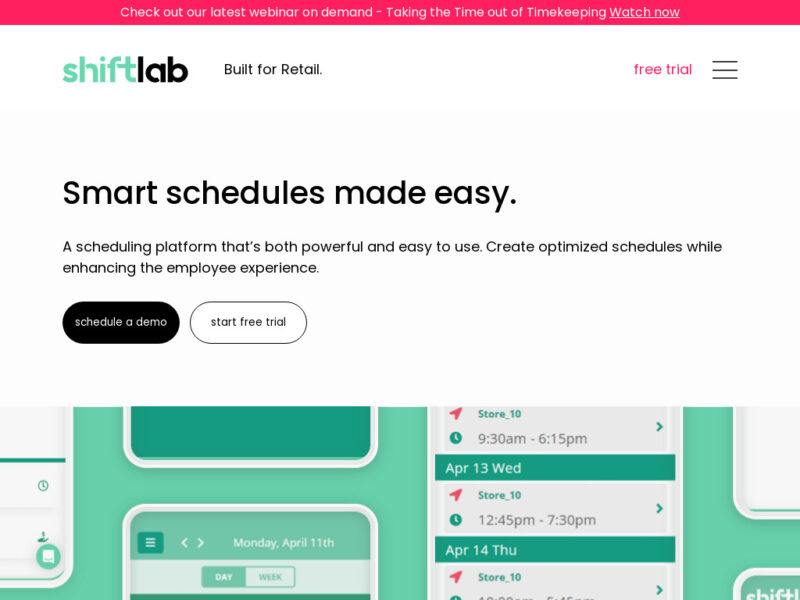 Pricing: Undisclosed, but a free trial option is available

Shiftlab works primarily as an employee scheduling as well as time and attendance solution. The service was designed mainly with retailers in mind. It boasts an intuitive dashboard and a powerful AI that identifies the most productive store associates and recommends them for prime shifts.

Shiftlab's AI also performs deep traffic and sales analytics. This can go a long way in helping you zero in on potentially valuable staffers and clients. It's the software to install if you're seeking to reduce downtimes for optimized workplace productivity.

In fact, Shiftlab isn't all about scheduling employee shifts. The tool comes with a mobile application that boosts staff experience by letting them view their schedules and request any changes on the go.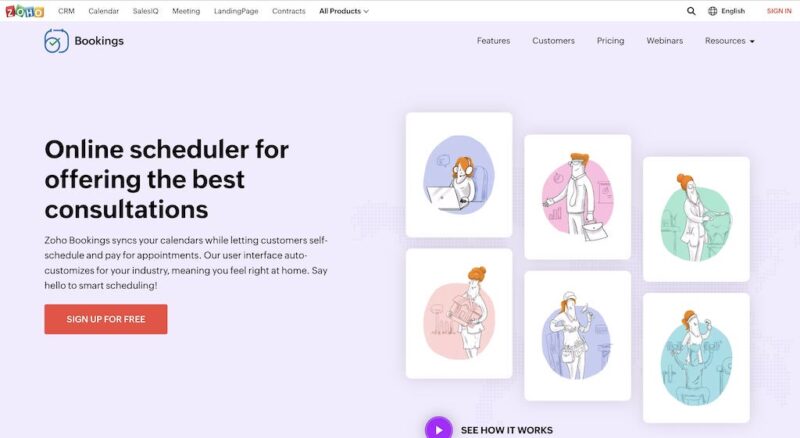 Pricing: Paid plans start from $3.99/month

Zoho Bookings is one of the few meeting scheduling software that let you add questions to your appointments. This can be an excellent way to anticipate discussions.

Another noteworthy feature of Zoho as a meeting planner is its online or offline meeting capabilities. The tool syncs with both online and offline meeting apps for hassle-free appointments.

Besides simply helping you schedule appointments, Zoho Bookings also eliminates no-shows through its efficient email and text message reminders. What's more – you can customize your booking page to align with your online branding or directly embed the page on your website.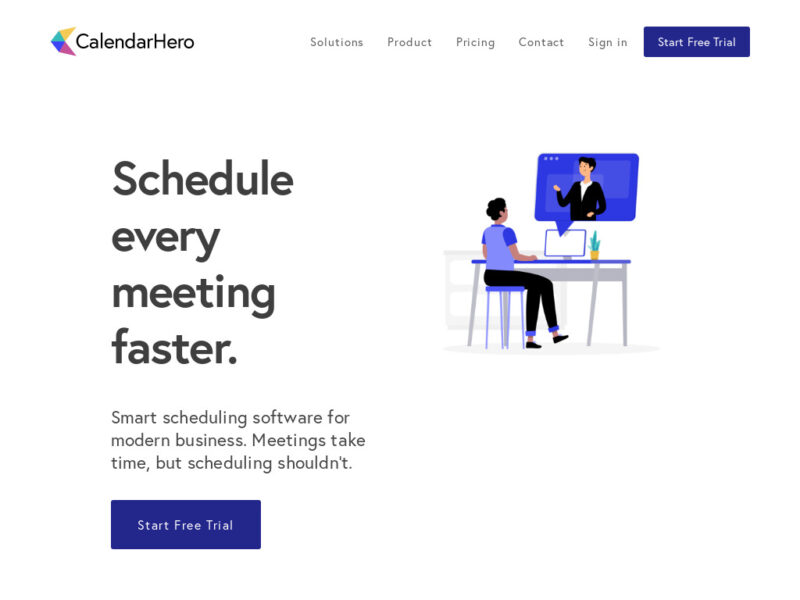 Pricing: Paid plans start from $8/month; a free plan also available

CalendarHero is the go-to scheduling automation platform for eliminating the back-and-forth emails that you'd otherwise need to send trying to secure a convenient meeting time.

The system comes with all the basic features you'll find in standard scheduler apps. These include but not limited to multi-team collaborations, video conferencing, shareable scheduling links, and internal group scheduling.

But what truly sets CalendarHero apart is how effectively it connects with your tech stack. Besides, the software has a robust notification system and smart time settings that ensure you never forget or run late for that important appointment.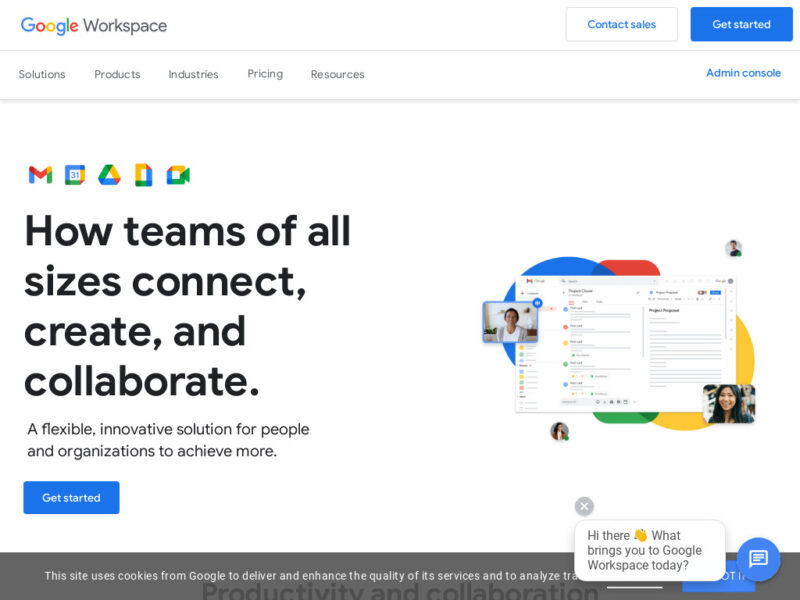 Pricing: Paid plans start from $6/month

Workspace by Google is a collection of cloud computing, collaboration, and productivity tools by the giant tech corporation. One such product is a meeting scheduling software that supports real-time collaborations.

Google Workspace has no freemium plans. But it offers up to four premium bundles depending on your business needs.

The most affordable of the premium packages – Business Starter – supports up to 100 video conferencing participants. It also comes with 30 GB of storage per user and lots of security features. As you might expect, the number of participants and storage capacity vary depending on the plans you subscribe to.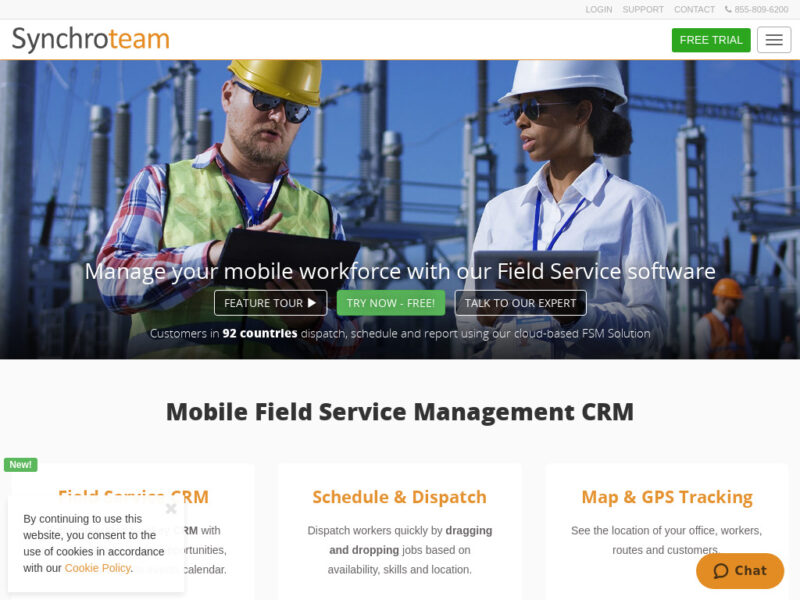 Pricing: Paid plans start from $24/month if billed annually or $31/month if billed monthly

With plans starting from $24/month, Synchroteam may not be the most affordable scheduling software on this list. But there's a lot to gain by installing this app.

For starters, Synchroteam provides numerous features that make meeting scheduling a breeze. Noteworthy ones include tracking capabilities, calendars, maps, invoicing, and customer relationship management tools.

Synchroteam also provides weekly and monthly views that let you have a broader outlook of your current workload. And although there are no freemium versions, the paid plans come with a test drive option.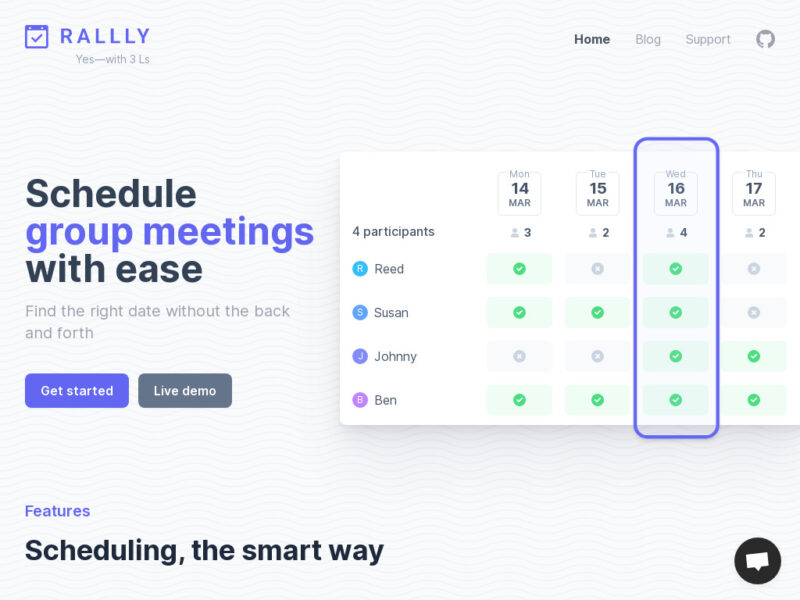 Pricing: Undisclosed, but a free trial option is available

Rallly is yet another great scheduling app if you're seeking to eliminate the back-and-forth commonly experienced when planning meetings. With this software, your schedule fills up efficiently and everyone avoids excess email exchanges.

One of Rallly's most outstanding features is a polling functionality where group members can vote on the best meeting times. There are also chat and messaging functions that enable the attendees to discuss the best times to plan subsequent meetings. Instant notifications let you know immediately when a participant has voted or commented on your poll. All comments are available to all meeting participants, which saves you the time you'd otherwise waste relaying the same messages to your other collaborators.

Rallly is also mobile friendly, hence accessible on the go. The software boasts an ad-free interface, which eliminates the need for investing in an additional ad blocker.
Final Word
There are hundreds of scheduling software and we cannot possibly exhaust them in a single post. But the above-listed products can help jump-start your search for reliable, user-friendly, and affordable meeting scheduler apps.