There are so many reasons to travel to Australia, both for international visitors and domestic travelers alike, but the number one motivation for tourists: Australia's countless natural wonders.
Regardless of whether you prefer tranquil mountain scenery, white sandy beaches, striking outback gorges or lush ancient rainforests, there is a perfect nature destination for everyone.
Spoilt for choice, this list comprises of 10 amazing destinations to experience on your next Australian road trip.
Flinders Ranges, South Australia
The Flinders Ranges accounts for a huge area of South Australia's mountain landscape, and is an area rich in Indigenous Australian history, and dramatic panoramas and offers sanctuary to a wealth of native fauna and flora.
Ikara (aka Wilpena Pound), is easily the most renowned of the region's attractions. This ecological amphitheater is a massive 17km by 8km in size, or to put it into perspective: eight times the size of Uluru, and just as magnificent and culturally significant. 
Ancient Aboriginal rock carvings can be found at Flinders Ranges Arkaroo Rock, where Indigenous artwork depicting creation stories has been engraved into huge wave-shaped, sandstone rocks
Cape Le Grand National Park, Western Australia
The exquisite beaches at Cape Le Grand National Park are repeatedly described as incomparable by its visitors. White sand beaches in sheltered, secluded bays, make for perfect swimming conditions, whilst the neighboring Recherché Archipelago (a collection of 105 islands that sit off the coastline) provides a stunning view.
Bushwalking at Cape Le Grand is a showcase of native Australian plant life, abundant in wildflowers, Grevilleas, Banksias and Grasstrees. The kangaroos in the park are so friendly, that they are likely to sunbathe alongside you on one of the many beaches.
Wildlife enthusiasts will be in their element, given the plethora of bird species, bandicoots and possums, plus, whale watching from shore is possible each year between May and October.
Blue Mountains, New South Wales
The Blue Mountains in New South Wales are filled with natural wonders. An iconic rock formation called "The Three Sisters" is found here, and can be admired from Echo Point lookout, as can the spectacular Katoomba Falls that cascade down the cliffs to the sisters' left. These are not the only scenic views in the Blue Mountains, there is a scenic sky railway and many other lookout points throughout the region. The excess of available walking trails are a hiker's delight.
Another of the Blue Mountains' gems is The Jenolan Caves, a massive limestone cave system that was formed by underground rivers. There are TEN show caves at Jenolan! All of these are accessible to visitors, and then there are a whole other section of non-show caves, that can be explored as part of an adventure experience. 
Glow-worm caves and canyons are also a natural attraction in the Blue Mountains, some of which can be found at Horseshoe Falls, Lithgow and Burralow Creek.  
Cape Range National Park, Western Australia
This remote national park in Western Australia is a gateway to Ningaloo Reef, famous for incredible snorkeling, thanks to its' crystal-clear water and abundant marine life – such as whale sharks, dolphins, turtles and manta rays.
The beaches are pristine, Turquoise Bay and Sandy Bay are especially beautiful, but there are also amazing Gorges, like Mandu Mandu. Land wildlife is also abundant, the National Park is home to Emus, Kangaroos, Wallabies and a plethora of bird species, such as the Heron, Eastern Great Egret and Ospreys.
Mount Gambier, South Australia
Situated in the far southeast of South Australia, the charming town of Mount Gambier is most well-known for its' spectacular Blue Lake. Situated inside a crater, the remnants from an extinct volcano, the lake turns the most incredible shade of deep blue each year between November and March.
Mount Gambier is also home to another amazing attraction, the Umpherston Sinkhole. This natural phenomenon was once a limestone cave, but part of its ceiling collapsed, and it is now a magnificent sunken garden, and home to many native animals. The adorable possums that reside at Umpherston Sinkhole are used to human interaction, enjoying fresh fruit treats that are offered by many of the garden's visitors.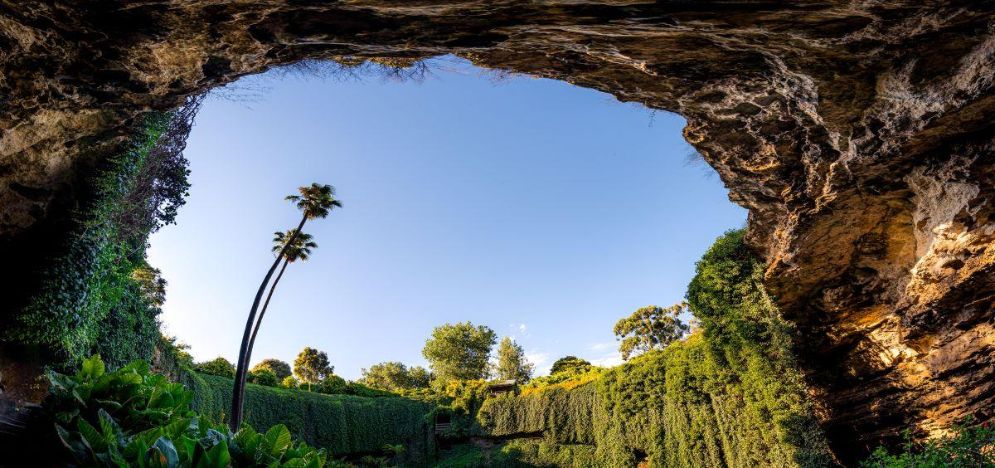 Tasman National Park, Tasmania
Famed for impressive sea cliffs and its enormous rock formations, the Tasman National Park is an expanse of striking beauty and biodiversity. 
The national park is a natural refuge for marine and land animals, such as endangered sea eagles and wedge-tailed eagles, brushtail possums, Australian fur seals, dolphins, penguins and whales (annually when they are migrating).
Dramatic rock formations are featured along the shoreline of the Tasman National Park, including Remarkable Cave, a deep bridge of carved rock, surrounded by ancient, sheer, sandstone cliffs.   Tasman Arch, The Blowhole, Waterfall Bay and Tessellated Pavement are all other outstandingly unique natural attractions you must stop and see while traveling through the region.
The Scenic Rim, Queensland
Prehistoric Gondwanan rainforests, hundreds of waterfalls, picturesque landscapes and numerous endemic animals are all found in this "Lonely Planet Top 10" travel destination. The Scenic Rim is home to Mount Barney National Park, the largest area of pristine native flora in South-East Queensland. Wildlife includes platypus, kingfishers, rock wallabies and lace monitors. 
The World Heritage Listed Lamington National Park has over 500 waterfalls within, and over 20 prominent walking tracks to explore the ancient rainforest. As if these two National Parks weren't enough, Tamborine Mountain National Park is also located in the Scenic Rim, famous for the amazing Skywalk, which allows you to wander through the rainforest canopy alongside the mossy trees and beautiful bird life.
Tamborine Mountains' three most popular waterfalls are Cedar Creek Falls, Witches Falls and Curtis Falls, each and every one is a breath-taking experience.
Wilsons Promontory National Park, Victoria
Both land and marine park, Wilsons Promontory contains an ecosystem fit to rival Queensland's Great Barrier Reef. Gropers, Seadragons, an assortment of colorful sponges and coral and sea tulips are a wonderland for divers. On land, marine animals can still be enjoyed, as the surrounding islands are colonized by Australian fur seals and penguins.  
The rugged granite mountains of Wilsons Promontory are abounding with native wildlife, such as wombats, kangaroos and emus. Swim at the pristine beaches, explore the isolated wilderness and hike "The Big Drift", a vast stretch of glorious sand dunes.
MacDonnell Ranges, Northern Territory
This expanse of over 640 kilometers of Mountainous landscape, the MacDonnell Ranges of the Northern Territory are an extraordinary sequence of mountains in the heart of the Red Centre.
Boasting exceptional gorges, vivid chasms and remarkable scenery, these ranges contain the exquisite Ellery Creek Big Hole and the impressive Ormiston Gorge, both stunning waterholes surrounded by huge red cliffs. 
The Ochre Pits of the MacDonnell Ranges have been mined by the Aboriginal community for thousands of years, for use in ceremonies, decorations and medicines. 

Carnarvon Gorge National Park, Queensland
Carnarvon Gorge National Park is instantly identifiable from its' mammoth gorges, shaped over thousands of years to form huge sandstone cliffs. The contrast between the surrounding Australian bushland to the severity of menacing cliffs, and vibrantly colored gorges, provides a spectacularly picturesque landscape.
This outback oasis shelters hundreds of animal species, including platypus, echidna, swamp wallabies and yellow-bellied gliders.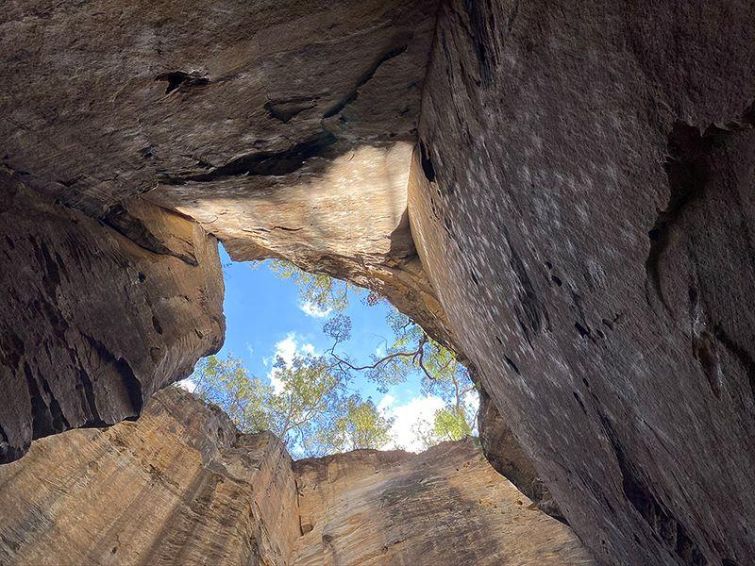 Other Tips
The distances between major cities and many of Australia's best natural attractions are vast. A convenient and popular method for road tripping is to hire a campervan. A campervan holiday is a perfect way to experience the great outdoors, and by planning your rental ahead of time, it allows you to be spontaneous during your vacation! No last-minute hotel reservations, you can spend as little or as much time in a location as it suits you.
The "Discovery Roadtrip" mobile app is free to download on Apple and Android smart phones, and is extremely helpful with finding Australian campgrounds. It is useful either when planning ahead, because it allows you to save options to your favourites list for later, but also for travellers on the go, because you can search the surrounding area for free and paid sites. 
Author: Leila Gear – Discovery Campervans