Last Updated on January 24, 2023
What Are Background Check Services?
Gone are the days when recruiters would readily award a job to the most qualified person in the interview room. Nowadays, many employers look beyond a job seeker's academic qualifications, technical skills, and work experience. The potential recruit must also be subjected through a rigorous background check to establish if they have any criminal record or other conduct that could mar their credibility.

But background checks aren't unique to employers.

People looking for love on the internet can also benefit immensely from running background checks on their potential love interests. The last thing you want is to get in with someone who's on FBI's 'Most Wanted' list.

You might also choose to do a background check to trace a lost friend or relative. Or, you can perform your own background check to find out how much of your personal data is available to the public.

Now, background check services simply refer to online websites and tools that perform comprehensive searches on a person's criminal or family history. These sites rely on known details about the target person in order to pull up useful information about them. The details could range from the person's official name to their aliases, last known addresses, telephone numbers, their previous employers, etc.

The following is a rundown of the ten best background check sites to uncover the truth about a person's criminal or social background.
Pricing: Paid plans start from $19.95/month, comes with a 7-day free trial

Intelius is one of the best background check services, especially in terms of the range of searches you can perform on this website. You can conduct basic name searchers using this service or perform more complicated searches like address lookups and reverse phone.

All you have to do is enter a few details about the subject of your investigation, such as their name, city, or state. After that, Intelius will redirect you to a page displaying detailed information about the various profiles that match your information.

You can then choose a profile that best fits the target person.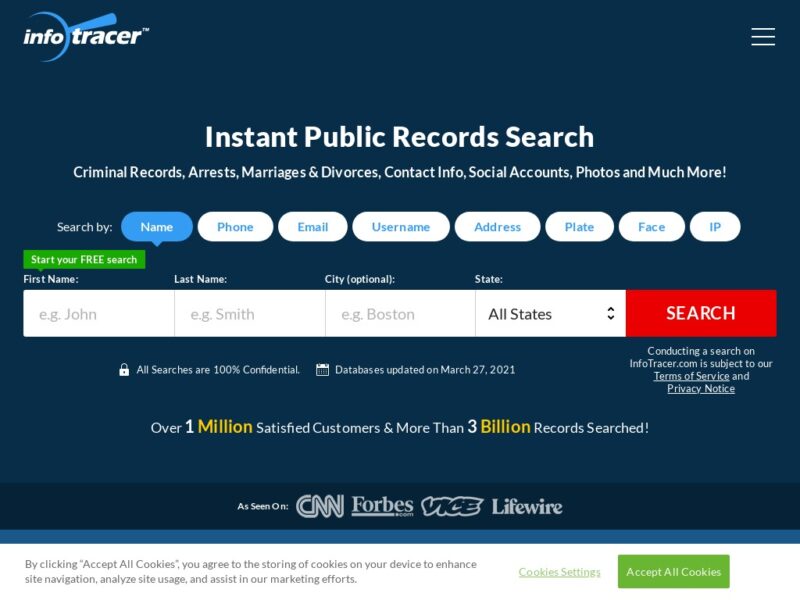 Pricing: Free for instant lookups and searchers, Paid plans start from $19.95 – which is either the cost of a one-time report or a monthly subscription

InfoTracer performs comprehensive background searches and then presents the information in a manner that makes it easy to navigate. Using this service, you can perform searches on a person based on their names and aliases, user IDs and usernames, birth or death records, photos and videos, arrests and warrants, marriage or divorce, or assets and net worth.

There's even an option for performing dark web scans. The service constantly updates its database to ensure that the information therein is not only factual but also relevant and recent.

One glaring drawback with InfoTracer is that it doesn't provide information relating to a person's career and professional background. That makes it unsuitable for potential employers.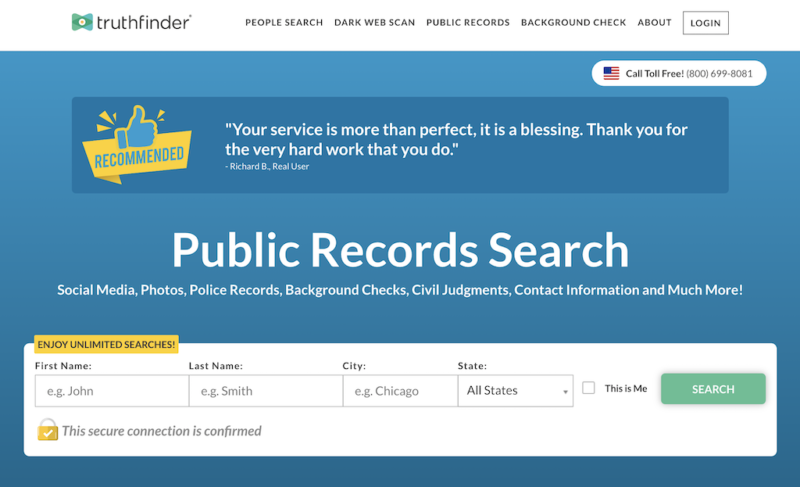 Pricing: Paid plans start from $30/month for 1-month subscriptions or $26/month for 3-month subscriptions

TruthFinder comes with two subscription packages that differ slightly in pricing and duration. But whichever plan you go for, you're assured of unlimited reports about a person's background.

Some of the information that TruthFinder can pull up include the target person's official name and aliases, date of birth, contact information and address history, criminal history, social media profiles, and government-issued identification documents. These reports are instantly generated and are ready to download or print.

TruthFinder also offers dark web scans at no additional cost. This allows you to see if your personal details or those of the subject of your investigation have been unduly shared on potentially malicious websites, chat rooms, online forums, or peer-to-peer file-sharing networks.

Pricing: Paid plans start from $24.95/month

Founded in 1999, PeopleFinders is one of the oldest background check services. That speaks volumes about the company's credibility and reliability.

The service allows you to search the subject of your investigation based on their birth or death details, addresses and contact information, marriage or divorce, assets and net worth, or criminal records. You can also perform a quick reverse phone lookup. The search process is fast and efficient, and the data is displayed in a highly presentable manner for ease of navigation.

However, PeopleFinders has two major drawbacks. First, it doesn't pull up information from social networking platforms. Also, the service is only available in the US.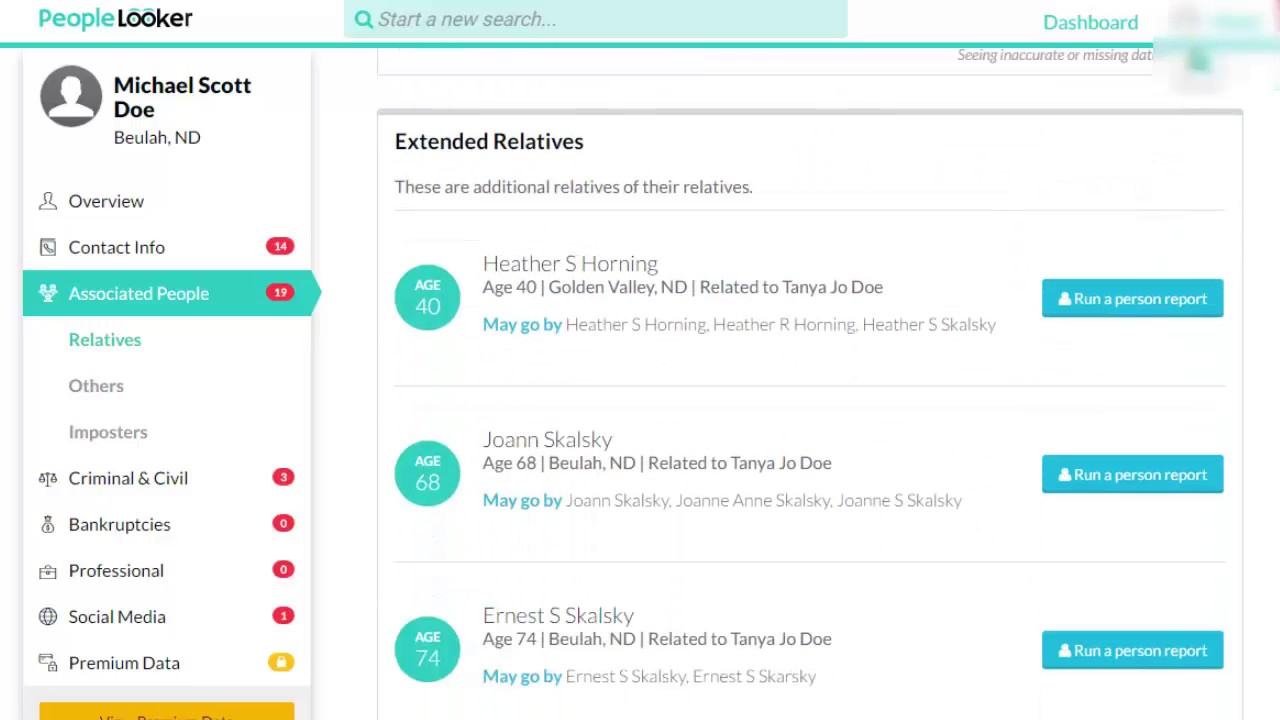 Pricing: Paid plans start from $22.86/month for 1-month subscriptions or $18.28/month for 3-month subscriptions

Not to be confused with PeopleFinders People Looker is a distinct background check service that offers extensive reports about a person's personal information as well as family and criminal history.

The website can allow you to reconnect with a lost friend or uncover the truth about your potential love interest.

But what makes People Looker truly outstanding is that the service pulls up information that's not necessarily related to people. For instance, you can get information concerning a particular property, such as its previous owners, tenants, and the property's most recent seller.
Pricing: Paid plans start from $22.86/month, a 5-day free trial available for $1

Instant Checkmate is owned by The Control Media Company, the same company that owns TruthFinder.

The website conducts rigorous searches from extensive public records, government databases, social media platforms, police records, and court documents to provide faster and reliable details about a target person. This information is then counterchecked to guarantee its authenticity and credibility.

Instant Checkmate also prides itself on its highly-responsive customer support. Another thing to love about this background check service is that the company donates generously to charities and non-profit organizations.
Pricing: Paid plans start from $12.95/month

One of the standout features of ID True is its incredibly fast speeds. Regardless of the nature of your searches, this service will usually pull up the information in under a minute.

And there's no limit to the type of information you can search on a person, including their name and addresses, hidden social media accounts, business associates, location activity, criminal records, to mention but a few.

An affordable first-month offer makes ID True perfect for new users who wish to test-drive the service. What's more, all the searches by this platform are private and confidential, so the target person will never know that you searched them on the internet.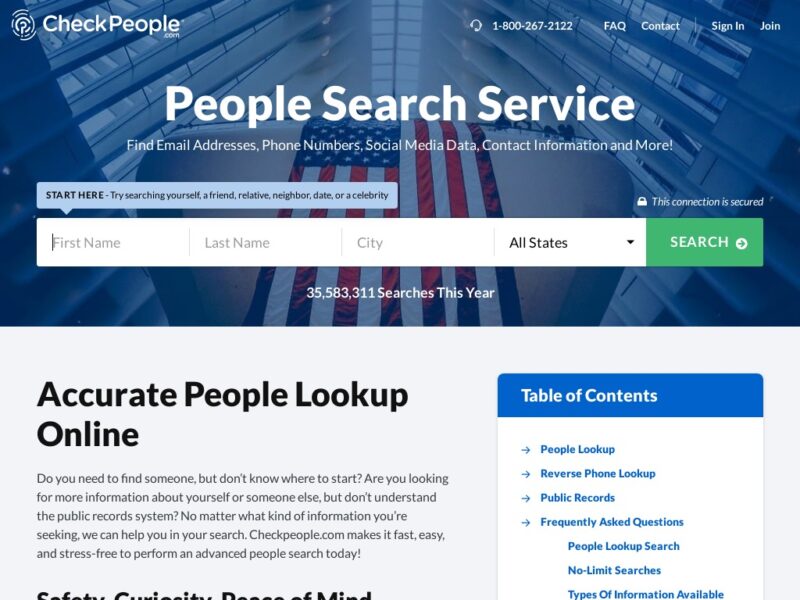 Pricing: Free for your first search, Paid plans start from $17.16/month. A 5-day trial is also available for $1

CheckPeople is mostly recommended for checking a person's criminal records. After entering the target person's details, the website works remarkably fast to pull up information regarding their arrests, warrants, prosecutions, and mugshots.

But that's not all. CheckPeople also lets you access other critical details about the subject of your search, including their prior addresses, location activity, marriage or divorce records, and family tree.

You can even search the person based on their aliases and potential social media usernames. The provision for a free first search and reasonably priced plans are other notable features of this background check service.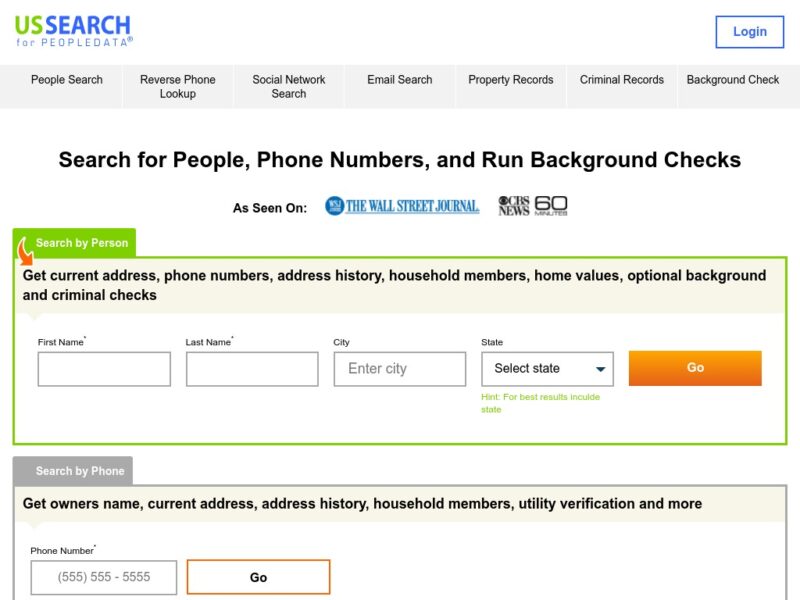 Pricing: Basic People Search costs $2.45, Monthly subscriptions start from $20.00/month

As the name implies, US Search offers its services only to clients within the United States and its territories. However, there are numerous reasons to choose this background check service, including its flexible pricing options.

You can opt for the one-time Basic People Search plan that costs $2.45 or upgrade to a monthly subscription for $20.00/month for unlimited basic searchers. Other pricing plans include a 1-state Criminal Record Search and the more extensive Background Check option.

Under the People Search plans, you can access information pertaining to a person's official names and aliases, age, location history, and relatives. The 1-State Criminal Check package focuses on the person's criminal history. Lastly, the Background Check plan reports on every other information related to the person, including their neighbors, assets and properties, marriage or divorce, and social networking accounts.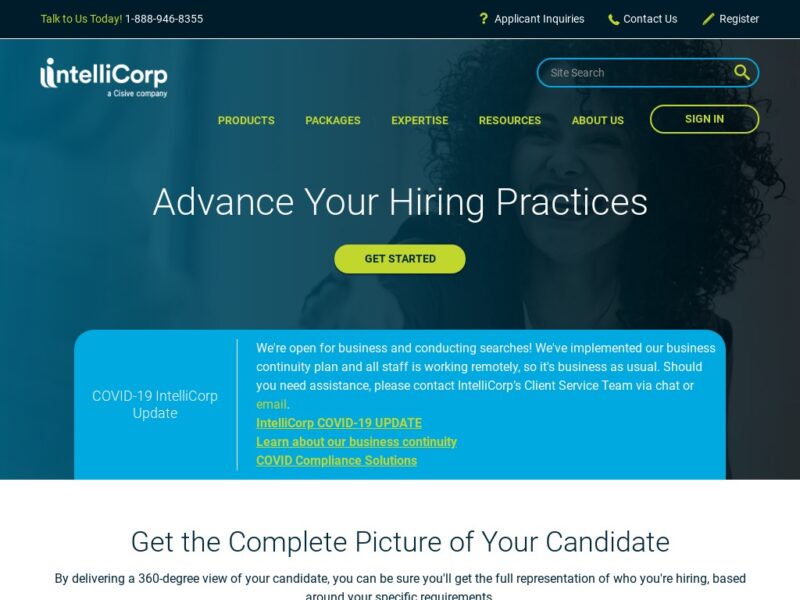 Pricing: Paid plans start from $58.95/month

While many background check services only allow you to find out information about a target person, IntelliCorp does you one better. This website contains a list of resourceful articles that offer more insights on the importance of conducting background checks before hiring or getting into a relationship with a person.

There are also blogs that explain how you can use the information obtained from running background checks in a manner that upholds the law. When you search a person using IntelliCorp, the website pulls up a wide range of information, including their official names and aliases, employment history, location activity, last known contact information, etc.

And for your peace of mind, it will interest you to know that IntelliCorp has been duly accredited by the Professional Background Screening Association (PBSA).
Final Word
Evidently, there are numerous services that you can use to check a person's background. When choosing these services, insist on websites that provide quality, extensive, and accurate reporting. The service should also allow you to perform a wide variety of background checks, ranging from criminal records to family tree searches, employment history, marital information, assets and properties owned, etc. Other considerations while choosing a background check service include affordable pricing and reliable customer support.