Last Updated on March 8, 2022
What is a blogger outreach service?
It has long been the case that blogger outreach is a winning formula for successfully boosting online exposure for your business. It is a tactic that manages to go beyond the obvious benefits of increasing your social media presence and optimizing your site for search engine purposes.
Your aim is to get your content published amongst other blogs with a like-minded target audience. This increases your online exposure in a natural way that helps build authority and trust in one of the best ways possible.
In addition, you can enjoy a boost to the level of targeted traffic finding its way to your website and the win-win of that scenario is that this outcome also greatly improves your search engine visibility at the same time.
As you can see, there are numerous benefits of using blogger outreach and link building in this way. Your aim, of course, should be to find a provider who ticks all of the right boxes in terms of delivering a premium quality blogger outreach package. This guide will help point you in the right direction so that you can make an informed decision.
What are the benefits of guest posting?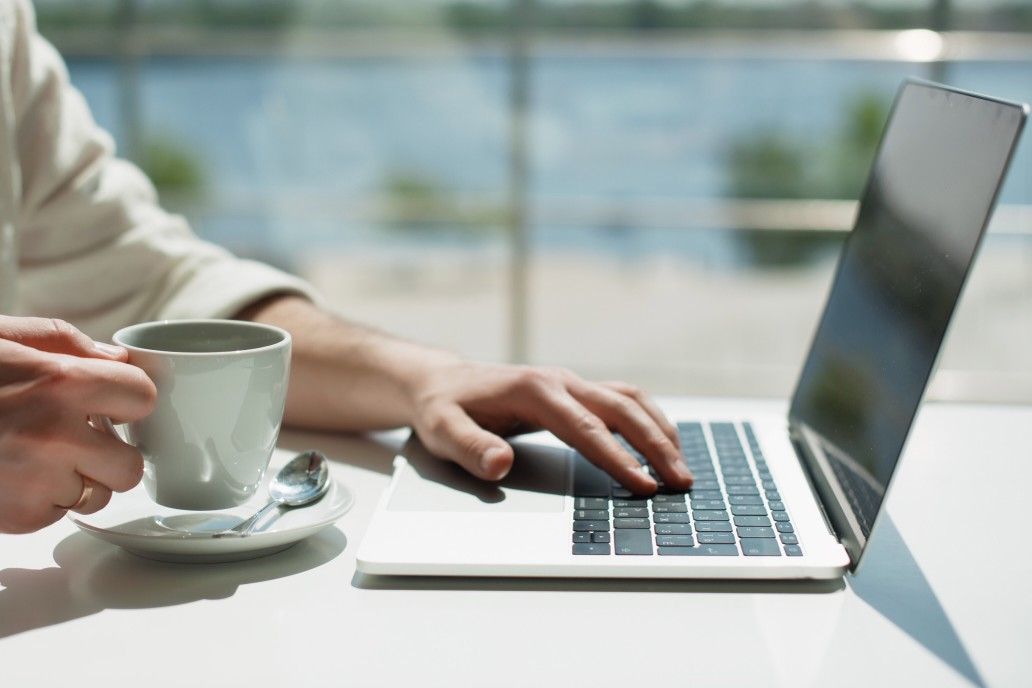 Before looking at the key providers in this arena, an obvious question that you might want an answer to would be – why would you want to create content that will end up enhancing someone else's blog?
The basic answer to that question is that you can often make a more meaningful impact when you get your content published on an established blog, and the benefits of taking this approach are not to be dismissed lightly.
Some of the positive benefits associated with this link building approach include :
Increased web traffic

Improved domain authority

Increased backlinks

Boost in your portfolio and credibility
How it works
In basic terms, the main point to remember about how blogger outreach works is the fact that it is a marketing strategy that opens up the opportunity to work alongside other bloggers so that you can help create professional and authentic content.
The primary purpose of this exercise is to help promote your brand, product, or service.
The reason you want to use a professional and quality blogger outreach service, that also offers premium guest posting services, is that they are well-placed to identify the right websites in your niche.
In addition, they will also handle the outreach for you. This usually involves pitching your story and ideas to the right people. It often includes writing the article on your behalf as well, to ensure that you deliver professional content every time.
The benefits of blogger outreach are there for all to see, and it is a great link building strategy that should enhance your business profile.
Now that you have a clear understanding of what blogger outreach can do for your business, let's take a look at the best blogger outreach services available. 
Here is our top 10 list –
#1 – OutreachZ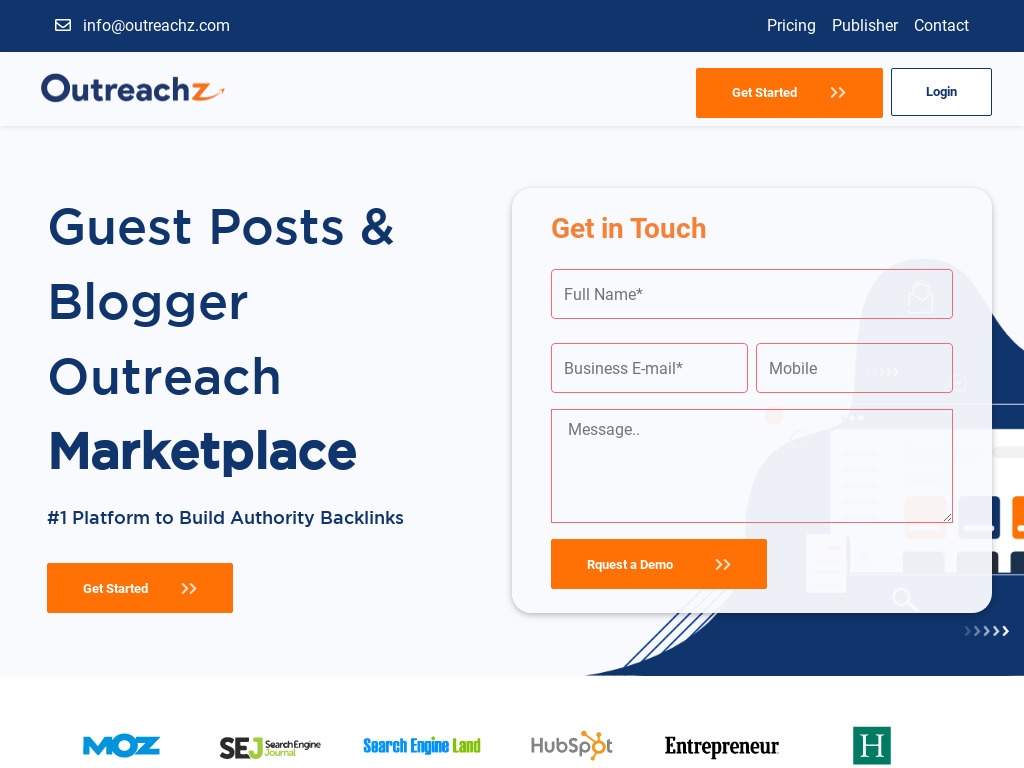 There are a number of pivotal points that you want to know are covered when reading through quality blogger outreach reviews and OutreachZ successfully manages to cover all of these relevant bases. 
Here are some of the key reasons why this provider deserves top billing in our blogger outreach rankings.
You want to be able to rely on a quality blogger outreach service that has the resources and experience to help you achieve the right number of authoritative backlinks. OutreachZ offers a high standard of outreach facilities. This includes having the contacts and outreach resources to place your backlinks in the right places so that you get the right level of exposure and put your name in front of a target audience that aligns with your profile.
Its premium link building service delivers a comprehensive service that includes all the outreach resources and capabilities you will need to make a good impact, in terms of SEO ranking and audience reach. It achieves this aim despite offering some of the most competitive prices around.
It is well placed to be the leading platform for helping you build authoritative backlinks by providing guest posts and blogger outreach services that achieve a high standard and are competitively priced.
Their guest posting service targets authentic niche blogs, so you don't have to be concerned about low-quality guest post farm tactics or drop catches to worry about. OutreachZT deploys good quality-control procedures in order to ensure that every individual platform delivers authenticity as well as quality.
An added bonus is the fact that it guarantees that all links will remain live for at least 12 months, replacing any broken links for free.
Pricing is always a very relevant consideration. Your aim should be to get the best service at the lowest possible cost, and OutreachZ compares very favorably on that score.
It offers options when it comes to platform fees, a choice of either 20% or $30. If you are searching for a domain authority (DA) of 50+ with organic traffic of more than 10,000, the total cost, including publisher fees, is just $195.
To give you an idea of how this pricing structure compares to its rivals, this pricing represents an average saving of more than $200 compared to other providers.
OutreachZ deserves to take the number one spot when you consider how well it compares against its rivals across the board, in terms of crucial aspects such as pricing, range of services, and market experience. 
#2 – OutReach Assistant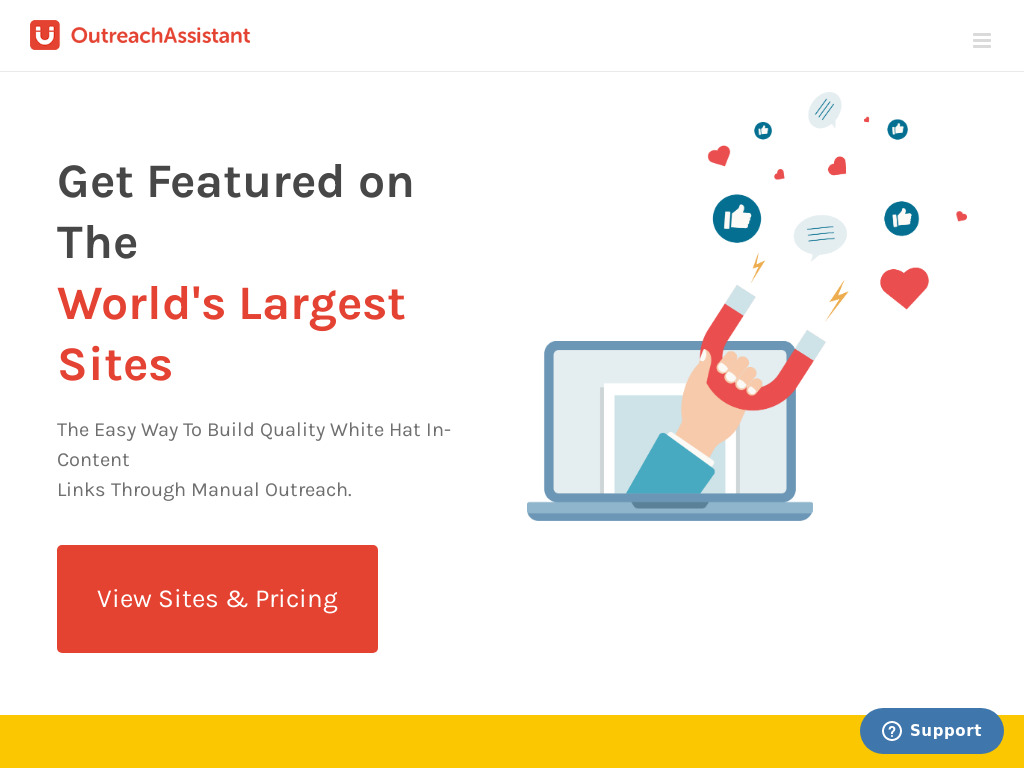 Next on the list is OutReach Assistant, which can be regarded as a blogger outreach service where the focus is primarily on reaching high quality websites that also offer a high Domain Authority.
What you will get with this service are articles that are always written by a native English speaker. One notable consideration to be aware of is that although anchor texts are permitted in some instances, you will usually be required to accept the natural anchors that are suggested by the writers.
Turnaround time for placement is usually within two weeks, however, OutReach Assistant does sometimes advise you that it could take four weeks or more to get a successful placement. These placements are sold on an individual basis, but it is prepared to quote for bulk guest posting services. The pricing structure tends to quote for between 5 and 15 placements per package and discounts will vary according to the volume required.
There are a couple of key points to remember when considered OutReachAssistant. It only guarantees links for one month, and the links may be on subdomains. There are also examples where the links are Nofollow, which won't help in terms of SEO.
OutReach Assistant warrants its inclusion in the top 10 as a result of its focus on quality over quantity, but that means it doesn't always compare well when it comes to costs.
#3 – FatJoe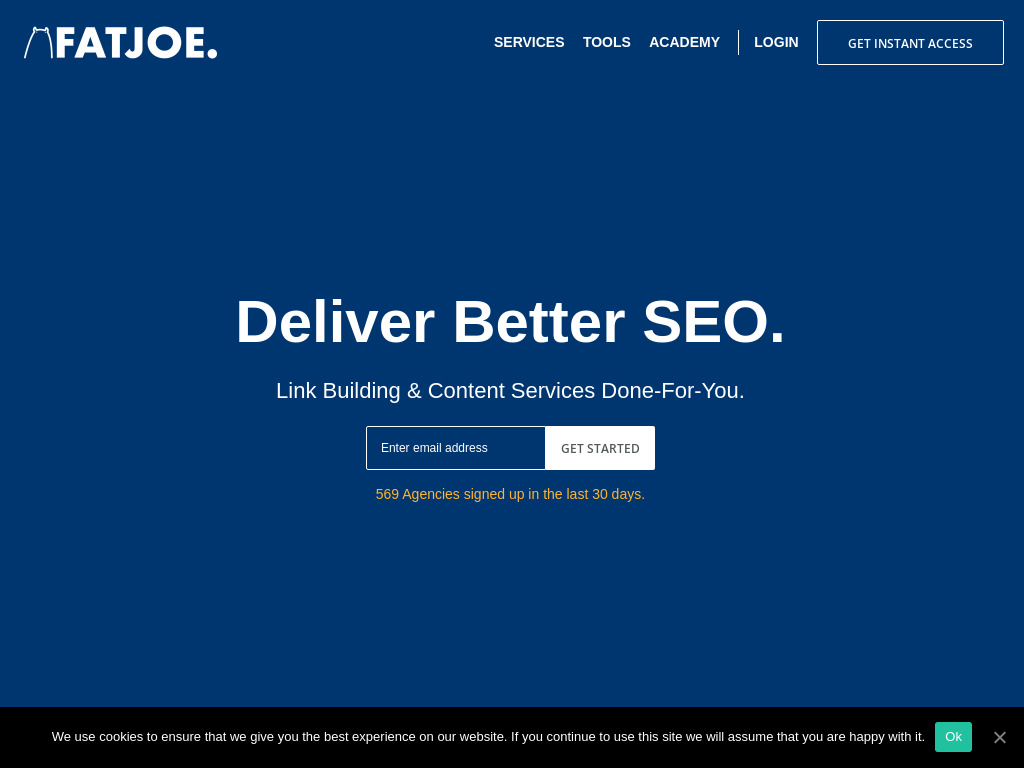 One of the leading claims made by FatJoe's is that its dashboard always works to cross-reference link data in order to ensure that link placements are never duplicated.
This blogger outreach and guest posting service provider has been trading since 2012 and it has managed to position itself as one of the leading agencies in that space of time. It now has the capacity to produce more than 5,000 link placements every month.
Its pricing structure is based on the strength of the DA required. If you want a low-tier service that sets the DA bar at 10+, you can expect to pay about $47 per placement, which includes a 500-word blog. At the other end of the scale, their premium service which promises a DA of 50+ and at least 1K of traffic, will cost you $490.
It does not discount these rates even if you order more than 50 placements.
FatJoe promises genuine quality outreach services and magazine-quality content with contextual backlinks.
It makes the list because it is clearly big enough to cope and has the resources to give you what you need. However, a lack of discounting might deter those looking for value as well as quality.
#4 – Linkredible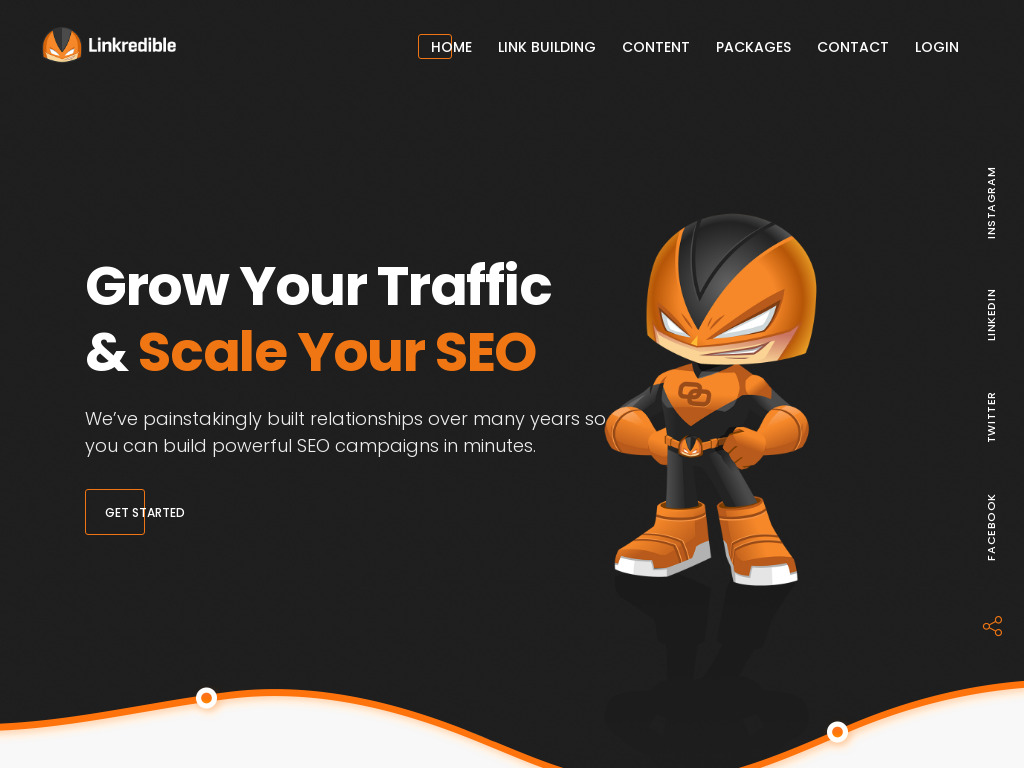 This provider claims to be well-positioned to offer a quality blogger outreach service as a result of the relationships that it has managed to forge with thousands of bloggers.
Their approach is centered around the belief that bloggers have the power to influence buyers in a very positive way. The way they go about making those connections represents what you would class as a fairly unique approach when it comes to blogger outreach and guest posting facilities.
Their outreach team manually negotiates with bloggers in your niche territory and they believe that this ensures a high authority level. Their in-house team takes on the task of writing the content and also works on the link building aspect of your instruction.
Their pricing structure reflects this manual approach. They charge $109 for DA20+ that includes a minimum 750-word blog post with one target link and anchor text. This service is offered on a 10-20 day turnaround.
The price moves up to $249 for DA40+ blog posts and their high-end DA50+ offering comes in at $399. They quote a turnaround of between 10-60 days for this service.
Linkredible offers a good level of quality with their manual approach but the turnaround might be slower than others.
#5 – The Hoth
This provider has developed a good reputation for delivering natural, white-hat, in-content links that meet a decent quality standard.
The Hoth is another blogger outreach provider who takes a manual approach to outreaching and securing a guest post spot for your content. It is worth noting that these are what could be classed as enterprise-level links and the backlinks should be of a certain quality as a result of this.
They are flexible in the way they allow you to customize your criteria so that you can choose between Domain Authority or Publisher Traffic, for instance. They also aim to stick to a maximum 30-day turnaround time for your guest post.
Their prices start at $100 for a DA 10+ post of 500 words and they charge upwards of $200 for their Publisher Traffic service which offers guaranteed monthly organic traffic at an agreed level.
The Hoth offers good customer support and the maximum 30-day limit for getting your content posted is worth noting.
#6- OutreachMama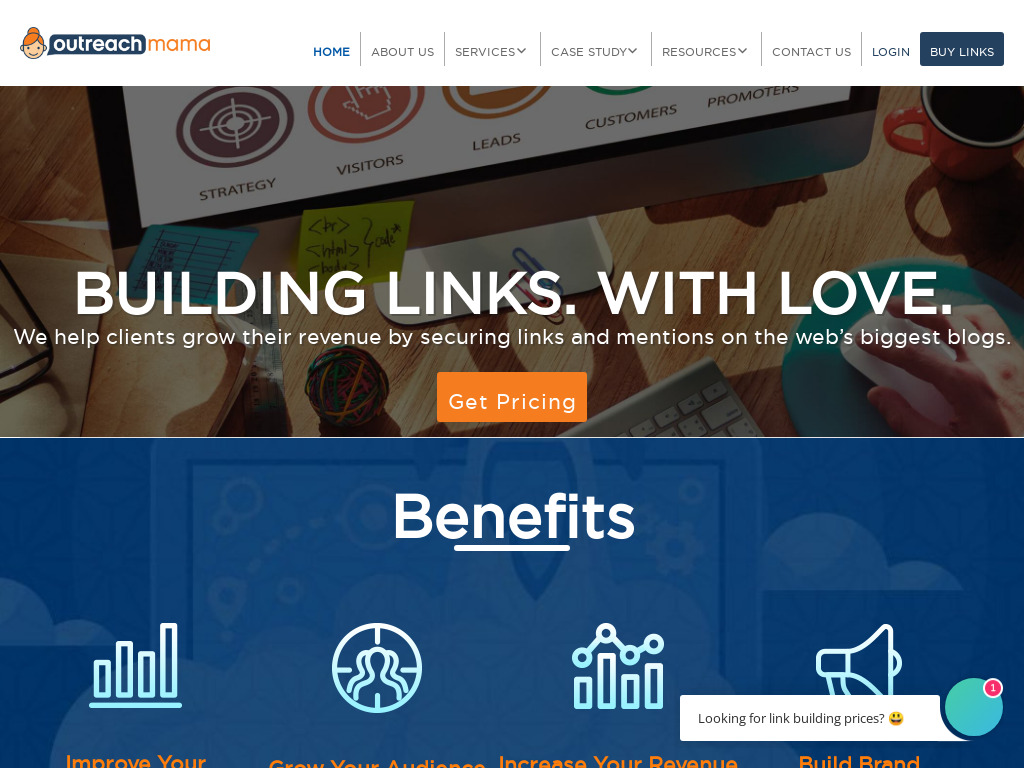 OutreachMama boasts some good relationships within the industry and argues that it puts them in a strong position to deliver backlinks from some of the biggest brands on the web.
Their emphasis is based on the concept that although premium content is clearly very important, promoting that content is what often sets you apart from the crowd.
They offer blogger outreach services, guest posting facilities, and link building services for agencies and brands.
OutreachMama also offers to review your existing backlinks and keywords to create a strategy that aims to improve on every aspect of what you have achieved so far.
You will have to sign up via their dashboard in order to get a quote for their blogger outreach and guest posting services.
OutreachMama is an established presence in the blogger outreach arena but it should be noted that they major on using a tactic known as a link insertion method. This involves placing your backlinks in previously published blog posts. This is not so good when it comes to SEO efficiency and potency.
#7- Submit Shop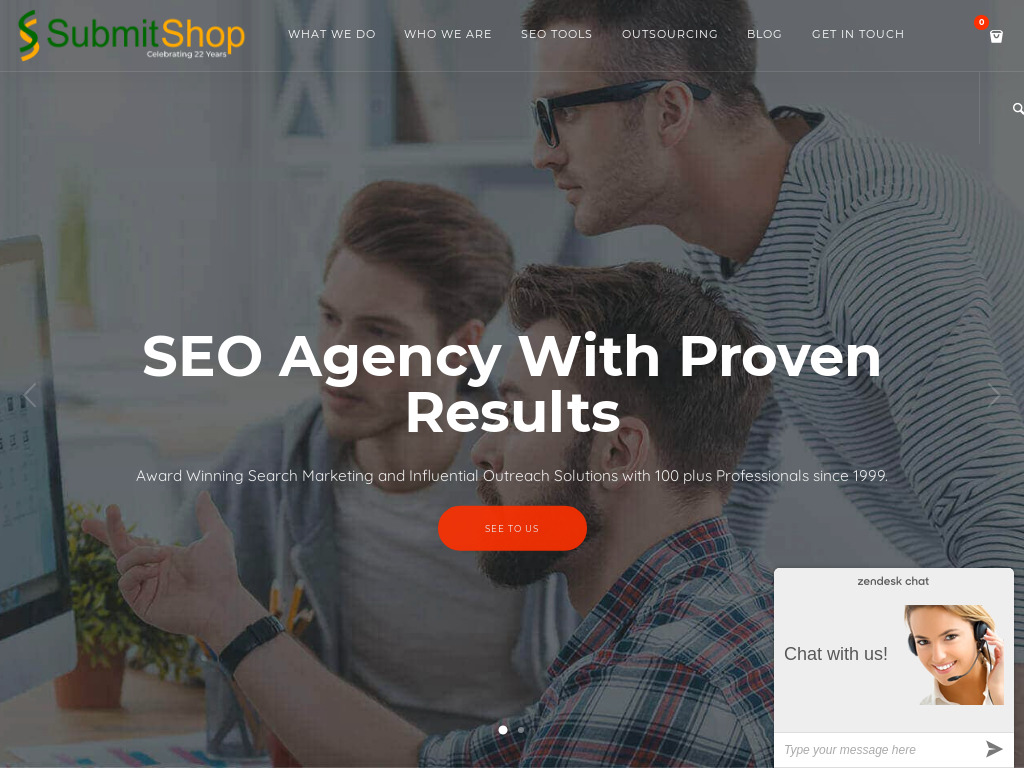 Next on the list is Submit Shop, who have been offering their services for more than 20 years and claim to have built a database of bloggers that exceeds 7,500 over that period of time.
They employ an in-house team of outreachers and their stated goal is to ensure that all of their link placements are with websites that meet the right DA and MOZ metrics. It also claims to be able to achieve in-content links and links with editorials.
Submit Shop also offers to promote your post via social media mentions and comments.
In terms of pricing, Submit Shop has a wide range of options and does offer discounts.
Their basic 10 service costs $399 for 15 blog posts with a DA of 10+, and their standard pricing structure extends up to their Enterprise 40 service, which comes in at $3,999 for 20 posts.
Submit Shop is worthy of their place in the list as they put customer satisfaction as a top priority, although their pricing structure is not always the lowest comparable fees for what you are getting.
#8- Magfellow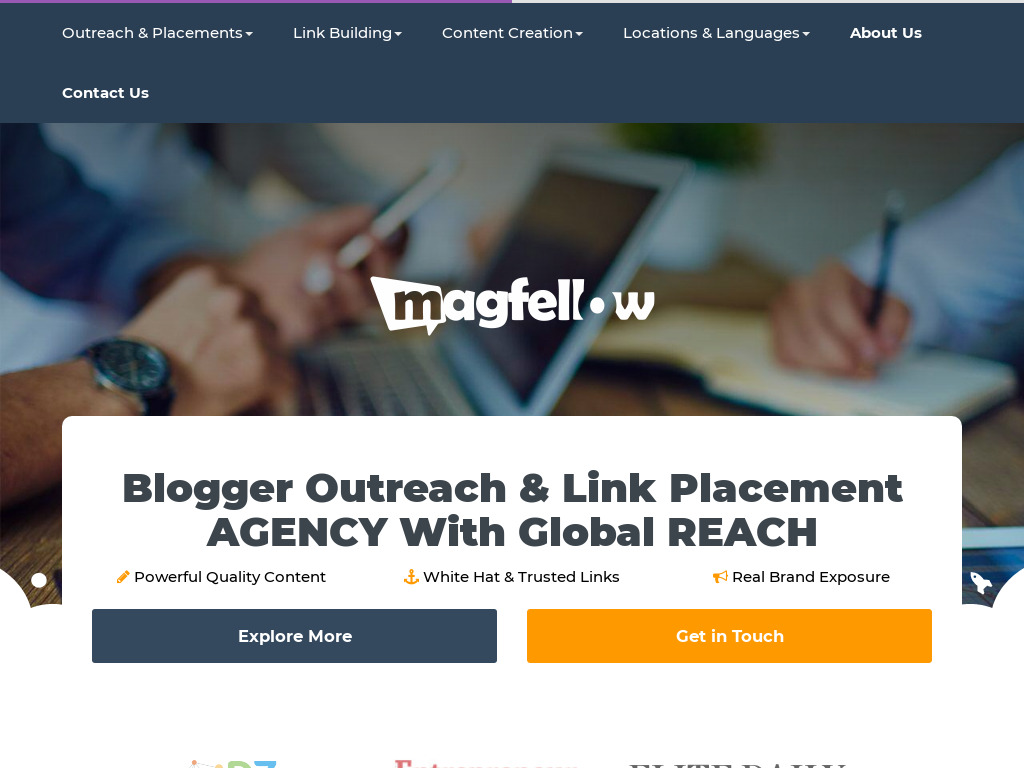 One of the primary reasons why Magfellow makes the list is because it has developed a great reputation for customer service and quality.
It claims to place about 1,200 links each month and all content marketing campaigns are customized according to your niche requirements.
They offer a range of price plans designed to fit your specific needs and budget. They do also offer a money-back guarantee if they are unable to deliver on their promises.
The typical price they will charge for a so-called budget-grade blog with a DA of 20+ is between $70 and $90. Their highest grade blogs with a DA of 50+ will cost in the region of $400.
If good customer service is a top priority Magfellow aims to meet those expectations and their pricing can be viewed as reasonably competitive.
#9- Outreach Solutions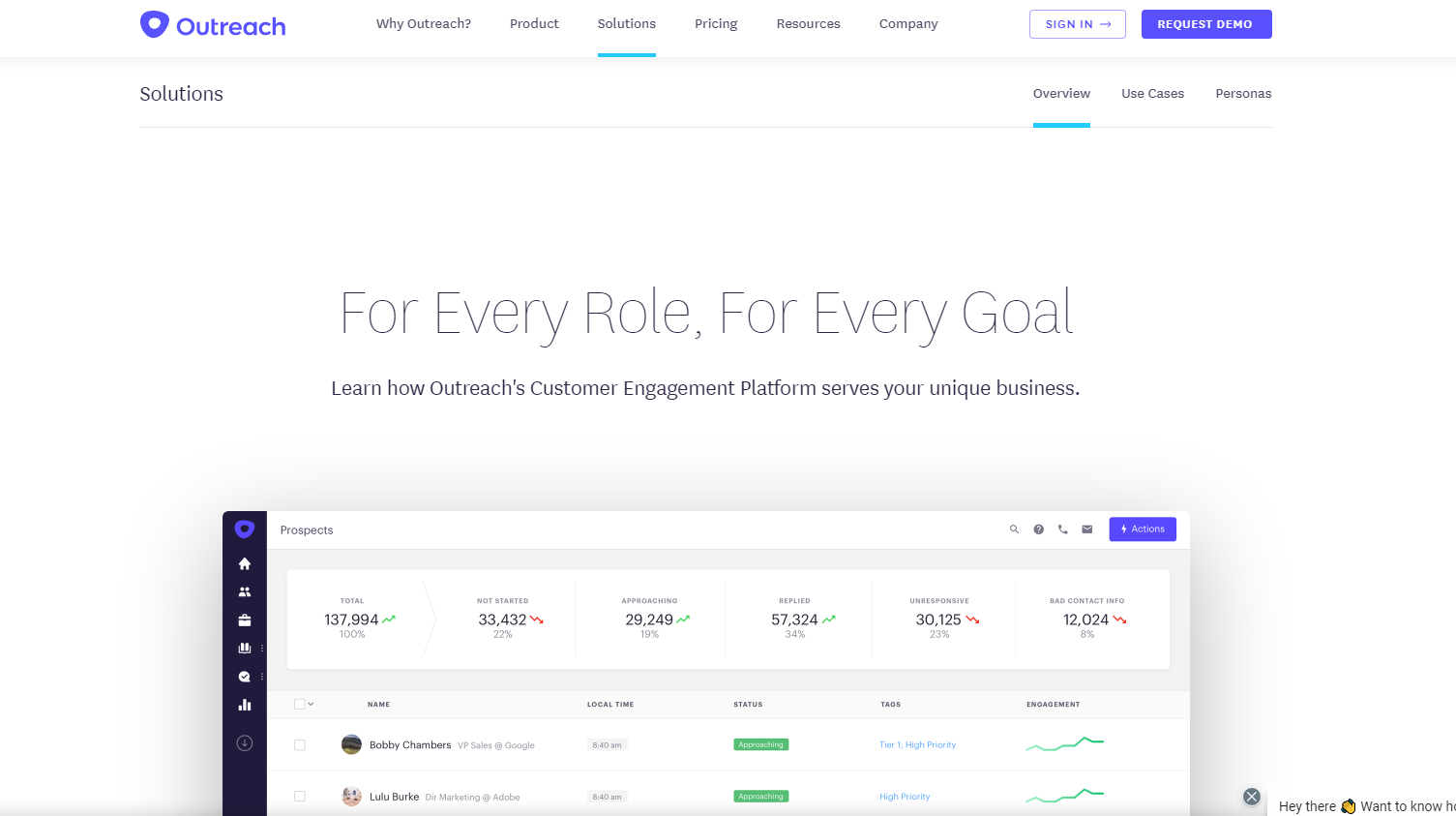 This company can be viewed as the new kid on the block compared to some of the others on the list, and one of the big reasons why they have made an impact in a short space of time is their aggressive pricing strategy.
They offer to deliver blogger outreach placements on genuine sites with content that is targeted towards your niche and keyword requirements.
The focus is on organic traffic as Outreach Solutions believes that this is the way to navigate a more prominent position in Google's rankings. Their guarantee on these links is only for one month and they aim to complete an order within two weeks of instruction.
You can get backlinks from as little as $29 when using Outreach Solutions. However, their short guarantee period does not leave much margin for putting things right if you are not happy for any particular reason.
#10- Stellar SEO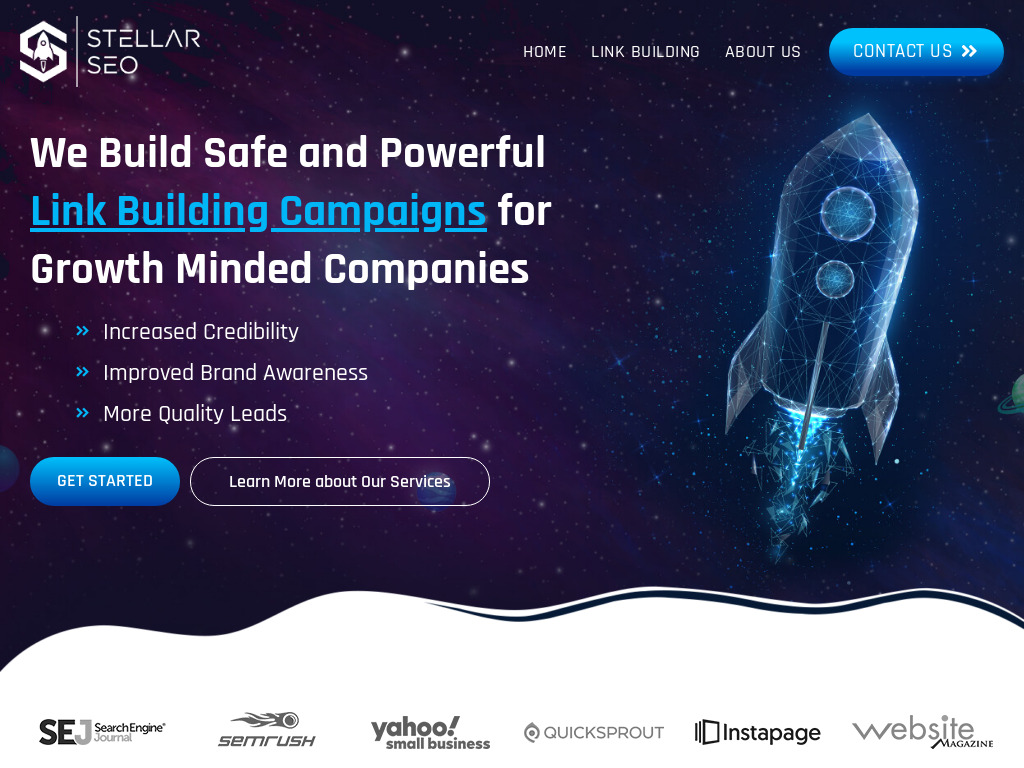 This company has positioned itself in the market as a boutique outreach service that offers outreach facilities that are scalable and fully customizable.
They offer custom link outreach and white label link building. Based on the concept that you need quality links that point to valuable content in order to rank well in Google, their link building service is aimed at trying to achieve that aim.
Part of their service package includes competitor link prospecting and segmentation. They will also carry out a link and anchor text profile review before beginning their outreach prospecting.
You can order link building to scale, and if you order more than 50 links per month, that is where their bulk discounting pricing comes into play.
Stellar SEO is worth considering if you want the flexibility of ordering varying amounts of backlinks. Their average price is in the region of $150 per link.
By now, you will be acutely aware of the benefits of blogger outreach and how it can enhance your business profile. This list provides you with a decent variety of outreach providers who can help you achieve those marketing aims. These quality blogger outreach reviews have been weighted to a certain extent, based on what we believe you should be looking for in an agency. Our verdict is based on critical aspects such as pricing, quality of service, and money-back guarantee periods in order to help rank the contenders.
If you have any questions or feedback – please get in touch.