Last Updated on March 14, 2023
Selling online courses features among the most lucrative passive income opportunities. That's due to the ever-growing demand for digital knowledge.
But success in this area (which is typically gauged in terms of the size of your community) depends primarily on how in-depth your course is. In this article, we highlight the 12 best tools and software for creating robust online courses.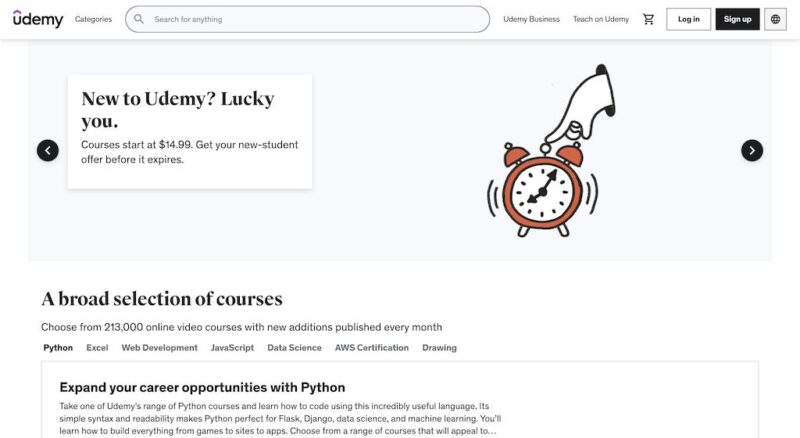 Pricing: Between $11.99 and $199.99 per course
Udemy is a course creation software that also doubles up as a course marketplace. Not only does this service help you build a course. It also offers a platform where you can publish your creations.
One of the top pros of Udemy as a course creation service is its huge community. As of 2022, the platform had 52 million active users. A decent portion of these are people who're actively looking for a course to purchase.
Udemy also has a commendable monetization policy. Creators can keep 37% if their courses are found on the platform and up to 97% if such courses are found directly through other independent sites, such as social media.
Udemy also works on all devices and operating systems. The service is available online as well as via the app, which is compatible with both Android and iOS devices.
However, the one glaring drawback to Udemy is the apparent lack of customization. Courses designed through the software MUST conform to its standards. Also, while Udemy boasts a huge community of users, these users aren't always accessible to course creators. That's because the company doesn't avail useful student information to go by, such as their telephone numbers and social media links.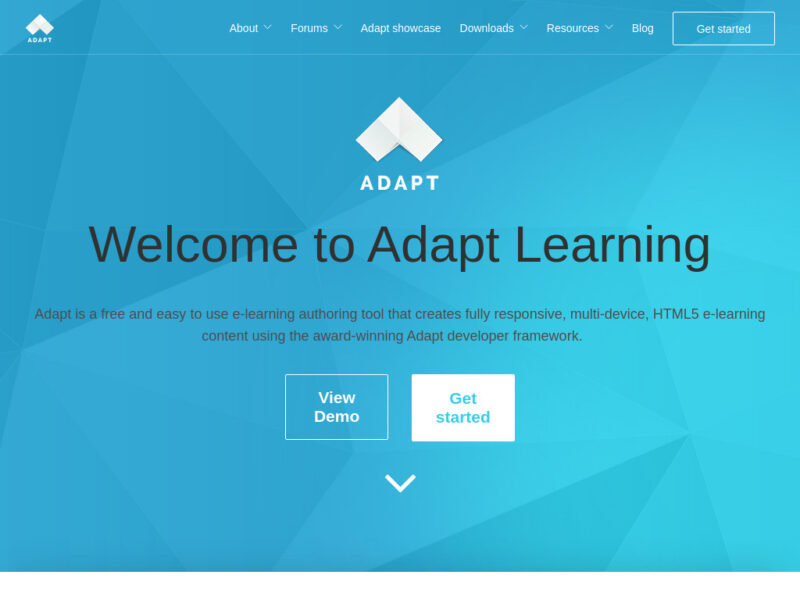 Pricing: Free
Adapt Learning is a popular open-source e-learning tool that offers course building as one of its core services. As open-source software, course creators all over the world can contribute to Adapt's development. The platform has an amazing user interface, making it a special recommendation for beginners. All useful features on the tool's webpage are visible and within reach.
Courses created using Adapt Learning can work on multiple devices and operating systems. You can share your creations across desktops, tablets, smartphones, and even on web-based services.
The official website also has a demo that you can click on for a sneak preview of how the platform works. Besides, there are numerous useful links to other services you can avail using this course creation tool. Not to mention the constant updates on emerging trends in online course building.
And the best part about Adapt is that it's 100%. That makes it a perfect fit for creators with small budgets.
The only drawback to Adapt Learning is that it offers generic templates. So, if looking to create an extensive course in a specialized area, this may not be the right choice for you.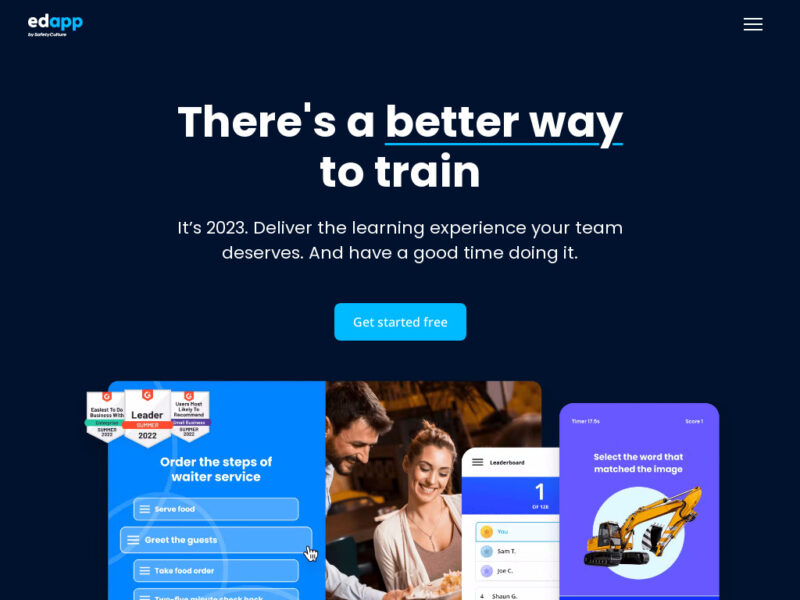 Pricing: Starts from $2.95/user/month; a free plan also available
EdApp is a course creation tool that prides itself on its prompt services. Once you check into the software's platform, you'll be welcomed by a pop-up ad asking you to let the company's designers kick-start the course creation process for you. You only need to click "I'm interested" to opt in.
EdApp implements user-friendly tools that take the hassles from online course creation. These features are especially important for people still learning the ropes of course building.
In addition to its appeal to beginners and intermediate creators, EdApp also enjoys the confidence of renowned companies. Brands like Deloitte, Shell, and Pandora have used this software at some point to create training programs for their employees.
EdApp has both freemium and premium plans. The free version allows you to create an unlimited number of lessons while also accessing the platform's library of over 1,000 editable courses. Other features to enjoy with the freemium plan include customized branding, built-in gamification, video and audio uploads, and 24/5 support.
To unlock additional features, you'll need to subscribe to the paid plans. All premium plans come with a free trial and free opt-out option.
Pricing: Starts from $77/month (billed annually) for 500 users; a 14-day free trial available
iSpring Suite is another leading course creation platform you might want to try. Most reviewers laud the service for its flexible pricing, ease of use, and a range of nifty features.
iSpring Suite is particularly geared towards helping course creators design programs that are both informative and engaging to their students. The service promises to deliver on that mission within the least expense of time and money.
Creators have access to a massive database of templates and other handy features like design assets. You can choose between generic templates and those designed with your specific course in mind.
iSpring Suite also supports the top learning management systems (LMSs) on the market. This offers you extra flexibility in terms of implementing a learning model perfectly suited for your students.
With iSpring Suite, you also get a custom quiz maker that you can deploy to test your students' skills. There's also a dialog simulator that will help you recreate an actual classroom scenario. Other noteworthy features include a professional video studio, a flipbook creator, and an interaction editor.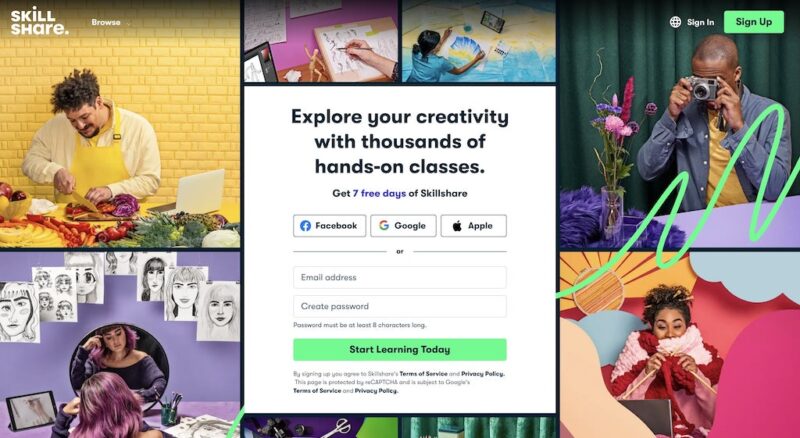 Pricing: Free for course creation
For many years, Skillshare has played a key role in helping different kinds of course builders teach their craft online. The service attracts diverse types of creators, including educationists, entrepreneurs, bloggers, writers, designers, and photographers, to mention but a few.
Variety is the main reason behind Skillshare's ever-growing popularity. The platform maintains a huge catalog of topics, ranging from popular to niche-specific ones.
Skillshare has a membership plan for students who wish to access courses via its website. As a creator, you can build and publish your content for free. But you'll need to be part of the software's premium catalog to be able to earn from its marketplace. Premium membership starts from $13.99 or $32.00 per month, depending on whether you're billed monthly or annually. There's also a free trial for every premium plan.
Another key aspect of Skillshare as a course creation service is that it doesn't focus on the final outcome. Rather, it places more emphasis on the progress made by learners at different points in a course. This is an invaluable feature that can help content creators tweak their programs to suit their learners' needs.
Pricing: Starts from $49/month (billed monthly) or $39/month (billed annually); a free plan also available
Flexible pricing is one of the top drawcards to Thinkific. First, this online course building software comes with a freemium plan that has no transaction fees. Then there are up to three paid versions to choose from. The cheapest of the premium packages is the Basic Plan which costs $49 or $39 per month depending on your billing cycle.
Besides its flexible pricing, Thinkific also boasts a powerful and user-friendly interface for both course creators and students. The software comes with a drag-and-drop function that makes course creation a breeze. It also includes a suite of marketing tools to help give your craft greater visibility.
Thinkific also scores highly in terms of customization. You can deploy a raft of personalization features, including embedding your brand name in your crafts. There are scores of templates at your disposal too.
However, Thinkific isn't compatible with mobile devices due to the absence of a mobile application. Besides, the platform's online community feature is rather limited in terms of functionality. The community exists primary as a forum and lacks useful tools like blog posts, live streaming capabilities, and polls.
Pricing: Starts from $199/year/site
If you're already using WordPress and are looking for an excellent course creation tool, then you'll find LearnDash incredibly useful. LearnDash is essentially a WordPress LMS designed primarily to help in adding a course to your WordPress website.
Considering that WordPress is the world's leading content management system (CMS), it's unsurprising that LearnDash is especially popular with educators. Among the tool's most notable clients include the University of Michigan.
LearnDash's most outstanding course building feature is the "Focus Mode." As the name implies, this feature helps students focus on your course by blocking out distractions. There's also a grade book that grades students depending on their quiz and homework scores.
Other cool LearnDash features include drip-feed content, video-based courses, incredible scalability, and unlimited add-ons.
LearnDash's premium plans start from $199 per year for one site. Ten sites cost $399/year while unlimited sites would set you back $799 per year. Remember that these figures include course creation and a number of other website management features, including multiple integrations. Plus, all premium plans come with a 15-day money-back guarantee.
Pricing: Starts from $8/month for one user; a free trial period available
360Learning is an online course building LMS that comes complete with a course maker tool, analytics dashboard, and content integration system. The software boasts an intuitive course authoring suite that anyone can get the hang of without requiring any technical skills. It allows you to develop your course in a matter of minutes.
360Learning has a provision for incorporating various learning resources, including photos, videos, blog posts, and additional research. This can be an invaluable feature in keeping your course content informative, engaging, and relevant.
There are also collaborative learning capabilities, including group pages and discussion boards. You can deploy these functions to allow seamless collaborations with your team members on a project. The fact that 360Learning supports collaboration and social learning makes it an especially great tool for creating behavior-based safety training courses. Examples of such programs include alcohol use, drug awareness, and safety driving.
360Learning has no free plans. But it comes with relatively affordable and flexible payment plans, which start from $8 per month for a single user. The cheapest plan includes discussion forums, authoring tools, gamification features, collaborative tools, etc.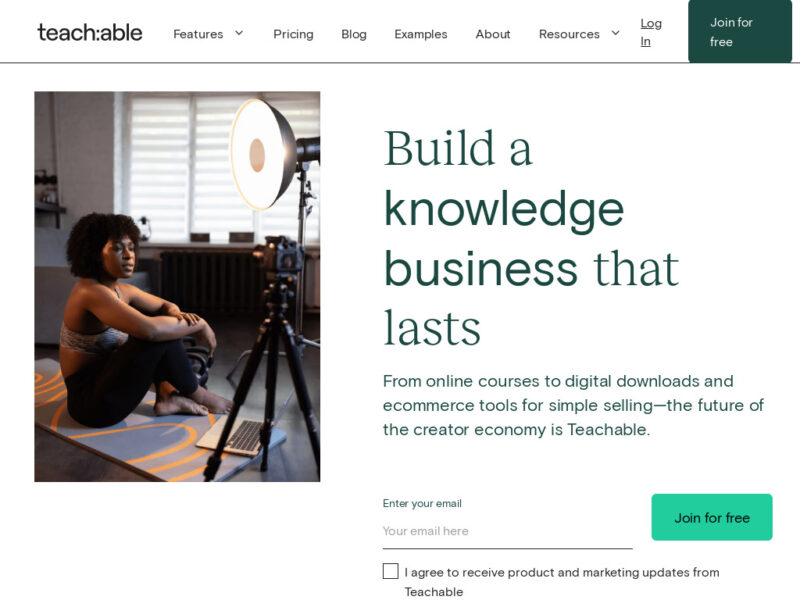 Pricing: Starts from $29/month (billed annually); a free version also available
Teachable is a top recommendation for savvy content builders who're keen on developing a massive online audience. Customization is one of the software's most outstanding features. Teachable allows you to personalize your course to reflect your identity by embedding your brand's name. The platform also lets you create sales pages to use for launching your course.
There are tons of templates available too. You can import these templates as they are or edit them depending on the nature of your course.
Teachable is also compatible with numerous file formats. You can upload files from various content platforms, including Google Drive, Dropbox, and OneDrive.
Still on compatibility, Teachable works on various devices and operating systems. The online course developer is available on the web as well as on mobile iOS devices.
And like most course builders on this list, Teachable checks the boxes in terms of pricing flexibility. There are both freemium and premium plans. Besides, the premium versions come with a free trial option to test-drive the package before subscribing to it.
Pricing: $119/month (billed annually); a free trial available
With plans starting from $119 per month, Kajabi is evidently not the most affordable course creation software out there. But there's a lot to gain by subscribing to the platform's paid plans.
For starters, Kajabi doesn't only help you develop an online course. The software also offers a reliable platform for hosting and marketing your creations.
The company endeavors to deliver on its mission, which is to 'transform your expertise into polished, profitable digital products.'
To allow course creators to market their works on its platform, Kajabi makes it incredibly easy to develop email sequences, landing pages, and product pages. There are also options for customizing your course to reflect your brand's identity, as well as optimizing your sales funnel. And the best part is that you can avail these features without prior coding knowledge.
Kajabi's monetization policy is another thing that sets it apart from most course developers. As a trade-off for its costly monthly premiums, the software doesn't take a cut from your revenue. Besides, Kajabi supports payments via several options, including PayPal and Stripe.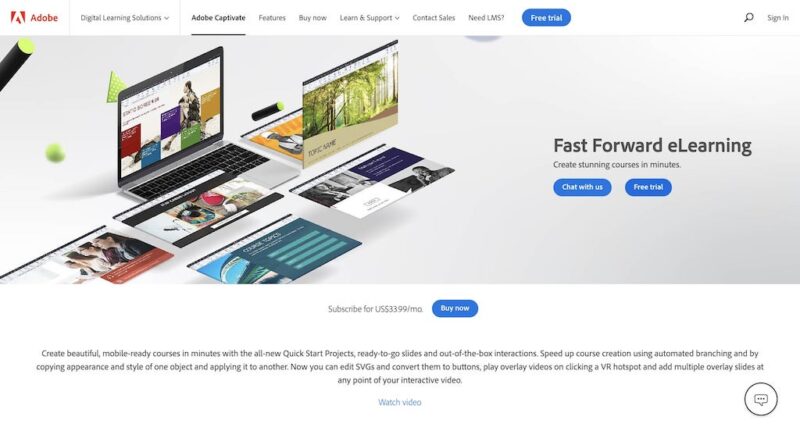 Pricing: $33.99/month or $1,299 for a lifetime license
Customization seems to be a key requirement in online course creation software. And it's one of the top features offered by Adobe Captivate. By subscribing to Captivate's premium plans, you can enjoy extensive customization, which includes embedding your brand's name into your courses.
Adobe Captivate sports a clean and intuitive interface that works best for interactive content. The course developer tool is also an excellent choice if you're considering integrating quizzes and slide decks into your content.
As with most Adobe products, Captivate works across all major devices and operating systems. You can use the software on the web as well as on Android and iOS devices.
Another noteworthy feature of Adobe Captivate is a pre-loaded 360-degree virtual reality (VR) capability. The VR capabilities take content interactiveness to a whole new level. What's more, you get to avail text-to-speech voiceover features for quick course creation.
The only drawback to Adobe Captivate is that it has no freemium plan. However, the paid versions are fairly affordable.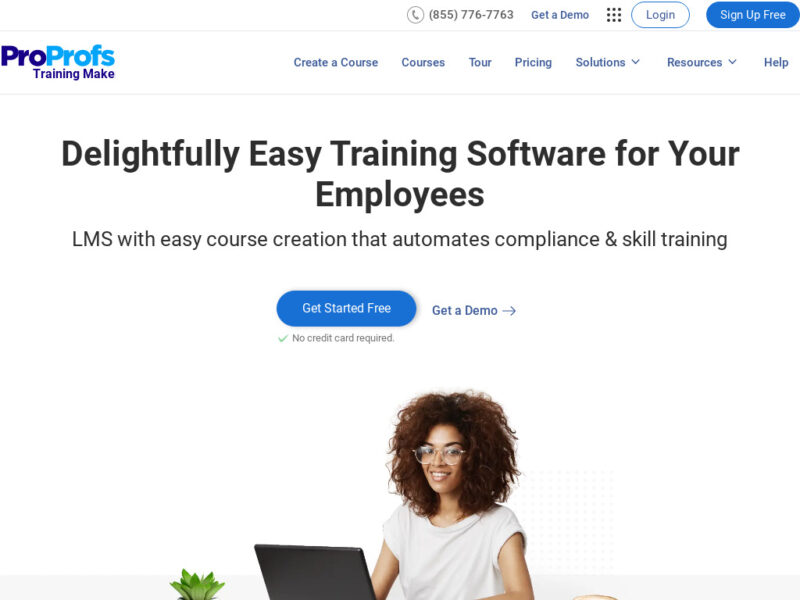 Pricing: Starts from $50/learner/month (billed annually)
ProProfs is a software as a service (SaaS) designed specially to ease up the often-tedious process of course creation. The platform's course developer boasts hundreds of templates and media content that you can leverage to create courses and quizzes hassle-free.
ProfProfs Training Maker's library has a vast collection of pre-made courses from various topics, including customer service, compliance, and inclusive leadership training.
There's also ample room for collaboration with your personnel or team members. That's all thanks to the inclusion of virtual classrooms and discussion forums. If you're looking for a course builder that will enable you to train multiple teams and groups fast, this is the software to choose.
You can track the progress of your team members further by deploying ProProfs' training management system. This allows you to streamline the course building process by ensuring all your collaborators are at par at every development stage.
Prices start from $50 per learner per month if billed annually. Prices then increase proportionately to the number of learners and instructors.
Wrap Up
When it comes to choosing a course creation software, there's no such thing as a one-size-fits-all. These services vary depending on the extensiveness and other specific needs of a course.
However, the above-listed platforms deliver on various areas, which makes them a top recommendation for beginners and savvy creators alike.