Last Updated on March 8, 2022
Coworking has firmly established itself as a working practice that suits many different business sectors and company structures. Whether you are an entrepreneur running a startup or a business that wants to give employees a greater degree of flexibility as to where they work in order to improve efficiency and cut costs, coworking is a solution that fits the bill.
In order to function properly and give coworkers the best working environment and experience, it is essential that the workspace is fit for purpose and offers all of the services and facilities needed to make that happen.
That means you need an excellent coworking software solution that allows the workspace to be used in the most productive and seamless way possible. This guide will help you to identify the best coworking software available and highlight the key features to look for when making your choice.
This coworking software comparison offers an analysis of the leading virtual coworking software providers and provides a summary of essential features that you will find relevant when making your decision ads to which company to choose.
Before we provide our top ten list of the best coworking software options it is also worth taking a brief look at some of the key benefits attached to creating and using this sort of facility. 
Understanding why this way of working has enjoyed such stellar growth in what can be called a challenging trading environment can help you to identify what sort of features you may want to see when selecting your coworking software solution.
The benefits of coworking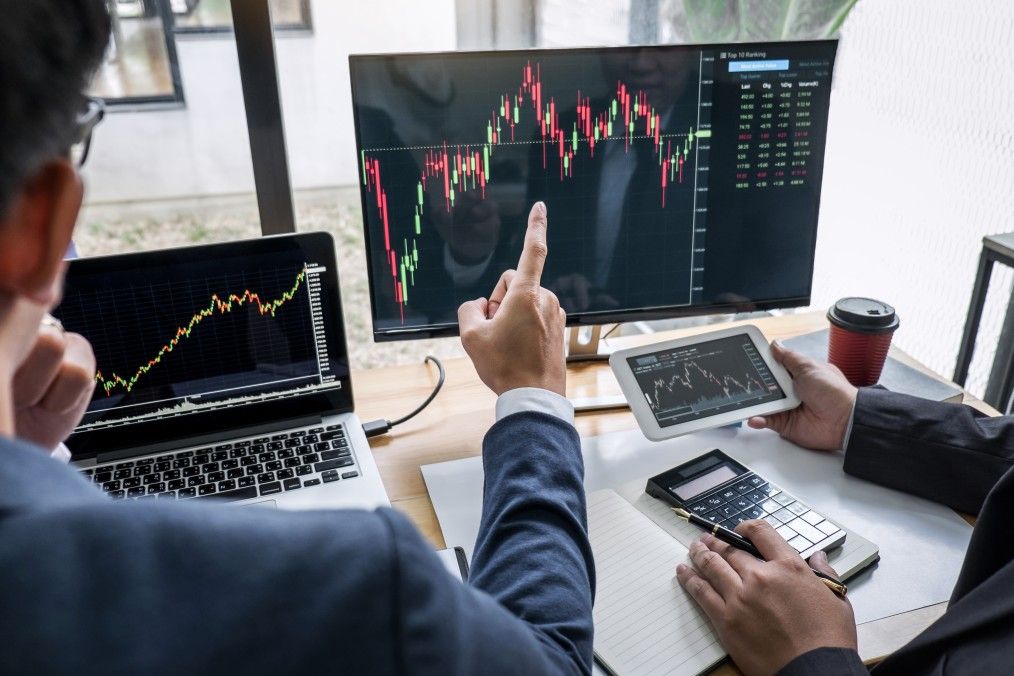 Despite the fact that the pandemic managed to derail most major economies and numerous business sectors struggled to adapt to such difficult trading conditions coworking has successfully bucked that trend. It is a sector that is anticipated to grow significantly in the next few years.
The annual growth of coworking spaces is expected to exceed 20% through 2022 and beyond, but why is this?
A fundamental reason for its growth in popularity is the fact that many business owners would seem to prefer to put their employees in a coworking environment rather than continue to work from home.
If a growing percentage of the workforce and small business owners are not going to return to a so-called traditional office environment, for a variety of good reasons, there needs to be a solution that creates a workspace where creativity and collaboration can thrive.
That solution is coworking. You can mount a compelling argument in favor of coworking when you consider how these spaces offer a high degree of flexibility and so that people can come to work on their own terms.
In addition, a good coworking space provides a ready made solution where all the usual needs are taken care of in the package. That includes access to a fast internet connection and fully-serviced office facilities at your disposal. 
Anyone using a coworking space wants to turn up and start working with a minimal amount of fuss and hassle. The way to give coworkers everything they need to make the most of their time in the office is to ensure that you have the best coworking software available.
What sort of features should you be looking for?
When you are carrying out a coworking software comparison it helps to have a good idea of what sort of key features you should expect to see if you are going to make the user experience as perfect as possible.
The sort of features to look for include whether you have virtual coworking software options and the ability to access and manipulate data via a mobile app. The visitor management system needs to be robust enough to cope with all of your requirements, such as being able to capture visitor ID data and dealing with Covid-19 protocols too.
Whether it is free co-working space management software you are looking at or a total coworking software solution, here are our top ten of coworker software options to consider –
#1- Engage Apps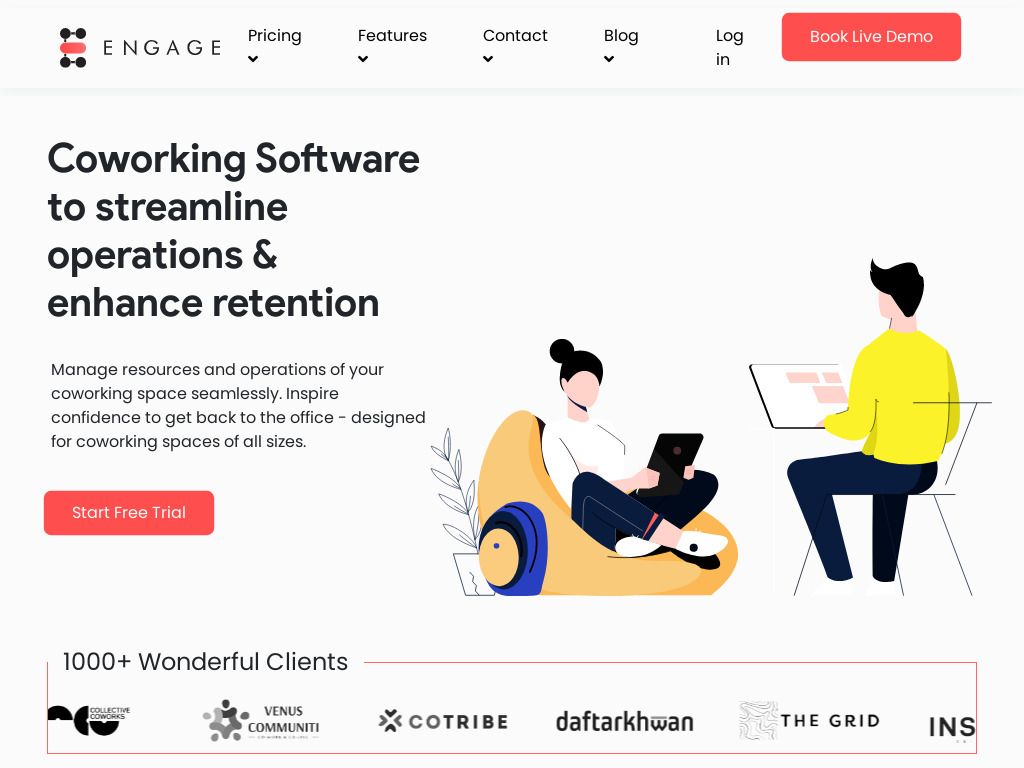 Top of the list is Engage, as their coworking software has lots of excellent features and options that give you all of the resources and operational tools you will need and want.
Engage offers a combination of systems that are all designed to empower modern office workers and deliver a great coworker experience from a user and manager perspective.
It offers a meeting room booking system, a touchless visitor management system to comply with post-COVID requirements and concerns, together with a comprehensive management support system that makes it easy to handle contracts and billing as well as offering the sort of in-house support & ticketing options you would want in a coworker setup.
Its virtual coworker software is a prime example of how you can digitize the modern workspace with a suite of management software and white-label mobile apps.
Here are some of its key features
Engage Mobile Apps offer:
White Labelled or Branded Android & iOS Apps

Member Profiling

Social Media Features – Post, Comment, share

Brand Advocacy

Meeting Room Booking

Events Booking

Announcements

Support & Ticketing

Offers – Redeem discounts for your members from your partner ecosystem.

The ability to pre-invite visitors/ approve reject visitors
Their web dashboard provides:
Inventory Management (Seats, Locations, etc)

An easy way to create contracts with multiple plans and discounts

Automated Billing & Invoicing

Support & Ticketing Options

An easy way to manage meeting room bookings, and a smart credits system for meeting bookings & prints

The ability to create or schedule announcements

Visitor logs & records

3rd Party Integrations for seamless member experiences
The Engage visitor management system offers you the option of both a tablet-based and contactless technology system. It makes it easy to capture visitors' personal details and photo ID, OTP for authentication, and the ability to capture each visitor's signature and acceptance of terms and conditions of entry.
The dashboard gives you the option to enable or disable any of the features mentioned. This is an attractive facility as it allows you the chance to personalize how you use the coworker software to meet your individual requirements.
Cost is always an important consideration and Engage offers simple and transparent pricing.
Prices start from $149 per month, which covers 100 members and one location. Their "Growth" package is $269 per month and covers 200 members over 2 locations, together with 2 visitor management applications. The "Professional" package is $599 per month and covers 500 members over 3 different locations, and 3 visitor management apps.
You can also request a tailor-made pricing plan that is designed to meet your specific business needs.
If you are looking to manage a coworking space in the most efficient and cost-effective way then you have to consider Engage. Especially when you look at the depth and breadth of the services and features they offer, at competitive prices.
#2- Yardi Kube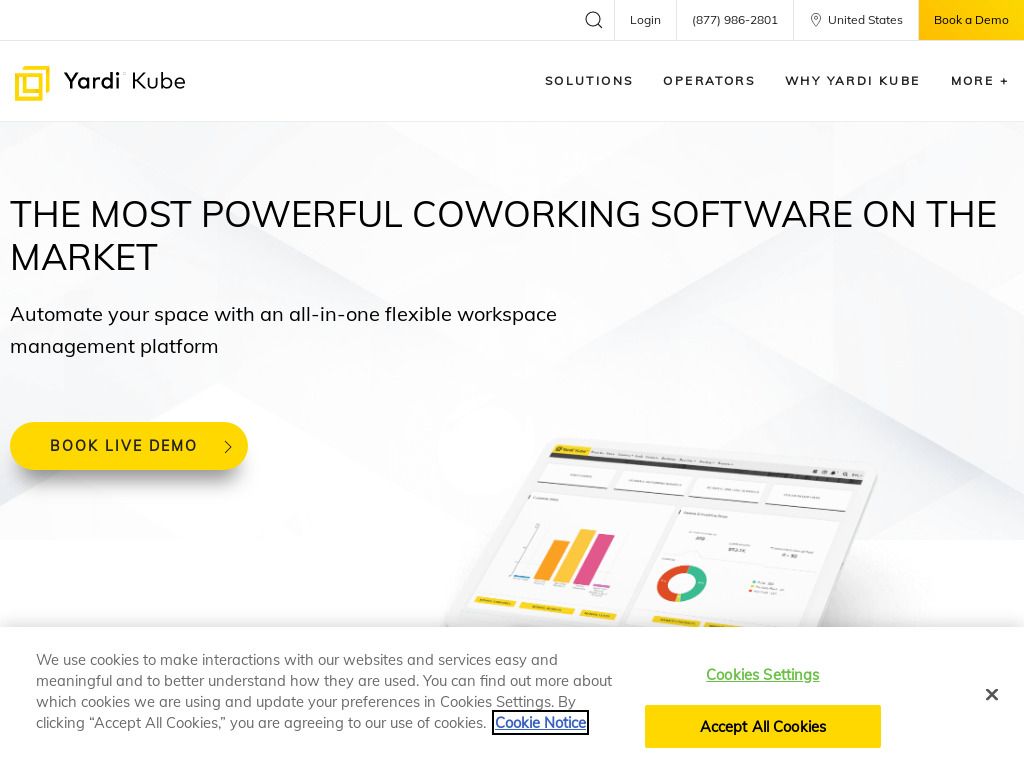 Another provider that offers a fair amount of flexibility in its coworker software solution is Yardi Kube, which promises to deliver an all-in-one coworker management platform.
You have the option to choose your services such as internet facilities directly from Yardi Kube or you are free to choose to go direct with a premium fiber provider of your choice. This is one example of its flexibility, which could be useful as your workspace evolves.
Their software allows you to manage members and build a community with ease. You can also streamline bookings and enjoy automated billing. Their Master Accounting feature also makes financial management as straightforward as possible.
Yardi Kube offers a connected enterprise coworking platform that is designed to eliminate manual billing and paperwork. This should help you to increase revenue streams. It should also offer you an insightful look at valuable metrics and KPIs.
Key features of their software include –
The ability to easily manage day-to-day member additions and movements and make changes to contracts and renewals

You can consolidate accounting across all of your coworking locations, making it possible to forecast income, as well as identify future risks at each location

Enjoy automated reconciliation and collection of payments via Yardi PayScan
Yardi Kube offers a competitive software package that has a number of useful features. You will have to request a bespoke quote for pricing details 
#3- OfficeRnD
This provider aims to provide a software solution that is designed to help you improve operational efficiency and make it easier to make informed management decisions that are driven by data.
They offer streamlined meeting room management and one of the nice features of this software is the fact that you can manage multiple billing entities and currencies all from a single account. It is simple to customize team permissions and generate reports on key performance indicators across all of your locations.
Their monthly pricing starts at $124 for 100 members and their "Grow" package starts from $199 per month for 200 members and 2 locations.
With its automated administrative processes and easy access to space and services via branded mobile apps, web, and tablets, OfficeRnD delivers a decent digital experience.
#4- Smarten Spaces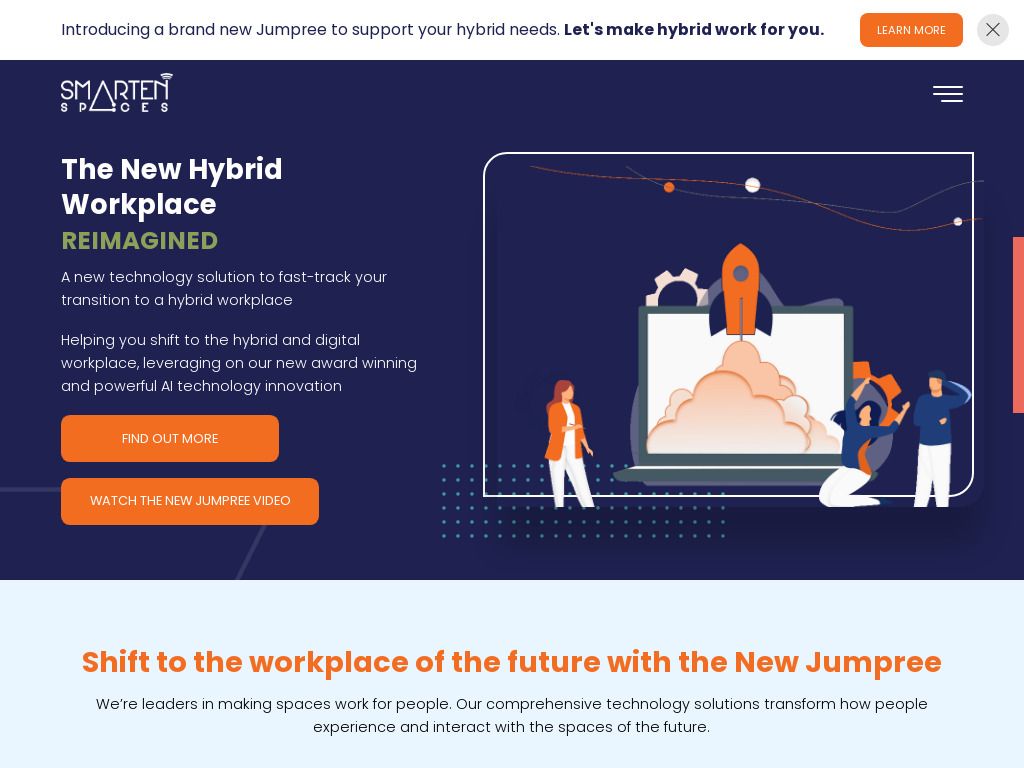 What this software provider offers is an AI-driven solution that is designed to try and make running a coworker setup as seamless as possible.
Their aim is to make it manage your space with configurable that are aimed at automating as many processes as possible. For example, their Reservation feature allows for contactless reservations, and you can manage your inventory in the same automated way, using AI-powered recommendations that enhance your pricing decisions.
Some other notable features of this coworking software include –
Contactless access and visitor entry system

Smart amenities bookings

Contact tracing and health declaration options

Customizable plans for each worker – allowing members to onboard themselves with their own personal dashboard

The ability to store contracts within the cloud and set access permissions
Smarten Places makes the list primarily as a result of its AI-driven technology. It offers a free live demo and will quote for your requirements on an individual basis.
#5- Cobot
Cobot offers you the opportunity to utilize a single white-label platform that is designed to handle all of your administrative tasks and onboard new members as seamlessly as possible.
It delivers an intuitive interface via its activity dashboard. This feature gives you full front-desk capability, making it easy to sign up new members and assign plans, plus a host of other features available via the activity dashboard.
You can customize Cobot to your own requirements when you opt for their white label package. This means you can design the look and feel you want, as well as change the color scheme and logo to complete the branding.
You won't need spreadsheets when you use this software as it automates all of your invoicing and payments. Managing rooms and resources in real-time means booking charges can be calculated automatically and the platform makes it simple to connect your members.
It also offers an app that allows you to manage your space from anywhere.
Prices are in Euros on their website and range from £49 per month for 15 members and rise to £300 per month for up to 180 members.
Cobot is able to provide the coworking tools you need and their experience in this arena justifies their inclusion in the list.
#6- Condeco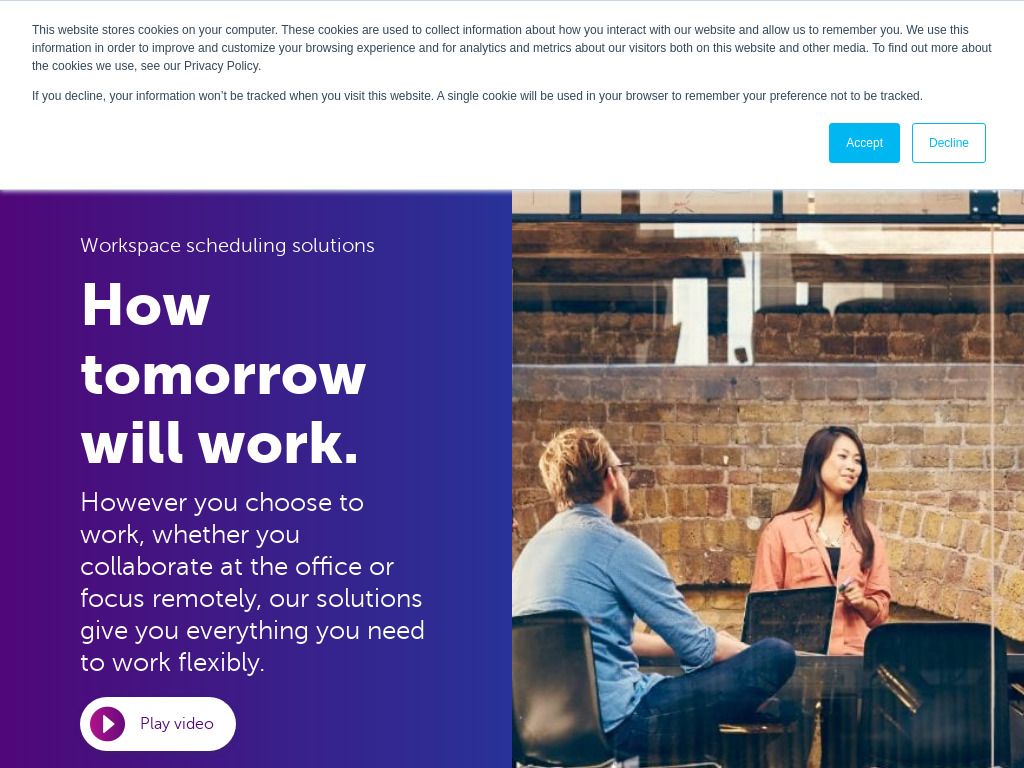 The aim of Condeco is to connect members via mobile, web, or Microsoft Outlook. It offers a nice feature in the form of a visual floor plan view that enhances the workspace reservation process via its desk booking system.
Its coworker software is specifically designed with the purpose of enabling simple control and access to every crucial component in your workspace management plan, all via a single platform.
It offers most of the key features you would expect such as health and safety protocols, financial analysis, and reporting tools, together with technology that helps support your workplace requirements.
Prices are quoted on a bespoke basis and you can request a free demo.
Condeco offers a simple but effective solution to your workplace management needs but it may not have the scope of services that you might want in comparison to others above it on the list.
#7- Archie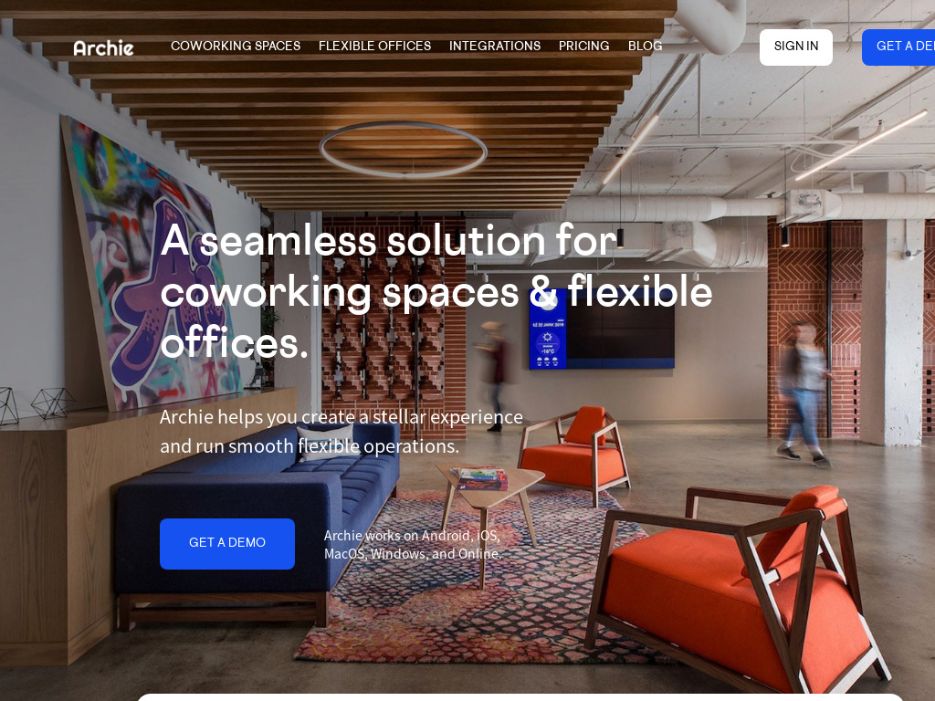 What you can expect to get with Archie is a well-designed workspace management platform that also doubles as a reliable hospitality app for members.
It offers some useful and powerful features with its Smart UX able to offer all of the key elements you want from coworking software. These include aspects such as billing and payment facilities, member management features such as chat-based support, and a room booking option that highlights how easy this software is to use.
Archie offers three main packages to choose from. Their "Starter" option starts from $99 per month for 100 users and one location. Their "Scale" package allows you to build and add more members, costing from $209 per month for 200 active users and 2 locations. They also offer to customize your pricing plan according to your requirements.
This software has some useful custom features and access control compares well against some other providers.
#8- Nexedus
This company offers a diverse range of tools that are designed to help you automate workflows as well as streamline your operation at the same time. 
Some notable features of the software are the ability to make room and desk reservations via a floor plan, and their self-service member's app and web portal enhance the user experience.
In line with revised health and safety protocols, Nexedus coworking software makes it easy to reduce touch points with a series of contactless options.
Their pricing structure is notable simple and transparent. The pick of their plans is their "Coworking Professional" which is £85 per month for 25 active users.
Nexedus scores well in terms of access controls and delivers a good level of tech support.
#9- Optix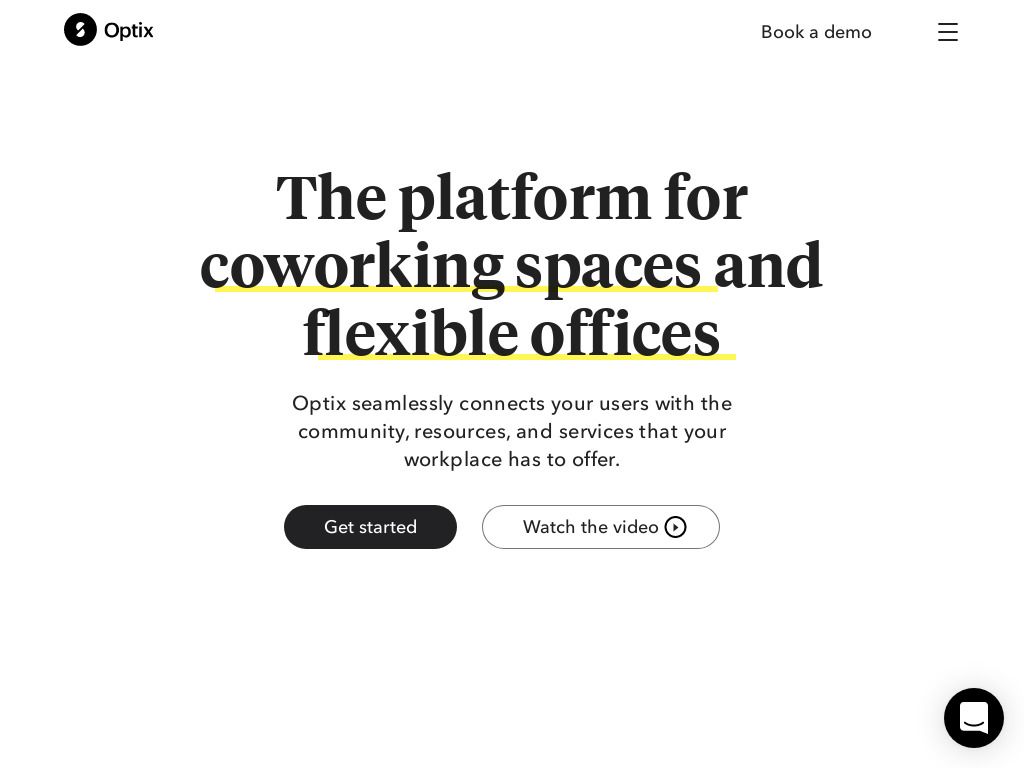 One of the key features of what Optix has to offer is its white-labeled app that is fully customizable and branded according to your requirements.
It promises more than 3,000 seamless integrations with many of the apps that are most likely to be used by those using the coworking space. Another nice feature is its in-app meeting room offering, which allows users to view room availability and make bookings in real-time.
The software offers a multi-location option and there are good analytical tools together with invoicing and payment options that work well.
It offers two main pricing plans. Its "Essentials" package is offered at $159 per month and its "Pro" offering at $239 per month is aimed at making it easy to scale up if your coworking spaces are expanding.
Optix makes the list, in particular, for its flexible and scalable pricing policy.
#10- Coworkify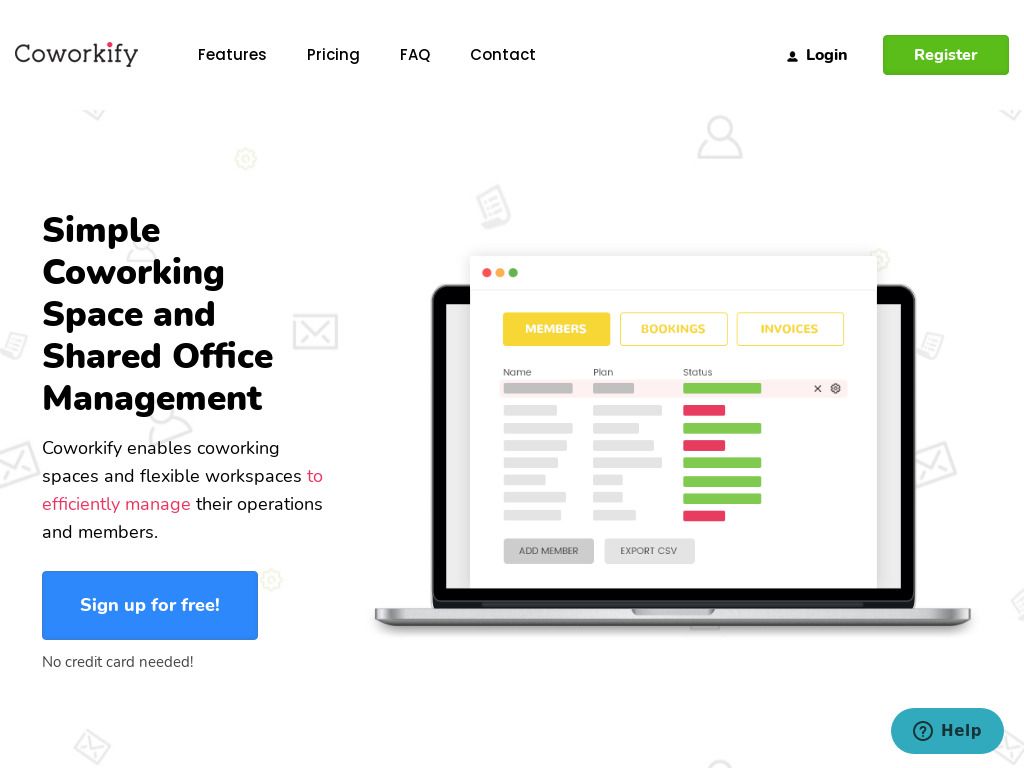 A key aspect of this software is how it focuses on functionality combined with the simplicity of use.
You can get the Coworkify software in multiple languages, which could prove useful if you have international locations. The software is also supported in a way that means you can use it via your tablet or smartphone.
Another useful option is the ability to offer self-registration via its website. This means users can sign up to a plan without any admin intervention.
Coworkify offers five main plans that range from as little as $29 per month and up to $200 per month for unlimited members.
This software provider offers a cost-effective solution but does lack the range of resources offered by some of its rivals.
Hopefully, this review of the main providers of coworking software will help guide you towards the right one for your business needs. 
If you want to ask any questions or leave feedback – please get in touch.