Last Updated on January 20, 2022
We are looking at the best diamond art website on the internet, comparing the top choices to help you shop smarter. We know people love their diamond painting, and there are more places than ever to shop for them online, so it's understandable that all of that choice can be a bit overwhelming. Where do you find the best value, the best selection, the best quality, and the best service?
We are looking at the three best diamond painting companies here to give you the info you need for a better shopping experience. People should be able to enjoy their diamond paintings without worrying whether they got the best deal or whether they could have saved money elsewhere. Let's compare the top diamond painting websites and see how they stack up. 
One of the most popular diamond painting websites on the internet, Diamond Painting House offers a huge and varied selection of product options. If you are looking for a 3D or 5D diamond painting, it's here. If you want a custom diamond painting, uploading your own photos to the website and requesting your personal diamond art canvas is fast and easy. You will have customized art to create for yourself that you can proudly display. 
Diamond Painting House is among the best diamond painting websites because the site is more than just an online store. It also offers plenty of resources for new and experienced hobbyists. The site has a blog that provides interesting and informative articles for visitors, helping them do more with their diamond painting. 
Pros:
Highest quality of diamond painting kits

Offers free shipping worldwide, fast shipping, and express shipping (which is free for $99 or above)

Huge collection of animals and nature diamond paintings

The website is easy to use and mobile-friendly

Best prices among all sites

Our supplier is the original one, the oldest in the industry

Custom diamond painting

service is very high quality

A bonus gift in each package
Cons:
No phone customer support 

Not many accessories and tools available

No other languages offered besides English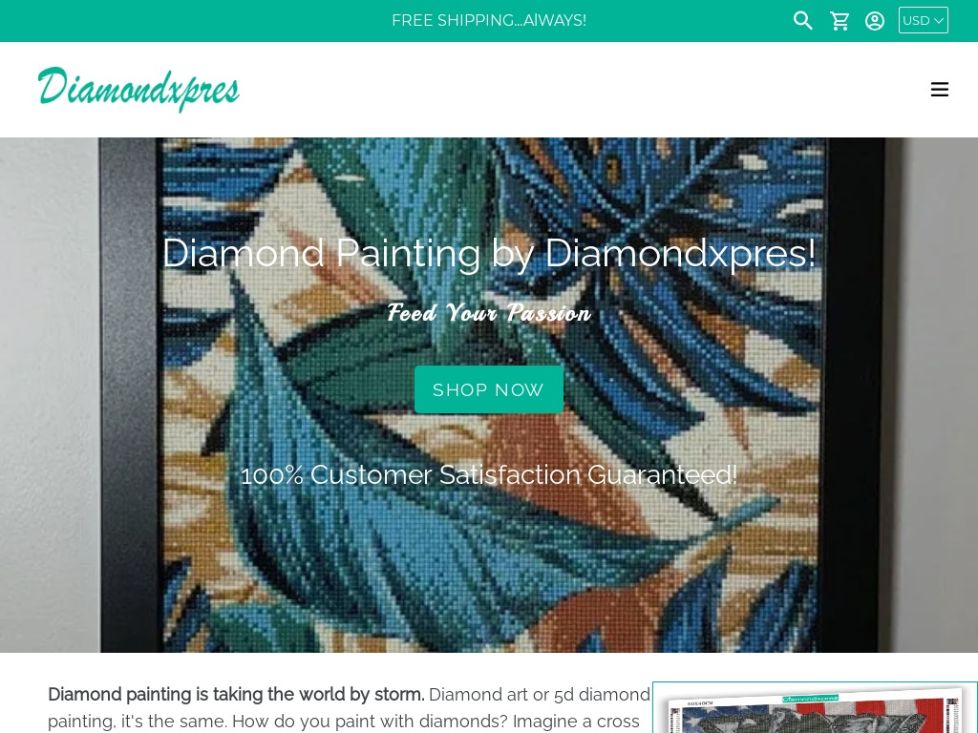 Next up is DiamondXpres, which offers free shipping within the US and a big selection of paintings for you to choose from. They also offer custom diamond paintings as a service and will turn your photos into beautiful paintings. They are known for their excellent customer service and their dedication to making any problem right for the customer. 
If you visit the site, you will see a very helpful "How to" section detailing what diamond painting is and how you can do different techniques. It is a great resource for beginners. This site also offers an informative blog that helps people to learn more about the hobby. 
The site is not without its problems, however. The great customer service that they offer is only available through email, and a response can take hours. There are also annoying pop-ups on the site that are an attempt to get customers to spend more money. This annoyance doesn't go away for loyal members either. 
Here are some of the pros and cons for DiamondXpres that you should know about before settling on a site. 
Pros:
Free shipping

Huge selection of diamond paintings

High-quality paintings

Satisfaction guaranteed

Frequently offers sales
Cons:
No telephone support

Slow shipping, can take up to three weeks

Site ads can be annoying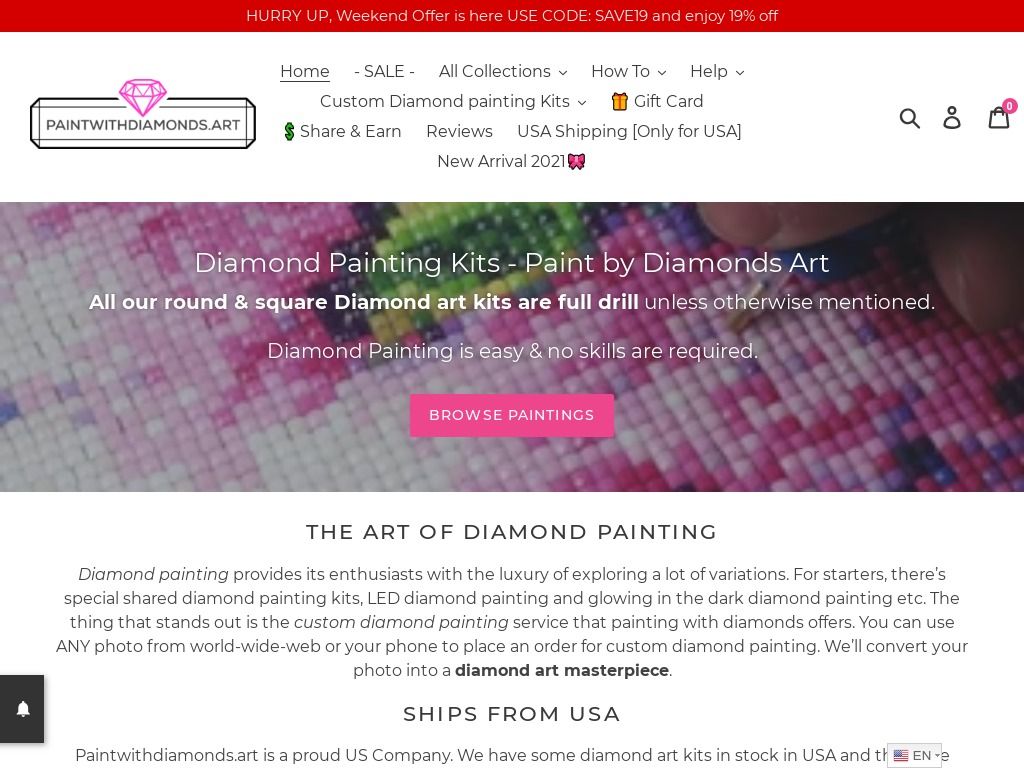 The last of our best diamond painting websites is Paint with Diamonds. Do not confuse this site with PaintwithDiamonds.com, which is not one of our top three best diamond painting companies. Be sure to put in the ".art" at the end of the URL when you are looking for this site. 
What makes this one of our top three choices for where to buy diamond art from? They would have to have a large section of prices to qualify, of course, and they definitely do. This company does not have a blog to provide fresh content to site visitors, but they have a decent selection of how-to articles to get people started and to cover some of the basics of diamond painting for those who are new to the hobby.
Paint with Diamonds also offers shipping throughout the US on select items and ships those quickly. Their shipping service is faster than some of the other major diamond painting websites, but they do not offer free shipping like the best diamond painting websites do. They do ship internationally as well, but that is a slower shipping service, and not all items are shipped internationally. 
Most customers seem pleased with their order from this company, and the site offers a custom diamond painting service too. 
Pros:
Lots of diamond paintings to pick from

Helpful diamond painting resources

Fast shipping on US orders
Cons:
Some items only ship to the USA

No blog

No free shipping 
Which Site Is the Best?
We have looked at the best diamond painting websites right now, and we have given you the pros and cons for each. Which one of them is the best diamond art website, though?
Paint with Diamonds comes in at #3 for us, because while they have a great selection and all the services you might expect from a good diamond art website, they could do better with shipping fees and with customer resources. The lack of a blog hurts them since it doesn't offer any incentive to visit the site regularly other than to check new product releases. Their prices are reasonable, though, and they do a great job of shipping throughout the US quickly.
The #2 spot is given to DiamondXpres, which offers low prices, free shipping, and a robust site and selection of products. Their site can be a bit annoying, though, thanks to pop-ups. They also ship slowly, in some cases, resulting in unhappy customers. Their customer service response is great, however, and that is one of the key features that they are known for.
Our #1 spot is awarded to Diamond Painting House, and this site has everything a diamond painting enthusiast is looking for: great selection, great prices, great customer service, free shipping, a regular blog, and excellent resources for new diamond painting customers. The website is easy to navigate and is even available on mobile devices in a way that looks great and is accessible. Since most people access the internet through their portable devices, this kind of functionality is important these days. 
All three of these diamond painting websites are good choices for people looking for great value on their purchases and a wide selection to choose from. All three of them offer custom diamond painting as a service and work hard to offer great customer service. They all have exceptional reputations within the industry and are easily the top three diamond painting websites available right now. 
Any one of them would be a good choice for someone looking to buy diamond paintings, but Diamond Painting House edges out the competition in a few key ways, making them the top choice for the discerning buyer. If you want the best prices on diamond art, the best service for your purchase, and the most resources and options available, then this is the site to use. We hope this article is helping you to feel confident about choosing the right diamond painting site to buy from.