Last Updated on March 15, 2019
The Fashion industry is a multi-billion dollar a year industry across the globe.  The fashion industry continues to dominate the market in a way that remains a mystery by setting the latest in trends in style from clothes to shoes. What is it about the fashion industry that drives normal individuals to an unpredicted frenzy that compels them to go deeper and deeper into debt?
The question remains; what is it about wearing the latest in a fashion that is so important to millions of individuals? Does it make you more intelligent? More Appealing? Perhaps not. It is apparent that wearing the latest in fashionable footwear does make one distinguishable difference, a declining bank account.
Setting budgets based on income levels seems to be less critical when buying the latest in footwear. From a $500.00 pair of the latest sneakers to a similar pair costing $50.00 or less, only a footwear specialist may notice the differences.
ACIS Women's GEL-Venture 5 Running Shoes
At a fraction of the cost, these best-selling women's running shoes offer the same features as those costing three-to our times more. These premiere running shoes are incredibly comfortable and supportive fitting perfectly into even the most limited budgets. Specially designed for women who love to experience the extremes, these excellent running shoes are very affordable and practical.
Currently highly rated on many websites across the Internet, you will remain not only comfortable wearing these shoes but stylish as well. They are priced well below the market expectations however producing performance well above expectations. Buy three-to-five pair of these shoes for the price of one of the latest in women's fashionable exclusive running footwear.
Adidas Women's Cloudfoam Pure Running Shoe

Here is another classic example of women's running shoes that do not require a bank loan. There is a reason that these women' running shoes are called cloudfoam other than to attract attention. Superior comfort of these running shoes has often been referred to as "running on a cloud" due to excellent comfort levels.
Superior cushioning with a stretchable upper mesh allows your feet to move with you without restrictions, binding or pinching.  These ideal women's running shoes are priced well below suggested retail pricing making every step taken a dream. If you are looking for a better-quality running shoes that fit into your restricted budget, well then, your search is over.
CLARKS Women's Juliet Lora Loafer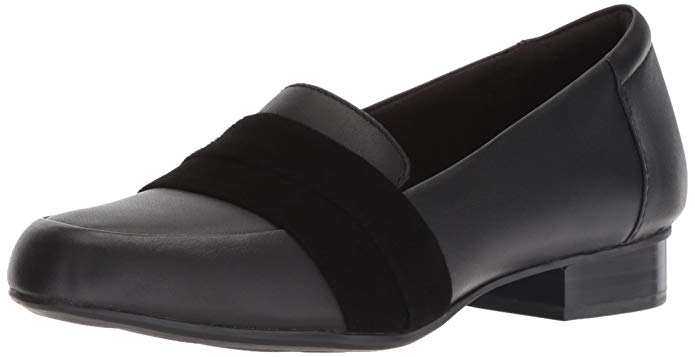 Why would you want to spend hundreds of dollars on a pair of shoes when these women's loafers offer you the same quality for less? Designed as a casual shoe for professional women, these loafers take the place of shoes costing 10-15 times more! Remain stylish with a look that emulates the "desired look" these shoes are all of that and more.
Comfortable and designated as a shoe for all seasons, comparing these shoes to the trending "must have"similarly styled shoes leaves no comparison. Slip-on these low-heeled shoes and feel good about yourself, especially the hundreds of dollars you just saved.
Chase & Chole New Kimmy-36 Women's Teardrop Cut Out T-Strap Mid Heel Dress Pumps
From weddings to formal events, step-out in these mid-heel pumps while looking your best. Charming your way through every occasion, the sophisticated look of these shoes will have others wondering where you found them. Adjustable ankle buckles add that specific era of elegance that coincides from formal events to meetings with the President.
Three-inch heel height adds that desired look of formality while remaining comfortable and supportive. Numerous colors to select from and very affordable fitting well within all budget guidelines. Due to the high affordability factor, wear a different color every day of the week and still be under your pre-set budget by hundreds of dollars.
Bruno Marc Men's Giorgio Leather Lined Dress Loafer Shoes
From the boardroom to a relaxing dinner with your significant other, these men dress loafers will keep you in style. Classis styling with just the right number of features for comfort and support make these shoes perfect in every way. Square toe design resembles high-end shoes with accelerated pricing, not better comfort.
Slip-on design is ideal for business attire adding to your overall professional look. Designed in the USA, quality, and attention to every detail is assured. Over ten color selections are available to match all business or casual clothing. Affordable at every budget level, these shoes remain a popular choice amongst people in the industry that know and seek out quality, inexpensive footwear.
So Where Do You Go From Here?
Hopefully not back to your old ways of spending hundreds of dollars per pair of shoes that are eventually going to wear out. Ask yourself this one fundamental question: "Do you think anyone looks at your shoes." Even if they happen to glance at your shoes briefly, do you think they know the difference? The answer to these questions should be obvious!
Everyone is entitled to their own opinions and their own choices. When it comes down to decisions; however, some choices seem questionable at best. For years expensive sneakers have been duplicated over and over again to resemble the "real thing" with very minimal differences. Costing hundreds of dollars less other alternatives and options in footwear will achieve the look that you "absolutely must have."
Affordable shoes are like willing the lottery for those that must stick to preset budget guidelines. Sportsly provides the best buying guide for affordable shoes that are second to none.  See for yourself by clicking on this link "The 7 Best Fake Yeezys for 2019" and experience a new way to buy shoes that you may be able to afford.