Up until recently, food delivery was facilitated exclusively by certain restaurants. However, the introduction of apps like Uber and DoorDash has made it incredibly easy to order food and have it delivered to your doorstep.

With the right food delivery service, you can order just about any food from your favorite restaurant by the click of a button. You don't have to walk into a physical restaurant and wait in the queue for several minutes to be served. This can be a huge convenience, especially for most of us who live fast-paced lives where a single minute wasted could translate into hundreds of dollars in potential revenue loss.

Of course, there's the little challenge of finding the most suitable food delivery app for your needs. Fortunately, you don't need to fret as we've compiled a comprehensive list of the best food delivery services to use in 2021, but first things first.
How to Choose a Great Food Delivery App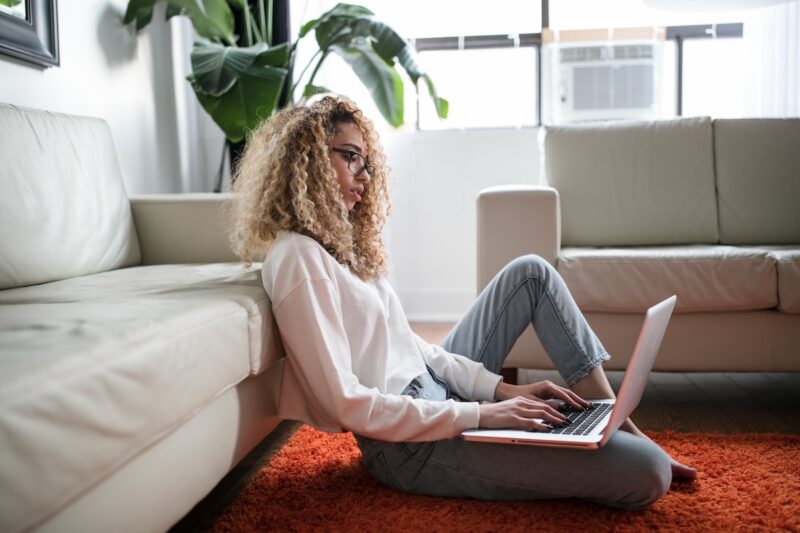 The following are some of the factors to keep in mind while choosing a food delivery service:
a) Region covered
The first thing to consider before choosing a food delivery app is the geographical location covered. While many apps cater to specific locations, others are available worldwide.

In the same breath, it's important to select a service that can deliver to off-grid locations that are usually underserved by traditional restaurants.
b) Partner restaurants
The number of partner restaurants that a food delivery app supports is another crucial consideration while choosing these services. The higher the restaurants served, the more reputable the app is likely to be.

Also, the service should be able to cater to restaurants of different nature, including those offering special dishes.

Most importantly, the app should only partner with licensed and accredited restaurants. You want to be sure that the restaurant staffers delivering your orders are duly trained in safe food handling procedures.
c) Fees
Most food delivery services charge a standard fee, whereas others are free to use.

However, note that 'free to use' doesn't necessarily imply that you won't incur a dime using these services. Instead, such apps leave the fees to the specific restaurants where you choose to order from.

It's also worth noting that some apps may impose additional fees if you end up ordering food from non-partner restaurants.
d) Order minimum
Like any outside catering arrangement, there's a minimum order value that you can place using food delivery services.

The order minimum is usually dictated by the partner restaurants. However, some apps may also set their own order value.

Whichever the case may be, any orders below the basic order value are typically charged the same price as the order minimum. Alternatively, you may incur additional fees if your order value falls short of the minimum.
e) Payment methods
Since apps are typically internet-based, you want a service that will allow you to pay through secure online platforms like PayPal, Payoneer, and TransferWise. The more payment methods a food delivery app accepts, the better.

Besides online-based payment methods, some food delivery services also allow payments by debit card, credit card, or cash.
f) Customer support
You deserve a food delivery service that can respond to your queries regardless of the time of day or night that you raise them. That underscores the importance of going for apps with reliable customer support.

At the very least, choose a food delivery app whose support is ever available for interactive feedback.
g) User interface
Food delivery software are convenience apps. As such, they should be easy to use. Insist on apps that allow you to search and browse for different restaurants.

The service should also come with an array of functions, such as menu price, food items, user ratings, etc. Most importantly, these features should be intuitively-designed and fairly navigable.
10 Best Delivery Apps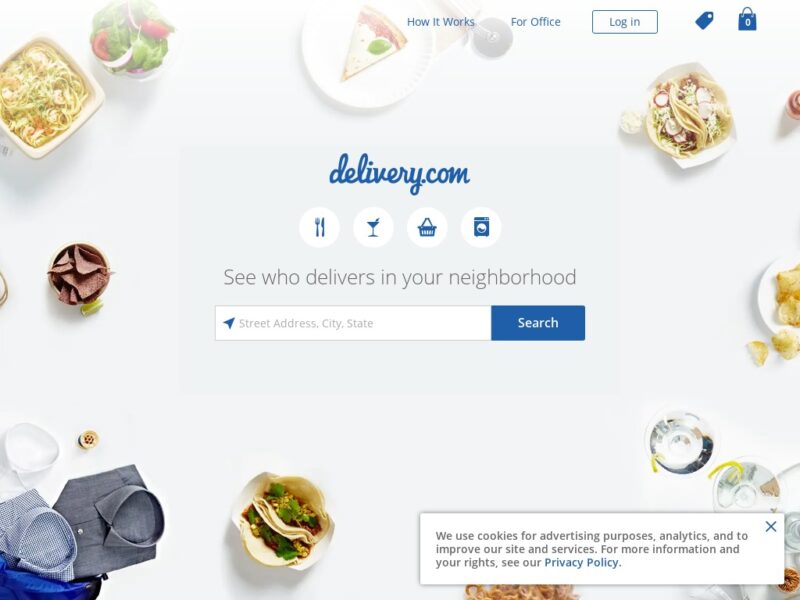 Year Founded: 1995

Headquarter: New York City, New York

Availability: United States

Fees: Average between $5 and $6 per order

Delivery.com is one of the oldest food delivery apps out there, which speaks volumes about its reputation. The company has been linking its clients with their favorite restaurants since 1995.

Clients can use the Delivery.com app to order all manner of foods, including groceries and wine.

Delivery.com doesn't charge you for using its services. Instead, the company takes a small portion of your pre-trip subtotal. However, note that certain partner restaurants may charge a delivery fee and impose their own order minimum.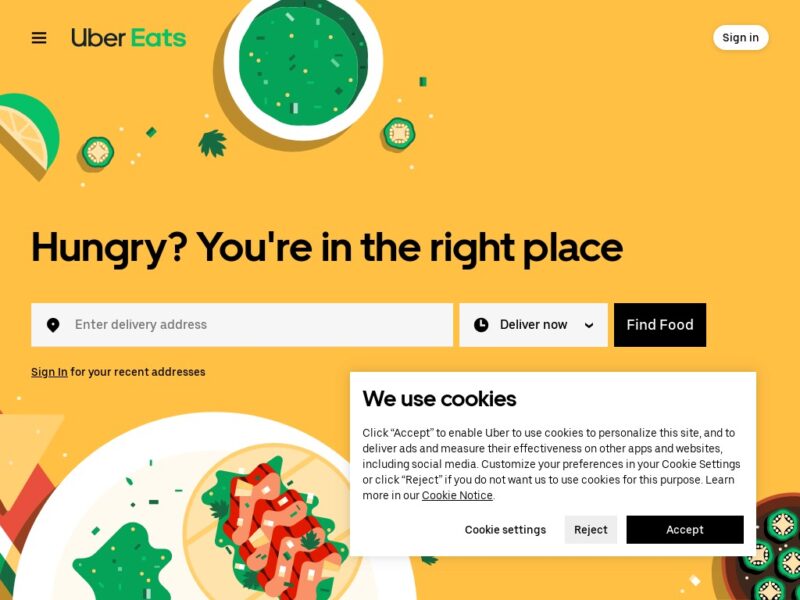 Year Founded: 2014

Headquarter: San Francisco, California

Availability: 45 countries and 6,000+ cities worldwide

Fees: 15% of your order's subtotal (exclusive of any promotions and discounts applied); a small order fee of $2 to $4

Uber needs no introduction. The highly-reputable ride-sharing company also prides itself on its intuitive food delivery app known as Uber Eats.

Although Uber Eats isn't the most affordable food delivery service on this list, the company makes up for its rather expensive fees by offering tons of cool features. One such feature is the app's seamless integration with the main Uber ride-sharing app. With this integration, you can request for a ride as well as order food and have them delivered to you in one go.

Uber Eats also supports numerous cashless payments. Plus, the app is available worldwide in over 45 cities.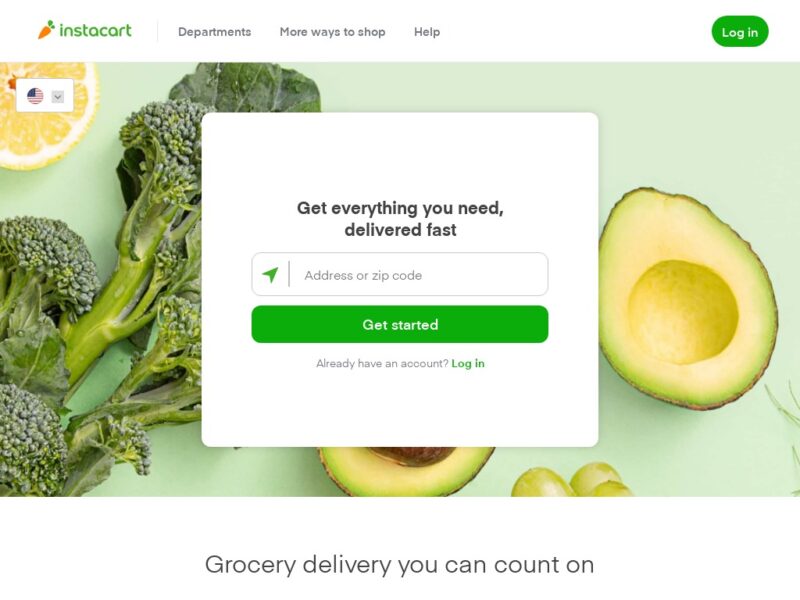 Year Founded: 2012

Headquarter: San Francisco, California

Availability: United States and Canada

Fees: Start from $3.99 per same-day order, plus a 5% service fee

Instacart has appeared in numerous publications as one of the most reliable food delivery services, thanks to its ease of use and incredible delivery speeds.

Once you've accessed the app's dashboard, all you need to do is input your address or zip code and select the food items from your favorite restaurant. You then make the payments and let the company take it up from there. Your orders will be processed in as little as two hours.

Instacart also allows you to chat with restaurant staffers as you pick your food items, which goes a long way in helping you manage your orders.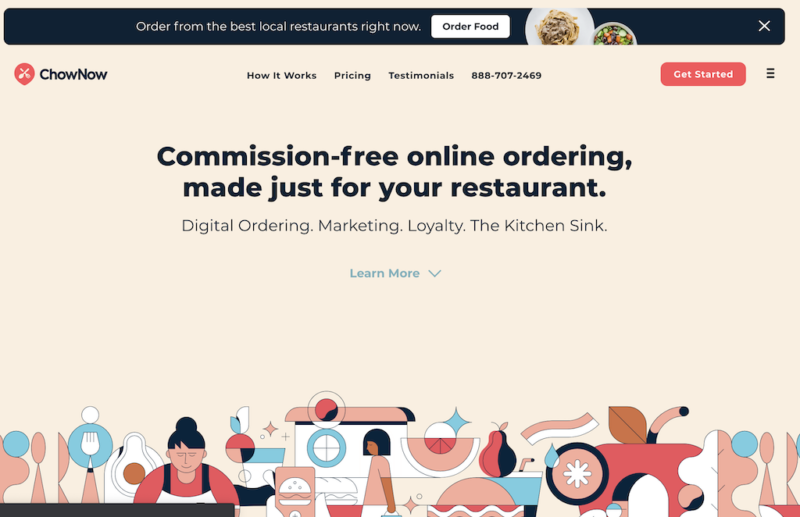 Year Founded: 2012

Headquarter: Los Angeles, California

Availability: United States and Canada

Fees: Vary by restaurant

ChowNow is another top food delivery app that prides itself on its remarkable ease of use. It's one of the only few companies that lets you order food automatically from Google search results of restaurants across the U.S and Canada.

There's even a feature that allows clients to place their orders through a restaurant's Instagram profile. What's more, ChowNow's prices vary depending on the location of a restaurant. After selecting a restaurant, the app will inform you about the fees the restaurant will charge you before proceeding to the next steps.

The app accepts numerous payment options, including Visa, MasterCard, Discovery, and American Express.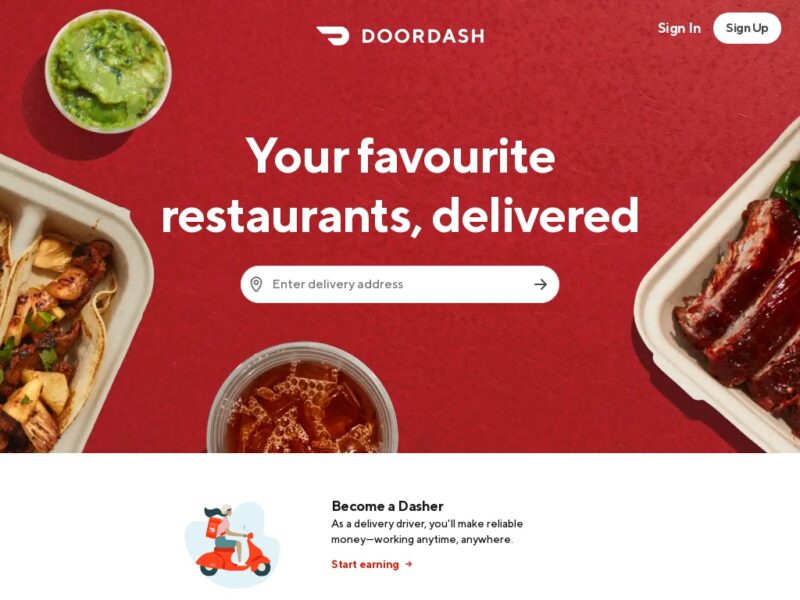 Year Founded: 2013

Headquarter: San Francisco, California

Availability: United States, Canada, and Australia

Fees: Average between $5 and $8 per order

If you're new to food delivery services and are looking for an excellent beginner-friendly app, look no further than DoorDash. Using this software is a hassle-free process that mainly involves entering your address or zip code.

After that, DoorDash will load up all its partner restaurants in your area and even give an estimated wait time for each restaurant.

There's a filter functionality that you can leverage to learn more about a restaurant before ordering from it. You can find out information about the restaurant's star ratings as well as their menu, whether they allow for pickup, etc.
Year Founded: 2011

Headquarter: San Francisco, California

Availability: United States

Fees: Average between $0.99 and $3.99 for partner restaurants and $5.99–$9.99 for other restaurants

Postmates takes the whole business of food delivery to a whole new level. Besides allowing you to order food items from restaurants, the service also delivers things like groceries, clothing, jewelry, and other non-food items of merchandise.

You can purchase a subscription plan for as little as $10/month and unlock a truckload of features, including free delivery from selected restaurants on orders above $12.

Another standout feature of Postmates is their no-contact policy that guarantees your safety as well as that of your couriers.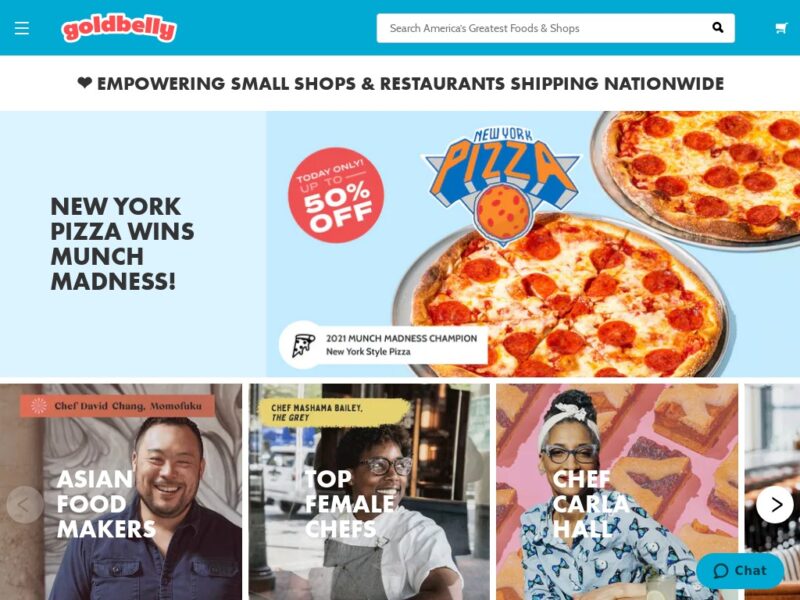 Year Founded: 2013

Headquarters: New York City, New York

Availability: United States

Fees: Order cost varies; shipping fee starts at around $15/order

Goldbelly is an excellent recommendation if you're looking for a food delivery service that specializes in gourmet cuisines. For instance, if you're looking for kosher meal but can't seem to find a restaurant in your town that offers these dishes, Goldbelly is the place to turn to.

You can choose whether you'd like your orders to arrive pre-made with most ingredients or totally ready to eat.

However, note that Goldbelly deliveries can take up to 3 or 5 days, depending on your order size and location. The app also charges fairly exorbitant shipping fees.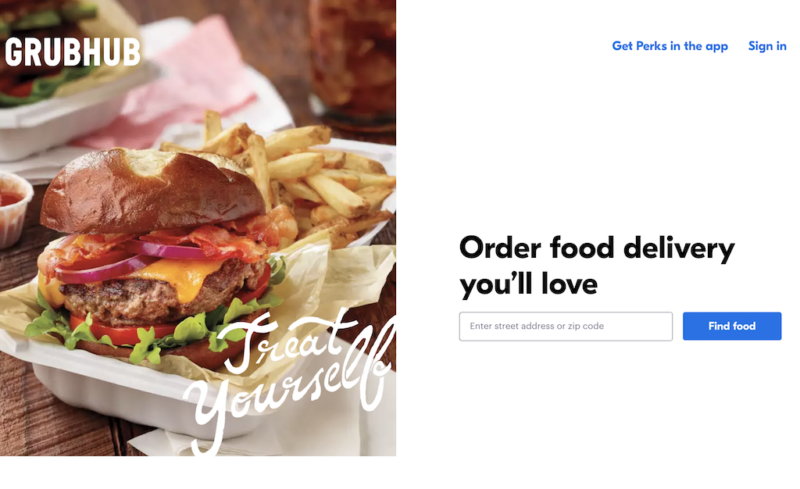 Year Founded: 2004

Headquarters: Chicago, Illinois

Availability: United States

Fees: Vary by restaurant

GrubHub is mostly a location-based food delivery service. Users enter their location on the app's dashboard and the software displays a list of all the partner restaurants in their locale.

But that's not all; you also get to search restaurants based on their cuisine type (such as whether they deal in fast foods) or menu item. There's also the provision of saving delivery locations, such as your home, work, or school, for even speedier order processing.

And the best part is – GrubHub is free to use. You only pay delivery fees imposed by the restaurant that you order from.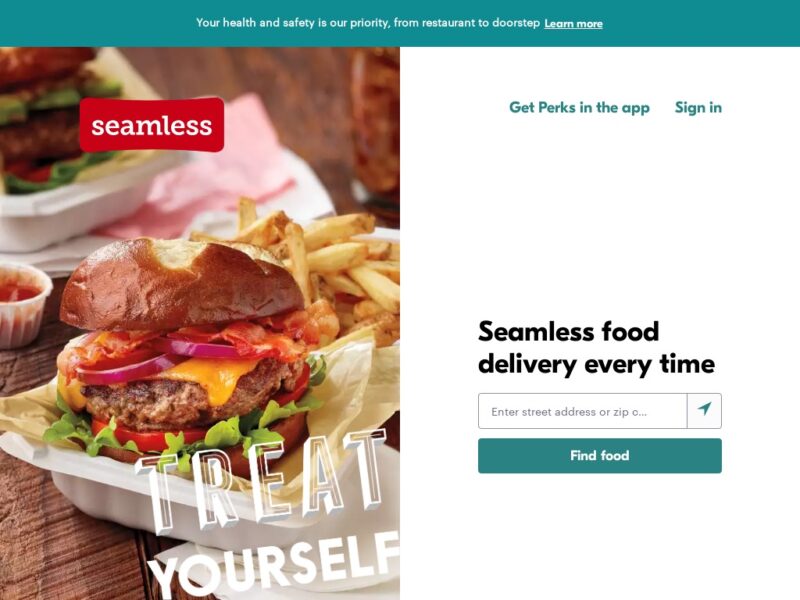 Year Founded: 1999

Headquarters: New York City, New York

Availability: United States and London – United Kingdom

Fees: Vary by restaurant

One thing that sets Seamless apart from many food delivery services is how responsive they are to their customers' claims. For instance, a few years ago, the company began accepting cash and PayPal payments after some of its consumers complained about its previous not-so-friendly payment policy.

Besides PayPal and cash, Seamless also accepts credit cards, Android Pay, Apple Pay, and eGift. The app operates under the 'GrubHub, Inc.' banner following a 2015 merger with GrubHub.

Just like GrubHub, Seamless is free to use. You only pay the fees set by the individual restaurants.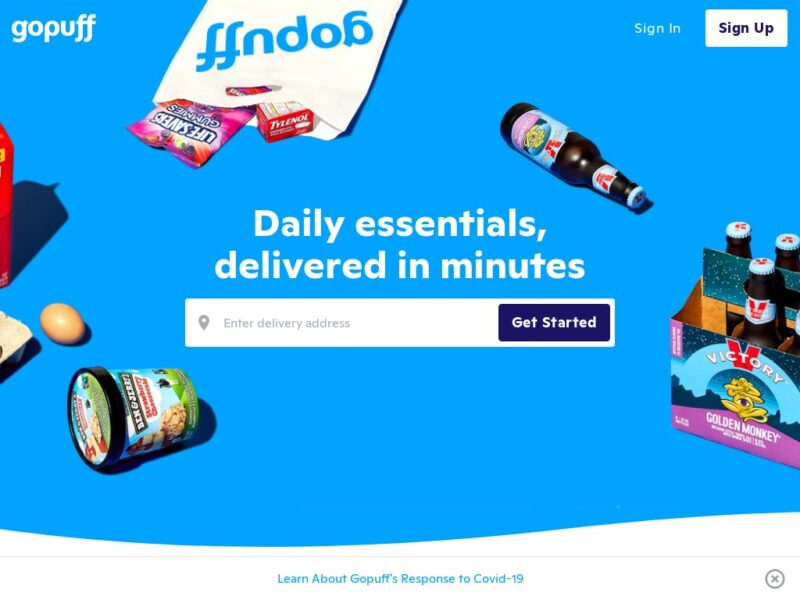 Year Founded: 2013

Headquarters: Philadelphia, Pennsylvania

Availability: United States

Fees: $1.95 per order

The last food delivery on this list also happens to be one of the most affordable. For a paltry $1.95, you can order food of any kind from scores of partner restaurants on the platform.

What's more, you can purchase a GoPuff membership for $5.95/month and enjoy the company's additional services, including free delivery at selected destinations.

GoPuff also allows its clients to order a wide range of food items, including ice cream, snacks, and fast foods. There's even an option of ordering non-food items like alcohol, cleaning supplies, and certain over-the-counter medications.
Final Word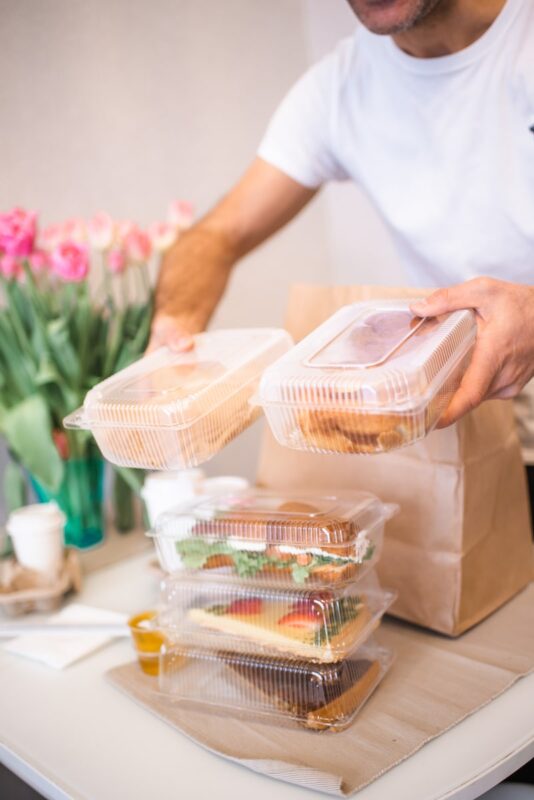 There goes our review of the top ten food delivery apps in 2021. As a recap, remember to choose a service that boasts a relatively wide geographical range, as well as one that partners with numerous restaurants. The app should also be intuitively designed, charge reasonable fees, and be able to support several payment methods. Friendly customer support is an added advantage.