Last Updated on January 24, 2022
Over the last years Joomla has grown enormously and with it the variety of free Joomla templates on the market. Currently, you can get a Joomla template almost anywhere, whether it is independent template stores, template markets, or even hosting companies that provide templates as part of their hosting packages.
With over 5,000 Joomla templates on the market, it is very difficult for beginners to choose the best Joomla template for their websites. Often users ask if there is a such Joomla template which is suitable for any websites.
The answer is YES.
The multi-purpose Joomla templates are the templates that fit almost any kind of site. Having the right template can make a huge contribution to the growth of your blog, e-commerce, forum, business, or any other specific websites.
In this article, we focus to highlight the best and most popular free Joomla templates in their relative categories. In this list, we have top multi-purpose Joomla templates, as well as a niche Joomla templates. You can choose the most suitable option depending on the use case.
When setting up the design and layout of a website, there is an infinite number of Joomla templates to sort. It may feel prohibitive to scroll through the options and features and try to decide which template will be the best choice for your site. It's very important for web administrators to have a customizable, aesthetically pleasing template that reflects your business's style.
How to choose the best Joomla template? There are some few factors you should look for when it comes in choosing the template which will work best for your Joomla website:
Simple settings – look for drag and drop builders while choosing a template. This feature helps you easily to customize your site without any coding knowledge the way you want.
Responsive Design – your website's template should look well on any device, especially on mobiles, because nowadays the mobile traffic is rapidly increasing and search engines give advantages to them. Therefore, you have to choose templates that are ready to work with mobiles.
Integration with useful Joomla Extensions – There are thousands of Joomla extensions that are really useful for your site. Check if the template supports the needed Joomla extension required for the project.
Fast loading speed – the website template should be optimized for quick load, use minimal resources, it should be lightweight and should have a high loading speed. With a fast website, you can easily be ranked higher in search engines because it helps your SEO optimization.
Nowadays JoomForest is the most popular free Joomla templates provider who creates advanced, professionally and top looking templates in the market. They create multi-purpose, SEO-friendly and responsive templates that are rich with plenty of demos, multiple shortcodes, parallax effects, drag-and-drop layout builders, gorgeous sliders, all manner of layouts, which helps Joomla beginners easily to create their dream website. Let's check out the best free Joomla templates which are available in 2020.
JF Simone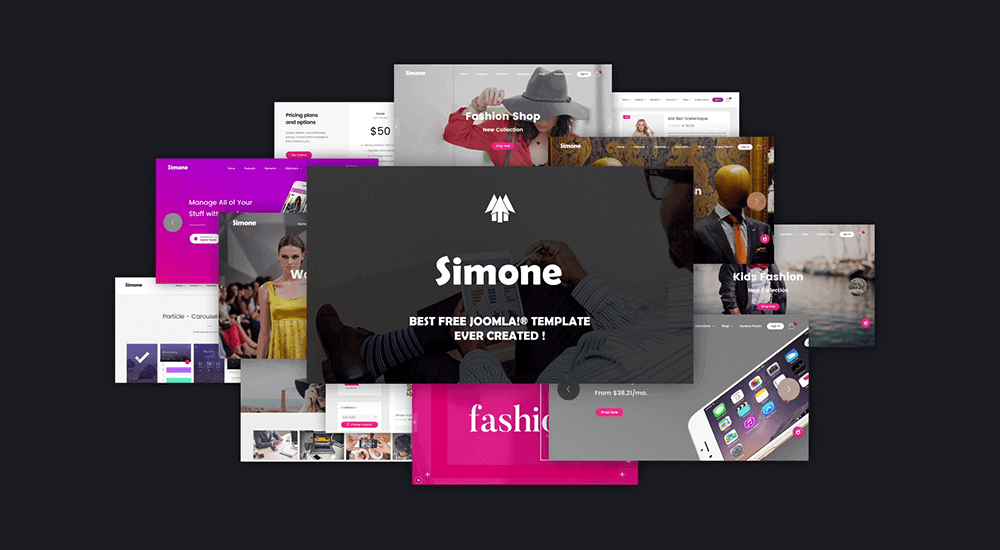 JF Simone is the most powerful and flexible free Joomla template created by JoomForest. It is centered around a Gantry 5 framework page layout builder. This template handles all of its in-house development, ensuring compatibility, growth, quality, and durability. Externally, it is a beautifully executed template, full of amazing animations and functions, including image effects, custom fonts, shapes, and more than 10 creatively designed pre-made layouts.
That template also offers all the advanced features that the website owner may need to further use the template and apply it to almost any project. In addition to the simple layout, through a user-friendly interface, it allows you to create custom designs.
Best of all, this template comes with add-ons for the framework and multiple color skins, and access to the entire JoomForest free Joomla extensions, modules or plugins.
Also, it needs to be mentioned that JF Simone has a special design for the Kunena Forum extension and for Phoca Cart – the popular Joomla e-commerce extension.
Features:
built on drag-and-drop layout builder – Gantry 5 framework,
supports Phoca Gallery Joomla extension,
carousels, CSS3 animations, testimonials, widgets and many other elements,
parallax and lazy loading effects,
design for Phoca Cart eCommerce Joomla extension,
supports bootstrap framework,
responsive layout,
wave and tilt effects Font-awesome icons, call to actions, features intros,
pricing tables,
special design for Kunena Forum Joomla extension,
10+ pre-made demos.
JF Connecto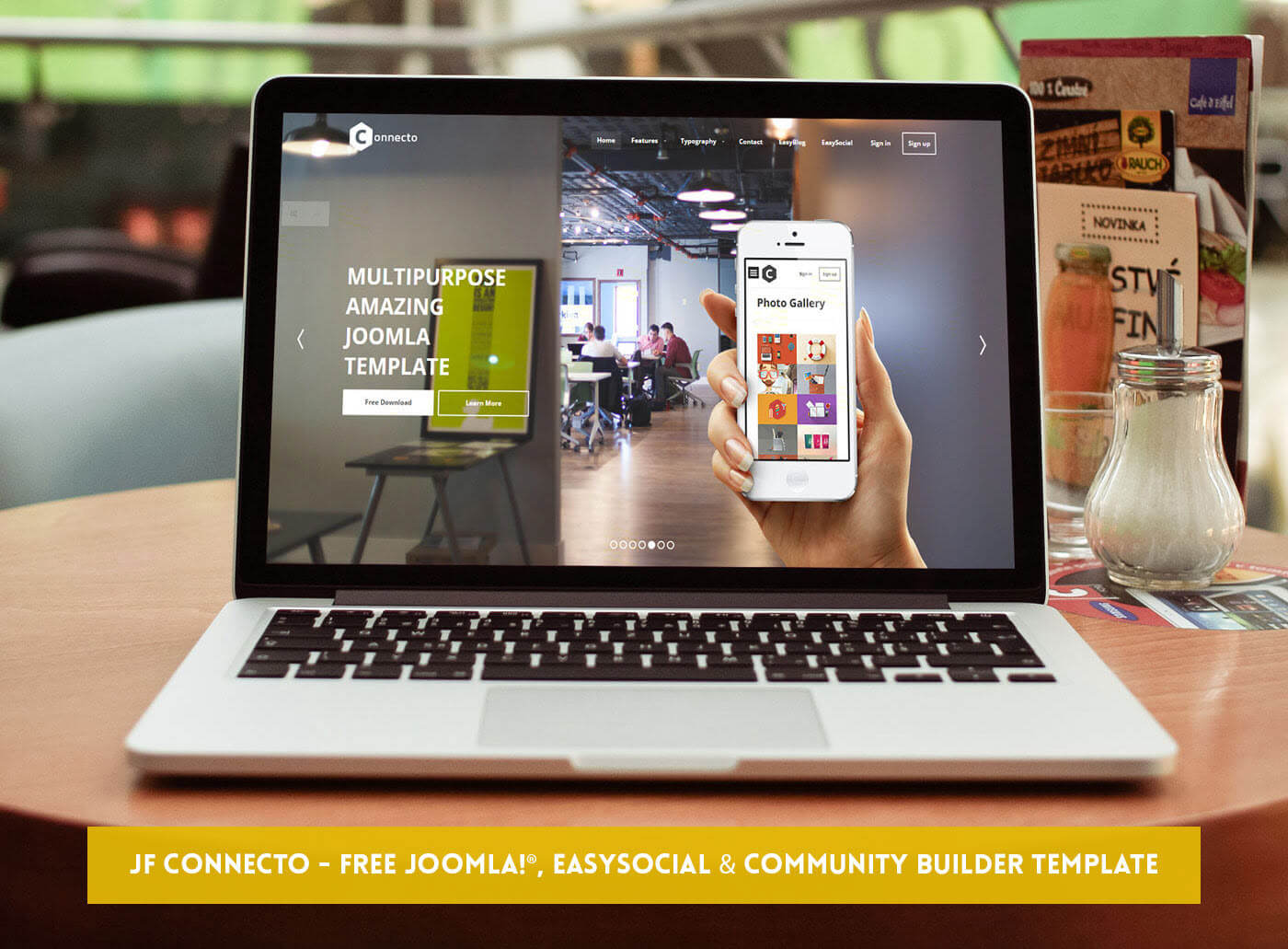 JF Connecto is a multi-purpose free Joomla template that stands pretty competent in terms of features and integrations.
It offers several layouts for internal pages and comes with many pre-built demos, including EasyBlog Joomla blogging plugin, galleries, shops, portfolios. The best feature of this template is its amazing performance, which, as a rule, is a serious problem for Joomla templates in general.
This minimal-type Joomla template is best for creative projects, community networks, or blog websites that need high-performance mobile devices. It includes support for popular Joomla extensions such as EasyBlog, EasySocial, and Community Builder.
Features:
Google fonts, supports RTL,
sticky header, preloader,
supports blogging extension – EasyBlog,
Font-awesome icons,
multiple pre-made demos,
supports Social Network software – Community Builder,
80+ module positions,
created on Gantry framework – Joomla page payout builder,
RTL support,
supports Social Network software – EasySocial,
unlimited colors.
JF Corporate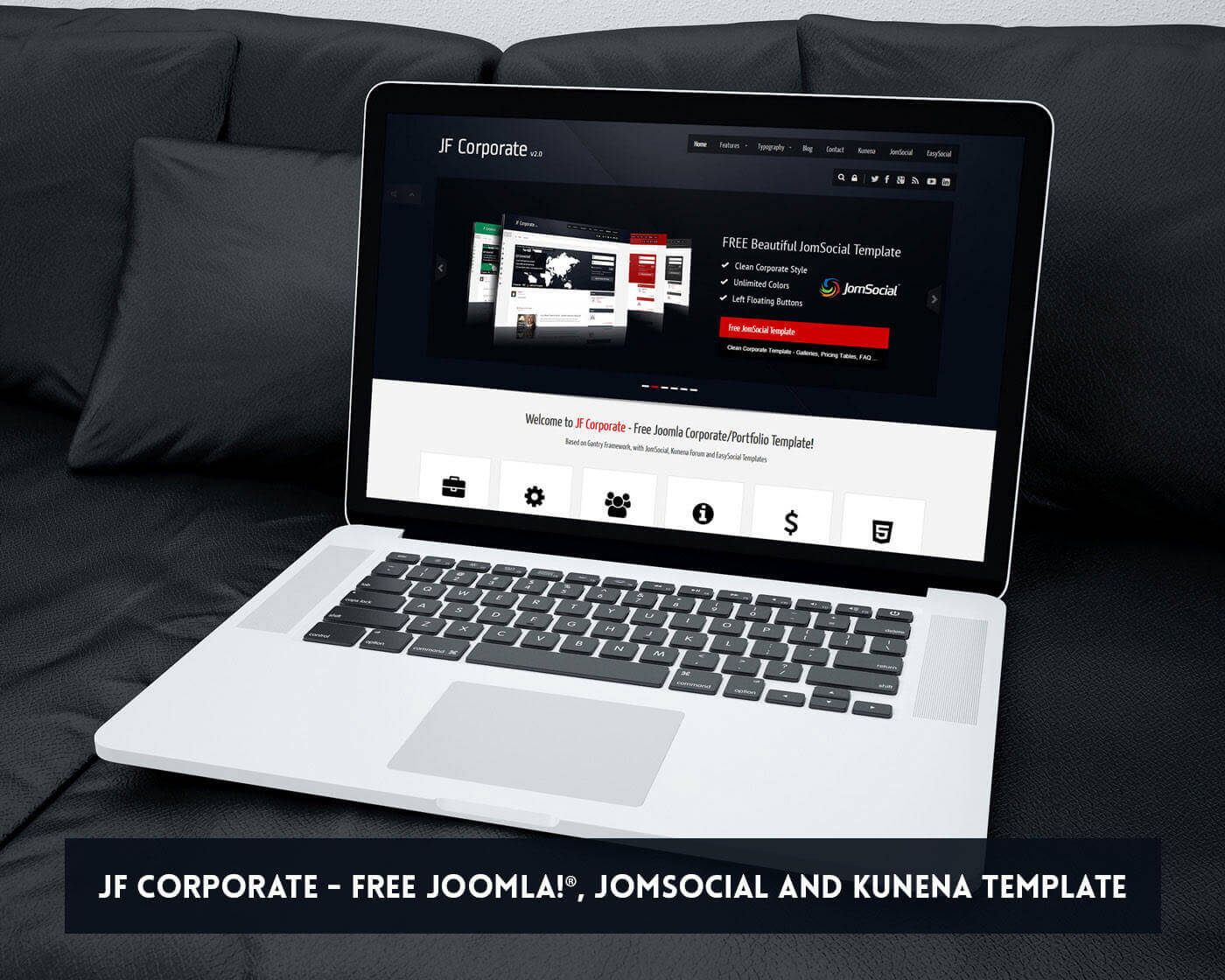 JF Corporate is a beautiful modern free Joomla template, with lots of awesome layouts, glamorous homepages, unique features, and special elements.
This Joomla template is beautifully designed with attention to the use of stylistic touches and fonts that will give your Joomla website an artistically oriented, fashion-forward and market-oriented impression. Instead of packing into a huge amount of features that you might not need, it focuses on usability on mobile devices, code quality, and speed performance.
It was designed specifically for creative sites and portfolios that want minimal sophisticated design. The template also comes with support for the forum and community network Joomla extensions.
Features:
portfolio and grid gallery,
unlimited color options,
+80 module positions,
responsive design,
pricing tables,
flexible and multipurpose design,
modern widgets,
animations,
Gantry layout framework.
JF Business
JF Business is a creative multi-purpose Joomla business template with a spacious, clean style that is well suited for company-business websites using bold visual effects. It is built on an easy layout builder – Gantry framework, with an extremely fast and responsive, user-friendly interface.
The template offers some of the more original pre-created layouts that can be found in the demos. It is equipped with an additional mega menu, carousel modules, various layouts, portfolios, galleries, and Forum support.
Features:
beautiful image slideshow front Joomla module,
font-awesome icons,
responsive layout,
unlimited colors,
accordions, toggles, PrettyPhoto lightbox, pricing tables,
great-looking blog layout,
sticky scroll header
Google fonts, social widgets,
RTL language support.
You can use any of the free templates listed in the article to launch your own website. These Joomla templates are flexible, mobile-friendly, and great for any type of website you want to create.