Last Updated on July 6, 2020
Our parents play a very important role in our lives. They work very hard all their life to give the best for us. Presenting a gift is an excellent way to celebrate a special occasion or telling them how much we are thankful to them.  And sometimes it might seem difficult to find a perfect gift for them.
It's not always an easy task, especially when the market is flooded with a lot of gift supplies. And in the end, you might find yourself frustrated if you didn't make the best choice for them. If you are looking for a wonderful gift that will both make them happy and make their life easier, you might want to consider tech.
Just because they are older, it doesn't mean that they don't love the possibilities of Tech in their life. They might even openly state that they're not interested in any gifts. Gifting tech gadgets these days doesn't always mean it's just a wired electronic device that helps them to listen to radio channels or programs.
Luckily, we have collected some most popular gadgets options for you to consider, whether if you're looking for a holiday, birthday, or retirement gift. All you have to do is make an informed decision about which one of the gadgets below is the right fit for your parents.
Birdsong Tablet
Birdsong released its tablet with the core concept of the brain fitness and physical well-being of the users. Apart from regular tablets, it serves the functionalities of an easy to use the digital treasure for seniors. What makes birdsong tablets different from others is that it offers its users an optically maximum viewing experience, and the tablet is available in both 18-inch and 15-inch variant screen sizes.
Further, it comes with an easy to use interface and the touch screen of the tablet is handy for aging adults as they tend to lose their muscle strength over time. The Birdsong tablet works as a tool that seniors can use to connect with their friends, family, and caregivers.
Moreover, it runs on an android system which makes it easier to operate. The tablet provides a wide array of content ranging from classic TV shows to movies, travel videos to spiritual content, small engaging activities to brain fitness games, and much more.
A Birdsong subscription grants access to their award-winning user-friendly software, access to 8,000 pleasant engaging experiences, internet browsing, regular content updates, technical support, customer support, and so much more. And you can pick between a monthly, annual, or a lifetime subscription plan as per your interest.
Reminder Rosie
Do you have to constantly remind your parents to take medications? Or would they forget their doctor's appointment date?  If your parents struggle with memory troubles, Reminder Rosie helps them to remind them to perform certain tasks.
It keeps the seniors on a regular basis with reminders to perform certain tasks such as checking in with their loved ones, taking their medications, reminding them of their doctor's appointment dates, and literally anything else that they need assistance with to remember.
The most important part of this innovative gadget is that once it's set up correctly, your parents needn't worry about the complicated operations. Apart from other reminder devices, Reminder Rosie has an easy to use, voice technology assistive functionality. It's LED display has a very simple, easy to read font that is bright and large enough to see from a distance at any angle.
It offers to set up multiple personalized reminder messages. They can playback as verbal directions so that a loved one can record for them. This way they can enjoy the sound of familiar voices. With a limit of 25 reminders, it is the most delightful feature for those who live alone.
Shiatsu Pillow massager
Speaking of gadgets as a gift for your parents, what can be an excellent gift other than a massager to relieve their neck pain? The Shiatsu Pillow Massager provides 4 powerful shiatsu-style massage modes. The shiatsu-style of massage applies a certain amount of pressure with the use of hands here it is done with it's massaging nodes.
It works by its four core rotating, heated nodes that knead away tension and stress, and it is very comfortable to be used on one's neck or back. Just like how a shiatsu-style massage works, it's nodes will change it's directions every few minutes – this process helps to prevent bruises and melts away muscular tension. Moderation is the key – it's overhead protection device will turn off after 20-minutes of usage.
Shiatsu massage pillow also offers a vibrating massage mode and it comes with a car adaptor and adjustable handle straps. Thus, it allows the user to use it anywhere, at any time. They further provide a 90-day money-back guarantee, 1-year warranty, and great customer support.
WIWE
According to the Centers for Disease Control and Prevention (CDC), 1 person dies every 37 seconds in the United States from cardiovascular disease. And WIWE is a health risk assessment tool designed to be worn and to help detect the early warning signs of stroke and cardiac arrest. It's a lightweight, travel-friendly, slim device that is roughly the size of a business card, thus making it easier for your aging parents to carry along with them.
The device includes two electrodes at each side of the tool. The electrode at the left side incorporates a small sensor spectrometer to measure the wearers' blood oxygen saturation (SpO2). The W-shaped light in the middle of both electrodes shows how much time is left to complete the measurement.
The ECG reading will be uploaded via Bluetooth to a smart device and it will then provide immediate feedback on the data collected.
This will be one of the great gifts for your aging parents as it would help them to monitor their heart health and also it has a built-in pedometer to count a user's steps. The WIWE can serve as an excellent way for your parents to monitor their ECG for potential risks of heart health.
Fitbit Smart Watch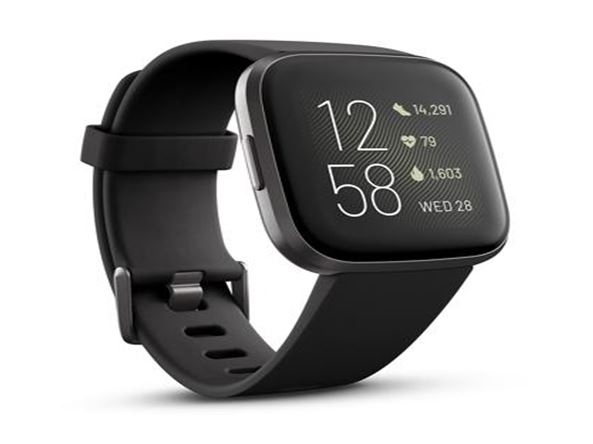 The best gadget to track the health and fitness of your aging parents. As they age they tend to keep themselves away from physical exercises. A Fitbit health tracker or smartwatch will help them to track their daily activities and monitor the progress towards getting healthy.
Fitbit versa 2 is packed with more advanced health, fitness and smart and it also offers Smart Wake and Sleep score. The smartwatch calculates one's sleep score based on their heart rate (both resting and sleeping), time awake, restlessness, and sleep stages.
Additionally, it's smart wake feature uses machine learning to calculate one's sleep cycle and wake them during an optimal time of their sleep cycle, so they will feel fresh and energetic.
This wearable gadget has a comfortable lightweight design with a week-long battery life. Fitbit will be an excellent option for your parents to keep track of their sleep cycles to promote healthier sleep styles.