Last Updated on May 7, 2021
Did you know that sitting on a chair for extended periods of time is considered worse than smoking? That means on a long enough timeline, you're likely to develop cardiovascular diseases. But even before you get there, you'll have lots of back and neck pain, as well as spinal misalignment issues to contend with.
If you work a desk job that has you sitting for hours on end, investing in a high-quality chair can make all the difference. And that applies both to your workplace and home office.
As you may already know, finding a high-quality, ergonomic chair isn't a walk in the park. You have to sift through tons of product recommendations and reviews before you can hone in on a chair that works for you. Well, you don't need to fret as we've done the research for you.
In this post, we will review the 7 best computer chairs you should get for your home office.
Factors to Consider When Buying an Ergonomic Chair for Your Home Office
1. Height
A home office chair should comfortably support your thighs while also allowing your feet to rest on the ground. A too low height will lead to posture misalignment, exerting undue pressure on your lower back and your tailbone.
Similarly, a too high chair may lead to pain on the back of your knees, causing inflammation or numbness on your feet. Your best bet is to buy a chair that comes with adjustable height.
2. Depth and Width
The ideal depth of your home office chair should be one that ensures your knees and back are comfortably supported. The convention is to consider a 1- to 3-inch allowance between the chair and the back of your knees.
As for the width, go for a seat that's wider than your hips to allow for unhindered movement.
3. Backrest and Lumbar Support
An excellent home office chair should have backrest contours that correspond with your spinal curves. Therefore, choose a chair with a backrest that you can adjust vertically and horizontally, as well as forward and backward. Also, the backrest should offer support for your lumbar spine while providing allowance between the chair and your buttocks.
However, the most important thing to remember is that your lumbar support needs will depend on the nature of your activities. For instance, tasks that involve more upper body mobility require chairs with low and narrow backrests. That allows for flexible movement of your arms while still ensuring your lower back is firmly supported. On the same breath, overly tall backrests will engage your upper back more frequently than your lower back, causing you to slump.
4. Arm Rests
An armrest should be located at a height that allows you to access it without having to lean forward. Comfortably-placed armrests reduce back and neck fatigue while allowing you more flexibility with manual tasks.
The conventional wisdom here is to choose a chair with armrests whose height is equal to that of your bent elbows.
5. Seat Material
You want a home office chair whose seat is made of a material that offers maximum comfort, seeing as you'll be spending hours on end sitting on the chair.
High-density foam, cotton, and nylon are the most popular seat materials. Some manufacturers blend more than one material to achieve higher comfort and durability.
6. Stability
The stability of a home office chair comes down to the diameter of the base, whereby a larger diameter translates to more stability.
7. Swivel
Swiveling while working is an excellent way of reducing work-related stress. Plus, it allows you to adjust the height of the chair.
7 Best Computer Chairs for Your Home Office
1. Herman Miller Executive Size B Lumbar Support Aeron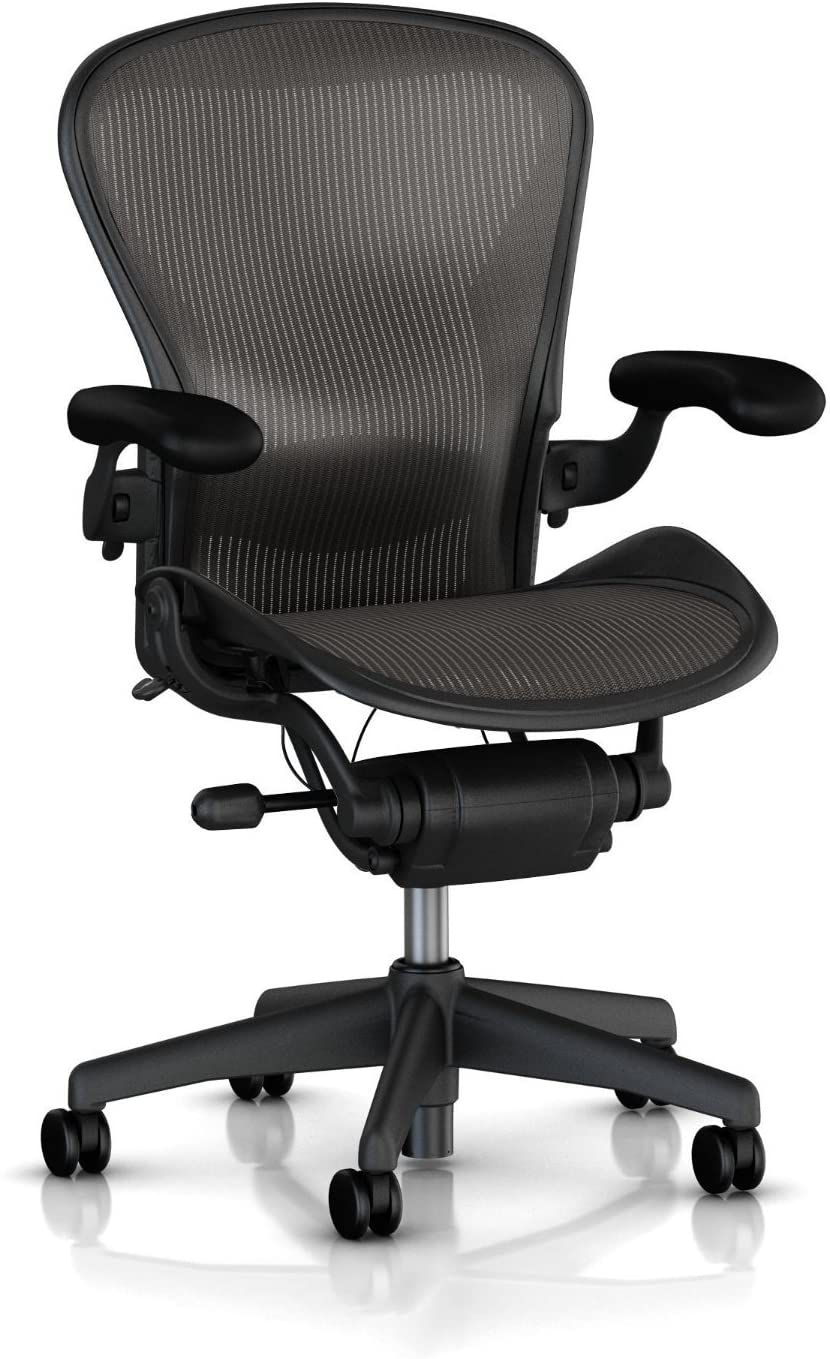 Size: 18.5 x 28.2 x 45 inches
Weight: 48 Pounds
Color Options: True Black, Carbon Classic, Lead Classic, and Cobalt Classic
Pros
Easy assembly
Strong and elegant
Tilt tensioner for better load adjustment
12-years warranty
Cons
Forward-tilt mechanism can be problematic
Product Description
Herman Miller Executive Size B Lumbar Support Aeron is the first ergonomic chair ever designed. But while the original construction has been preserved, there have been significant upgrades on the materials used and the chair's mechanism to improve its comfort and performance.
Herman Miller Executive allows for free movement and reclining, providing you an unlimited range of physical capabilities. It comes with adjustable lumbar support while the backrest and seats feature a mesh design that offers comfort to your body while promoting air flow. The incorporation of glass strips and reinforced polystyrene resin on the leaf spring enhances the chair's flexibility.
2. Duramont Ergonomic Adjustable Office Chair
Size: 29.2 x 25.9 x 12.9 inches
Weight: 44.6 Pounds
Color Options: Black, Graphite, and Gray
Pros
Ease of installation
Relatively affordable
Wheels improve its mobility
100% money-back guarantee
Cons
The armrests are somewhat wobbly
Product Description
One of the most noteworthy qualities of Duramont Ergonomic Adjustable Office Chair is its relative affordability compared to most chairs of its caliber. And it's reassuring to know that the manufacturer did not trade off quality for affordability.
The chair comes with many adjustable features that allow you to fine-tune it to your desired position. Examples include the height of the headrest, height of the seat, back tilt, location of the armrests, as well as the depth and height of the lumbar support.
The use of a breathable mesh adds to the overall comfort of the Duramont Ergonomic Adjustable Office Chair, while also enhancing its breathability. Needless to mention, the chair is also remarkably easy to install.
3. Modway Articulate Ergonomic Mesh Office Chair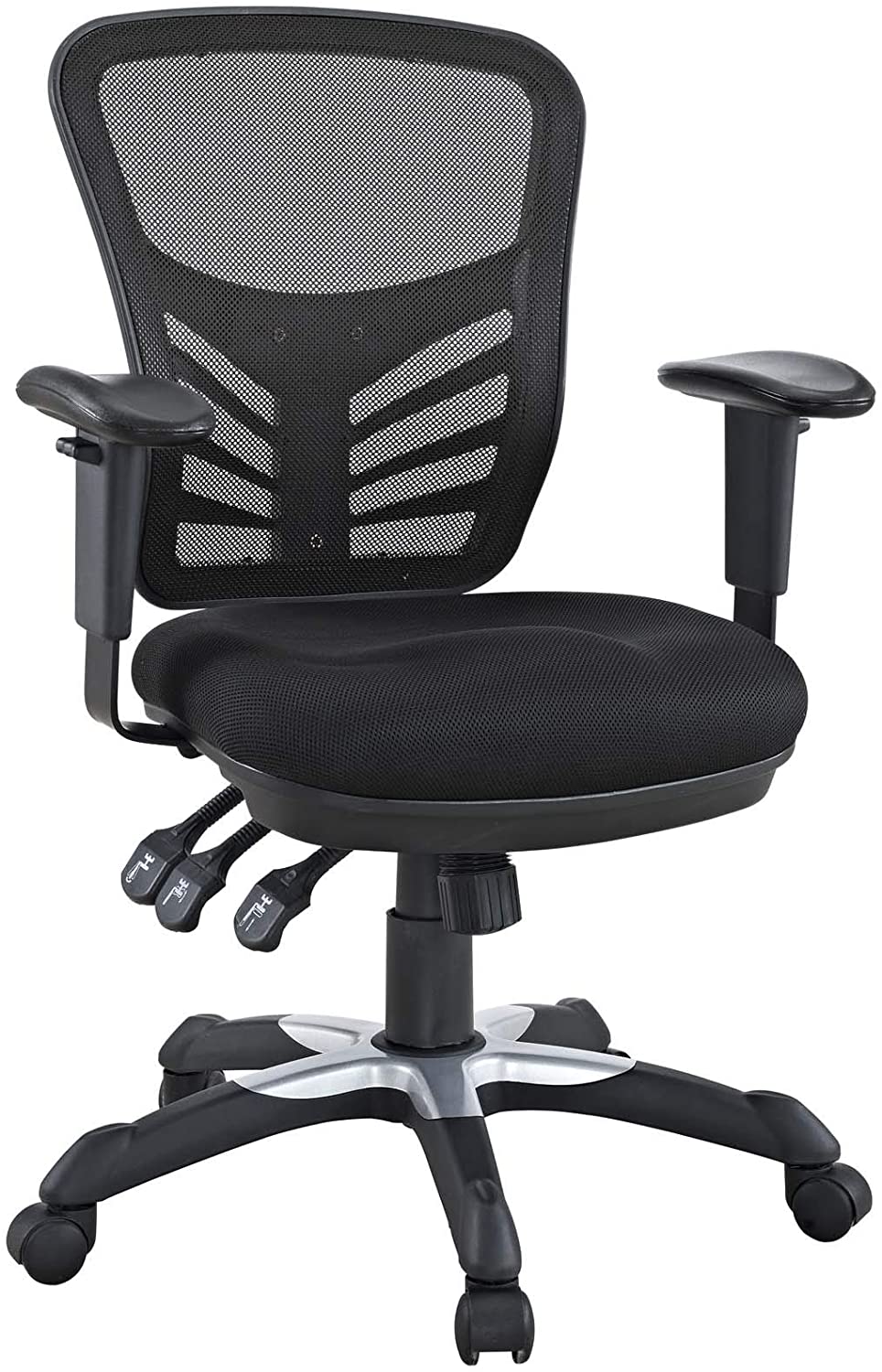 Size: 26 x 26.5 x 39 inches
Weight: 36 Pounds
Color Options: Black, Red, Green, Brown, Gray, and Blue
Pros
360-degree swivel and casters for extended mobility
Numerous color options
Comfortable and breathable
Cons
Arm-locking mechanism tends to be weak
Product Description
Modway Articulate Ergonomic Mesh Office Chair is another excellent recommendation for those looking for a high-quality, comfortable, yet affordable home office chair. The chair comes with 5 dual-wheel hooded casters that improve your mobility across the office. The casters are compatible with all floor types, be it carpeted, wooden, or tiled floor.
The back of this chair is designed with mesh while the seats are made of padded cushion, which accounts for the chair's incredible comfort and breathability. There's the option of choosing between a mesh and vinyl seat, as well as a wide range of colors to suit varied needs. Other things to love about Modway's Articulate Ergonomic Office Chair are its height-adjustable armrests, tilt & lock system, as well as 360-degree swivel.
4. Herman Miller Embody Chair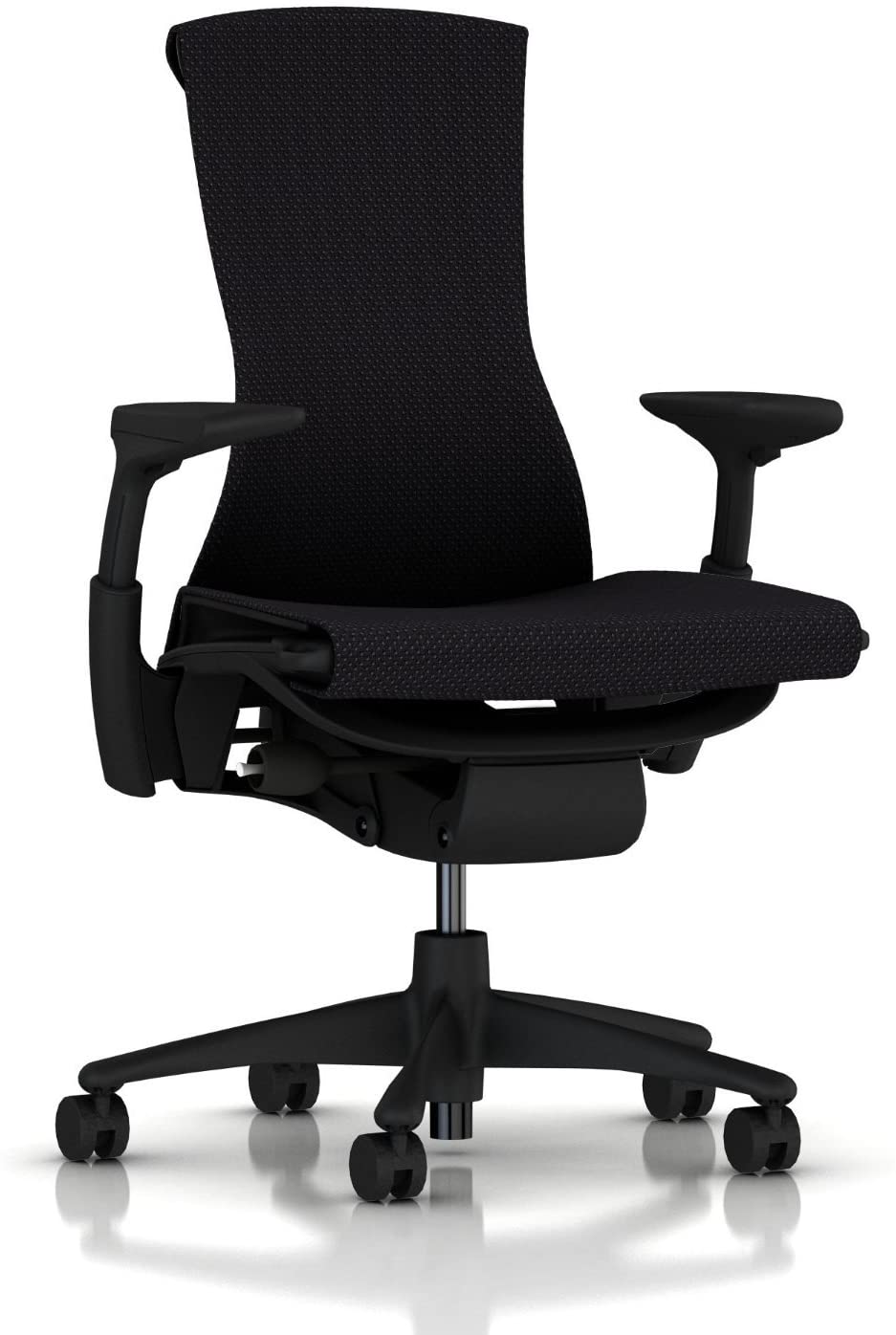 Size: 29 x 29.5 x 43.5 inches
Weight: 52 Pounds
Color Options: Black, Green Apple Rhythm, Carbon Balance, Blue Moon Balance, Berry Blue Rhythm, etc.
Pros
Adjustable lumbar and back support
Heavy and sturdy
12-year warranty
Cons
Product Description
Herman Miller Embody Chair may be a bit cost-inhibitive. However, it comes with plenty of redeeming features for those looking for comfort and flexibility in a home office chair. First, the chair sports a narrow back that boosts your mobility by allowing you to recline or twist around without interfering with the natural contours of your spine.
Also, its lumbar support comfortably fits your body regardless of whether you are leaning forward or reclined. With Herman Miller Embody Chair, you'll never need to invest in a posture corrector. Plus, the freedom of mobility that you get with this chair goes a long way in improving your blood circulation, relieving stress, and increasing your concentration.
5. Steelcase Gesture Chair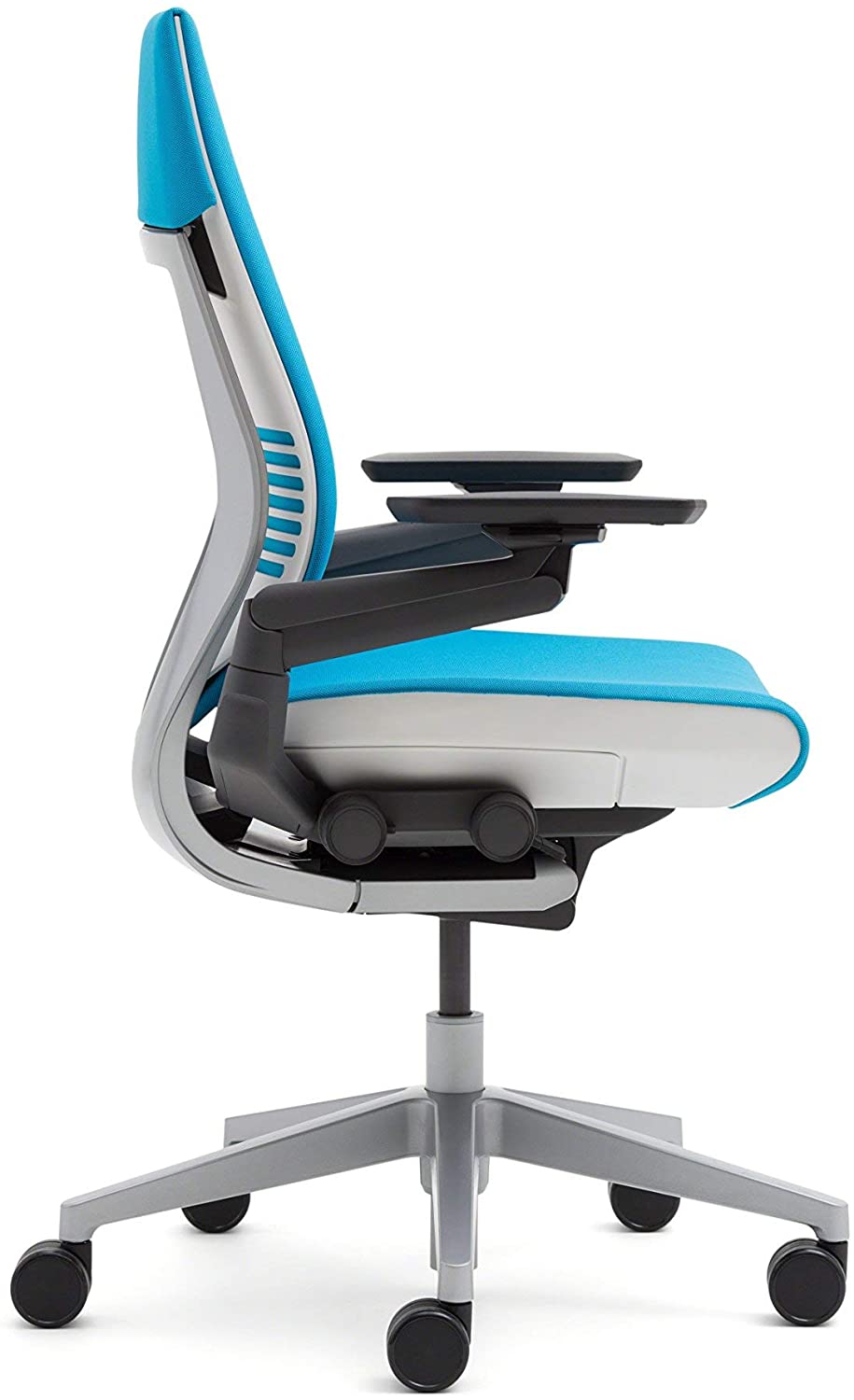 Size: 23.6 x 29.1 x 44.5 inches
Weight: 72.8 Pounds
Color Options: Black, Blue, Green, Graphite, etc.
Pros
Durable steel construction
Core equalizer for better lumbar support
100% warranty
Cons
Product Description
What is it about the Steelcase Gesture Chair that made it win the Neocon Gold award in 2013? Is it the chair's durable steel construction or the numerous color options that it comes with? What about its ultra-sleek design? Well, it's all that and much more.
The Steelcase Gesture Chair utilizes a cutting-edge LiveBack technology that seamlessly adjusts to correspond to the movements of your back, spine, and neck. The armrests are positioned further back and can provide up to 360-degrees of motion, enhancing the flexibility of your arms. For even greater flexibility and mobility, the chair allows you to adjust its height as well as back tension.
6. Flash Furniture Mid-Back Swivel Chair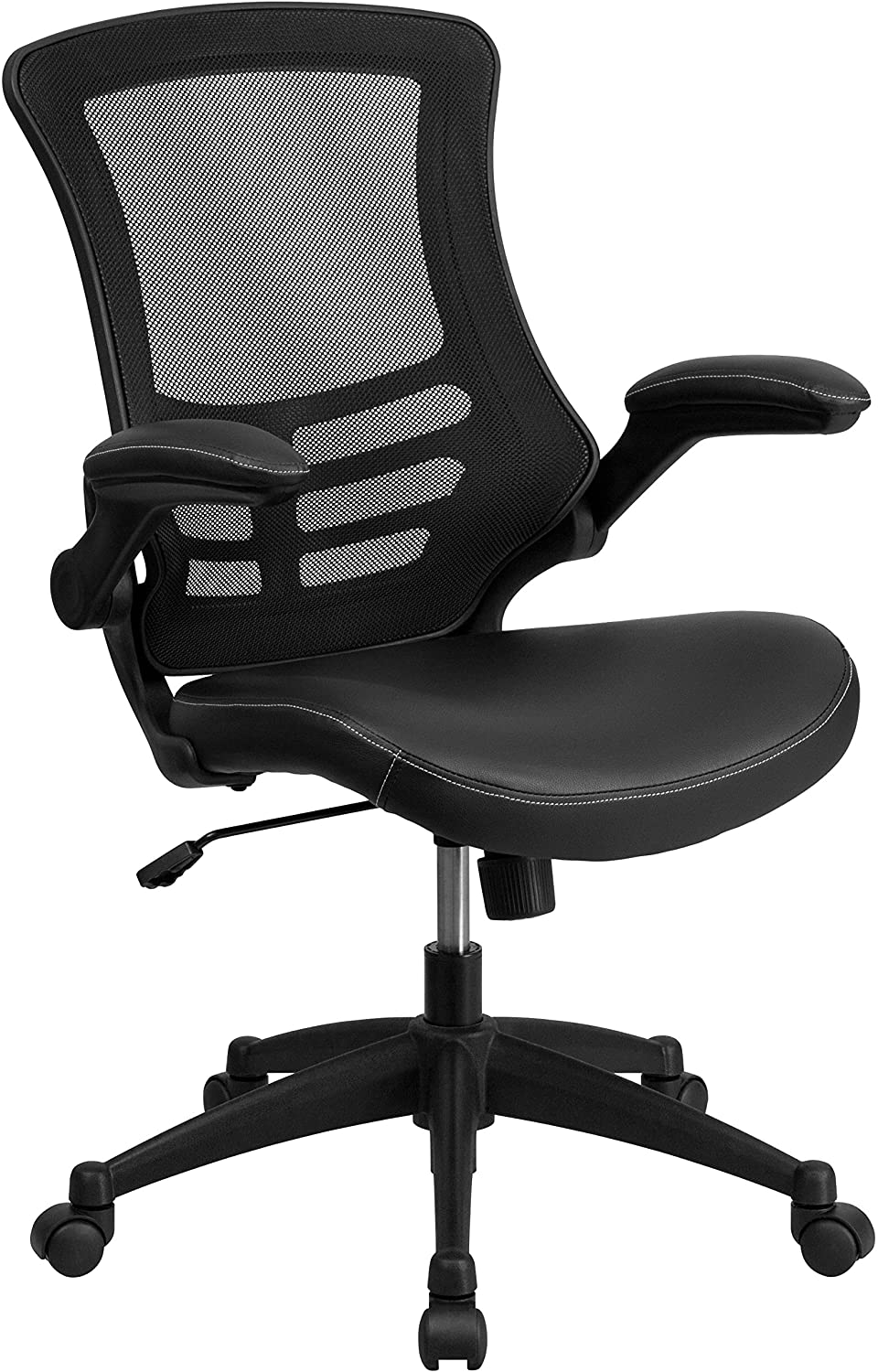 Size: 25.5 x 24.5 x 41.2 inches
Weight: 30 Pounds
Color Options: Black, Red, Blue, Tan, Green, etc.
Pros
Features a pneumatic seat height adjustment lever
Fire-retardant seat
Many adjustable specs for improved comfort and blood circulation
Cons
Some users didn't find it comfortable and plush enough
Product Description
Like most high-end home office chairs we've reviewed here, Flash Furniture Mid-Back Swivel Chair is constructed to accommodate users with various body sizes and positions. The chair sports a curved mesh back which provides better lumbar support. The mesh construction also improves the chair's breathability, preventing it from heating up due to prolonged use especially during warm and humid conditions.
Flash Furniture Mid-Back Swivel Chair comes with padded flip-up armrests that relieve pressure from your arms and shoulders to reduce fatigue. The seat features a waterfall design that prevents numbness on your legs and improves blood circulation. The seat is also padded using 3-inches of CA117 fire-retardant foam and extra leather upholstery for maximum comfort. Other excellent features include seat height adjustment and tilt tension for rocking and reclining.
7. Sleekform Ergonomic Kneeling Chair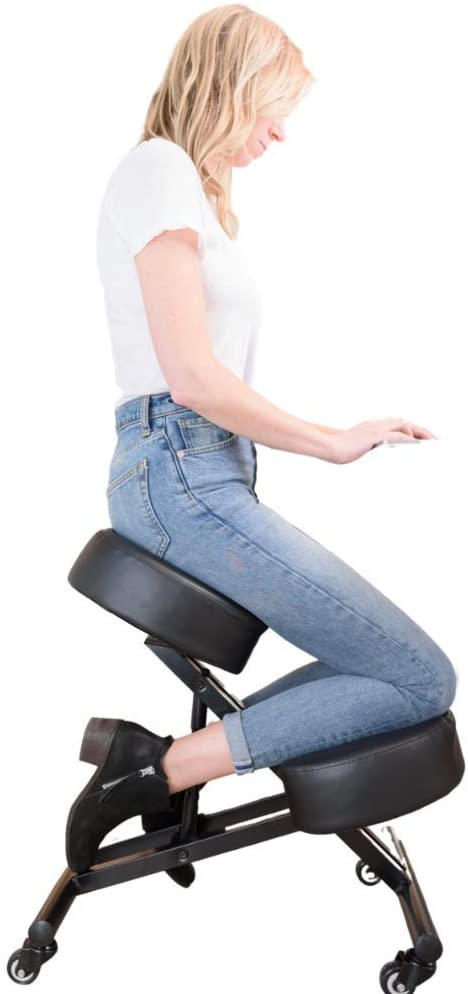 Size: 26 x 23.4 x 6.5 inches
Weight: 20 Pounds
Color Options: Black
Pros
Elegant design
Caster wheels for ease of mobility
Ultra-thick cushions prevent sinking in the seat
Cons
Product Description
From a first glance, you can easily mistake the Sleekform Ergonomic Kneeling Chair for a piece of gym of equipment, thanks to its chic and stylish construction. The chair is designed with its seat cushion angled at 90-degrees to prevent you from hunching over while working on a computer. The 90-degrees seat cushion angle ensures that your back stays upright the whole time, distributing weight uniformly to your bottom and legs while also improving blood circulation.
In the interest of your comfort, the manufacturer included 4-inch thick cushions on the seat to prevent you from sinking while working on the chair. Other admirable features about the Ergonomic Kneeling Chair include an adjustable seat and four caster wheels for ease of mobility.
Conclusion
Choosing a chair for your home office can be a daunting process if you don't know where to look. The products we've reviewed here score highly in various parameters, ranging from comfort and durability to adjustability and mobility. They are a great place to begin your search for an ergonomic home office chair that suits your needs.