What Is Online Therapy?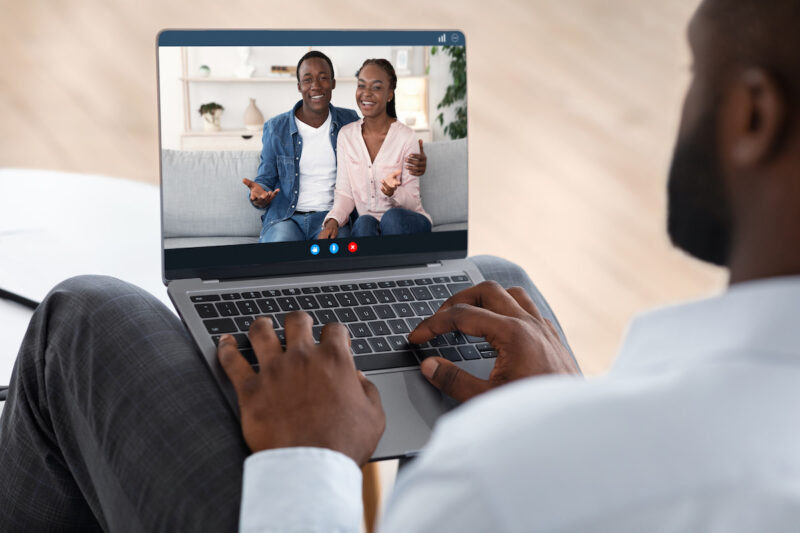 Online therapy goes by numerous other names, including online counseling, virtual counseling, e-therapy, e-counseling, cyber-counseling, and teletherapy. The concept of online therapy involves the provision of mental health services and support through the internet.

The most popular ways of conducting virtual counseling are through video conferencing and real-time online chat. These channels allow the therapist and patient to develop a healthy rapport, which is vital to the success of each counseling program.

Besides video conferencing and online chat, online therapy can also be conducted through text messaging, email correspondences, or internet phone.

It's important to note that online counseling shouldn't replace your ongoing traditional therapy programs. As a matter of fact, experts recommend using virtual therapy in conjunction with traditional psychotherapy for compounded benefits.
Why Opt For Online Therapy?
Flexibility is the primary benefit of choosing online counseling. Unlike the traditional psychotherapy model that will need you to travel to a physical health facility, e-counseling simply requires a Smartphone or laptop and stable internet connection. And, of course, a therapist on the other end. This flexibility is particularly beneficial for people with erratic work schedules who struggle to find time to visit a therapist at their physical facility.

Another benefit of e-therapy services is that they transcend geographical barriers. A patient doesn't have to travel across the world to meet their counselor in person. Not when they can arrange such meetings virtually. This can be very useful in times of raging pandemics such as now, where many countries continue to ban international flights.

Online counseling is also generally less time consuming than in-person therapy. Usually, you don't have to wait so long in a queue. Once the therapist and the patient agree on a mutual time, they would both log in during those hours and get straight to the counseling sessions.

Last but not least, online counseling is the better option for patients who are shy or anxious about meeting a therapist physically. If you're uncomfortable walking into a therapist's office in broad daylight fearing that you could be judged by your friends or peers, then you should definitely consider cyber-counseling.
What's An Online Therapy Website and How Do You Choose One?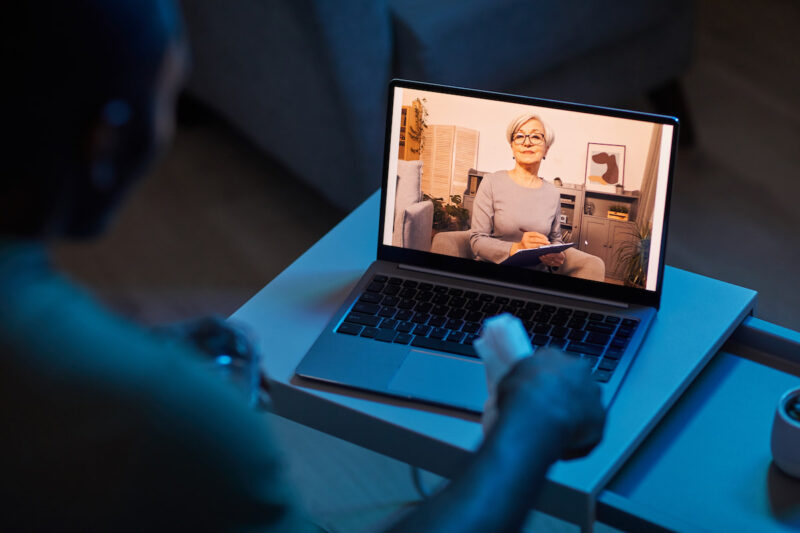 An online therapy website simply refers to a platform that you can log into to access e-counseling services.

Now, there are hundreds of e-counseling websites out there and choosing the best one isn't exactly a walk in the park. So, how do you go about choosing the best virtual counseling website for you?

For starters, you should establish the expertise of the counselors on the platform. To do that, you'll need to find out whether such counselors are duly trained, licensed, and accredited to offer therapy services.

Another consideration when choosing online counseling websites is the range of therapy services available. Some platforms offer a broad range of expertise, including anxiety and depression, grief and loss, trauma, eating disorders, marriage and divorce, relationship issues, and substance abuse. On the other hand, certain e-therapy sites specialize in specific mental issues. The conventional wisdom is to opt for a service that specializes in the very problems you're suffering from.

The following are other things to keep in mind when choosing an online therapy website:

• Ease of sign-up
• Flexible fees as well as payment options
• A range of subscription plans
• A range of communication channels
• Friendly and responsive support
• Positive customer feedback
Top 10 Websites for Online Therapy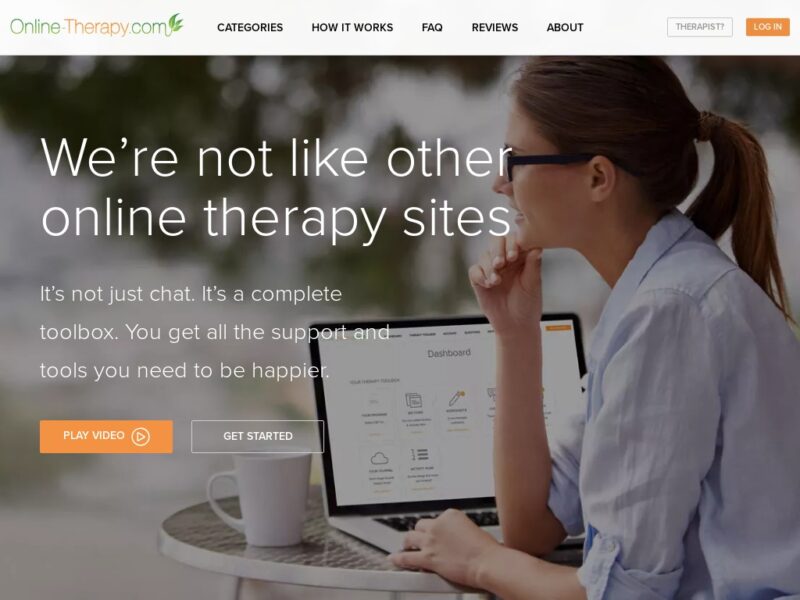 Pricing: Plans start from $32/week

Online-Therapy.com primarily offers cognitive behavioral therapy (CBT). That makes it the go-to virtual counseling platform for people with anxiety, depression, substance use, phobias, and eating disorders.

The website maintains a complete toolbox of resources that can help you to plan your therapy sessions effectively. Some of these resources include worksheets, an online journal, a messaging function, and a 30-minute weekly live chat.

However, Online-Therapy.com doesn't accept insurance-based payments. The saving grace is that new subscribers receive up to a 20% bonus on their first month.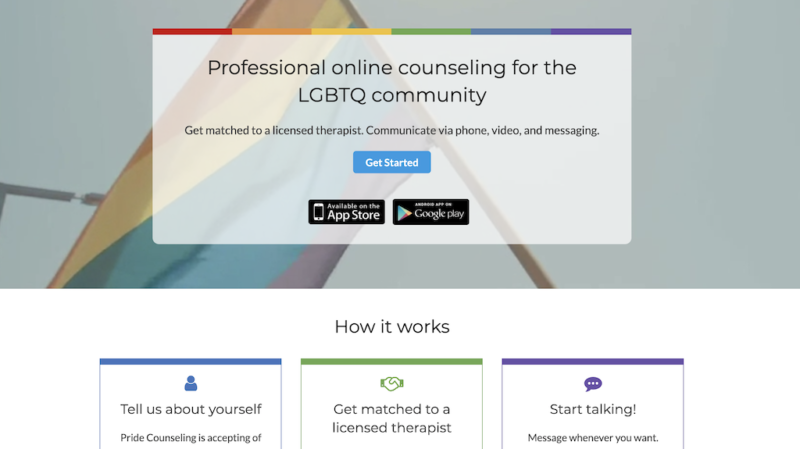 Pricing: A flat fee of $65/week

PrideCounseling adopts an all-inclusive approach to online therapy. This is one of the only few platforms that offer cyber-counseling to members of the LGBTQ community.

Not only does the platform maintain well-trained and duly-licensed professionals. But the counselors are also friendly and understanding to the specific needs of their patients.

For a flat fee of $65/week, users can unlock a range of services, including unlimited text, audio, and video messaging, as well as one live session every week.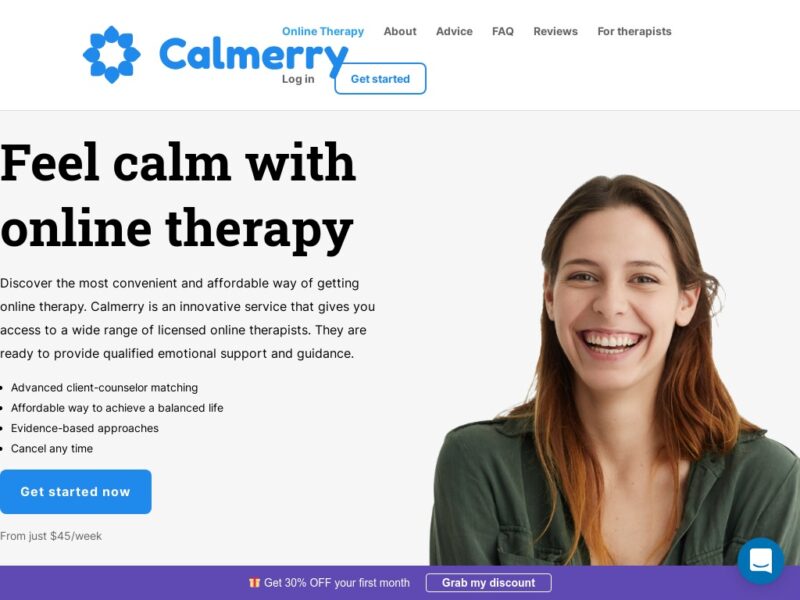 Pricing: Plans start from $45/month

Calmerry is a relatively new service. However, it's already giving established e-counseling websites a run for their money.

The platform offers a broad range of online therapy services, including stress, anxiety, depression, and grief counseling. For $45/month, you get to enjoy unlimited text messaging and 30-minute video conferencing sessions.

But what truly sets Calmerry apart from many virtual counseling services is that the website mostly targets victims of COVID-19.
Pricing: Plans start from $65/week

What is it that you've lost in your social or love life and are desperately struggling to recover? Is it the passion or intimacy in your once-bustling relationship? Is it the trust and affection of your partner? Or maybe you're seeking to regain lost friendship!

These, and much more, are some of the issues that counselors on the Regain platform seek to address.

Considered one of the best online therapy services for couples, Regain is committed to rekindling the dying flames of old relationships. Experts on this platform also advise new couples on how to walk the often-treacherous journey of love and marriage.
Pricing: Prices range from $99 – $110 for a 45-minute session

Amwell focuses on both physical and psychological health.

After signing up for an account, the platform allows you to choose your doctor or therapist. You can then schedule a visit through the company's web-based or mobile app program.

Some of the counseling services you'll find at Amwell include therapy for anxiety and depression, life transitions, trauma and post-traumatic stress disorder (PTSD), relationship and marriage, etc.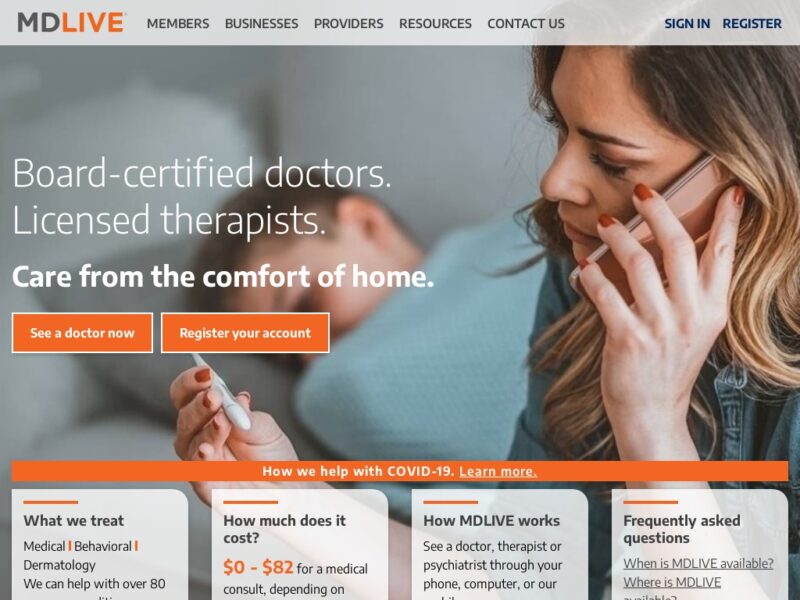 Pricing: Costs $284 for the first visit and $108 for each follow-up visit

MDLive may not be the most affordable online therapy website on this list. But it's definitely one of the best platforms if you're looking for board-certified counselors who deal with a range of mental issues.

Whether you're suffering from anxiety, depression, PTSD, panic disorders, or bipolar disorder, MDLive has a psychiatrist who's trained to address your case.

After registering for an account, MDLive lets you choose your own therapist. What's more, there are various ways to schedule an appointment, including via phone, app, or online video.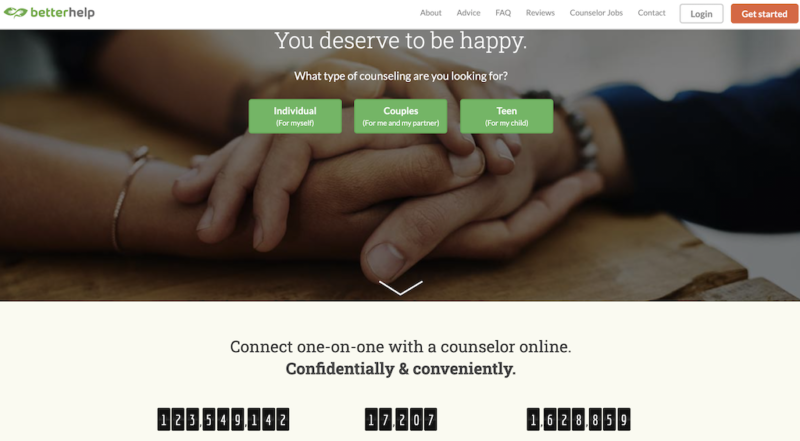 Pricing: Paid plans start from $65/week for the first month and varies from $35 – $80/week for the subsequent months

BetterHelp claims to be offering e-counseling to over 5000 patients with various mental health issues every day in the United States. These claims may just be factual, considering that the platform currently maintains more than 16,000 licensed therapists.

Another thing to love about BetterHelp is their intuitive app that you can readily access through your laptop or Smartphone.

It's also one of the few online therapy services that offer a free 7-day trial period.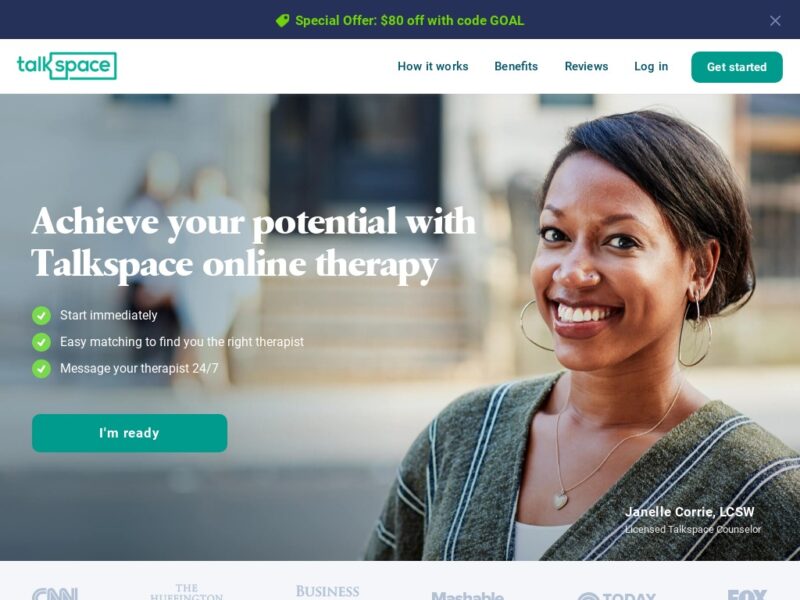 Pricing: Prices range from $65-$99/week

Some e-therapy services specifically target teens, couples, or members of the LGBTQ+ community. However, Talkspace has therapists trained to handle mental health issues faced by people of every age group or sexual orientation.

The platform maintains a range of messaging options, including text messaging, live chat, audio messaging, and video conferencing.

Getting started on Talkspace is also incredibly easy. All you need to do is take a 60-second online assessment, find your therapist, choose your subscription plan, and you're all set.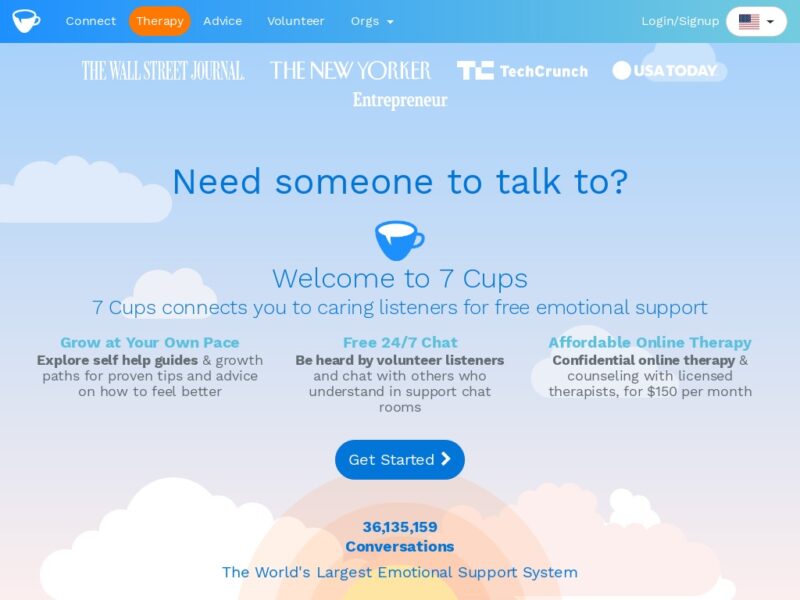 Pricing: Plans start from $150/month, a free 3-days trial available

7 Cups offers one service that you'll rarely find in many e-therapy platforms – the chance to speak to a trained volunteer via online chat free of charge. This site also takes your privacy seriously, as you can easily choose to go anonymous.

Besides, 7 Cups has various scheduled support group sessions as well as chat rooms that seek to address specific mental health issues, ranging from anxiety and depression to relationships and LGBTQ+.

There are even therapists specifically dedicated to teens between the ages of 13 and 17.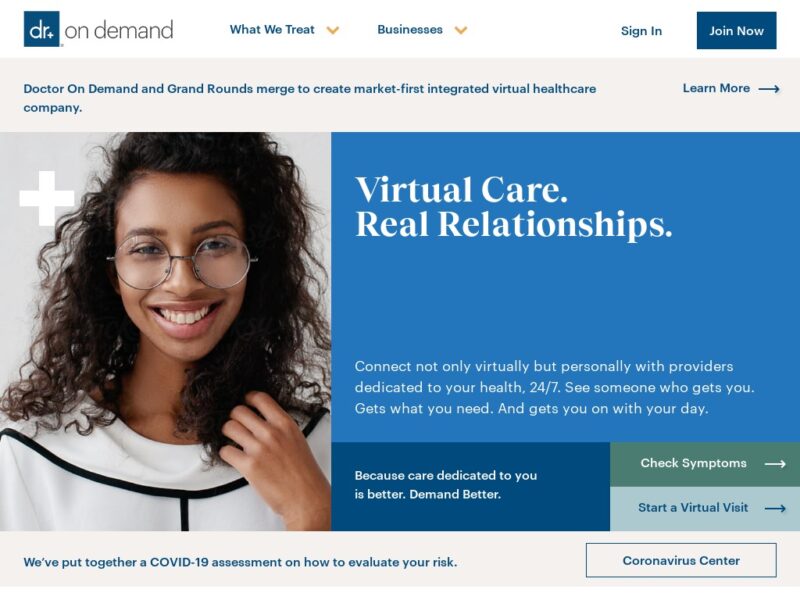 Pricing: Costs $129 for a 25-minute session or $179 for a 50-minute session

DoctorOnDemand provides a range of physical, mental, and emotional health services to its clients. The website implements a free screening tool made up of two sets of questions. How you answer these questions determines if you should speak directly with a mental health expert.

Some of the mental health issues that DoctorOnDemand counselors address include anxiety, depression, substance use, and trauma.

There are options for working with the same therapist during your subsequent appointments, or replacing them altogether. Prices vary depending on how long you want your therapy sessions to last.
Wrap Up
We all struggle with various mental and emotional problems from time to time. Sadly, finding the time to schedule in-person counseling appointments isn't always easy.

Thankfully, there are numerous cyber-counseling websites that you can turn to and receive therapy from trained and licensed professionals. Feel free to bookmark this post for reference whenever you'll be looking for the best websites for online therapy.