Last Updated on January 24, 2023
There's nothing like a good shooting game where you have to track down your rivals while also ensuring that they don't find you! Or maybe, you just feel like shooting at cans to improve your aim. But whether you're just wiling away the time or planning a major backyard war, here are some of the best Orbeez handguns and rifles you can add to your arsenal. 
A Pesky Safety Warning
One of the things that make Orbeez guns so popular is their realistic appearance. To be fair, some of them are obviously toy guns – they come with large plastic pellet holders and their colors also mark them as plastic toys. 
But a fraction can pass for real firearms. So, if you want to own one of the more authentic-looking pieces, then you have to make sure that you do not play in an area where bystanders might mistake you for an active shooter who is trying to harm people. Don't think it won't happen! Due to such incidents, toy guns like Orbeez have been banned in several places and there have also been arrests.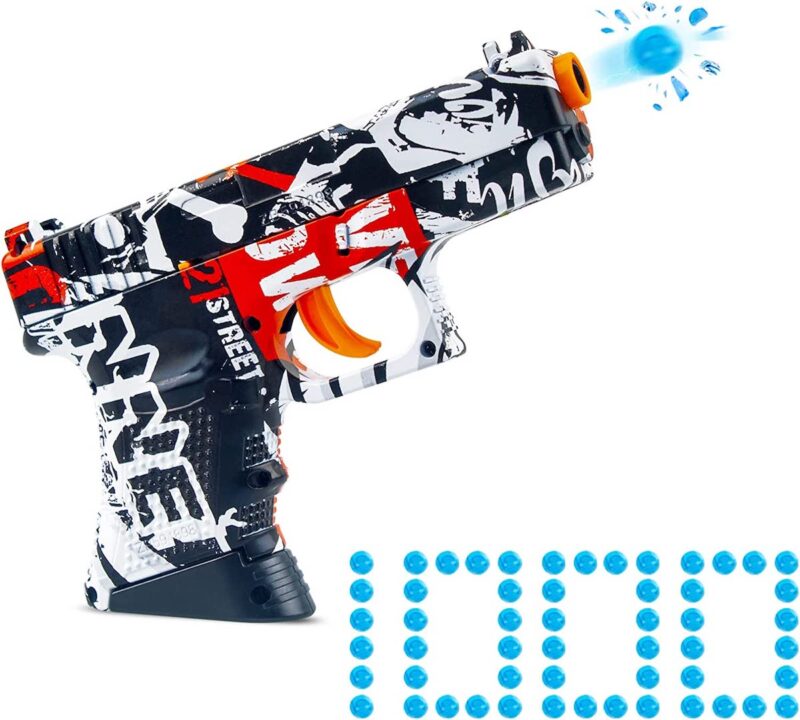 Suitable for ages 12 and up, this colorful handgun will make a great addition to your Orbeez armory! This weapon can hold 50 gel balls and have a shooting range of up to 50 feet. This is a good choice if you don't want an electric gun and the hassles of recharging or dealing with a flat battery in the midst of a game. The G26 handgun is manual, so you can focus on just having fun while also loading and firing realistically. This item also comes with 1,000 eco-friendly gel beads that won't damage the target (aka another person!).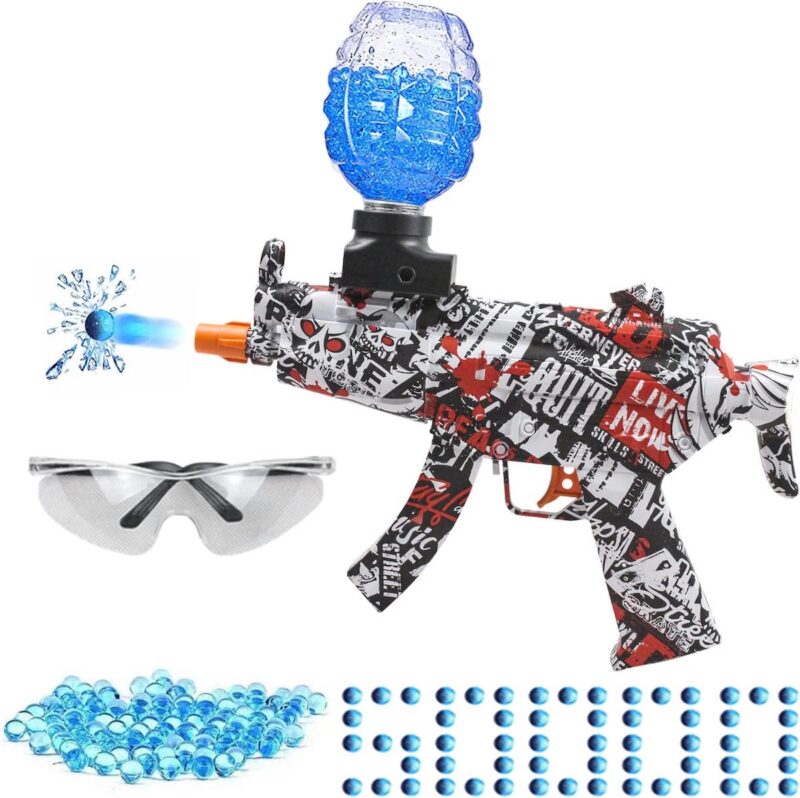 Are you more in the mood for a rifle-type firearm? Well, the Gel Bead Splatter Blaster resembles a stocky AK-47 and you can expect a shooting range of up to 50 feet. This choice is also better if you prefer a gel gun that is battery-powered. It also comes with more gel balls (with some purchases you get 50,000 beads). It also comes with a bead holder that you can pack to the brim with ammunition, so you can continue playing without the hassle of constant reloading. This large capacity makes the gun a fine pick for that Sunday afternoon when you and your friends are hunting each other in the woods for an hour!
As the name suggests, this toy gun is modeled after the real M4A1 assault rifle. Suitable for ages 14 and up, the pellets are designed to be safe, they don't stain clothing, and they eventually completely degrade, making them more environmentally friendly. This rifle has a shorter shooting range, roughly 30 feet but that's still a decent distance! 
The Gel Ball Blaster is also electric and won't jam easily. You also get two shooting modes: automatic and manual, giving you more control in different battle situations. The manual mode also allows you to continue shooting after the battery has run out of juice.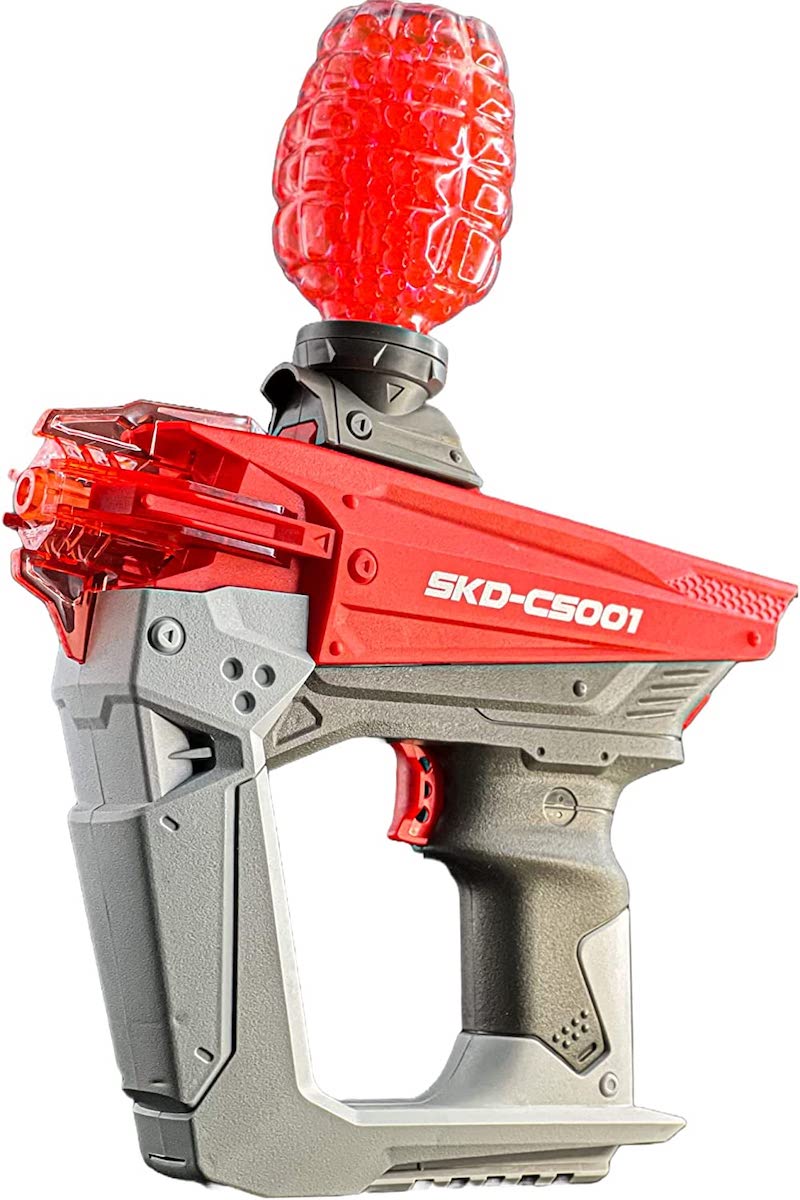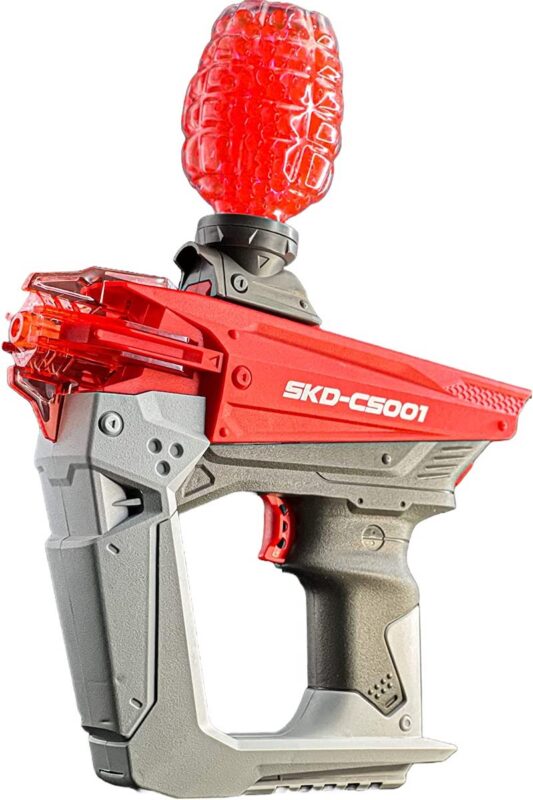 Alright, this gun won't ever be mistaken by bystanders as a real weapon – so, if you are concerned about that, then this toy blaster might be the safest option for you or your kids. Available in different colors, it sort of resembles a staple gun with an ammunition hopper attached to the top! This model is also electric and comes with a battery, charging cable, and up to 10,000 non-toxic beads. Once charged, you can look forward to up to four hours of non-stop fighting!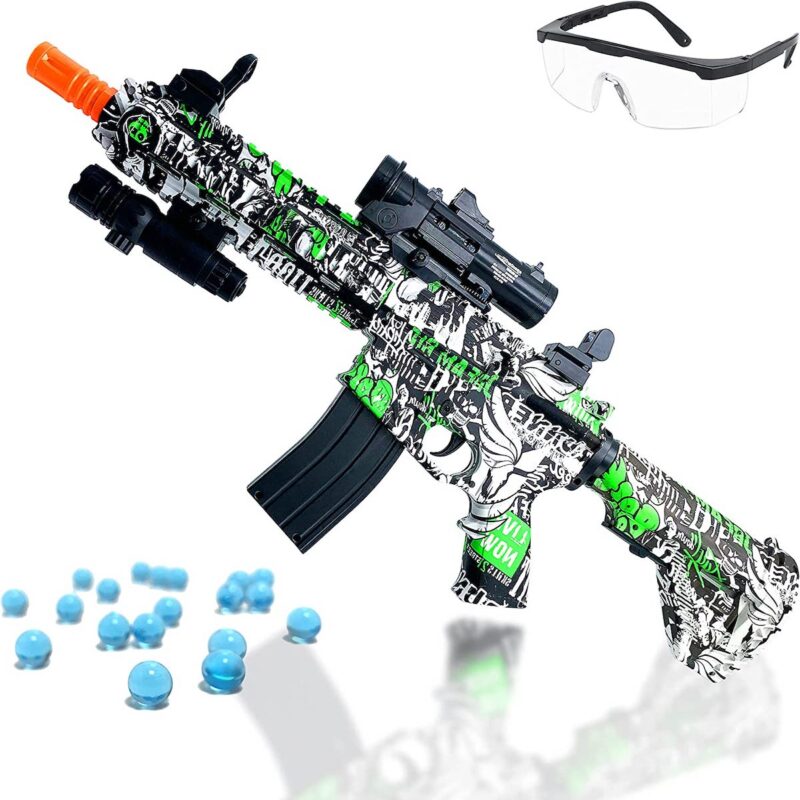 This handsome guy might make a great gift for a kid or an adult who loves bright colors. Also based on a rifle-style design, you can look forward to outstanding performance and no jamming. This gun is also electric and comes with pellets designed to break up safely and not harm the environment or the target. Some deals also offer free accessories like protective eyeglasses, so make sure you shop around if you want that freebie!
Do you need a firearm with a good range and quick action? Well, then the Gem Gun Blaster ticks both boxes. You can look forward to hitting targets as far away as 70 feet away. Your opponents might also have no chance to run away because this piece can release approximately 15 balls per second at 160 fps. 
Shooting such a large amount of ammunition might sound messy, but these balls are designed to be biodegradable, non-toxic, and non-staining. This automatic gun is also battery-operated with a playtime of up to four hours.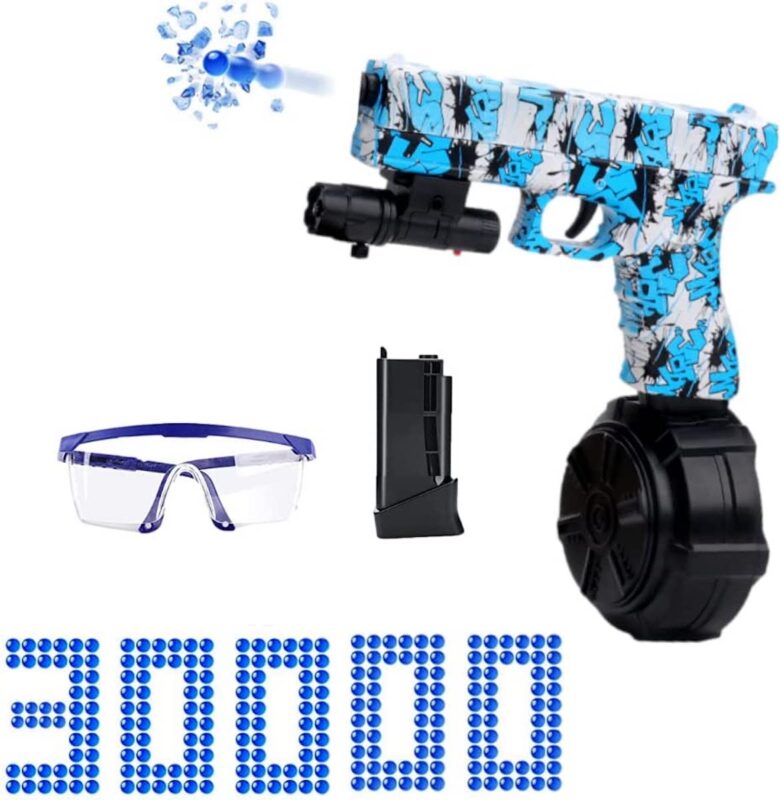 This Orbeez gun has more of a Glock flavor and comes in a bright blue camouflage design. Suitable for ages 12 and up, it can be recharged and played for up to 3 hours. That's slightly less than the other guns on our list so far but that's still long enough to have a great afternoon! 
It comes with a bullet holder, so you don't have to reload all that often. But one of the features that make this gun a little different is the fact that you can clip a flashlight to the bottom of the barrel. This flashlight is included and allows you to play at night or in dark places. 
This Orbeez gun is perfect for the sniper in the family! Indeed, you can pick off your targets, even when they try to hide as far as 100 feet away. The electric gel blaster's design ensures that it provides accurate shooting, no jamming, and quick firing. Indeed, it's fully automatic and releases between four and ten balls per second. You can also play for four hours straight once the gun is charged and the pellets have soaked for the required time (which is also about three or four hours). 
This toy is advertised for older kids, starting at age fourteen and older. This is another great choice if you want to host a nighttime battle event. This gun is equipped with its own detachable flashlight and eye protection goggles, among other accessories. 
You also won't sit with a troublesome mechanism. Its design has a decent automatic loader that prevents jamming and as a bonus, the gun loads and fires pellets pretty fast. When fully automatic, it can fire eleven balls per second. It also has a good shooting range of up to 75 feet.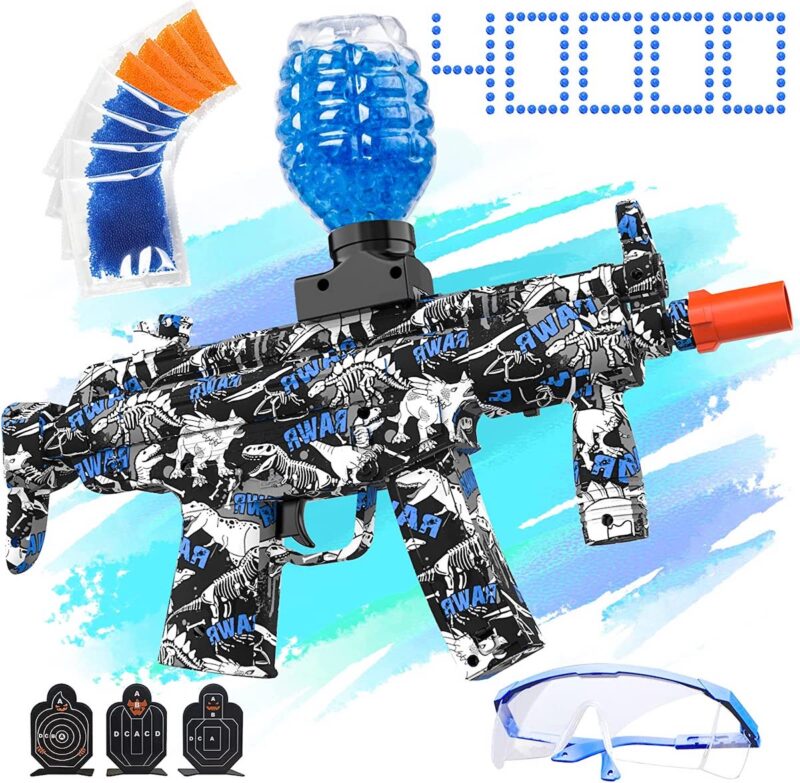 This automatic "MP5" assault rifle has a stunning camouflage design and just looks amazing to hold. You'll certainly scare the pants off your opponents with this one! But what can this gel blaster do? The rifle has a 60-foot shooting range and a rapid-fire mechanism. You can also expect stable and accurate shooting. 
The rifle is also easy to assemble and use, making it suitable for kids as young as twelve (and of course, adults of all ages!). The gun is suitable for outdoor as well as indoor play. The pellets won't damage objects, targets, or fellow participants. 
This handsome handgun is a good choice if you prefer something smaller. The makers of this splat gun also claim that it's safe for kids as young as eight to use. So, if your youngest kid wants to join in on the fun, then this might be the best toy gun for them. But let's look at the benefits that you can expect! 
First off, if you are a safety-conscious parent, you might be glad to know that this toy gun has obtained several safety certificates, including CPC, EN71, and ASTM. The gel balls are also designed to be soft, safe, non-toxic, and non-staining. Other features include manual use, a bolt hold, and a magazine that can shoot up to nine balls before it needs to be reloaded, a good grip, and a well-balanced design. 
FAQ
Q: Do I need to prepare Orbeez pellets before I use them?
Yes, when you receive or buy Orbeez balls, they are not suitable for use straight away. Most balls need to soak in water for up to four or five hours. This makes them expand and more brittle. This brittleness is why Orbeez is generally safer than plastic pellets because they burst upon impact and never penetrate the target. 
Q: Why did my Orbeez handgun stop shooting?
A gel gun with a manual design does not have the same system as electric guns that prevent jamming. When your pistol is loaded with enough balls but it's refusing to fire, then one of the gel balls might've broken and leaked. You need to remove the loader and check for broken balls. If there are any, then you need to clean the chamber. 
Q: How dangerous are Orbeez guns?
Generally, these guns are pretty safe. When used under parental supervision with younger children, and when teens and adults handle these guns responsibly, there should be no danger. However, accidents can happen so it's important to wear protective eyeglasses. As we also mentioned earlier, if your Orbeez gun is ultra-realistic, do not battle in the streets or somewhere where people might mistake your intentions. Don't risk being misidentified as an active shooter.
Q: How long do I need to charge my Orbeez electric gun?
Most electric Orbeez guns need to be charged for at least two to four hours. The good news is that most have rechargeable batteries and chargers included in the sale. It's not an extra expense. Once charged, most of these gel guns also provide uninterrupted shooting for up to four hours. 
Q: Will buying an Orbeez gun for my kids teach them violence?
No, not if you supervise their games and make sure that everyone respects their friends and siblings. If a child enjoys hurting other kids with their Orbeez gun in some way, then one should not encourage them to use the toy again. However, most children understand it's a game and will enjoy playing with each other safely.
Q: What ages are Orbeez guns for?
Orbeez guns are suitable for all ages if you're an adult. But it gets trickier for kids. Some guns are marketed only to the groups aged twelve or fourteen (and up). That being said, some companies make Orbeez guns for kids as young as five. Remember, no matter the age of your child, always supervise them when they use toy guns and make sure that they wear protective eye gear.