Last Updated on January 25, 2022
Nowadays, competition among companies providing Photoshop services online is rather high so if the platform wants to hold up well, it should include the most requested services, like skin retouching, color correction, editing of subject photographs, interiors, the possibility of ordering photo manipulations, restoration of old photographs, etc.; just social media retouching is not enough.
The post below describes the 7 best Photoshop services and our experience of cooperating with them. Choosing the best service we focused on such characteristics as the quality of image retouching, turnaround time, website navigation, work samples, price, discounts and customer support.
1. FixThePhoto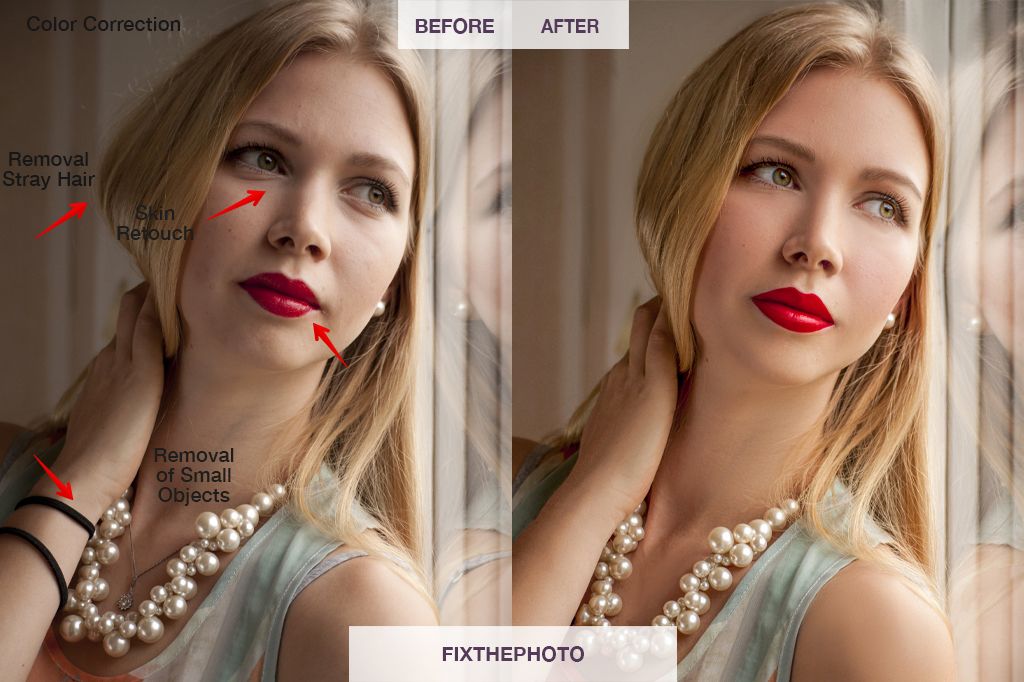 Services Provided: Portrait, wedding, newborn, product, real estate photo editing, image manipulation, photo restoration,
Pricing: From $0.20 to $50
Turnaround Time: 1 business day
PROS: FixThePhoto Photoshop service is a platform with a good reputation and numerous positive reviews. These guys are very attentive to the client's wishes and if you are not satisfied with the results, they will make all the necessary corrections completely for free.
If you decide to use this Photoshop service, just visit their site and choose one of the Photo Retouching Service Packages. Then, go to your personal account and upload your pics. As you see, the ordering is really fast.
In addition, if you have a large order, you may receive a 15-30% discount. FixThePhoto offers to download free actions for Photoshop in a matter of seconds.
We also like their blog where you may find useful advice on how to choose photo equipment, how to promote yourself as a professional shooter, or what free alternatives to Adobe Photoshop you may use.
This online Photoshop service coped with our order better than other companies. What is more, FixThePhoto retouchers performed an extra color correction to achieve better results. The facial correction was at the highest level as well as the improvement of the skin tone. They removed wrinkles, bags under the eyes, and stray hair.
CONS: Not found
2. WeEdit.Photos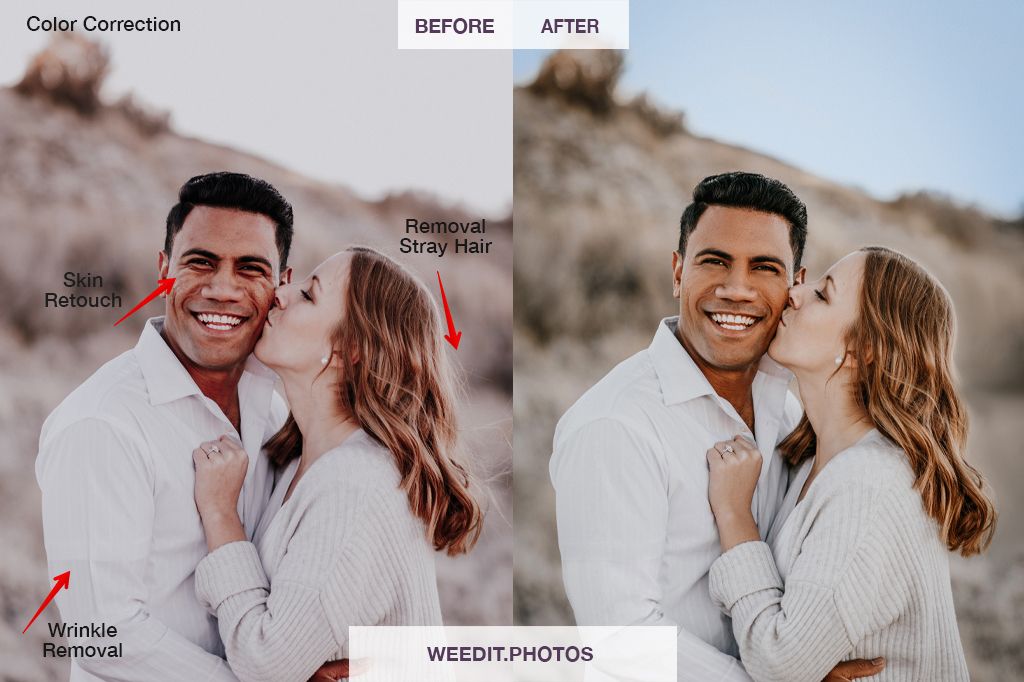 Services Provided: Culling, color correction, basic beauty retouching, body retouching, portrait, wedding photo editing
Pricing: From $0.20 to $10 per image
Turnaround Time: 2 business days
Pros: This online Photoshop service focuses on portrait and wedding photo retouching. WeEdit.Photos Photoshop service offers several levels of photo editing, for example, you may order some basic service or additional ones. Besides, you can order just culling or color correction. This Photoshop service has an attractive website that is easy to navigate.
In general, they have worked well with eye and skin retouching. Spots and blemishes are not visible.
Cons: We got our photos back in 2 business days. FixThePhoto did it faster and more qualitatively.
3. WeddingRetouching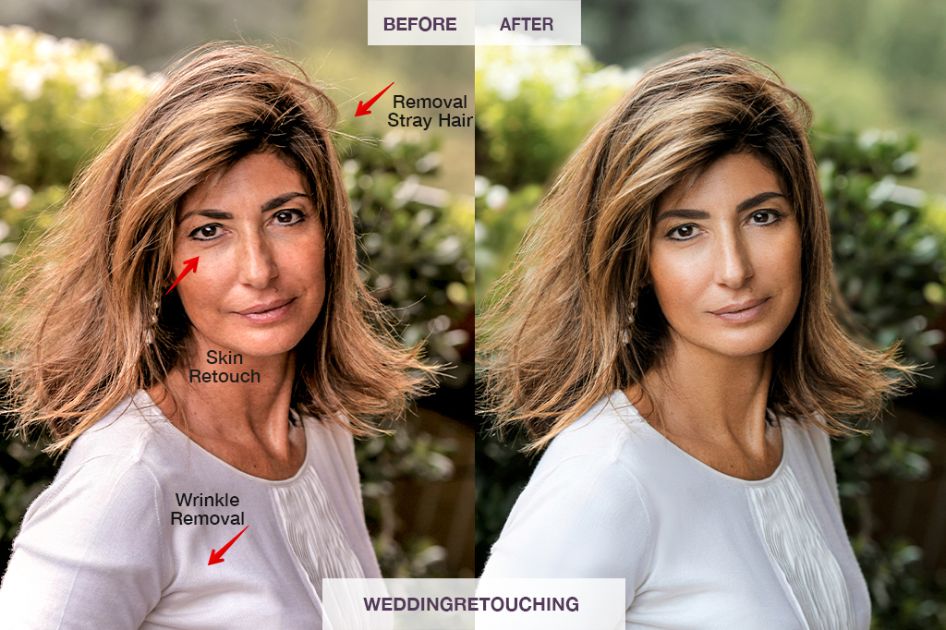 Services Provided: Color correction, basic beauty retouching, body retouching, portrait, wedding photo editing
Pricing: From $2 to $10 per image
Turnaround Time: 2-3 business days
Pros: Apart from wedding retouching (as its name suggests), Wedding-retouching Photoshop service offers portrait color correction, body retouching, background removal, B&W image editing, family photo editing and photomontage.
In general, we were satisfied with the Photoshop services provided ? they removed unnecessary elements and performed good color correction.
Cons: In comparison with the Photoshop service platforms mentioned above, this one is a little behind. Moreover, if you need photo restoration services, this company won't help.
4. HighEndBeautyRetouching
Services Provided: High-end beauty correction, hair retouching, HDR compositing, background replacement
Pricing: From $10 to $150 per image
Turnaround Time: 2-3 business days
Pros: This Photoshop service performs solely high-end retouching and nothing more. It is helpful for advertising purposes, like retouching of magazine covers, billboards, etc.
If you visit a FAQ page on the website, you will find answers to all questions you are interested in. Since they are engaged in high-end retouching, the price is higher than what other companies charge ? you have to pay at least $10 per image.
HighEndBeautyRetouching did its job at the highest level and didn't disappoint us. Their professionals eliminated stray hair, achieved smooth skin preserving the details. We were pleased with the results.
Cons: It took them 3 days to edit images; it is longer than competitors' turnaround time.
5. Damaged Photo Restoration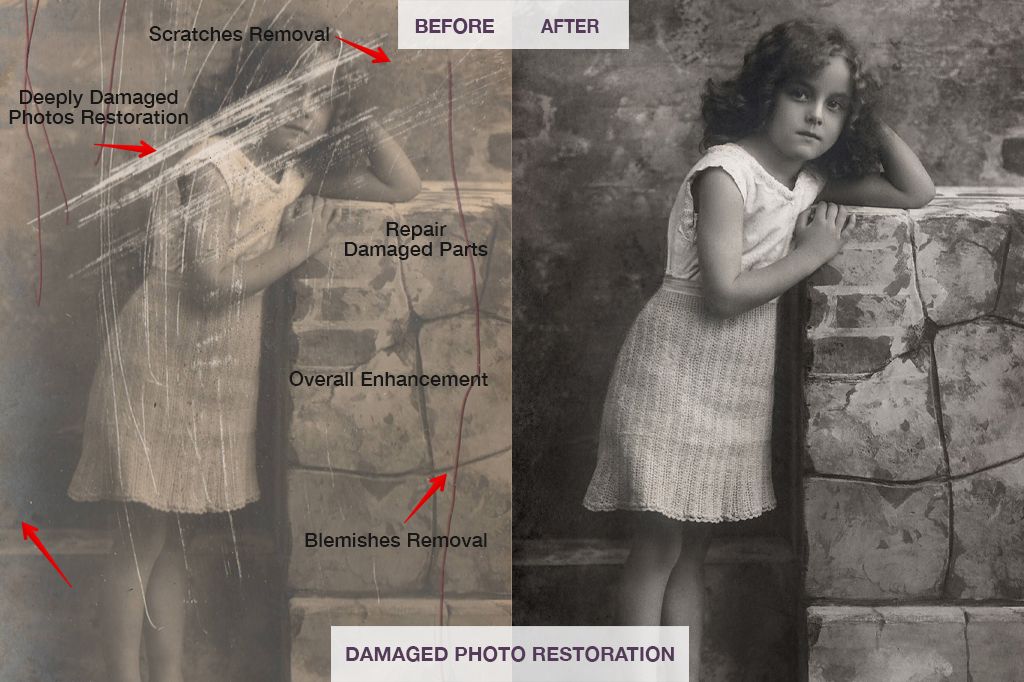 Services Provided: Water damaged photo restoration, photo repair, old photo colorization, old photo restoration
Pricing: From $25 to $50 per image
Turnaround Time: 3-5 business days
Pros: If you address this online Photoshop service, you will get photo restoration only. They offer three restoration levels: standard, premium, and extreme. They differ in price and the number of adjustments made.
Retouchers restore images, saturate the colors, and boosted sharpness. Although the price is not the lowest one, these services are worth it. The company has a rather helpful customer support. In case any issues arise, they will easily solve them.
Cons: Of course their turnaround time is longer than that of FixThePhoto but we should take into account that it is photo restoration and it requires more time.
6. PhotographersEdit
Services Provided: Culling, color correction, retouching of portrait and wedding photos, commercial and real estate image editing
Pricing: From $0.14 per image to $40 per hour
Turnaround Time: 5-6 business days
Pros: It is a Photoshop service that has already been on the market for 12 years. It specializes in custom photo post-production. If you want to see how they work, visit the section with sample images.
Cons: We expected to get the best Photoshop services, but frankly speaking, were disappointed a little. Judging by the results we got, their retouchers aren't really professional. They didn't retouch the hair and skin and didn't improve colors at all.
7. Tucia
Services Provided: Color correction, removing blemishes, smoothing skin tones, improving makeup, reducing glare and wrinkles, correcting body shape, background replacement
Pricing: $8 per 1 credit
Turnaround Time: 5-7 business days
Pros: Tucia describes itself as one of the best Photoshop services online. They have a simple website design and the ordering procedure is rather fast.
Cons: They coped with our order within one business week. It is rather long and we expected to get the results faster given the fact it was only one photo. In addition, the photo retouching was unsatisfactory.
It seems that all corrections were made by beginners, not professionals. The colors are too saturated, the clarity and contrast are so high that they highlight all the drawbacks instead of hiding them.