Last Updated on March 14, 2023
Punctuation errors and spelling mistakes can ruin otherwise conscientiously whipped content. That's precisely why even the most seasoned of writers ought to invest in an efficient proofreading service.
The good news is that proofreading tools are all over the internet. You only need to know where to look.
In this article, we uncover the 20 most reliable proofreading services to give your content a professional touch. But first, let's start by getting one major confusion out of the way.
Proofreading versus Editing
Many newbie content creators are unable to distinguish between proofreading and editing. While these services are closely related (and are often offered by the same service providers), they're not exactly similar.
Proofreaders typically check documents for grammatical errors, spelling mistakes, and incorrect punctuation. They may also fix sentence fragmentation errors, such as run-on sentences.
Editors, on the other hand, focus on improving the overall content quality. They may check language accuracy and fix coherence issues for better readability. An editor will also ensure that sentences and paragraphs are logically connected, and determine whether the tone is appropriate for the intended readership. Most importantly, they'll check that the document is relevant to the requested title and theme.
Evidently, a proofreader's job is less intense than an editor's. Perhaps that's the reason many writers do not give due consideration to proofreading software before submitting their write-ups for review, a mistake that can have far-reaching consequences.
20 Best Proofreading Services
Pricing: Paid plans start from $25/seat/month; a free version available
Grammarly is widely considered the best proofreading apps. The tool does a great job at flagging potential grammar mistakes and punctuation errors. It can also help in fixing repetitive words, run-on sentences, and other trivial details like spacing.
You can opt for a free version if you need to fix basic errors or subscribe to the paid plans for advanced proofreading. There's also a 7-day free trial for the paid Grammarly Business plan.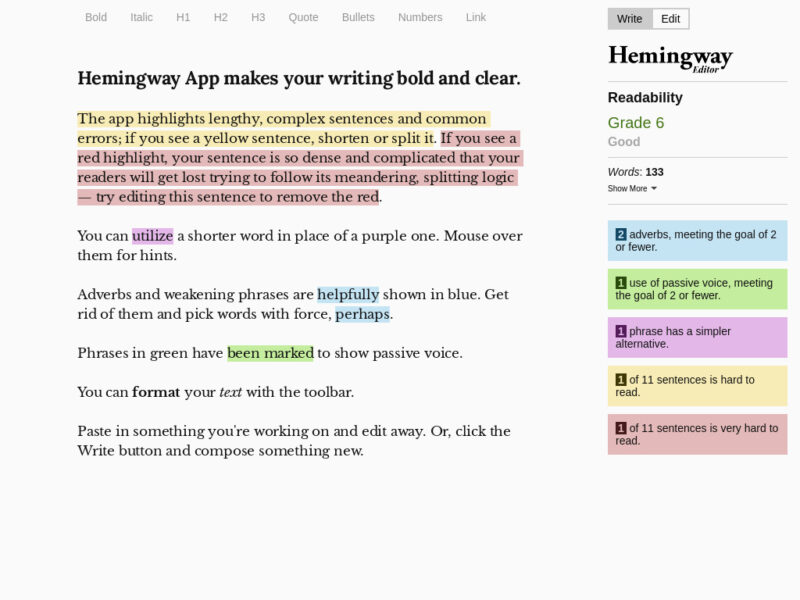 Pricing: A one-time payment of $19.99 for app download; free for online use
Hemmingway Editor shares one fundamental feature with Grammarly as far as proofreading goes – both tools come with free and paid versions. But unlike Grammarly which you can download and use for free as an MS Word add-on, Hemmingway's free version is only available online.
You'll need to download and install Hemmingway Editor on your device if you wish to enjoy its premium features. Fortunately, the app is compatible with both Windows and macOS. The charges are also consistent across various operating systems.
Pricing: Starts from $10.83/month for annual subscriptions
ProWriting Aid implements powerful AIs that trawl your document to unearth all possible issues with grammar, punctuation, and coherence. Its suggestions are more than 95% applicable.
This proofreading tool is compatible with all major word processors, including MS Office and Google Docs. It also supports Chrome, Scrivener, and Desktop app.
Pricing: Paid plans start from $7.95/month; a free version available
PaperRater prides itself on offering robust proofreading services to students, bloggers, and all kinds of content creators. The free version of the service takes care of basic fixes, including spell-checking and punctuation errors.
There's also free plagiarism detection to help you expunge plagiarized phrases that would undermine the credibility of your content.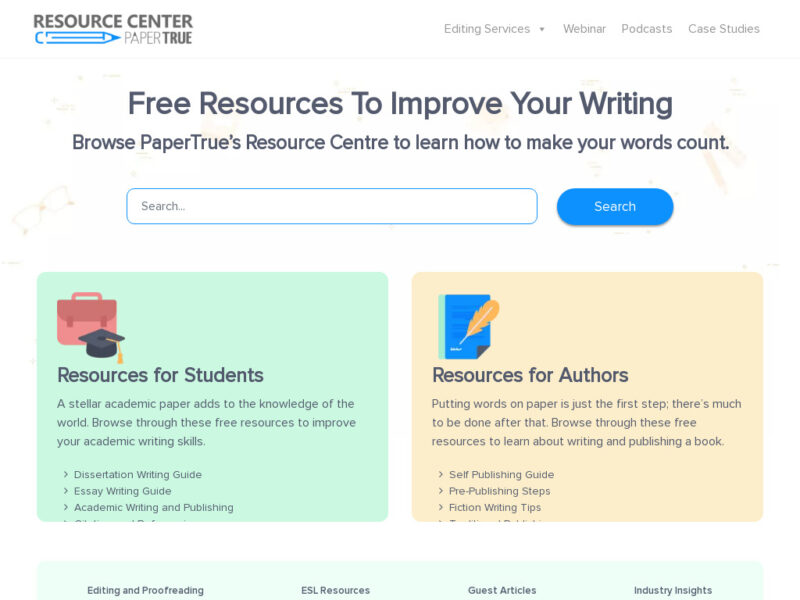 Pricing: $36/1000-word paper in 24 hours
PaperTrue is an online proofreading service that's committed to ensuring your documents are error-free and delivered in flawless English. Documents on this tool are proofread by both AIs and humans, leaving little room for error.
PaperTrue also doubles up as editing software. That makes it a great asset for aspiring content creators. Prices vary depending on the nature of your document – whether it's a novel, blog post, essay, thesis, résumé, advertising material, etc.
Pricing: Starts from $0.017/word
Scribbr has been offering academic proofreading and editing services for years. The company caters to students, researchers, and content creators around the world. From fixing punctuation and spelling errors to formatting and syntax issues, you can look to Scribbr as your reliable ally.
Just remember that much of the proofreading is done by humans. So, the turnaround time may be considerably long (usually up to one week depending on the scope of work). Rates differ based on the number of words, expected turnaround, and education level.
Pricing: Starts from $30/24-hour turnaround
There's a reason reputable brands like Springer Nature turn to AJE for all their proofreading needs. And it's not only because this company maintains a team of native English-speaking PhD holders.
Papers and articles proofread by AJE's team are generally publishing-ready. Besides, the company offers other services like editing and digital translation.
Pricing: £14.00/1000-word paper
It may not have the fanciest name. But this proofreading tool based out of the United Kingdom gets the job done just as effectively as any other service on this list.
Proof-Reading-Service.com has a section dedicated to various academic disciplines. The company will personally assign a proofreader to you based on the nature of your assignment.
Pricing: $32.24/1000-word paper in 24 hours
Not to be confused with Scribbr, Scribendi is a distinct service. The company has been around for over 24 years, a fact that speaks to its reliability as a proofreader.
Scribendi maintains an in-house team of native English-speaking editors drawn from various fields. Whether you need help with a business proposal or blog post, you can trust these professionals to deliver.
Pricing: $0.21/word in < 1hr
$0.21/word (which works out as $52.50/250-word page) may sound too exorbitant for many writers. But it's a price worth paying for flawless work, especially considering that you'll get your papers proofread in under one hour.
And despite the short turnaround, you'll still be able to enjoy ProofreadingPal's "two-proofreader model." This model, as the name implies, ensures that two different proofreaders work on a single document for enhanced quality.
Pricing: Variable
Just like ProofreadingPal, Enago deploys a two-proofreader model that ensures your documents come off ready for publishing. The company has a team of over 3000 expert proofreaders in its employ.
So, in addition to flawless work, you're also assured of impressive turnaround time. Prices vary depending on the word count, turnaround time, and scope of editing.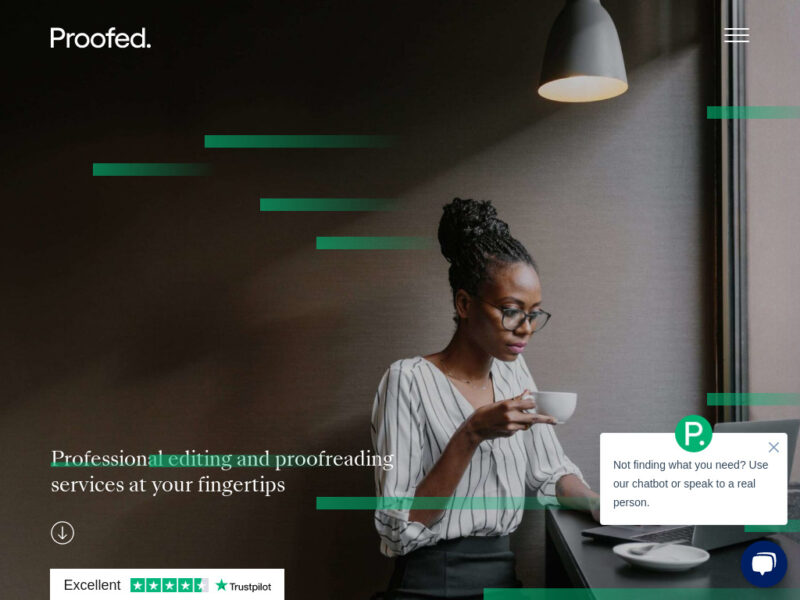 Pricing: Starts from $30/1000-word paper in a 24-hour turnaround
If you're looking for a seamless blend of speed, affordability, and reliability with your proofreading tasks, look no further than Get Proofed.
This service guarantees a 24-hour turnaround for documents of 10,000 words or less. You can choose from basic proofreading or pay a little more to enjoy robust editing and formatting services.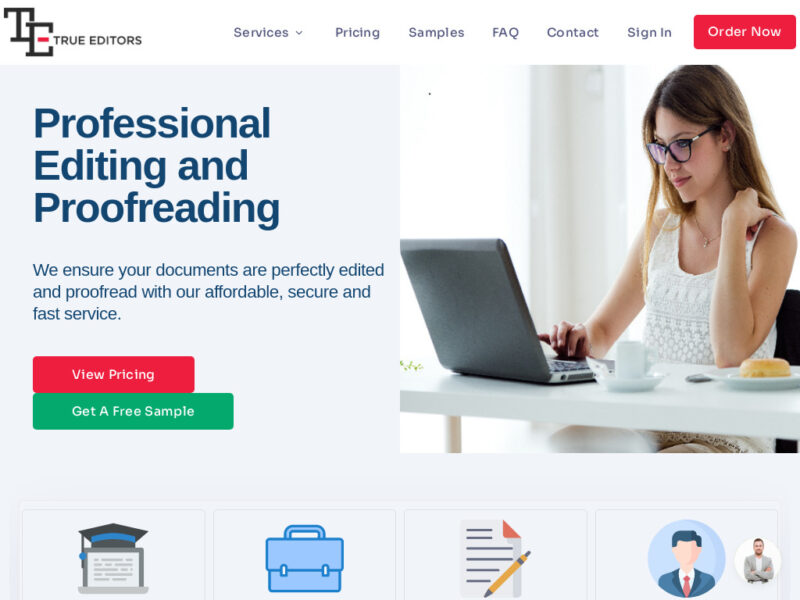 Pricing: Starts from $35/1000-word paper in a 24-hour turnaround
TrueEditors enjoys impressive reviews on multiple credible review websites like TrustPilot and Reviews.io, a clear pointer to the company's reliability as a proofreader.
Proofreaders at TrueEditors will help fine-tune your document by fixing all types of mistakes. They'll start by checking the write-up for basic grammar and punctuation errors. Depending on your package, you may also avail more advanced editing services, such as formatting and even plagiarism checking.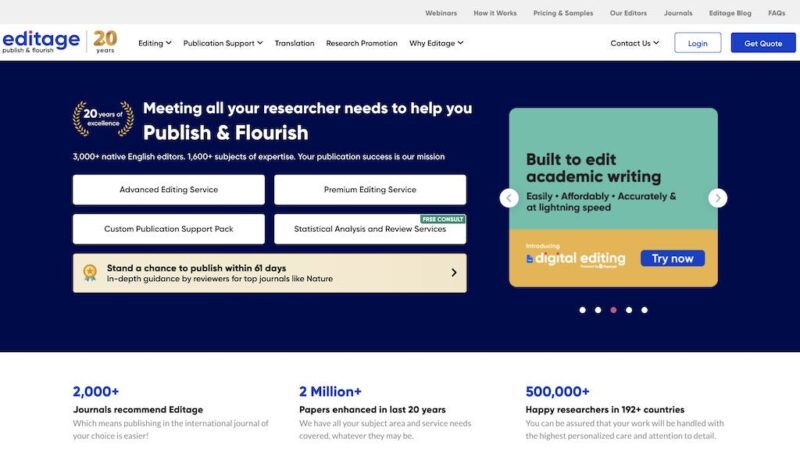 Pricing: Starts from $68/1000-word paper in a 24-hour turnaround
Editage maintains a team of over 3,500 native English proofreaders skilled in over 1,600 different subjects. As of the time of writing, the company has proofread over 2 million papers and articles for clients spread in 190+ countries.
Due to its continued partnership with researchers, Editage would be a perfect fit for academic papers. However, the service is just as useful for articles and other forms of publication.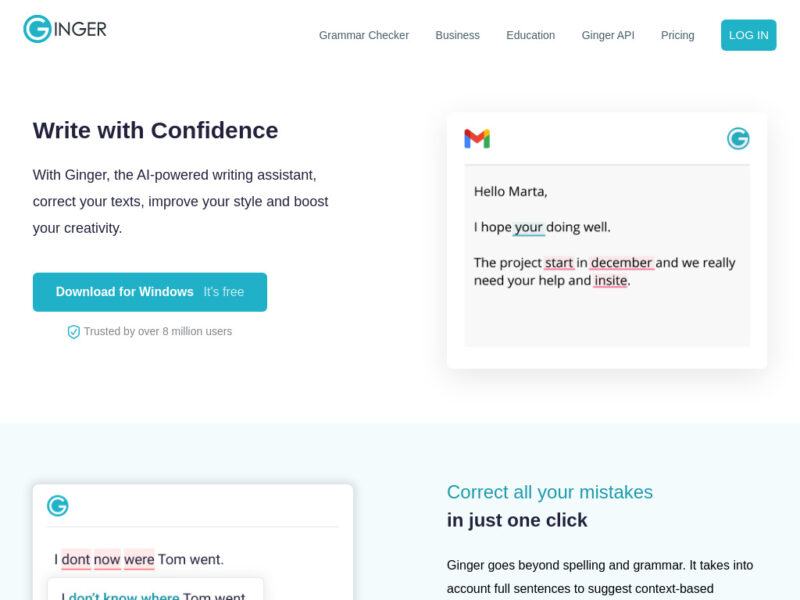 Pricing: Starts from $4.99/month if billed biannually (once every two years); free version available
Many proofreading services focus on revising spelling and grammar. However, Ginger does you one better.
First off, Ginger analyzes complete sentences to suggest context-based corrections. You can take advantage of this feature to determine whether a sentence is worth rephrasing or not. There's also an extension support for browsers, ensuring prompt access to the proofreading tool. And unlike many proofreaders, Ginger comes with multi-lingual support.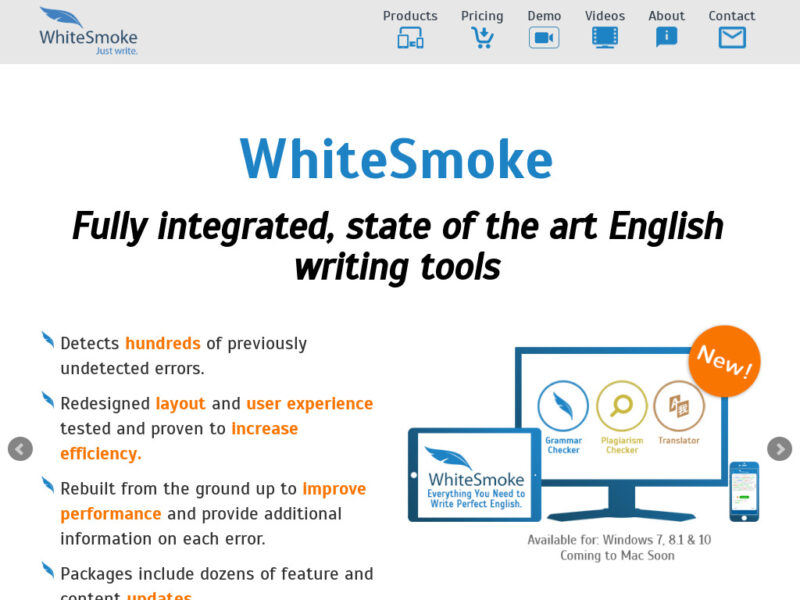 Pricing: Starts from $5.00/month
If you're looking for a proofreading service that offers additional information to each error detected, then you'd do well to look in the direction of White Smoke. This proofreader begins by highlighting common mistakes in your document. It then performs deep analytics to suggest possible formatting and style issues.
And although WhiteSmoke doesn't have a free version, there's the option of test-driving the service before committing to it. The paid plans also come in several packages to suit every budget.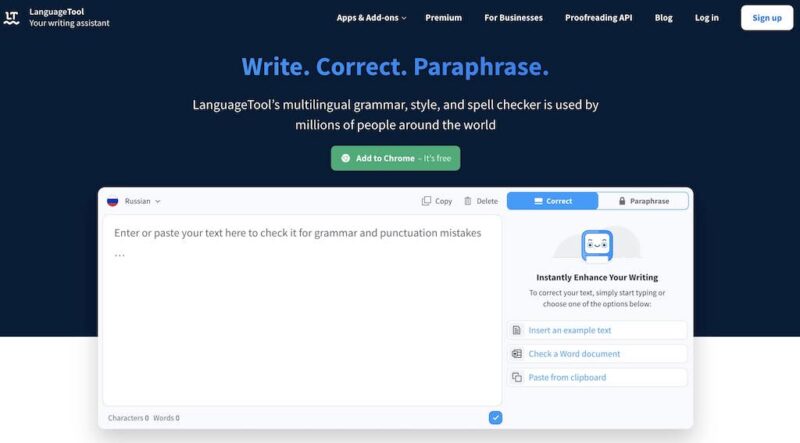 Pricing: $2.50/month/user; free version available
LanguageTool is an online proofreading service that fixes both basic and advanced grammar errors. The tool supports English, Spanish, and over 30 other major languages. It also comes with add-ons and/or extensions for various browsers and word processors.
Although widely described as free, LanguageTool is only free for beginners who simply need their documents checked for basic grammar and spelling errors. Advanced proofreading starts from $2.50 per month for a single user. Thereafter, prices depend on the number of users and the billing schedule.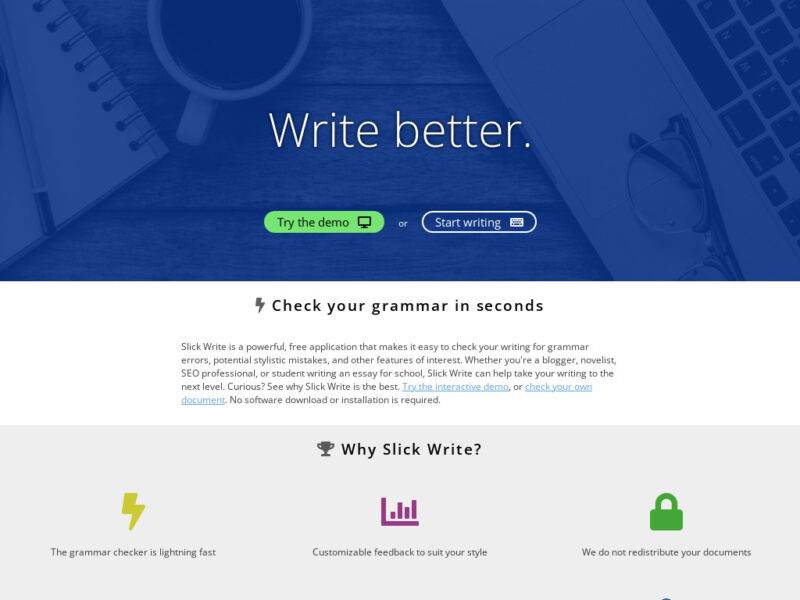 Pricing: Free
Most proofreading services offer either paid plans or a combination of premium and freemium plans. However, SlickWrite is completely FREE to use. The program has no paid versions. But affordability isn't the only thing to love about this proofreading service.
SlickWrite is also remarkably fast. The tool employs powerful AIs that trawl your document for grammar and spelling errors and fixes those issues in a matter of minutes. And despite being totally free to use, SlickWrite still comes with a test-drive function. You can use the interactive demo to have a sneak preview of how the service works before using it.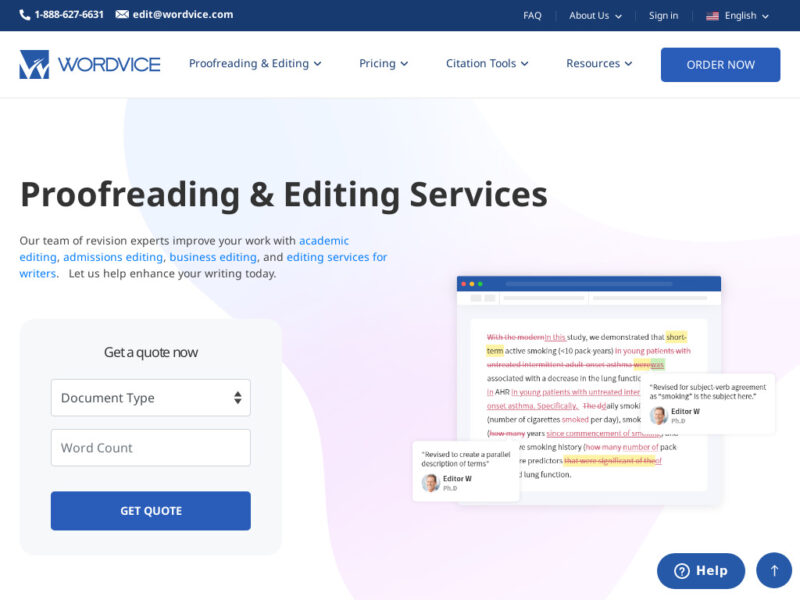 Pricing: $0.048/word or $80/1000-word paper in a 24-hour turnaround
Wordvice is an industry leader in the document proofreading industry. With a history spanning slightly under a decade, the company has dedicatedly offered its proofreading services in various fields to clients spread all over the world.
In fact, Wordvice specializes in academic editing and proofreading. Their commitment to quality is unparalleled, which explains their impressive reviews across multiple platforms. The service operates in the United States and several ESL countries, including China, Japan, South Korea, Turkey, and Taiwan.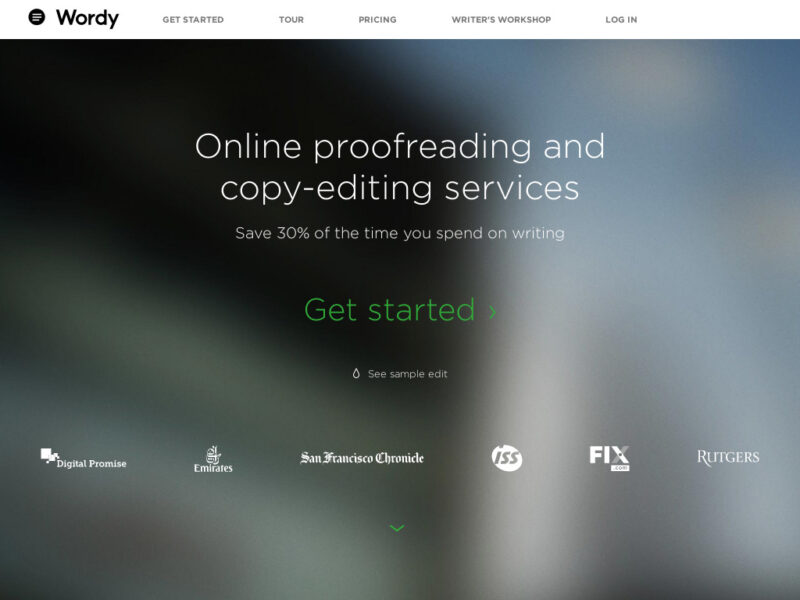 Pricing: Pay-as-you-go from $0.039/word
With pricing starting from as low as $0.039/word, Wordy is undeniably one of the most affordable proofreading services out there. But the low rates are by no means a reflection of the expected quality of services.
Wordy still offers incredibly fast and convenient services. The tool accepts your document in various file formats. It then gives the file a deep scan to uncover all potential grammatical and punctuation issues. You can choose whether to strictly proofread your work or perform additional editing.
Final Word
As you may have gathered by now, a lot goes into choosing the best proofreading tool. Due diligence is, therefore, paramount while scouting around for these services.
Hopefully, you can bookmark this article for reference the next time you'll be looking for reliable proofreading service providers.