Search engine optimization (SEO) is the essence of digital marketing. It's by adopting proper SEO strategies that your online business will be able to rank higher on Google and other search engines.
But even for e-commerce store owners who already appreciate the significance of search engine optimization, finding an SEO specialist that meets your needs is not always easy. Some companies promise to propel your website high up on search engine result pages (SERPs) in a matter of weeks but charge exorbitant fees for their packages. Others bill themselves as affordable but can take forever to have your site feature higher on SERPs.
Fortunately, there are numerous SEO tools that entrepreneurs can leverage to improve their Google rankings within a considerable duration without having to burn a hole in their pockets. This article looks at the ten best SEO tools e-commerce businesses can use to edge out the competition.
10 Best SEO Tools for Entrepreneurs
Pricing: Plans start from $119.95/month; a free trial available
Official Website Link: https://www.semrush.com/
SEMRush is a search engine optimization tool that needs no introduction. The service has been around for quite a few years, during which it has garnered thousands of happy customers.
SEMRush provides all the basic SEO features you can think of. These include a keyword research function that analyzes the keywords used in your informational blogs or promotional copies to determine if they're relevant to your brand and offerings. There's also a backlink analysis and tracking function that assesses the quality of sites linking back to your website. Remember that search engines tend to favor websites with quality backlinks when doing their rankings.
Entrepreneurs using SEMRush are also entitled to competitor analysis. This is a crucial feature that will give you insights into the best practices your competitors are implementing to stay ahead of the game. You can then take inspiration from these ideas to grow your brand.
Other standard services offered by SEMRush include content optimization and technical SEO audits. The latter is especially important in helping you track your SEO achievements over predefined durations, which is highly recommended considering that SEMRush's cheapest plan costs a whopping $119.95 per month.
In addition to the basic features, SEMRush also provides a complete marketing suite. This includes social media management, social listening, and ad campaign analysis, to mention but a few.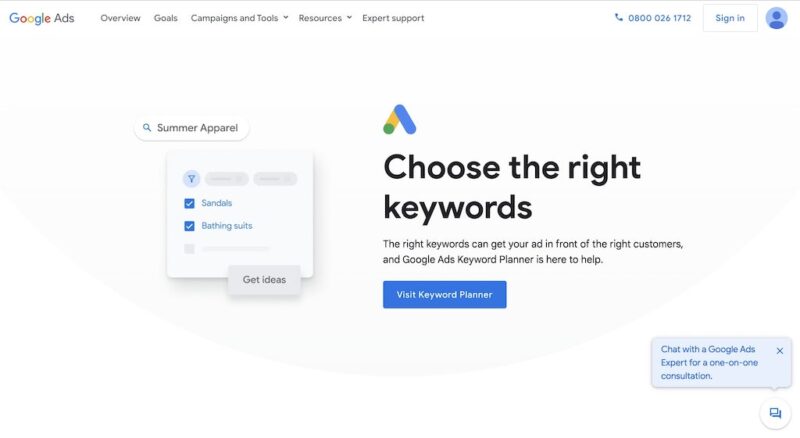 Pricing: Free
Google is by far the biggest search engine on the planet. So, it's unsurprising that the company also has its own SEO tool.
Google Keyword Planner functions primarily as an SEO keyword research tool. Thanks to its association with the world's largest search engine, this tool provides accurate keyword insights that can help entrepreneurs rank higher on SERPs.
Google Keyword Planner is also completely free. However, you'll need to undergo a rather lengthy sign-up process that involves running an ad campaign before you can access the tool's deep SEO insights.
To access Google Keyword Planner, you'll need to start by heading to this link (https://ads.google.com/home/tools/keyword-planner/) and then logging in with your Google account credentials. You'll see a page asking you to define your primary advertising goals. At the bottom of the page is a section that seeks to know if you're an "expert." Click on the button and let it load. The next page will prompt you to "create an account without a campaign." You're now in and can start using Keyword Planner for free.
To use the tool, head to the "settings and tools" icon located in the upper right-hand corner of the page and click "keyword planner." You can now browse or research new keywords relevant to your website. Simply type in a keyword to get insights on its search volume.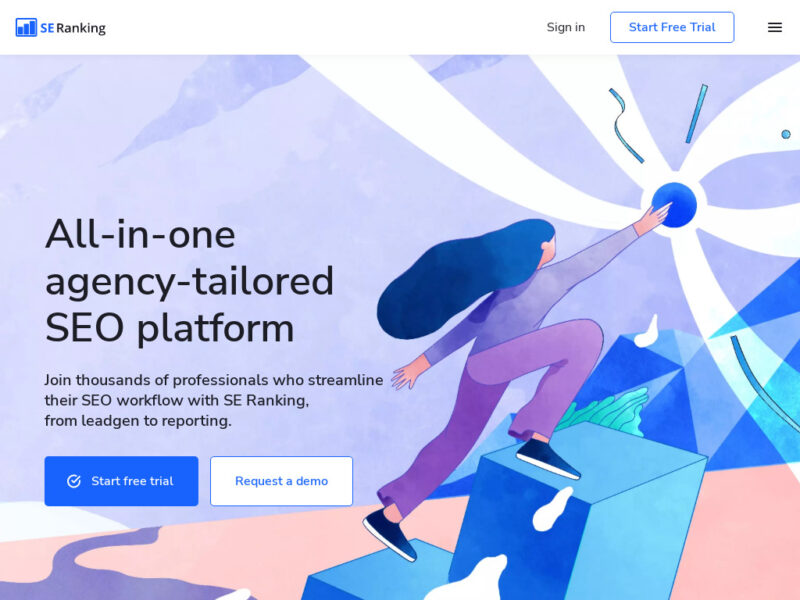 Pricing: Plans start from $31.20/month; a free trial available
SE Ranking is widely regarded as a more affordable alternative to SEMrush. That's because both software share numerous features despite the fact that SEMrush's cheapest premium plan is more than thrice as expensive as SE Ranking's.
Some of the standard features you'll enjoy with SE Ranking include keyword tracking & research, backlink analysis & research, and competitor analysis.
However, SE Ranking is particularly outstanding for its rank-tracking function. This feature allows you to monitor your website's ranking in search results for a list of predefined keywords. You can then determine if your SEO goals are being achieved or not. And the best part is that you get to determine the frequency with which to monitor your SERPs rankings.
SE Ranking also offers local SEO. This is an invaluable feature that can push your e-commerce store higher up on local SERPs.
Local SEO is especially useful for small and medium enterprises (SMEs) with a fairly localized market size. Besides, multinational companies can use it to rank higher in selected market segments worldwide.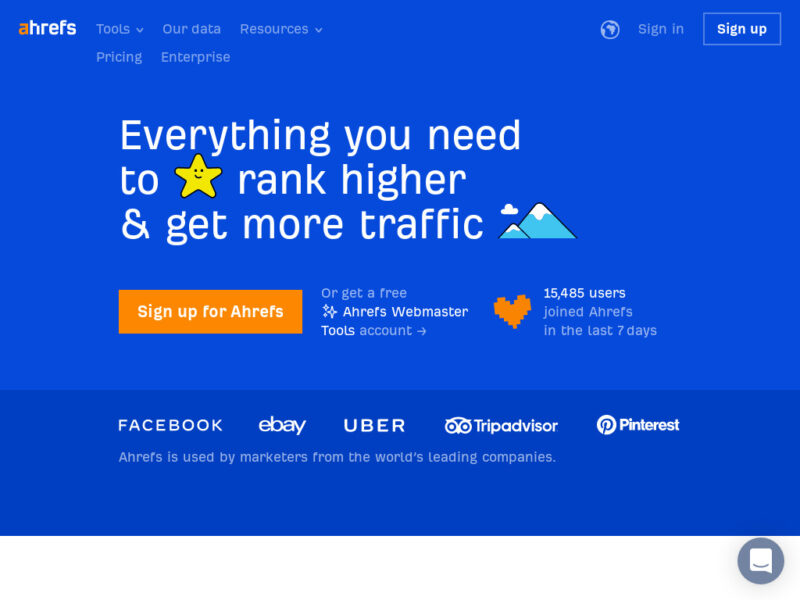 Pricing: Plans start from $99/month; a free trial available
Ahrefs is a one-stop shop for entrepreneurs looking for a wide range of SEO services.
To begin with, this software helps you identify the keywords most relevant to your brand and industry. You can then research these keywords to understand the ones potential customers are always searching for. You'll even be able to sort the keywords in terms of difficulty.
Ahrefs also provides a backlinks monitoring feature that lets you analyze the sites linking back to your own. There's a website audit function that you can leverage to undertake general audits and optimize your website for search.
It would be fair to say that Ahrefs isn't the most user-friendly SEO tool. The fact that premium plans start from $99 per month may also not augur well with small-time entrepreneurs still trying to get a hold of the market. However, the company makes up for these drawbacks with its clean and clutter-free interface.
To get started with Ahrefs, you'll need to sign up for a free Ahrefs Webmaster Tools (AWT) account. Take advantage of the limited SEO features offered under the AWT package before purchasing a full Ahrefs plan.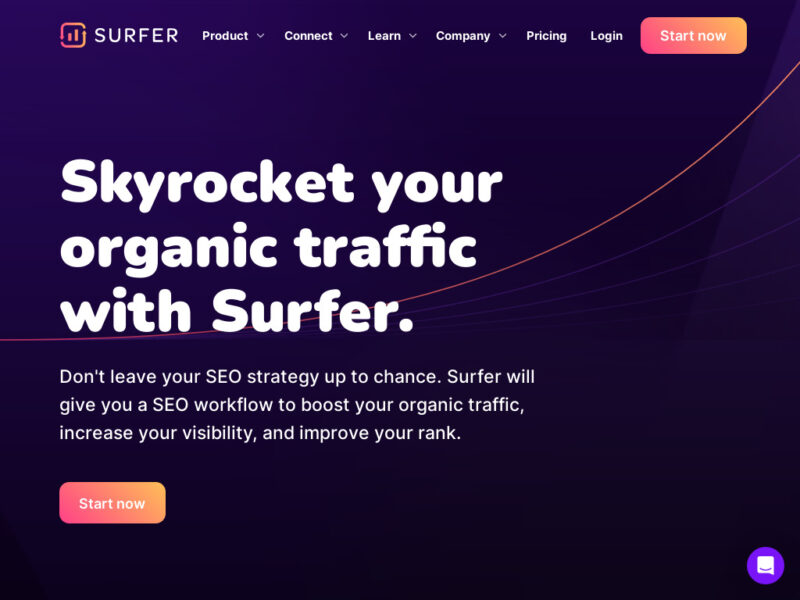 Pricing: Plans start from $49/month; a free trial available
Here's another SEO tool on this list that's not exactly easy to use! But just like Ahrefs, Surfer SEO comes with plenty of redeeming features.
For starters, this tool deploys a powerful natural language processing (NLP) model to ensure all content on your website meets the minimum on-page SEO requirements. It's one of the most effective tools for content optimization.
But Surfer SEO's NLP doesn't stop there. The cutting-edge technology also identifies potential issues with your content that may affect your SERP rankings. You can then leverage its recommendations to fix those issues and drive more traffic organically to your e-commerce platform.
As with most SEO software on this list, Surfer offers advanced keyword research to help you hone in on relevant keywords for your content. There's a competitor analysis function to get a sneak preview into the kind of content published by your competitors and an SEO audit tool for a comprehensive analysis of your website.
You'll also love Surfer for its excellent customer support. Besides, the tool integrates with Google Docs and comes with a Google Chrome extension.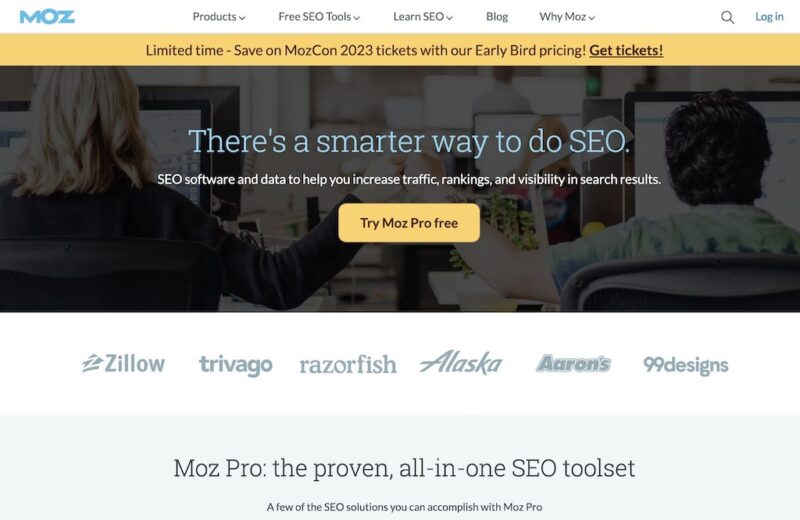 Pricing: Plans start from $14/month; a free trial available
When looking for a reliable search engine optimization tool, experts highly recommend insisting on companies that have been around for a reasonably long duration. That's precisely one of the reasons to consider Moz for your SEO needs.
Launched back in 2004, Moz has gradually grown into a powerhouse offering a complete suite of SEO marketing services.
One of Moz's key offerings is Moz Local. This feature primarily targets local businesses seeking to improve their online rankings through SEO and reviews. There's also a Keyword Explorer that businesses can use to find numerous keyword suggestions for their brands. It provides up to 500 million keyword suggestions for a single brand.
Moz clients can also leverage Moz Bar. This is a convenient tool that helps you install Moz's browser extensions for easy access. The installed extensions can also come in handy when you need to assess your website's DA, PA, and spam scores.
Backlink analysis, rank tracking, site audits, and affordable plans are other reasons to consider Moz for your SEO needs.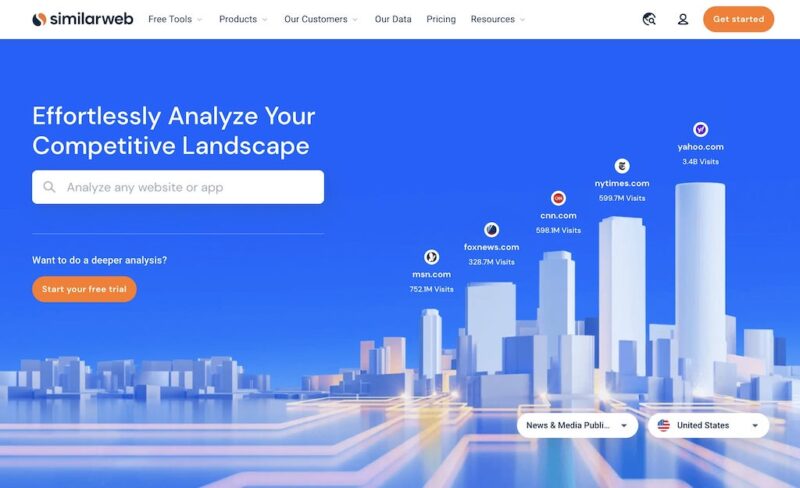 Pricing: Quote-based
At first glance, SimilarWeb looks like any other SEO tool. The software provides basic features that most businesses are often looking for in SEO service providers. These include keyword analysis, content optimization, backlinks analysis, and website audit. However, there's a lot more to enjoy by choosing this tool for your SEO campaigns.
SimilarWeb offers side-by-side website traffic comparison that gives you deeper insights into your competitors. The software also supports mobile application industry analysis, allowing you to see traffic trends by mobile users. This feature is especially useful for mobile-optimized websites.
SimilarWeb is also one of the few SEO services that analyze unique visitor data. For instance, you can determine whether certain visitors are actually buying your products or they're simply reading your informational blogs.
You'll also love SimilarWeb for its high data accuracy. All reports pertaining to keyword search, competitor analysis, and audience behavior are accurate and up to date. What's more, the tool even lets you create a personalized dashboard for your reporting needs.
The only notable drawback to SimilarWeb is that it doesn't reveal much information to websites with less than 5,000 monthly visitors.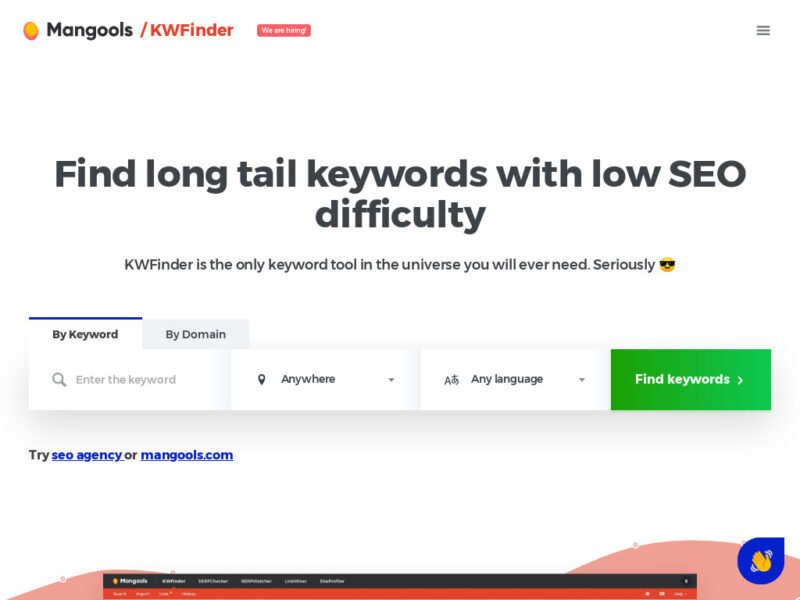 Pricing: Plans start from $29.90/month; a free trial available
The name says a lot about the primary objective of this SEO service provider.
KWFinder by Mangools (formerly known as KWFinder.com) essentially works as a keyword finder. But unlike most keyword research tools, this software is especially ideal for entrepreneurs in technical industries who work with long-tail keywords. Examples include the pharmaceutical, telecommunications, and aviation industries.
It doesn't matter how long or difficult a keyword is. KWFinder will research it and let you know how it's likely to impact your website's visibility. The software also focuses on helping its clients find long-tail keywords with lower levels of competition. When you're the only e-commerce store using such keywords, online visitors searching for similar terms will more likely land on your website than your competitors.'
Many KWFinder users heap praise on the software for its high accuracy. The tool performs deep analytics and delivers reliable reports regardless of the difficulty levels of the keywords.
KWFinder also has a Rank Tracker tool for keeping tabs on your website's SERPs rankings at different points in time. The best part about this feature is that it can let you know how your site is faring against specific key metrics.
Pricing: Paid plans start from $299/year; a free version also available
SEO Powersuite is, as the name implies, a tool that boasts a complete suite of SEO features. From keyword tracking to backlinks analysis, and content optimization, the software provides it all.
But perhaps SEO Powersuite's most noteworthy feature is a SpyGlass that lets you build a link outreach strategy. Take advantage of this feature to find other businesses in your industry that you can partner with for link outreach marketing.
SEO Powersuite also provides a Link Assistant to help entrepreneurs implement their link-building strategies. A Rank Tracker gives insights into the SERP rankings of your entire website or selected web pages, whereas a Website Auditor does a comprehensive audit for optimized efficiency.
It would interest you to know that all four features were designed by different people specialized in various SEO aspects. Each component works independently but provides deep analytics that can help you improve your overall website rankings.
Note that SEO Powersuite is a desktop application that you can download and use for free. But as you might expect, the free version only comes with basic features.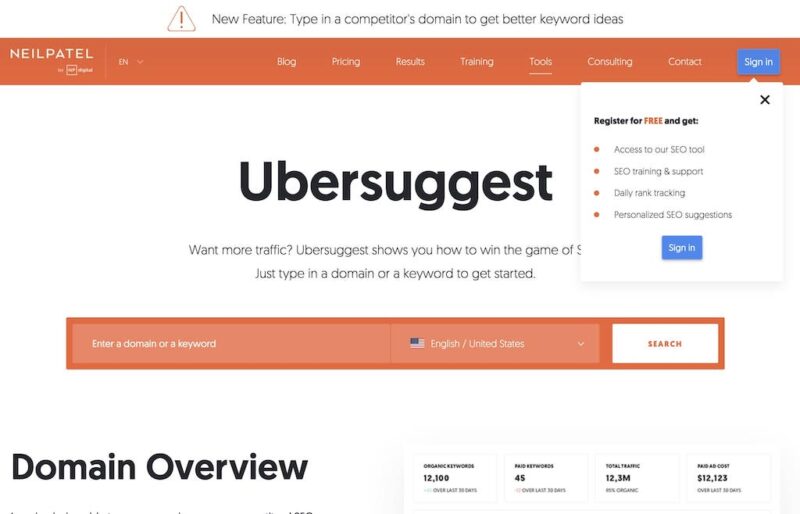 Pricing: Plans start from $12/month; a free trial available
Ubersuggest was developed by Neil Patel. And despite what the name suggests, this software has nothing to do with Uber, except of course that the ride-sharing company might use it to improve its online rankings.
As with most products by Neil Patel, Ubersuggest prides itself in its user-friendliness and competitive rates. The tool maintains a clean dashboard with all important functions located within sight (and reach).
For a monthly subscription fee as low as $12, Ubersuggest will perform deep analytics of your website and suggest the most relevant keywords. You can use the software to trawl your entire website or specific pages, depending on what you need optimized.
But unlike many keyword research tools that only let you find industry-relevant search terms, Ubersuggest does you one better. The software reveals the intent behind each keyword it finds by displaying the top-ranking SERPs based on those terms. And the best part is that it's just as effective for long-tail keywords as it is for single-worded ones.
Ubersuggest's cheapest package can conduct 150 searches per day as well as 1,000 page scans per domain. It also supports up to five competitors.
Wrap Up
Success in online entrepreneurship depends heavily on implementing proper search engine optimization strategies. The above-listed software can help you kick-start your SEO campaigns.
Remember to begin by defining your digital marketing goals. Then, interrogate each tool thoroughly before subscribing to it.