Last Updated on March 14, 2023
Short message service (SMS) marketing is an incredibly effective way to maintain touch and build lasting connections with your customers. According to experts, this marketing technique can be up to 75% more effective than other digital marketing methods, such as email marketing.
Cost-effectiveness is arguably the biggest drawcard to SMS marketing. That makes it a top recommendation for startups as well as small and medium-sized enterprises (SMEs) still operating on a shoestring budget.
SMS marketing also offers an opportunity for interactive feedback with your customers and even potential clients. That's because these short messages are always read, unlike emails that can go for weeks before the recipient even realizes they have a new inbox.
Last but not least, SMS marketing is mobile-friendly. Therefore, businesses can adopt this marketing method without worrying about integrating their product promotion services with third-party platforms.
But while there are numerous benefits to SMS marketing, the challenge usually lies in choosing the right marketing tool.
It's undeniably true that all SMS marketing tools boast tons of nifty features. However, no two platforms are created equal. So, it's imperative to conduct your due diligence before signing up for these services.
Fortunately for you, we've conducted the research and uncovered the best SMS marketing tools every business should know. Read below for the 12 best SMS marketing services to help you launch a successful marketing campaign.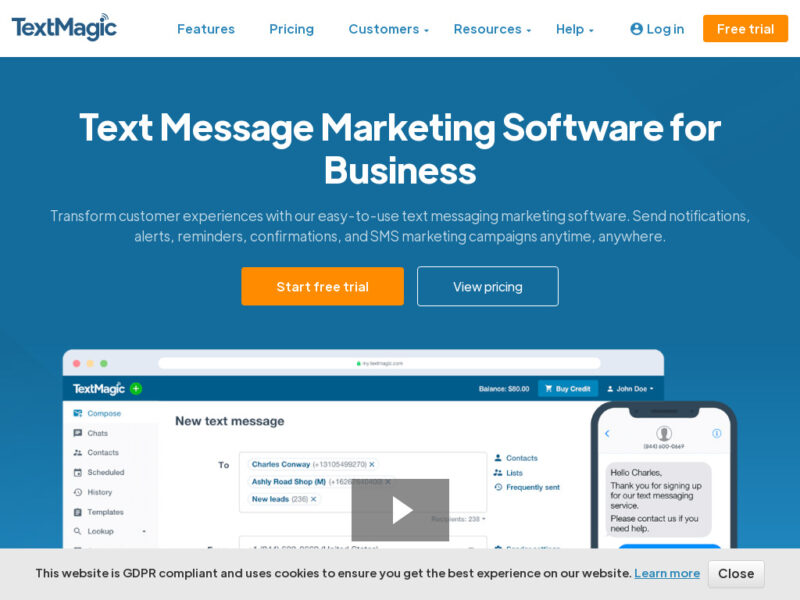 Pricing: Starts from $0.04/text
TextMagic is one of the most reliable SMS marketing tools you might want to check out. The platform lets you send bulk text messages to more than 190 countries, which makes it an asset for multinationals with customers spread overseas.
TextMagic also implements an email-to-SMS converter. This feature allows you to run a successful email and SMS marketing campaign concurrently.
Integration and compatibility are other cool things to love about TextMagic. The platform integrates SMS API into your business and lets you text directly from your application. It's also compatible with all major operating systems, including PC and macOS.
Over 100,000 satisfied customers and impressive reviews on reputable platforms like TrustPilot is proof that TextMagic delivers on its claims. What's more, there's an option to test-drive the service before committing fully to it.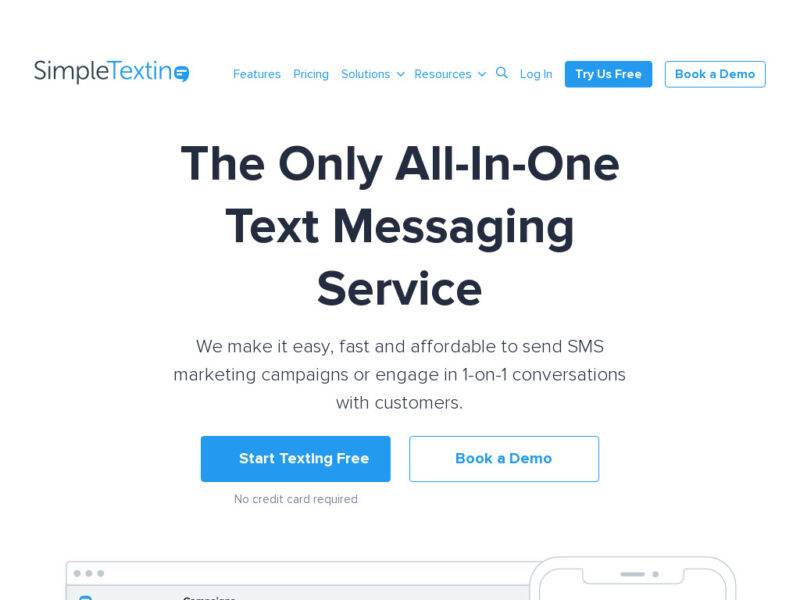 Pricing: Starts from $29/month
SimpleTextin bills itself as "the only all-in-one text messaging service," and it's easy to see why.
For starters, SimpleTextin supports both SMS and MMS messages. You can decide on whether to send plain texts or spice up your messages with photos, depending on the recipient. But the service doesn't stop there.
SimpleTextin also lets you track who clicked your links. This is an ingenious way to zero in on potential leads or repeat clients.
You'll also enjoy the benefit of texting in real-time when you subscribe for a SimpleTextin package. Besides, the tool's text-for-info feature is invaluable when you want to collect phone numbers.
Needless to mention, SimpleTextin supports unlimited contacts and free incoming SMS messages. The company's support is available 24/7 to address your queries as and when you post them.
Pricing: Starts from $25/month; a 14-day trial available
More than 133,000 reputable brands, including Golf, Volcom, and Trek, use Justuno to improve engagement with their clients. That already speaks volumes about the credibility of this service as an SMS marketing tool.
Justuno is also one of the few SMS marketing platforms that provide a tap-to-text feature for seamless opt-ins. This function helps reduce the common barriers to subscribing for website visitors by implementing tap-to-text opt-ins on your SMS pop-ups.
By simply clicking on the CTA, your customers will access their texting app featuring pre-filled messages to your company. All they need to do is hit "SEND" and they're fully subscribed to your SMS list.
Admittedly, Justuno may not be the most affordable SMS marketing tool out there. But there's an array of nifty features to avail by paying only $25/month. Besides, the service comes with a 14-day trial.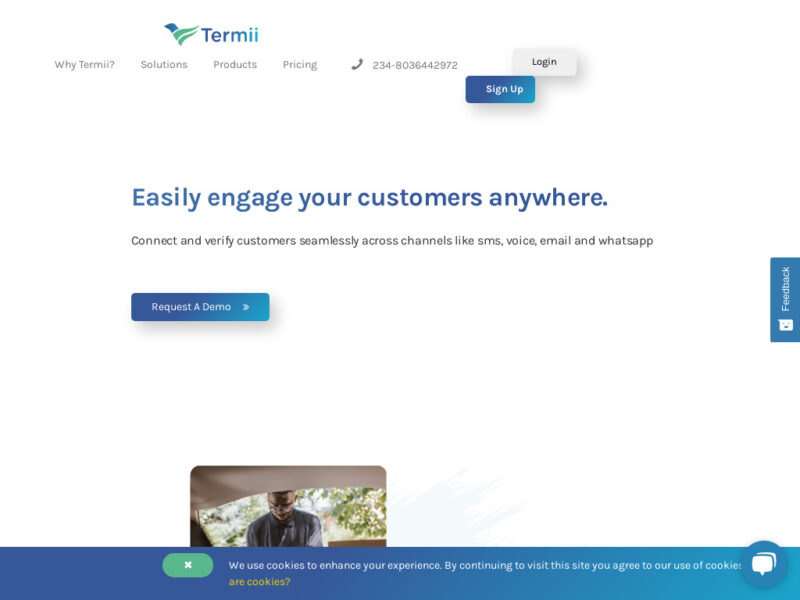 Pricing: Starts from $0.0055/text
With a price as low as $0.0055/message, Termii is undeniably one of the most affordable SMS marketing tools out there.
But don't let the suspiciously low rates or the fact that this company is based in Nigeria discourage you from adding it to your shortlist of SMS marketing solutions providers.
Termii is just as credible as the other SMS marketing tools on this list. And it offers services you may not easily find in other SMS marketing platforms too, including cross-channel messaging and up to 99.9% delivery rate.
Termii also enables you to detect restricted numbers and network changes before sending your OTP and notifications. This is an excellent cost-saving feature that prevents you from incurring charges for texts that aren't delivered to the intended recipient.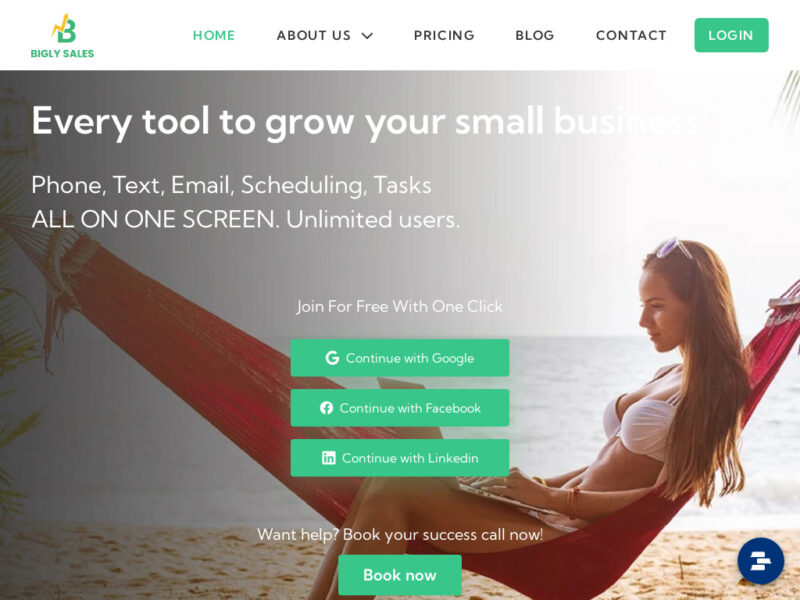 Pricing: Starts at $0.01/text
Bigly Sales is not just an SMS marketing tool. It also offers phone marketing, email marketing, scheduling services, and task management services. It's your go-to platform if looking to run several marketing campaigns concurrently.
One of the best things about Bigly Sales as an SMS marketing tool is that it unifies all your text, call, and email replies in one inbox. The service is also remarkably fast and lets you send thousands of text messages in seconds.
Another excellent thing to love about Bigly Sales is its unlimited tag feature. This function is useful in tagging and segmenting your customers.
The only major drawback to Bigly Sales is that its SMS marketing services are mainly targeted to customers located within the US borders.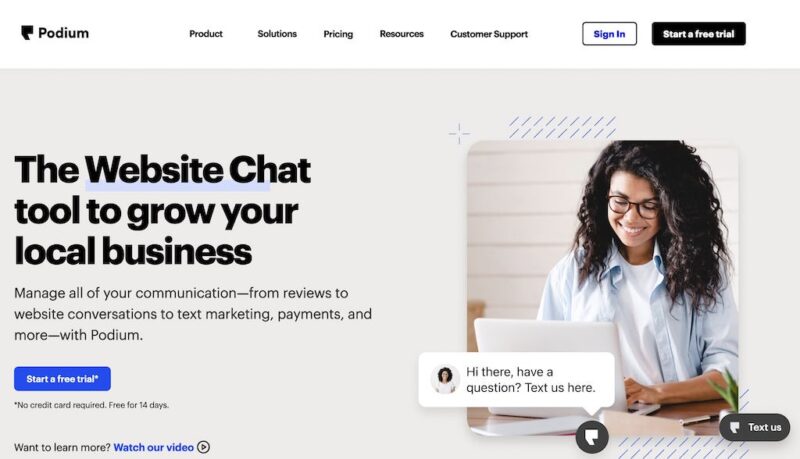 Pricing: Starts at $249/month
Podium's monthly charges may immediately come off as a deal-breaker for startups and SMSs. However, it will interest you to know that these rates aren't just for SMS marketing. They also encompass an array of marketing and web services.
A basic subscription to Podium's SMS marketing tool supports up to 1,000 contacts and 3 collaborators. You can upgrade your package to enjoy unlimited contacts and collaborators.
Podium also supports hundreds of app integrations. There's a text-based website chat function that allows you to engage with your customers without leaving your company's homepage.
But perhaps the most outstanding thing about Podium as an SMS marketing tool is a feature that instantly captures online reviews. You can take advantage of this feature to assess the nature of feedback your past clients are posting on your services and make the necessary adjustments.
Pricing: Pay-as-you-Go Model
Telesign is another top recommendation if you're looking for a reliable SMS marketing service. This tool lets you maintain strong connections with customers spread in over 230 countries and territories worldwide. You only need to establish your clients' time zones to decide on the best engagement hours.
Telesign supports both SMS sending and receiving. Depending on the package you subscribe to, you can receive free messages from customers on your SMS list.
The tool also integrates with several third-party apps. This allows you to send messages instantly from any of your company's integrated applications.
And for your peace of mind, it would interest you to know that Telesign has received a thumb of approval from several renowned brands. These include Fiverr, Ubisoft, OfferUp, Salesforce, and Affirm, to mention but a few.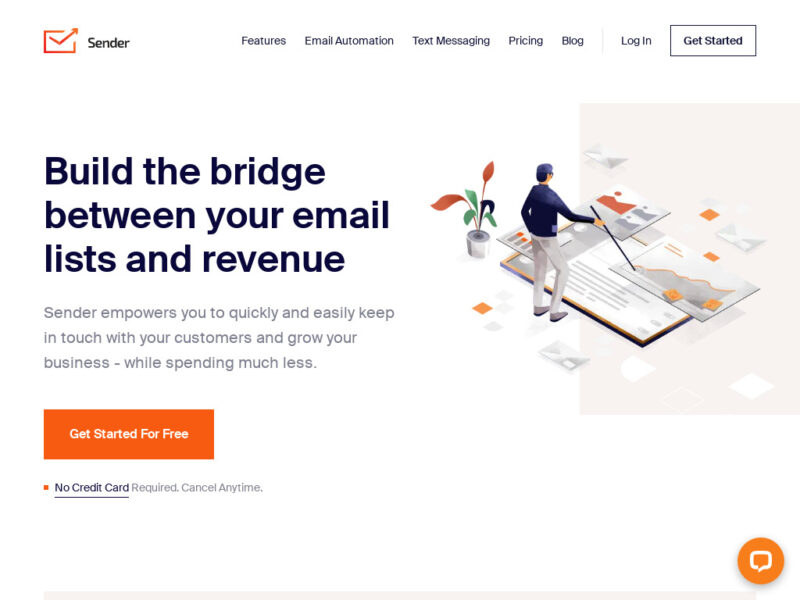 Pricing: Starts from $8.33/month; free plan available
Low open rates is the bane of SMS marketing. So, it's reassuring to know that there's a tool that takes care of the same.
With Sender, you can be sure that over 98% of your messages are opened by the recipients. But that's not all. Your texts will also be read within 15 minutes of delivery. Only a handful of SMS marketing tools offer such reliability.
Sender also guarantees up to 45% feedback from all the sent messages and about 20% click-through rate (CTR). What more would you possibly want in an SMS marketing service?
And the highlight of it all is that Sender offers free unlimited SMS marketing services for startups. The free plan supports up to 2,500 subscribers, 15,000 texts per month, email automation services, and sender branding features.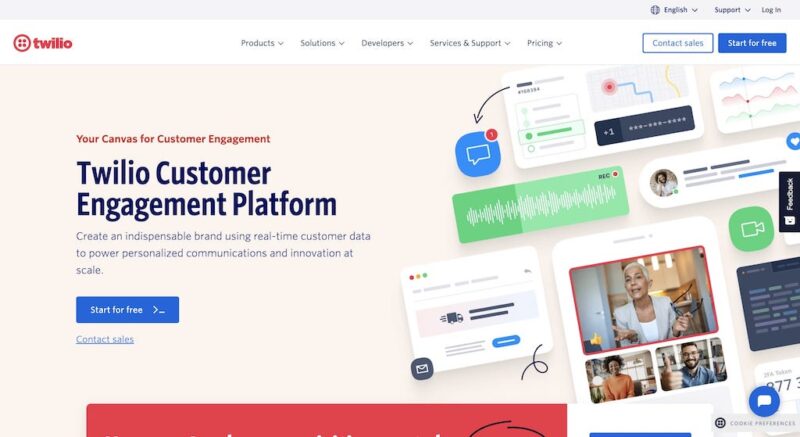 Pricing: Starts from $0.0079/text; pay-as-you-go plan available
It would be unfathomable to sum up this rundown of the best SMS marketing tools without mentioning Twilio. Not only because this platform offers flexible payment plans. But also that it supports a diverse array of texts.
Twilio is one of the only few SMS marketing tools that let you send and receive texts, MMS, and WhatsApp messages in a single subscription. You can manage cross-channel conversations, control collaborator roles in a conversation, and even archive messages. The platform also offers interactive feedback and real-time insights.
A single message costs $0.0079. But you can also opt for the pay-as-you-go model, depending on the frequency with which you wish to engage your customers.
And like all other SMS marketing tools on this platform, Twilio integrates with numerous applications and operating systems.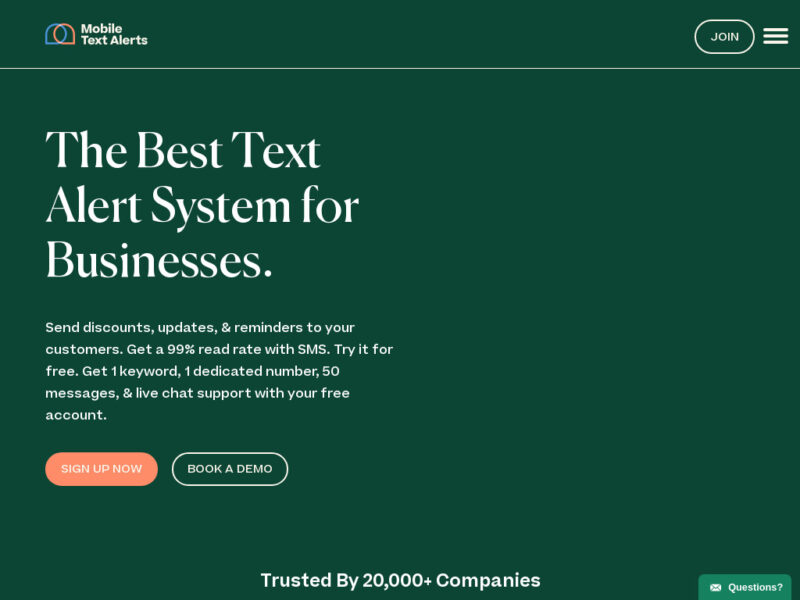 Pricing: Starts from $25/month; a 14-day free trial available
Ease of setup and beginner-friendliness are the strongest selling points of Mobile Text Alerts as an SMS marketing platform. But they're not the only standout features.
Mobile Text Alerts is also a cross-channel SMS marketing tool that supports text to landlines. You can choose to send plain texts or MMS messages.
The service guarantees automatic replies too. Besides, you can take advantage of add-ons like international messaging to maintain connection with your overseas clients. There are powerful analytics, including a link-tracking feature that lets you keep tabs on the click-through rates.
In terms of integration, Mobile Text Alerts is compatible with WordPress, MailChimp, Zapier, ClickFunnels, and scores of other productivity third-party applications. The tool also gives you access to API so you can set up your own integrations.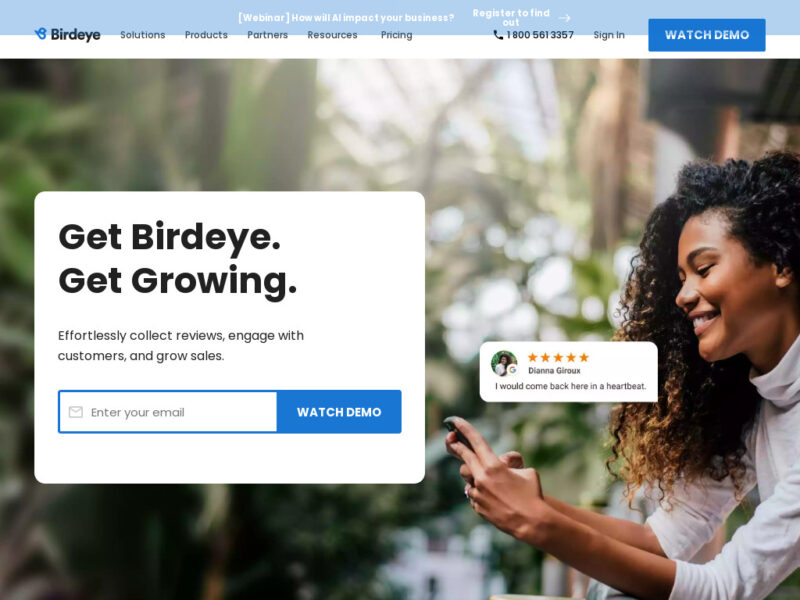 Pricing: Need-based; a demo available
Birdeye is one of the highly-rated SMS marketing tools. The platform is especially beloved for its user-friendliness and interactive support.
Users can watch a demo by entering their email addresses as opposed to credit card information. There's also an active chat function where you can post your queries and have them addressed almost instantly, regardless of your location or time of day. No wonder the service enjoys the confidence of over 90 brands from various industries.
As an efficient marketing tool, Birdeye enables you to engage with your customers across multiple communication channels, including text, webchat, and social media. It also supports seamless collaborations with your team right from a single inbox.
Birdeye implements a pricing configurator that gives you insights into the amount you'll pay for your subscriptions. You only need to input your company name, number of locations, full name, mobile number, and email address, then click on "SEE PRICING."
Pricing: $29/month; a 14-day free trial available
The last SMS marketing tool on this list is by no means the least. In fact, if reviews are anything to go by, this platform ought to have appeared higher up on this list.
Speed is the biggest benefit of purchasing a SlickText subscription plan. The tool allows you to send thousands of messages to all your customers in a few minutes. There's the option of attaching a picture, such as your company's banner, for better response.
SlickText also lets you save your messages and schedule them by date and time. That way, your texts get sent automatically on the specified dates as you expend your time taking care of other important aspects of your business.
You can also set auto-reply messages to your inboxes. This ensures your clients' concerns are addressed as soon as possible, thereby improving your brand's credibility.
Final Word
No two SMS marketing tools are identical. Therefore, it's important to define your needs before choosing these services.
We hope you can use this article as a starting point when looking for efficient and reliable SMS marketing platforms.