Last Updated on January 21, 2020
Graduation is a big day in a student's life. Whether you are graduating from high school or college, this day holds great importance and should be celebrated in the best way possible.
You have worked hard all your academic life, spent hours studying, and have had sleepless nights, so when all this is finally coming to an end, you deserve to celebrate the joy. The importance of this day also makes it necessary for you to dress up your best, so choose the best outfit, gather your cap and gown, and look the most gorgeous.
If you have your graduation coming up but can't decide what to wear, then here are some tips for you to look stylish on your graduation day.
Dress to Impress
Graduation is always going to be one of the most memorable days of your life, so make sure you dress well enough to impress everyone around you. You would want to have a look which makes you look the mature adult you are going to become, so go for something that suits your age and looks great at the same time.
We suggest something conservative yet sassy. Also, you'll be taking loads of pictures so it's crucial that you look your best. Take a nice long shower, wear the perfect dress, straighten or curl your hair, throw on some makeup, and put your best face ahead.
Later, when the pictures from the ceremony come out, you'll be grateful that you decided to dress up nicely.
Plan the Perfect Outfit
A lot of people assume that because you are going to be wearing a bulky graduation robe, there is no need to wear something special underneath. We suggest the opposite, wearing a cute and appropriate outfit under your robe is a must as you must look your best on your big day.
Also, you will not be wearing the gown the whole time, so when you take it off, you don't want to look dressed up casually for such a big event of your life. You might also not get the chance to change before heading out to an after-graduation party dinner with friends or family, so this will save you time.
Choosing the perfect outfit is a must; you can research online to get an idea about Graduation Dresses and decide what's going to look best on you. You can also wear something in color coordination with your robe.
Because the robe is already quite bulky, go for something sleek, so it doesn't make you look like you have gained extra weight. Wearing a dress with pockets is always a good idea because you can't carry a purse. It will make holding your cellphone and wallet much easier.
Choose the Right Shoes
Because you'll be wearing a graduation gown, the only visible part of your ensemble will be your shoes. So, choose wisely. Because it's such a special occasion, be sure to wear something that is not only dressy but also comfortable.
Too high stilettos would also be inappropriate as they would start hurting after a while. What we advise is to wear a pair of wedges that have a heel of 2 to 3 inches maximum. This will not only look good but would also make walking and marching a lot comfortable.
You can also paint your toes to make your feet look more beautiful. It's always better to try walking in your shoes before the event, so you don't have an embarrassing falling moment on your big day.
Wear Appropriate Makeup
You must look your best on your big day, so a little makeup wouldn't hurt anyone. Wear some mascara, eyeliner, blush, and lipstick, but remember to keep everything appropriate to the event.
Also if you aren't very good at doing makeup, try some looks beforehand as you can't risk experimenting on the big day. Girls who don't wear makeup at all will thank us later when they see how good they look in all the pictures their friends and family took.
These are some of the basic tips that everyone can use at their graduation ceremony. To help you even further, we have jotted down some additional tips according to the type of graduation.
Middle School Graduation
This is the graduation ceremony you have before you move on to your secondary education. Most young adults at this age don't care about how they look, but if you dress up nice, you'll be happy to see yourself that way, many years after when you look back at your middle school graduation pictures.
Go for something that is both stylish and flattering, a high low dress with frills, or a cute top with an A-line skirt are great options. Pair this up with a pair of kitten heels to make your look a bit formal.
You can also wear some accessories like pearl earrings or a simple gold bracelet. Go for bright, youthful colors, and not something dull.
High School Graduation
High school graduation is all about fun and having a good time with your friends and family. The best way of celebrating your end of secondary education in style is by choosing a short dress that suits your personality.
You can either go for monochromatic colors, or wear something bright, but whatever you choose, make sure you are comfortable in it. Also, dress in accordance with the weather. If it's winter, then wear long sleeves and if it's summer wear short sleeves or no sleeves at all.
You might also not get time to change before an after-party celebration, so wear something you will be comfortable in for hours.
College/University Graduation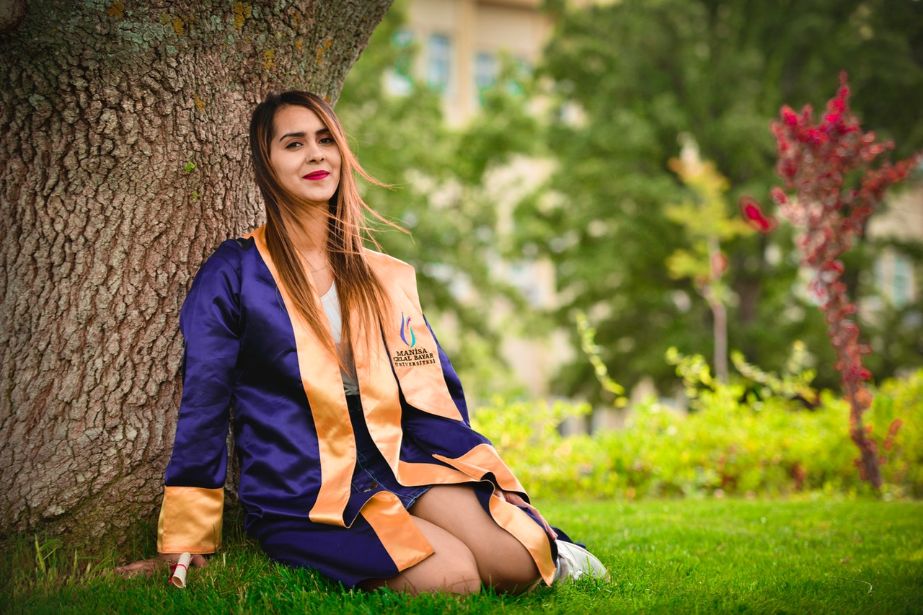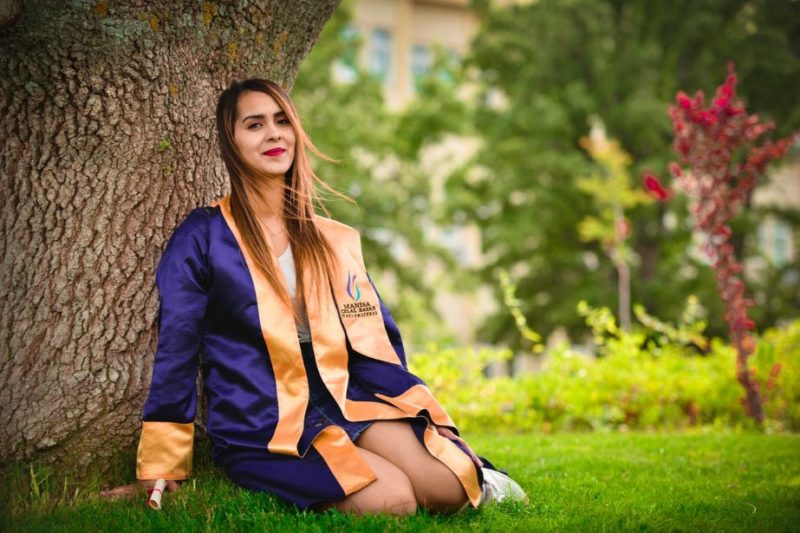 Graduating from college or university is the time when you are showing the world that you have grown into a mature adult, and you are ready for the challenges of the real world. So why not also dress up in a way that reflects this mature personality of yours?
A tightly fitted body con or a flowing wrap skirt are good options to wear with your cap and gown. These outfits will also be an ideal choice if you have got any after-party plans. Graduation is something that comes once in a lifetime, so you need to look the best on this day.