According to research, the human brain processes visuals up to 60,000 times faster than text. Similar studies have established that visuals can also increase comprehension by up to 400%. These findings explain the increasing demand for video marketing.
A carefully-curated video can make a huge difference in terms of describing a product or explaining a business concept to your audience.
Videos come in numerous forms, including motion graphics and whiteboard animations. This article introduces whiteboard animations before delving into the 8 best whiteboard animation software that every content creator needs to know.
What Is Whiteboard Animation
The best way to define "whiteboard animation" is to split the phrase into its distinct parts and then describe each word separately.
A whiteboard refers to a white (usually glossy) surface used for making temporary writings or drawings. Whiteboards are commonly contrasted with blackboards, except that they're smoother and allow you to quickly make and erase markings on their surface.
On the other hand, animation is a technique by which still figures are skillfully manipulated to give them the appearance of moving images. Traditional animation entailed manually drawing or painting images on a transparent celluloid sheet so they can be photographed or displayed on film. However, the technology has since evolved to incorporate computer software.
Now, whiteboard animation is the process whereby an author or artist physically illustrates a story on a whiteboard using drawings and recordings made by a marker pen. The animations are commonly supported with narration by script and the drawings are time-lapsed to give them a chronological sequence. Besides, the authors or artists may deploy stop motion to liven the illustrations.
Whiteboard animation differs from many video formats in its creativity and simplicity. This technique is particularly suitable for explainer, marketing, and campaign videos.
However, rendering whiteboard animations physically can be a daunting task. Not to mention that it requires a great deal of artistic flair. That can be a huge setback for marketing teams who need to create numerous animated product descriptions or explainer videos on short notice.
Fortunately, there are software designed to help you whip stellar whiteboard animations even if you have zero drawing skills.
8 Best Whiteboard Animation Software for Content Creators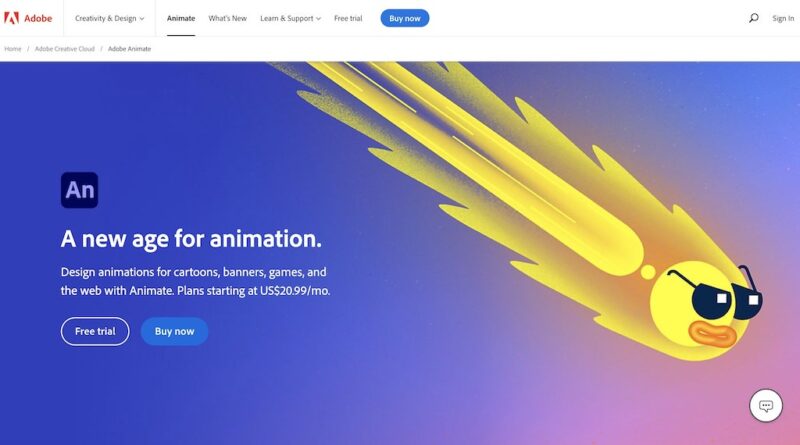 Pricing: Plans start from $24.14/month; a free trial available
Adobe Animate CC, formerly known as Flash Professional, is a multimedia authoring and computer animation software developed by Adobe Systems. Thousands of content creators around the world use this program to design vector graphics and animation for different purposes, including television programs, web applications, and video games.
Animate CC is also one of the oldest whiteboard animation software in the market. The program was originally released as Flash Pro in May 1996, and the reception was incredible.
In the early 2000s, Animate became the default software for displaying interactive web games, online games, audio content, and playback video on desktop devices. The program continued to expand its clientele with its consistent upgrades. One such upgrade marked the introduction of new user interface (UI) components, cutting-edge data visualization components, data remoting features, and a modern integrated development environment (IDE).
Animate gradually earned the stripes for being one of the most effective digital publishing software. The tool's whiteboard animation features are truly outstanding. With this application, you can create both raster and vector content.
The software comes with a user-friendly dashboard to speed up your animation creation projects. It also supports the HTML5 canvas output in most browsers, including Internet Explorer 11. Even better is that the tool lets you export your creations in .SWF format for use in older browsers.
Since Animate CC is part of Adobe's rich suite of editing tools, you can use the whiteboard animation software in post-production to incorporate numerous effects into your creation. For instance, you can add voiceover and sound effects to your videos. You can also set the animation speed depending on the target audience. And when you're done editing, quickly export and share your animations in different file formats.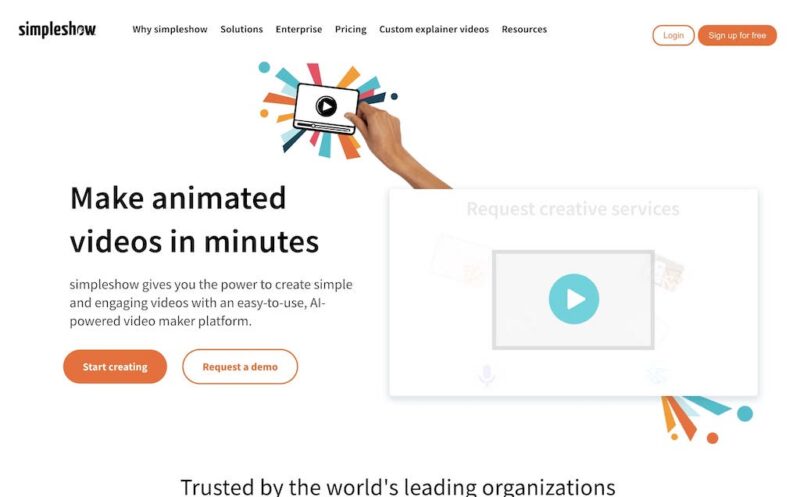 Pricing: Plans start from $129/month; a free trial available
The name of this whiteboard animation software isn't just for show. Simple Show comes with an intuitive UI that makes it very easy to use. Whether you're the next Leonardo da Vinci or have ZERO artistic skills, you'll find this tool incredibly easy to navigate.
Simple Show was established in 2008 with the sole mission of helping content creators to explain complex topics to their audience in the simplest ways. Within no time, the software became the global leader in the creation of explainer videos. Some of its noteworthy clients include Adobe, Allianz, Bayer, Bosch, Microsoft, eBay, and HP.
The company behind Simple Show endeavors to deliver on its vision of helping its clients leverage the power of artificial intelligence (AI) to create amazing explainer videos without requiring special knowledge. It doesn't matter how plain or complex your concept may be. Simple Show will help you transform it into an engaging story.
Thanks to its AI-driven platform, Simple Show helps you whip compelling whiteboard animations at a fraction of the time you'd take producing these videos physically. The software comes with customized graphics and interactive elements that you can incorporate into your creations to tailor them to your audience. These include skin tones, hair colors, illustration colors, etc.
Simple Show also includes voiceovers to give your animations a professional touch. Moreover, you can edit subtitles for better content accessibility. The inclusion of collaborative features allows you to work on an animation project with your team in real time.
However, Simple Show appears to place quite a high premium on its features. The company charges up to $129 monthly for its whiteboard animation services. That's the small price you have to pay to access the software's advanced video creation tools.
Pricing: Costs a one-time payment of $49; a free version also available
Don't let the name of this software deceive you. Mango isn't directly related to manga – the Japanese style of comic books and graphic novels which are typically intended for adults as well as children. Perhaps the only similarity between Mango and manga is that both can be used to depict cartoonish characters.
As a whiteboard animation software, Mango is best known for its huge library of digital assets. The application maintains thousands of free prebuilt media objects that you can readily use to enrich your animations. These include images, scalable vector graphics (SVGs), animation widgets, symbols & shapes, charts, and color effects.
Mango Anime Whiteboard Animation Software also supports subtitling and recording. This feature allows you to add an emotional touch to your animation characters so you can leave a lasting impression on your audience. Simply narrate the script in your own voice, type captions or subtitles to highlight certain key areas, and the video maker will do the rest.
The software implements a multi-track timeline that includes Camera, Background, Foreground, and Animation, which lets you customize every whiteboard animation to your needs. It also comes with lively camera settings that take you straight to your key points. Using this feature, you can zoom, rotate, or pan the camera to improve how your audience interacts with the content.
Mango lets you publish your outputs in multiple formats that you can readily share with global audiences on your social media platforms. You can have the animations as online video, offline video, or GIF. There are hundreds of templates beginners can use to learn the ropes before creating whiteboard animations with the software.
This tool also comes with a free version in addition to its premium plans. And while the free plan has limited features, it lets you have a foretaste of the program's efficacy before subscribing to it.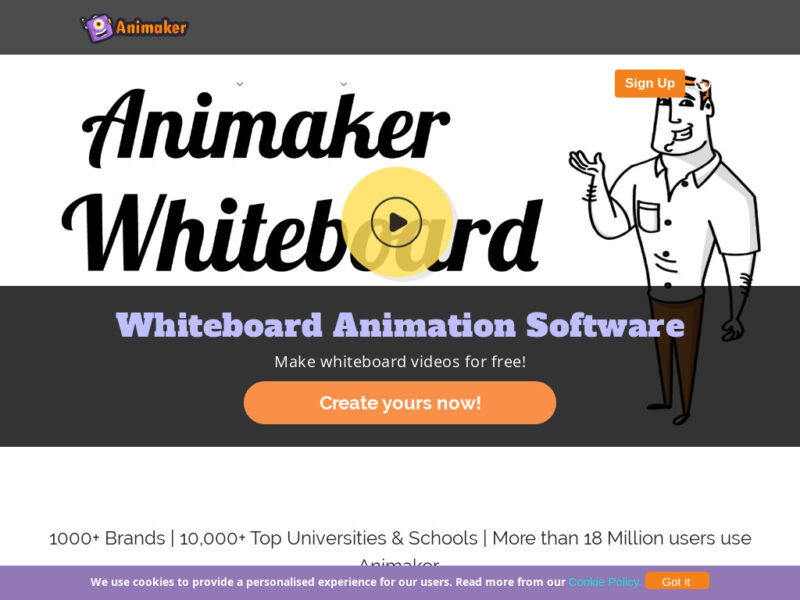 Pricing: Plans start from $10/month; a free version also available
Animaker enjoys the confidence of over 18 million users. This includes more than 10,000 reputable universities & schools and over 1000 brands. Noteworthy mentions are Google, Adidas, Verizon, Walmart, eBay, FedEx, AT&T, and McKinsey & Company.
But what is it about this whiteboard animation software that makes it so popular?
First, Animaker is one of the most affordable whiteboard animation tools out there. The software's premium plans start from as low as $10/month. That makes it an especially great fit for individuals and startups. The tool also provides a free version and a generous free trial period for all its paid plans. The free trial lets you access nearly all its advanced features.
Note, however, that the free version supports fewer characters & props, animated maps & charts, and infographic icons. The animations generated under this plan are also of shorter length. But the fact that you can have a preview of most features is what makes the software stand out.
Another thing to love about Animaker is that it comes with numerous cool effects that you can use to enrich your whiteboard animations. These include prebuilt characters, music, and voices. Many users also laud Animaker for its ease of use. The program maintains an interactive interface as well as dozens of templates and digital assets to get you started. These include over 30,000 premium music tracks to imbue different emotions into your animations.
To create whiteboard animations with Animaker:
i. Pick a template that you like or begin from scratch
ii. Select the type of board you want
iii. Choose characters and props with the type of scribbling
iv. Add audio and visual effects as required
v. Edit the text
vi. Download your creations or export them to your social media platforms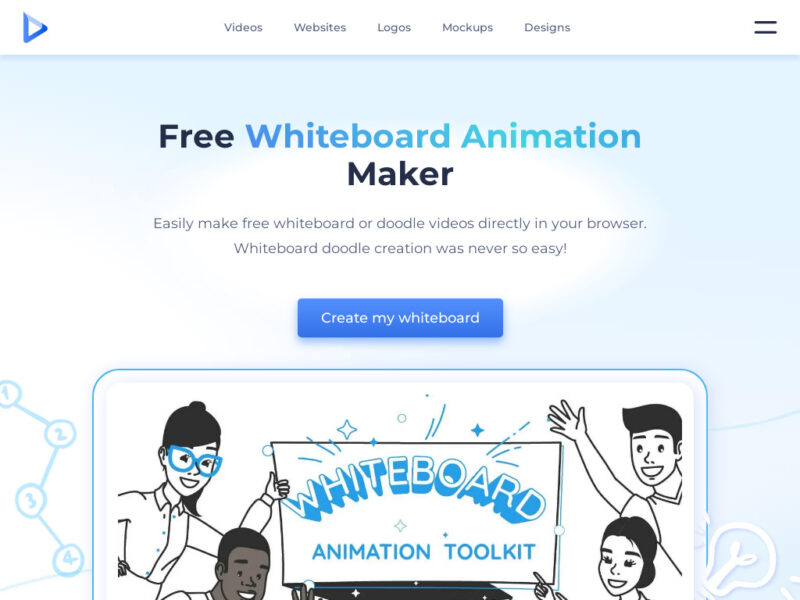 Pricing: Paid plans start from $9.99/month; a free version also available
RenderForest is an all-in-one digital branding company with a mission of helping its clients leverage technology to create compelling content and branding information. The platform was founded in 2013 and has racked up over 20 million users during its ten-year history.
One of the company's most talked-about products is its whiteboard animation tool.
Like Animaker, RenderForest stands out for its affordability. The whiteboard animation software includes both premium and free plans, with the cheapest paid bundles going for a paltry $9.99 per month.
However, it would interest you to know that RenderForest doesn't sacrifice efficiency at the altar of affordability. Despite its competitive rates, the software gives you access to numerous whiteboard animation features.
RenderForest is cloud-based. That means you do not require powerful devices to run the program. The tool also comes with about 400 premade animated scenes and hundreds of exciting templates to improve your whiteboard animation experience. The ability to preview and edit your videos before rendering them allows you to fix any errors that you might not eventually pick out in the final output.
To craft compelling whiteboard animations using RenderForest, you'll begin by picking the perfect template. Note that you can use a template as is or edit it to tailor it to your content.
The next step is editing the scenes. This basically entails typing in your message, changing the style and color, and then adding voiceover or other sound effects. There are many flexible scenes depending on how professional or casual you'd like your animations to be. Simply pick a style that suits your brand and content.
Lastly, export your creations to your social media platforms or download them to your device with a single click.
Pricing: Plans start from $69.00/month; a free trial available
Telling a compelling story through whiteboard animations has never been easier, thanks to innovative products like Doodle Maker. Described as the fastest animated doodle maker on the planet, Doodle Maker is the go-to software if you're looking to generate several whiteboard animations for different purposes on short notice.
The AI-powered video maker has a massive library packed with millions of digital assets, including drawings and voiceovers. It also gives you unhindered access to multiple soundtracks to add diverse emotions to your video creations
Doodle Maker maintains a text-to-speech (TTS) engine that you can use to automatically speak out written words. There are over 160 human-sounding voices that let you give life to your animations.
The tool also supports multilingual video creation. You can generate your whiteboard animations in over sixty languages to target untapped traffic sources and possibly penetrate unsaturated markets.
Whiteboard animations created using Doodle Maker come in either black & white or full color. Choose the black & white theme to give your content a timeless appeal or work in full color mode if creating videos with a modern or futuristic touch. And while the tool functions primarily as a whiteboard, it lets you experience with numerous backgrounds. You can also customize your background color or image to a blackboard or glassboard.
Last but not least, Doodle Maker is a cloud-based service. That means you can readily access the whiteboard animation tool with your desktop or smartphone, provided you have stable internet.
Pricing: Plans start from $9.00/month; a free trial available
Here's another whiteboard animation software to consider if you're a bit strapped for cash! VideoScribe comes with three premium plans, including a fully customized bundle. Subscriptions start from $9 per month and there's a free 7-day trial period to have a preview of the tool before committing fully to it.
VideoScribe is a product by Sparkol, a renowned software developer based in Bristol, United Kingdom, founded in 2010 by Mike Williams and Phil Cowling. The team behind Sparkol are also credited for developing similar interactive tools, including Taw and StoryPix. However, VideoScribe is their flagship product and arguably their most innovative offering to date.
Ease of use is one of the various ways VideoScribe differs from most products by Sparkol. The software lets you create professional-looking animations in minutes. That explains its popularity among millions of content creators and educators around the world.
VideoScribe allows you to draw with your mouse or finger. With this tool, you do not require sophisticated camera equipment to create whiteboard animations. The software also captures hand-drawn images frame by frame. This helps your audience to fully visualize the characters and their environments, which is key to driving the point home.
VideoScribe maintains a database of over 11,000 media content too. These include images, GIFs, and graphics. There are also quick-start video templates to help you navigate the platform quickly.
This software works on all major operating systems, including PCs and macOS. It also has mobile apps that you can download and use to create whiteboard animations offline.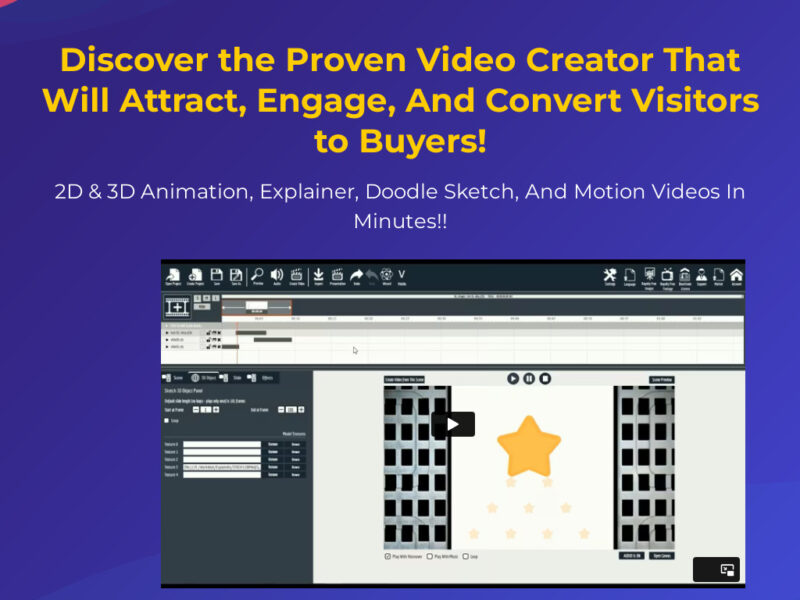 Pricing: Plans start from $37/month; a free trial available
'Explaindio' sounds like a portmanteau of "explain" and "video." And that's pretty much what you get with this whiteboard animation software. The program is intended for anyone who needs to explain complex concepts in simple illustrations. Whether you're a blogger, social media influencer, or part of a marketing team, you definitely want to consider this tool for your next whiteboard animation projects.
Explaindio comes with 2D and 3D functionalities that you can use without having prior video creation experience. The software's dashboard includes full-motion videos and HD capabilities. You also get to choose from multiple exciting themes as well as a vast collection of sounds and voice effects. Moreover, there's an option for directly adding your voice to the software or importing a pre-recorded voiceover from your device.
Explaindio's whiteboard canvas lets you add text, images, and geometric shapes to create interactive animations. The tool also comes with special animation effects that you can quickly add to your text and objects. These include entrance animations, exit animations, and transitions.
It's also exciting to know that Explaindio integrates with Pixabay for a more efficient workflow. You can export your animations in multiple file formats, including MP4, AVI, and WMV.
Other cool things about Explaindio include complete multi-timeline editing capabilities and beginner tutorials. The software is not cloud-based either, which makes it accessible offline.
However, Explaindio's interface isn't the most intuitive. That's due to the crowding of tools.
Final Word
There are dozens of software to choose for your next whiteboard animation project. However, these eight video makers are ahead of the pack in terms of efficiency and reliability.