Last Updated on February 6, 2020
Picking a donation plugin can be challenging for your organization, particularly with so many options nowadays. The Donorbox WordPress donation plugin has many advantages so let's take a look at how it works.
Donorbox provides a platform for fast, secure, and reliable donations. They support more than 25,000 organizations. Let's discuss how it works.
Getting Started With the  Donorbox WordPress Plugin:
 With Donorbox, you can set up a donation form in just 15 minutes.
You should integrate your donorbox account with one of the payment methods. They use PayPal and Stripe as payment processors. Once you're signed up, hit the New Campaign Icon.
Donorbox formats are accessible in a range of languages, including English, Spanish, French, German, Italian, and Portuguese. There's also a selection of currency options to choose from.
Payment Gateways and Checkout Options:
Donorbox uses trusted merchant gateways such as Stripe and PayPal for transactions. It also offers a variety of convenient and safe payment methods for donors, including ACH transfers and Apple Pay.
Donors will love the quick checkout process and attractive design of donation forms.
For organizations, donor details can be collected and donation forms can be set up to collect the information that's needed.
Amounts Tab – Form Setup:
In Donorbox, you can create donation amounts and clarify what they will be used for. This shows donors how their contributions are being used. Donors can also choose a custom amount to give.
By setting up a donation target for fundraising campaigns, your supporters can easily see your progress, and this can encourage more contributions.
Donorbox recommends a minimum donation amount of $3 to discourage abuse of stolen credit cards.
Donor wall:
If you as a nonprofit want your donors to leave a review on your fundraising page, then Donorbox allows you to do that. You can start receiving comments from donors with a toggle of a button.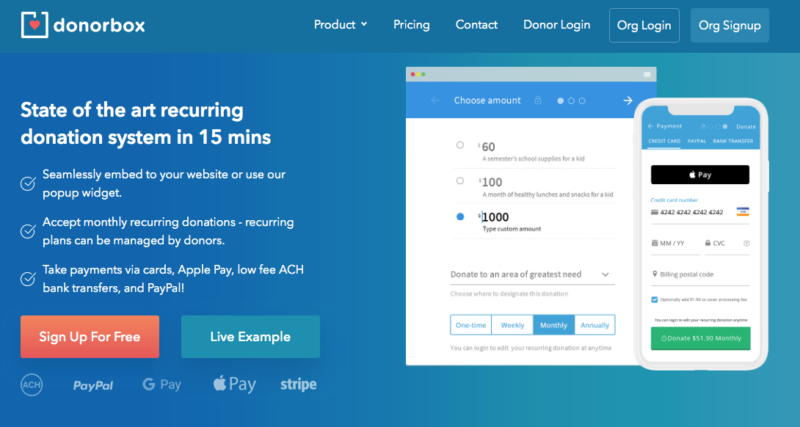 Thank your Donors:
Even when the post of thank you isn't enough instead submit an automated certificate for donations. You can use Donorbox to send a personalized thank you messages to your donors. This allows nonprofits to add their nonprofit status and donors can use this as tax receipt as well.
Analysis of Different Methods in Donorbox:
The Donorbox WordPress donation plugin will capture the donor's name, phone number for nonprofits.
 Great Support:
Donorbox has polite and helpful customer service assistants who are happy to provide guidance. If you run into any issues, they can be contacted at support@donorbox.org. Donorbox has 24/5 support and they are available during weekends as well.
Overview
If you are searching for a robust digital fundraising tool that encourages regular contributions from donors, the Donorbox WordPress donation app ticks most of the right boxes.