Last Updated on March 8, 2022
Who Is Bill Gates?
William Henry Gates III, popularly known as Bill Gates, is an American business magnate, software developer, author, and philanthropist.
As a business magnate, Gates is best known for co-founding the Microsoft Corporation. He was also a one-time chairman, president, chief executive officer (CEO), and chief software architect of Microsoft Corporation, as well as the company's largest individual shareholder.
Quick Facts
| | |
| --- | --- |
| Full Name: | William Henry Gates III |
| Popular Name: | Bill Gates |
| Gender: | Male |
| Birth Date: | October 28, 1955 |
| Age: | 66 years |
| Parents: | William H. Gates Sr. and Mary Maxwell Gates |
| Siblings: | Kristi Gates and Libby Gates |
| Birth Place: | Seattle, Washington |
| Nationality: | American |
| Ethnicity: | English, German, Irish, and Scottish |
| Education: | Lakeside School and Harvard University |
| Marital Status: | Married |
| Sexual Orientation: | Straight |
| Wife/Spouse: | Melinda Gates |
| Children: | Phoebe Adele Gates, Rory John Gates, and Jennifer Katharine Gates |
| Dating: | N/A |
| Net Worth: | USD 125 billion (as of August 1, 2021) |
| Source of Wealth: | Entrepreneurship and Software Development |
| Height: | 5′ 10″ (1.78 m) |
| Weight: | 70 kg; In pounds: 154 lbs. |
Early Life and Career Information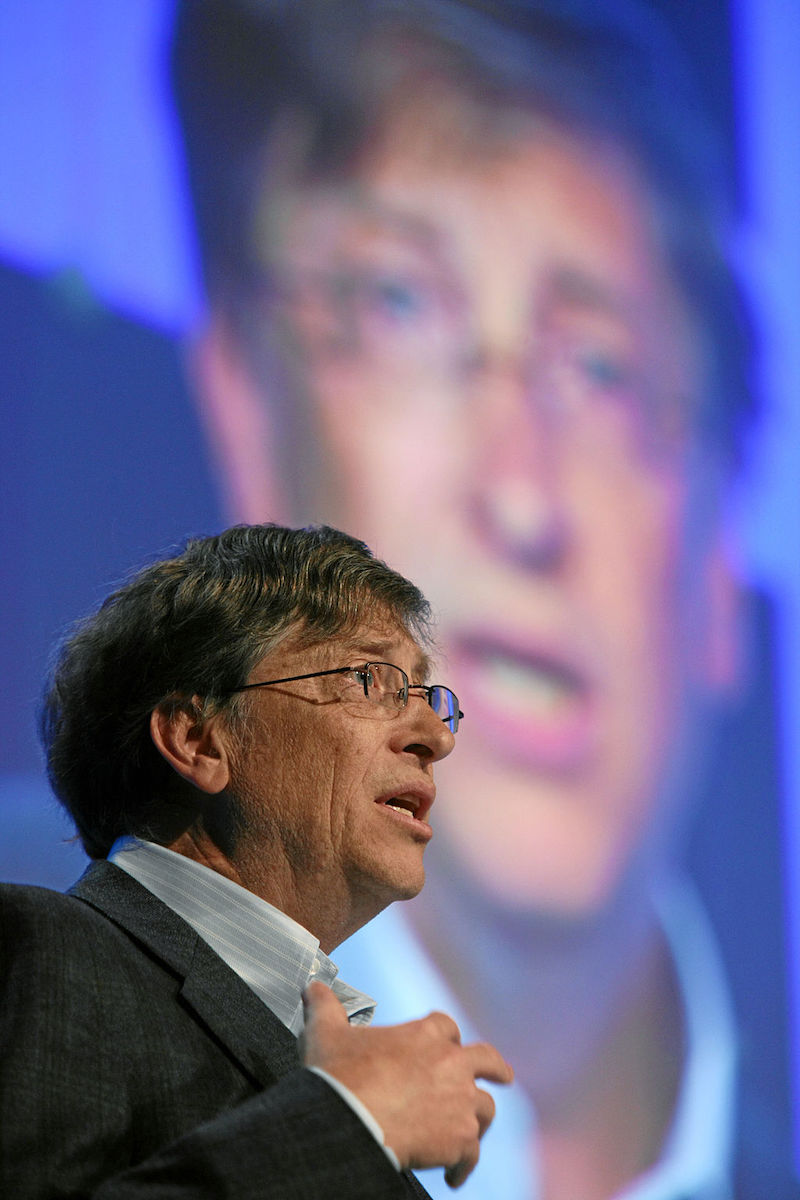 Bill Gates was born on October 28, 1955, in Seattle, Washington, to William H. Gates Sr. and Mary Maxwell Gates. His father was a lawyer, whereas his mother served on the board of directors for the United Way of America and the First Interstate BancSystem.
Bill Gates developed an interest in software development while he was attending the Lakeside School in Seattle. At the age of 13 years, he was able to write his first software program. He teamed up with fellow students Ric Weiland, Paul Allen, and Kent Evans to found the Lakeside Programmers Club in a bid to develop software programs for money.
Gates graduated from Lakeside School in 1973 and proceeded to Harvard College in the autumn of the same year. However, he left Harvard after two years to found the Microsoft Corporation, along with Paul Allen.
After founding Microsoft, Gates and Allen dedicated their time to growing the company. In 1986, Microsoft went public, with its opening stock price trading at $21. By the end of the first trading day, Microsoft's stocks had surged to $27.75 and Gates 45% stake in the company translated to $350 million.
Gates occupied various influential positions in Microsoft Corporation until March 2020 when he announced his intentions to step down as the company's chairman. He now dedicates much of his time to philanthropic works.
Bill Gates' Net Worth
As of August 1, 2021, Bill Gates had a net worth of $125 billion. He is the second-richest person in the world, coming in only second after Amazon founder Jeff Bezos.
As you may already know by now, Bill Gates made much of his fortunes from Microsoft Corporation. Less than a year after co-founding Microsoft, the company's stock price surged so dramatically that Bill Gates became a billionaire. He was only 31 years at the time.
In 1999, Bill Gates had a net worth of $100 billion, or today's inflation-equivalent of $153 billion. According to estimates, his current net worth would have been $175 billion, had he not donated a significant chunk of it to charity.
Interestingly, Gates currently owns less than 1.3% of Microsoft Corporation. Over the years, he has sold at least $40 billion worth of the company's stocks and collected more than $12 billion in dividends since Microsoft's Initial Public Offer (IPO) in 1987. He uses much of the proceeds to fund the Kirkland, Washington-based Cascade Investment LLC, the company through which he undertakes many of his investments.
In addition to Microsoft Corporation, the following are other notable companies associated with Bill Gates:
• Berkshire Hathaway – Recent reports indicate that this company makes up nearly half of Gates' investment portfolio
• AutoNation – Gates owns a 16% stake in trading on the New York Stock Exchange (NYSE)
• Canadian National Railway (CN) – Gates was the largest single shareholder of CN as of 2019
• TerraPower – Gates founded the nuclear reactor design company
• Corbis – He founded the digital image licensing service
• Ecolab – As of 2012, Gates had a 25% stake in the global provider of water and energy solutions
• ResearchGate – He donated $35 million in funding to the research-based social networking platform
Bill Gates is also a real estate mogul in his own right. He owns an impressive 66,000-square-foot mansion in Seattle known as Xanadu 2.0, which is currently valued at $147 million. In addition to his Seattle home, Gates has flipped numerous real estate properties over the years. In 2009, he paid $9 million to acquire a Wyoming horse ranch.
In 2014, he purchased another horse ranch in southern California for $18 million. Bill Gates also owns a luxurious mansion in Wellington, Florida. The property's initial price was $9 million but The Miami Herald reports that Gates has since spent an additional $18.5 million to acquire additional properties.
Other income-generating ventures by Bill Gates include writing as well as film, television, and videogame appearances. Gates authored his first book titled The Road Ahead, in 1995. Four years later, he published his second book, Business @ the Speed of Thought.
Lessons from Bill Gates
1. Pursue your passions diligently
Bill Gates discovered his interest in software development at the age of 13 years. Since then, he dedicated all his efforts towards pursuing his passions. He even had to drop out of Harvard College so he could commit himself fully to his software development ambitions.
2. Collaborate with people who can bring out the best in you
After developing an interest in software development, Bill Gates teamed up with friends who had similar ambitions. Some of those friends were instrumental in positioning Gates as a successful investor and software architect.
3. Give generously
Gates has donated billions to charity over the years, mostly through the Bill & Melinda Gates Foundation. Even so, his generosity hasn't run thin, as he has since pledged to give more than 99% of his entire estate to charity before he dies.
Famous Quotes by Bill Gates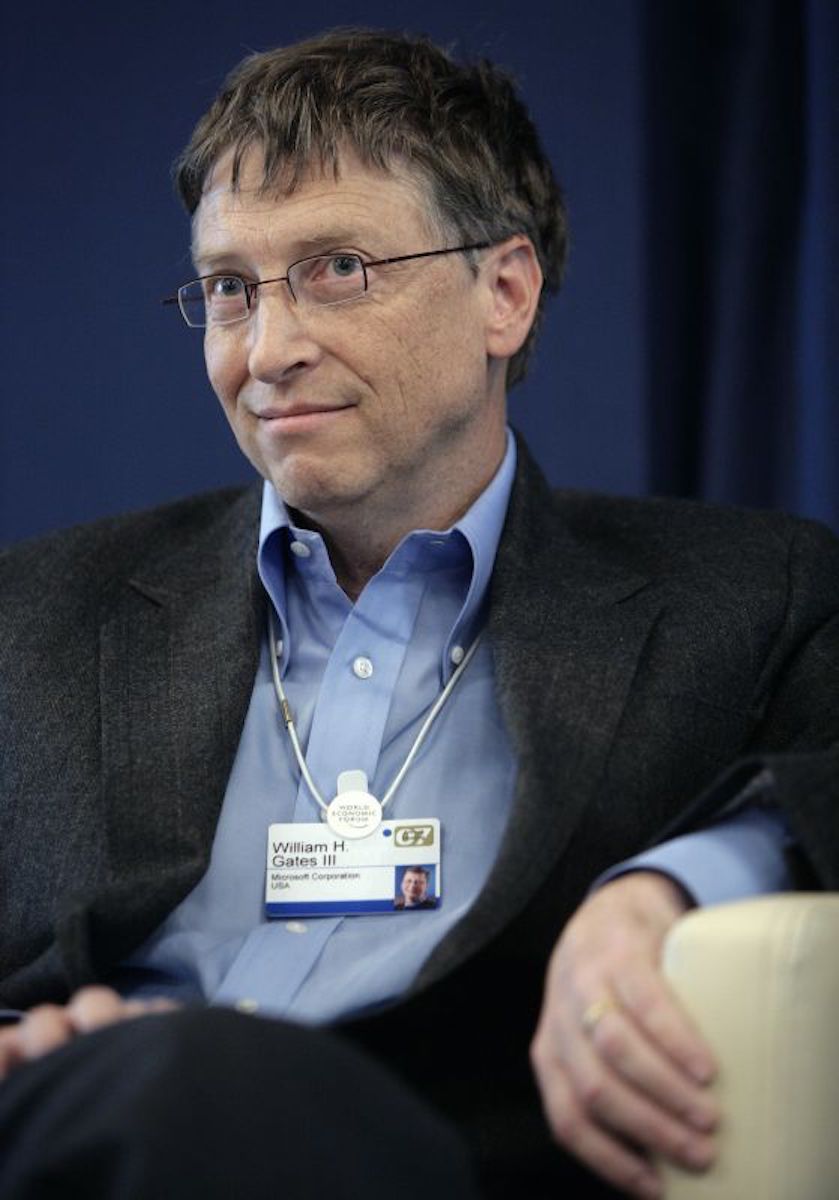 "If you can't make it good, at least make it look good."
"It's fine to celebrate success but it is more important to heed the lessons of failure."
"Life is not fair; get used to it."
"Success is a lousy teacher. It seduces smart people into thinking they can't lose."
"Your most unhappy customers are your greatest source of learning."
Check out even more quotes here: https://inspirationfeed.com/bill-gates-quotes/
Final Word
Bill Gates is the second-richest man on the planet, with a net worth is $125 billion. He has consistently been ranked as the world's richest person before Jeff Bezos overtook him in July 2017. But thanks to his massive investment portfolio in numerous lucrative companies, it may only be a matter of time before Gates reclaims his position as the world's wealthiest person.