Bill Hicks was an American comedian who used his art to share powerful ideas, helping people see the world in a different perspective. His brand of dark comedy encompassed a wide range of topics – from social, political, religion, to philosophy.
Bill Hicks, an Overview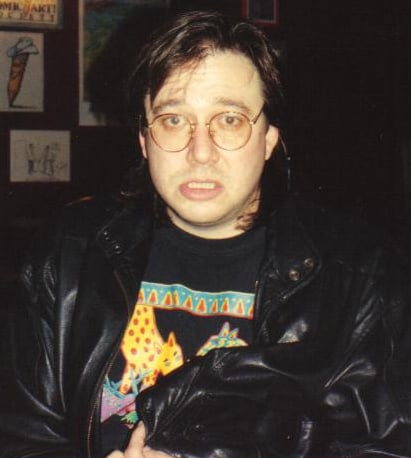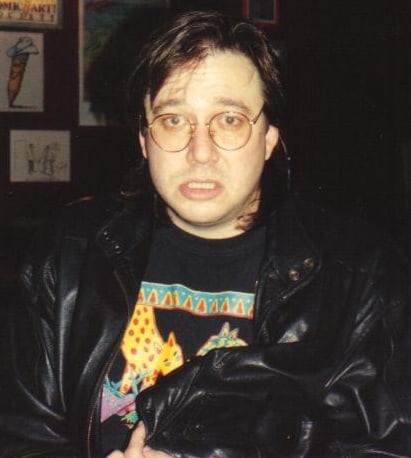 Born as William Melvin Hicks on December 16, 1961, Bill was a multi-hyphenated artist. He was well-known for his stand-up comedy, social critique, and music. Hicks was 16 years old when he first performed at the Comedy Workshop in Houston, Texas.
After honing his craft, he began an extensive U.S. tour and appeared in several high-profile TV appearances. But it was in the United Kingdom, during his 1991 tour, that Hicks garnered the "rock star status." He amassed a considerable fan base in the UK.
Two years after his successful UK tour, Hicks was diagnosed with pancreatic cancer. At the tender age of 32, on February 26, 1994, he passed away. Years after his death, Hicks continued to gain a significant measure of success as well as creative, critical acclaim. That was mainly because of the series of posthumous albums his team released to the public.
In 2017, Hicks ranked 13 out of Rolling Stone magazine's 50 of the Best Stand-Up Comics of all Time.
Bill Hicks, Early Life
Bill Hicks was the youngest child of James Melvin Hicks and Mary Reese Hicks. He had two older siblings: Lynn and Steve. He was born in Georgia, but spent his toddler years in Alabama, then in New Jersey. When he was seven, the family settled down in Houston, Texas.
At an early age, Hicks was already drawn to comedy. He would do comedic routines he and his friends wrote. Most were imitations of Woody Allen and Rickard Pryor. He would often perform in front of his classmates. At home, he would practice and improve his one-liners. He often wrote them on paper and slid them under Steve's bedroom.
Growing up, Hicks sometimes argued with his father over religious matters. His family were Southern Baptists, but his beliefs on spiritual ideology were different. Worried about his behavior, at age 17, his parents took him to a psychoanalyst.
After the first group session, the analyst told him that if he liked, he could continue attending the meetings. But he was told that "it was them, not you."
Bill Hicks: Death, Life, and Legacy
When Bill Hicks was diagnosed with pancreatic cancer, he started weekly chemotherapy while still on tour and recording an album. At first, the public wasn't aware of his condition. So when he'd joke that any given performance might be his last, nothing was amiss.
He had his last show in New York in January 1994 before he moved back home to Arkansas. He called up his friends to say goodbye, until he stopped speaking on Valentine's Day that year. He died on the 26th of the same month, and was buried in their family plot in Leakesville, Mississippi.
The list of stand-up comedians having the same impact that Bill Hicks had – and still has – is short. Hicks was known for his passion, dark humor, and on-point sarcasm. He was known as an artist who pushed not just his own art to the limit – but the art itself. With his wit, humor, and intellect, he extracted gold from the dark aspects of the human psyche.
For him, nothing was untouchable. He delved on subjects that most comedians, then and now, wouldn't even consider touching. During his performances, he was able to impart his thoughts on war, drugs, abortion, the evils of television, and a lot more.
Those who were able to see him live and those who stumbled upon footage of his work could come up with the same conclusion: Bill Hicks was an outside-the-box thinker. His wits and razor-sharp mind were a deadly combination.
It's easy to say that Hicks' art was centered on a psychological drive that most comedic geniuses possess. That drive was to strip the world of tricks and pretenses. He merely wanted to tell the truth. Those who study Hicks's work profess that this psychological drive of his was, at its core, all about the heart.
Through his extensive tours, Hicks saw the lack of compassion and understanding for one another. That's what drove him to share his art more than anything else.
He sought various methods to attain spirituality. John Lahr of The New Yorker stated that Bill Hicks, at different stages in his life, sought for deeper spiritual and intellectual connections. He meditated, took hallucinogens, and studied Hindu scripts. He had a deep yearning to be enlightened and to enlighten the world.
Needless to say, here are some of the best Bill Hicks quotes that are glimpses of the comedian's genius.
Bill Hicks Quotes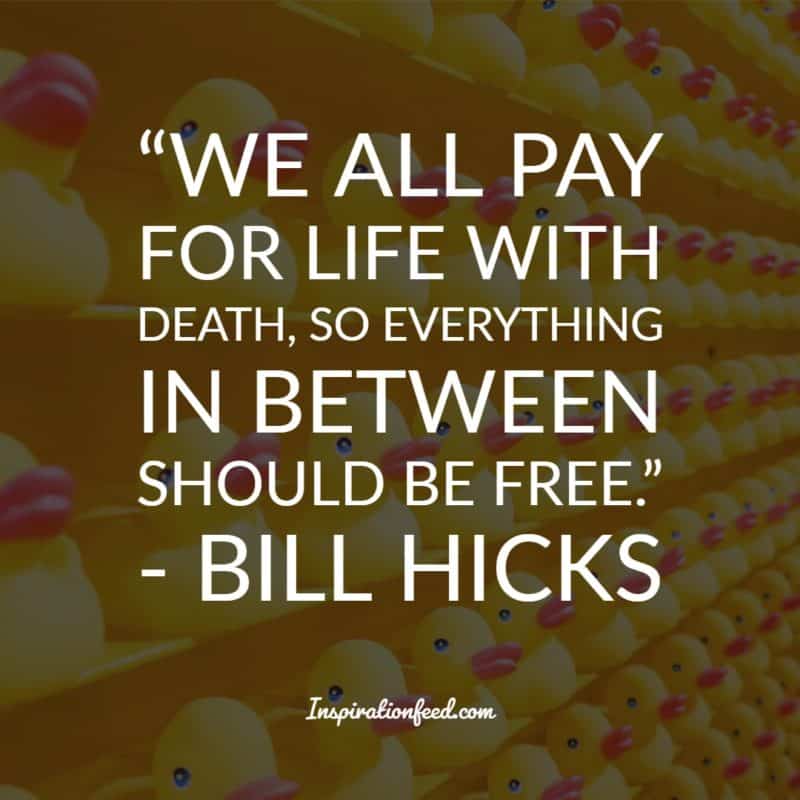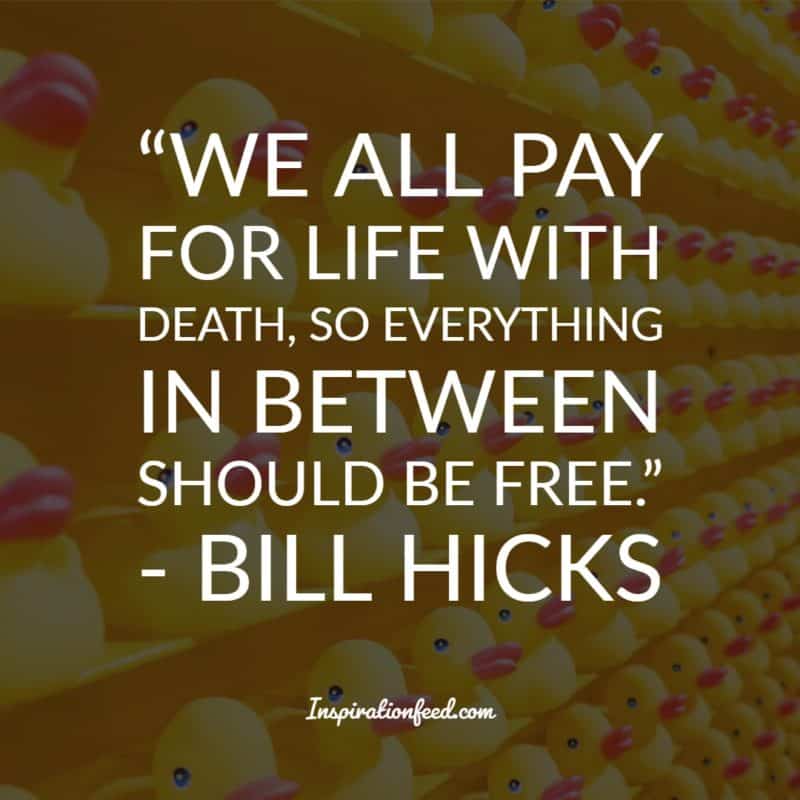 "We all pay for life with death, so everything in between should be free." – Bill Hicks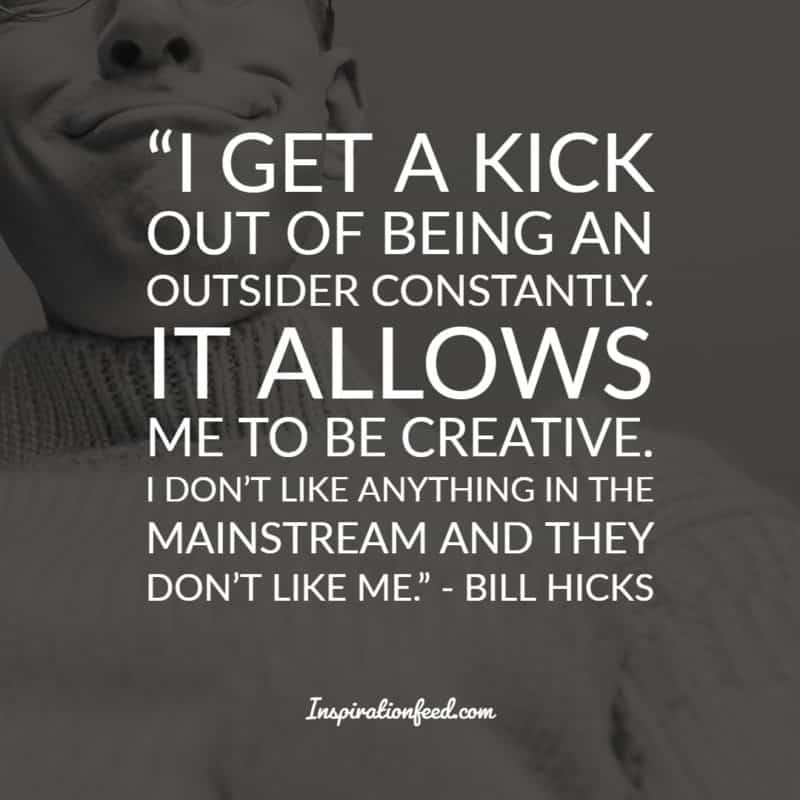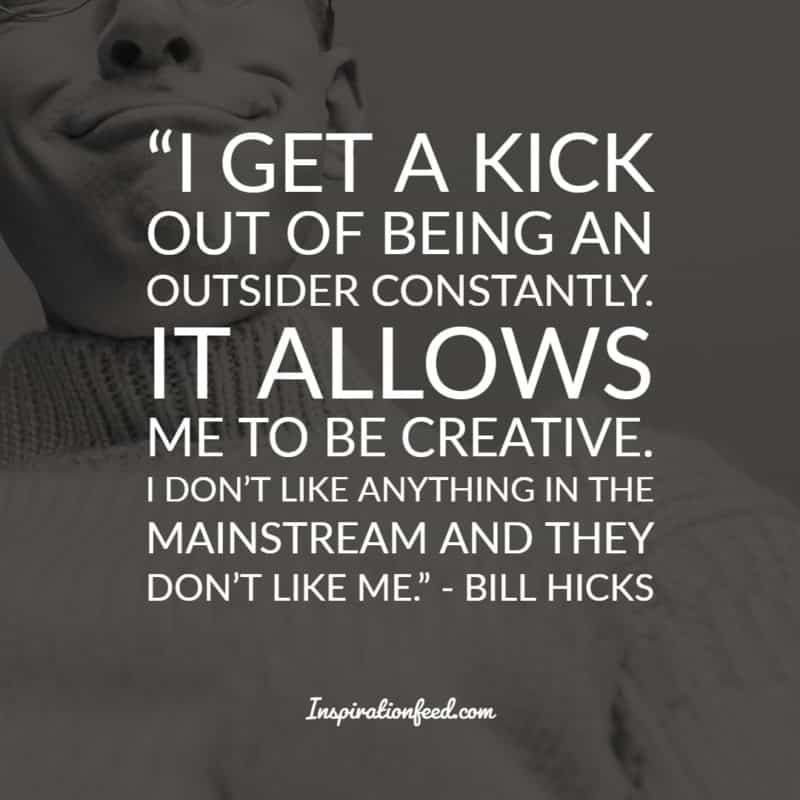 "I get a kick out of being an outsider constantly. It allows me to be creative. I don't like anything in the mainstream and they don't like me." – Bill Hicks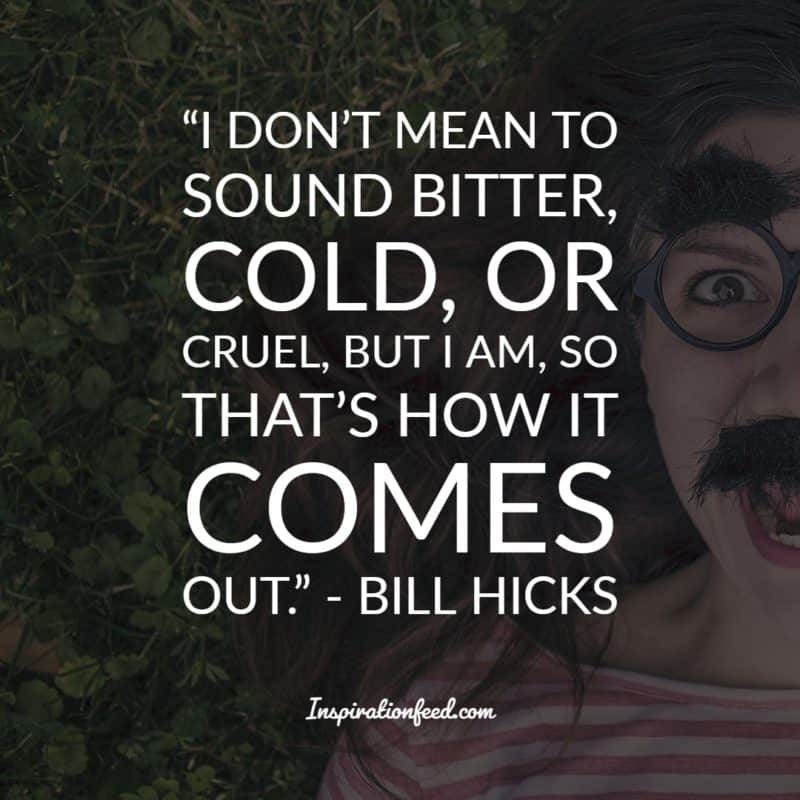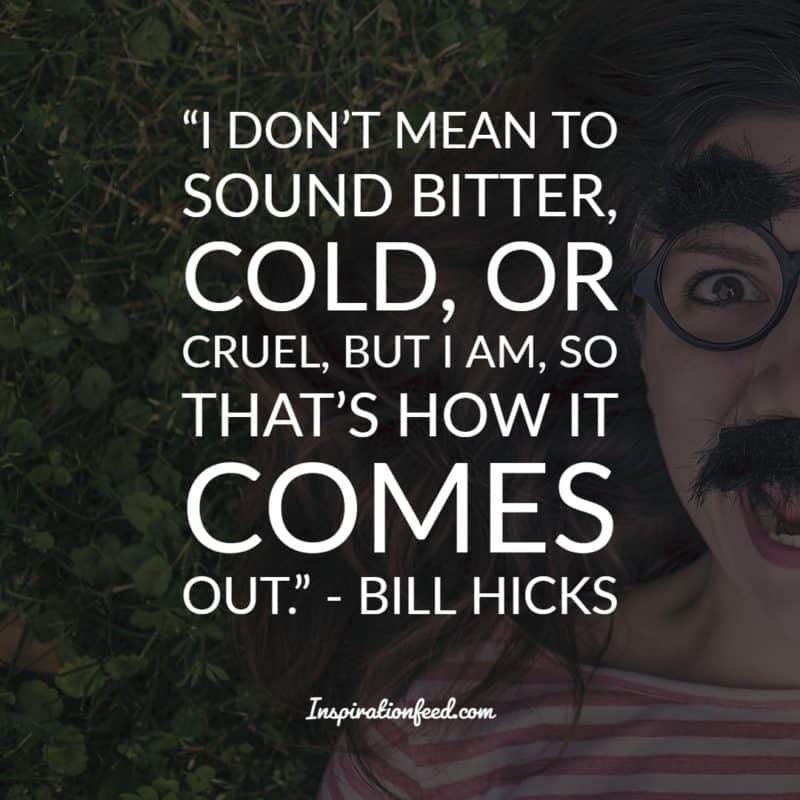 "I don't mean to sound bitter, cold, or cruel, but I am, so that's how it comes out." – Bill Hicks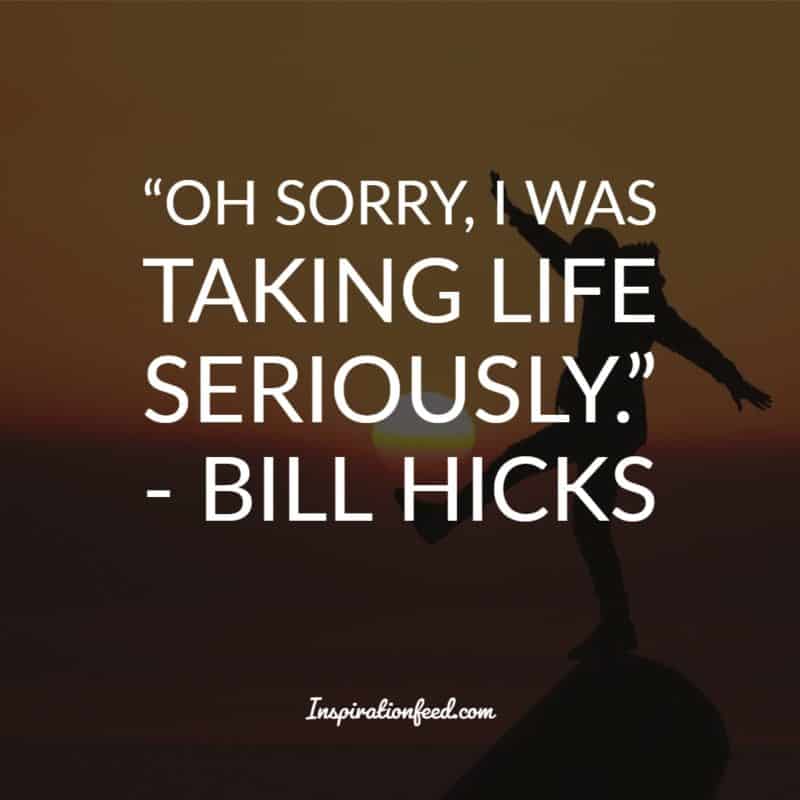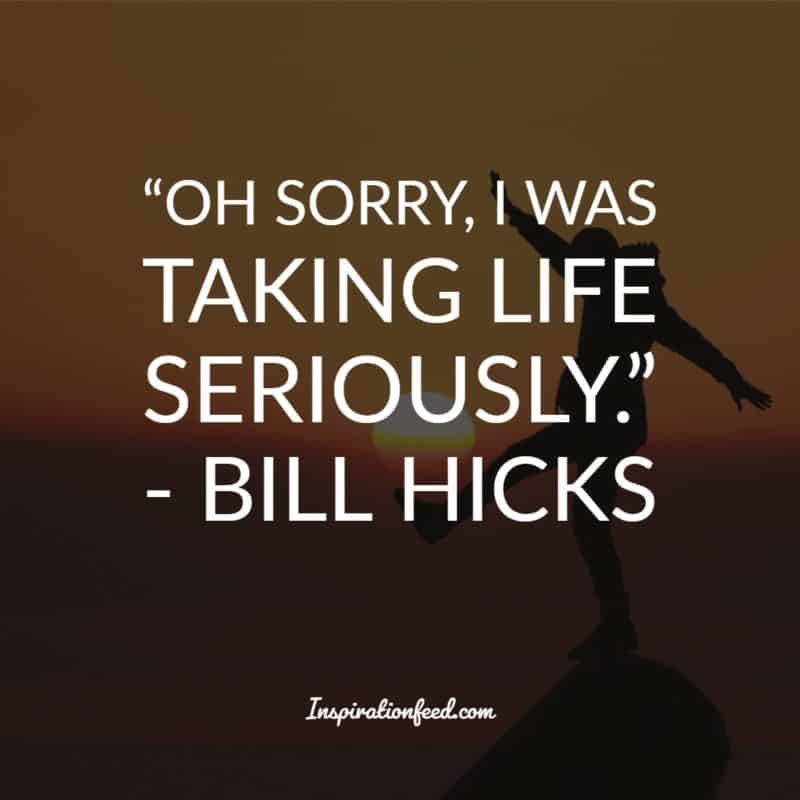 "Oh sorry, I was taking life seriously." – Bill Hicks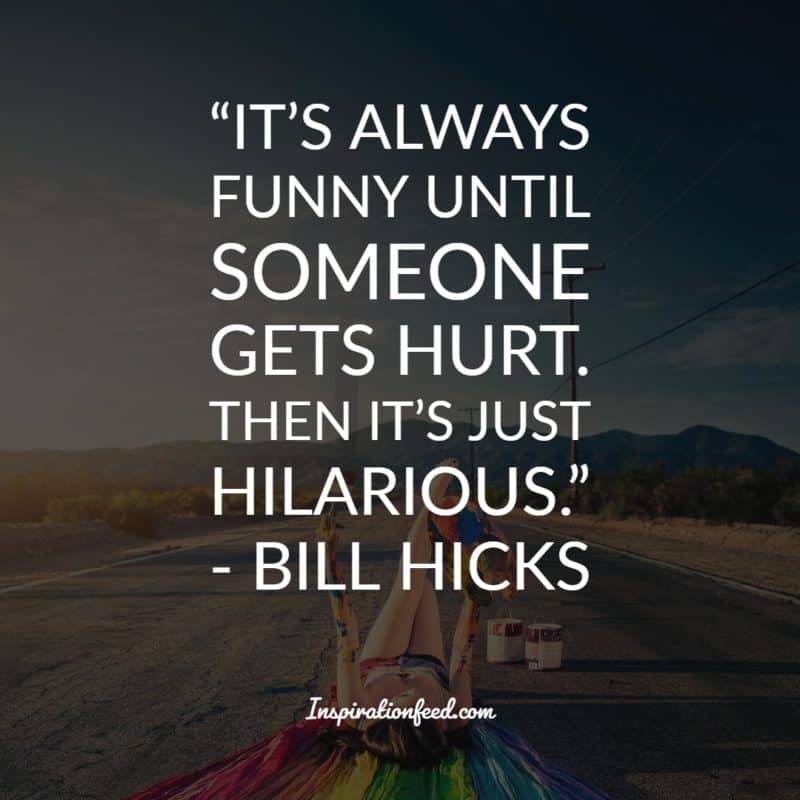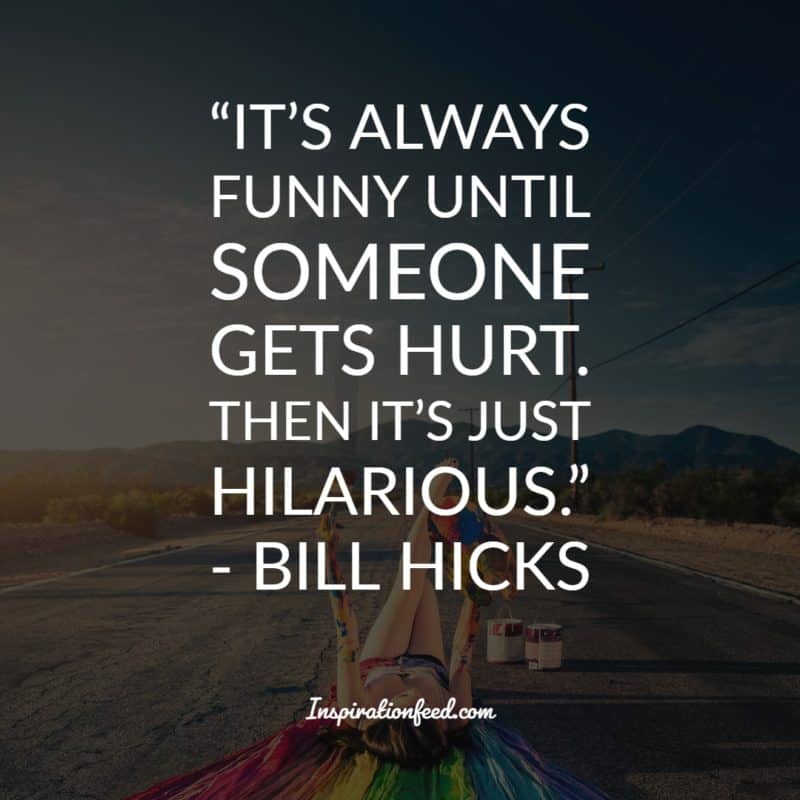 "It's always funny until someone gets hurt. Then it's just hilarious." – Bill Hicks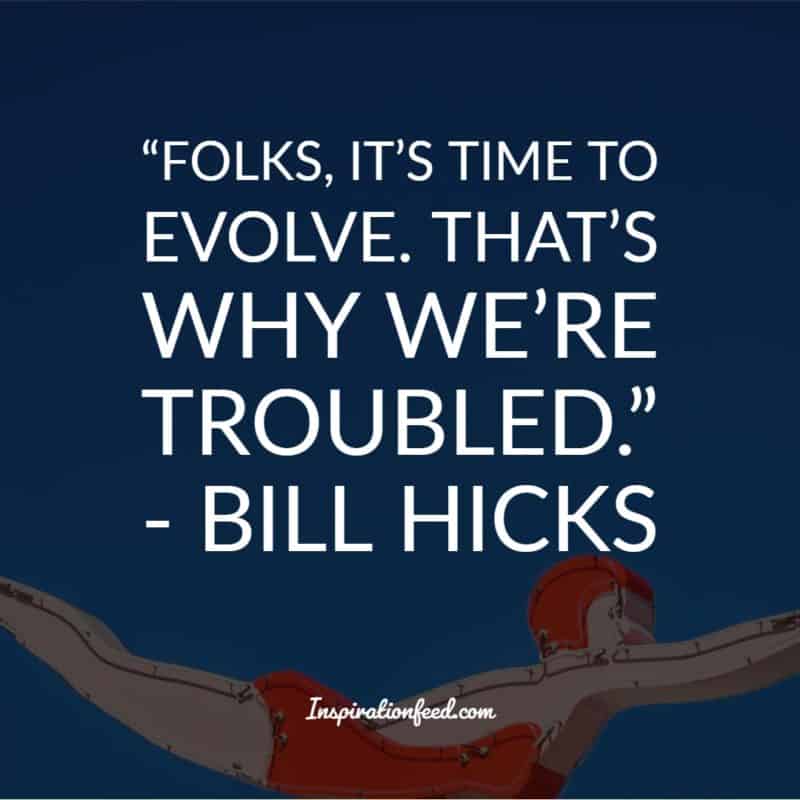 "Folks, it's time to evolve. That's why we're troubled." – Bill Hicks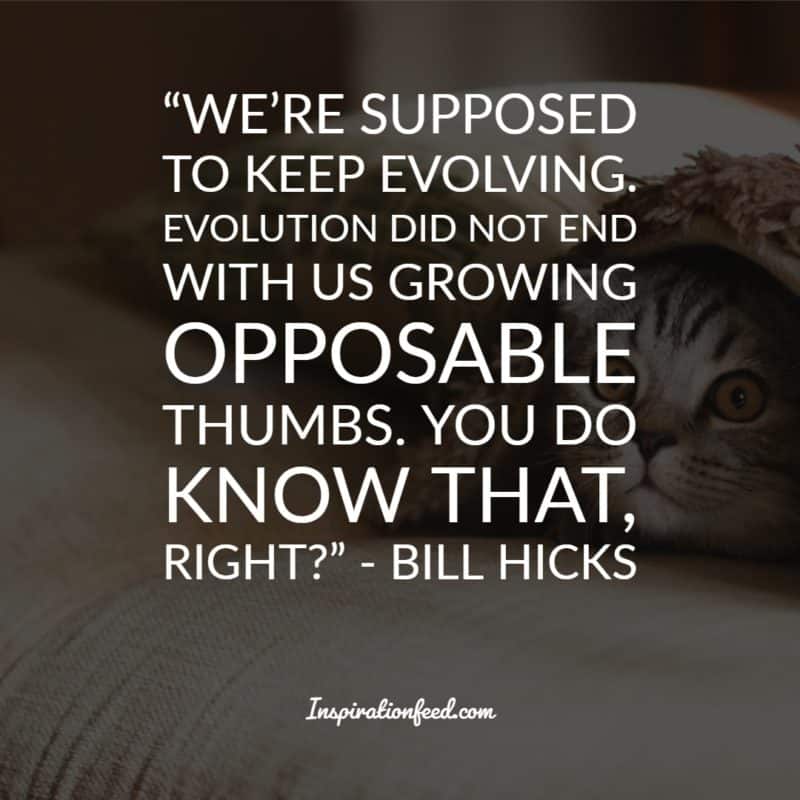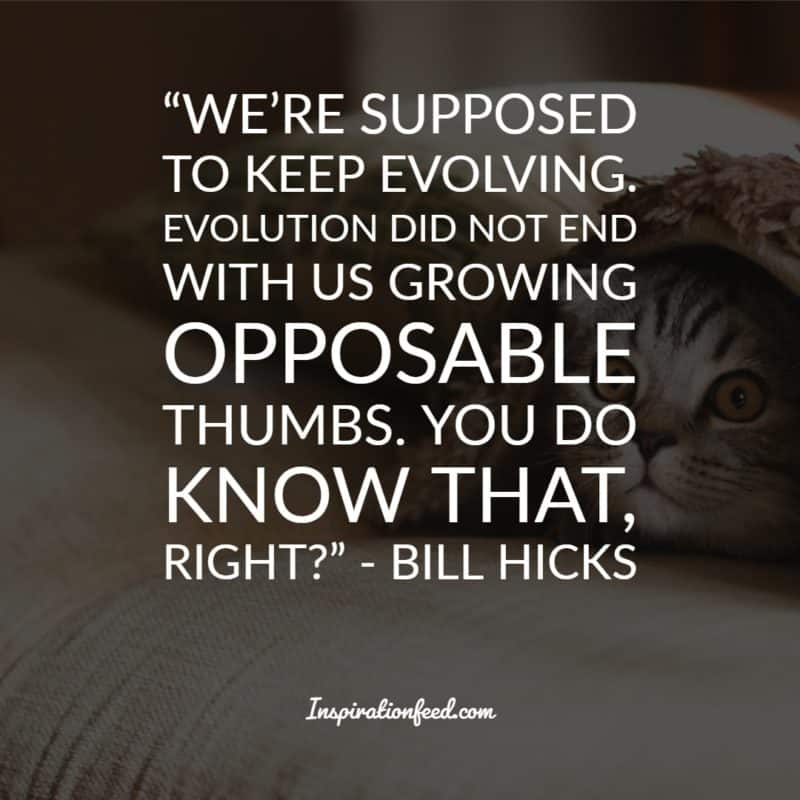 "We're supposed to keep evolving. Evolution did not end with us growing opposable thumbs. You do know that, right?" – Bill Hicks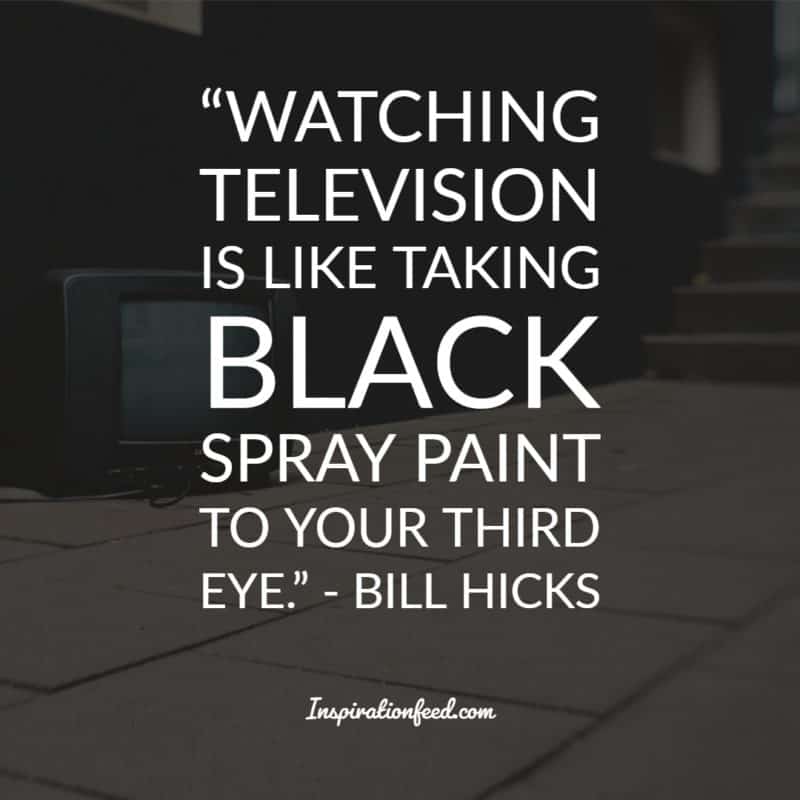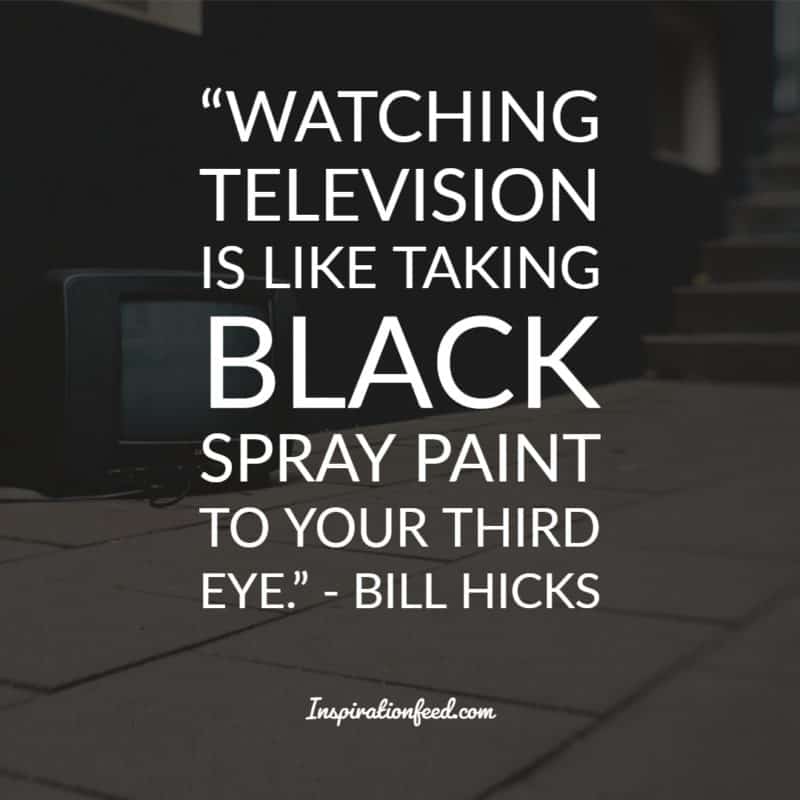 "Watching television is like taking black spray paint to your third eye." – Bill Hicks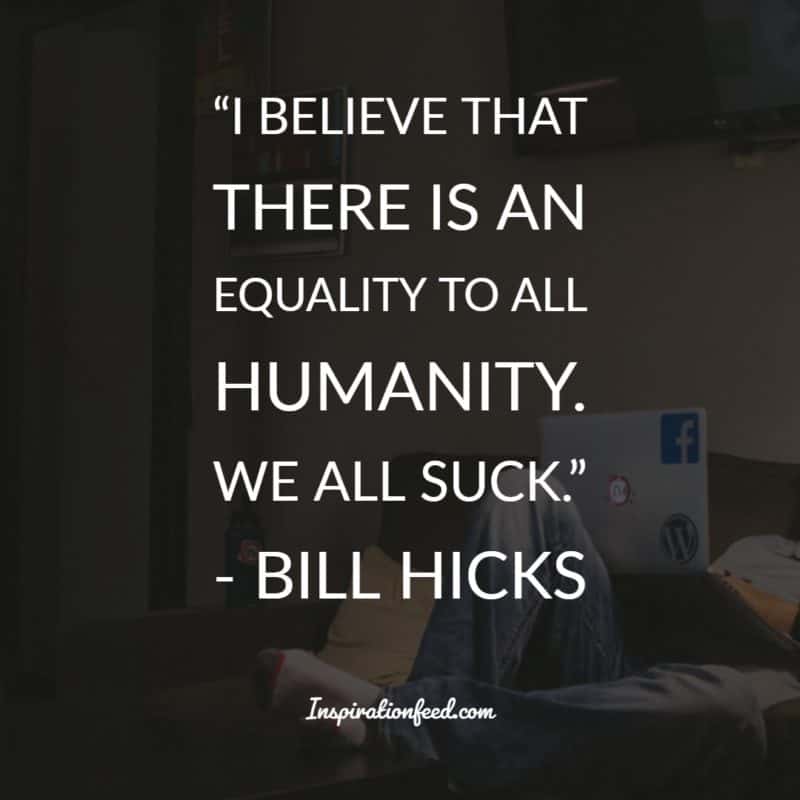 "I believe that there is an equality to all humanity. We all suck." – Bill Hicks
"This is where we are at right now, as a whole. No one is left out of the loop. We are experiencing a reality based on a thin veneer of lies and illusions." – Bill Hicks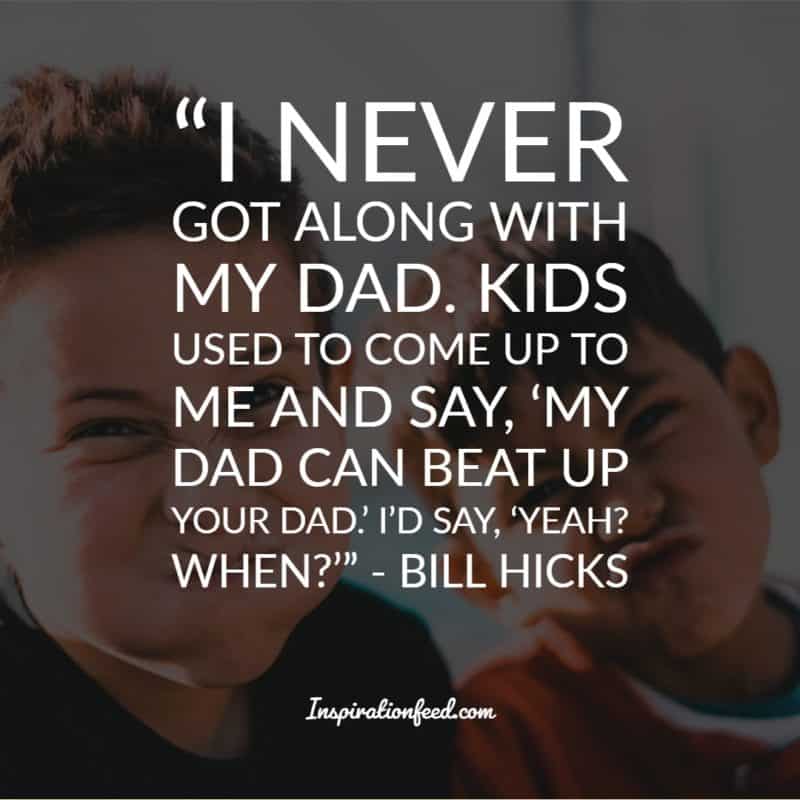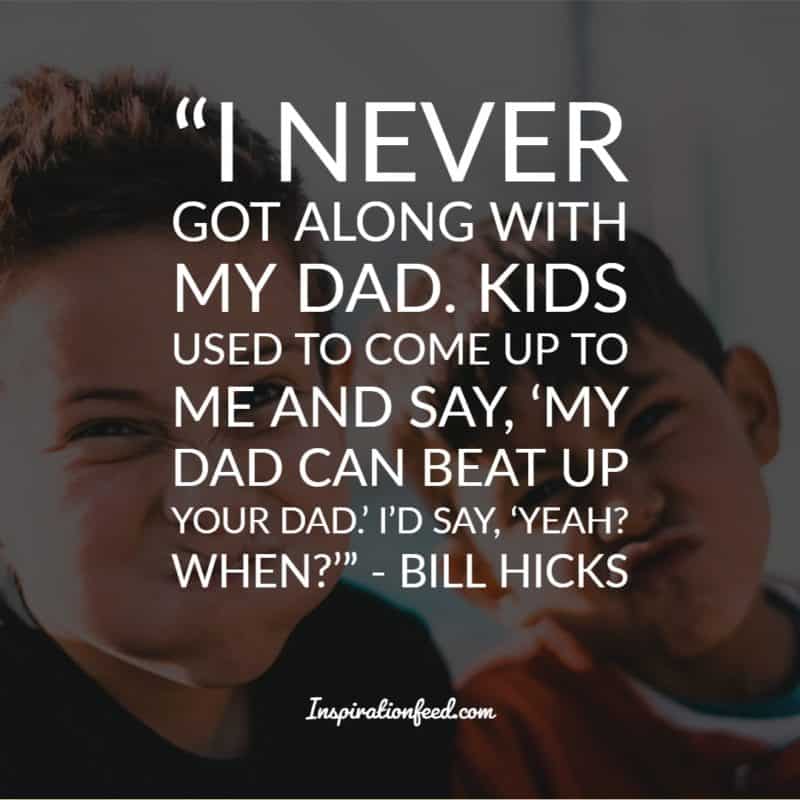 "I never got along with my dad. Kids used to come up to me and say, 'My dad can beat up your dad.' I'd say, 'Yeah? When?'" – Bill Hicks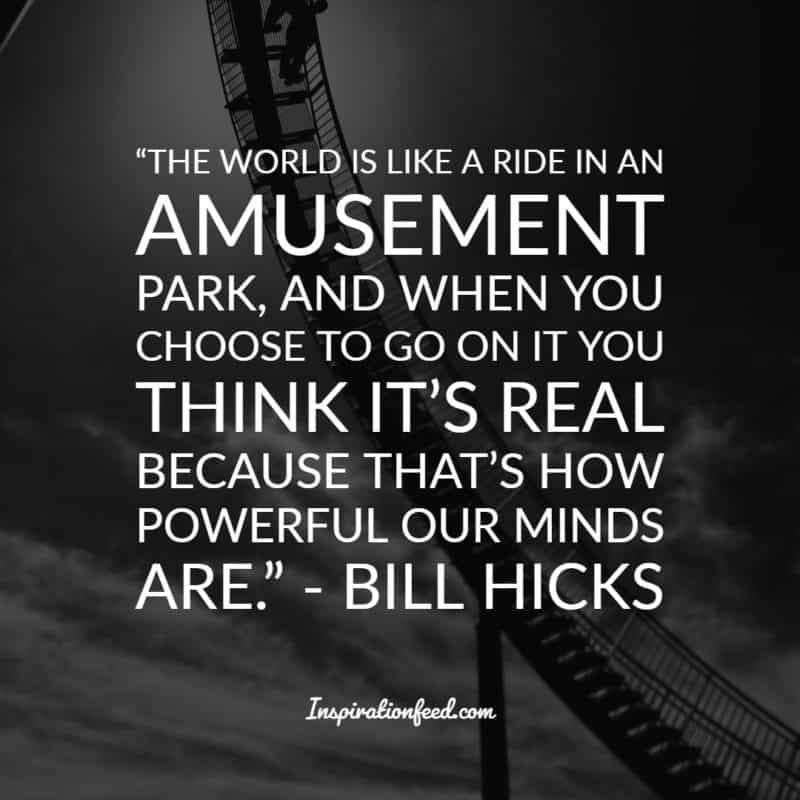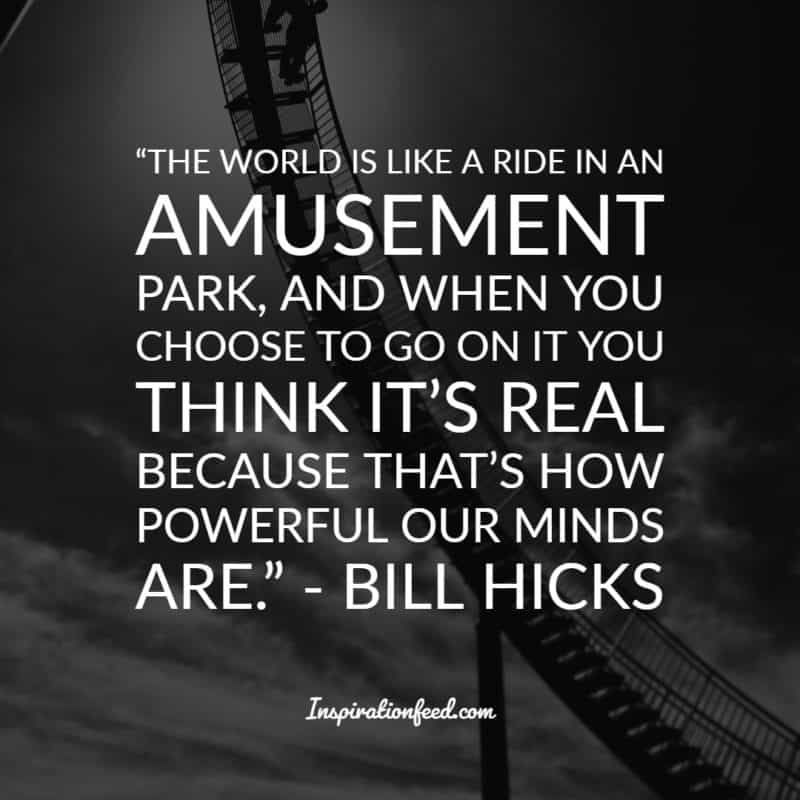 "The world is like a ride in an amusement park, and when you choose to go on it you think it's real because that's how powerful our minds are." – Bill Hicks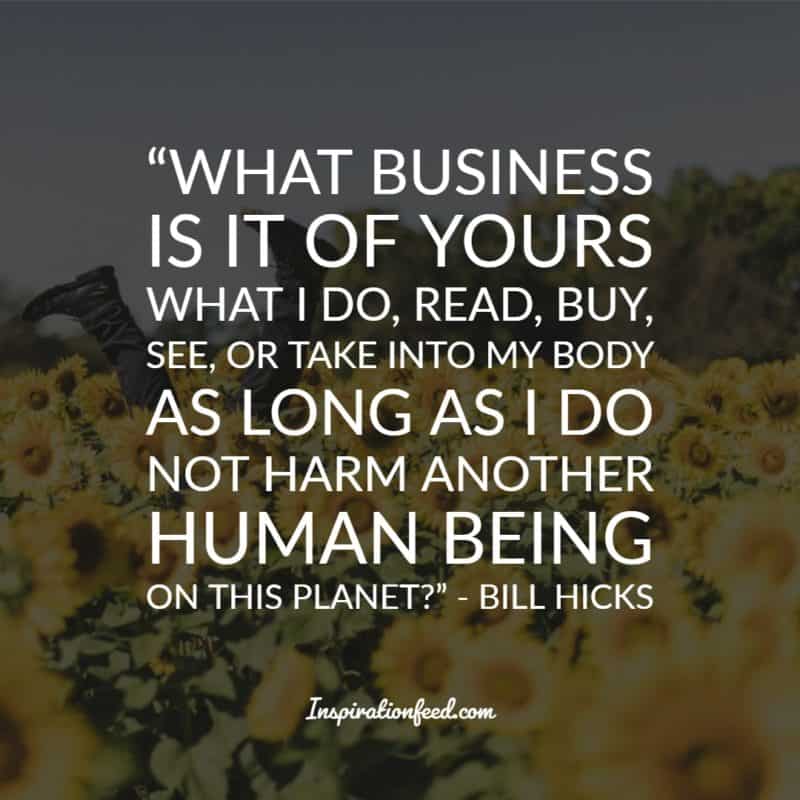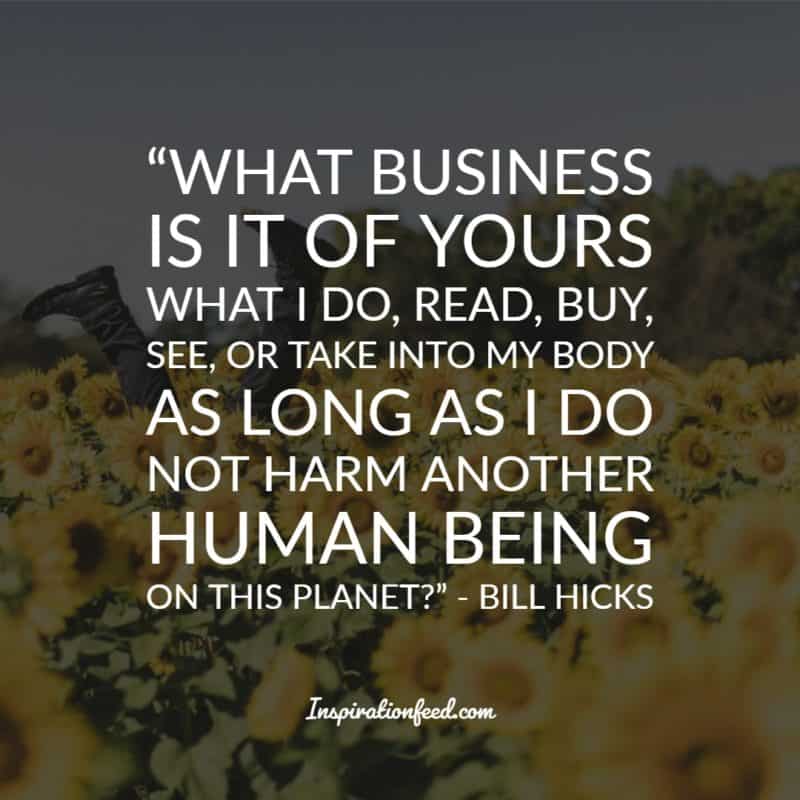 "What business is it of yours what I do, read, buy, see, or take into my body as long as I do not harm another human being on this planet?" – Bill Hicks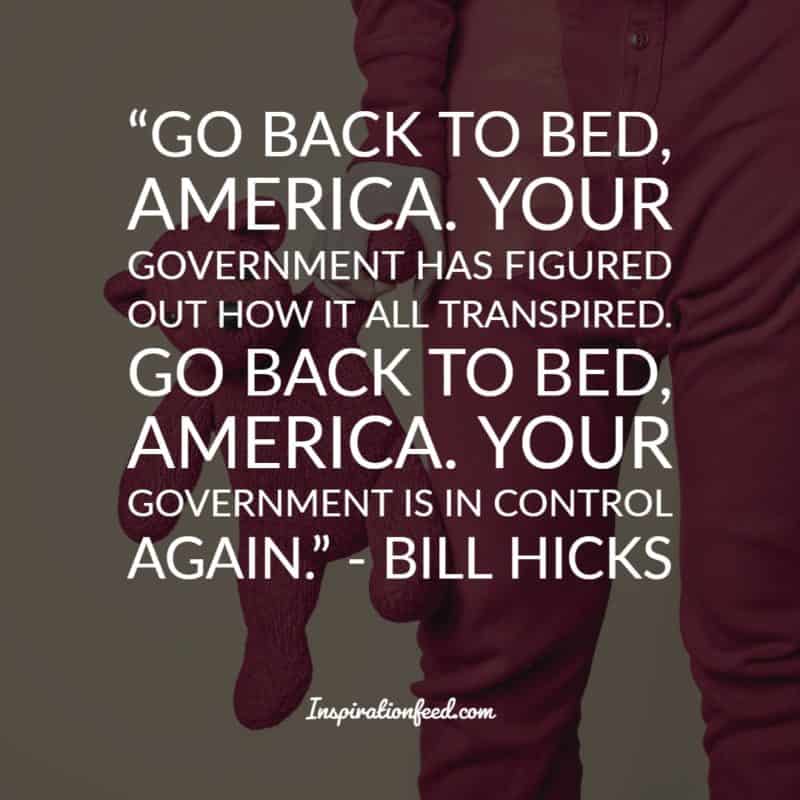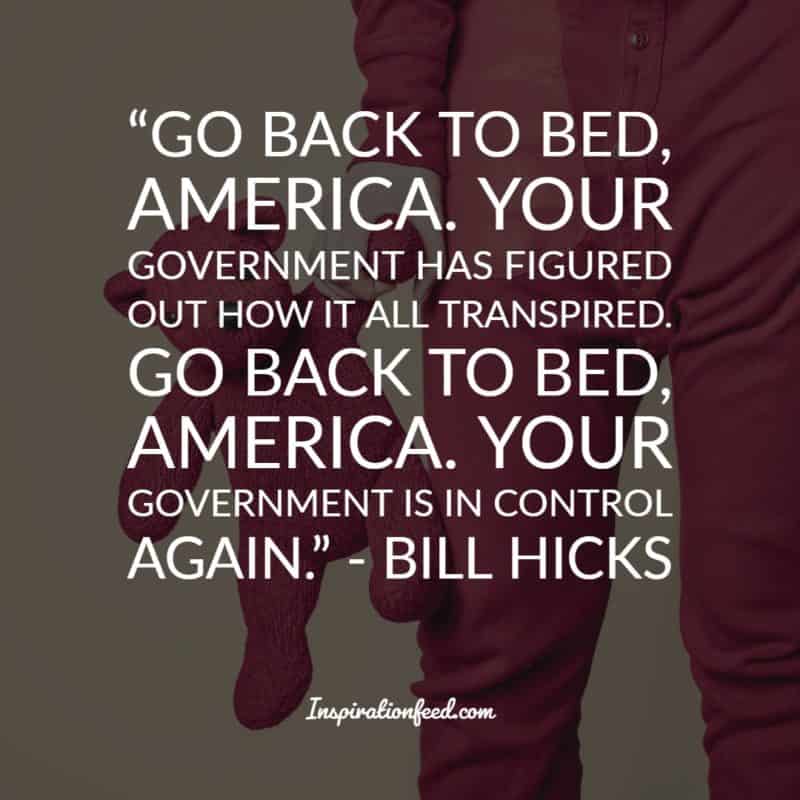 "Go back to bed, America. Your government has figured out how it all transpired. Go back to bed, America. Your government is in control again." – Bill Hicks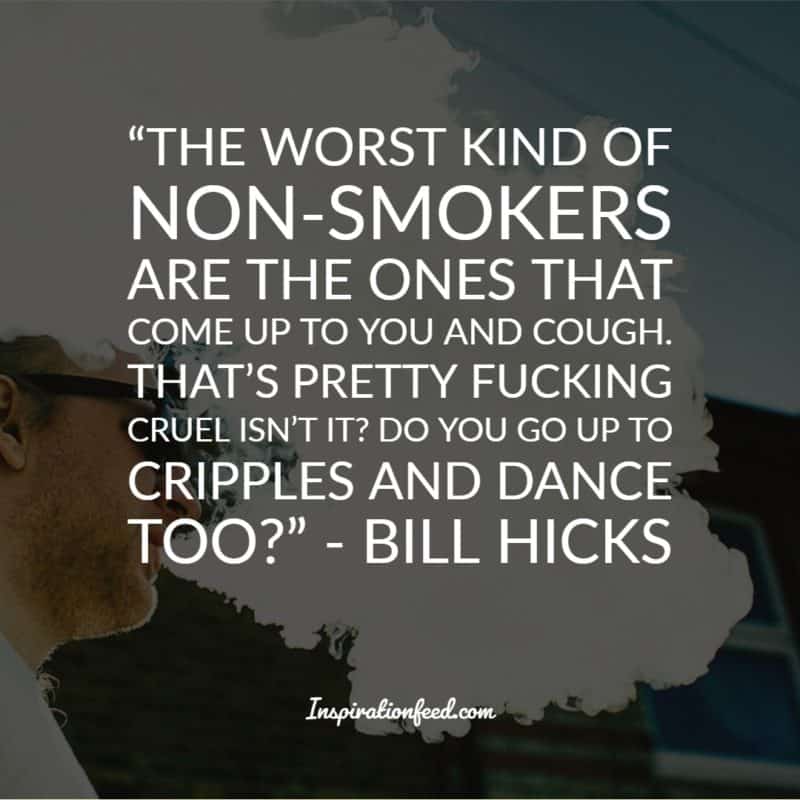 "The worst kind of non-smokers are the ones that come up to you and cough. That's pretty fucking cruel isn't it? Do you go up to cripples and dance too?" – Bill Hicks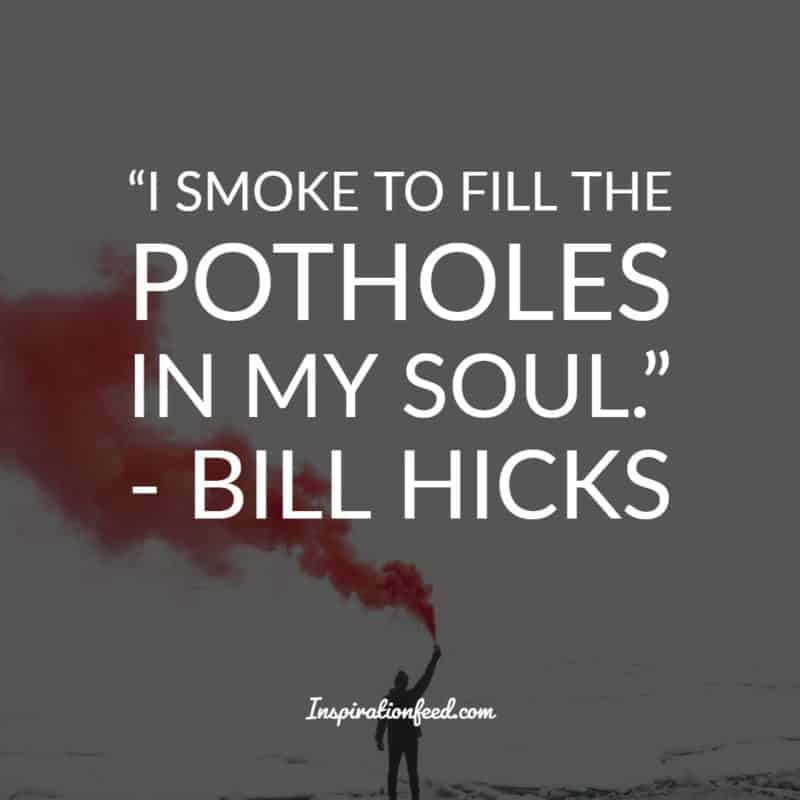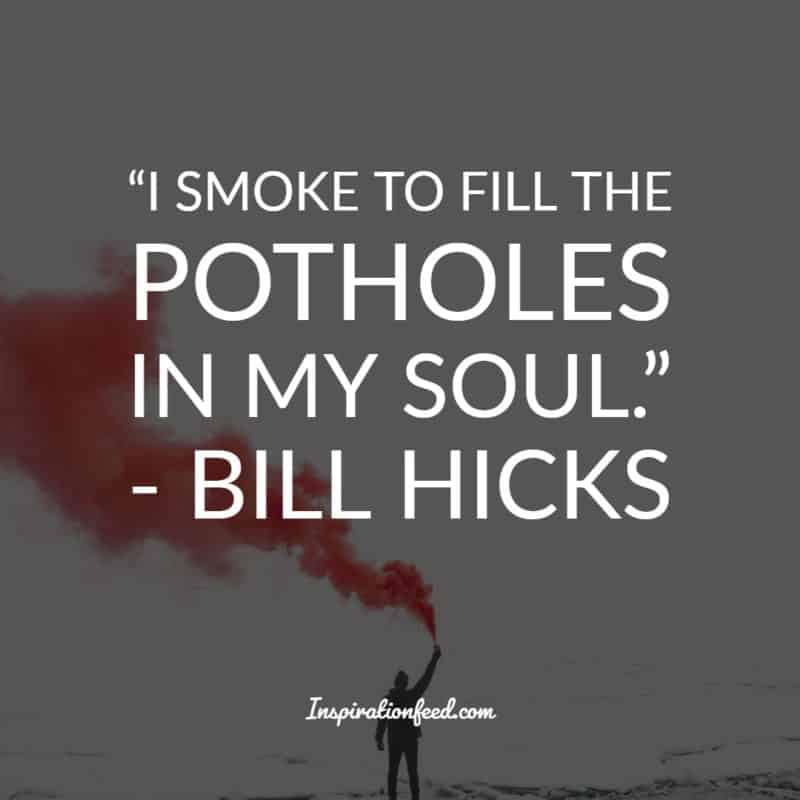 "I smoke to fill the potholes in my soul." – Bill Hicks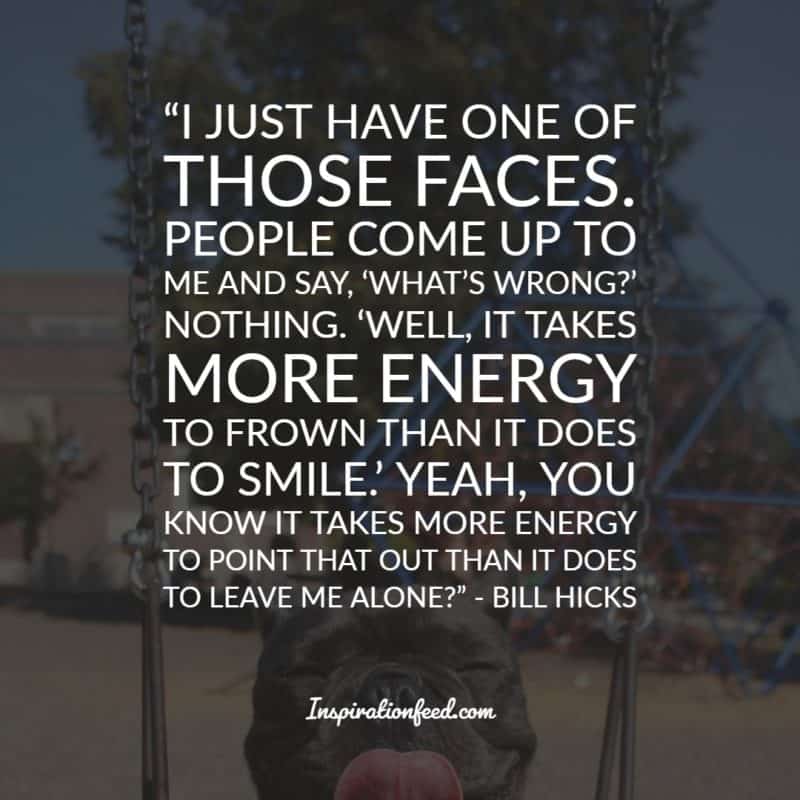 "I just have one of those faces. People come up to me and say, 'What's wrong?' Nothing. 'Well, it takes more energy to frown than it does to smile.' Yeah, you know it takes more energy to point that out than it does to leave me alone?" – Bill Hicks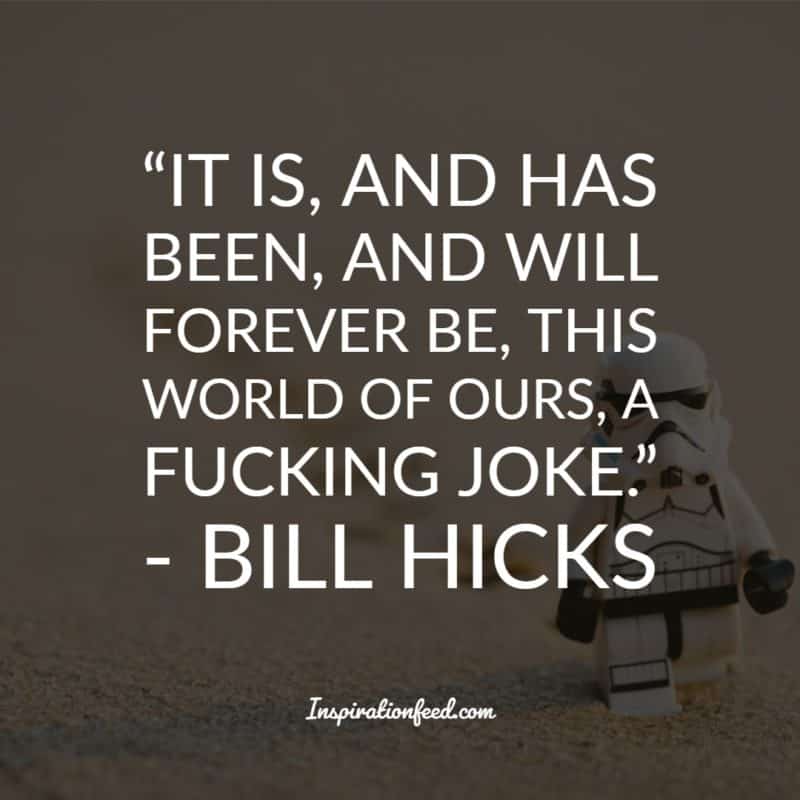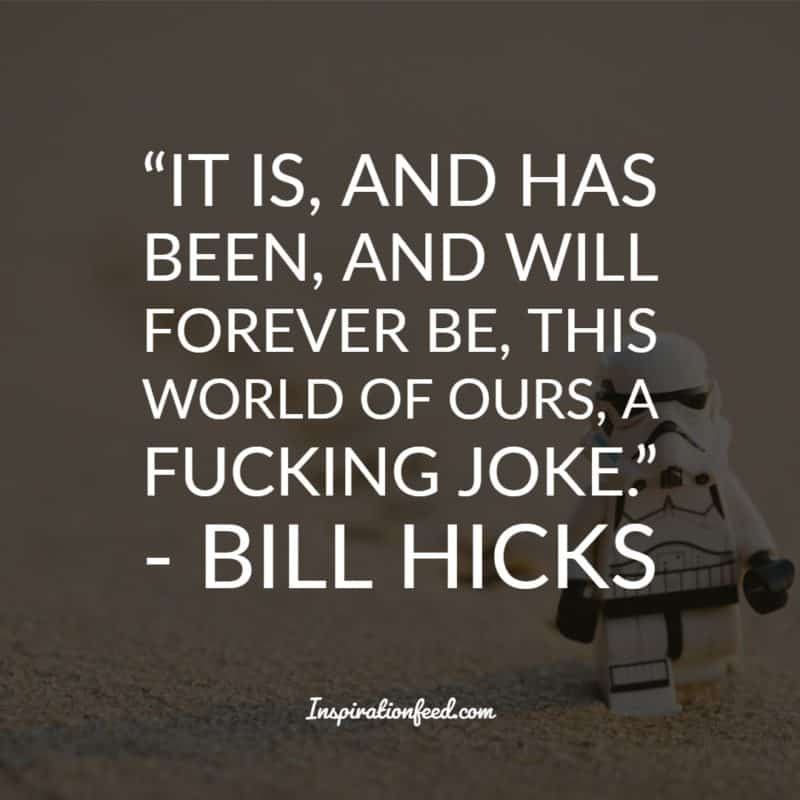 "It is, and has been, and will forever be, this world of ours, a fucking joke." – Bill Hicks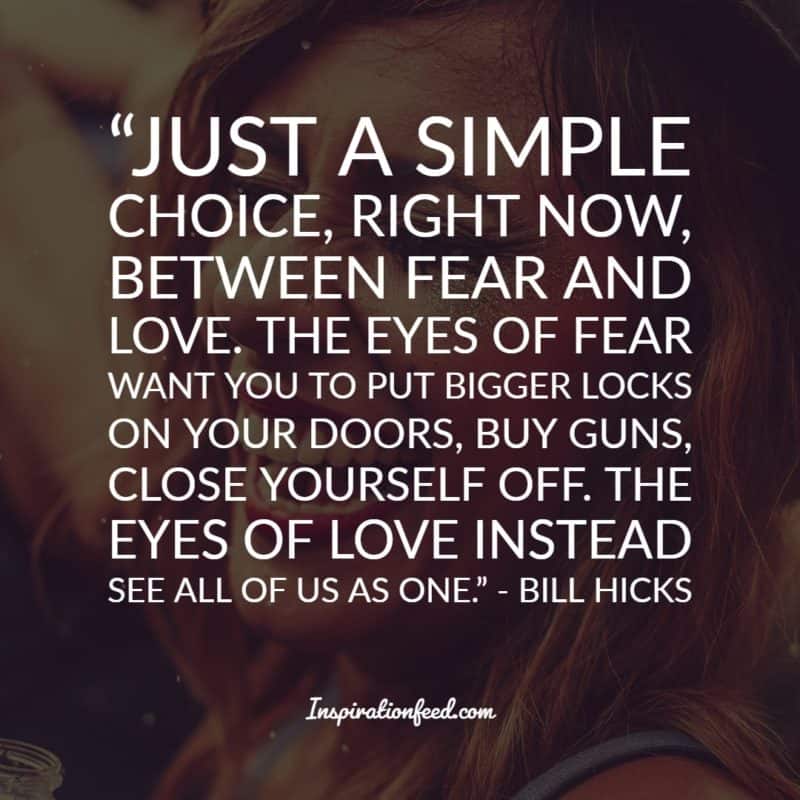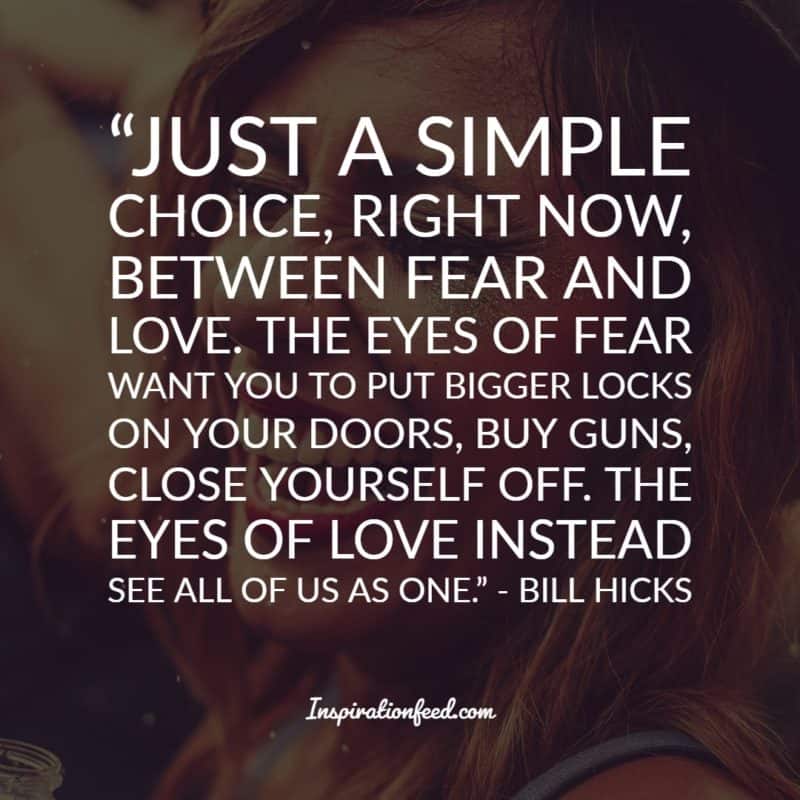 "Just a simple choice, right now, between fear and love. The eyes of fear want you to put bigger locks on your doors, buy guns, close yourself off. The eyes of love instead see all of us as one." – Bill Hicks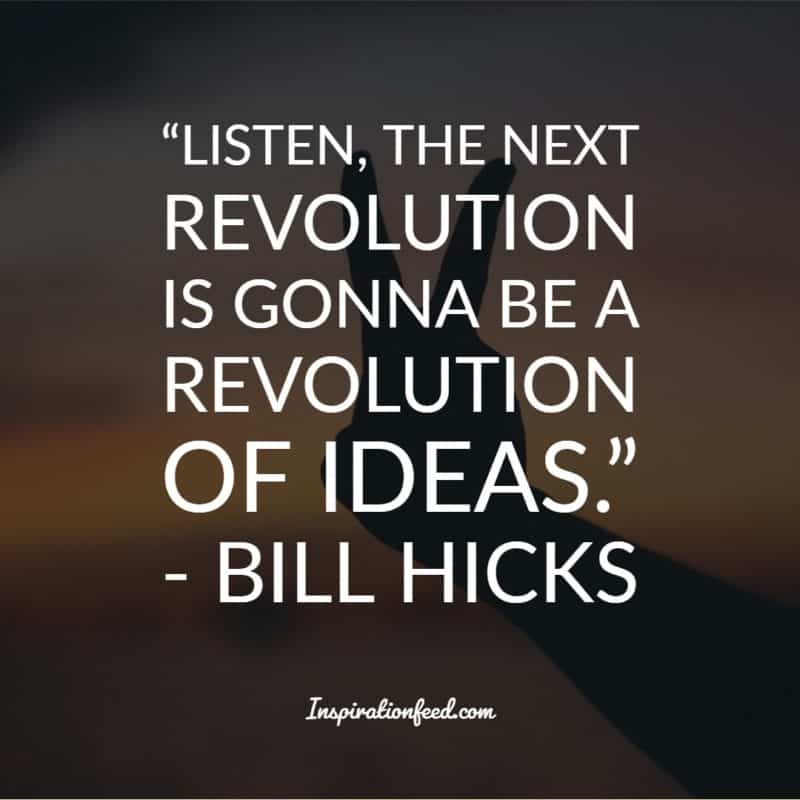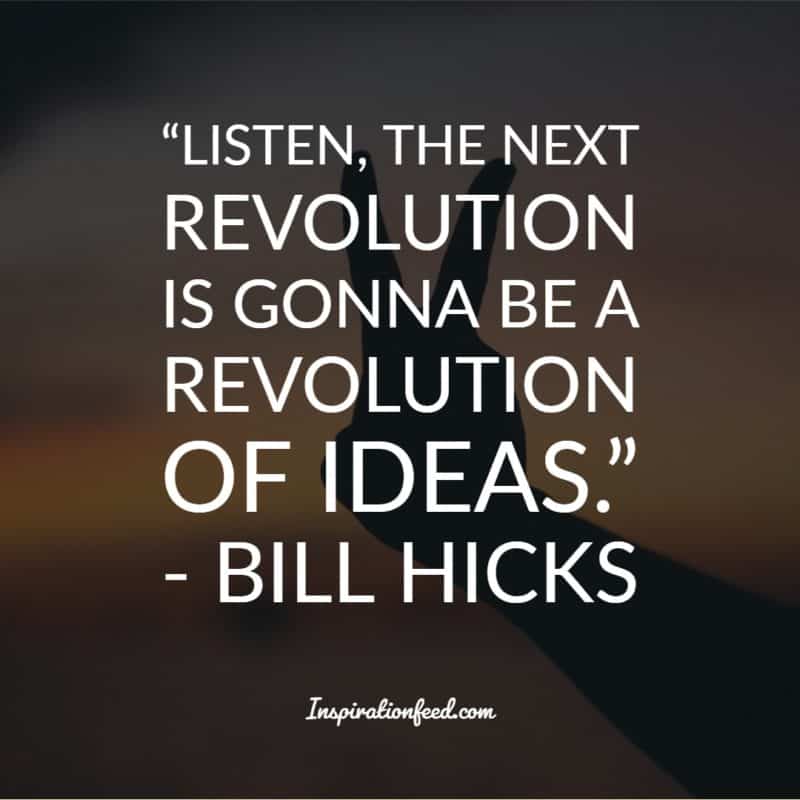 "Listen, the next revolution is gonna be a revolution of ideas." – Bill Hicks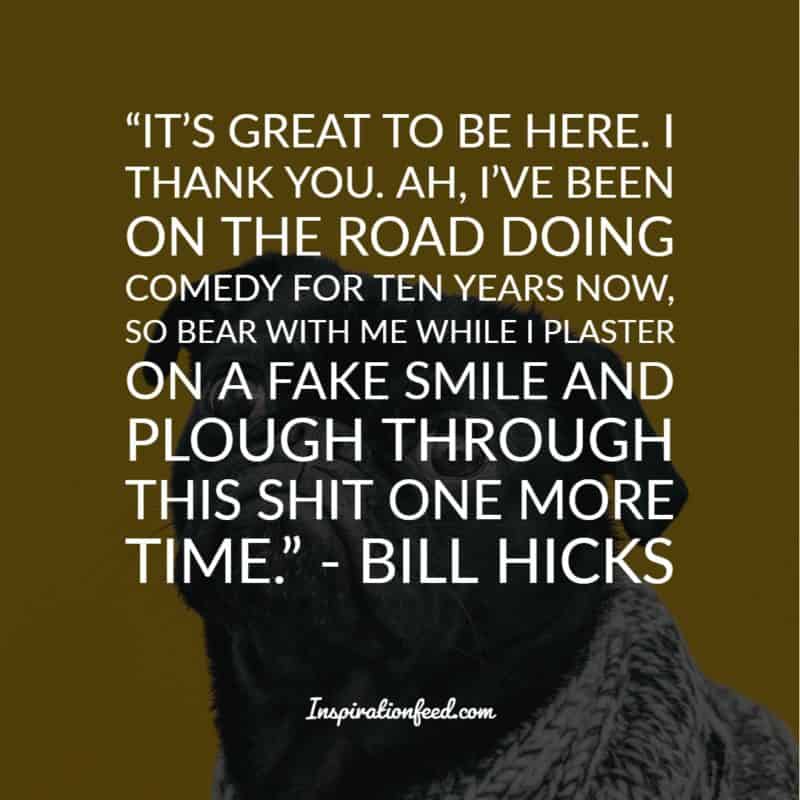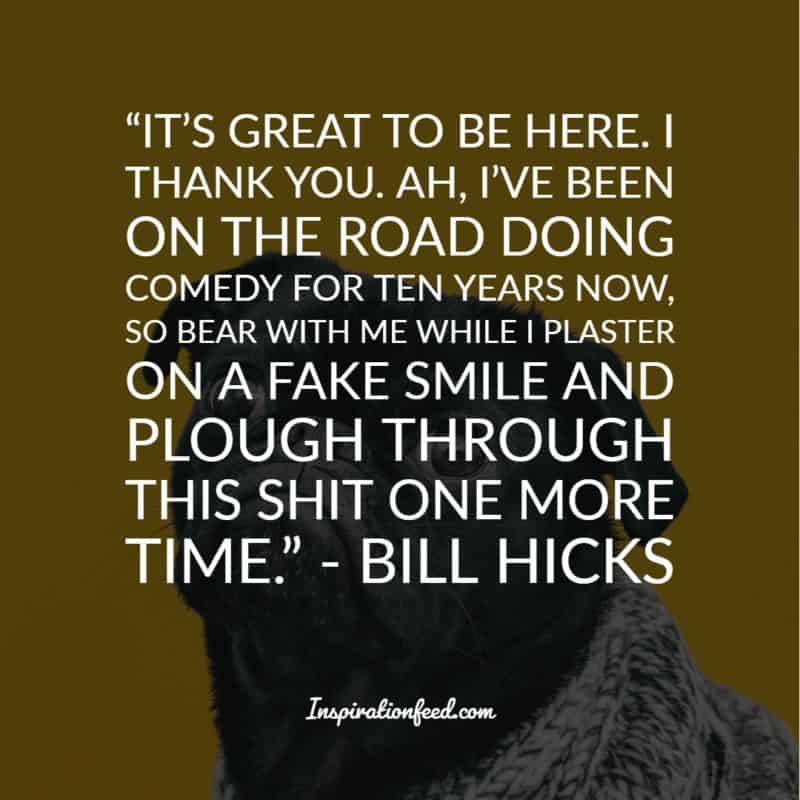 "It's great to be here. I thank you. Ah, I've been on the road doing comedy for ten years now, so bear with me while I plaster on a fake smile and plough through this shit one more time." – Bill Hicks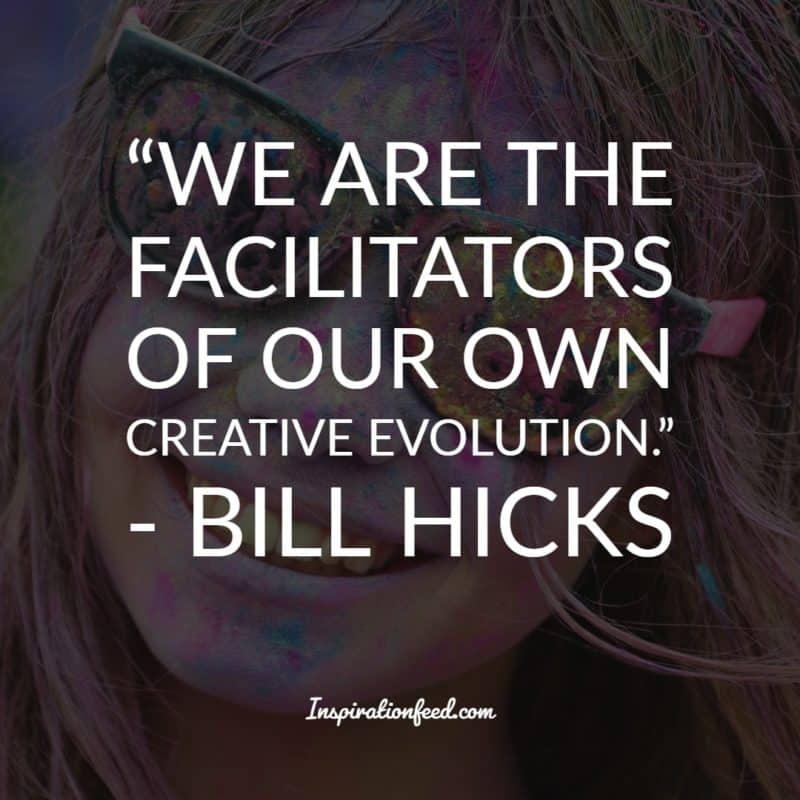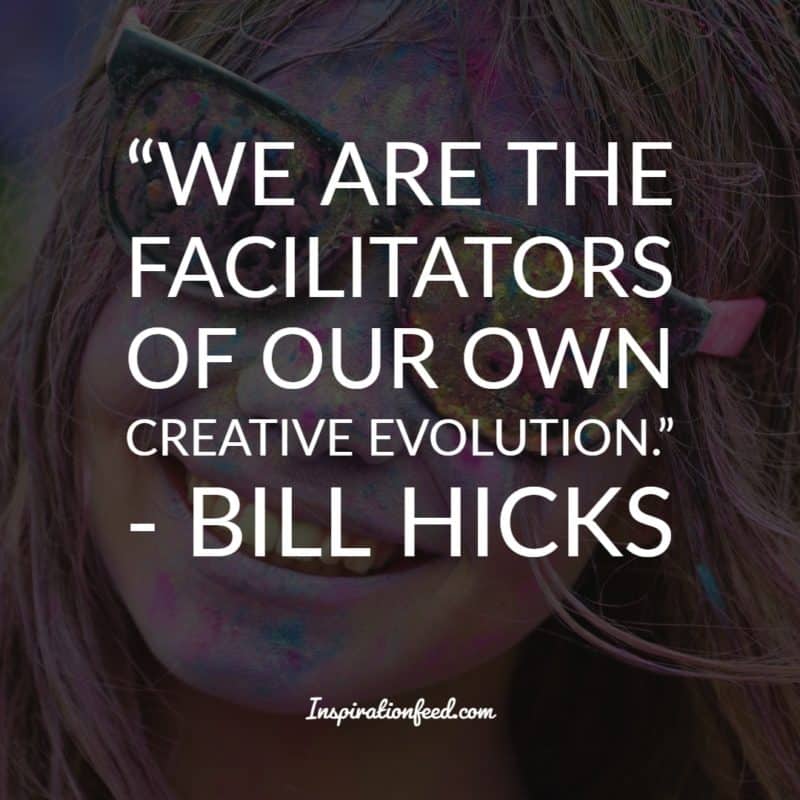 "We are the facilitators of our own creative evolution." – Bill Hicks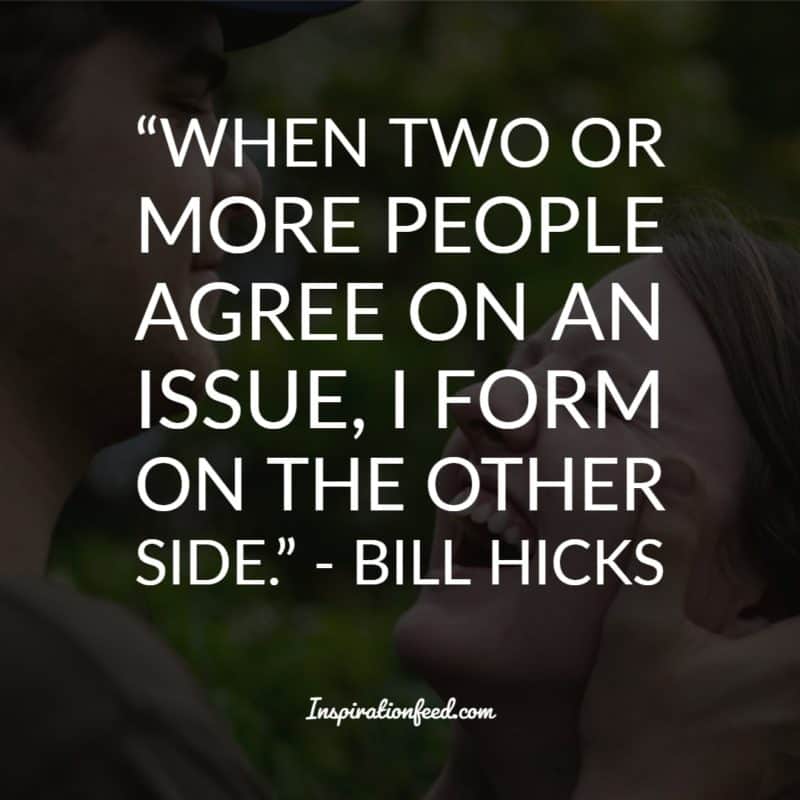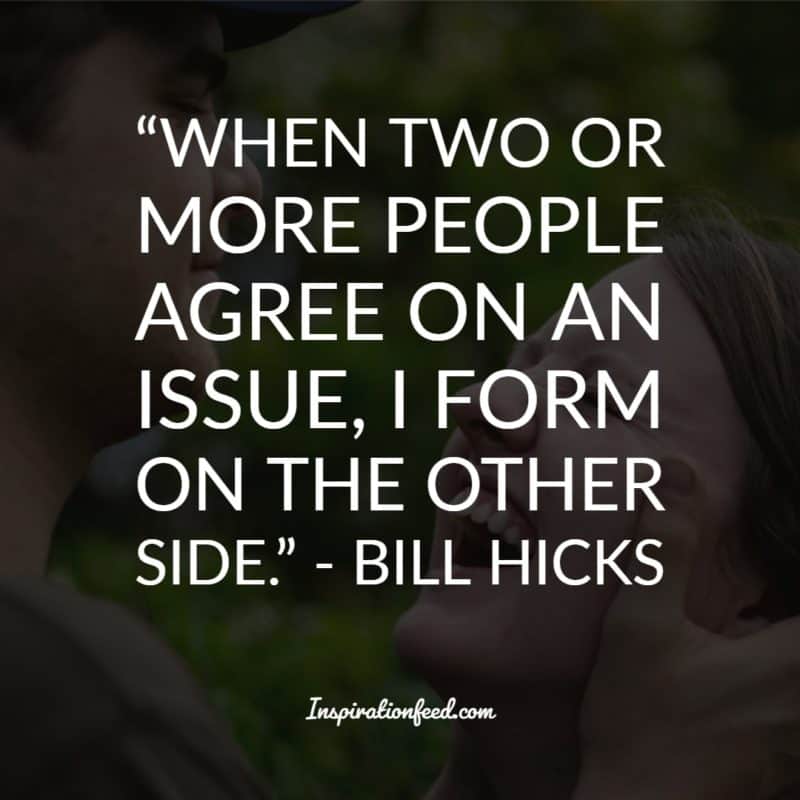 "When two or more people agree on an issue, I form on the other side." – Bill Hicks
"Today, a young man on acid realized that all matter is merely energy condensed to a slow vibration – that we are all one consciousness experiencing itself subjectively." – Bill Hicks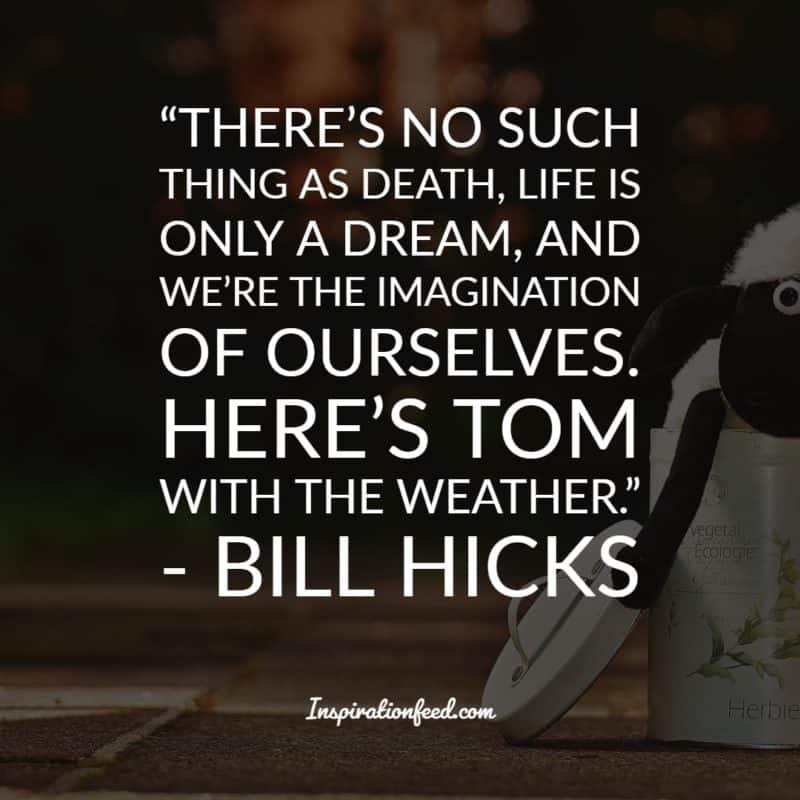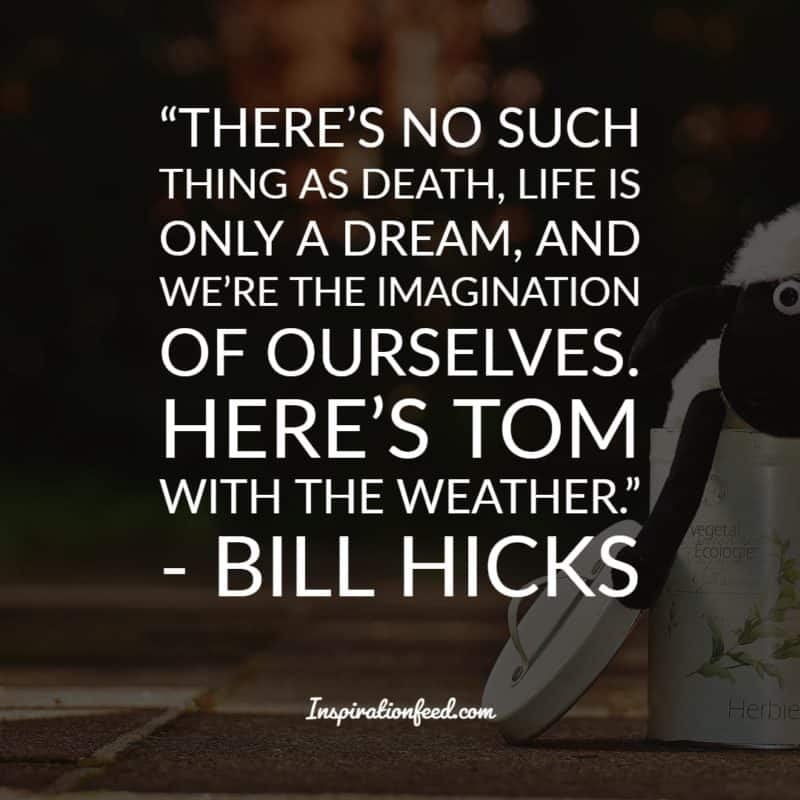 "There's no such thing as death, life is only a dream, and we're the imagination of ourselves. Here's Tom with the weather." – Bill Hicks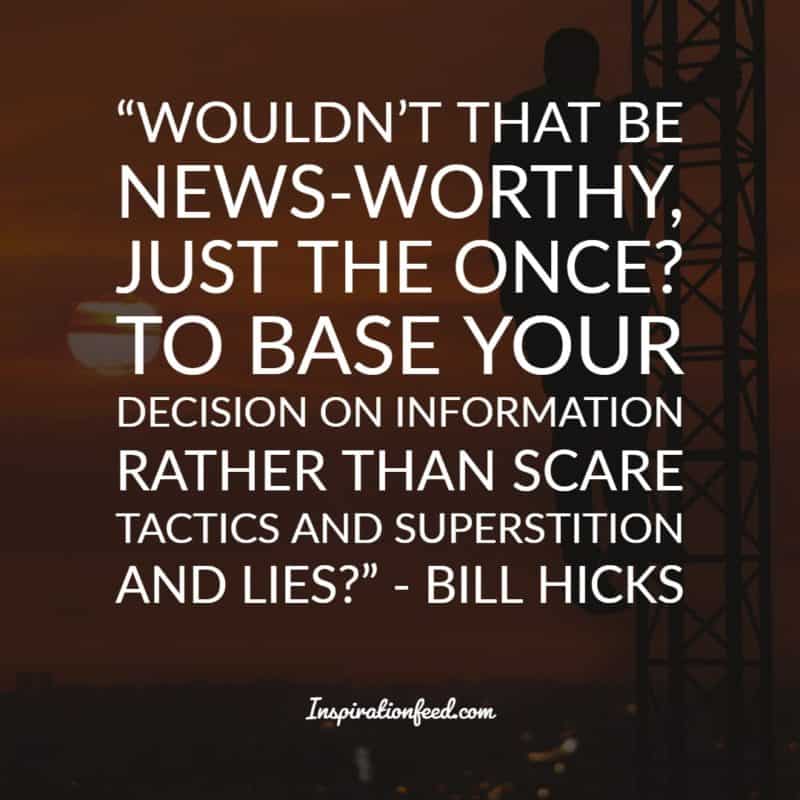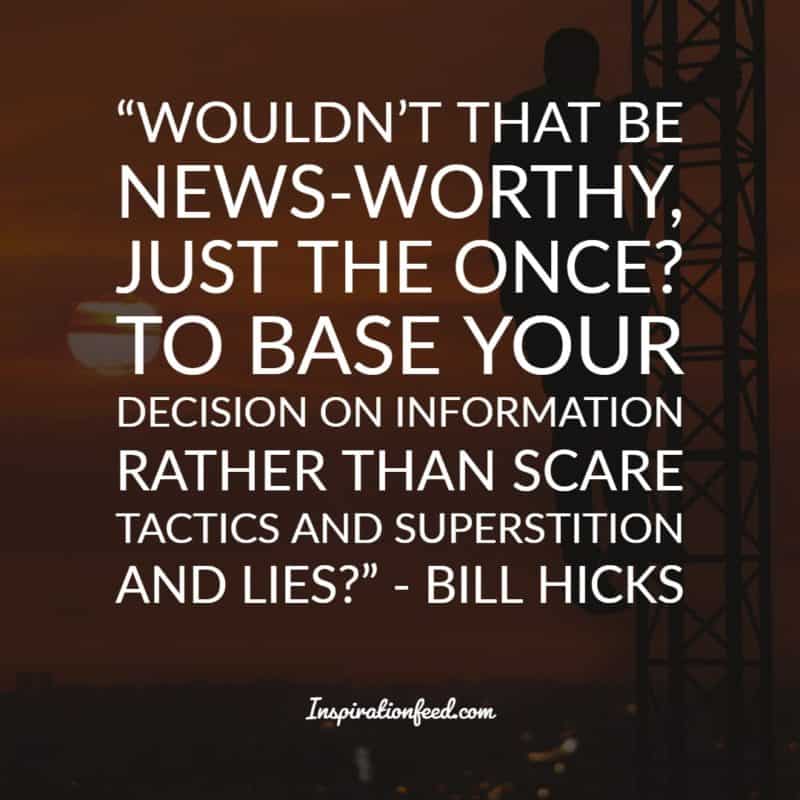 "Wouldn't that be news-worthy, just the once? To base your decision on information rather than scare tactics and superstition and lies?" – Bill Hicks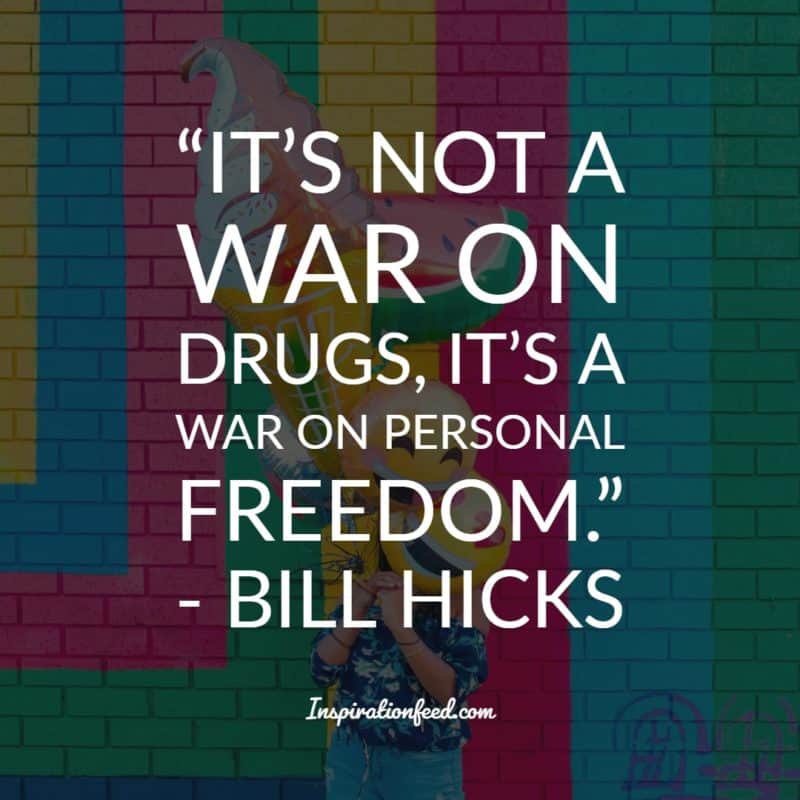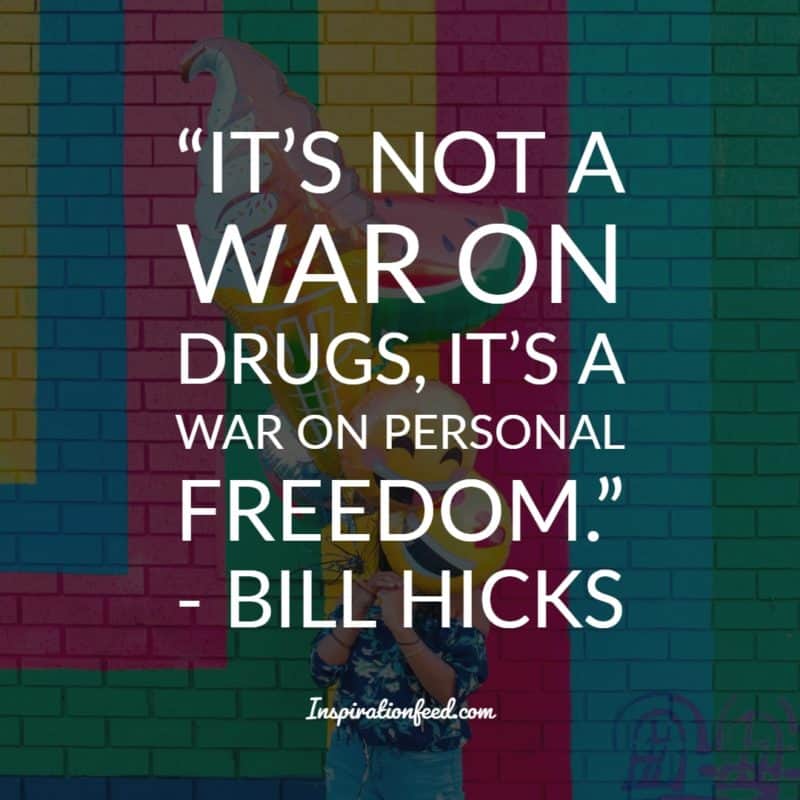 "It's not a war on drugs, it's a war on personal freedom." – Bill Hicks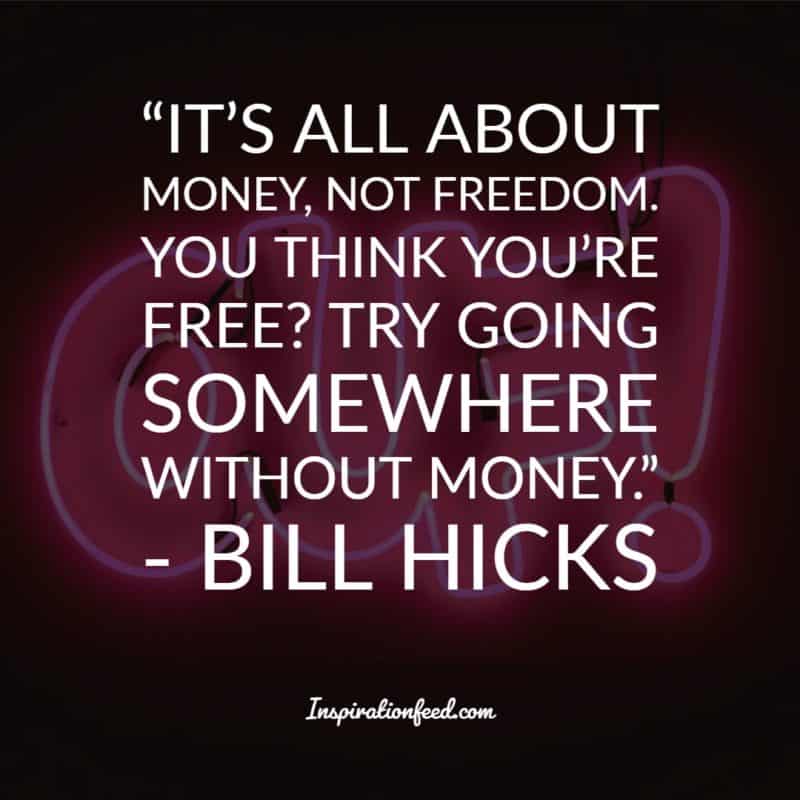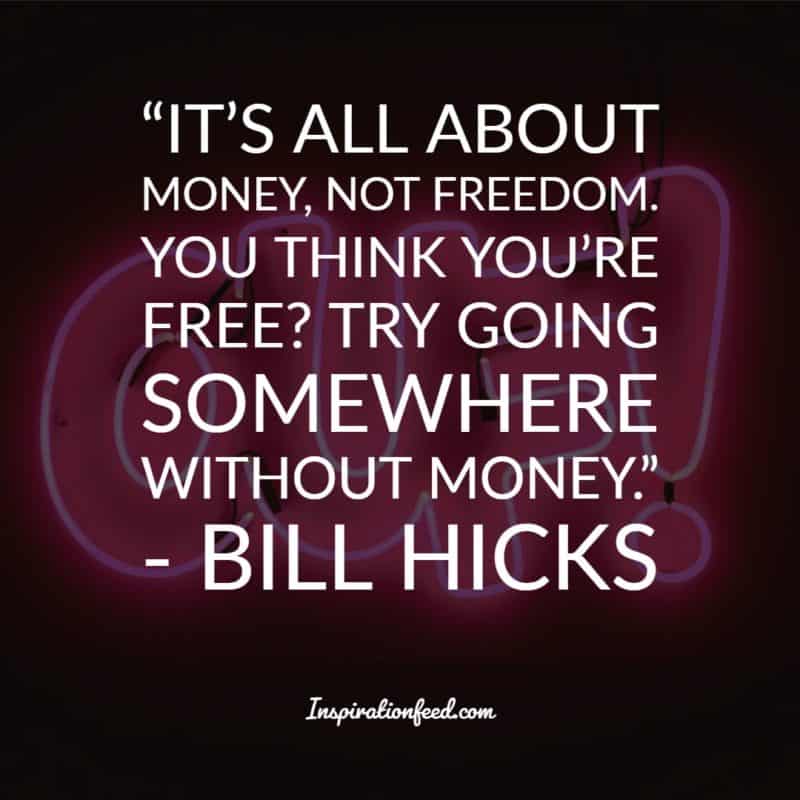 "It's all about money, not freedom. You think you're free? Try going somewhere without money." – Bill Hicks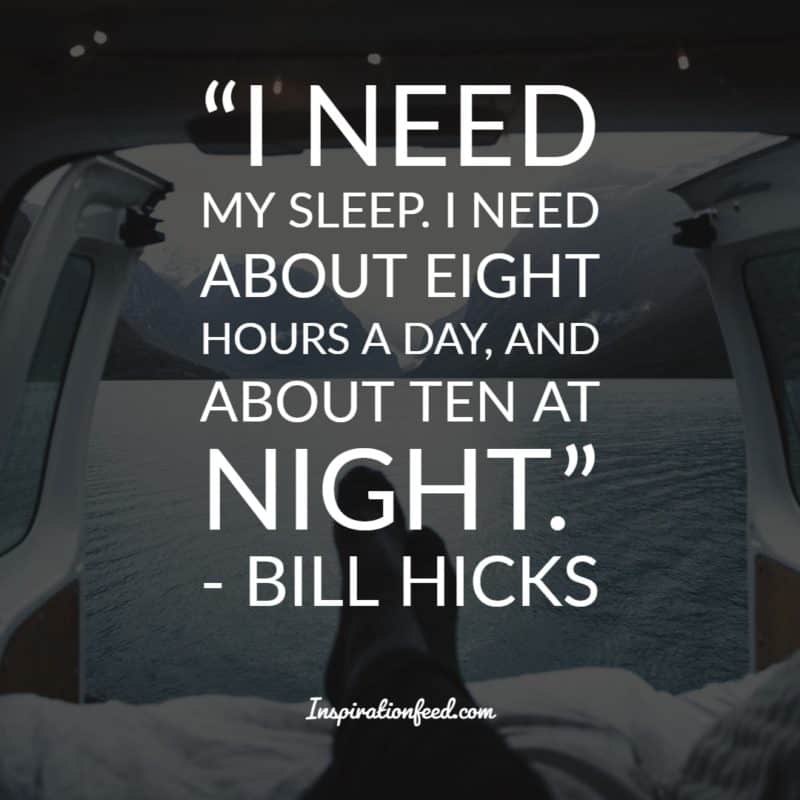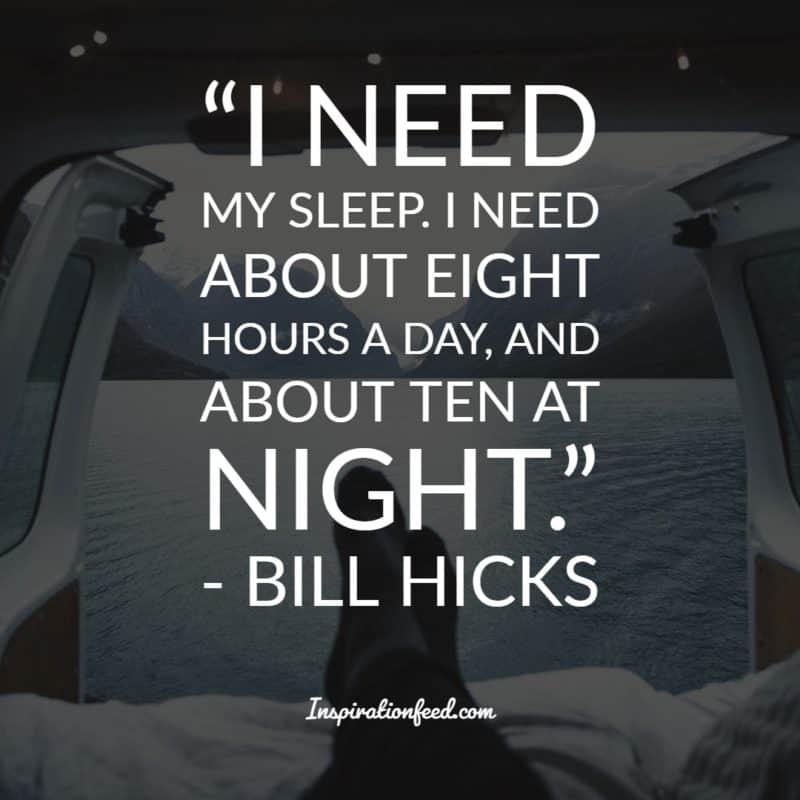 "I need my sleep. I need about eight hours a day, and about ten at night." – Bill Hicks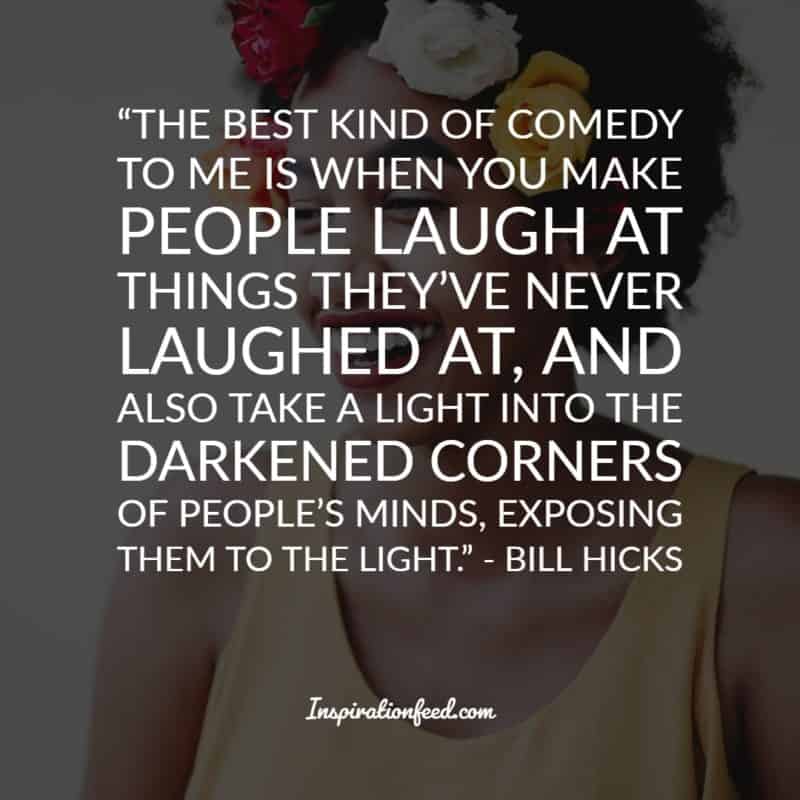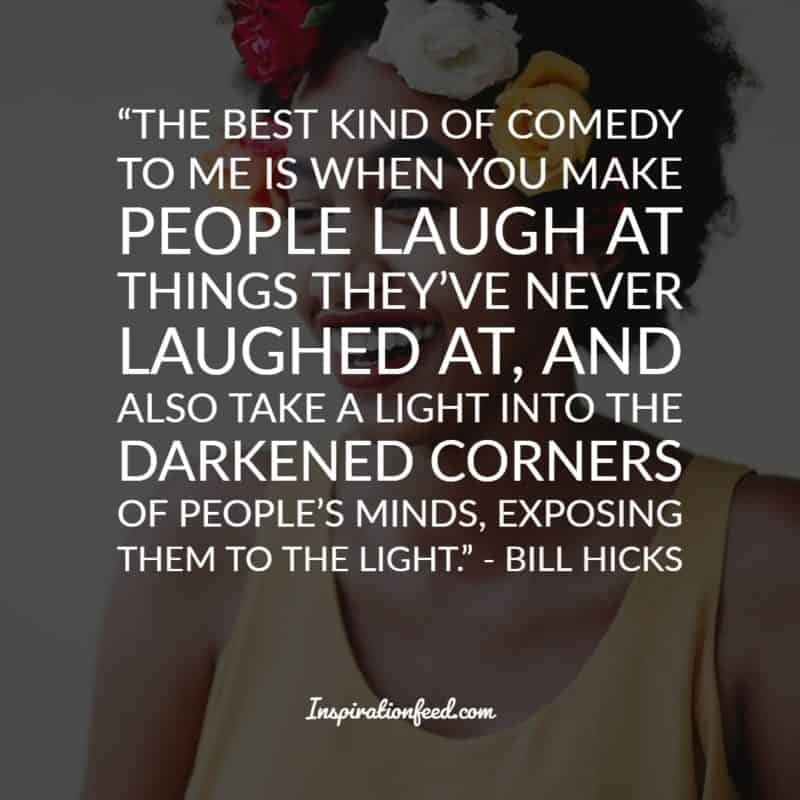 "The best kind of comedy to me is when you make people laugh at things they've never laughed at, and also take a light into the darkened corners of people's minds, exposing them to the light." – Bill Hicks