Last Updated on January 24, 2023
Known for the 'bored' look in her eyes, brightly colored hair, and legions of fans, Billie Eilish came like a thief in the night and stole countless music awards – from the Brit Award to the Grammys. But it was no walk in the park.
Though many media platforms have dubbed her a 'music unicorn', Billie, like any artist, is just trying her best, in her own unique way. Hardly an adult and very much a teenager, she's already got bragging rights like sold-out concerts and an appearance with Ellen DeGeneres.
Who exactly is Billie Eilish, and what makes her music so appealing to her young fans?
Who is Eilish?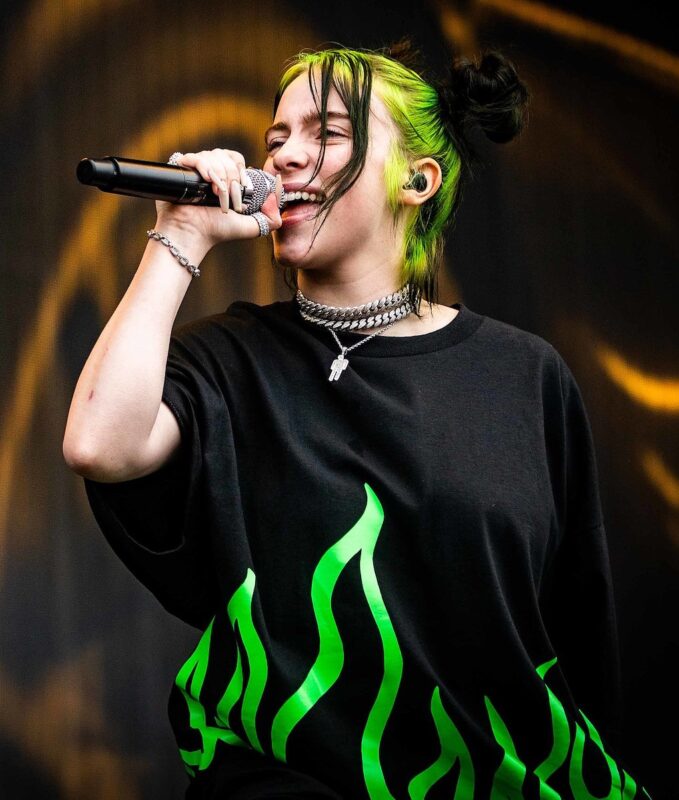 Born on December 18, 2001 to parents Maggie Baird and Patrick O'Connell, Billie Eilish Pirate Baird O'Connell had a normal childhood just like everyone else. Sure, she was homeschooled. But like many kids, she enjoyed playing with her friends and pursuing normal hobbies, such as arts and crafts.
Her mother, Maggie, introduced Billie and her brother Finneas O'Connell, to music. They would listen to the Beatles and write songs. The siblings were given the freedom to follow their current passions, whether its arts, dancing, music, or acting. Perhaps it was this creative freedom that allowed the headstrong singer-songwriter to blossom into the world pop idol that she is today.
In 2015, Finneas asked Billie to sing 'Ocean Eyes'. Although Finneas wrote it for his band, he figured that his sister's vocals would be more perfect for the song. They uploaded it to SoundCloud so Billie's dance teacher can create choreography for it. But overnight, their lives changed. The song gained a following, and Danny Rukasin, the manager of Finneas' band, saw Billie's potential.
By 2016, they had signed with A&R company Platoon that specializes in emerging artists. Billie was connected with a publicist and a stylist to work with her. 'Ocean Eyes' had an official music video uploaded on Billie's YouTube channel. Pretty soon, major radio stations and music supervisors picked up on the once regular kid from Los Angeles, California.
Billie Eilish Music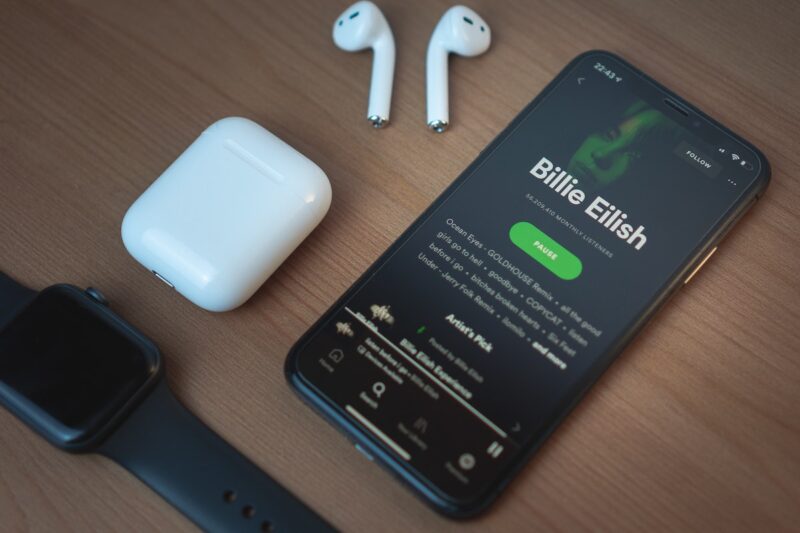 Everything still feels surreal to the young artist. In less than five years, she's become sort of a household name, with millions of teenage girls bringing reluctant parents to concerts and buying merchandise Billie designed herself.
Many have described her music as a little bit of everything. After all, she and her brother love experimenting with all kinds of genres and sounds. One could say it's pop, but with influences from EDM, hip-hop, rock, indie, and goth music. But what Billie truly focuses on are her lyrics.
Some of her hit songs include 'Six Feet Under' (2016), 'Bored' (2017, 13 Reasons Why OST), 'Don't Smile at Me' (2017), Bitches Broken Hearts (2017), Lovely (2018, feat. Khalid), Party Favor (2018), and Everything I Wanted (2019).
If you want to get to know her better, perhaps these Billie Eilish quotes and lyrics are a good start.
Badass Billie Eilish Quotes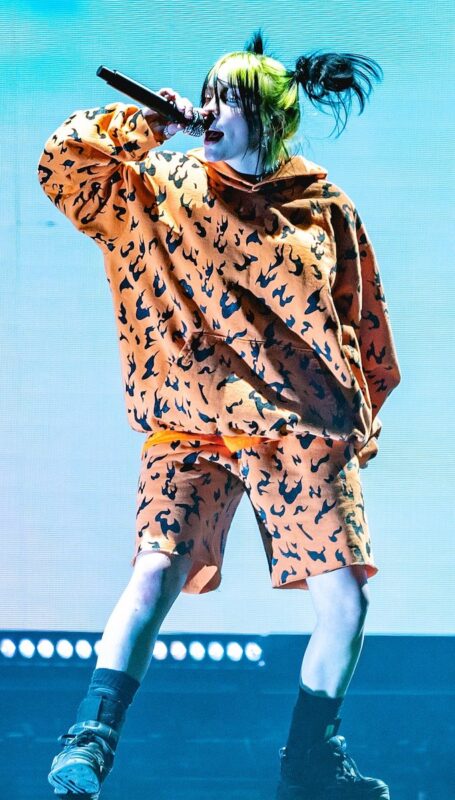 "People are terrified of me, and I want them to be." — Billie Eilish
"There are always going to be bad things. But you can write it down and make a song out of it." — Billie Eilish
"I like to be in control of how I look and how I feel and how I act." — Billie Eilish
"If you can't dance to a song, it's not a song." — Billie Eilish
"I'm not going to say I'm cool, because I don't really feel that. I just don't care at all, and I guess that's what people think is cool." — Billie Eilish
"In the public eye, girls and women with strong perspectives are hated. If you're a girl with an opinion, people just hate you. There are still people who are afraid of successful women, and that's so lame." — Billie Eilish
"I've always done whatever I want and always been exactly who I am." — Billie Eilish
"I'm gonna make what I want to make, and other people are gonna like what they're gonna like. It doesn't really matter." — Billie Eilish
"People think you have to go through something to write about it, and you absolutely do not. You can write about, like, a shoe. It's a story." — Billie Eilish
"I don't even call them fans. I don't like that. They're literally just a part of my life; they're a part of my family. I don't think of them as on a lower level than me. I don't think I'm anything but equal to all of them. So yeah, they're basically all of my siblings." — Billie Eilish
"People have so much going on in their heads. I'm like, if you could write a song, you'd feel so much better!" — Billie Eilish
"What makes a song last is real content from a mind that is thinking a little bit harder about certain things. A lot of artists don't really think that hard." — Billie Eilish
"I don't know how to function without music. When I'm not making it, I'm listening to it. It gives me courage and takes care of my mind." — Billie Eilish
"Time is kind of an amazing thing because you can do so much with it. I think people underestimate time… I don't want to just sit on my phone for hours." — Billie Eilish
"Nothing really scares me, to be honest." — Billie Eilish
"My boy don't love me like he promise. My boy – he ain't a man and sure as hell ain't honest." — Billie Eilish
"You want me to be yours, well then you gotta be mine. But if you want a good girl, then goodbye." — Billie Eilish
"I don't wanna be you. I don't wanna be you anymore…" — Billie Eilish
"Don't be cautious, don't be kind. You committed, I'm your crime. Push my button anytime. You got your finger on the trigger, but your trigger finger's mine." — Billie Eilish
"Copycat trying to cop my manner. Watch your back when you can't watch mine. Copycat trying to cop my glamour. Why so sad when you can't have mine?" — Billie Eilish
"Call me calloused, call me cold. You're italic, I'm in bold. Call me cocky, watch your tone. You better love me 'cause you're just a clone!" — Billie Eilish
"If we were meant to be, we would have been by now." — Billie Eilish
"Go ahead and watch my heart burn with the fire that you started in me. But I'll never let you back to put it out." — Billie Eilish
"Your love feels so fake. And my demands aren't high to make. If I could get to sleep, I would have slept by now. Your lies will never keep, I think you need to blow 'em out." — Billie Eilish
"When you call my name, do you think I'll come runnin'? You never did the same. So good at givin' me nothin'. When you close your eyes, do you picture me? When you fantasize, am I your fantasy? Now you know. Now I'm free." — Billie Eilish
"The games you played were never fun. You'd say you'd stay but then you'd run." — Billie Eilish
"Giving you what you're begging for. Giving you what you say I need. I don't want any settled scores. I just want you to set me free." — Billie Eilish
"I'm not afraid anymore. What makes you sure you're all I need? Forget about it. When you walk out the door and leave me torn, you're teaching me to live without it." — Billie Eilish
"No fair. You really know how to make me cry when you give me those ocean eyes. I'm scared. I've never fallen from quite this high. Falling into your ocean eyes, those ocean eyes…" — Billie Eilish
"Fade away, fade away. Teach me how to fade away. Another story of girl meets boy." — Billie Eilish
"I grew up on the Beatles; I love Linkin Park and Green Day. I heard hip-hop for the first time at 11 and realized what I was missing." — Billie Eilish
"I had a period in my life where I decided that I would never be bored again and that, if I had any free time at all, I would make plans, and I would always be doing things. It actually was great for a year or so, but then I lost all of my friends." — Billie Eilish
"Sexism is everywhere, bro. I don't know if it's ever not somewhere." — Billie Eilish
"I don't know how to function without music. When I'm not making it, I'm listening to it. It gives me courage and takes care of my mind." — Billie Eilish
"When I was four, I wrote a song about falling into a black hole." — Billie Eilish
"What makes a song last is real content from a mind that is thinking a little bit harder about certain things. A lot of artists don't really think that hard." — Billie Eilish
"He's okay. She's broken. He's the ocean wave. She's choking." — Billie Eilish
"Our love is six feet under. I can't help but wonder if our grave was watered by the rain would roses bloom? Could roses bloom again?" — Billie Eilish
"Retrace my lips. Erase your touch. It's all too much for me. Blow away like smoke in air. How can you die carelessly?" — Billie Eilish
"They're playing our sound, laying us down tonight. And all of these clouds bringing us back to life. But you're cold as a night." — Billie Eilish
"Help! I lost myself again. But I remember you…" — Billie Eilish
"If I love you was a promise, would you break it if you're honest?" — Billie Eilish
"You can pretend you don't miss me. You can pretend you don't care." — Billie Eilish
"If teardrops could be bottled, there'd be swimming pools filled by models." — Billie Eilish
"You got your finger on the trigger, but your trigger finger's mine." — Billie Eilish
"People are terrified of me, and I want them to be." — Billie Eilish
"I hate smiling. It makes me feel weak and powerless and small. I've always been like that; I don't smile in any pictures." — Billie Eilish
"I'm a really artistic person, and so, with the live stuff, there's a lot that I think is really cool. Beyonce and Rihanna have all these dancers. So with the live costumes and video costumes, I'd really like to have my vision. The way that I want people to dress is very specific. I love fashion." — Billie Eilish
"You can write a song about being in love with someone, but you don't have to be in love with anyone." — Billie Eilish
"I always wanted to be a Vine star. I wasn't, thank God." — Billie Eilish
"I don't even call them fans. I don't like that. They're literally just a part of my life; they're a part of my family. I don't think of them as on a lower level than me. I don't think I'm anything but equal to all of them. So yeah, they're basically all of my siblings." — Billie Eilish
"I just wanna make you feel okay, but all you do is look the other way." — Billie Eilish
"If we were meant to be we would have been by now." — Billie Eilish
"If our grave was watered by the rain, would roses bloom?" — Billie Eilish
"I don't wanna be you anymore." — Billie Eilish
"Stitches into all your bitches broken hearts." — Billie Eilish
"You'd say you'd stay, but then you'd run." — Billie Eilish
"I'll sit and watch your car burn with the fire that you started in me." — Billie Eilish
"I just wish you could feel what you say." — Billie Eilish
"Our love is six feet under. I can't help but wonder." — Billie Eilish
"Tore my shirt to stop you bleeding, but nothing ever stops you leaving." — Billie Eilish
"And it burns like a gin and I like it, put your lips on my skin and you might ignite it." — Billie Eilish
"But we knew right from the start that you'd fall apart 'Cause I'm too expensive." — Billie Eilish
"Too intoxicated to be scared." — Billie Eilish
"Please don't try to kiss me on the sidewalk." — Billie Eilish
"Standing there, killing time, can't commit to anything but a crime." — Billie Eilish
"All the good girls go to hell, 'cause even God herself has enemies." — Billie Eilish
"Don't ask questions, you don't wanna know." — Billie Eilish
"Today, I'm thinkin' about the things that are deadly." — Billie Eilish
"What do you want from me? Why don't you run from me? What are you wondering? What do you know?" — Billie Eilish
"When we all fall asleep, where do we go?" — Billie Eilish
"For the debt I owe, gotta sell my soul." — Billie Eilish
"In the public eye, girls and women with strong perspectives are hated. If you're a girl with an opinion, people just hate you. There are still people who are afraid of successful women, and that's so lame." — Billie Eilish
"It's rare for anyone to value the opinions of a teenage girl." — Billie Eilish
"If I make music and people hate it, you know, whatever. I'll die someday, and one day, they will too." — Billie Eilish
"In real life, I'm a really smiley person. I smile when I talk and I laugh." — Billie Eilish
"I go through a lot of depression, and I know other people do, too, but I have an outlet that so many people don't. If you have that inside of you and can't get it out, what do you do?" — Billie Eilish
"Sometimes it's flattering when people copy you, but sometimes it gets to a breaking point." — Billie Eilish
"The world's a little blurry or maybe it's my eyes." — Billie Eilish
"The friends I've had to bury, they keep me up at night." — Billie Eilish
"Never been the type to let someone see right through." — Billie Eilish
"Maybe we should just try to tell ourselves a good lie." — Billie Eilish
"I'm in the second-hand smoke, still just drinking canned coke." — Billie Eilish
"I like to be in control of how I look and how I feel and how I act." — Billie Eilish
"I'm gonna make what I want to make, and other people are gonna like what they're gonna like. It doesn't really matter." — Billie Eilish
"I felt like, for so many years – and I still even feel it – as a girl, you can't really expect to go on stage and dress like a boy and jump around and scream with the audience and mosh and stuff, and every time that happens, I feel really proud." — Billie Eilish
"I love people talking about me; I love anybody just looking at me." — Billie Eilish
"Words are more powerful than some noises. Noises won't last long. Lyrics are so important, and people don't realize that." — Billie Eilish
"I'm a really particular person. I want it my way." — Billie Eilish
"It's probably somethin' that shouldn't be said out loud, honestly, I thought that I would be dead by now." — Billie Eilish
"Told you not to worry but maybe that's a lie." — Billie Eilish
"Wanna be lonely so show me the way home I can't lose another life." — Billie Eilish
"If you need me, wanna see me better hurry 'cause I'm leavin' soon." — Billie Eilish
"Taste me, the salty tears on my cheek, that's what a year-long headache does to you." — Billie Eilish
"I'm not okay, I feel so scattered, don't say I'm all that matters." — Billie Eilish
"Bruises on both my knees for you." — Billie Eilish
"I like it when you take control, even if you know that you don't own me." — Billie Eilish
"Time is kind of an amazing thing because you can do so much with it. I think people underestimate time… I don't want to just sit on my phone for hours." — Billie Eilish
"Lyrics are so important, but they're really underrated." — Billie Eilish
"I think everybody deserves an equal amount of appreciation whether how old they are, but I mean, I'm cool with the praise. I'm good." — Billie Eilish