Last Updated on January 24, 2023
There's something about black nail polish that turns heads. Maybe because it is usually associated with rebellious, unmanageable behavior. Or perhaps it's the sleek, dark aura of it. No matter the reason, plenty of women (and even men) favor this color during their mani-pedi sessions.
Fun Black Nail Polish Facts
You're probably familiar with the psychology of color. This study examines how color affects our lives, especially our behavior and perception of things. Black, for instance, is often linked to secrecy, mystery, and power. But surprisingly, it's also connected with creativity, confidence, and positive leadership.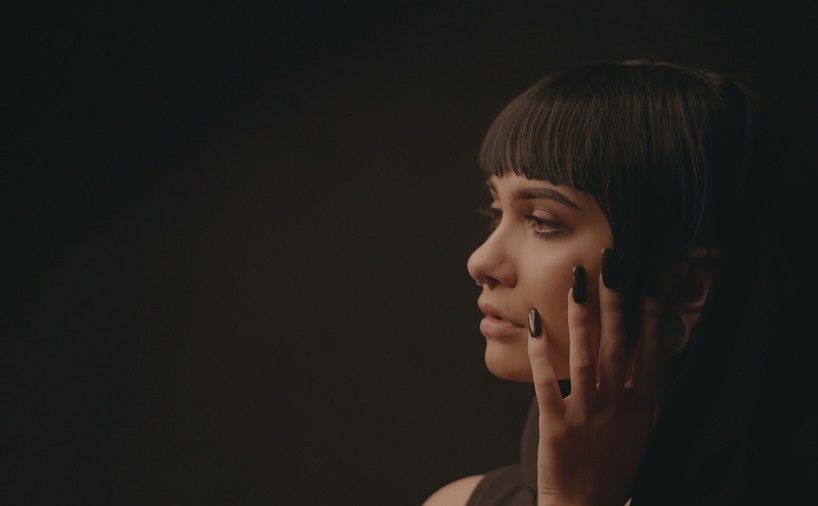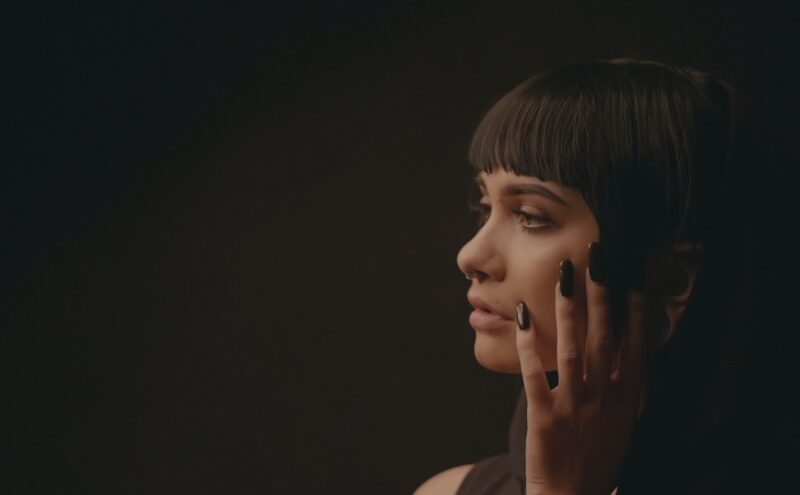 If you love black nails, here are some fun facts about your favorite polish:
The first nail varnish appeared in China. It was said that red and black hues were reserved for royalty. Egyptians used a type of nail polish as well, with lower classes wearing nude or light tones.
By the 70s, black nail polish would be known as a gender-bending trend. One of the first to sport them was Freddie Mercury. Other stars such as David Bowie and Marc Bolan would soon follow. Today, a good number of male celebrities use black nail designs as part of their public persona: a few include Marilyn Manson, Paul Klein, Steven Tyler, Harry Styles, and Brooklyn Beckham.
You can use black polish to fix your black scuffed shoes. Just make sure to find the correct shade first so they look natural!
There exists a $250,000 black nail polish. Created by Azature Atelier (custom luxury jewelry from designer Azature Pogosia), it's the first and only diamond-infused nail polish, featuring 267 carats of black diamonds.
By 2005, celebrities such as Lindsay Lohan and Nicole Richie popularized attending red carpet events with black nails and couture. At present, lots of female A-listers do the same: Lyric Ross, Janelle Monáe, Dua Lipa, Natasha Lyonne, Rihanna, Amandla Stenberg, and Hailee Steinfeld have all been seen with black nail designs that are to die for at the red carpet.
As long as you don't open that bottle of lacquer, it can last forever. However, as soon as you do, it will need to be used as its formula would have changed by then (due to evaporation). Don't try to save it by putting it inside your fridge though! Just keep it somewhere dry, away from direct sunlight, and at room temp.
Dramatic Black Nail Ideas
Black isn't just for edgy, punk, or mysterious individuals. Wear black when you want to look sexy or sophisticated. Choose it to feel more powerful, enigmatic, and in control. Black is a wonderful option for everyday wear because it won't clash with anything. Even celebrities have donned them on the red carpet!
Black is beautiful – as proven by these cool black nail designs. Check them out and see which ones you're going to copy today.
1. Modernist
Credits to Walmart via The Cuddl
Straight geometric lines cut through the semi-matte black-and-white tones in this modern look.
2. Gucci Baby
Credits to The Trend Spotter
Pay tribute to your fave luxury brand by wearing them on your digits in gold-and-black.
3. Black Swan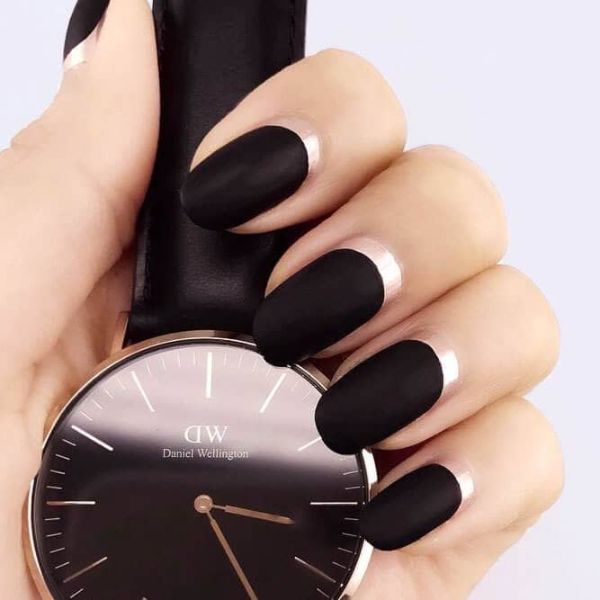 Credits to Karen Gutierrez via The Cuddl
Apply soft metallic pink on your cuticles to complement a solid black matte finish.
4. Clear and Black
Credits to Philglamournails via StayGlam
If eyes are the windows to the soul, these transparent coffin nails are the windows to style done right.
5. Rainbow Dots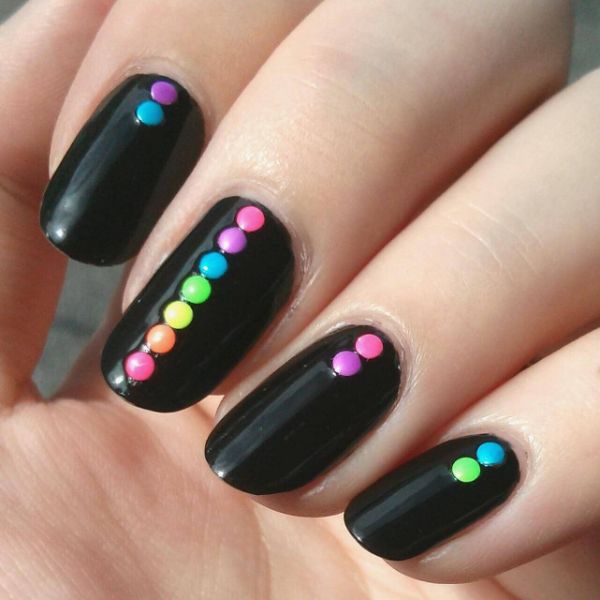 Credits to Keriannsbrizzi via The Cuddl
This easy short black nail idea is great for both kids and adults.
6. Pop Art
Credits to The Trend Spotter
Add doodles to otherwise plain black nails to bring out your fun, quirky side.
7. Constellation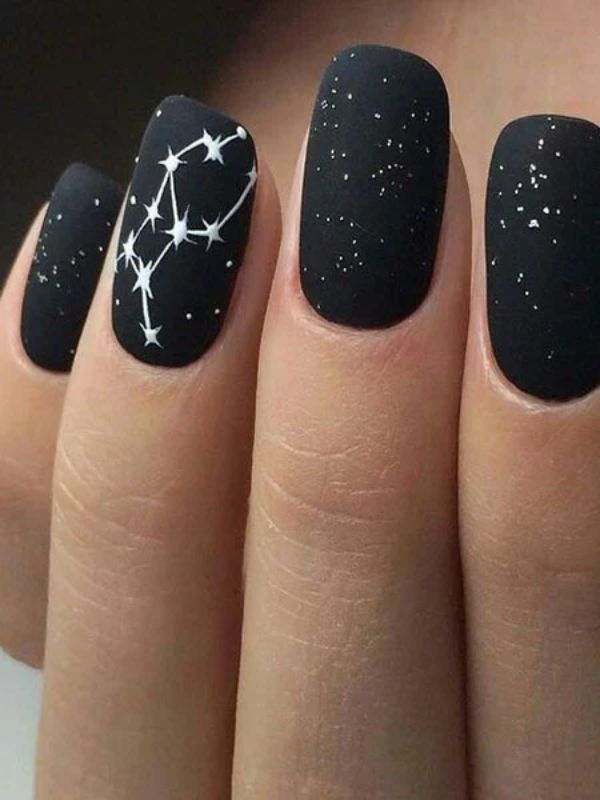 Credits to The Trend Spotter
Get creative by showing off your astrology sign right on your digits.
8. Cow Print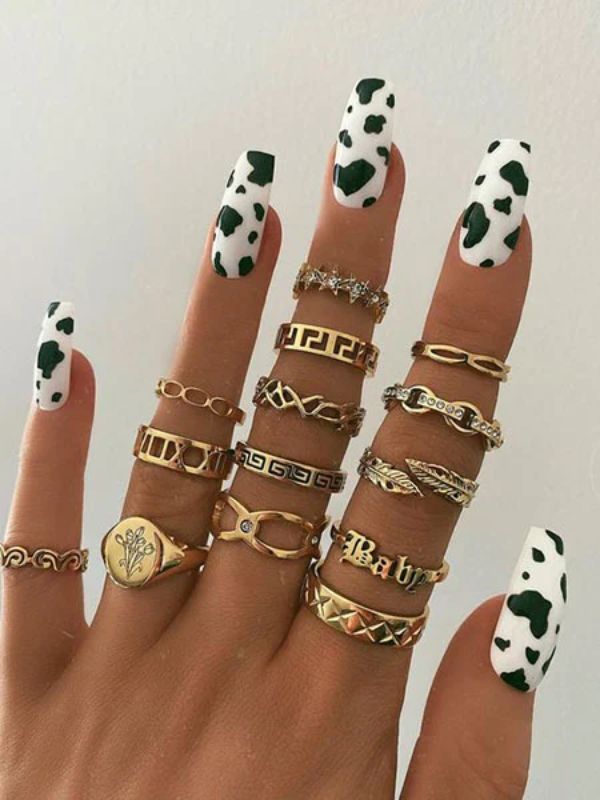 Credits to Bohomoon via The Trend Spotter
Who could say no to charming cow prints? They're adorable, classy, and definitely wearable.
9. Polka Dots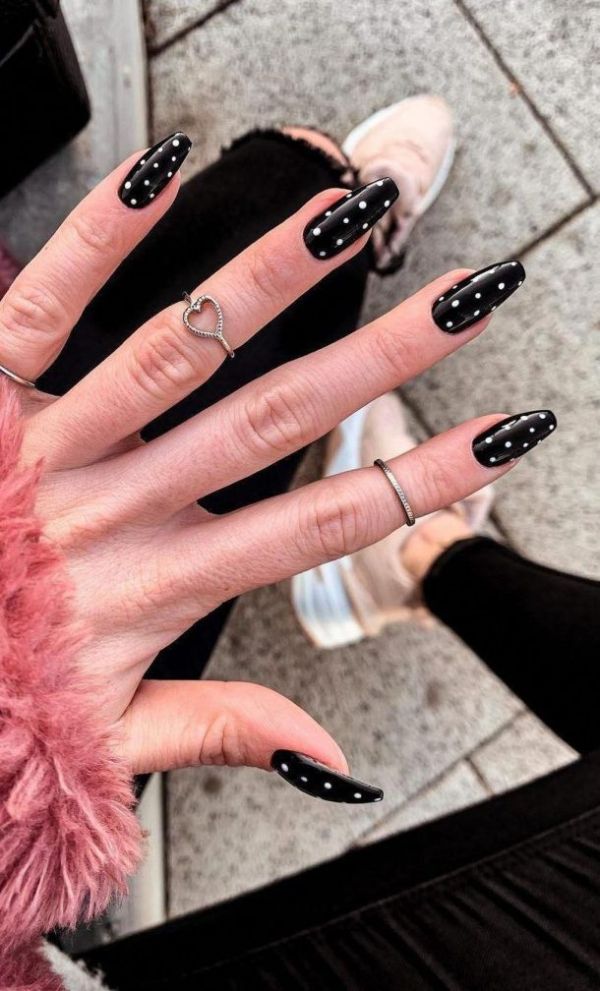 Credits to Fashionchick via Chic Pursuit
One thing's for sure: this timeless black nail design will never go out of style!
10. Edgy
Credits to Laque Nail Bar via StayGlam
Glossy coffin nails are given a 3D effect with black studs. Simple yet impactful.
11. Flower Power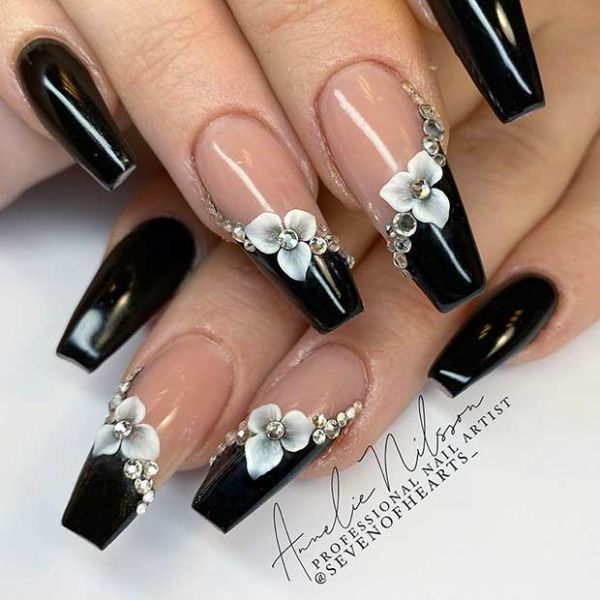 Credits to Annelie Nilsson via StayGlam
Flowers against a black-and-nude background will steal the scene in this elegant nail art.
12. Entrapment
Credits to Natalimyname via The Cuddl
The black criss-crossing lines are reminiscent of the dramatic Art Deco era and are surprisingly easy to replicate at home.
13. Fleur de Lis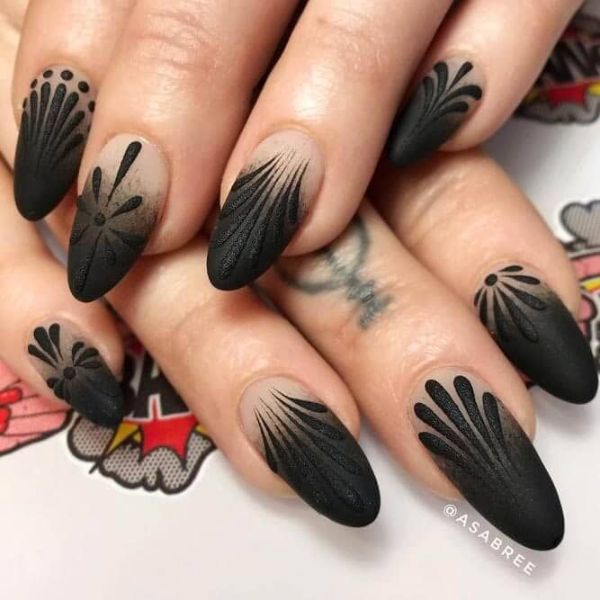 Credits to Asa Bree via The Cuddl
This unique textured nail art features lovely fleur-de-lis accents that gradually fade into nude pink.
14. Bouquet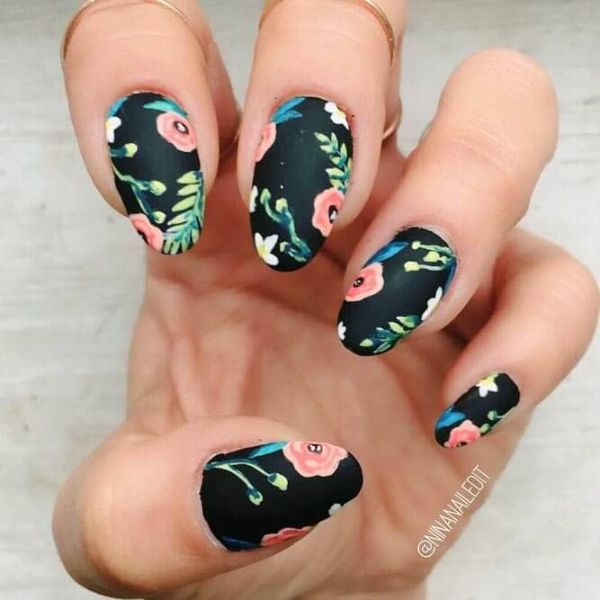 Credits to Nina Park via The Cuddl
Give your oval nails a touch of spring with bright, tropical flowers and green leaves.
15. Gold Foil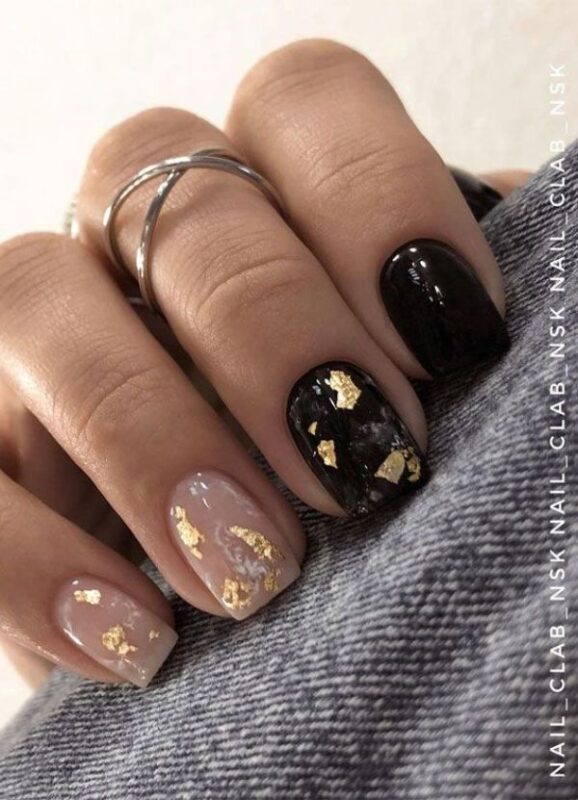 Credits to Nail_Clab_Nsk via Chic Pursuit
Bits of gold foil make this modest black nail idea pop – even if you wear them short.
16. Diamonds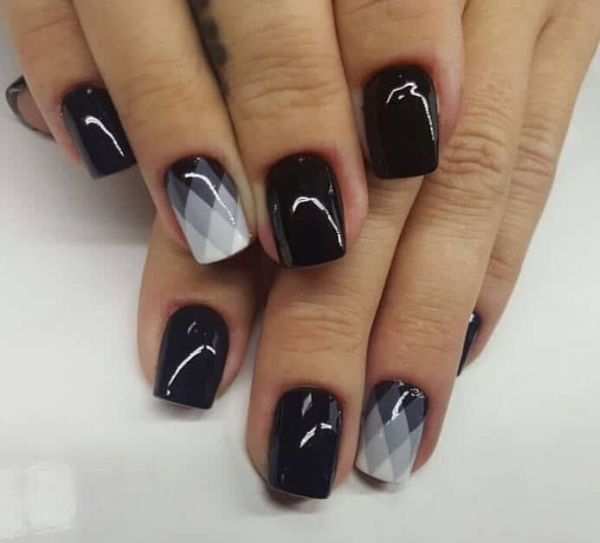 Credits to Best Art Nails via The Cuddl
This eye-catching monochromatic design is accented with diamond patterns in black, grey, and white.
17. Black Lace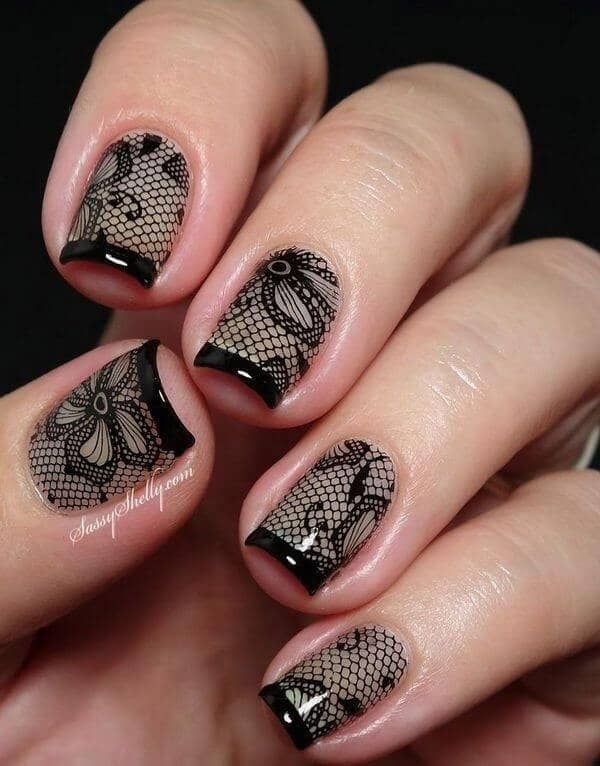 Credits to SassyShelly via The Cuddl
Give lace a modern twist in this updated rendition that suits any occasion.
18. Gold Leaf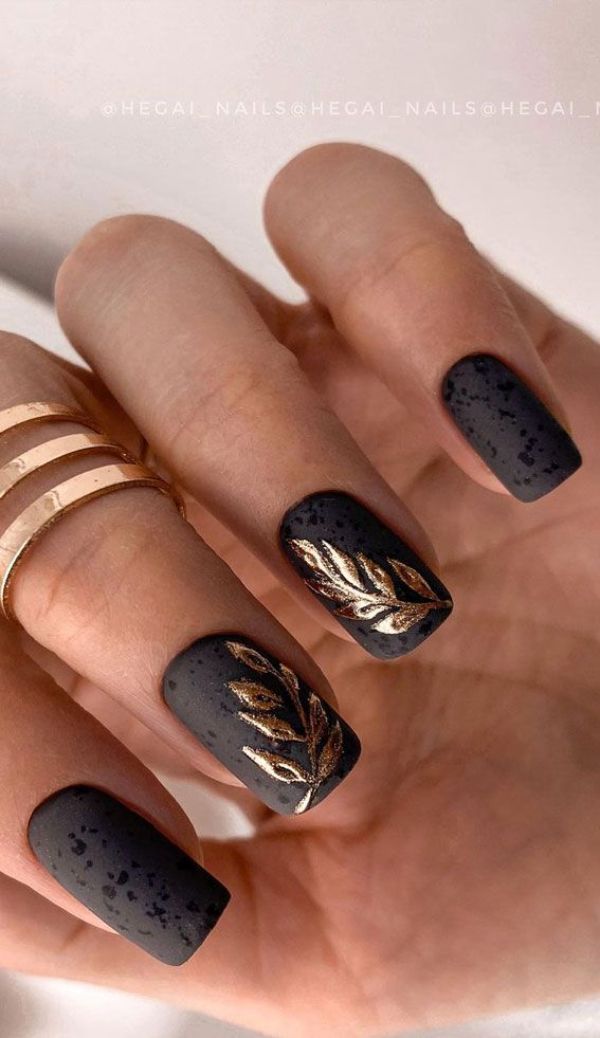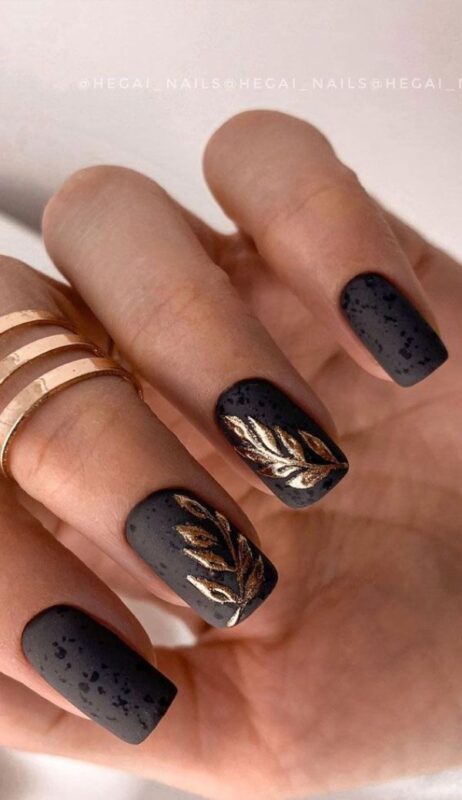 Credits to Hegai_Nails via Chic Pursuit
Bring out your inner goddess in this speckled black matte nail art with gold leaves.
19. Leopard Print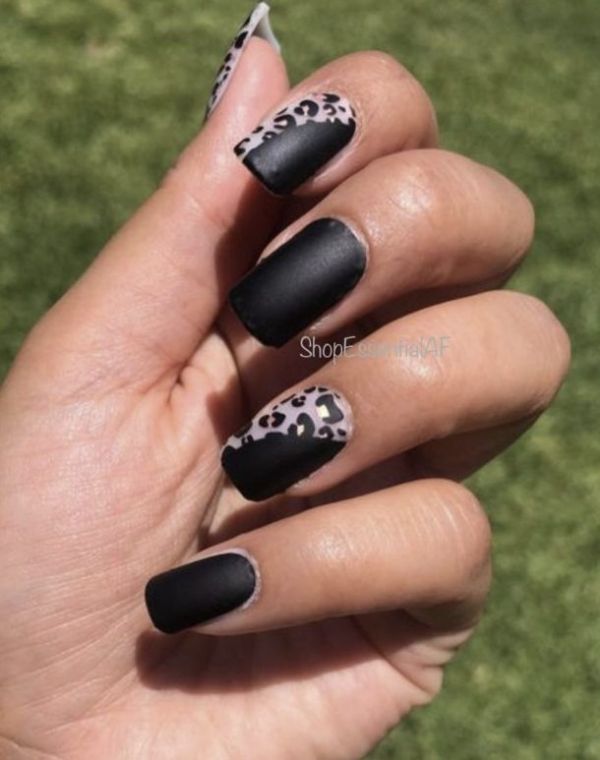 Credits to ShopEssentialAF via Chic Pursuit
Animal prints are always in vogue, and pair nicely with plain black hues for a classy look.
20. Ballerina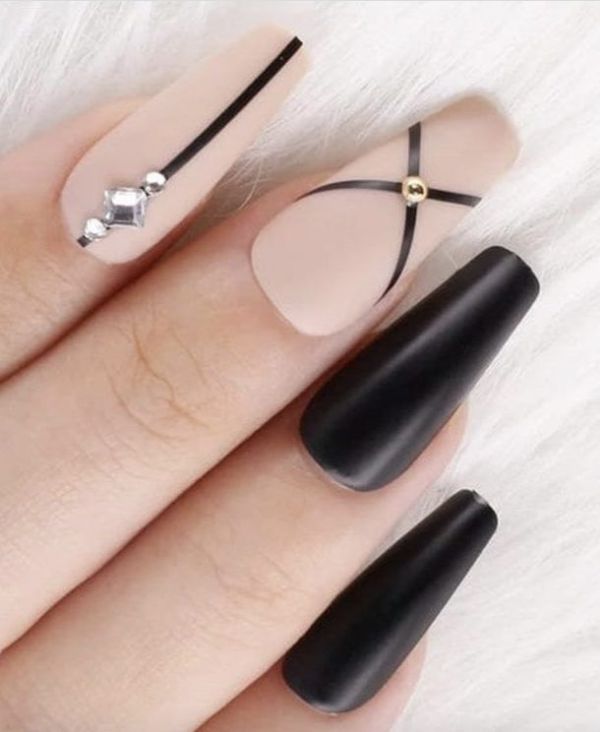 Credits to NailiciousStudio via Chic Pursuit
Dainty pink, sparkling gems, and semi-matte black help give off a graceful feminine vibe.
21. Red Soles
Credits to Static Nails via The Trend Spotter
Wear Christian Louboutin on your digits with pop-on nails that are as fashionable as they are beautiful.
22. Black Marble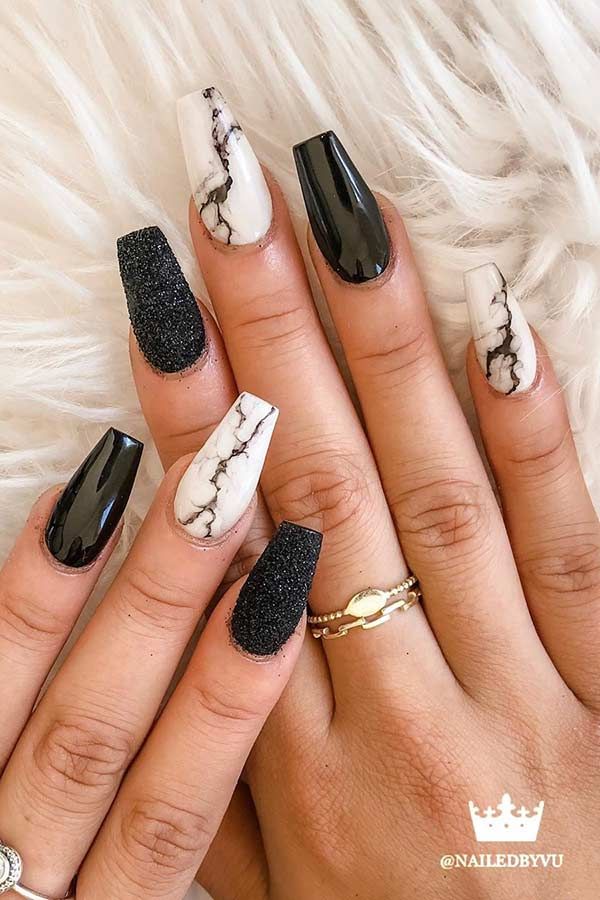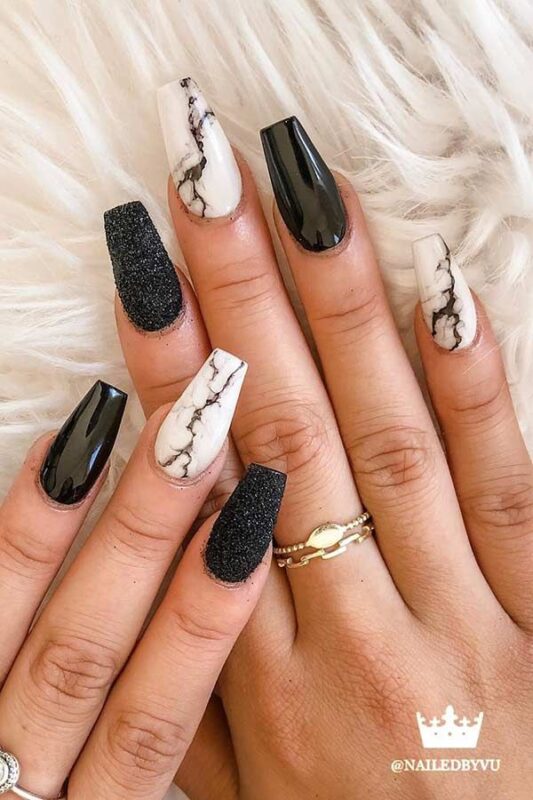 Credits to Vu Huynh via StayGlam
This concept presents 3 designs: marble, glitter, and glossy. It's great for either long or short nails.
23. Contemporary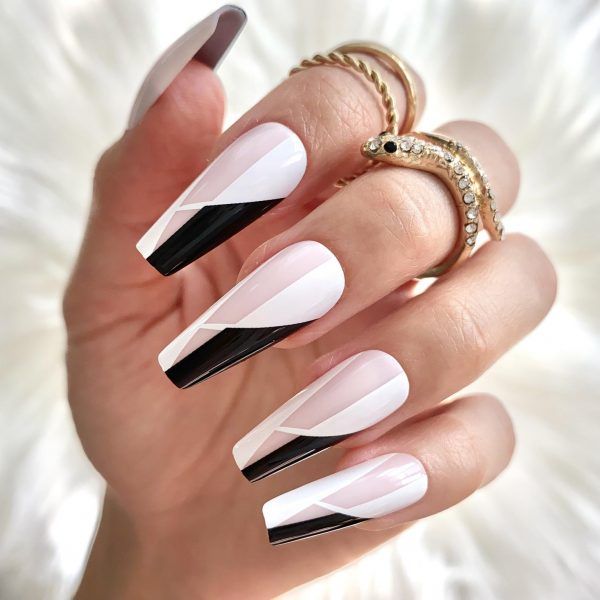 Credits to RedLeopardNails via Chic Pursuit
Pink, white, and black nails never looked so good, and so fresh!
24. Provocative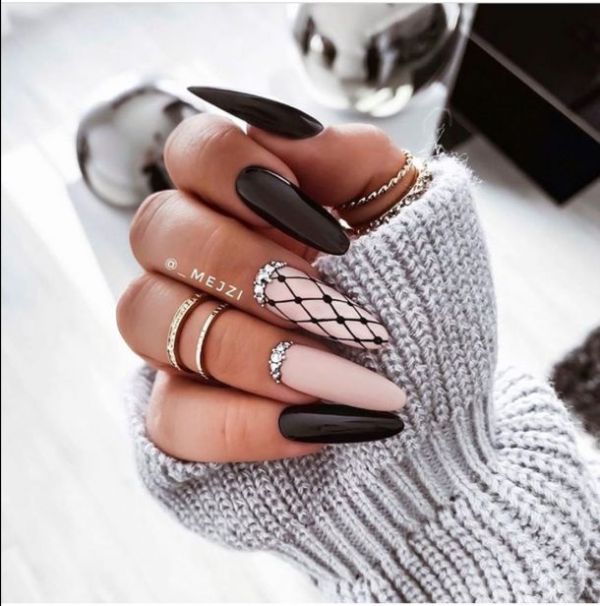 Credits to Karolina Mejza via Chic Pursuit
The net pattern on soft pink is a sexy surprise that's subtle yet highly wearable.
25. Night Sky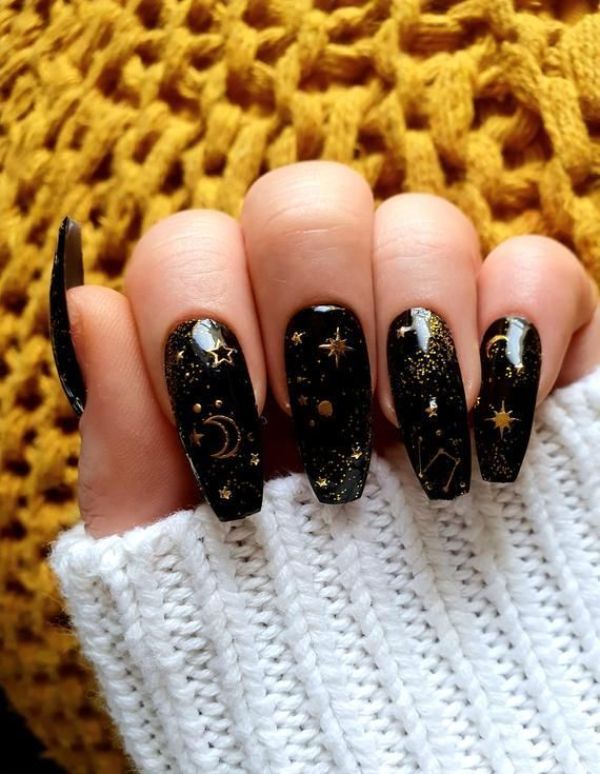 Credits to CBNails via Chic Pursuit
Inspired by astrology, this black nail design will accompany you as you gaze at the stars.
26. French Pink
Credits to Nail_Sunny via The Cuddl
Switch up your usual white French manicure with black and pink glitter tips.
27. Bondage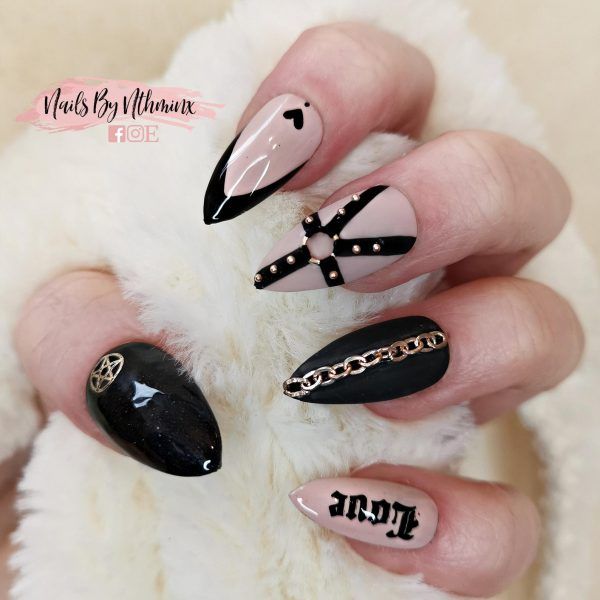 Credits to NailsByNthminx via Chic Pursuit
Don't let anything hold you back – unless it's these racy chains and prints.
28. Jeweled Out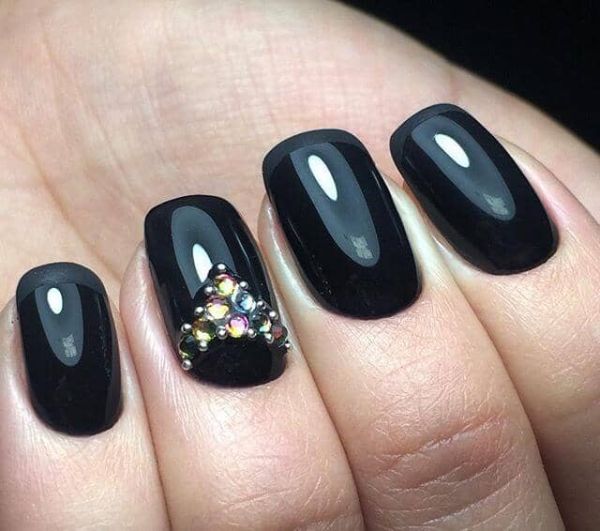 Credits to azali_nail_spb via The Cuddl
Showcase 'less is more' by putting pretty rhinestones on just one nail.
29. Snake Skin
Credits to Riya's Nails via StayGlam
Get this trendy design with snake print nail sticker then finish it off with matte or glossy polish.
30. Translucent
Credits to Etsy via Chic Pursuit
This is not your simple black nail – its translucence will bring luxury and style to any wardrobe.