Last Updated on January 17, 2022
Who Is Blake Shelton?
Blake Tollison Shelton is an American country music singer, television personality, and actor. Shelton is one of the most accomplished country music singers of his generation. As of May 2020, he had charted 40 singles, 27 of which peaked at the number one spot.

Shelton is also a ten-time winner of Country Music Association Awards, 9-time winner of CMT Music Awards, and 5-time winner of Academy of Country Music Awards.

Other notable awards that Blake Shelton has received include:

• 8 American Country Awards,
• 5 People's Choice Awards,
• 2 American Music Awards,
• 1 Billboard Music Award, and
• The Gene Weed Special Achievement Award

On television, Blake Shelton is mostly known for hosting the music competition show, The Voice, which is aired on NBC. He has received the NATPE Reality Breakthrough Award for his splendid performance hosting the show.
Quick Facts
| | |
| --- | --- |
| Full Name: | Blake Tollison Shelton |
| Popular Name: | Blake Shelton |
| Gender: | Male |
| Birth Date: | June 18, 1976 |
| Age: | 45 years |
| Parents: | Richard Shelton and Dorothy Shelton |
| Siblings: | Richie Shelton (deceased) and Endy Shelton |
| Birth Place: | Ada, Oklahoma |
| Nationality: | American |
| Ethnicity: | English, German, and Dutch |
| Education: | Ada High School |
| Marital Status: | Divorced. Previously married to Kaynette Gern (from 2003 till their divorce in 2006) and Miranda Lambert (from 2011 till their divorce in 2015) |
| Sexual Orientation: | Straight |
| Wife/Spouse: | N/A |
| Children: | None |
| Dating: | N/A |
| Net Worth: | USD 100 million (as of July 1, 2021) |
| Source of Wealth: | Singing, Television Hosting, Acting, and Other Ventures |
| Height: | 6′ 5″ (1.96 m) |
| Weight: | 96 kg; In pounds: 212 lbs. |
Early Life and Career Information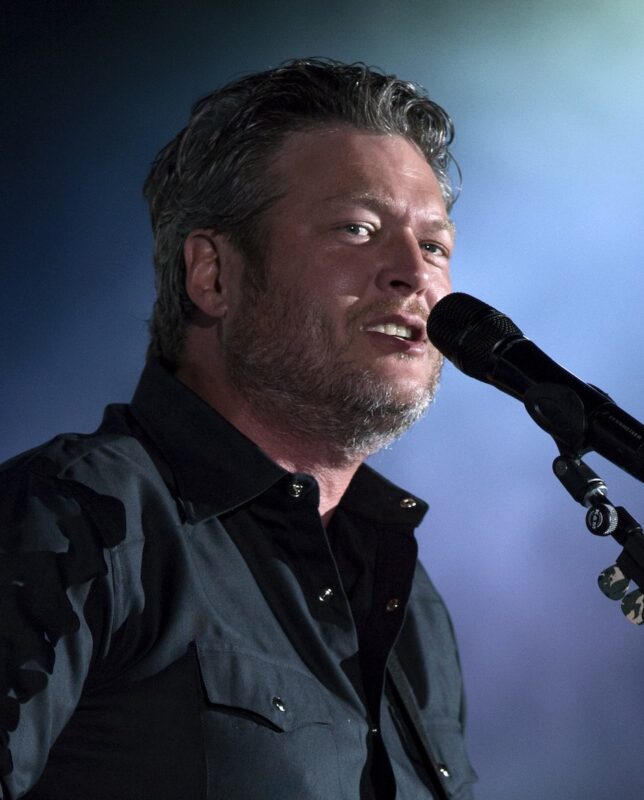 Blake Shelton was born on June 18, 1976, in Ada, Oklahoma, to Richard Shelton and Dorothy Shelton. His father was a used car salesman, whereas his mother was a beauty salon owner.

Shelton began singing in his preteen years and things moved pretty fast for him. By the age of 12, he could already play the guitar and when he was 15, he had composed his first song.

In 2001, Blake Shelton released his debut single, Austin, which was the most successful song from his self-titled debut album released the same year. In 2003, Shelton released his second album, titled The Dreamer. A year later, he released yet another album, Blake Shelton's Barn & Grill. Both albums were generally well-received and the country legend has since followed up with eight other studio albums.

In addition to Austin, other popular tracks from Blake Shelton's albums include:

• Boys 'Round Here,
• Some Beach,
• Mine Would Be You,
• Honey Bee, and
• God Gave Me You
Blake Shelton's Net Worth
As of July 1, 2021, Blake Shelton had a net worth of $100 million. A huge chunk of Blake's wealth comes from his careers in music and television. He has consistently been one of the highest-paid entertainers on the planet, earning as much as $40 million annually from his music and television endeavors.

In 2017, Blake earned $31.5 million. The following year, he earned $28 million. However, June 2019 to June 2020 remains one of Blake's most financially successful years, as he took home a whopping $45 million from his various endeavors. He is believed to have grossed more than $180 million in ticket sales, merchandise sales, and television hosting since 2011.

As a musician, Shelton has sold over 10 million albums, as well as more than 35 million singles worldwide. Collectively, his songs have generated billions worth of digital streams. As of the time of writing, Blake Shelton has released 11 studio albums, most of which have garnered tremendous critical and commercial success.

The albums include:

• Blake Shelton (2001)
• The Dreamer (2003)
• Blake Shelton's Barn & Grill (2004)
• Pure BS (2007)
• Startin' Fires (2008)
• Red River Blue (2011)
• Cheers, It's Christmas (2012)
• Based on a True Story… (2013)
• Bringing Back the Sunshine (2014)
• If I'm Honest (2016)
• Texoma Shore (2017)

In addition to album sales, another way Blake Shelton earns from the music industry is through successful tours. He has since gone on nine headlining tours and four supporting tours. And while the exact amount he netted out of his tours remains unclear, some sources estimate that he can gross as much as $1 million per concert.

The following are Blake Shelton's headlining tours so far:

• Barn and Grill Tour (2005)
• Hillbilly Bone Tour (2010)
• All About Tonight Tour (2011)
• Well Lit & Amplified Tour (2012)
• Ten Times Crazier Tour (2013 to 2015)
• Blake Shelton 2016 Tour (2016)
• Doing It To Country Songs Tour (2017)
• Country Music Freaks Tour (2018)
• Friends and Heroes Tour (2019–2020)

And here are the supporting tours that the legendary country music singer has gone on:

• Shock'n Y'all Tour (2002 tour with Toby Keith)
• Here's to You Tour (2005 tour with Rascal Flatts)
• Me and My Gang Tour (2006 tour with Rascal Flatts)
• H2O II: Wetter and Wilder World Tour (2011 tour with Brad Paisley)

Outside of music, Blake Shelton has carved himself a career in television. He has mostly spent his television career as a coach on The Voice. When he started off with the show, Shelton was earning as much as $4 million per cycle. His salary increased steadily over the years and he currently earns $13 million per cycle. For comparison's sake, that's still $4 million short of what The Voice's highest-paid coach, Christina Aguilera, earned.

Blake's other hosting gigs include Saturday Night Live, the Kids Choice Awards, and the Academy of Country Music Awards. He has also landed a few movie roles, including playing one of The Voice coaches on the film Pitch Perfect 2 and as Ox in the cartoon UglyDolls.

Blake Shelton has pursued other ventures outside of the entertainment industry as well. He owns Ole Red, which is a franchise of restaurants and entertainment complexes. Shelton has also invested in the real estate industry and reportedly owns a number of lucrative properties across the United States. Some of his notable real estate properties include the Ten Points Ranch in Texas and a 1,200-acre estate that's complete with a Hawaiian-style mansion in Oklahoma.
Lessons from Blake Shelton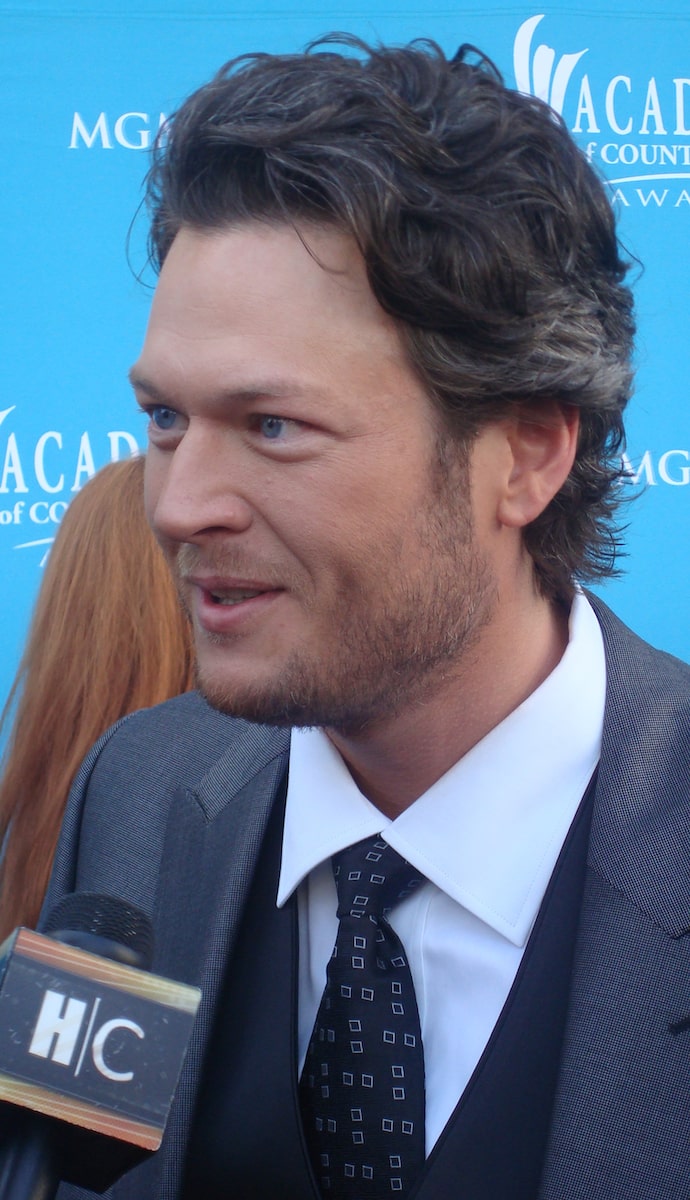 1. Start early

You can hardly make it in life if you wait for the perfect opportunity to start chasing your dreams. Blake began singing in his preteen years and by the time he was 16, he was already winning awards.

2. Know when a relationship no longer works

While announcing their divorce in July 2015, Blake Shelton and Miranda Lambert admitted that their relationship wasn't what they envisioned and that it was in their best interest to go their separate ways. Not many couples are bold enough to know when things won't work.

3. Give back

Blake Shelton is a renowned philanthropist. He actively donates to numerous charitable causes, emergency programs, and research centers.
Famous Quotes by Blake Shelton
"I think you have to be willing to take a bullet for somebody if you're going to stand up there, take your vows, and be married to them for the rest of your life."
"My life has been an open book, for better or for worse."
"One thing that you can't fake is chemistry."
"The wussiest thing a guy can do is drive a clean truck. Dents, scratches and mud – that's manly."
"There needs to be an app that edits what I say versus what I want to say. "
Final Word
Blake Shelton is one of the most successful country music singers of his time, and he has plenty of awards to show for it. Thanks to his musical and television hosting talents, Shelton also ranks among the wealthiest celebrities.