Last Updated on March 8, 2022
#blessed and #blessings have become a trending social media tag for people celebrating all the positive and great milestones in their lives. People use blessing and blessed often in their conversations to mean an answered prayer related to health, financial, or relational struggles.
These days, these terms are usually associated with positive circumstances such as receiving material things and rewards, recovering from illness, or overcoming problems.
However, when the word blessed first appeared in the Bible, Jesus Christ used the word in his Sermon on the Mount, referring to people facing persecution. He used the Greek term makarios, which means satisfaction from experiencing the fullness of something or self-contained happiness, indicating fulfillment and security in the presence of God. 
While people usually use blessing to signify the positive events and things they accumulate, blessing can also come in the form of problems and hardships.
Disappointment, loss, and pain can be blessings in disguise because they break down self-sufficiency and make you acknowledge your need for your Maker. You get to reassess what you believe in: do you look to God only for the comforts and prosperity you want to enjoy in this life? Do hardships mean His absence or displeasure?
There are many blessings you take for granted. Here are some of them:
Religious and Personal Freedom

As of 2017, 52 states still have restrictions on religious freedom are perpetrated by 52 governments as of 2017, higher than the 40 governments recorded in 2007, a new research from the Pew Research Center showed. Social hostilities related to religion rose to 56 countries in 2017 from 39 in 2007, the same survey revealed.
There are more than 40 million slaves around the world based on the latest poll by the Walk Free initiative of the Minderoo Foundation. 
Potable Water

The next time you drink water or take a bath, remember that about a fourth of the world suffers from water crisis. Despite global technological advances, African countries such as Cape Town, Oman, and Botswana still suffer from water crisis.
Nourishment
It's a blessing to eat three times a day because 821.6 million people around the world did not have enough food to eat in 2018, based on a World Health Organization report released in July. In the US, some 2.7 million households with children under age 18 were food insecure, meaning at certain times during the year, money or resources were not enough and families were uncertain of having or were unable to meet their food needs.
Footwear

Non-profit Soles 4 Souls said in its 2017-2018 report that over 760 million people worldwide possibly could not afford a good pair of shoes as they survive on less than $2.00 daily. While you might take for granted the dozens of pairs of footwear you may have, some people still suffer from the lack of this basic need. 
Housing and Electricity

There are more than 100 million people worldwide with no shelter. Homelessness in the US alone has affected at least 552,830 individuals as reported by the National Alliance to End Homelessness. Meanwhile, as much as 1 billion people do not have access to electricity, according to the International Energy Agency's World Energy Outlook 2018.
Gift of Sight and Literacy
There are at least 2.2 billion people around the globe who cannot see or have impaired vision. Most of the visually impaired suffer from cataracts or have uncorrected refractive errors. Meanwhile, there are around 63,300 legally blind American children in schools number. 
Going hand-in-hand with eyesight, literacy for the United States also reports a sad statistic. Around 43 million US adults are believed to have low English literacy skills. Meanwhile, adults worldwide without basic literacy skills number about 750 million.
Modern Communication

The fact that you are reading this article means you have a phone, laptop, or PC that most likely has messaging capability, allowing you to communicate to your loved ones, friends, and work colleagues with the click of a button. If you are based in the US and have a smartphone, you are part of the fortunate 81% of Americans who enjoy mobile communication using such a device. More than half of the global population still doesn't own a smartphone.
Blessed Quotes

Below are a few quotations to remind you about life's blessings and what it truly means to be blessed:
1. "When I started counting my blessings, my whole life turned around." – Willie Nelson
2. "More smiling, less worrying. More compassion, less judgment. More blessed, less stressed. More love, less hate." – Roy T. Bennett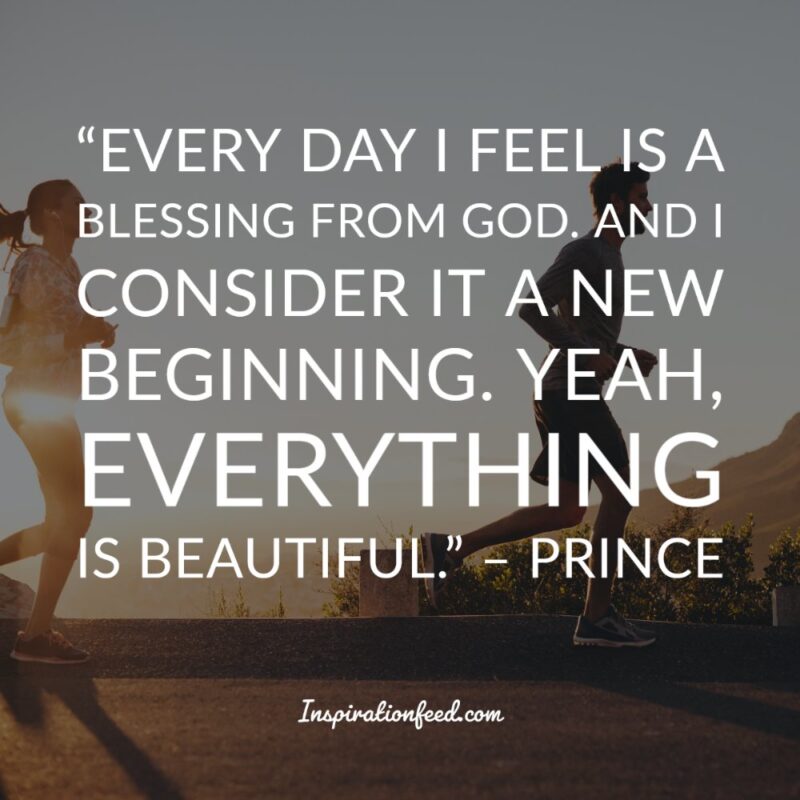 3. "Every day I feel is a blessing from God. And I consider it a new beginning. Yeah, everything is beautiful." – Prince
4. "I am blessed to have so many great things in my life; family, friends and God. All will be in my thoughts daily." – Lil' Kim
5. "Blessed are the hearts that can bend; they shall never be broken." – Albert Camus
6. "Some wish blessings, others pray for them. Some send blessings and they become one." – Joyce C. Lock
7. "When you focus on being a blessing, God makes sure that you are always blessed in abundance." – Joel Osteen
8. "Embrace your blessings." – Steve Maraboli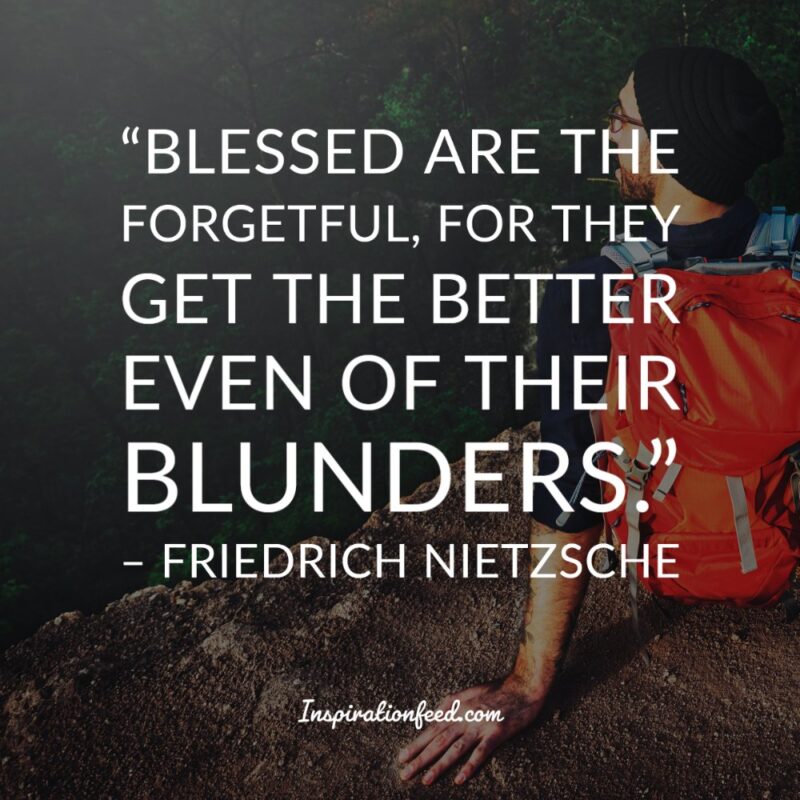 9. "Blessed are the forgetful, for they get the better even of their blunders." – Friedrich Nietzsche
10. "Not what we say about our blessings, but how we use them, is the true measure of our thanksgiving." – W. T. Purkiser
11. "I do believe that God blessed me in life with a wonderful family, a successful career, and a loving marriage, and remain thankful for that blessing." – Bonnie Tyler
12. "I'm blessed and I thank God for every day for everything that happens for me." – Lil Wayne
13. "Always keep your head up, because if it's down you won't be able to see the blessings that have been placed in your life."
14. "You are not what others think you are. You are what God knows you are." – Shannon Alder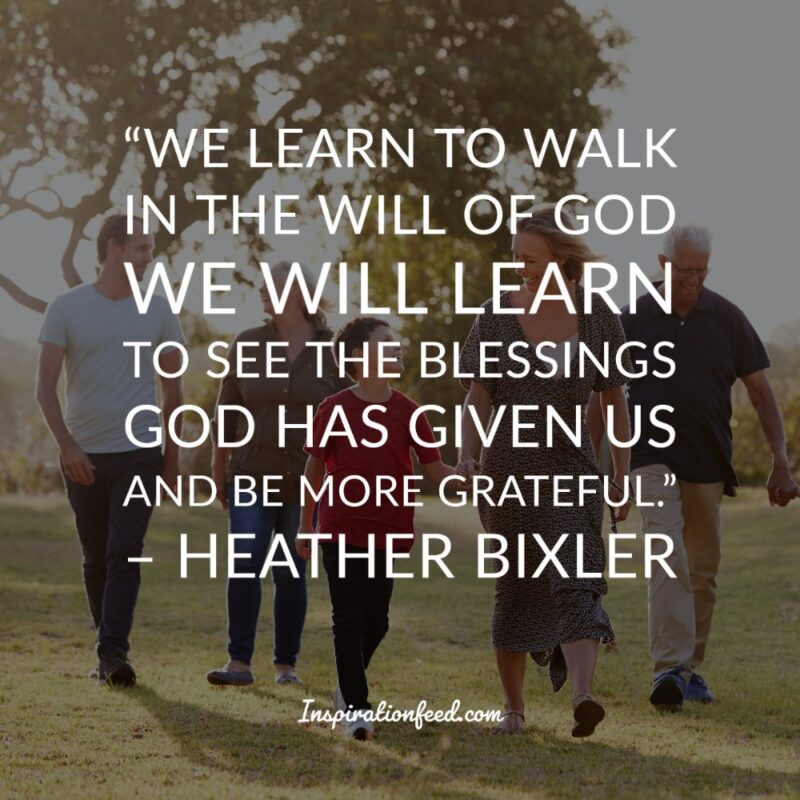 15. "We learn to walk in the will of God we will learn to see the blessings God has given us and be more grateful." – Heather Bixler
16. "Gratitude lifts our eyes off the things we lack so we might see the blessings we possess." – Max Lucado
17. "My life has been a blessing. I'm grateful for everything I do have and the places I'm going and the things I've seen." – Leah LaBelle
18. "To inspire a child with a holy confidence in what he can accomplish by God's grace and the aid of his parents is one of the blessed secrets of success in training." – Andrew Murray
19. "Briefly look back on the past, occasionally, to see and feel relief as to how much you were blessed and how far you've progressed with the help of God and His word." – Myra Lee
20. "Sometimes we must look outside our own backyards to realize how big the world is and how blessed we are." – Eugene Nathaniel Butler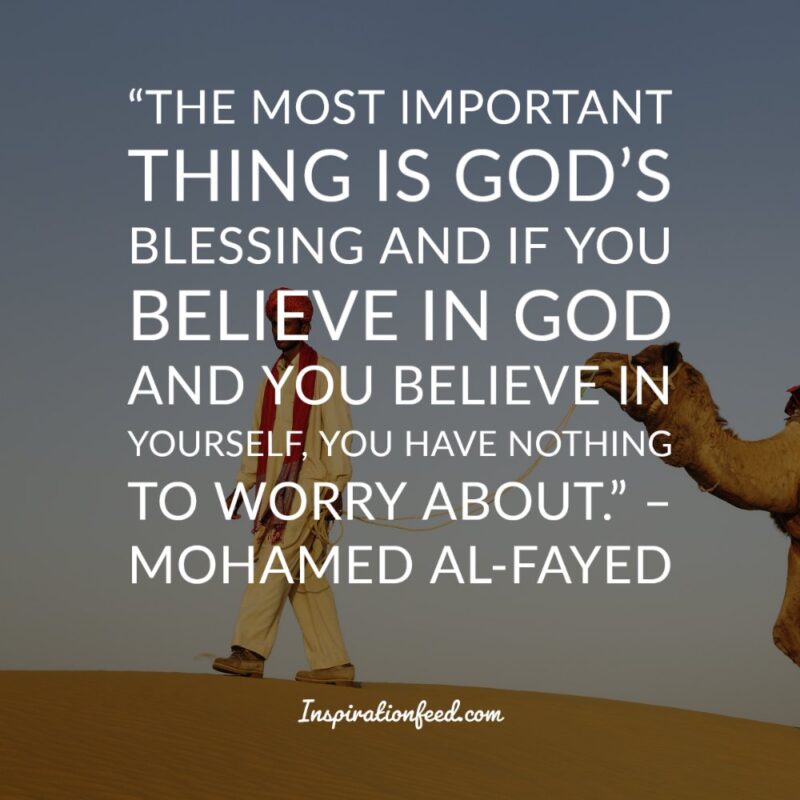 21. "The most important thing is God's blessing and if you believe in God and you believe in yourself, you have nothing to worry about." – Mohamed Al-Fayed
22. "God has blessed me with an amazing family, friends and work colleagues that have been my joy, my support, and my sanity. I don't know what I'd do without them." – Josie Loren
23. "I just thank God for all the blessings." – James Brown
24. "The best things that have ever happened to me have not been the result of anything I have done. Some might say that is luck. I call them blessings and in some cases miracles." – Tom Krause
25. "Every burden is a blessing." – Walt Kelly
26. "Those blessings are sweetest that are won with prayer and worn with thanks." – Thomas Goodwin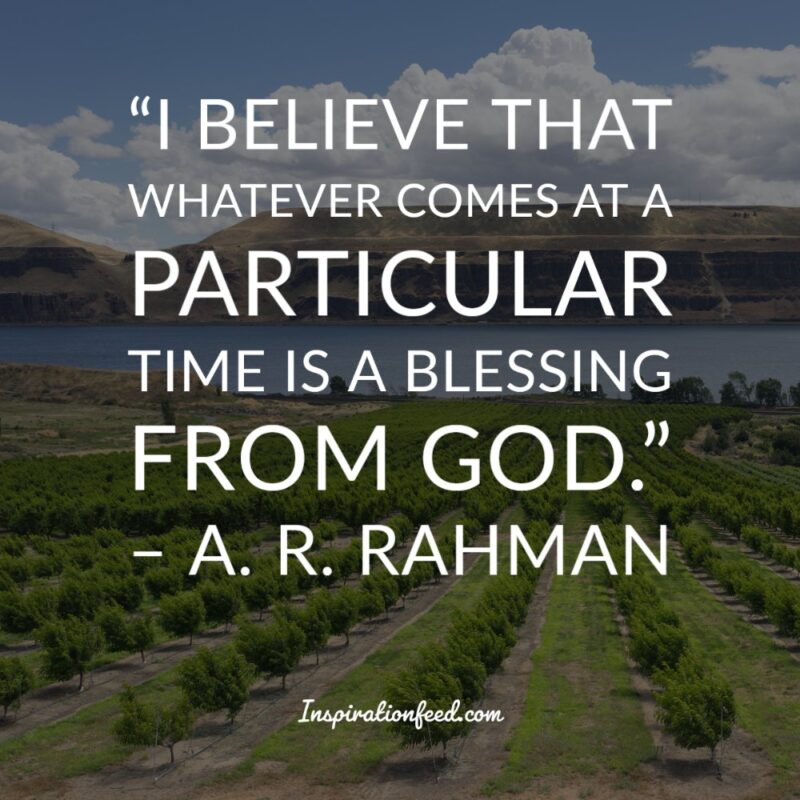 27. "I believe that whatever comes at a particular time is a blessing from God." – A. R. Rahman
28. "I have been very blessed in my life and rewarded with good friends and good health. I am grateful and happy to be able to share this." – Eric Idle
29. "Concentrate on counting your blessings and you'll have little time to count anything else." – Woodrow Kroll
30. "When we lose one blessing, another is often most unexpectedly given in its place." – C.S. Lewis
31. "An early-morning walk is a blessing for the whole day." – Henry David Thoreau
32. "Blessed are they who see beautiful things in humble places where other people see nothing." – Camille Pissarro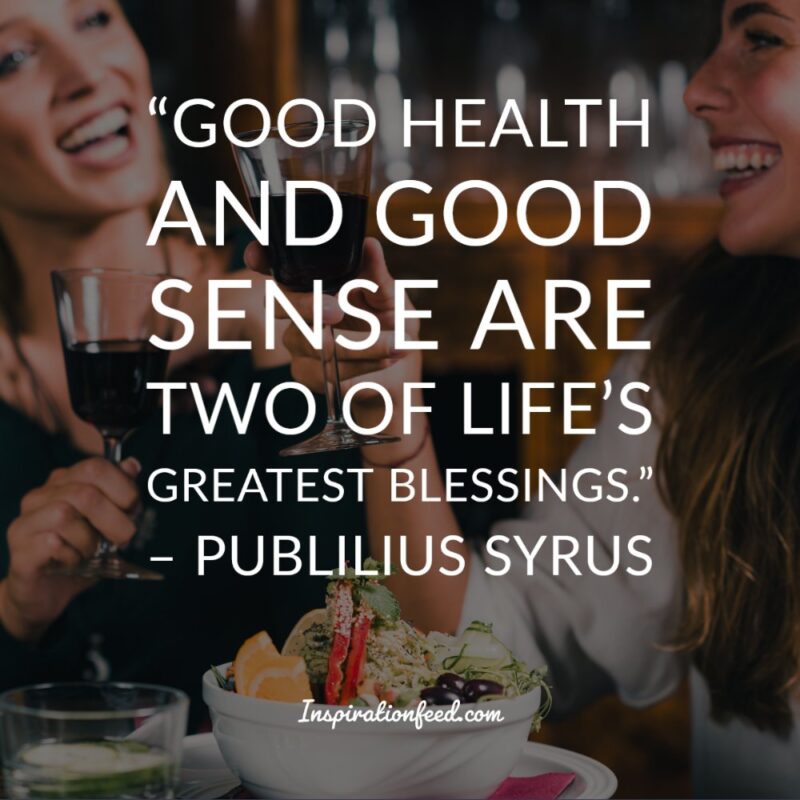 33. "Good health and good sense are two of life's greatest blessings." – Publilius Syrus
34. "At the end of the day, life is about being happy being who you are, and I feel like we are so blessed to have the support system and the best family to really just support each other no matter what we're going through." – Kim Kardashian
35. "The ability to be genuinely grateful for the things that we have and the people we love, as well as for simply being alive and conscious, will do more for bringing a true feeling of happiness to us on a regular basis than almost anything else." – Cary David Richards
36. "Life is not always easy to live, but the opportunity to do so is a blessing beyond comprehension. In the process of living, we will face struggles, many of which will cause us to suffer and to experience pain." – L. Lionel Kendrick
37. "You can look in the mirror and find a million things wrong with yourself. Or you can look in the mirror and think, 'I feel good, I have my health, and I'm so blessed.' That's the way I choose to look at it." – Isla Fisher
38. "Whatever you go into, you have to go in there to be the best. There are no formulas. It's all about passion and honesty and hard work. It might look glamorous, but it takes a lot of hard work. The blessing with the arts is that you can do it forever." – Hugh Masekela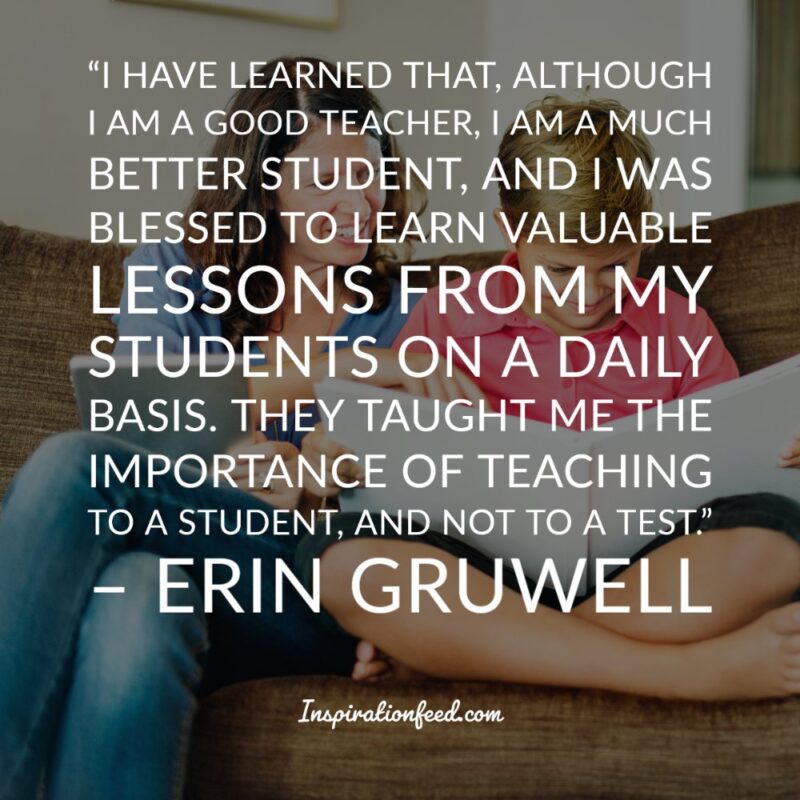 39. "I have learned that, although I am a good teacher, I am a much better student, and I was blessed to learn valuable lessons from my students on a daily basis. They taught me the importance of teaching to a student, and not to a test." – Erin Gruwell
40. "I love my wife and I know she loves me. We're best friends. We're just lucky to have found each other. It takes a lot of work, but I just feel very blessed that I found the right person. It's a very fortunate situation and not everyone has that." – Harry Connick, Jr.
41. "It is a holy blessing to be born with the exquisite qualities of a daughter of God. Women of God, both old and young, are spiritual and sensitive, tender and gentle. They have a kind, nurturing nature. This is your inheritance. Never belittle the gifts God has given to you. Develop the divinity that is within you." – Margaret D. Nadauld
42. "What seems to us bitter trials are often blessings in disguise." – Oscar Wilde
43. "Be grateful for who you are and whatever you have. Everything you have is a gift from God." – Rick Warren
44. "Some people come into our life as a blessing, while others come into our life as a lesson, so love them for who they are instead of judging them for who they are not." – Yolanda Hadid
45. "Blessed are the merciful, for they will be shown mercy." – Jesus Christ
46. "It is God's will to bless us, but not necessarily on our terms. Sometimes what we think would be a wonderful blessing would not bless us at all." – Joyce Meyers
47. "It's just a whole different thing, and it's just that my life has been a blessing, and I thank god every day for the gifts that he has given me and for my daughter and to be able to watch her grow and be a part of her joys and her excitement and what she wants to do in life." – Teena Marie
48. "I am blessed to be a proud father of a daughter." – Adnan Sami
49. "In gratitude for God's gift of life to us we should share that gift with others. The art of giving encompasses many areas. It is an outgoing, overflowing way of life." – Wilferd A. Peterson
50. "You must pay the price if you wish to secure the blessing." – Andrew Jackson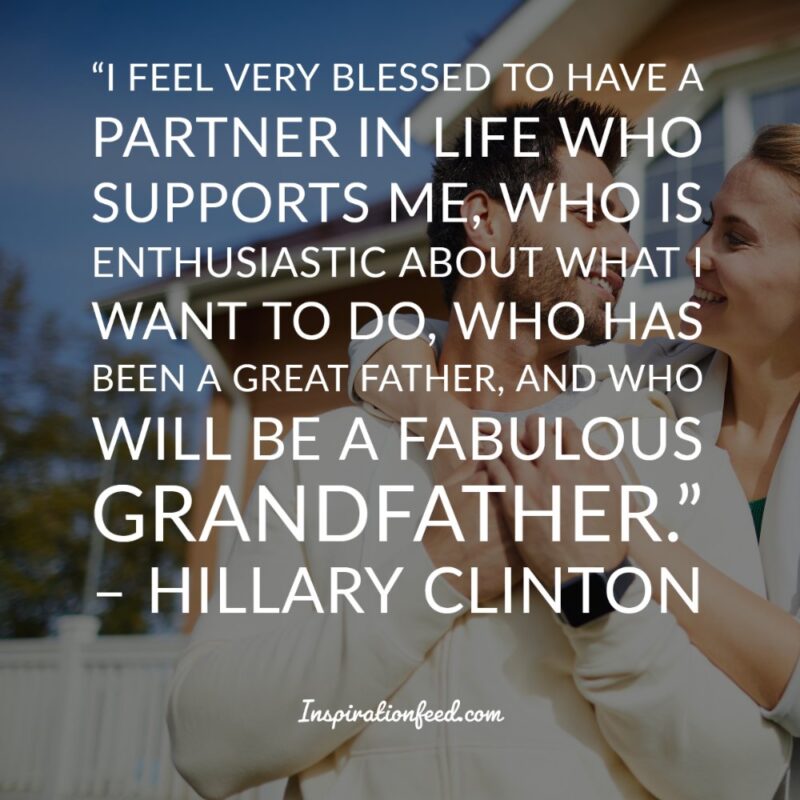 51. "I feel very blessed to have a partner in life who supports me, who is enthusiastic about what I want to do, who has been a great father, and who will be a fabulous grandfather." – Hillary Clinton
52. "If we counted our blessings instead of our money, we would all be rich." – Linda Poindexter
53. "It is not doing the thing we like to do, but liking the thing we have to do, that makes life blessed." – Johann Wolfgang von Goethe
54. "When you begin to worry, go find something to do. Get busy being a blessing to someone; do something fruitful. Talking about your problem or sitting alone, thinking about it, does no good; it serves only to make you miserable. Above all else, remember that worrying is totally useless. Worrying will not solve your problem." – Joyce Meyer
55. "I am blessed to be surrounded by the people I love. I thank them for their patience and grace." – Matt Lauer
56. "God bestows his blessings without discrimination." – F.F. Bruce
57. "A blessed thing it is for any man or woman to have a friend, one human soul whom we can trust utterly, who knows the best and worst of us, and who loves us in spite of all our faults." – Charles Kingsley
58. "Focus on you, your soul, spirit, blessing people with who you are, and following your heart's passions." – Ally Brooke
59. "I am blessed with a funny gene that makes me enjoy life." – Karan Patel
60. "Each day offers us the gift of being a special occasion if we can simply learn that as well as giving, it is blessed to receive with grace and a grateful heart." – Sarah Ban Breathnach
61. "Having patience is one of the hardest things about being human. We want to do it now, and we don't want to wait. Sometimes we miss out on our blessing when we rush things and do it on our own time." – Deontay Wilder
62. "I'm very blessed, thankful, grateful for the opportunities I've had."– Christen Press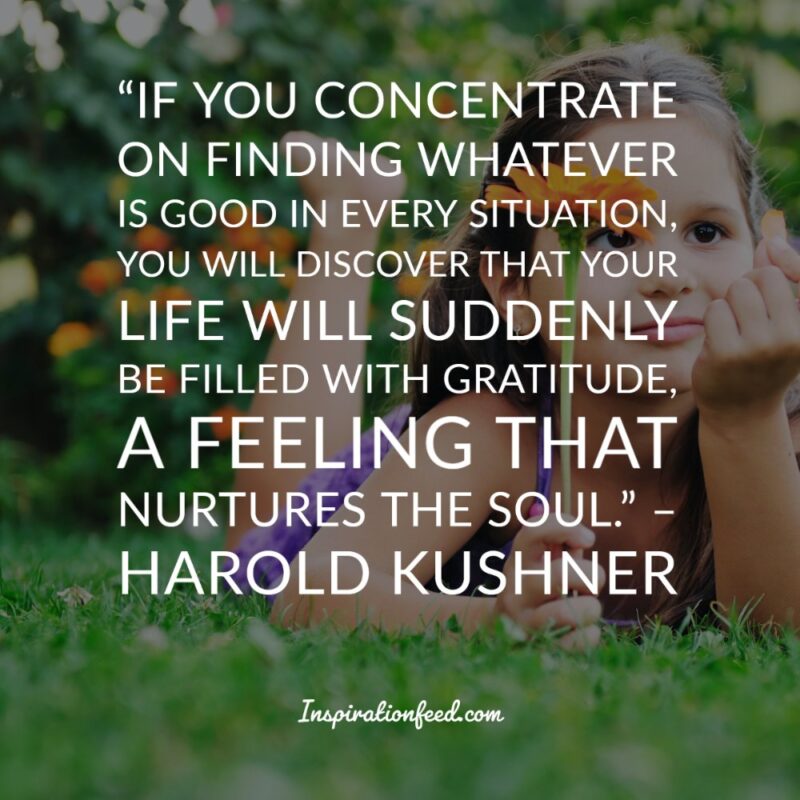 63. "If you concentrate on finding whatever is good in every situation, you will discover that your life will suddenly be filled with gratitude, a feeling that nurtures the soul." – Harold Kushner
64. "I think in every lesson there's a blessing, and there's so many blessings from all the lessons I've had to go through in life." – Alonzo Mourning
65. "I wanted to say thanks… and share my gratitude for everything I've been blessed with. Family, friends, and continued support from everyone." – Travis Barker
66. "If you're the typical person living today, you're blessed if you have one person who believed in you and loved you unconditionally as you were growing up." – Dr, Kevin Leman
67. "It is impossible to feel grateful and depressed in the same moment." – Naomi Williams
68. "Change, like sunshine, can be a friend or a foe, a blessing or a curse, a dawn or a dusk." – William Arthur Ward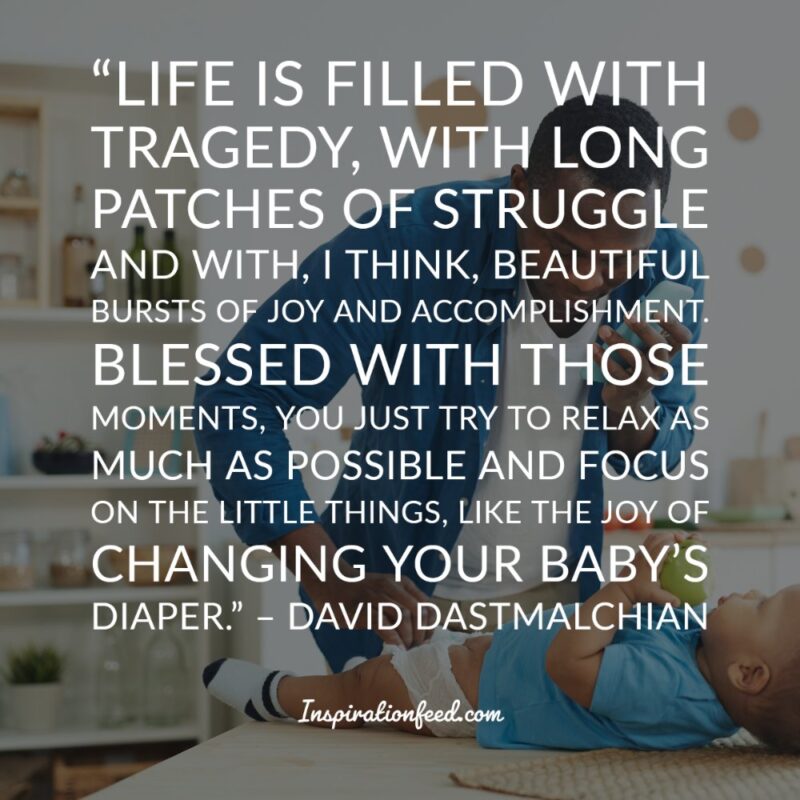 69. "Life is filled with tragedy, with long patches of struggle and with, I think, beautiful bursts of joy and accomplishment. Blessed with those moments, you just try to relax as much as possible and focus on the little things, like the joy of changing your baby's diaper." – David Dastmalchian
70. "When we help people build on their strengths, face their fears, and become better people, we will be blessed and receive rewards unimaginable." – David DeNotaris
71. "Now and then it's good to pause in our pursuit of happiness and just be happy." – Guillaume Apollinaire
72. "Humor is mankind's greatest blessing." – Mark Twain
73. "Before I go to bed, I thank God for blessing me with all the things he blessed me with, and for my family to be safe." – Lauren Alaina
74. "Whatever your situation, consider yourself blessed to have a precious grandchild." – Stormie Omartian
75. "Enjoy the little things, for one day you may look back and realize they were the big things." – Robert Brault
76. "If you can make a living doing what you love, that is a blessing." – David A. R. White
77. "I don't regret what I've been through. I've had ups and downs, super highs and some really low lows. I've been so blessed that I could never say, 'I wish this didn't happen.' It's part of who I am. There's nothing in my life that's so ugh." – Jennifer Lopez
78. "We are blessed to be a blessing and we are overcomers by the victorious words that we speak out of our mouths." – Deborah A. Toney
79. "Reflect upon your present blessings, of which every man has plenty; not on your past misfortunes, of which all men have some." – Charles Dickens
80. "I walk in a space of gratitude. I'm so grateful to God for blessing me with an amazing family and the opportunity to do what I love." – Jurnee Smollett-Bell
81. "The person who can bring the spirit of laughter into a room is indeed blessed." – Bennett Cerf
82. "Blessed is that man who has done with chance, who never speaks of luck, but believes that from the least even to the greatest, all things are ordained of the Lord." – Charles Spurgeon
83. "I would maintain that thanks are the highest form of thought; and that gratitude is happiness doubled by wonder." – G.K. Chesterton
84. "My son is a blessing in every way." – Elizabeth Emken
85. "I am absolutely blessed and I'm very grateful for where I am today." – Geri Halliwell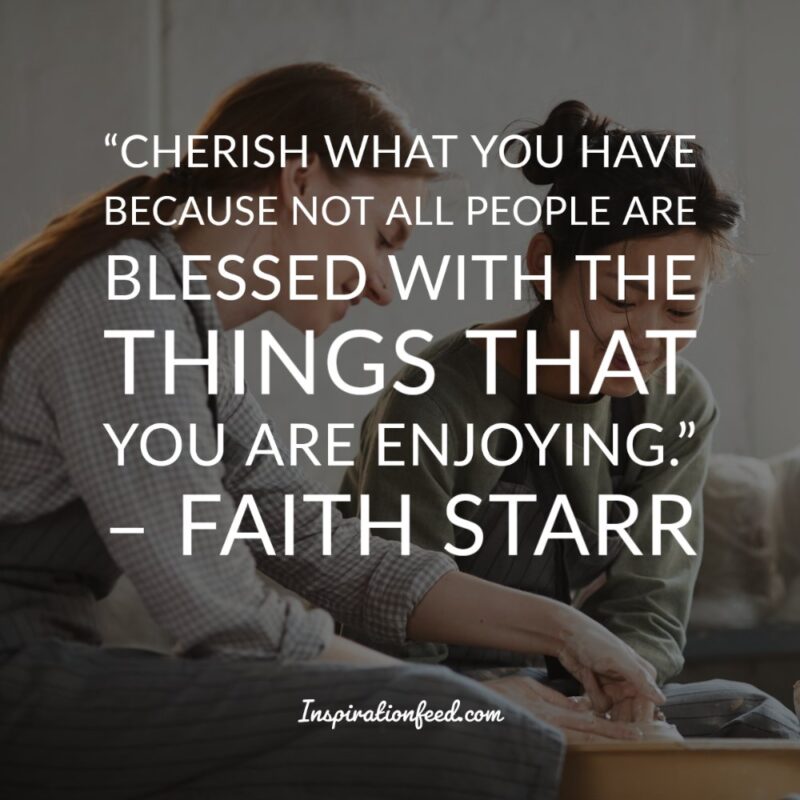 86. "Cherish what you have because not all people are blessed with the things that you are enjoying." – Faith Starr
87. "Luck has nothing to do with being blessed. Luck is a toss of the dice and a slight of the hand. Being blessed is from God and knowing that he is the reason your breathing." – Johnny Annie
88. "You never know where a blessing can come from." – Teena Marie
89. "I'm surrounded by nothing but great people. I've been blessed with that, so really, I've got no choice but to be an all-around good person." – Tim Duncan
90. "God has blessed us so much. Let's bless as many other people as we can by bringing justice and helping the poor." – Matt Brown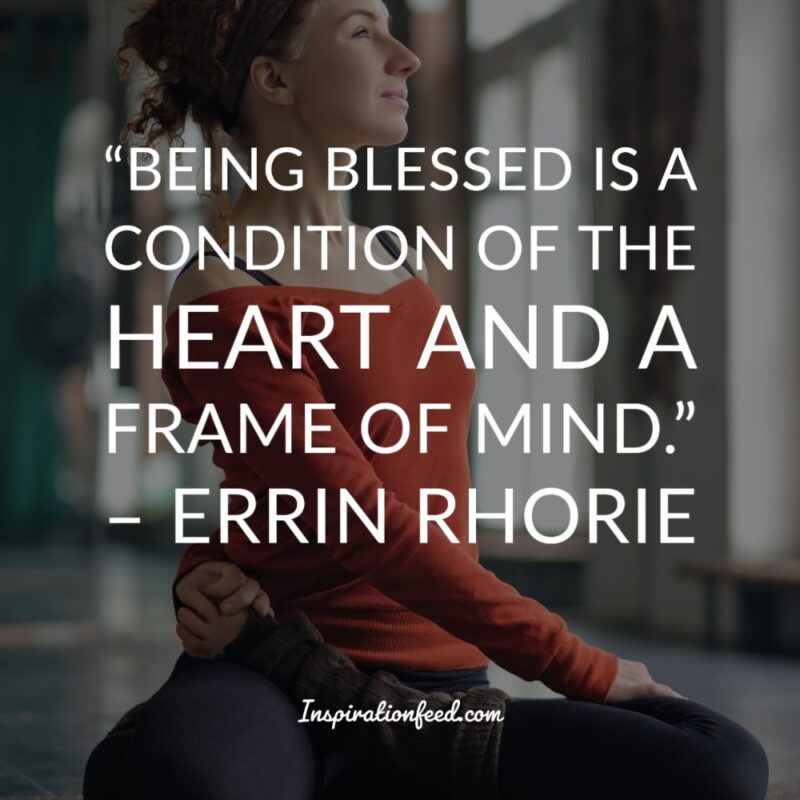 91. "Being blessed is a condition of the heart and a frame of mind." – Errin Rhorie
92. "To me, life is a gift, and it's a blessing to just be alive. And each person should learn what a gift it is to be alive no matter how tough things get." – Tony Bennett
93. "My life changed completely. It's crazy now. It's kind of gone from striving and wondering and being confused and being lost to just feeling like the most blessed person in the world – just happy to wake up every day, happy to get on a plane every time. Just couldn't be happier with life, really." – Becky Lynch
94. "It helps as a reminder to be grateful for the gifts God has blessed me with." – Brandon Harrison
95. "I am blessed for God who allowed me to experience to fall to learn more things, to be matured and to strength my faith and trust in him and to rise to move on and start a new beginning. I am blessed to God for everything in life." – Ivy Geurin
96. "God made you a masterpiece – be blessed, secure, disciplined and equipped." – Joel Osteen
97. "Being aware of, and creating, four- and five-star experiences makes you blessed." – Oprah Winfrey
98. "A contented mind is the greatest blessing a man can enjoy in this world." – Joseph Addison
99. "I am an ordinary person who has been blessed with extraordinary opportunities and experiences." – Sonia Sotomayor
100. "Blessed is the influence of one true, loving human soul on another." – George Eliot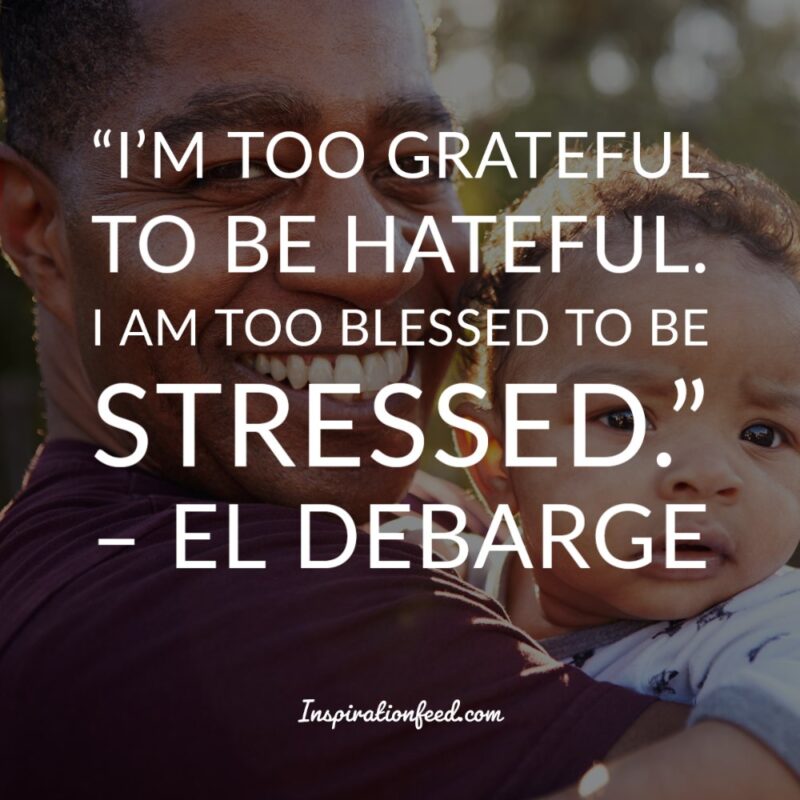 101. "I'm too grateful to be hateful. I am too blessed to be stressed." – El DeBarge
102. "I'm always happy for people when I see God blessing them the way he's blessed me." – Ruben Studdard
103. "God wants my life to be about being successful and being happy and blessing other people and being blessed." – Miley Cyrus
104. "I've had a blessed life. I've pulled back from trying to control my destiny and gone back to accepting whatever fate has in store for me. I live for today because I don't know what'll happen tomorrow." – Cilla Black
105. "Blessed are the young for they shall inherit the national debt." – Herbert Hoover
106. "Until we meet again, may God bless you as he has blessed me." – Elvis Presley
107. "Timing has always been a key element in my life. I have been blessed to have been in the right place at the right time." – Buzz Aldrin
108. "I have had a lot of blessed, interesting things happen to me and have bumped up against some amazing people." – Rob Lowe
109. "My life has been a gift up to this point, and I've been blessed beyond my wildest imagination. And wherever this ride takes me is where I'm going." – Sean Hannity
110. "Blessed are the meek, for they will inherit the earth." – Jesus Christ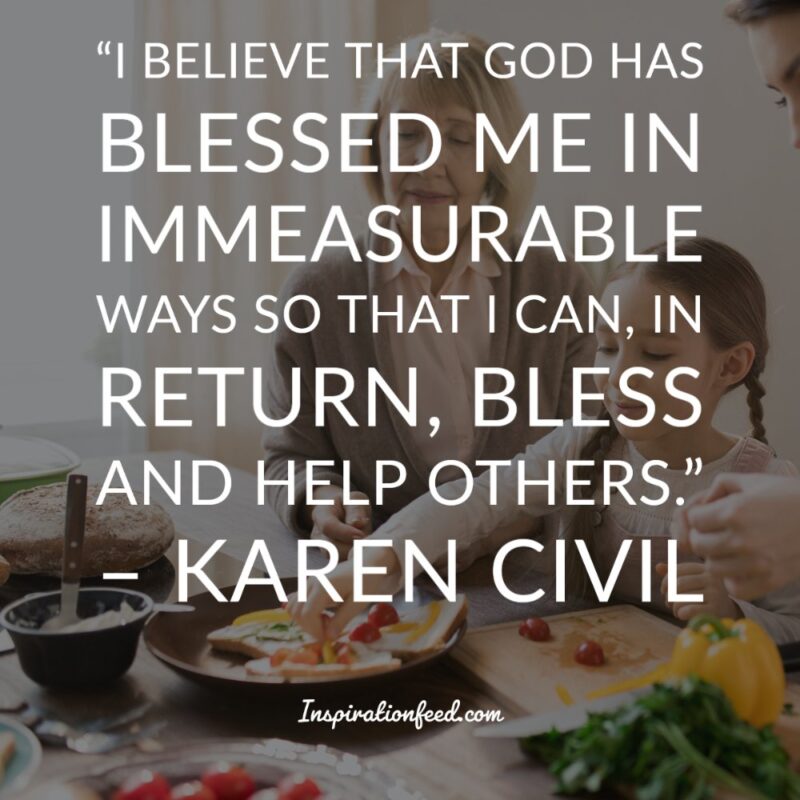 111. "I believe that God has blessed me in immeasurable ways so that I can, in return, bless and help others." – Karen Civil