Last Updated on January 24, 2023
The blockchain technology is a real problem-solver that can turn truly complex business challenges into something common and easy-to-understand. The real estate business belongs to the industries with a tremendous number of pitfalls which an unprepared home seller or buyer are likely to fell into. And if they do not want to make any mistakes, they have to pay to multiple mediators for their services.
Let's see in what ways the blockchain technology is able to change the real estate industry for the better.
What Are the Main Problems of Real Estate Deals?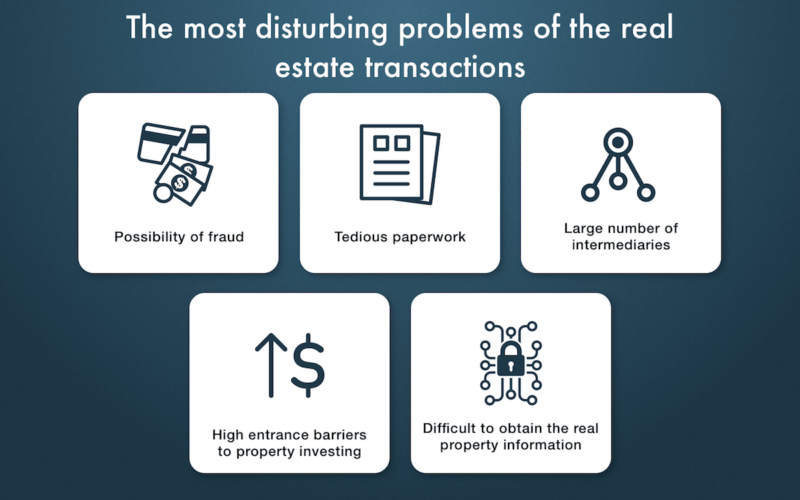 According to statistics, 71% of US citizens believe that property-related operations are a very complicated process. What's more, they want it to be simpler.
Underneath, I have gathered the most serious problems that are faced by home sellers and buyers.
A possibility of fraud. Since typical property sale agreements are concluded in a paper form, they are prone to the human factor and falsification.
A tedious paperwork. It takes a lot of time and money to take care of all the paperwork required to close a deal.
A large number of intermediaries. Typically, both parties have to pay extra fees to third-party specialists like lawyers and brokers.
High entrance barriers to property investing. It is very unlikely to make an investment in a real estate for people who do not possess a decent capital.
Difficult to obtain the real estate property information. Interested parties cannot find much property information on their own without paying to intermediaries.
Benefits of Blockchain for the Real Estate Industry
As I have already mentioned, the real estate industry is full of challenges that can be handled by blockchain-based software development. Let's now consider the most essential of them.
1. Simplified Property Search
As it was mentioned earlier, the lack of real estate data is one of the significant problems the industry currently has. The interested party has to access Multiple Listing Services (MLS) in order to get data like property ownership, peculiarities, etc.
The bad thing about MLSs is that they are usually pretty expensive and the data they contain might be of poor quality. There is still no standardized approach to arranging property data which means its quality and relevancy fully depends on mediators, like brokers, that have the absolute control over it.
Hence, the use of MLSs frequently leads to decision-making delays for both property owners and renters/buyers. Not talking about misinformation.
The blockchain technology could improve the situation by allowing to share the realty data in a P2P network. The free access to this data can let interested parties save on fees as well as allow receiving more precise information.
2. Due Diligence Activities Made Simple
Due diligence refers to pre-purchase activities like reviewing documents, calculating expenses, walking the property, etc. This step is required to avoid financial, technical or any other problems after the property is sold to a homebuyer.
These days all the data mentioned above is stored as paper documents which are, as it was already mentioned, error-prone and vulnerable to falsifications. The latter is the reason for manual check-ups. As a result, due diligence activities require the involvement of several more mediators which charge extra fees.
Blockchain-based platforms enable to digitalize property documents and store them safely. Correspondingly, the required data is always available for interested parties and the paperwork is minimized the same as errors and inaccuracies in papers.
3. No Need for Mediators
Homebuyers tend to spend from 2% to 5% of the total property cost to pay for various fees. Among those extra expenses are: property evaluation fee, legal advice, realtor services, and many more.
It is no surprise that many prospective investors do not want to deal with real estate. The industry simply does not seem transparent enough for investing considerable sums. Blockchain can bring more transparency with the help of manageable databases containing property records.
4. Smart Contracts
Managing the full range of paperwork and payments involved in a real estate transaction is a very challenging task. Let's take a lease payment as an example. A renter has to pay an amount of money defined in the rental contract to a property owner.
However, the operation is not finished after the agreed amount was charged from the renter. That money goes through multiple inspections by auditors and banks before getting to the final destination. This means that the property owner may experience delays in tenancy payments, while realty agencies spend enormous amounts of money on trace management and accounting.
Smart contracts are able to make this complicated process much more transparent. Each party of transaction signs a smart rental contract that is permitted to initiate a tenancy payment at the end of the tenancy period and automatically send money to the landlord.
5. Real Estate Transactions
In most cases, the interested party has to cooperate with a title and escrow company to guarantee the transaction. Correspondingly, it requires additional costs. Not talking about additional time since the closing period of the real estate transaction may be up to 50 days.
Due to its decentralized nature, the blockchain offers the utmost transparency in real estate transactions for all its parties. The necessary data is always accessible for them what reduces scam possibility to the minimum.
6. Real Estate Investments
Real estate investments are typically not liquid which scares off many big investors. Blockchain can change this situation for the better by means of transparent realty records combined with a highly secure system and absence of paperwork.
7. Lower Entrance Barriers for Investing
Blockchain enables using cryptocurrencies in order to trade shares of the real estate. This means that investors with lower income can add the real estate industry to their portfolio and contribute to its development.
Blockchain Real Estate Startups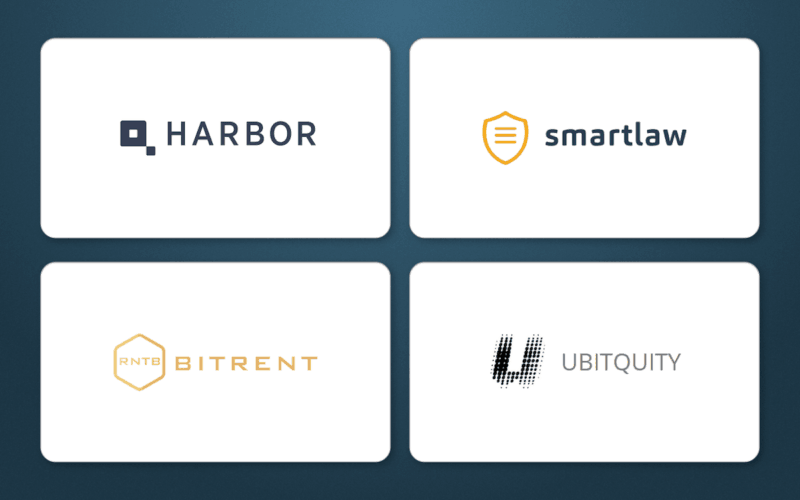 Let's consider four interesting startups the technology of which is based on blockchain and empower the real estate industry.
Harbor
This blockchain real estate startup helps with turning a property into tokenized securities that comply with the terms of Securities and Exchange Commission.
How does it work? First, the property has to be legally validated and then its price will be tokenized (e.g. 1 token for 1 square meter). The tokens are called R-Tokens and cannot be traded to non-accredited investors be accredited ones.
Ubitquity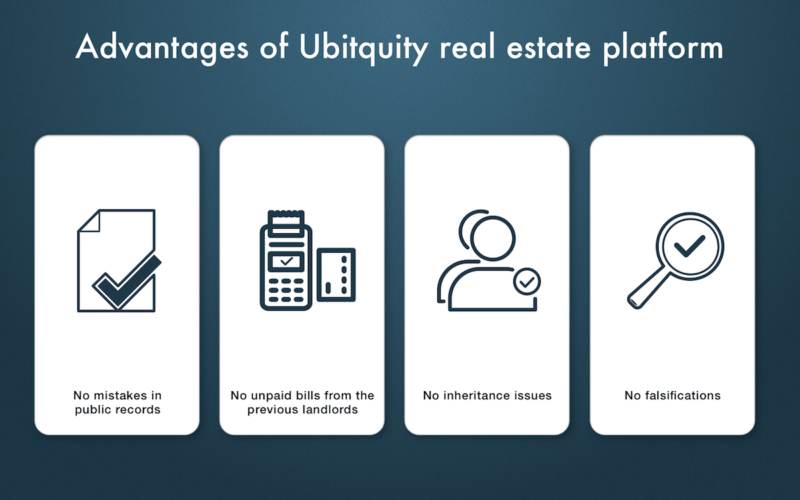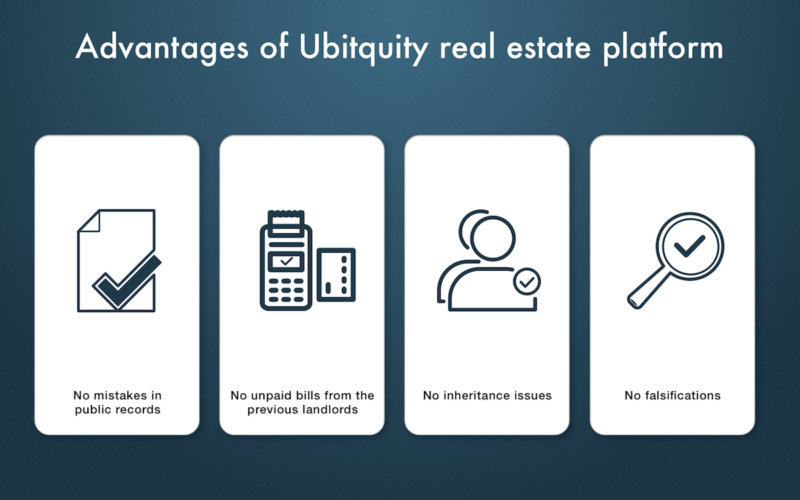 The platform was founded back in 2015. It is designed to store real estate records and let monitor them to individuals, companies and even inspection bodies. The company has calculated that their blockchain-based solution can help save up to $4 billion annually.
BitRent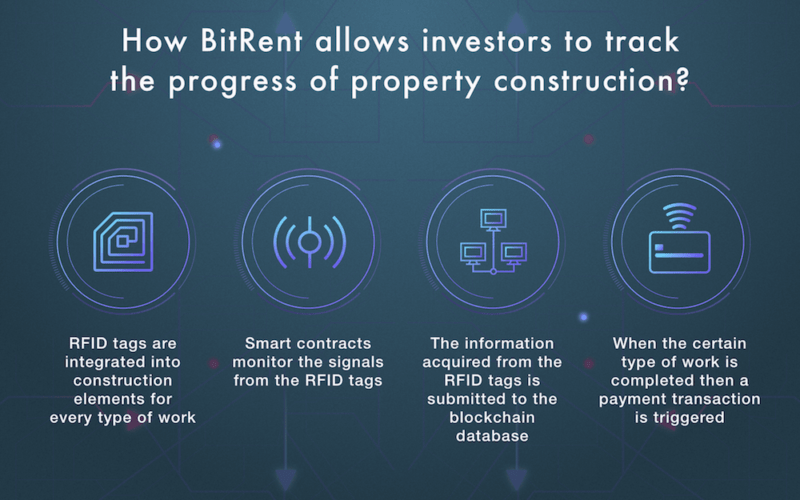 It is the world's first blockchain-based platform that connects property developers with investors from all over the globe. Investors can finance the building on early stages as well as safeguard their investments by entering them to the decentralized blockchain registry.
Smart Law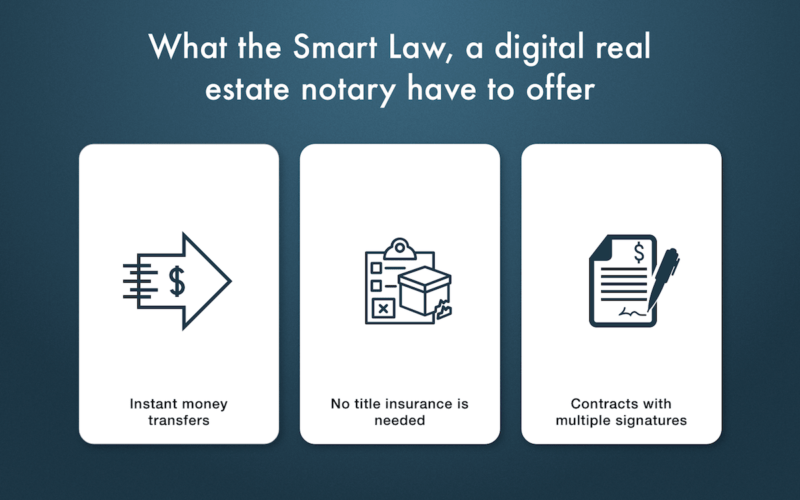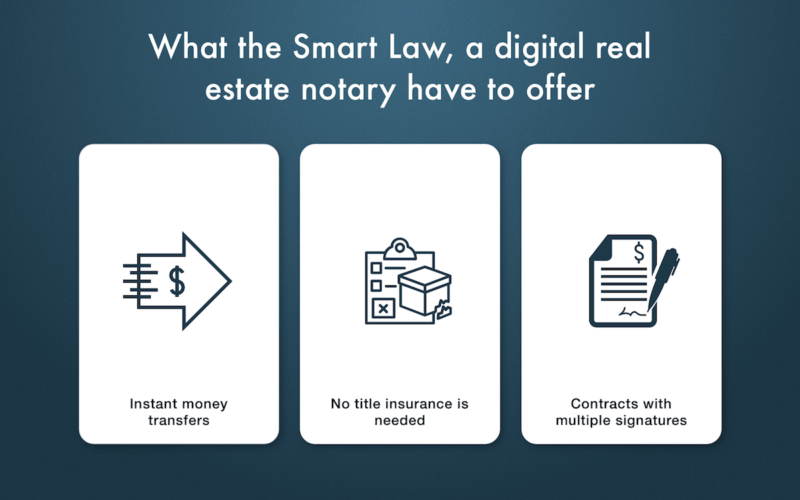 This platform aims to combine a judicial system and the blockchain technology. It allows safely selling and purchasing actives in minutes without the need for title insurance.
Wrapping Up
The blockchain technology is able to transform the real estate industry making it more transparent, simple, and secure. The benefits of the blockchain for real estate are obvious, however, it requires considerable investments to build such a product.