Last Updated on January 17, 2022
Who Is Michael Bloomberg?
Michael Rubens Bloomberg is an American entrepreneur, politician, author, and philanthropist who is the co-founder and majority owner of Bloomberg L.P.
Michael Bloomberg served as the mayor of New York City between 2002 and 2013 and was one of the candidates in the 2020 Democratic presidential primaries.
Quick Facts
| | |
| --- | --- |
| Full Name: | Michael Rubens Bloomberg |
| Popular Name: | Michael Bloomberg |
| Gender: | Male |
| Birth Date: | February 14, 1942 |
| Age: | 79 years |
| Parents: | William Henry Bloomberg and Charlotte Rubens Bloomberg |
| Siblings: | Marjorie Tiven |
| Birth Place: | Boston, Massachusetts |
| Nationality: | American |
| Ethnicity: | Jewish, Lithuanian, and Polish |
| Education: | Medford High School, John Hopkins University, and Harvard Business School |
| Marital Status: | Divorced. Formerly married to Susan Brown (1975 – 1993) and presently in a relationship with Diana Lancaster Taylor |
| Sexual Orientation: | Straight |
| Wife/Spouse: | N/A |
| Children: | Georgina Bloomberg and Emma Bloomberg |
| Dating: | N/A |
| Net Worth: | 65.2 billion (as of June 1st, 2020) |
| Source of Wealth: | Entrepreneurship, Politics, Book Authorship, and Other Ventures |
| Height: | 5′ 7″ (1.7 m) |
| Weight: | 74 kg; In pounds: 165 lbs. |
Early Life and Career Information
Michael Bloomberg was born on February 14, 1942, in Boston, Massachusetts, to William Henry Bloomberg and Charlotte Rubens Bloomberg. He graduated from Medford High School in 1960 and then proceeded to John Hopkins University, where he graduated with a Bachelor of Science degree in electrical engineering in 1964.
After graduating from John Hopkins University, Bloomberg attended Harvard Business School and graduated two years later with a Master of Business Administration.
Michael Bloomberg kicked off his professional career in 1973, working for Wall Street's Salomon Brothers. However, in 1981, he was laid off and given a $10 million cash buyout after the investment bank and brokerage firm was acquired by Philbro Corporation.
Bloomberg invested his severance package in founding Innovative Market Systems, which would later be renamed Bloomberg LP. Presently, Bloomberg LP generates around $10 billion in annual revenue.
In addition to his successful career as an investor, Michael Bloomberg is also a renowned politician. He became the 108th mayor of New York City on January 1, 2002 and was re-elected to the office twice. More recently, he unsuccessfully vied in the 2020 Democratic Party primaries.
Bloomberg's Net Worth
As of June 1, 2020, Michael Bloomberg had a net worth of $65.2 Billion. He has built his empire through years of undertaking successful entrepreneurial ventures. His most lucrative business venture is Bloomberg LP, a global corporate giant that includes financial tools, media assets, etc.
Michael Bloomberg's rise to success began in the early 80s after he was laid off from the Wall Street brokerage firm, Salomon Brothers. Bloomberg left the company armed with a severance package estimated at $10 million, which works out as $30 million today if adjusted for inflation. He used his severance package to establish a financial data company known as Innovative Market Systems (IMS).
IMS subsequently came up with a subscription technology known as Bloomberg Terminal, a concept that significantly improved the fortunes of the company.
The technology is still in use today among certain financial investors, where one Bloomberg Terminal attracts up to $24,000 in annual lease fee. The terminals also come with a two-year minimum lease period and those who lease more than two terminals a year pay a reduced annual fee of $24,000.
Presently, there are over 325,000 active Bloomberg Terminal subscribers all over the world. So, if each subscriber pays $20,000 annually, then Bloomberg Terminal attracts $6.5 billion annually in subscription revenue alone. If you factor in other undertakings by the IMS, its annual revenue shoots up to around $10 billion.
Innovative Market Systems was eventually rebranded to Bloomberg LP as it's known today, and Michael Bloomberg reportedly enjoys an 88% stake in the company.
Michael Bloomberg in Politics
Michael Bloomberg was a lifelong Democrat but in 2001, he switched camps and joined the Republican Party where he successfully vied for Mayor of New York City. He later switched to an Independent and then back to a Democrat.
As a mayor of New York City, Michael Bloomberg accepted a paltry $1 in annual salary. Instead, he spent his own money. By the end of his three terms as New York City Mayor, Bloomberg had spent more than $650 million of his own fortune. $268 million of that was spent during the campaigns, with the rest going to administrative and logistical operations.
In his 2020 presidential primary campaigns, Michael Bloomberg spent a whopping $676 million, breaking the record as the highest amount ever spent on the U.S presidential primaries. Unfortunately, his lucrative spending did not translate to a higher approval rating, as nationwide opinion polls put his support at around 15%. On March 4, 2020, he suspended his presidential campaigns and threw his weight behind Vice President, Joe Biden.
Michael Bloomberg in Book Authorship
In addition to entrepreneurship and politics, Michael Bloomberg has also authored scores of best-selling books. He co-authored the autobiography, Bloomberg by Bloomberg in 1997. A second edition of the autobiography, which was a joint partnership with Mathew Winkler, was released in 2019, right ahead of Bloomberg's presidential campaigns.
Bloomberg also teamed up with the former executive director of Sierra Club, Carl Pope, to author the Climate of Hope: How Cities, Businesses, and Citizens Can Save the Planet in 2017. The book's hardcover version made the New York Times nonfiction best-seller list for days.
It's unclear how much money Michael Bloomberg makes from authoring books but whatever it is, it definitely adds to his overall impressive net worth.
How Does Michael Bloomberg Spend His Money?
Michael Bloomberg doesn't just earn big bucks, he is a big spender too. He spends much of his fortune on philanthropy work.
Some of his most notable donations include $8.2 billion to The Giving Pledge since August 2010 and $3.3 billion to the John Hopkins University.
Life Lessons from Michael Bloomberg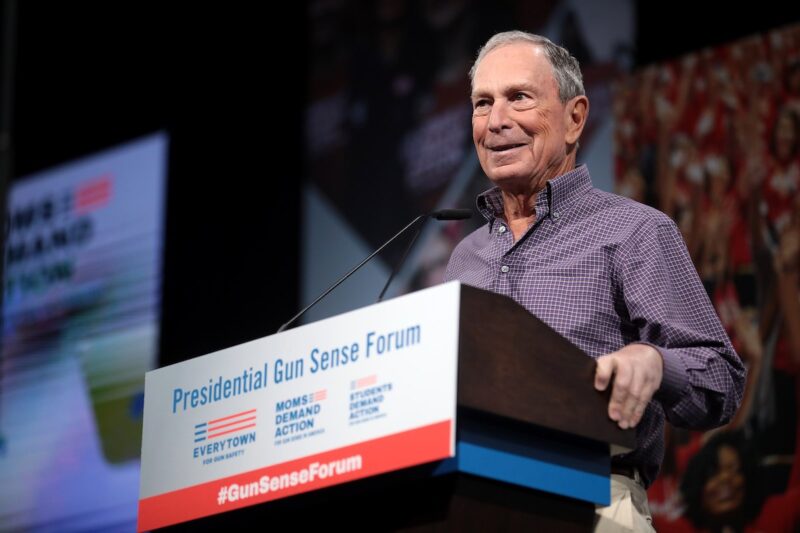 1. Leverage your setbacks to stage a comeback
After he got laid off from Salomon Brothers, Bloomberg invested his $10 million cash buyout into a more profitable venture, the Innovative Market Systems (IMS).
2. Love what you do
It's no secret that Michael Bloomberg is passionate about his job. He once said, "It must be miserable to wake up every day and hate what you do. Go and do something else. If you hate it, how can it be worse?"
3. Be a cheerful giver
Not only has Bloomberg made billions, he has also donated billions to various causes and he is happy about it. He donated more than $254 million to about 1,400 nonprofit organizations in 2009, saying "I am a big believer in giving it all away and have always said that the best financial planning ends with bouncing the check to the undertaker."
Memorable Quotes by Michael Bloomberg
"People use so much more health care when they live longer."
"Progress really is possible."
"The public is mad, frustrated, but what the public wants is progress."
"We will go forward, we will never go back."
"What has changed is that people have stopped working together."
Conclusion
That Michael Bloomberg is one of the richest people on the plant is beyond doubt. He is among the few billionaires who was able to leverage their losses into an incredible success.