Last Updated on March 8, 2022
Many prolific and talented musicians reshaped music into what it is today. Bob Dylan is easily one of those geniuses, but he is unlike any other. No contemporary musician has ever been able to produce a plethora of songs that feel both purely classic yet intensely modern, one who could marry the world of songs and literature and receive a Nobel for it.
Early Years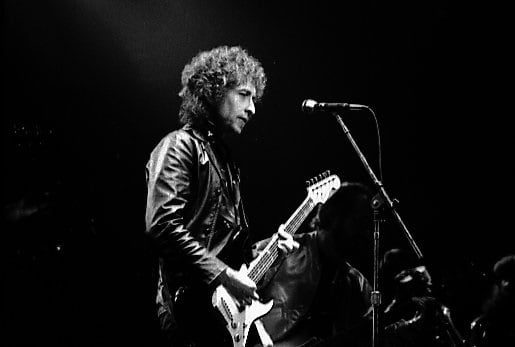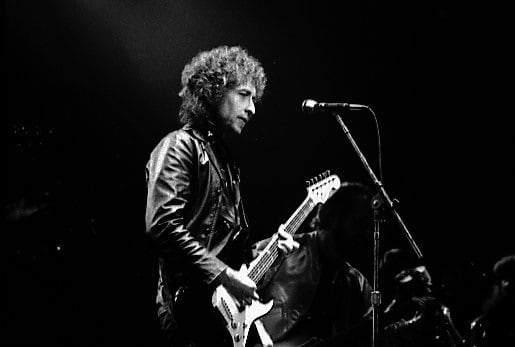 In 1941, Robert Allen Zimmerman was born to parents Abram and Beatrice in Duluth, Minnesota. He had a younger brother named David, and they grew up in the small town of Hibbing. There, he attended Hibbing High School, where his musical prowess first started to show.
Like most of the teenagers at that time, Robert looked up to legends like Elvis Presley and Jerry Lee Lewis, although he was more interested in performing. While he sang their hits during their school dances, he also fronted a number of bands, including the Golden Chords.
In another band, he assumed the pseudonym Elston Gunn. But it was not until he attended the University of Minnesota in Minneapolis that he would begin to play folk and country music under the alias Bob Dillon, based on the protagonist of the Western film Gunsmoke.
Bob Dylan, the Folk Singer
After dropping out of college in 1960, Bob moved to New York to pursue a career in music. There, he would start to write songs, and perform them at folk clubs and coffeehouses in Greenwich Village, one of which was a song entitled Song to Wood, which was dedicated to his idol, folk singer Woody Guthrie.
In the fall of 1961, The New York Times did him a big favor when they got wind of his music and raved about it in the paper. Soon after, he signed a contract with Columbia Records, whereupon he legally changed his surname to Dylan.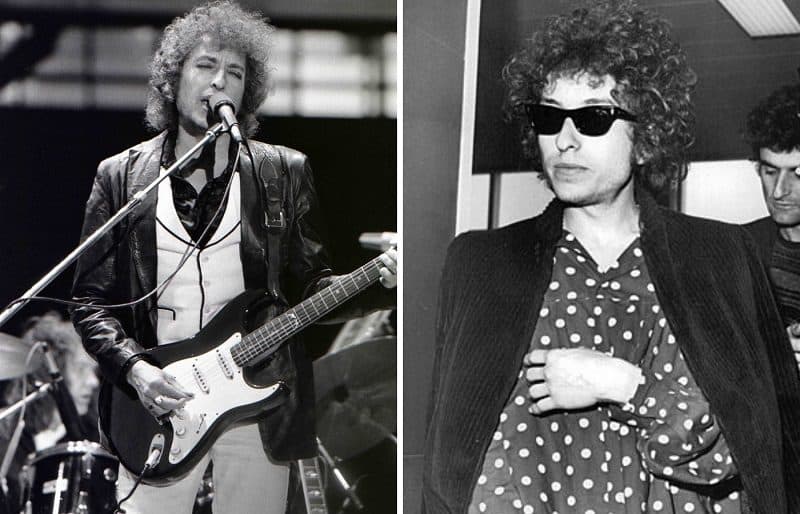 For someone who voraciously wrote song after song, you'd think that he'd kick off his career with a bunch of originals — he didn't. In 1962, Dylan released a self-titled album that only had two originals and a number of covers of folk songs and blues.
But in the following year, he launched The Freewheelin' Bob Dylan, which came with two of his most beloved songs, Blowing in the Wind and A Hard Rain's A-Gonna Fall. This would mark the beginning of a blossoming career, a whirlwind of adventures, and a series of experimentations.
The Political Bob Dylan
With The Times They Are A-Changin', Dylan established himself as a prominent writer for the civil rights movement of the '60s.
Though some would like to believe that it was his relationship with one of the movement's icons, Joan Baez, that set his reputation in stone, his songs say a great deal about social protests being a generation's cultural pursuit. He was not only present when Martin Luther King delivered the iconic "I have a dream" speech; he also performed at the momentous occasion.
When Dylan and Baez called it quits, he had a reputation as a chronicler of social and political issues. From there, he made it a point to reinvent himself. While the change upset many, it also paved way for new genres in music.
Bob Dylan, Times Were Changing
In one of his first attempts to reinvent himself, he shocked the world when he brought an electric blues band with him to the 1965 Newport Folk Festival. The shift wasn't something his fans could fathom at the time. It made them feel abandoned. But it was a triumph for the music industry because that counter-cultural experiment conceived a whole new genre you now know as folk rock.
Bob Dylan, the Legend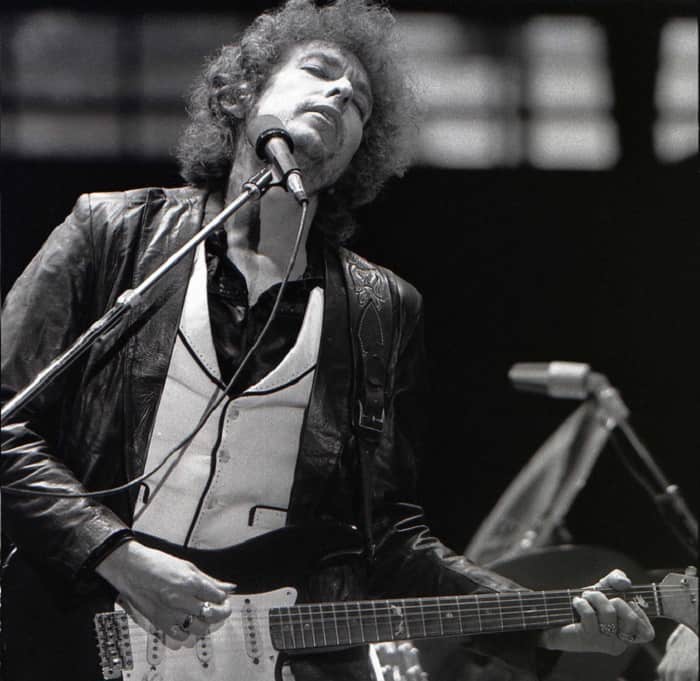 Dylan went through a near-death experience in July of 1966 that left his career at a standstill. He bounced back two years later with new music, more mellow than before — but people loved it.
Though he was already quite successful at this point, he had only hit no. 1 in 1975 with Planet Waves. It was a collaboration with The Band – his long-time backup, a band he reinvented into one of the best rock bands of all time. It was the start of a series of chart-topping albums.
In the '80s, the folk singer-songwriter reached rock star status. He held tours along with some of the greatest musicians like Tom Petty and the Heartbreakers, to name a few. He only made music with the best such as George Harrison, Roy Orbinson, and Jeff Lynne.
Apart from being inducted into the Rock and Rock Hall of Fame, Dylan has won Grammys, Oscars, and Golden Globes. More recently, he became the first musician to ever receive a Nobel Prize in Literature.
Here are some of the most famous Bob Dylan quotes that inspire you to pursue your passions.
Bob Dylan Quotes
"There's a wall between you and what you want and you got to leap it." – Bob Dylan
"I've never been able to understand the seriousness of it all, the seriousness of pride. People talk, act, and live as if they're never going to die. And what do they leave behind? Nothing. Nothing but a mask." – Bob Dylan
"Life is more or less a lie, but then again, that's exactly the way we want it to be." – Bob Dylan
"Pain brings out the best in people, doesn't it?" – Bob Dylan
"You can always come back, but you can't come back all the way." – Bob Dylan
"Passion is a young man's game. Young people can be passionate. Older people got to be wiser. I mean, you're around awhile, you leave certain things to the young. Don't try to act like you're young. You could really hurt yourself." – Bob Dylan
"Act the way you'd like to be and soon you'll be the way you'd like to act." – Bob Dylan
"When you feel in your gut what you are and then dynamically pursue it – don't back down and don't give up – then you're going to mystify a lot of folks." – Bob Dylan
"No one is free, even the birds are chained to the sky." – Bob Dylan
"People need to be encouraged, not stepped on and put in a straitjacket!" – Bob Dylan
"It was gravity which pulled us down and destiny which broke us apart." – Bob Dylan
"You're going to die. You're going to be dead. It could be 20 years, it could be tomorrow, anytime. So am I. I mean, we're just going to be gone. The world's going to go on without us. All right now. You do your job in the face of that, and how seriously you take yourself you decide for yourself." – Bob Dylan
"It's like a kid standing at the window watching the rain." – Bob Dylan
"The finest fury is the most controlled." – Bob Dylan
"A man is a success if he gets up in the morning and gets to bed at night, and in between he does what he wants to do." – Bob Dylan
"All I can be is me – whoever that is." – Bob Dylan
"You can never be wise and be in love at the same time." – Bob Dylan
"All right, I'll take a chance. I will fall in love with you. If I'm a fool you can have the night, you can have the morning too. Can you cook and sew. Make flowers grow. Do you understand my pain? Are you willing to risk it all or is your love in vain?" – Bob Dylan
"Everything passes. Everything changes. Just do what you think you should do." – Bob Dylan
"Funny, how the things you have the hardest time parting with are the things you need the least." – Bob Dylan
"Why wait any longer for the one you love when he's standing in front of you." – Bob Dylan
"The highway is for gamblers, better use your sense." – Bob Dylan
"Experience teaches us that silence terrifies people the most." – Bob Dylan
"Your problem is that you want to better word for world." – Bob Dylan
"If you want to keep your memories, you first have to live them." – Bob Dylan
"It frightens me, the awful truth, of how sweet life can be…" – Bob Dylan
"Beyond here lies nothing' But the mountains of the past" – Bob Dylan
"If ever asked to look at yourself, don't." – Bob Dylan
"The more you act the further you get away from the truth." – Bob Dylan
"What drives me to you, drives me insane." – Bob Dylan
"You learn from a conglomeration of the incredible past — whatever experience gotten in any way whatsoever." – Bob Dylan
"I accept chaos, I'm not sure whether it accepts me." – Bob Dylan
"Now, each of us has his own special gift and you know this was meant to be true. And if you don't underestimate me I won't underestimate you." – Bob Dylan
"Sometimes you just have to bite your upper lip and put sunglasses on." – Bob Dylan
"If you need somebody you can trust, trust yourself." – Bob Dylan
"Every pleasure's got an edge of pain, pay your ticket and don't complain." – Bob Dylan
"Swallow your pride, you will not die, it's not poison." – Bob Dylan
"When you think that you lost everything you find out you can always lose a little more." – Bob Dylan
"You're right from your side, I'm right from mine." – Bob Dylan
"If I lived my life by what others were thinking, the heart inside me would've died." – Bob Dylan
"You get older. You start having hopes for other people rather than yourself." – Bob Dylan
"I gave her my heart but she wanted my soul…" – Bob Dylan
"I don't think the human mind can comprehend the past and the future. They are both just illusions that can manipulate you into thinking there's some kind of change." – Bob Dylan
"Don't matter how much money you got, there's only two kinds of people: there's saved people and there's lost people." – Bob Dylan
"You have to work out where your place is. And who you are. But we're all spirit. That's all we are, we're just walking dressed up in a suit of skin, and we're going to leave that behind." – Bob Dylan
"Last night I danced with a stranger, but she just reminded me you were the one." – Bob Dylan
"It's not important what other people call you. If you yourself know you're a fake, that's tougher to live with." – Bob Dylan
"I'll let you be in my dreams if I can be in yours." – Bob Dylan
"The only thing I knew how to do was to keep on keeping on." – Bob Dylan
"What was the future? The future was a solid wall, not promising, not threatening – all bunk. No guarantees of anything, not even the guarantee that life isn't one big joke." – Bob Dylan