Last Updated on January 20, 2022
Chic, timeless, and a guaranteed head-turner, braids have been a staple for centuries. Trends may change – but not braids. Thanks to social media, people from all ages and walks of life can now appreciate its rich origins.
The wild and untamed history of braided hair
Braids around the world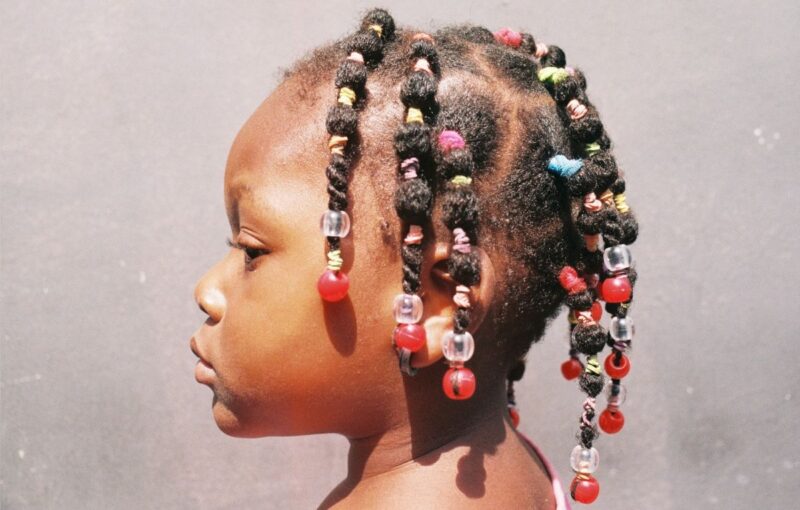 Braids go way back to the 3500 BC in the African continent. The cornrow is perhaps the oldest braiding style, with evidence of it found in the Sahara desert. Egyptians on the other hand, are credited with the afro box braids, worn by women to look beautiful and keep themselves cool. Pharaohs and other men were also known to braid their beards.
During the first century, halo braids became popular in Greece. Pigtail braids were sported by Native Americans in the 5th century. Every tribe wore their hair differently; but the loose, rolled braids with accents were normally worn by single women. Europe adapted crown braids sometime between 1066 and 1485.
Through slavery and emancipation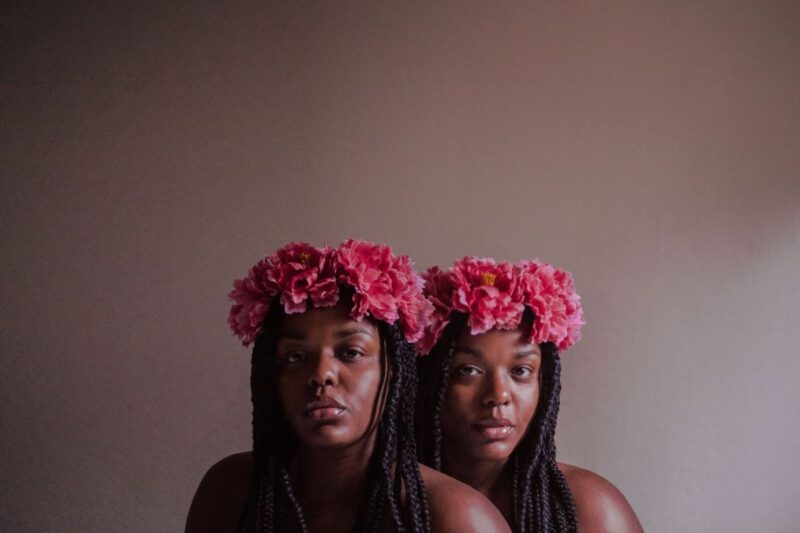 It's difficult to discuss braids without also talking about trans-Atlantic slavery and the trauma of colonization. Braids were more than a hairstyle: they were ties to family lineage, age, religion, and home. Colonizers shaved the heads of women, eliminating this valuable link to their heritage.
When they came to America, braids became practical.
Gone were the intricate and beautifully adorned hairstyles of their tribes. The women went for something simple. The styles they created had another use: as a means of secret communication. The plaits in their hair indicated messages, like where to find help or how many roads are there to freedom.
Pop culture and self-acceptance
For years, many African American women wanted to leave behind the hard memories of their past.
Most of them assimilated to city life by straightening or bleaching their hair. Braids became associated with backwardness and unsophistication. Women who tried to wear this hairstyle were shunned, ridiculed, or fired from their jobs.
But things began to change during the 60s. With the Black Power Movement, many African Americans wanted to honor their native roots. Celebrities helped to awaken this sense of pride by sporting their hair in eye-catching braids.
Cicely Tyson for instance, wore cornrows for the movie, Sounder (1972). Singer and pianist Patrice Rushen liked to wear braids for her performances, too.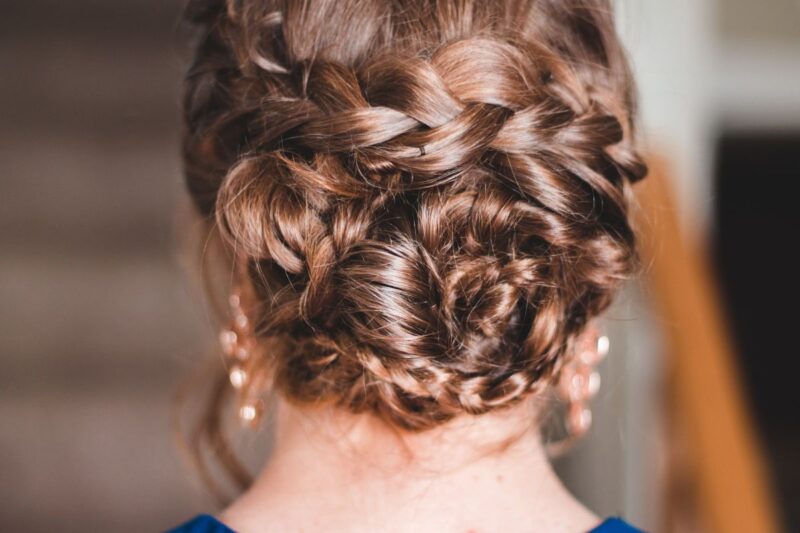 By the 90s, braids were considered cool. Many singers and actresses wore braids to the red carpet, among them Janet Jackson and Brandy (Brandy Rayana Norwood). Today, African American braiding studios help bring the community together by educating people on the significance of braids.
Braided hairstyles are not only gorgeous, they protect textured hair from heat and humidity. Many lovely styles are passed down through matriarchs in the family. More than a head-turning updo, they are a link to the past and a form of self-love.
Best Braided Hairstyles for Women
Wear it to work, to parties, or to get in touch with your heritage. Braids will never go out of style. Make sure to read up on the particular 'do that you want to sport, to give it proper justice. There's still a lot to learn from this sophisticated and historical hairstyle, after all.
For now, enjoy these amazing hair braiding styles to inspire your next look!
1. Chunky Braids
Credits to BRAIDS_BY_BRITJ via The Right Hairstyles
Feel free to use extensions to achieve this super rad effect.
2. Twisted Bun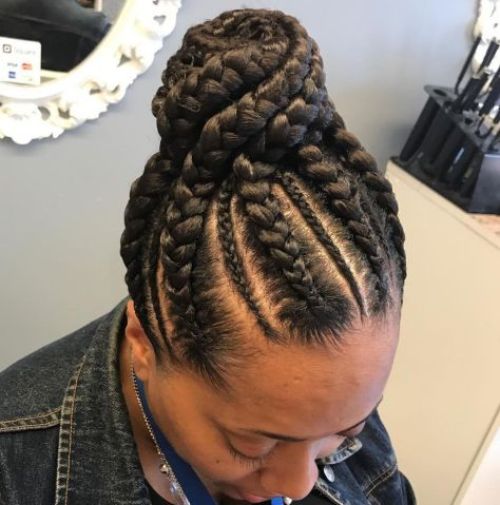 Credits to soglossy via The Right Hairstyles
Feel like a queen in this cute yet comfortable updo that you can also wear to work everyday.
3. Braided Bob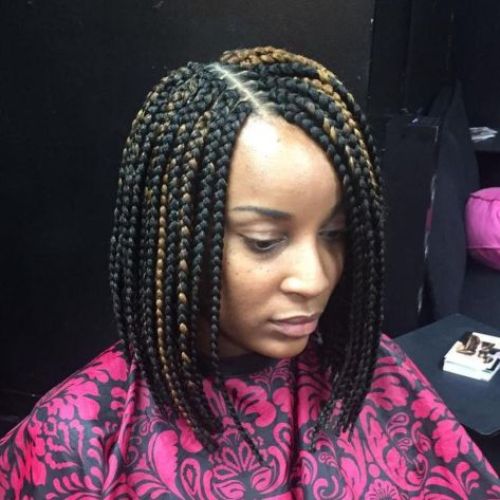 Credits to TOUCHEDBYKAY_ via The Right Hairstyles
Look polished and put-together in this chic style that's doable regardless if you go for thin, medium, or thick braids.
4. Relaxed French Braid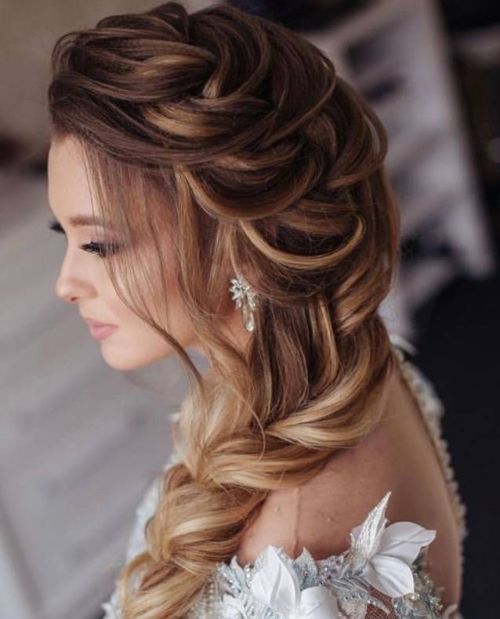 Credits to Elegant Wedding Blog
This hassle-free hairstyle will turn any bride or homecoming queen into a real life Grecian goddess.
5. Flower Braid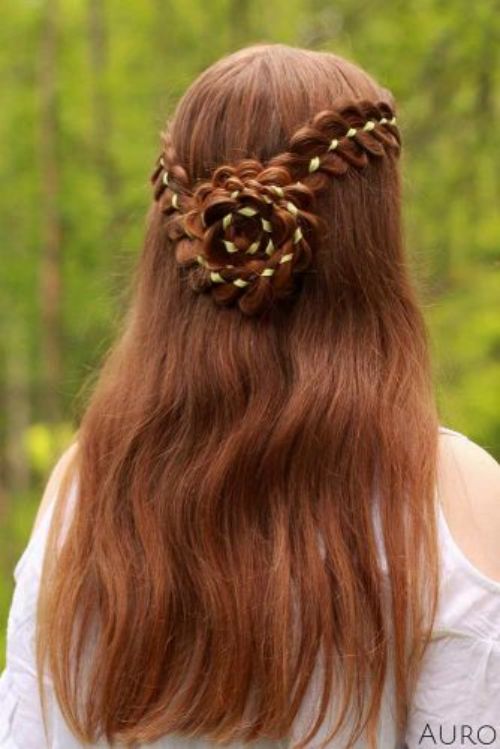 Credits to aurorabraids via Love Hairstyles
How about turning your hair into a flower? Ideal for long hair (but could also work on medium lengths), this beautiful 'do is a definite head-turner.
6. Mohawk Criss-Crossed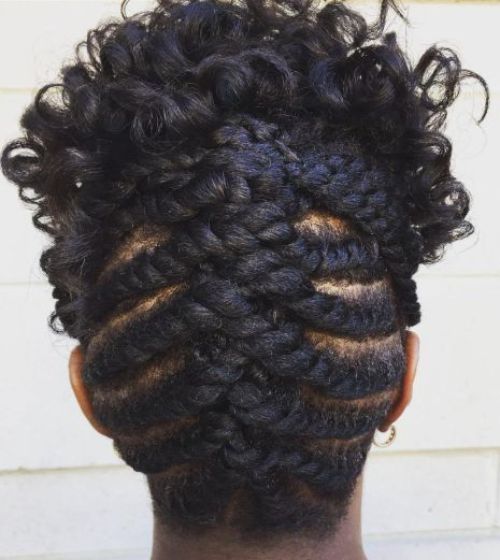 Credits to iprotecttresses via The Right Hairstyles
The genius criss-cross pattern at the back will keep your hair in place for hours.
7. Ponytail Braid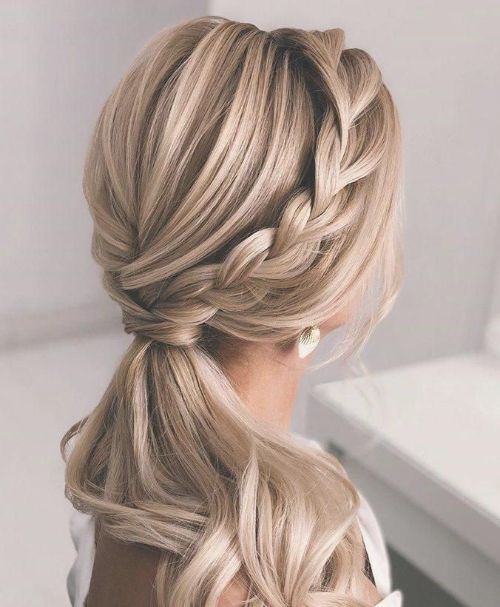 Credits to Elegant Wedding Blog
Simple, chic, and timeless, anyone will fall in love with this braided hairstyle; whether it's for prom, a wedding, anniversary, or for a romantic date.
8. Bubble Pony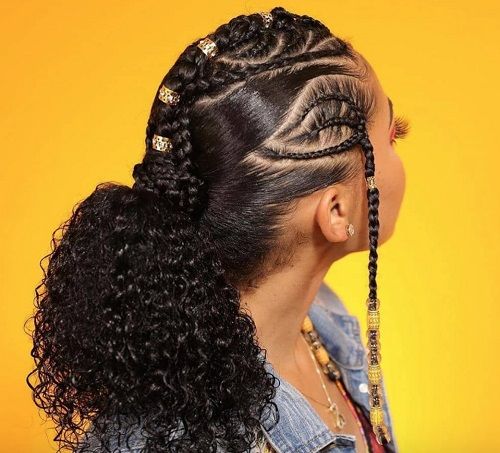 Credits to worldofbraiding via Glamour
Add clear beads or metallic accents for an irresistible summer hairdo!
9. Cornrow Ponytail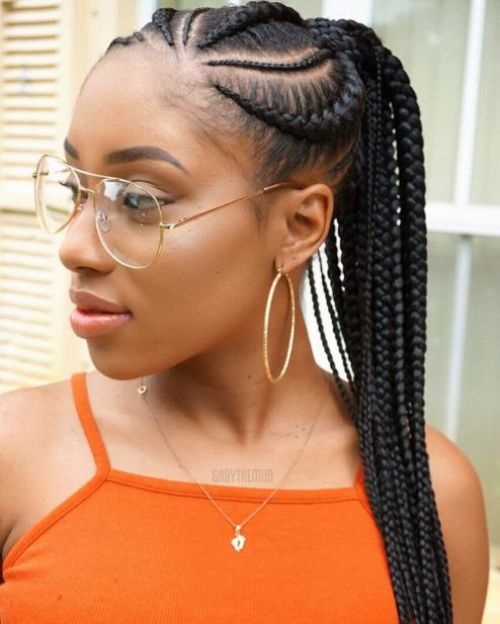 Credits to The Right Hairstyles
Putting your cornrows in a ponytail is a wise choice for a sleek, cool style that can go from work to party in no time. Just add the right accessories and you're ready.
10. Goddess Braids
Credits to lacyredway via Glamour
Let Gabrielle Union's look inspire you to break out your inner goddess through this daring hairstyle.
11. Curly Mohawk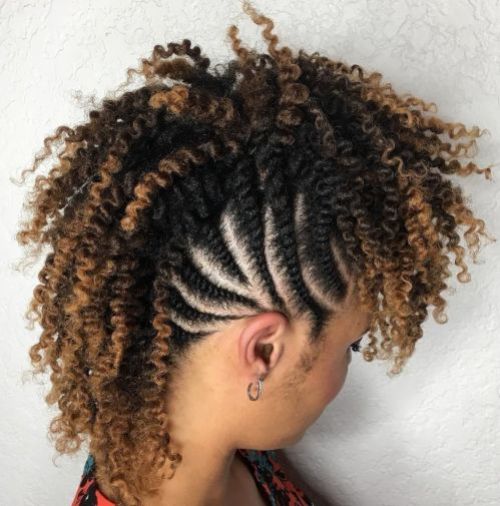 Credits to deecarrington via The Right Hairstyles
No need to immediately cut off your tresses for a mohawk. Just experiment with braids and put your hair in curls the night before, for a glam reveal the next day.
12. Criss-Cross Braids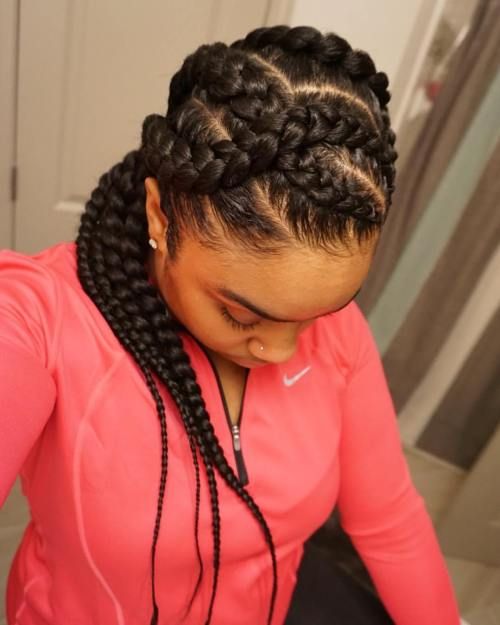 Credits to naturallyci via The Right Hairstyles
You wouldn't believe how easy these braids are to do – and how easy they are to take out before bed.
13. Dutch Braid
Credits to aurorabraids via Love Hairstyles
Give your usual Dutch braids a twist for a clean but sophisticated updo that's bound to be a scene-stealer at any event!
14. Forward Braided Bun
Credits to nenonatural via The Right Hairstyles
This classy bun evokes vintage vibes with its loose, voluminous style that's perfect for the red carpet.
15. Braids in a Bun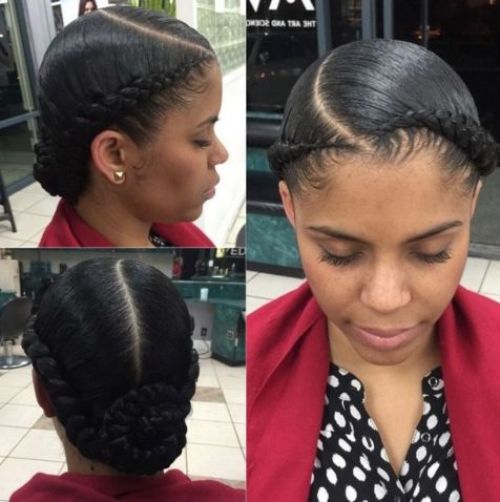 Credits to The Right Hairstyles
Want this low braided bun but your mane isn't long enough? Don't worry: you can use hair extensions.
16. Half-Updo
Credits to nenonatural via The Right Hairstyles
Neat, sleek, and sexy, these Ghana braids will not only protect your hair, they also look casual and sweet.
17. Half-Up Half-Down
Credits to samirasjewelry via Love Hairstyles
Got thick locks or unruly, fine hair that just won't behave? Then say hello to the miracle of braids that are here to save the day – and your tresses.
18. Crown Braid
Credits to tamelalemieux via The Right Hairstyles
This tried-and-tested 'do will make anyone look and feel like a princess, regardless of how they like to wear it.
19. Braids with a Curly Ponytail
Credits to tiamowry via Glamour
Take inspiration from Tia Mowry and get your hairstyle up and ready for any occasion!
20. Fishtail Braid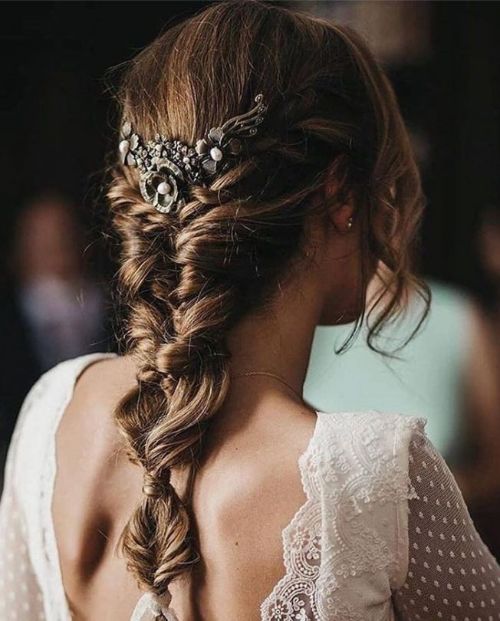 Credits to Elegant Wedding Blog
The actual method of creating this braid can be time-consuming; but once you see the end result, you might be tempted to wear it again.
21. Messy Twisted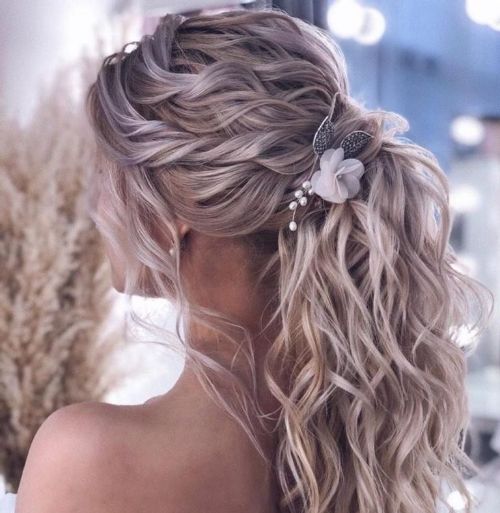 Credits to Elegant Wedding Blog
You call it messy – we call it relaxed, boho chic! Recommended for beach weddings, garden parties, or summer dates.
22. Halo Braids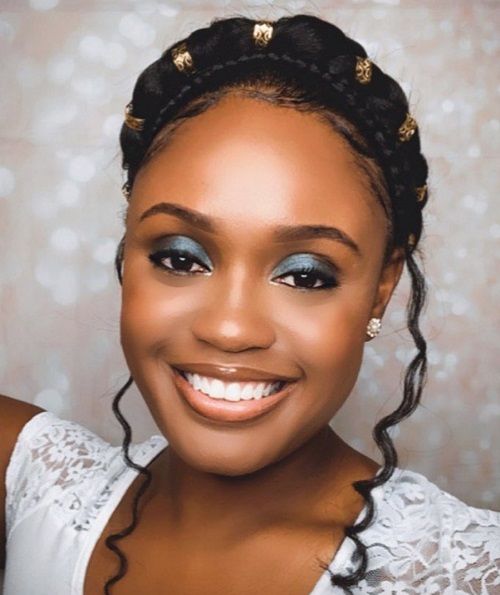 Credits to sashiee.tv via Glamour
Add loose tendrils of hair to this classic to achieve an ethereal, dreamy look in no time.
23. Side Braid
Credits to kykhair via Love Hairstyles
Give your regular bob a trendy yet inconspicuous twist with a side braid that just looks like a deep side part. It's great for those sporting short or medium-length hairstyles.
24. Dutch Braid Crown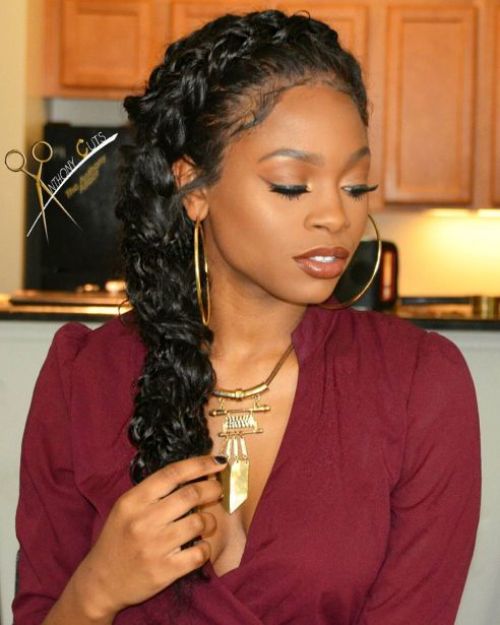 Credits to anthonycuts via The Right Hairstyles
Got naturally long hair? Too lazy to style it for a night out with the girls? Then let the Dutch braid crown be your go-to hairstyle.
25. Thin Box Braids
Credits to braidsbykathy via The Right Hairstyles
Instead of coloring your hair (and possibly damaging your locks), just use colored hair extensions to add a fun element to your box braids.
26. Low Bun Goddess Braids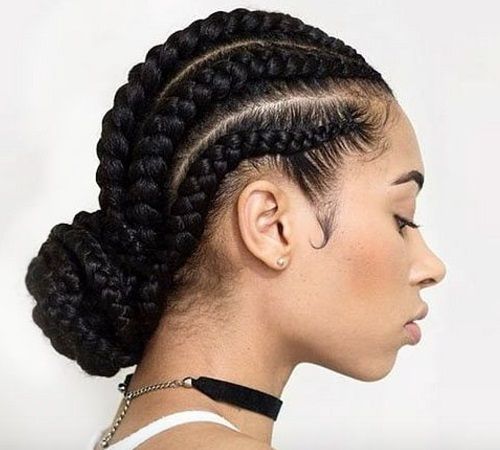 Credits to fro__.on via Glamour
Clean, neat, and always stylish – you can't go wrong with this updo.
27. Crochet Goddess Braids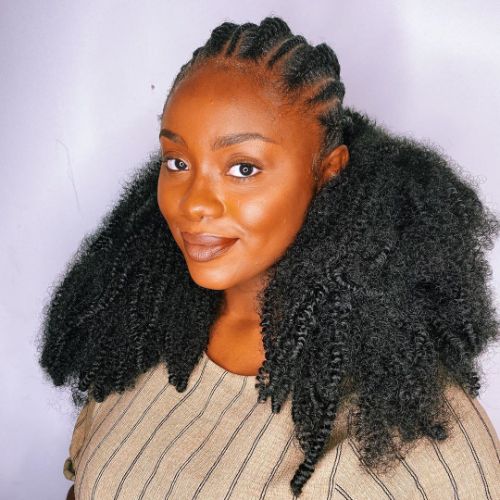 Credits to hairbysusy via Glamour
Crochet braids may not normally be seen glamorous, but they can be when worn in this way.
28. Loose Braid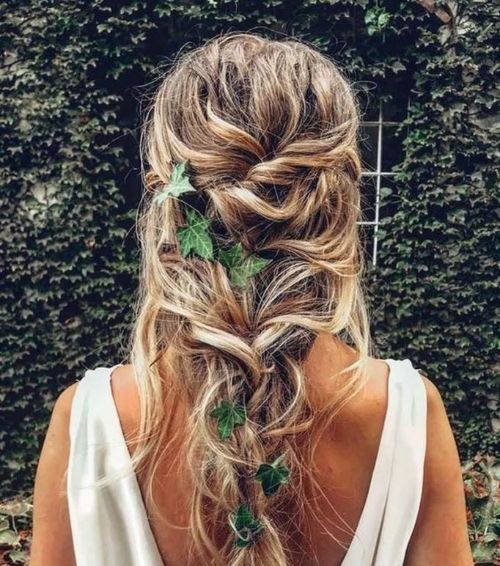 Credits to Elegant Wedding Blog
Messy, undone, but still gorgeous, this braided hairstyle is most suited for boho, beach, garden, or forest themed events. Complement with flowers, petals, leaves, or jewelry.
29. Waterfall Braid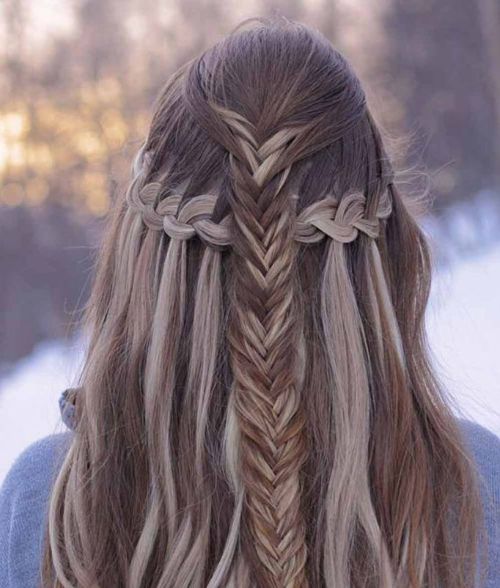 Credits to aurorabraids via Love Hairstyles
Highlights is what will make this hairdo stand out from the crowd of run-of-the-mill braids.
30. Thin Goddess Braids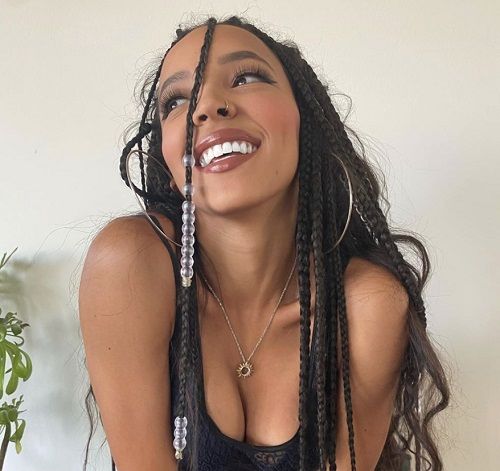 Credits to tinashenow via Glamour
Go for your natural hair (no need for extensions) to achieve this casual, breezy look. Just add cute beads on the braids for a cool twist.