Opening a new restaurant is a super exciting, but super scary time. With a never ending to-do list and millions of things to consider, it can be hard to find the time to consider restaurant branding.
The branding and design elements for new business are absolutely essential for a new eatery – even if there are other things that seem higher on the agenda. Getting the branding right at the beginning could not only save money long term, but could also be the difference between success and failure.
When you think of your favourite restaurants – or a least the restaurants that have been successful enough to franchise nationally or globally – they all have one thing in common : brand identity.
Take the golden arches of McDonalds, or the two-tailed Mermaid of Starbucks – as soon as you see these you crave a big mac or a frappuccino. These businesses haven't grown as big and successful as they are by accident – their brands have propelled them there.
So goes into creating strong restaurant brand? Here are the essentials…
It all starts with the name…
This may seem obvious, but this is likely to be the most time-consuming challenge. Finding a name that is unique, memorable and that "rolls of the tongue" is no mean feat. When we then factor in finding a name that also looks good – it can start to feel like a bit of an impossible task! A good brand agency will help you from the initial restaurant concept and come up with a name that is simple but effect and that will look great on all creatives.
Logo & Brand Identity
A brand identity incorporates every aspect of the restaurant, from imagery and logo to menu and interior design. While a new, local restaurant probably doesn't require a 30 page brand guidelines, (that's only really needed when a restaurant opens a franchise or expands rapidly), a tight solid brand identity is required.
The logo is the visual identity of a restaurant, and so needs should illustrate it without been too obvious or cheesy. Typeface based logos usually work best for restaurants, but there are many ways designers can get creative with this. Having the restaurant name formed out of pasta for a new Italian restaurant for example, can be a lot more effective than an illustration of a slice of pizza.
One of the most important aspects of logo design for a restaurant is ensuring it will work at a large and small scale. Remember that it needs to work when displayed on the front signage as well as on the business cards!
When the logo is perfected it's time to need to think about all the other numerous aspects of the brand, such a typeface colour palettes and tone of voice.
A restaurant with a strong brand considers everything, from the language used on social media platforms, to the uniforms worn by staff.
What marketing materials are needed?
Menu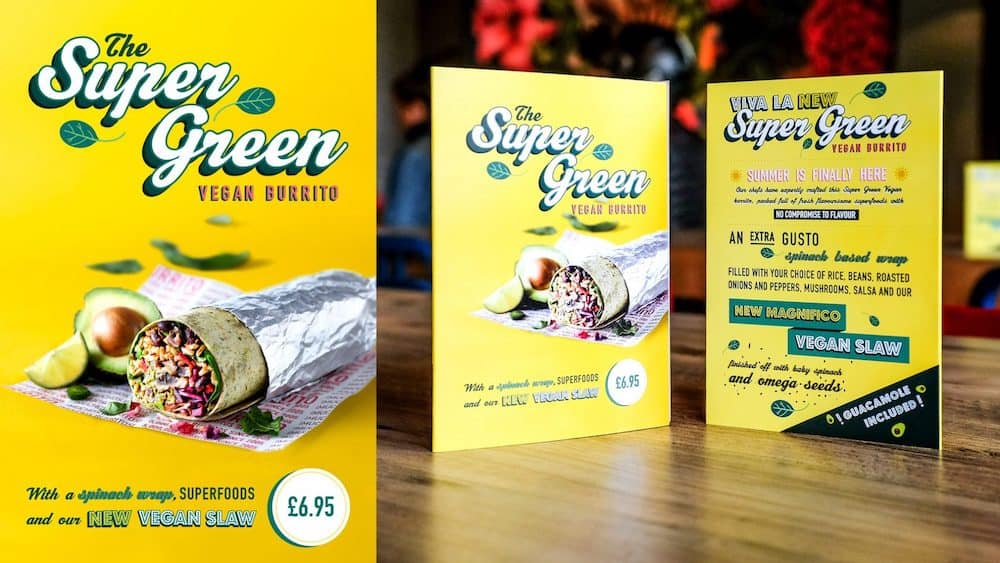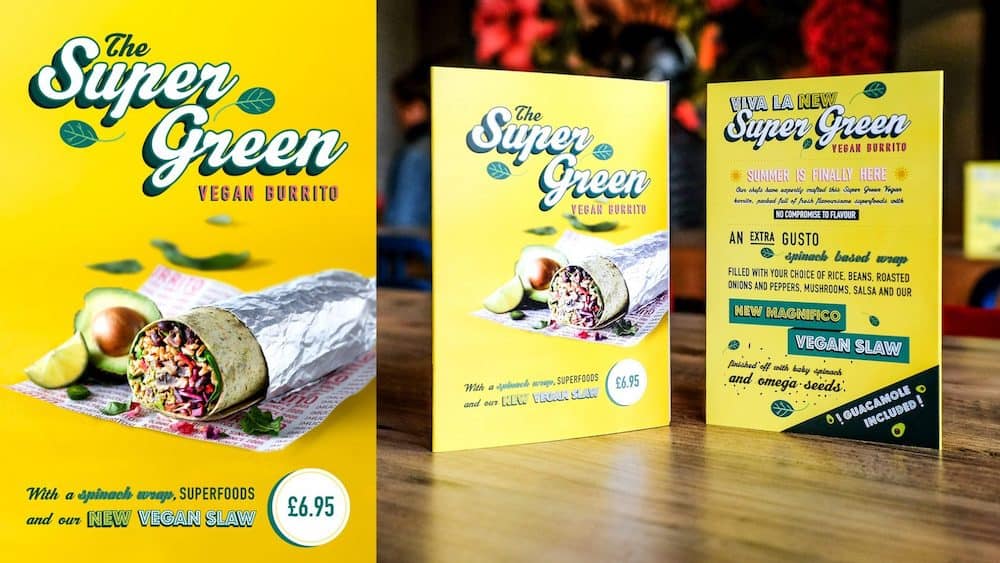 Branding design by Forever Agency for Barburrito
The food may be important in terms of getting customers to come back to a restaurant, but the menu is what makes people order in the first place. Menu designs need to be on brand and highlight the food perfectly. A designer should ideally create a menu both for print and digital, as you'll find more restaurants have online menus these days.
Shop signage
This includes the front window, hanging signs and window graphics, and typically a strong, clean, fresh design in one or two colours can work wonders when it comes to displays. Internal signage also needs to be considered. Thinking outside the box is important if you want the brand and design work in your restaurant to stand out against your competitors…
Point of Sale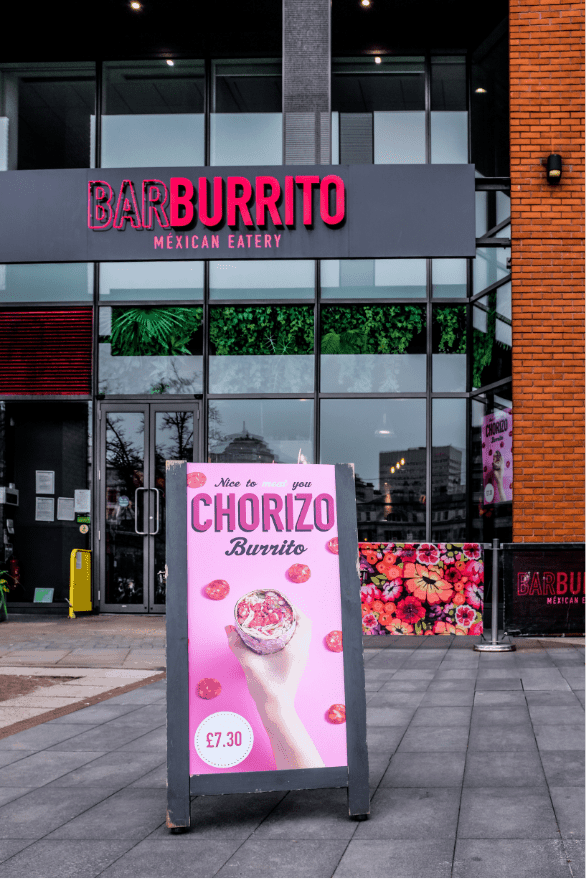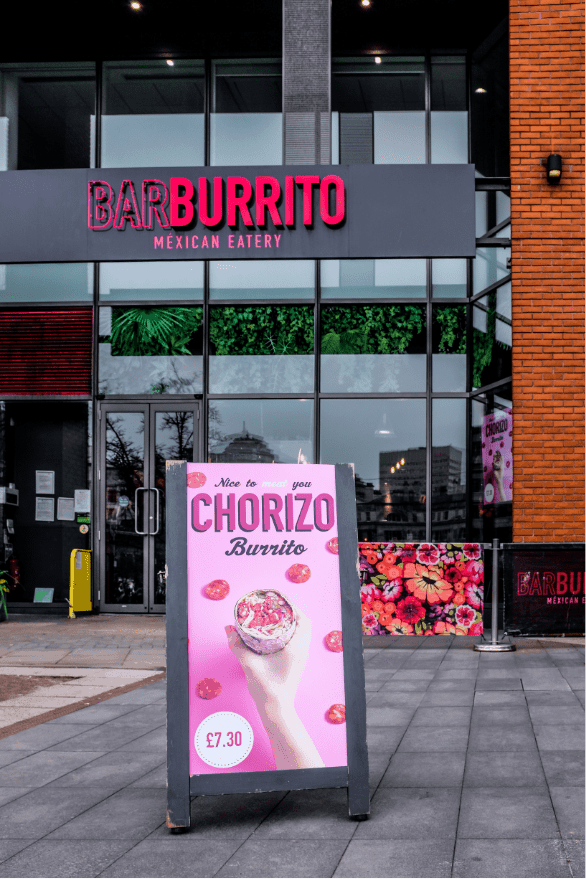 To entice customers to add to their food orders it's a good idea to include some eye-catching point-of-sale signage designs. For example, consider promoting dessert items on you staff T-shirts, and include images of side orders on displays. The key (as with everything in the design world), is to be creative, as the more innovative and unique a promotion deign is, the more likely the customer is to buy what's being advertised.
Business cards / Loyalty Cards
As soon as the restaurant doors open, it's important want to capitalise on every visit. A simple stack of cards on the counter, or offering a loyalty card is an ideal way build brand recognition and loyalty.
Simple design and clear communication of what you actually do on the the business or loyalty card is essential.
A-boards are great. They provide a street-side marketing opportunity to oncoming pedestrian and car traffic.
Remember that the imagery of the food for any marketing materials needs to be immaculate as it's the best was to sell the restaurant instantly.
Website
Having a website is essential. It's 2018! How can anyone expect a business to be successful if they have no website? Restaurant websites need to be easily to use and look beautiful. The website is what sells the eatery online and gets people through the door, so it's vital that it makes the restaurant feel unique and exciting to entice new custom.
Interior Design
Lastly, the interior design of a new restaurant cannot be underestimated. In the digital era, people really do seek out restaurants based solely on the interior designs. The food doesn't even have to taste that good – as long as it looks good and the restaurant is pretty, people will come so that they can take a picture for social media. (This is fab free marketing, also!)
Design and branding is about creating flow and continuity and this should extend to the interior. Creating a simple colour palette, having beautiful imagery and some key focal points is a good place to start. Try not to be too "on trend" as you want something that will last longer than one season.
To summarise, branding is the main thing that sets a restaurant apart. Having a strong brand identity can help a new eatery to thrive it what is a reasonable saturated market! While many entrepreneurs stepping food into restaurant ownership may not think that the colour pallete they use or logo they pick is going to make or break their company, it can make a big difference.