When starting a business, meeting clients is an important part of the job. The impression we create on their minds about our business is crucial in gaining their trust. Once trust is built a relationship is formed.
This process often starts at the very first meeting which often is a short one because it's all about building credibility.
The client may not be willing to give time for a meeting, as such many businesses prefer leaving a well-designed brochure that gives the client all the information he needs to decide whether to give you more time or not.
Brochures thus are very important for marketing and if they are poorly designed then that will have a negative impact on the client. If you're wondering where you can find the right inspiration for brochure designs then you're in the right place. Here are top 15 brochure templates that you can get inspired from.
Note: Click the photos to visit the template page.
Car Rental Bi-Fold Brochure Template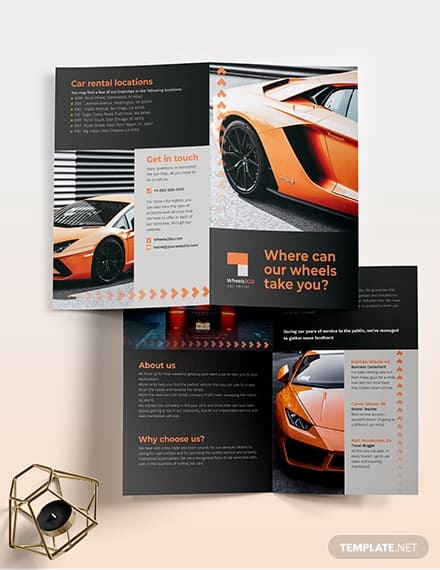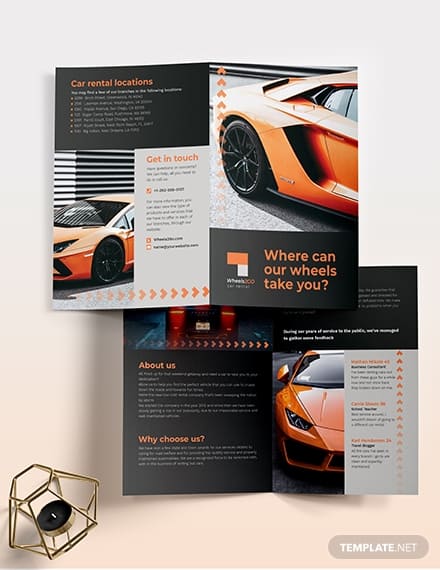 The design of this brochure is not clustered. This is a very important facet of design as it emphasizes an organized approach to work. The more information you add in your brochure the less likely your client will read it. Thus, less information is good, however, ensure to cover all key points and leave sufficient gaps between headings and sentences.
Software Company Tri-Fold Brochure Template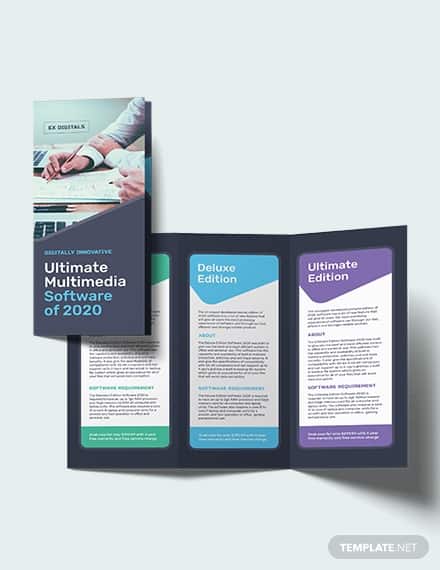 With some companies, information is money. For example, a software company just like the one in the template. Despite having to enclose more information, notice how orderly and well designed the template is.
The first page gives the direct idea of what they can expect inside. The information then is conveyed systematically. Although less room for design, creativity can be shown by writing creative content.
Home Care Bi-Fold Template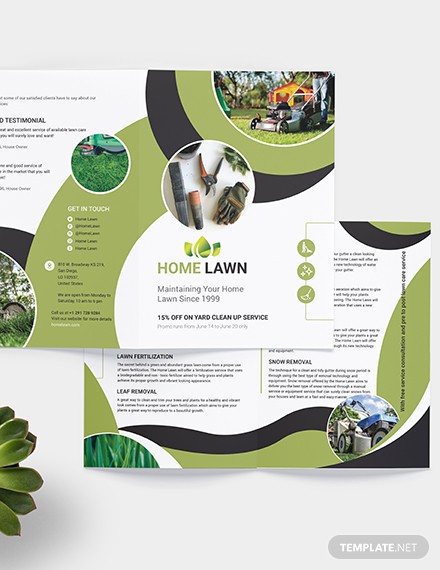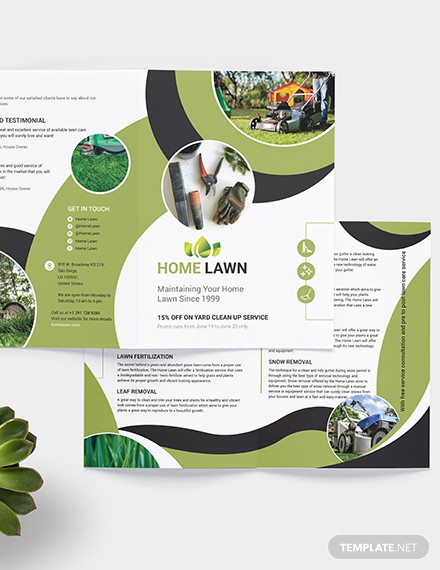 This template is a great example of how to concise a lot of information. This can be done by not elaborating on a particular subject. Take the heading "Lawn Mowing" from the template.
Explaining why you're good at it and what they as a client can expect is more than enough information. Additionally, while designing a brochure digitally, ensure it's made ready to print.
Preschool Promotional Bi-Fold Brochure Template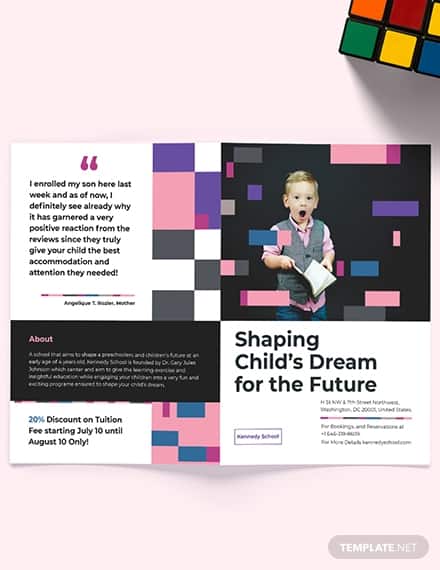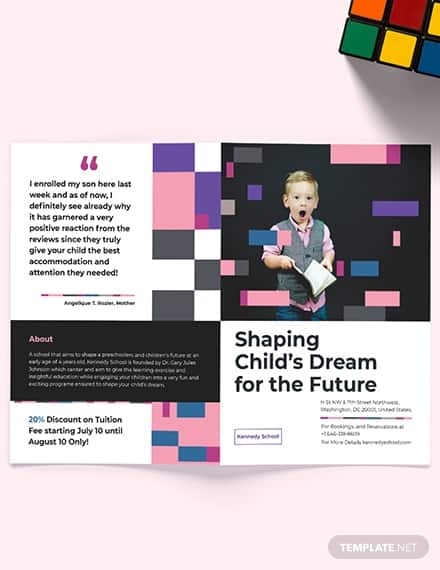 This is an excellent example of a promotional brochure. Visually appealing and driving the point home. With promotional brochures, what you write and how you write it will mean success.
Your title needs to grab attention and the brochure must have testimonials, they always work. While designing the brochure, ensure to use vector art because the quality will be better.
Employee Recruitment Bi-Fold Brochure Template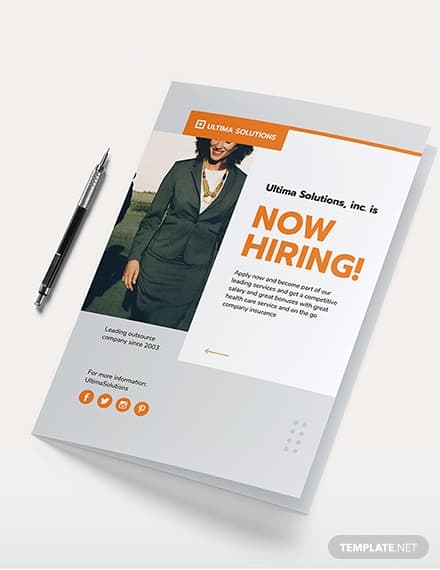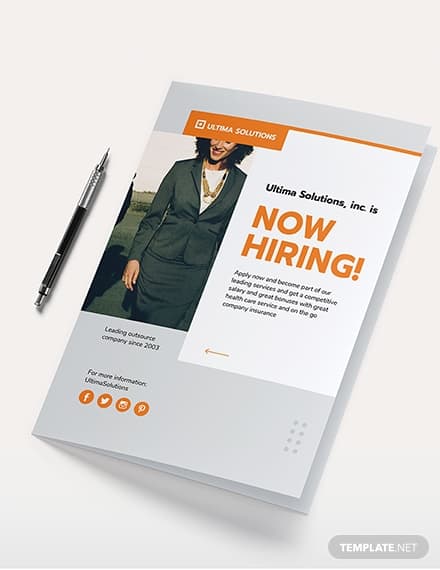 While looking for jobs, people need to know two things – who's hiring? what's the job description? These questions must be addressed to take the matter forward. This template lets a great standard in this regard. The information is straightforward and if you're into recruitment, then that's what you need to do too. Ensure to use icons as they add to the aesthetic appeal.
Music Event Bi-Fold Brochure Template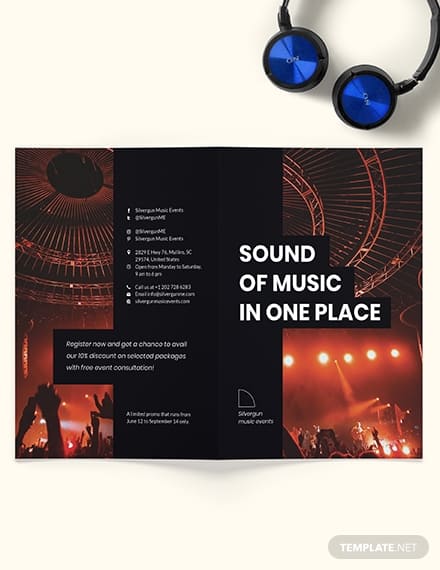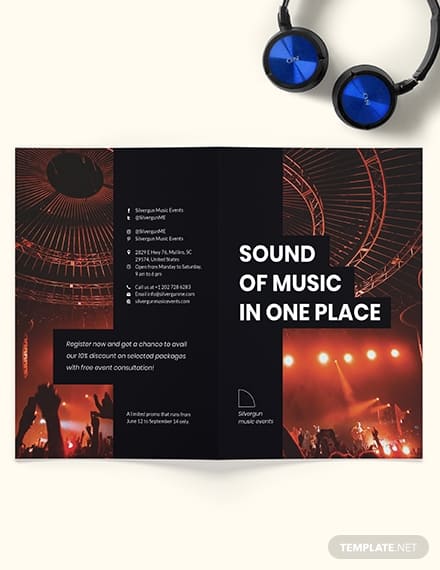 Even Brochure, depending on what event, can be made flashy. A music event will surely be lively and their choice of design shows that. If you want people to come to the event, you need people to get hyped just by looking at the brochure.
Colors and information on who's playing are the basis for this type of brochure. While designing, ensure to start the project using CMYK color space.
Charity Event Brochure Template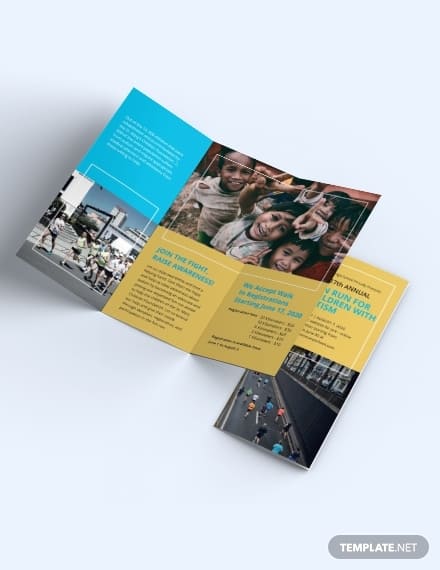 The point of a charity event is to raise awareness about whatever cause you're fighting for. Thus, that becomes the main theme of your template, therefore build around it. Adding appropriate images to events you have planned is a great way of designing such a brochure. While searching for images ensure they are in H.D quality.
Seafood Restaurant Take-out Bifold Brochure Template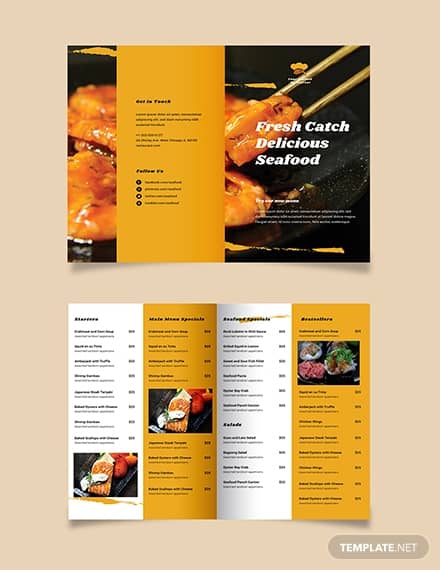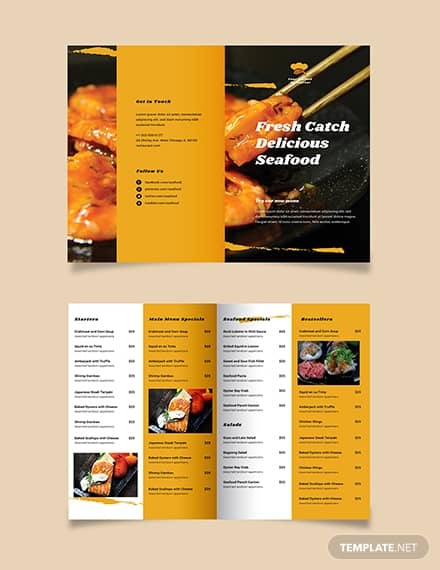 The front page of such brochures is really important because the first thing anyone would notice is the food. So, take good pictures of the food you prepared and don't google it.
The inside of the brochure would naturally contain the menu. It's always good to write the ingredients under the name of the dish. Keep the design simple and use a font that's easy to understand.
Consulting Bi-Fold Brochure Template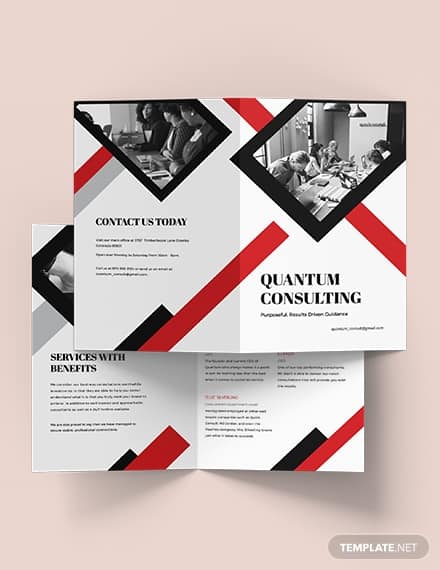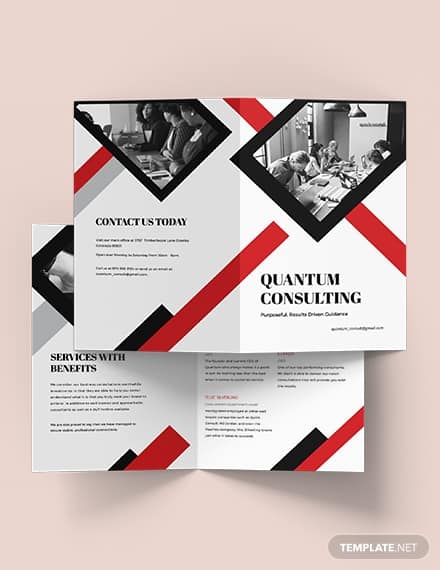 Keeping the design sharp gives evidence of professionalism and with consultants that is a must. Using images of people in a conference room helps people picture you at work. The way the content is written emphasizes your credibility. Ensure to design this template on a 300 DPI resolution.
Furniture Store Bi-Fold Brochure Template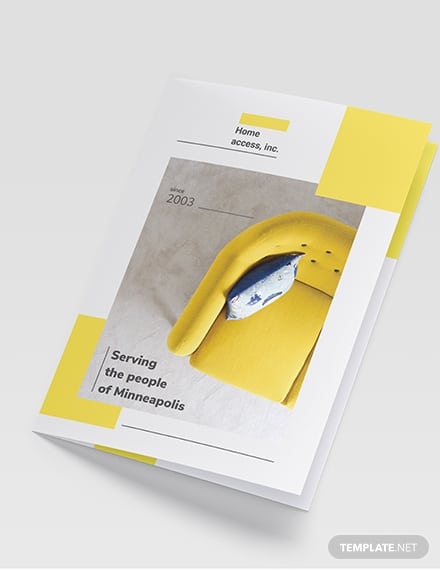 Showcasing furniture designs and talking about their features is a great approach to designing this brochure. This would mean having high-quality pictures of the furniture. Additionally, you could also show the various colors the furniture is available in.
Steakhouse BBQ Restaurant Take-out Trifold Brochure Template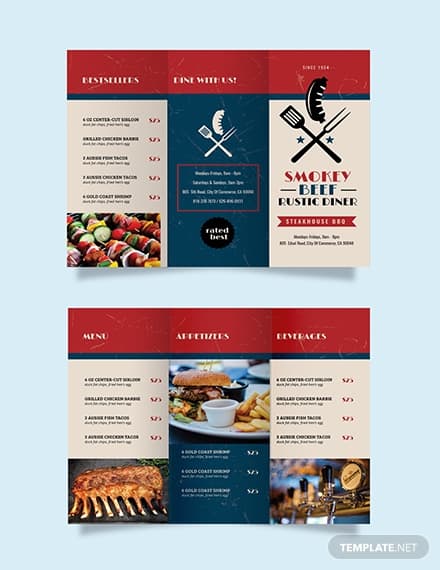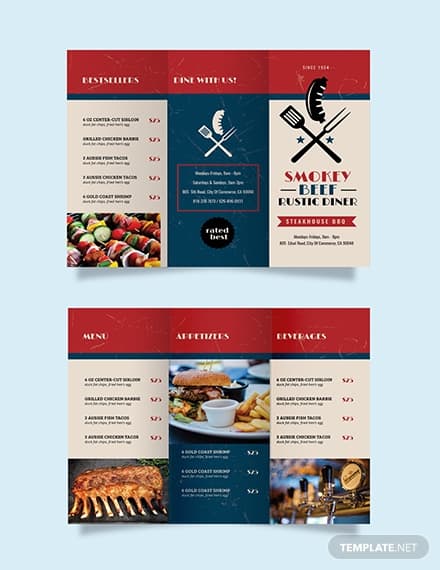 In this other template of a restaurant, the approach is different. Let the first page be all about you by letting your logo and slogan shine bright like a diamond. This would mean spending time on a really good logo. The way the information is presented stays the same. However, you could always play around with the color scheme.
Wedding Planners Tri-Fold Brochure Template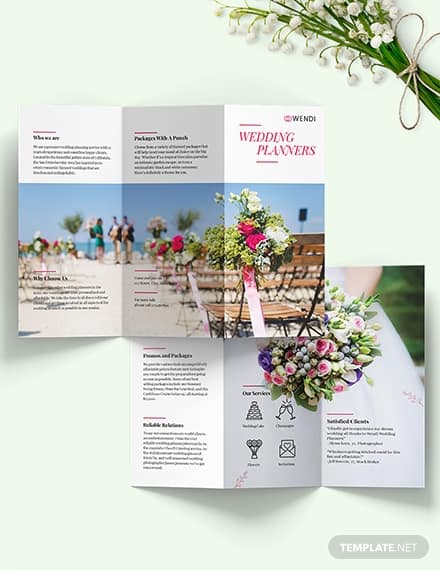 Weddings are a big deal, so, if you want the job, then the brochure needs to be done right. Bright and vibrant colors are a good choice. Make sure the content you write is short and to the point covering all aspect of your work. You can never go wrong by adding pictures of flowers to your design.
Royal Resort Bi-Fold Brochure Template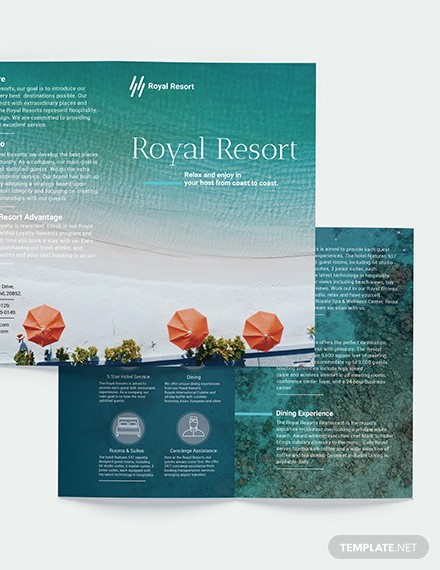 Resorts have a lot to offer so designing a brochure on an A3 size document is a good choice. However, making it compatible with other sizes is also a good idea. You can generate interest by talking about fun activities in the resort.
Annual Report Bi-Fold Brochure Template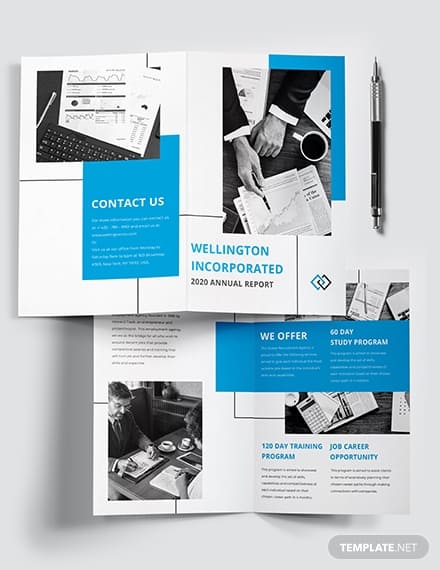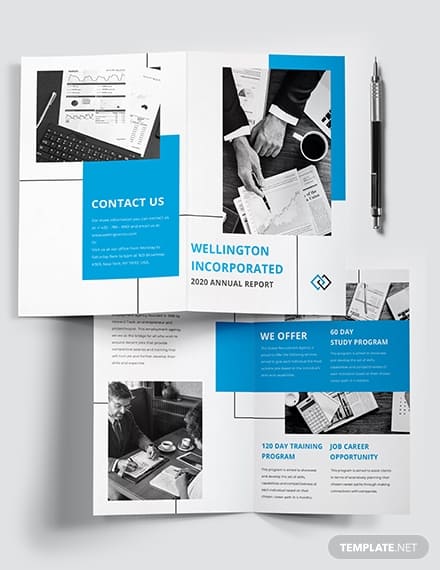 An annual report brochure need not be lengthy. Pick out the highlights of the previous year and write them down in short bullet points. Adding a dual color theme will make it more appealing.
SEO Tri-fold Brochure Template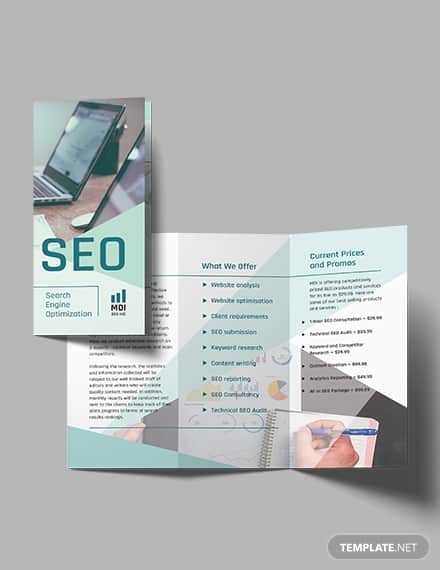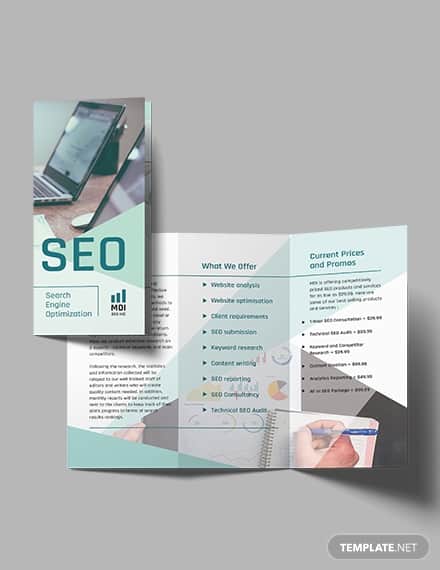 SEO is a growing field, so, the main area of attraction that people would focus on is what you offer. Focus on that while keeping the design simple.
Closing Statements
Once you get a hang of it, designing a brochure will become second nature. For the most part, remember to think like the viewer and you will do a great job!