The heart is a fragile thing. In moments of utter happiness, we often don't think about breakups and how much they hurt. It is only when that happens do we realize that hearts, when broken, are fragile and resilient all at the same time, much like the human spirit.
Every heartbreak is different, as is the nature of every loss. Heartbreaks can envelop us in a cloud of mourning, loss, and loneliness which sometimes prevents us from seeing what lies ahead, which is the possibility of better things to come. 
Mending a broken heart is never an easy task. It will take some time and effort in order to move on. Each of us deals with a broken heart differently.
But how do we begin to heal? How do we begin to get the pieces of our broken heart back?
How To Deal with a Broken Heart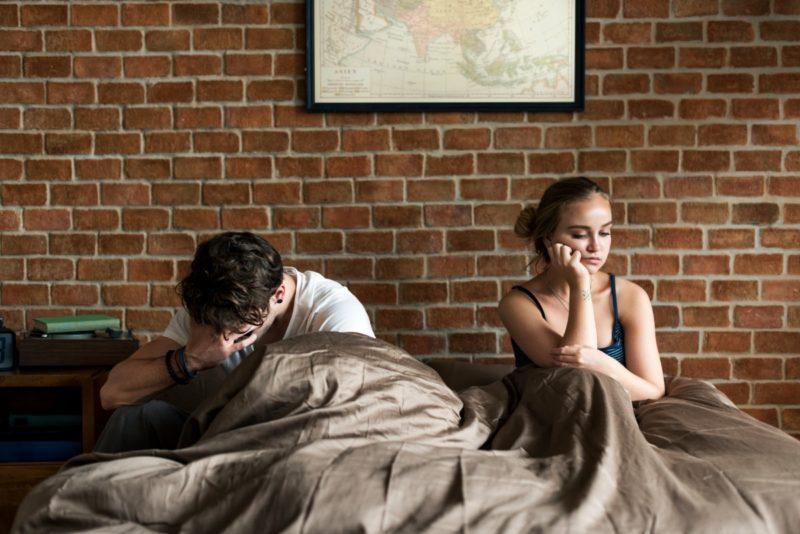 When we love, we must also be prepared to deal with a broken heart. Despite this knowledge, a failed relationship still hurts like a sucker punch to the gut. It can make you feel a barrage of emotions and feelings such as anger, hurt, and intense longing for an ex.
A broken heart is a difficult thing to hold on to, but like other broken things, it can be mended with time. Like other broken things, it can become stronger, more powerful, and more beautiful with time. 
When it comes to healing a broken heart, there's no cure-all. Maybe eating a tub of your favorite ice cream could provide some comfort but it's only a temporary balm to your aching heart.
Here are some proven ways that can help ease the pain of a heartbreak.
1. Take Your Time
In the midst of a breakup, you will have physical, chemical, and emotional reactions that might cause you to feel negatively about yourself. It's okay to feel broken for some time. Let yourself feel the pain but do not wallow in it.
Always keep your head and hopes up. Focus on the day when you will feel whole again. In the process of moving on, reach out to your trusted circle of friends and family. If needed, talk to a therapist to help you deal with the aftermath of a failed relationship. 
2. Grieve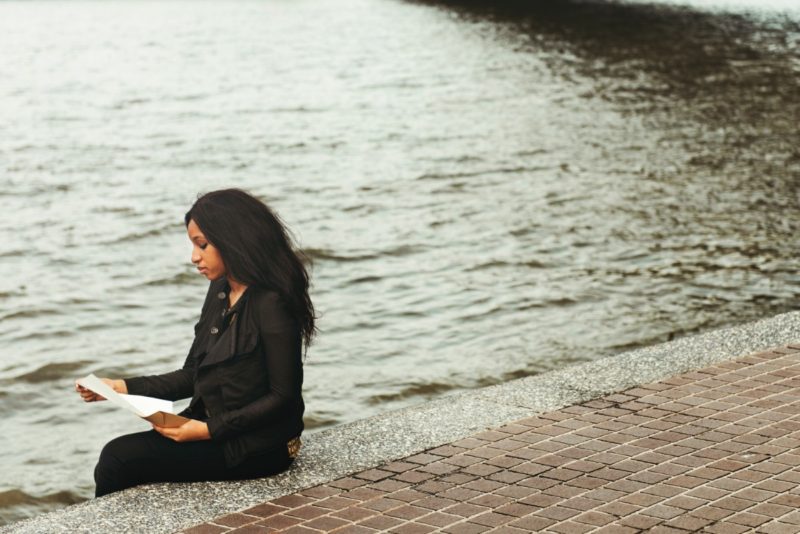 Ending a relationship is just like losing a loved one to death. The next step to this loss is to go through the process of grieving. Cry your heart out—it can do you some good by relieving your emotional stress.
Allowing yourself to feel grief is also one way of embracing the path towards becoming more in control and empowered. Avoiding the grieving process may lead to feelings of depression or anxiety and not being able to move on.
3. Find Lessons from Your Experience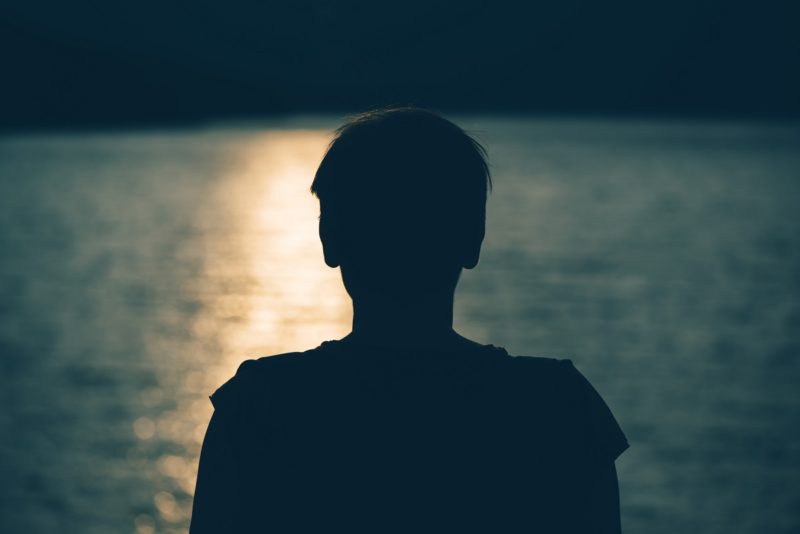 Never forget that all breakups are great learning experiences. As you move on, you learn more about yourself and the relationship such as what made your relationship work or what caused it to fail.
Learning these lessons will not only prevent you from repeating the same mistakes all over again but will also give you as an opportunity to grow as a person.  
4. Learn to Forgive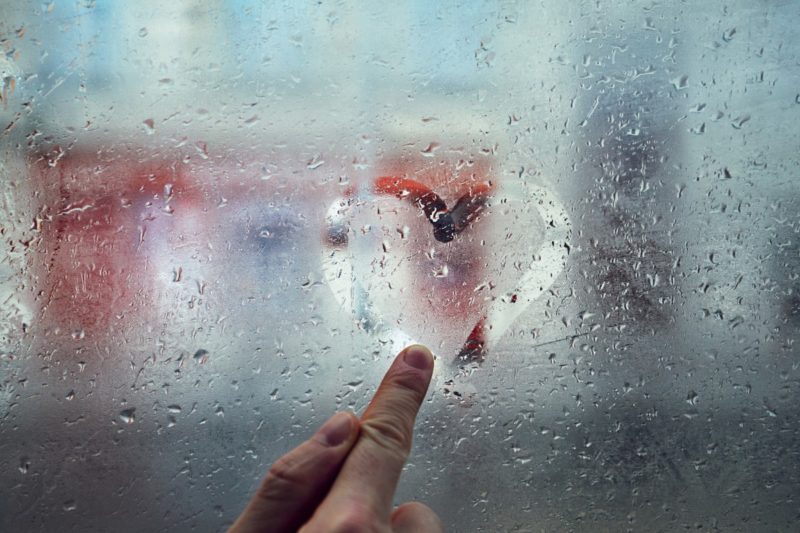 Forgiveness is an essential part of finally moving on. It will be difficult, especially when there is no apology to be had from the other person.
However, to forgive is also knowing that you are looking forward to something better. To learn to forgive is to become hopeful and it is an important component that will help you move on.
We might be fragile when it comes to dealing with our emotions, but we are also resilient. You can love again and with this new beginning, you will love with a better and more mature version of yourself.
You might have been wounded in love, but in time, you will learn to love again. We don't know when it will leave or if it will last but one thing is for sure, love always comes around—unexpectedly. 
Here are # quotes on heartbreak that have been thoughtfully chosen to help you on your journey towards moving on and regaining your sense of self:
Broken Heart Quotes and Sayings
"Pleasure of love lasts but a moment. Pain of love lasts a lifetime." – Bette Davis
"The heart will break, but the broken live on." – Lord Byron
"It is only with true love and compassion that we can begin to mend what is broken in the world. It is these two blessed things that can begin to heal all broken hearts." – Steve Maraboli, Life, the Truth, and Being Free
"A broken heart in real life isn't half as dreadful as it is in books. It's a good deal like a bad tooth, though you won't think THAT a very romantic simile. It takes spells of aching and gives you a sleepless night now and then, but between times it lets you enjoy life and dreams and echoes and peanut candy as if there were nothing the matter with it." – Lucy Maud Montgomery
"Doctoring her seemed to her as absurd as putting together the pieces of a broken vase. Her heart was broken. Why would they try to cure her with pills and powders?" – Leo Tolstoy, Anna Karenina
"Broken heart will turn into a stronger one within hope." – Toba Beta, My Ancestor Was an Ancient Astronaut
"It is our wounds that create in us a desire to reach for miracles. The fulfillment of such miracles depends on whether we let our wounds pull us down or lift us up towards our dreams." – Jocelyn Soriano, Mend My Broken Heart
"Throughout my lifetime I've left pieces of my heart here and there. And now, there's almost barely enough to stay alive. But I force a smile, knowing that my ambition far exceeded my talent." – Johnny Depp, Blow
"A broken heart is just the growing pains necessary so that you can love more completely when the real thing comes along." – S.B. Morse, Now and at the Hour of Our Death
"Oh what a wonderful soul so bright inside you. Got power to heal the sun's broken heart, power to restore the moon's vision too." – Aberjhani, Songs from the Black Skylark zPed Music Player
"Every time your heart is broken, a doorway cracks open to a world full of new beginnings, new opportunities." – Patti Roberts, The Angels Are Here
"Reese, your books might not tell you this, so I will. Every heart has two parts, the part that pumps and the part that loves. If you're going to spend your life fixing broken hearts, then learn about both. You can't just fix one with no concern for the other." – Charles Martin
"When it comes to love and loss, acceptance is never easy. We can't make someone see all we have to give, make them love us, or make them change. All we can do is move on and stop wasting time." – April Mae Monterrosa
"Sometimes you have to give the hurt a noise and let it out. If you don't, it fills you up with its emptiness." – Kiera Cass, The Siren
"Every poem that I've created was yours. I thought they were mine, but they were yours. And I wish I could've kept them. And I wish I could've kept you." – Juansen Dizon, Confessions of a Wallflower
"You can die of a broken heart – it's scientific fact – and my heart has been breaking since that very first day we met. I can feel it now, aching deep behind my rib cage the way it does every time we're together, beating a desperate rhythm: Love me. Love me. Love me." – Abby McDonald, Getting Over Garrett Delaney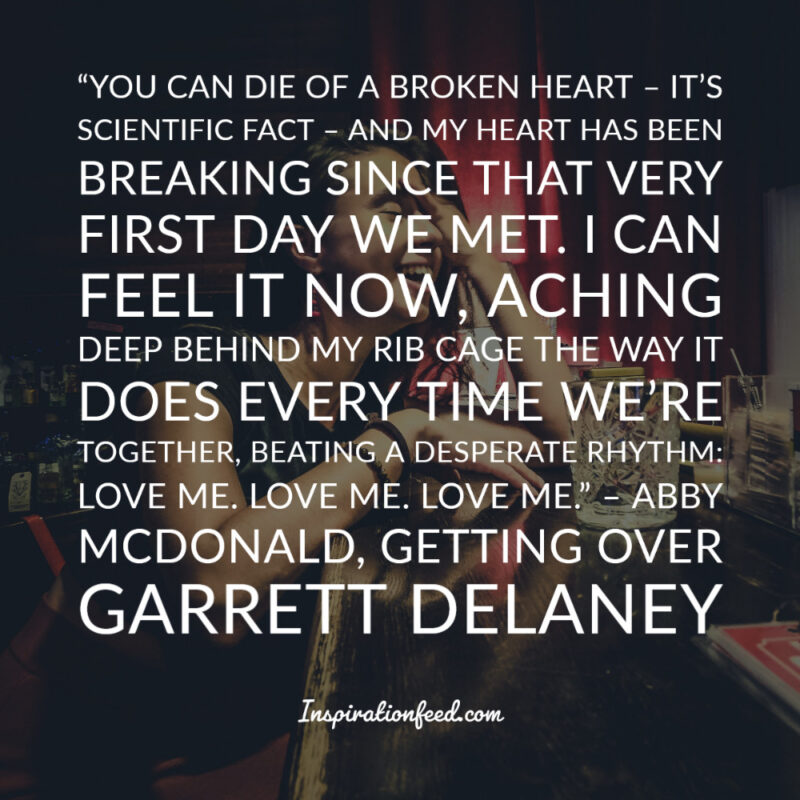 "Sometimes, the only soul that can mend a broken heart is the one that broke it. For they are the ones holding all the pieces." – Patti Roberts, The Angels Are Here
"You broke her heart in person—you fix it in person!" – RJ Gonzales, Mundahlia
"That's how it is with relationships, it's a part of life, and all the great love songs and poems and films have been written by people who were standing where I was that morning as Simon shut the door. Doesn't make it any easier though. " – Jane Green, Straight Talking
"There is no better place to heal a broken heart than on the back of a horse." – Missy Lyons, Cowboys Don't Sing
"The cure for a broken heart is simple, my lady. A hot bath and a good night's sleep." – Margaret George, Mary Queen of Scotland and The Isles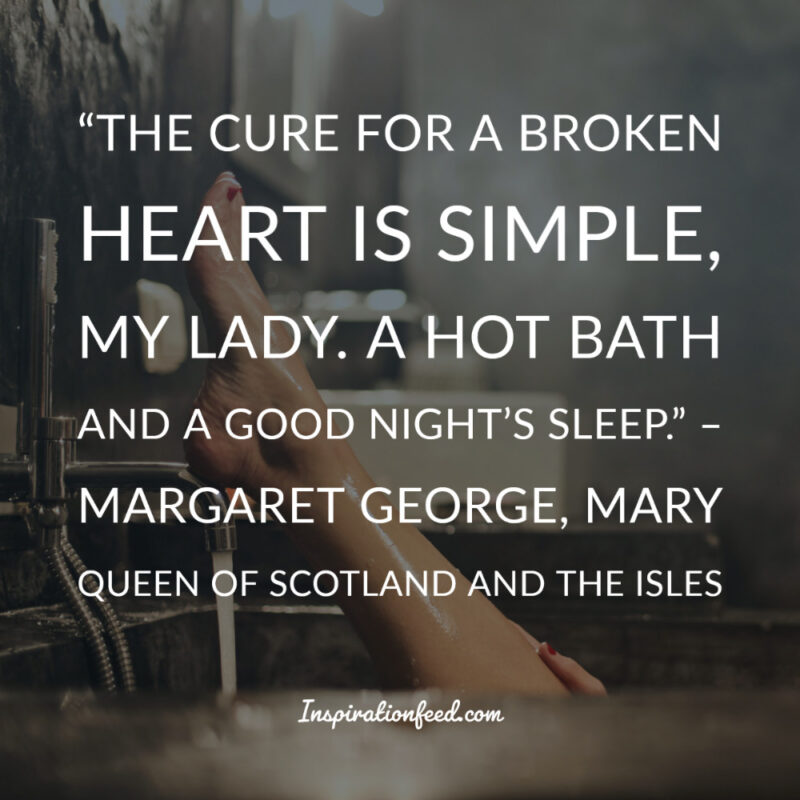 "Never underestimate the grace of bouncing back from a fallen heart." – Angelica Hopes, Rhythm of a Heart, Music of a Soul
"I'm really a very happy, contented little person in spite of my broken heart." – M. Montgomery, Anne of Avonlea
"A tormented mind wants to forget, what a broken heart will always remember." – Anthony Liccione
"Only God can mend a broken heart." – Kevin Walker, These Moments Pass
"Birds sing even when the world is filled with sadness. I don't know why people can't do the same thing." – Michael Gilbert, Perfected Sinfulness
"Flower will not grow, if the stem doesn't allow." – Nayreil
"People may say no one ever died of a broken heart, but when you're suffering from one, it sure doesn't feel that way – at least initially." – Paula Heller Garland
"Lies destroy. But, you don't have to stay broken forever." – Marjory Sheba
"I wish to drown in my pain, alone, just like a moth dancing to its death in the flame!" – Nishta Kochar, Cinnamon Bizarre
"'We're all broken,' she says. 'You have to stop treating yourself like a special case. You may be broken in different places, but it's damage all the same.'" – Brian McBride, Every Bright and Broken Thing
"Stars shine even when they're broke." – Akash S. Bansal, Desires and Destiny
"Love can't cure a broken heart, but it can hold the two sides together while they heal." – Karen Hawkins, The Book Charmer
"Time is a great healer, but a lousy beautician." – Faraaz Kazi
"But all things heal with time – even trust and broken hearts. I forgive you." – D. Simper, The Sting of Victory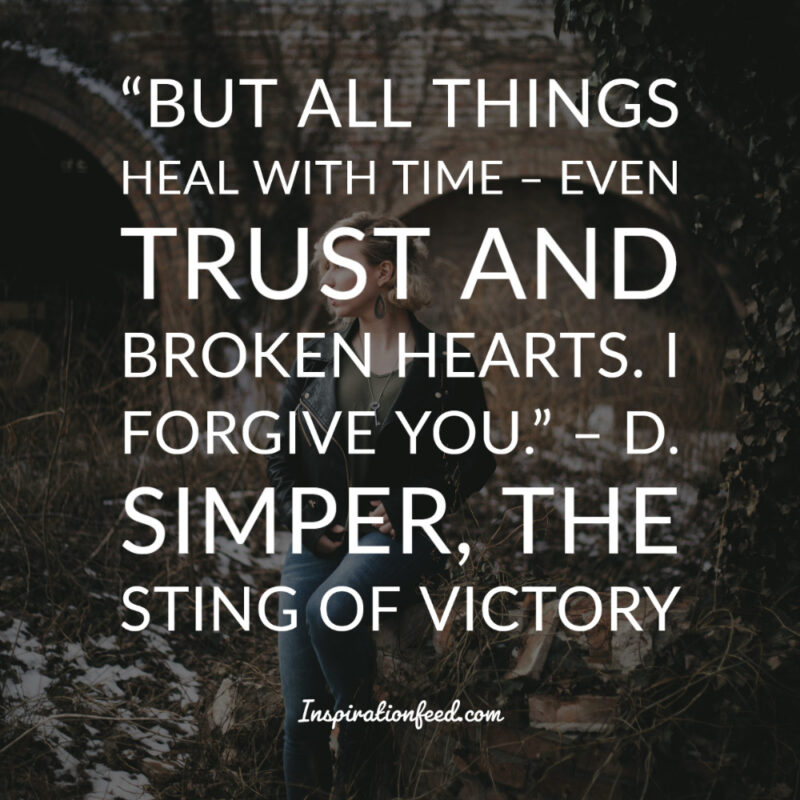 "True love is away from all deception. It can survive in the cracks of the broken heart." – Ruchita Bahl, Hermit in a Yellow Robe
"Every great mind is pumped by the broken heart." – P.S. Jagadeesh Kumar
"The thing is, when you let people get too close, you end up getting hurt." – Cathy Cassidy, Broken Heart Club
"I know the pain of a broken heart that I experienced too. That's why I do not involve in such things that may break the heart of others." – Ehsan Sehgal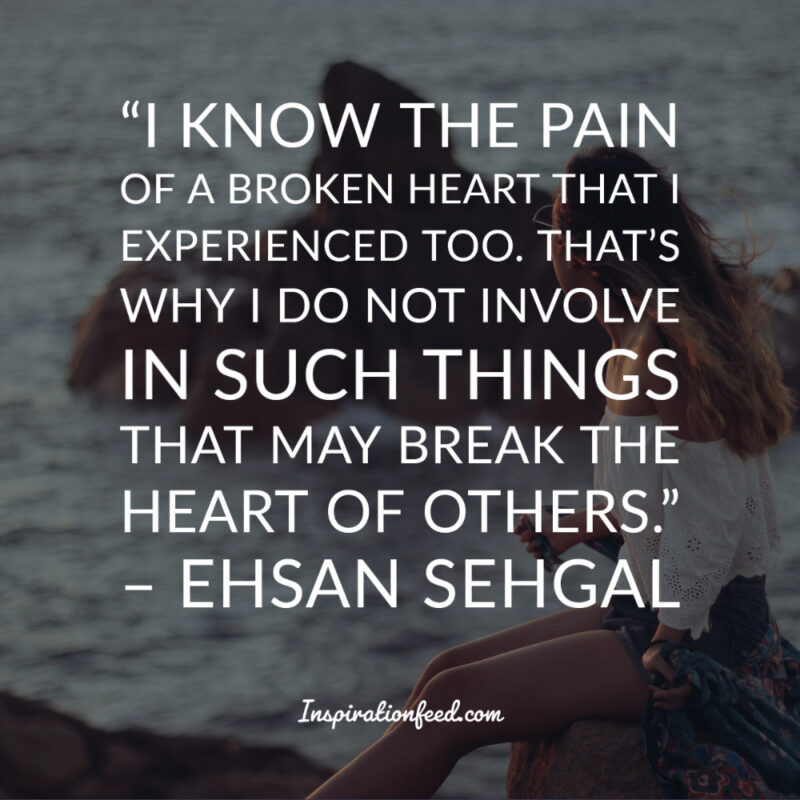 "Save me from the love that is unreal… the love that only tries to steal. For love that wants only to abscess, is not love at all, nor is its caress." – Joli Darling
"Me with my broken wings, will try hard to fly to reach that beautiful sky." – Shaa Zainol
"Every pain of loss tells a story of love." – John Mark Green
"The broken will always be able to love harder than most. Once you have been in the dark for a long time, you learn to appreciate anything that shines." – Faraaz Kazi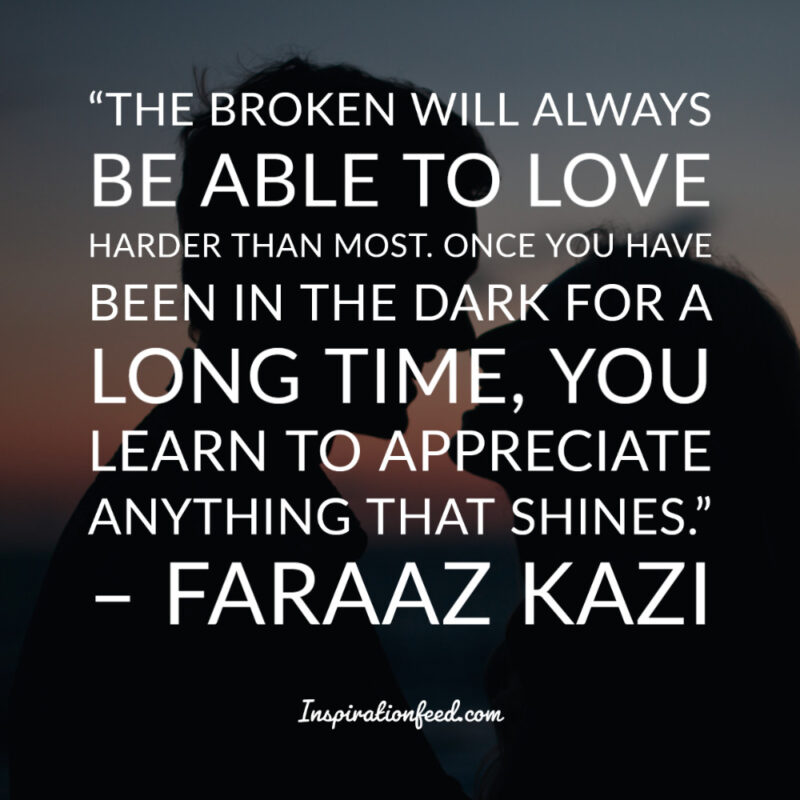 "As I sobbed, I longed for some magic. Where were you then with your duct tape? Could you conjure up a magic strip of duct tape to reassemble the pieces of my broken heart?" – Anna Hodges Oginsky, My New Friend, Grief
"I wanted to hold you until you weren't falling apart anymore, and I wanted to be the stitches that helped you heal, but I knew that I'd just infect your wounds further, so I couldn't stay." – Weikel, Replay
"When God restores you, you might not see all the changes at once. You'll begin to notice parts of you that were broken are no longer that way. Then one day, you realize you're an entirely different person than you used to be. That's grace." – Andrena Sawyer
"Light shines through broken places. It is okay to be a little broken!" – Avijeet Das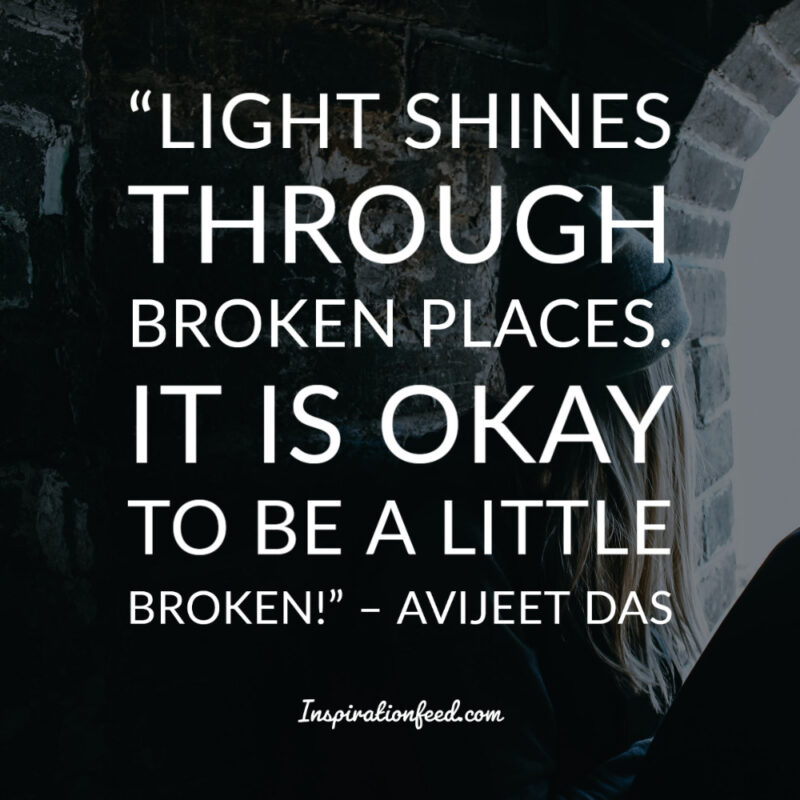 "Our broken hearts always break His. It's the quantum physics of God: Your one broken heart always splits God's heart in two. You never cry alone." – Ann Voskamp, The Broken Way
"The brokenhearted are the bravest among us. They dared to love." – Brené Brown, Rising Strong
"Healing a broken heart can open a heavenly door to the paradise." – Jazalyn, The Tears of the Heart
"Mending your broken heart ain't easy especially after what you've been through but hey you gotta give it a try, whatever will be will be." – Sami Abouzid
"Building a love story, giving all of efforts unimaginables, giving all your love possible until this story breaks little by little under your eyes, in small pieces…" – Karry Blues
"Her heart's breaking. It breaks three times a week on account of people treating her so badly, and she knows that all you can do is laugh it off." – Helen Oyeyemi, Fox
"The heart is as transparent as the depths of the ocean; one can only see until the light is gone." – Meredith T. Taylor, Clashing Waters
"Do not break your heart for those who left you, use the pain to earn success that defines you." – iamsophie
"Moy felt something snap inside her as if her heart had snapped. The heart-string, she thought — what is the heart-string?" – Iris Murdoch, The Green Knight
"Soaring in the heavens, away from all civilization, would allow her the freedom she needed to escape from the gravity of what people thought." – High Flying by Kaylin McFarren
"Too much brokenness makes things unbreakable." – Munia Khan
"Life will break every one of your contracts and still look at you with that innocent glimmer in her eye and ask you to marry her." – Curtis Tyrone Jones
"Broken hearts make beautiful wings." – Melody Lee, Vine: Book of Poetry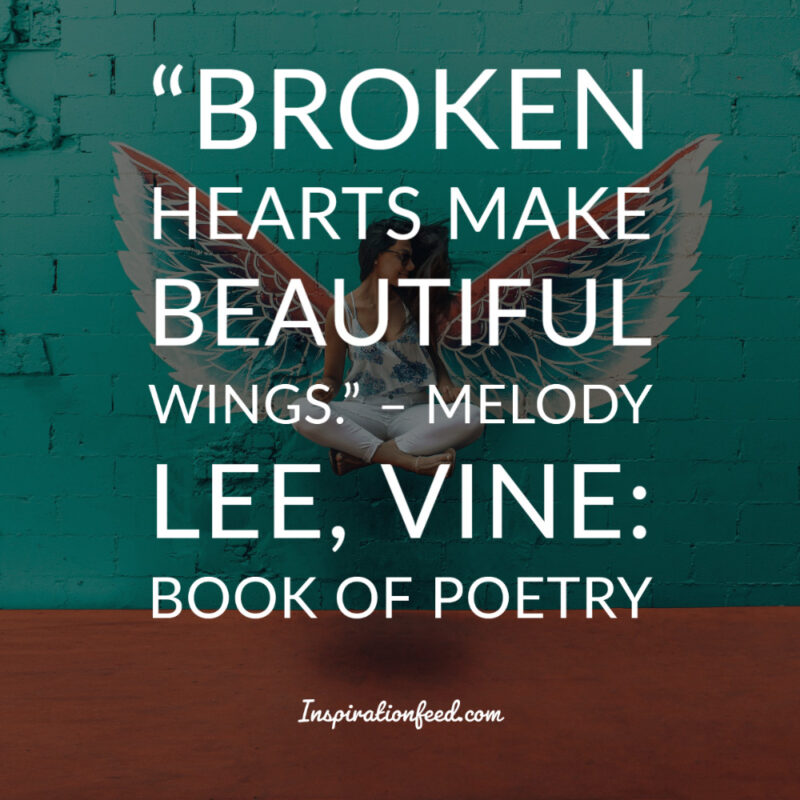 "I knew where I was. It had been too long. I blinked back the image and tried to clear my head. I had to remember which world I was in." – Angela B. Chrysler, Broken
"A lot of people will break your heart, but if you look at the bright side, only one will be the worst." – Dominic Riccitello
"Smile. Smile until all that's left are the pieces of your broken heart that are slowly fixing itself." – Ammiel Josiah Osia Monterde
"Past relationships are a loss, so we have to deal with them like loss. We must fully grieve. We must feel the depth of our pain so that our pain doesn't become the home where we learn to live." – Jackie Viramontez
"A broken heart is a chrysalis splitting open waiting for you to emerge." – Khang Kijarro Nguyen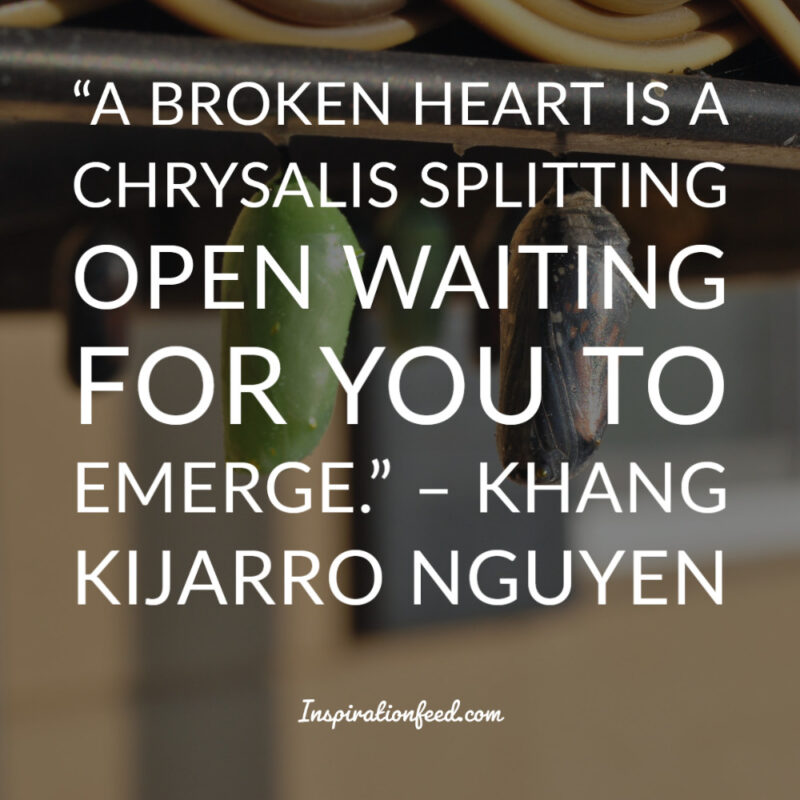 "There will always be a pain in 'goodbyes'. No matter how much we seem to understand everything, it breaks our hearts to ever see anything beautiful die." – Jocelyn Soriano, Mend My Broken Heart
"The reason why we get the same partners is not because people are the same, but because we pull the dark shadow of past hurts over our eyes and we live the same all over again. We change the actors, but never the masks we give them in our play." – Dragos Bratasanu, Ph.D.
"True love will break you, it devotes to break your beat up, broken heart awaiting to repair and align you to your true purpose." – John Maiorana (oohGiovanni)
"Wholeness is birthed through vulnerability and sensitivity, which is often conceived in brokenness. Jesus taught me this." – Natalie Brenner, This Undeserved Life
"Sometimes a broken heart can mend something else's brokenness." – Munia Khan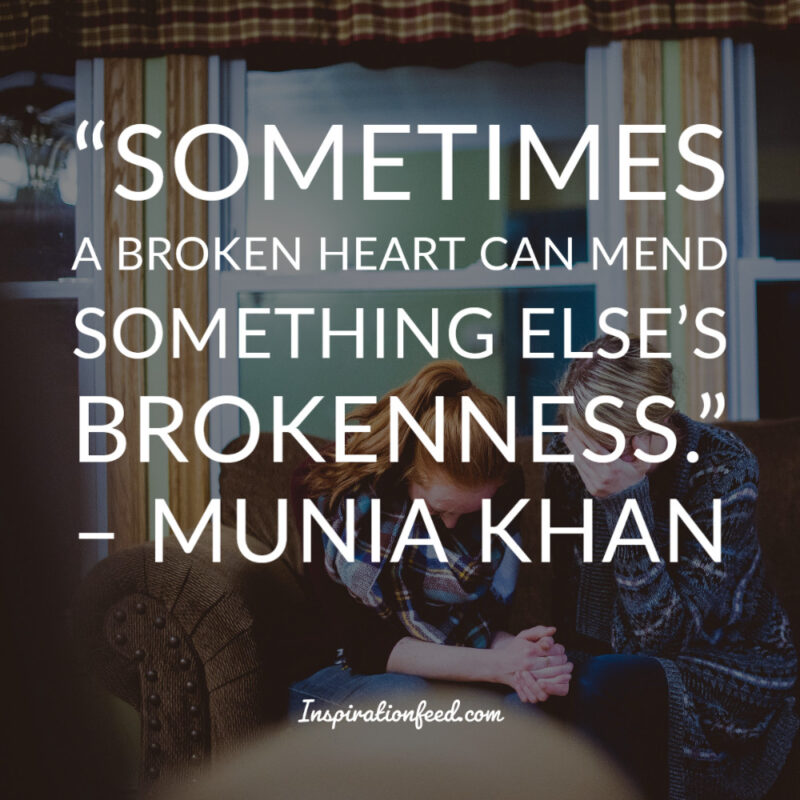 "Emotional illiterates, who don't recognize the sound of a broken heart, will never be able to hear the subtle vibrations of love reverberating through the rustling flora of life." – Erik Pevernagie
"Grief is a matter of the heart and soul. Grieve your loss, allow it in, and spend time with it. Suffering is the optional part. Love never dies, and spirit knows no loss. Keep in mind that a broken heart is an open heart." – Louise Hay; David Kessler
"You can't be the cause and the cure, mon amour." – Ahmed Mostafa
"What do we do after things fall apart? Do we run to the familiar once again? Do we attempt to numb the pain with distractions? What do we do after things fall apart?" – Benyf, 11.11 After so Many Years of Tears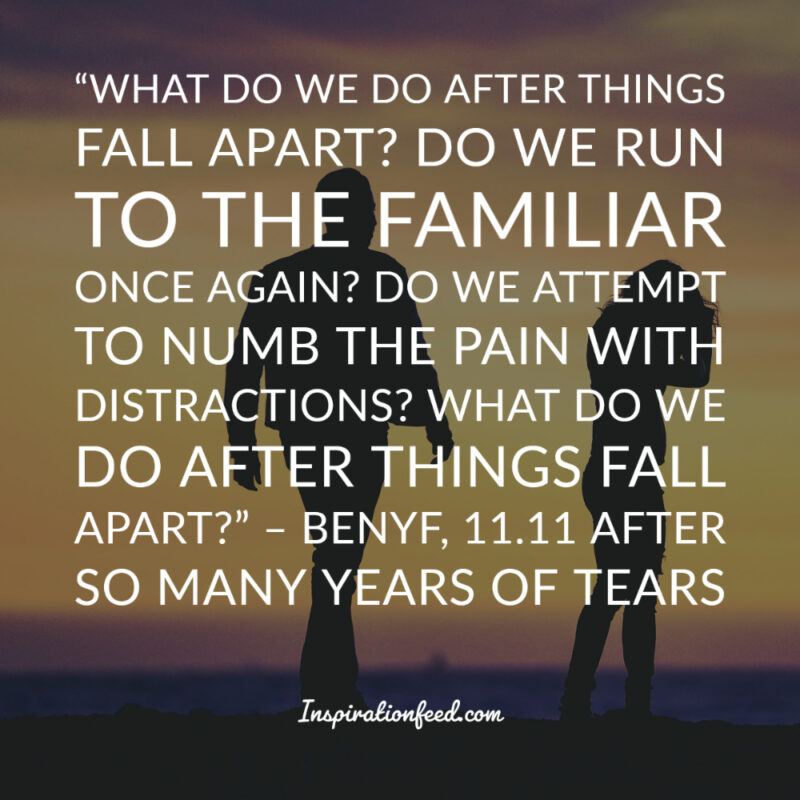 "In times of trouble, people need artists. We create those spaces where their own pain and worry and sadness can rest, and where their broken hearts can hope again." – Teresa R. Funke, Bursts of Brilliance for a Creative Life blog
"I asked myself only when he needed my help, 'How will the broken heal the wounded?'" – Sanhita Baruah
"But my world fell apart, and all they could do, the whole universe, was to silently move on." – Khadija Rupa, Unexpressed Feelings
"When two broken hearts meet, they find their missing part in each other." – Luffina Lourduraj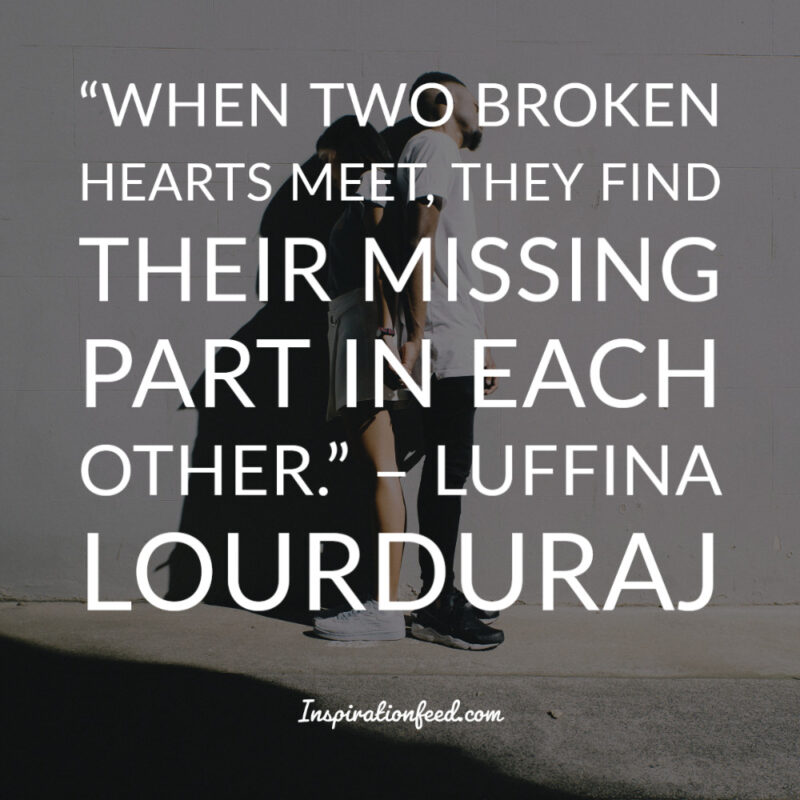 "Can you drown in grief? She turned away sharply, angry with her own frailty. She had no time for the luxury of self-pity." – George R.R. Martin, A Clash of Kings
"Love alone means nothing unless you have a tortured heart for it to soothe." – Piper Payne, White Lies
"Well, well, my dear. Are we so brokenhearted as that? Is the loss of that terrible prince really worth your life?" – Serena Valentino, Poor Unfortunate Soul
"A hundred years ago, people had perfectly understood that you could die of a broken heart, now they thought you were making a fuss about nothing…Certain kinds of suffering are like radiation: they cause furious growth and mutation of the inner self." – Amanda Craig, A Vicious Circle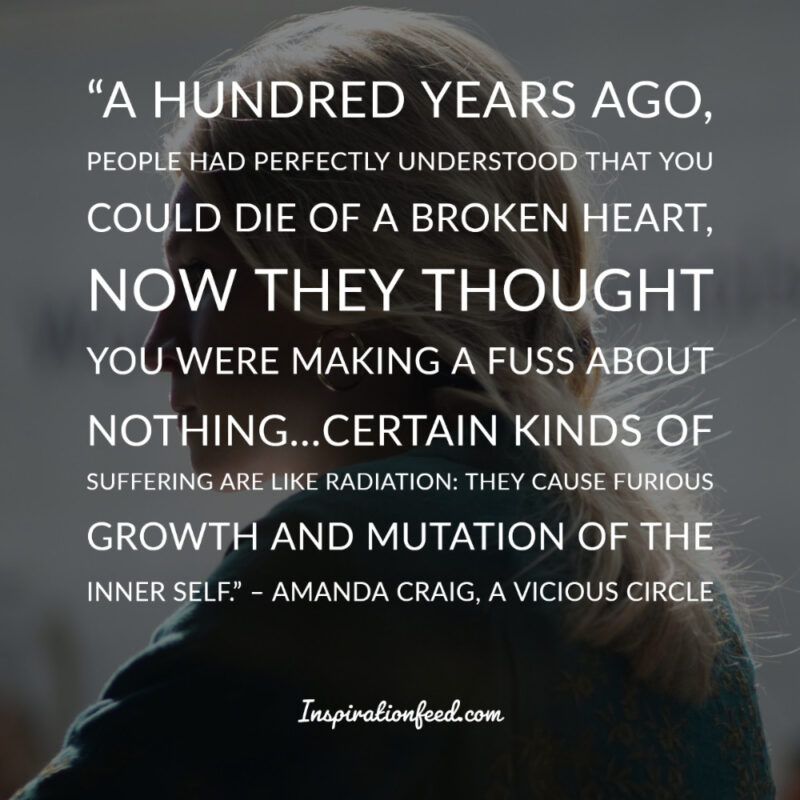 "Know sincere well through the real acts of sincere and not just through its mere words and deceptive actions that end in deep regret before you give your true heart to sincere. So many people have trusted because of sincere but they only saw the mere word and image of sincere and not the real meaning and action of sincere!" – Ernest Agyemang Yeboah
"The world is filled with so many beautiful people after all and who am I to think that you will hold on, hold on to me, because who am I and what are we?" – Charlotte Eriksson, Empty Roads & Broken Bottles
"One's suffering, one's melancholy is, in itself, really only looked upon as failure or as punishment, as detestable or sinful or socially unacceptable in the eyes of man; but this is not so in the eyes of God: for He is close to the broken-hearted." – Criss Jami, Healology