Last Updated on March 8, 2022
'Discounts', 'special offers', 'sales' and 'promotions' are these magic words which attract visitors to online stores, make them click on the ads and encourage them to make purchases. Everyone loves a bargain. That is why sales and discounts are one of the most effective methods to increase online sales. Different types of discount coupons have appeared in our life relatively recently.
What are coupons for? A discount coupon allows to:
obtain feedback for the development of marketing strategy;
motivate consumers to return and make more purchases;
attract new customers;
promote new products;
test new products;
increase loyalty and retain customers.
There are several groups of coupon discounts available. The largest group are coupons that provide discounts of a certain percentage of the goods value. The discount can reach up to 90%. Of course, this type of discount attracts a large number of people who want to save.
However, it is limited and valid for a very short period of 1 to 3 days, so you need to follow the news of such services in order not to miss your chance. This is arranged to sell seasonal goods, as well as to attract new customers.
Another large group is coupons, which are used to offer money as a gift. The essence of this type is to provide some amount of money to the buyer for further purchases.
Usually, their size will not exceed 1-3%, sometimes it can reach 8-10%. Some other bonuses are offered in the form of free delivery or 'buy 2 items to get the 3rd one for free'. Visit Promocodius Sweden to see an example of a coupon website.
And a few words about the statistics:
Taking this into consideration, discount websites and coupon services are getting more and more popular to earn money online. Coupon sites work directly with partners (online stores, brick-and-mortar stores, service companies and other entrepreneurs) and give the opportunity to take advantage of one of the best offers or discount.
As an owner of such a website, you are getting profit via affiliate and CPA marketing. RetailMeNot, Coupon.com, Smartsource, Groupon, and LivingSocial are already getting their profit.
If you are curious about what exactly is needed to build a fully-fledged coupon website with no hassle, this article will guide you through the process. I am sure you have never thought that creating a discount service online can be so easy, quick, and enjoyable.
Build Your Powerful Coupon/Discount Website in 4 Steps
1. Take care of a domain and hosting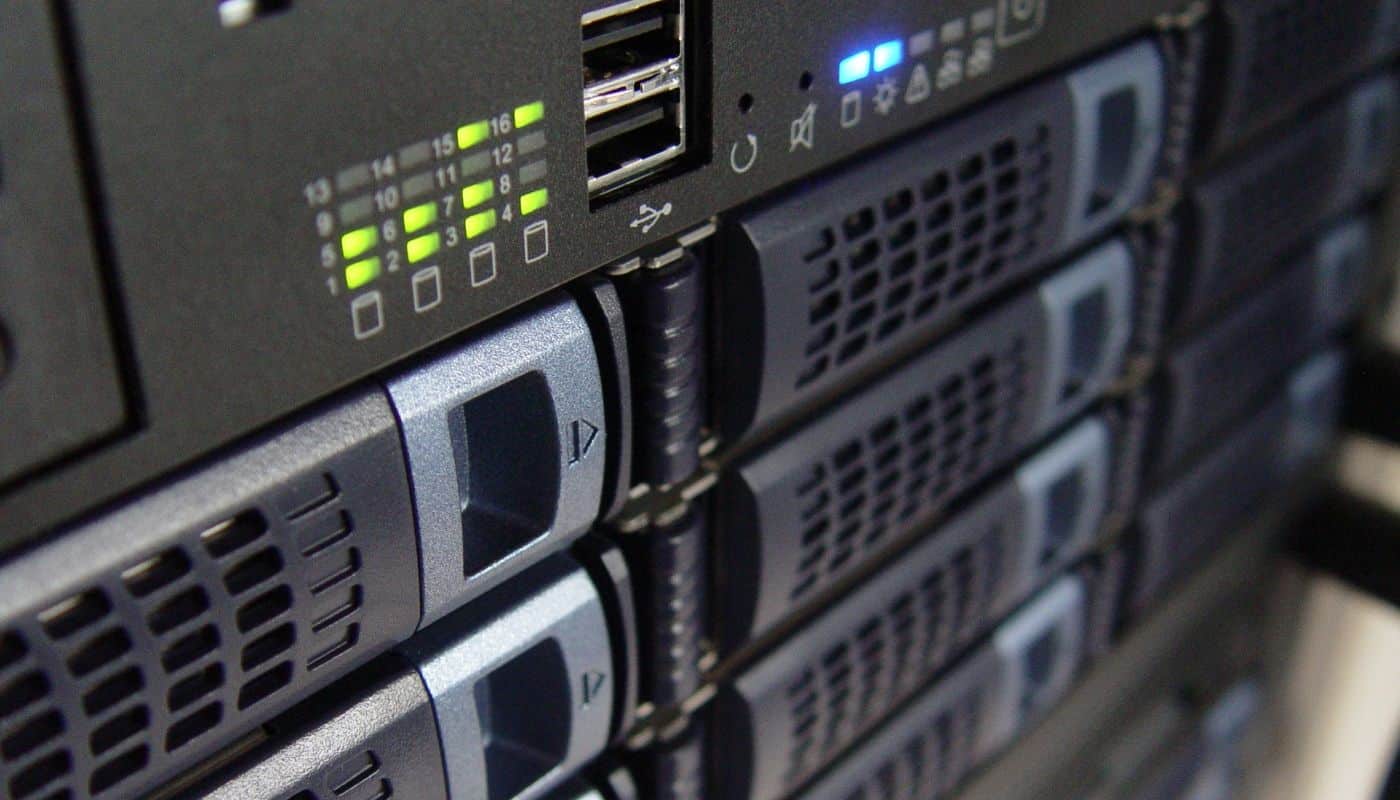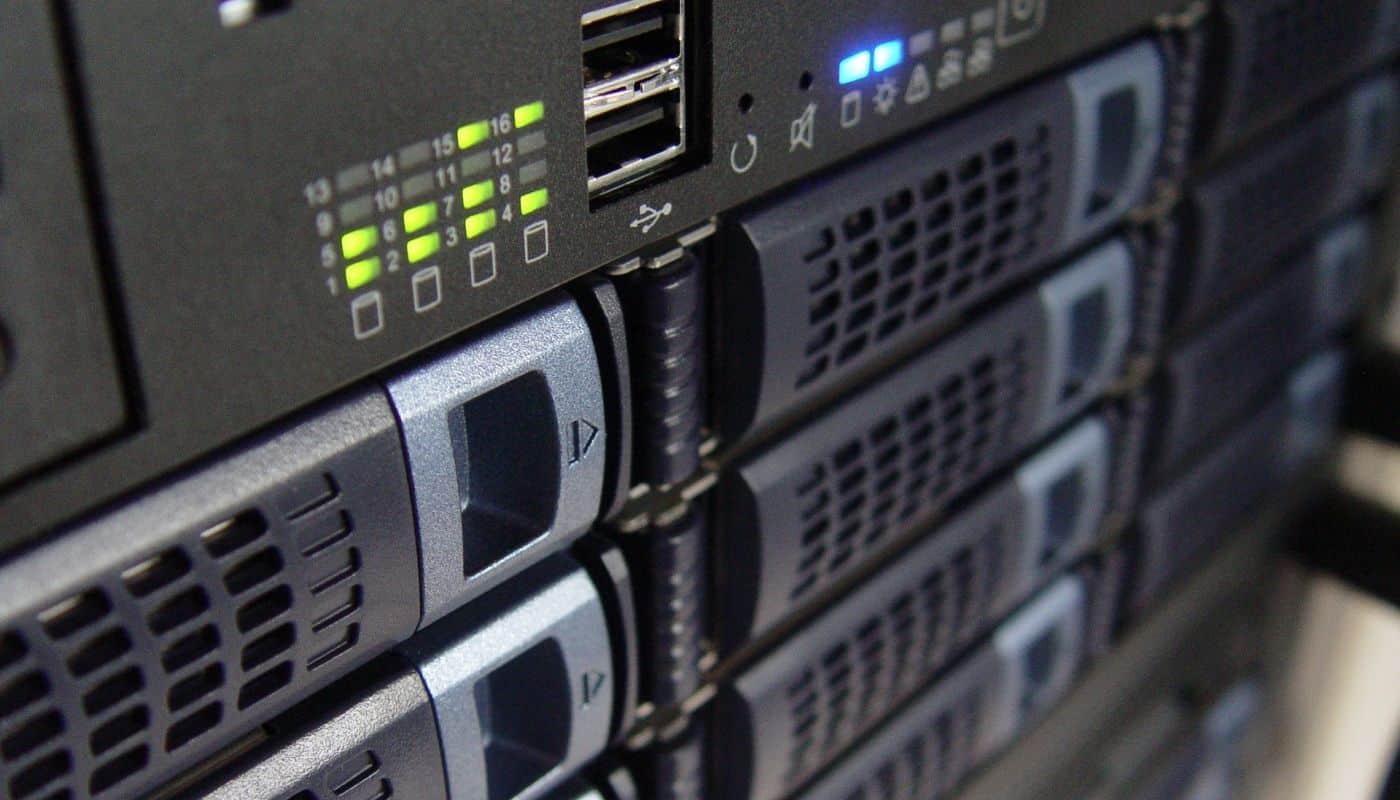 Figuratively speaking, hosting is a place where you are allowed to live with your website. You should choose a good hosting provider since your website's health will immensely depend on this choice.
The cost of hosting depends on its technical characteristics, the popularity of the hosting company and other factors. Among the best hosting solutions for a WordPress website are Bluehost, HostGator Cloud, SiteGround, A2 Hosting, Site5 Hosting and etc.
Then, your website must have a domain name to be easily found on the Internet. Think about the name of the website (a web address to use to access your web resource, e.g. www.SiteGround.com) and proceed to the registration of the domain name.
Note that your domain name should describe your company's business or name so it is easier for your clients to remember your site and get back to it. A domain name is registered for 1 year and then each year a domain renewal is required.
2. Install WordPress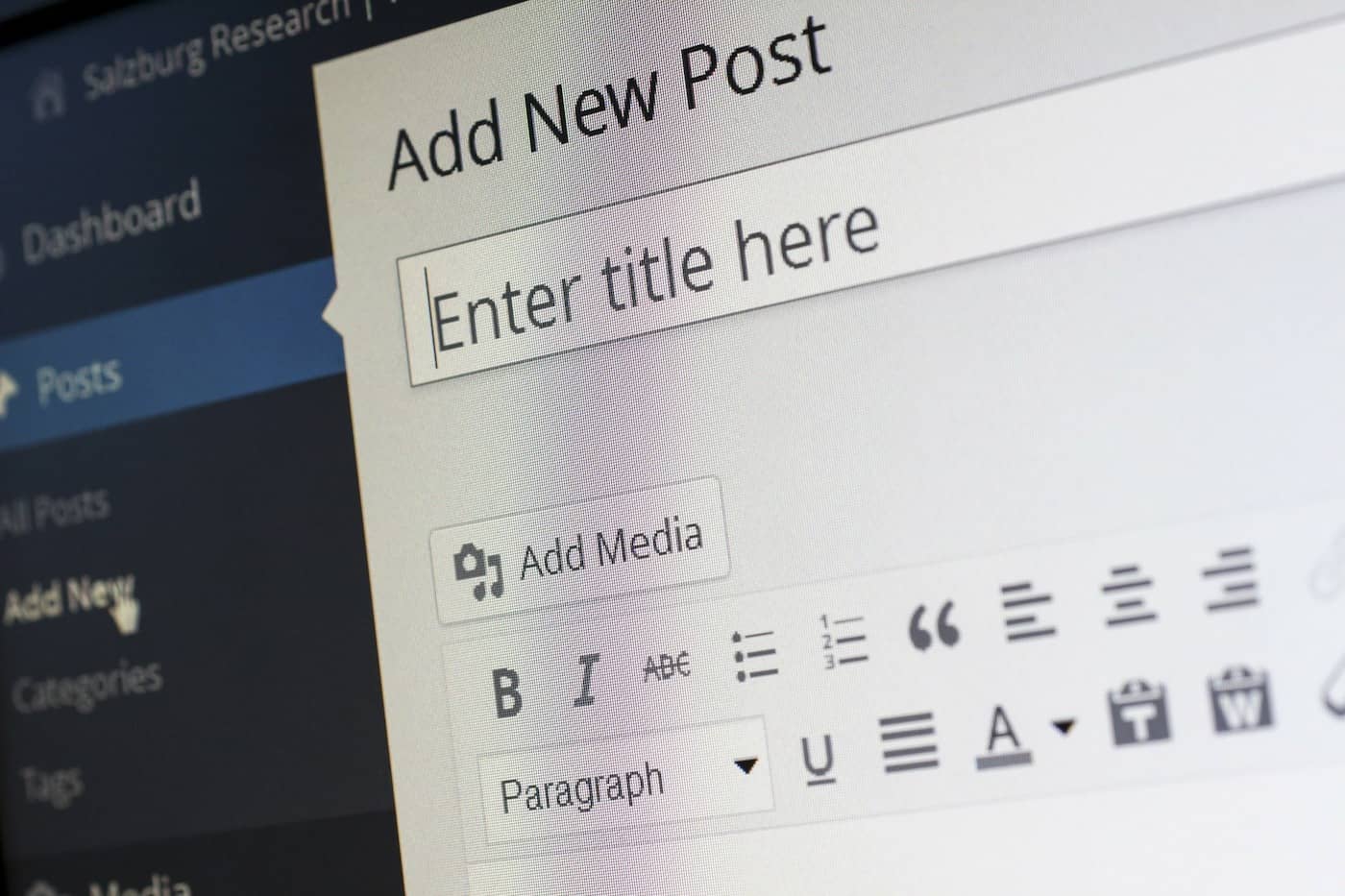 Follow this simple guide to get WordPress installed within 5 minutes.
Many premium hosting services offer the option of installing WordPress using an auto-installer. It takes just a few clicks to launch WordPress in your hosting account.
If you are installing WordPress manually, you should follow the steps below:
Download WordPress files.
Upload your WordPress files to your hosting account.
Create a MySQL database and assign its users.
Complete your WordPress setup using the 5-minute setup wizard.
3. Choose the most appropriate WordPress coupon theme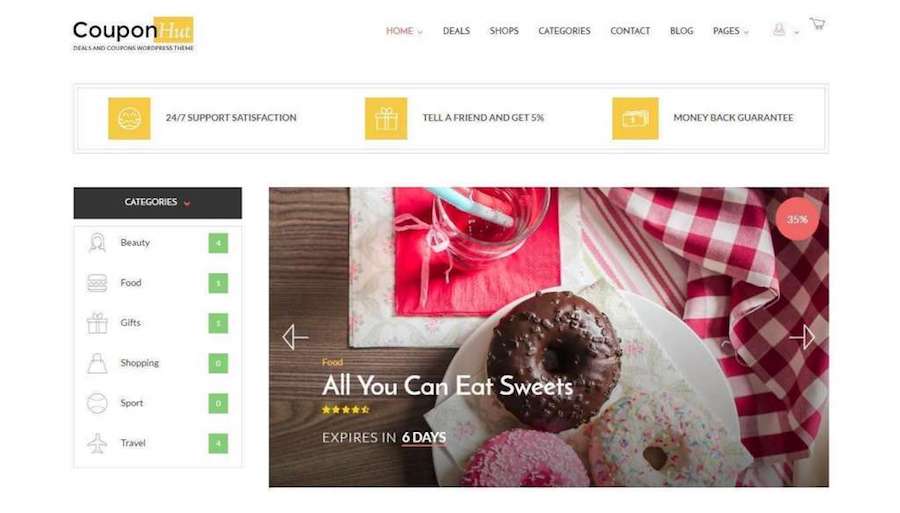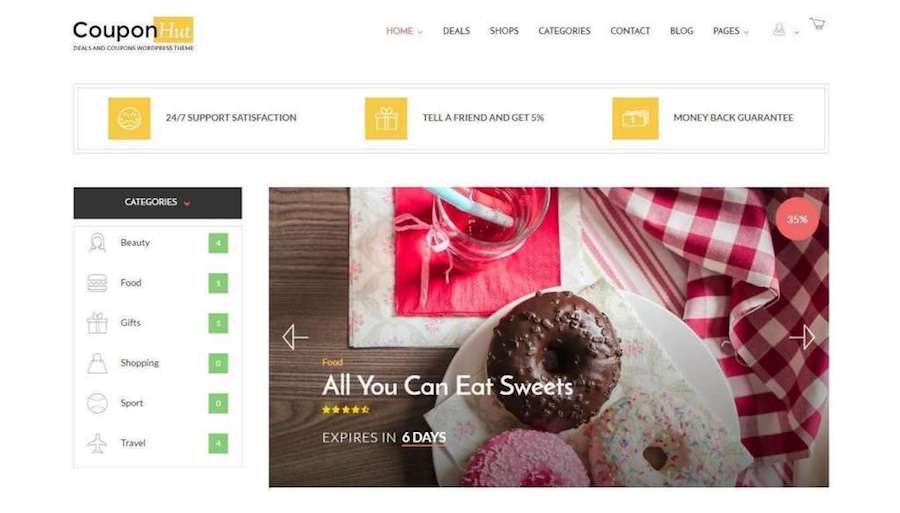 After you purchased hosting, registered your domain name, and installed WordPress, it is a high time to get to customization process and choose the best WordPress themes for your website.
It is quite difficult to build an attractive and high-quality website without specific coding skills. Often, you can make your own design and layout only with the help of professional designers and programmers. Free and premium WordPress themes are a great way out.
Dealing with a coupon website, it is better to choose a theme specifically designed for this business area. As an example, let's have a look at 24.Scorycle, a powerful WordPress template for special offers and coupon services.
This is a great website template to launch a coupon/discount website with a responsive design and rating system supported. I am sure, you want your future website to attract more visitors. Use the CouponHut template, because it has a simple design and user-friendly navigation.
This is exactly what you need for such a site. The template supports all the functionality of an online store, as well as percentage discounts with a time limit, filters for search, and special blocks for advertisements. Along with the theme, you will get several pre-built pages.
You can install the theme in one of the following ways:
FTP – copy the non-zipped folder in the /wp-content/themes/ directory in the WordPress installation of your server.
Upload – Go to Appearance > Themes in the admin dashboard, click the Add New button, then Upload Theme and choose the zipped file with the theme.
After that go to Appearance > Themes and click Activate on the theme. After the activation, a warning about the plugins that are required will be shown at the top. The theme includes many useful plugins and features, each promising to expand your page's capabilities.
4. Install plugins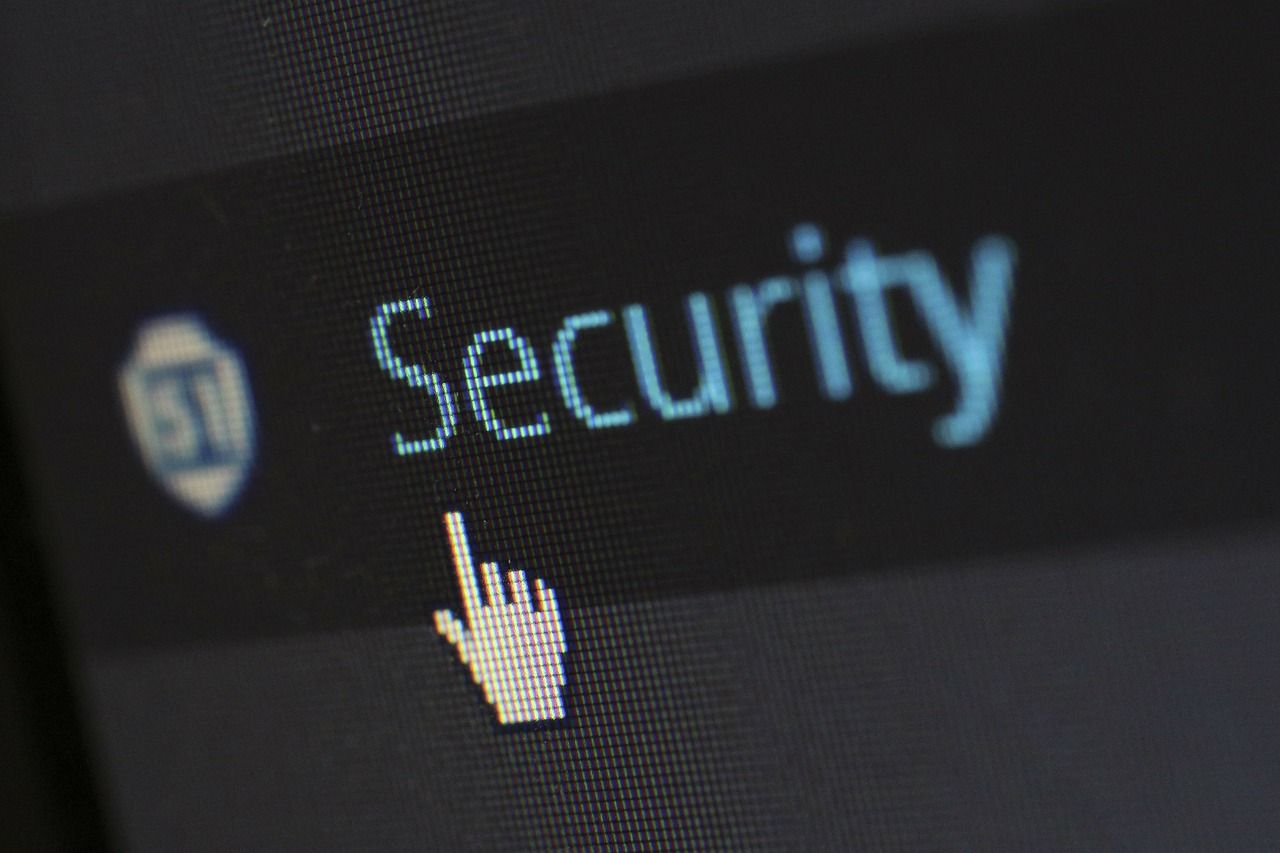 There is a good variety of plugins to add to the coupon sites. I have mentioned a few of them. Before you choose any of them, make sure that it matches the theme and version of WordPress for your site.
Coupon Creator is a popular WordPress plugin for generating promo code. It allows you to easily create coupons and add them to your online store. You can use a short promo code to add coupons to your messages and pages. It has an expiration date option that allows you to set the expiration date of the promotional code. The plugin is fully integrated with WooCommerce and you can also create WooCommerce coupons using the editor options.

OptinMonster

is the most powerful WordPress pop-up plugin on the market. You can install it in your WooCommerce store to increase your email list and reduce your shopping cart load.
WordPress Notification Bar is a convenient plugin that will help you add a floating bar to your online store. You can use it to display a promo code with a call-to-action button on a sticky bar at the top of your site. Also, you can customize the notification bar to change the color and font according to the design of the website. It comes with multi-language support and works great with all the popular E-commerce plugins for WordPress.
One more thing is left – add your content and you are ready to go.
Conclusion
Interest to coupon sites on the web keeps growing and there is an increasing variety of services and software solutions. Now you have an idea on how to create a coupon site on WordPress. As you can see, you do not need any knowledge of HTML and CSS.
People like to save money, and they use the Internet to find the best deals. You can be a valuable resource for this market by creating an easy to use coupon or deal-of-the-day website. If you have any questions or good tips for your fellow readers, please do not hesitate to share them in the comments section.