Last Updated on January 17, 2020
Cable management in large commercial office spaces can be an absolute nightmare without the right solution.
A raised floor system is a raised access floor that allows for cables and wiring to be run beneath the floor, making it easier to run power and data cables throughout an open space, without the need for installation in the ceilings or other hard to reach areas.
"A raised floor system essentially falls into two different categories," says Earl Geertgens, CEO of FreeAxez. "Traditional post and panel are what everyone thinks about when they hear 'raised floor'. This is a floor that was designed for cooling and airflow. It's a system that, once installed, is basically there to stay.
"Our version of a raised floor is built around the need for adaptability."
The traditional Post and Panel raised floor is a floor designed for underfloor air distribution and can sit as high as two feet off the ground. Post and Panel raised floors are normally used in data centers and computer rooms, where the equipment gives off a lot of heat. These types of environments need to be kept cool to keep the equipment operating at a specific temperature.
The "other" raised floor is the low-profile raised floor system. This type of commercial flooring is used for building cabling management because it gives contractors and facility managers the ability to easily run wiring throughout an open space without installing power poles or climbing up and down a ladder to install wiring in the ceilings.
The Growing Need for Adaptability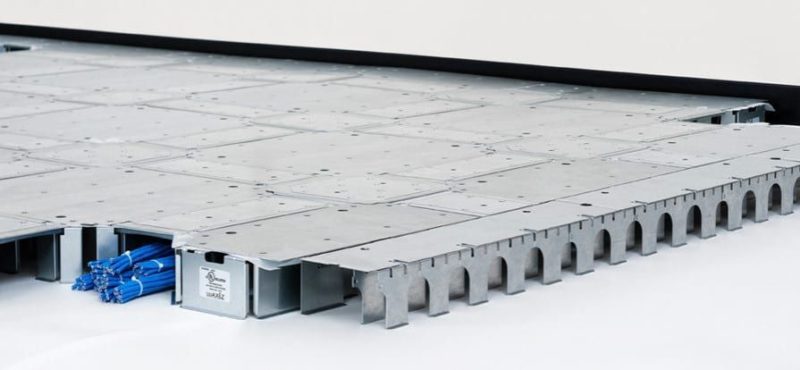 Dynamic flexibility and open, collaborative workspace are two Whole Building Design trends that have shifted the way commercial office space is designed worldwide.
Companies like Google and Netflix lean more towards designing their office spaces to be open in order to foster working together and reinforcing the "team".
Here is the problem people do not realize: technology requires cables, so if you have an open space, where do you put the cables?
"More often than not, facility managers have to make a decision on cabling," says Earl Geertgens, CEO of FreeAxez, a company that manufacturers Gridd, a raised floor system used by Google, Netflix and others.
"Installing cabling in the ceilings means you lose space. It also means that your installers are going to be up and down ladders installing cables, and the same thing is going to happen if you need to make changes down the line.
"Running cabling through the walls is an obvious choice, but when you have a large open space, how do you run power to the center of the room? If you're not installing in the floor, you're forced to do a combination of drop-ceiling and power poles, which means 1) a higher cost to install; 2) a job that will take longer, and 3) an install that is not flexible and able to easily change with your needs."
Cabling Challenges in Commercial Office Construction
The moment cabling becomes an afterthought is the moment a massive chain of issues will surface over the life of any project.
The reality is this: commercial office design has to begin with understanding how power and data will be run throughout the space.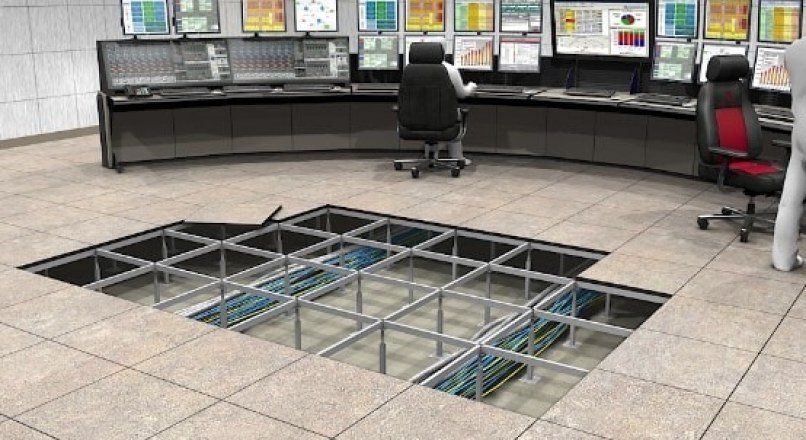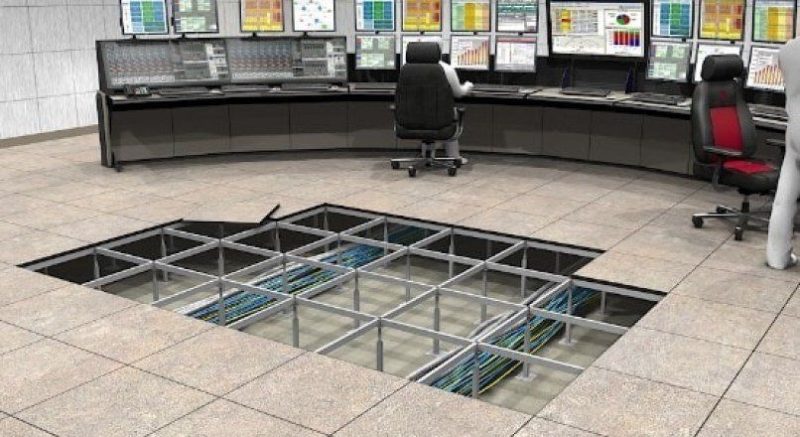 There are a number of people who will influence this decision.
The Architect
Clients want architects to design the perfect space. While most clients are focused on design and aesthetics, they are also always demanding to reduce construction costs and provide flexibility for future re-configuration. This creates a trade-off where the need to be cost-effective in the short term can lead to long-term unplanned costs if needs change.
The Building Owner
In today's competitive market, it's very common for building owners to offer renovation allowances in order to attract the best tenants. Every tenant will have different needs, different tastes and want to make the space their own. This means that the underlying building technology and construction materials should be built to make change possible at any time, in order to reduce the cost of renovations when leasing to a new tenant.
The General Contractor
Contractors feel the pressure of a project from different angles. Clients always expect things to take less time than they actually do. The building owner wants the building ready ASAP, so the tenant can move in. Facility managers and interior designers need the construction finished before they can do their job.
The Interior Designer
Interior designers want to have a blank canvas to work with. They don't want ugly, cable raceway tracks running down or along the walls, or power poles installed throughout the room, obstructing the open space.
Enter Gridd: Adaptive Cabling Meets Raised Floor System
Gridd was designed with a number of things in mind:
The need to run power and data cables throughout a building
The desire to easily adapt and reconfigure as new needs arose.
The efficiency to quickly install with no tools or added construction.
The promise to last for the life of the building.
Operating by those guidelines, FreeAxez developed Gridd as an eco-friendly raised floor system that can easily be installed without the use of tools. The system is so flexible it can be reused again and again, or even picked up and taken to a new building. Gridd uses augmented reality and a mobile app to see exactly where the wires are without lifting up the floor, making it a solution that electricians and facility managers can love.
Commercial office space design has to literally be designed from the ground up. There are inherent challenges in every construction project, but commercial offices have their own set of unique challenges. People want more out of their spaces.
Facility managers want to utilize space more efficiently. Tenants want the flexibility to re-configure their space as their company grows or new needs arise.
Most of these challenges can be overcome by understanding that technology is changing the way we work, and the need to be adaptable needs to extend all the way down — right down to the floor.