Last Updated on June 12, 2022
Who Is Cam Newton?
Cameron Jerrell Newton is an American football quarterback who's currently a free agent. Prior to becoming a free agent, Newton spent his first nine seasons in the National Football League (NFL) playing for the Carolina Panthers before playing one season for the New England Patriots.
He previously played college football for the University of Florida's Gators Football Team, Blinn College-Brenham Campus' football team, and Auburn University's Tiger Football Team.

Newton has broken quite a few records during his football career. He's currently the leader in quarterback rushing touchdowns in NFL's history, at 70. He's also one of the only four Black quarterbacks ever to win NFL MVP awards.

Cam Newton's efforts on and off the football pitch haven't gone unnoticed. Newton has received numerous awards, in addition to earning millions in salaries, signing bonuses, and endorsement deals. He has a net worth of 80 million.
Quick Facts
| | |
| --- | --- |
| Full Name: | Cameron Jerrell Newton |
| Popular Name: | Cam Newton |
| Gender: | Male |
| Birth Date: | May 11, 1989 |
| Age: | 33 years |
| Parents: | Cecil Newton Sr. and Jackie Newton |
| Siblings: | Cecil Newton and Caylin Newton |
| Birth Place: | Atlanta, Georgia, United States |
| Nationality: | American |
| Ethnicity: | African-American |
| Education: | Westlake High School, University of Florida, Blinn College-Brenham Campus, and Auburn University |
| Marital Status: | Unmarried but had a long-term relationship with former girlfriend Kia Proctor |
| Sexual Orientation: | Straight |
| Wife/Spouse: | N/A |
| Children: | 5, including 4 with Kia Proctor (Chosen Sebastian Newton, Sovereign-Dior Cambella Newton, Cashmere Saint Newton, and Camidas Swain Newton) and 1 with Instagram model La Reina Shaw (Caesar Newton) |
| Dating: | N/A |
| Net Worth: | USD 80 million (as of May 1, 2022) |
| Source of Wealth: | Salary as Football Player, Endorsement Deals, and Other Ventures |
| Height: | 6′ 5″ (1.96 m) |
| Weight: | 111 kg; In pounds: 245 lbs. |
Early Life and Career Information
Cameron Newton was born on May 11, 1989, in Atlanta, Georgia, United States, to Cecil Newton Sr. and Jackie Newton. Cam hails from a family with deep football roots. His father was a safety for both the 1983 Dallas Cowboys and the 1984 Buffalo Bills, whereas his younger brother Cecil Newton was a center for the Jacksonville Jaguars. Cam's youngest brother, Caylin Newton, played as quarterback for Howard Bison around the mid-2010s.

Cam Newton took an interest in athletics at a fairly young age. As a youth, Newton was particularly gifted in baseball and basketball. However, he became afraid of being hit by a pitch and couldn't stay out of trouble while playing basketball. That's how he quit baseball and basketball, respectively.

After giving up his passion for baseball and basketball, Cam Newton began to focus on football. Newton became a promising football player while in college. He played on the Florida Gators team in 2007 and 2008.

In November 2008, Newton was suspended from Florida Gators following accusations of stealing a laptop from a fellow student. He subsequently transferred to Blinn College-Brenham Campus in January 2009 and immediately joined the college's football team. That year, Newton inspired Blinn College-Brenham Campus' football team to the NJCAA National Football Championship.

In 2010, Cam Newton began playing for this third and final college football team, Auburn University's Tiger's Football Team. Newton didn't wait to impress. He was named the SEC Offensive Player of the Week after his first game with the team. In December 2010, Cam inspired Tiger's to win the SEC Championship. The following month, he played in the BCS National Championship Game and won the championship.

Cam Newton's notable college achievements include:

• 2-time BCS National Champion in 2008 and 2010
• Heisman Trophy in 2010
• Maxwell Award in 2010
• Walter Camp Award in 2010
• Davey O'Brien Award in 2010
• AP College Football Player of the Year Award in 2010
• Sporting News College Player of the Year Award in 2010
• SEC Offensive Player of the Year Award in 2010

Cam Newton kicked off his professional football career in the 2011 NFL Draft. He was selected by the Carolina Panthers as the first overall pick.

Newton went on to play with the Panthers from 2011 to 2019. After being plagued with injuries for the better part of 2019, coupled with a slow recovery from surgery, the Panthers released Cam Newton. Newton joined the New England Patriots for one year, before the Patriots released him following the 2021 preseason.

The following are some of Newton's most notable professional achievements:

• NFL Offensive Rookie of the Year Award in 2011
• NFL Most Valuable Player Award in 2015
• NFL Offensive Player of the Year Award in 2015
• 3 Pro Bowl Awards in 2011, 2013, and 2015
• Bert Bell Award in 2015
• Most rushing attempts by a quarterback (1,071)
• Most rushing touchdowns by a quarterback (70)
• Most rushing touchdowns by a quarterback in a season (14)
Cam Newton's Net Worth
Cam Newton is not only one of the most revered NFL players of his generation. He's also among the wealthiest. As of May 1, 2022, Newton had a net worth of $80 million.

Newton credits much of his wealth to his highly successful NFL career. He reportedly earned $5.5 million annually from 2011 to 2014, the majority of which came from his 4-year, $22 million contract with the Carolina Panthers. In 2015, he signed a 5-year, $103.8 million contract extension with the Panthers.

By the time Newton left the Panthers, he had earned $121 million worth of base salary alone. He then signed another lucrative deal with the New England Patriots. The contract included a starting salary of $1.05 million. Coupled with playtime bonuses and other incentives, Newton could have easily earned $7.5 million from his contract with the Patriots.

Like most NFL stars, Cam Newton also earns significant paychecks from endorsement deals. Some of the big brands he has partnered with include Gatorade, Under Armour, Beats by Dre, and Dannon.

Cam Newton has pursued several other ventures outside of football and product endorsements. Newton invested in the show All In With Cam Newton. He also launched his clothing line in 2013, titled MADE by Cam Newton.
Lessons from Cam Newton
1. Harness your fears to your advantage

As a youth, Cam Newton was a multitalented athlete with exceptional skills in baseball and basketball. However, his fears of being hit by a pitch and repeated foul troubles on the court made him abandon baseball and basketball, respectively. He later focused on football, and the rest is history.

2. Losing is part of the game

Newton appreciates that it takes failing a couple of times to earn meaningful success. He once said, "A person that says, 'Losing is not difficult,' I don't even want to be around that person. And obviously, that person has never won anything relevant in their life."

3. Education is still important No matter your athletic prowess

Cam Newton took a break from his studies so he could focus on football. However, he later returned to Auburn during his time off to complete his studies, eventually earning a sociology degree in 2015.
Famous Quotes by Cam Newton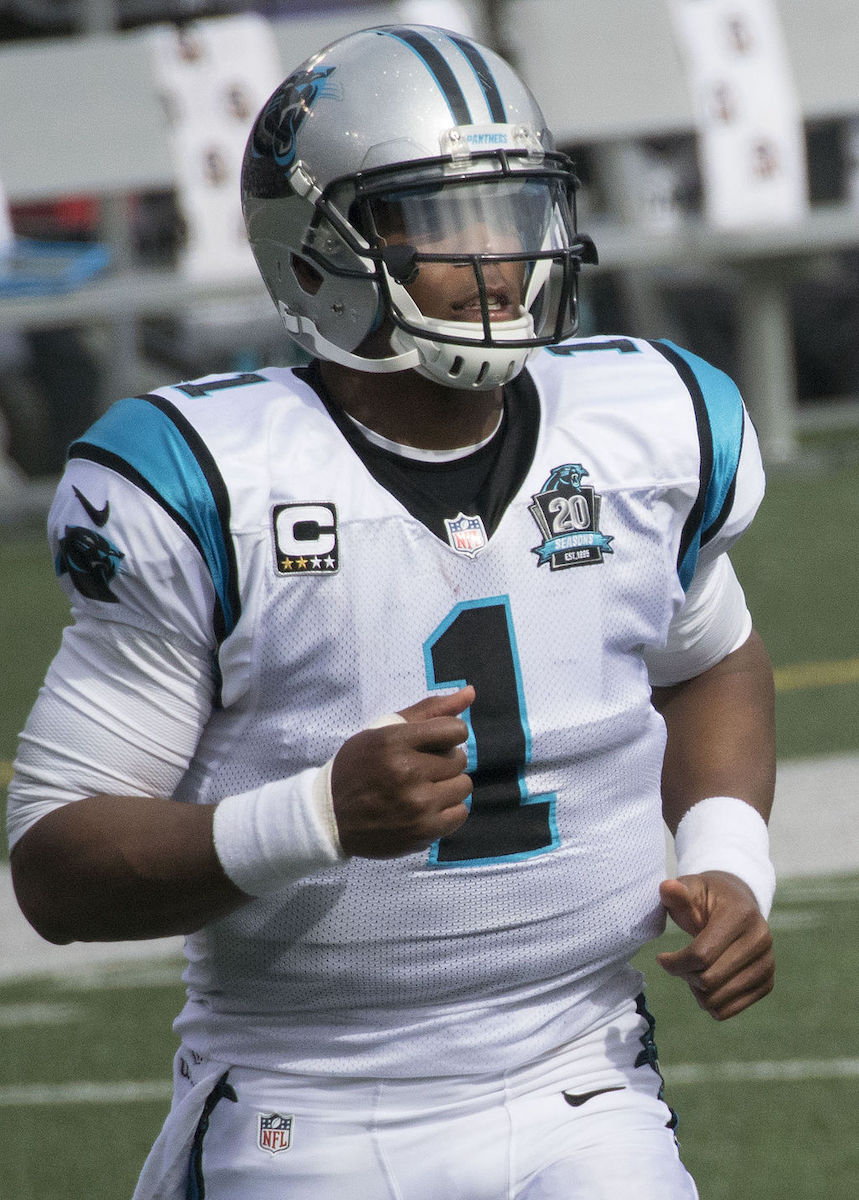 • Control what you can control. Don't lose sleep worrying about things that you don't have control over because, at the end of the day, you still won't have any control over them.
• What happens when you take a lion out of the safari and try to take him to your place of residence and make him a house pet? It ain't going to happen. That's the type of person that I am. I'm that lion.
• I know when it's getting close to game time, I create a different playlist for each and every game. Before the game, to game time, to warm-ups, going to the stadium, I have a different playlist that puts me in a different mode.
• The thing that makes the great players great, and that separates players from different players is, when you going out there whether being prepared or not, you have to react. And if you're thinking, you're already a step behind.
• Music can bring about different vibes on the field, off the field, urban life, going to church, leaving church. Everything the world may bring, there's a song for it to put you in the right frame of mind.
Conclusion
Cam Newton is an accomplished football quarterback who played his first nine NFL seasons for the Carolina Panthers and one season for the New England Patriots before becoming a free agent.

Newton has earned millions during his NFL career. His current net worth is a staggering $80 million.