Last Updated on January 24, 2023
Carrie Bradshaw is considered as one of the greatest TV characters of all time, and definitely one of the most iconic female characters in history. Through the hit HBO series and movie franchise Sex and the City, she became the champion for real-life women's issues such as love, relationships, and female sexuality.
Always emotional but sexually independent, the world got "Carried Away" with the love-seeking adventures of this all-American Spice Girl.
Character History and Profile
Caroline Marie "Carrie" Bradshaw is the narrator and main protagonist of the American television show Sex and the City. Portrayed by actress Sarah Jessica Parker, the character is partly based on the life of Candace Bushnell, the author of the book of the same name that inspired the show.
Bradshaw is a weekly columnist for the fictional paper The New York Star. Through her column, titled "Sex and the City", she muses about relationships and the dating scene in New York, often recounting her and her girl friends' sexual escapades. Despite her seemingly liberated lifestyle, Bradshaw is a hopeless romantic at heart and is perennially seeking true love.
She eventually becomes a freelance contributor to Vogue magazine, where she struggles to build a harmonious professional relationship with her editor. Thanks to her resilience and perseverance, she manages to be on good terms with her boss in the end.
Very little is known about Bradshaw's life prior to the series. However, in a prequel featuring her high school days, titled "The Carrie Diaries", it is revealed that she lived with her father and a younger sister named Dorrit during her teenage years. She then moved to Manhattan in June 1986 when she was around 21 years old.
Life as a Fashion Icon
Bradshaw is extremely fashion-forward and is passionate about haute couture. Her fashion statements reflect her eccentric and whimsical personality. She has an extensive collection of designer clothes – most from her favorites: Saks Fifth Avenue, Bergdorf Goodman, and Barneys.
Moreover, in every season of the show, she popularizes signature styles and accessories. These include the nameplate necklace, flower pins, baguette clutch bags, gloves, newsboy, hats, and stackable jewelry.
She also has a rather unhealthy obsession for footwear, even referring to it as her own version of a substance abuse problem. Her most-loved pieces are from Manolo Blahnik, Jimmy Choo, and Christian Louboutin. Most of her expenses come from luxury shoe shopping, which often leaves her with maxed out credit cards and nearly zero savings.
It remains a mystery how she manages to maintain her lavish lifestyle, considering how writers do not usually get paid in handsome paychecks. In one memorable episode, she justified her over-the-top way of life by saying, "I like my money right where I can see it – hanging in my closet." To this day, it remains one of the most memorable one-liners from the fashionista.
Bradshaw is a woman who breathes fashion. For her, introducing a boyfriend to a Prada sales assistant is as important as introducing him to her parents. She may not understand the opposite sex thoroughly, but she understands designer clothes, handbags, shoes, and accessories well.
The Carrie Legacy
Bradshaw draws popularity in New York City mainly because of her realness and relatability that shows through her weekly column. She writes about the struggles of single women and, at the same time, empowers them to break the stigma surrounding singlehood. She is not afraid to take on complicated and sensitive topics – from dating, to marriage, and having kids.
Apart from her knowledge and impeccable way of relating to her audience, Bradshaw is also an image of strong work ethic. She is responsible, disciplined, professional, and serious about her craft. As a writer, she keeps her opinions in check and knows how to accept criticism.
She has a lot of personal failures when it comes to relationships, sure, but Bradshaw is smart enough to use it to her advantage. She is passionate about pushing for female independence and uses her first-hand experiences to create her own brand.
Her wit and heart shows in her articles, winning over not only readers from New York. She has even attracted a big-scale publishing house that helped her earn a ticket to become an internationally-acclaimed author.
True enough, her road to success is paved with complicated relationships and break-ups, but it is the same road that leads her to a fruitful and rewarding career.
Long after Sex and the City's farewell in 2004, Bradshaw is still considered as one of the most groundbreaking female protagonists to ever grace modern television. In fact, she was No. 2 in TV Guide's 25 Greatest TV Characters of All-Time in 2010. She was also named the most fashionable TV character and No. 41 in the list of Most Memorable Female TV Characters.
To celebrate the legacy of this modern-day Cinderella, here are 25 of the best Carrie Bradshaw quotes about love and relationships:
Best Carrie Bradshaw Quotes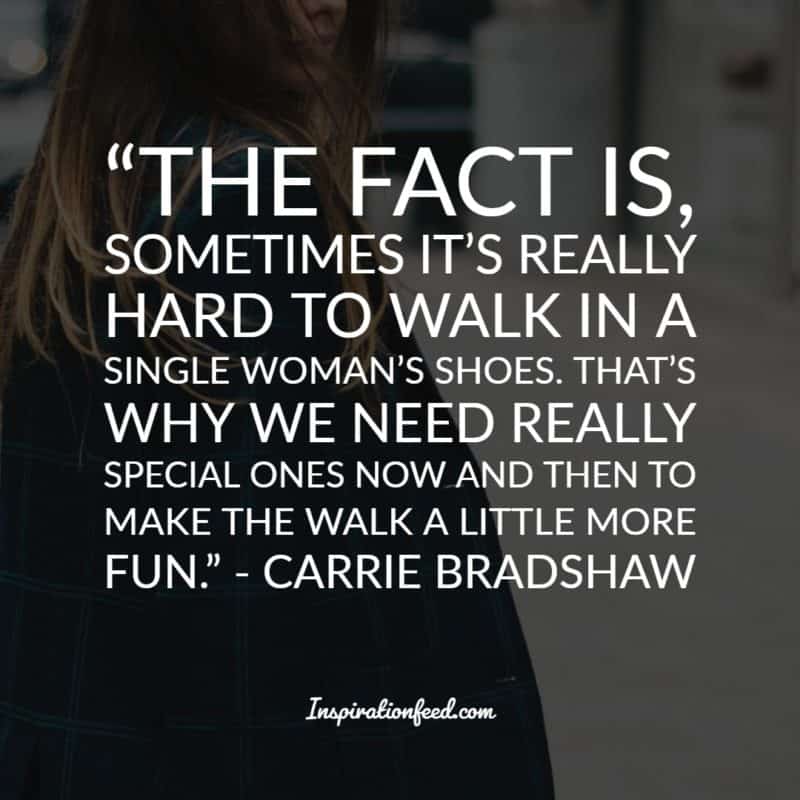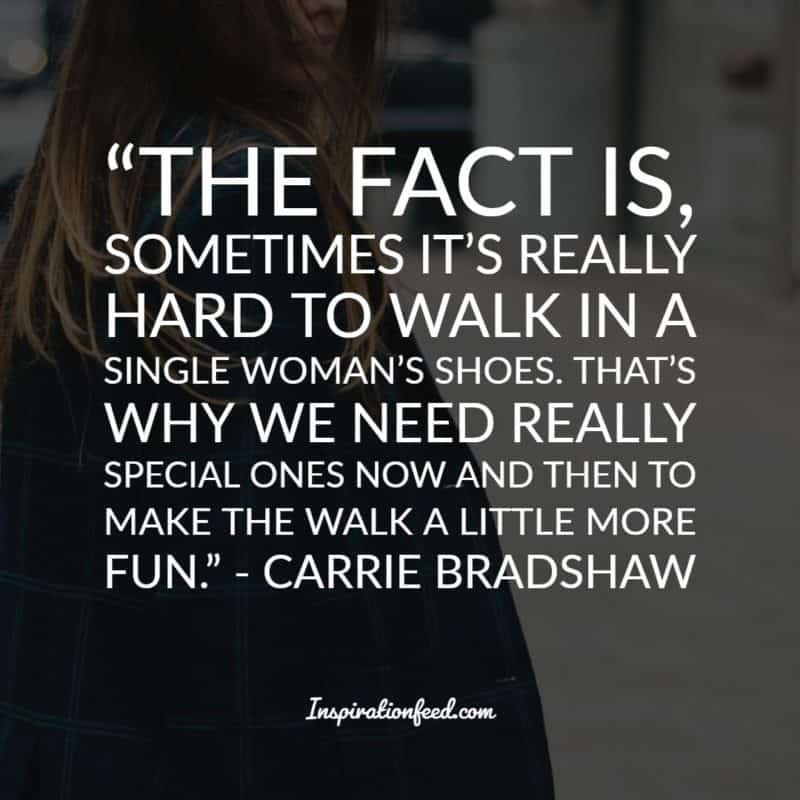 "The fact is, sometimes it's really hard to walk in a single woman's shoes. That's why we need really special ones now and then to make the walk a little more fun." – Carrie Bradshaw
"I like my money where I can see it – hanging in my closet." – Carrie Bradshaw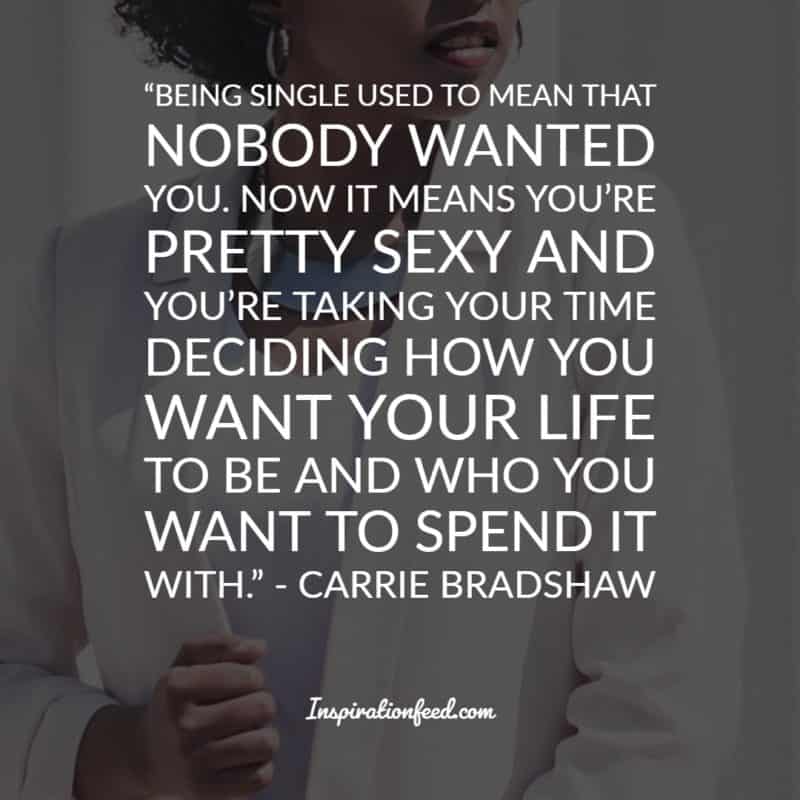 "Being single used to mean that nobody wanted you. Now it means you're pretty sexy and you're taking your time deciding how you want your life to be and who you want to spend it with." – Carrie Bradshaw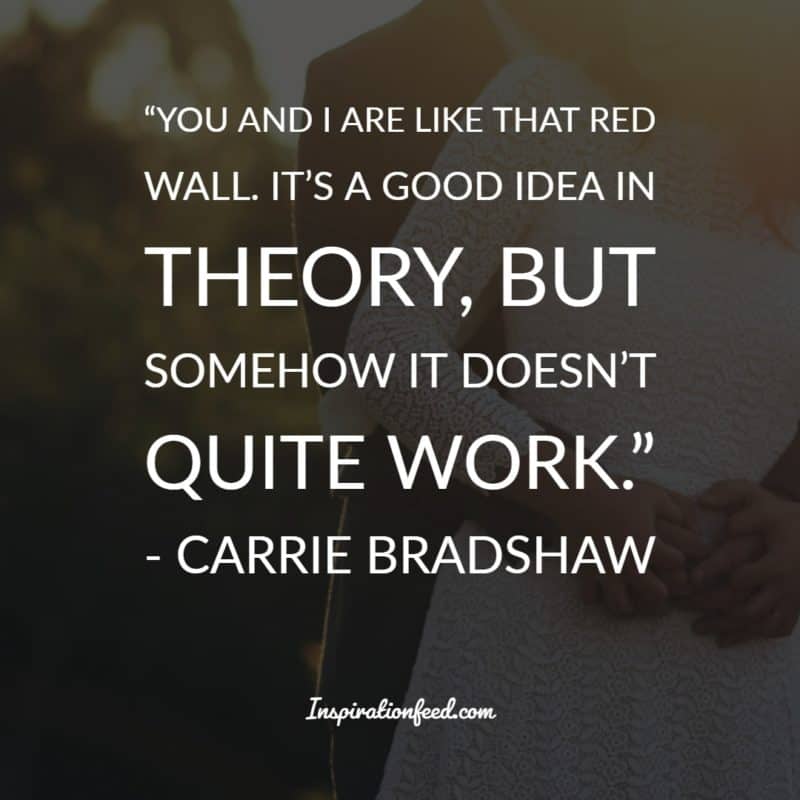 "You and I are like that red wall. It's a good idea in theory, but somehow it doesn't quite work." – Carrie Bradshaw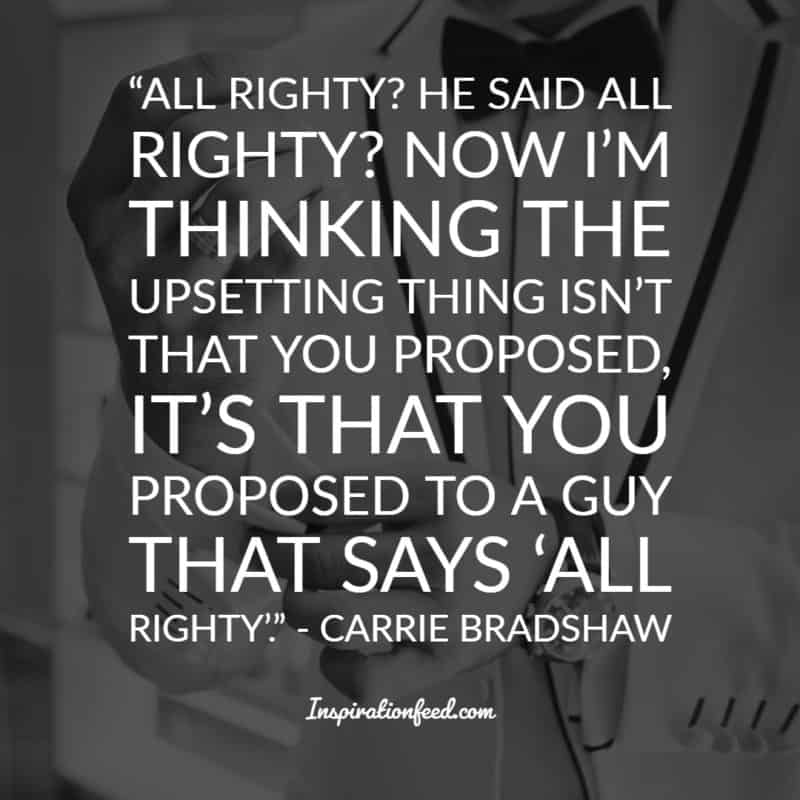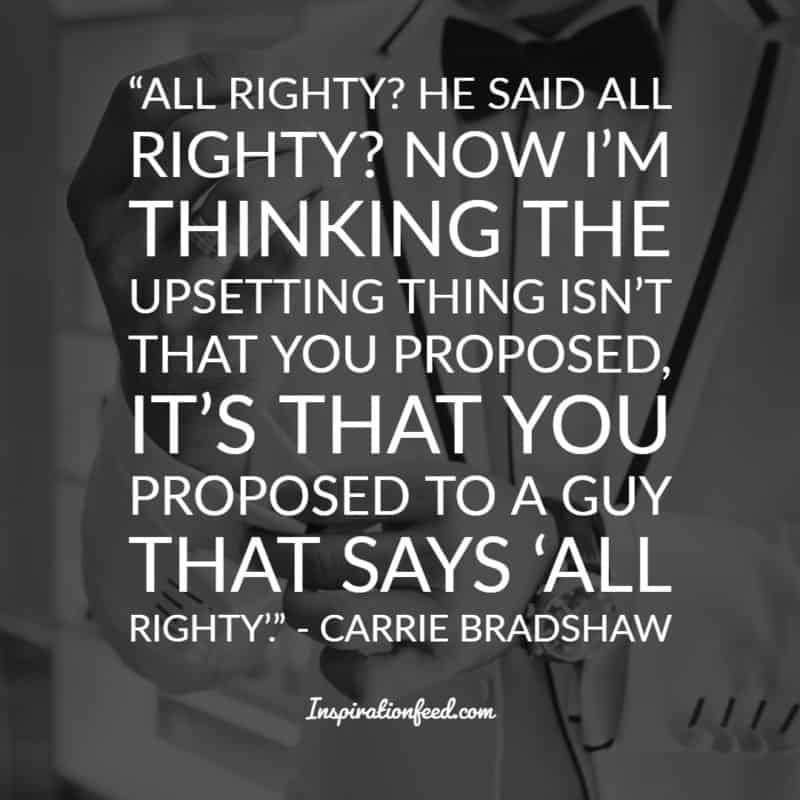 "All righty? He said all righty? Now I'm thinking the upsetting thing isn't that you proposed, it's that you proposed to a guy that says 'all righty'." – Carrie Bradshaw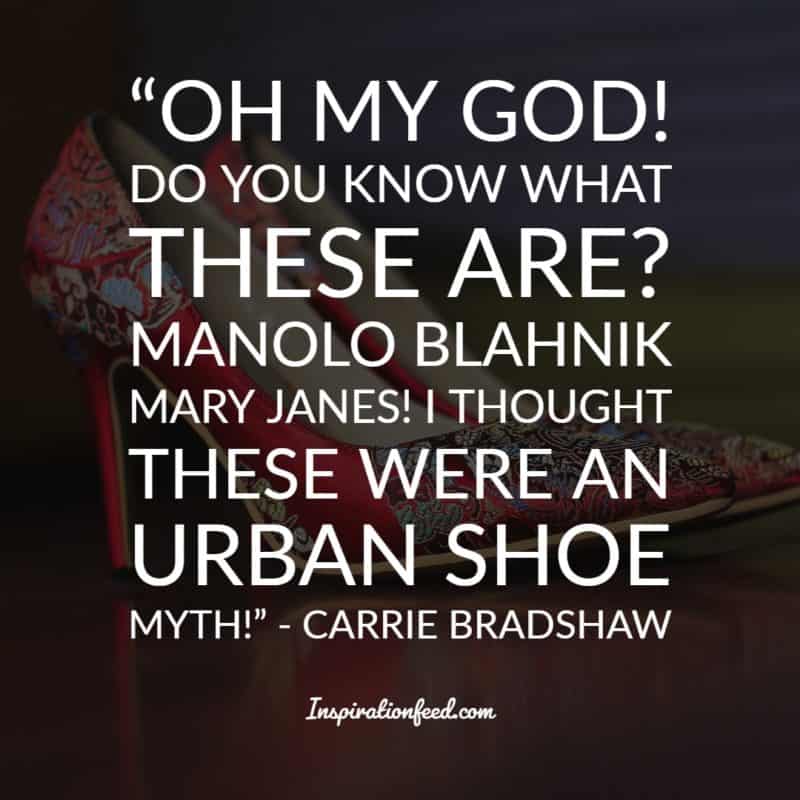 "Oh my God! Do you know what these are? Manolo Blahnik Mary Janes! I thought these were an urban shoe myth!" – Carrie Bradshaw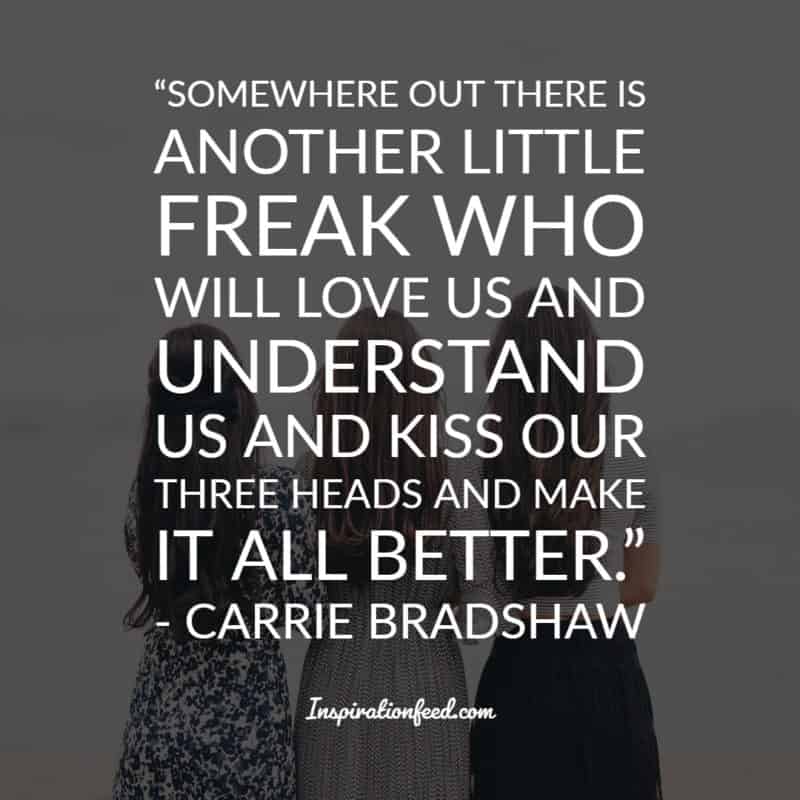 "Somewhere out there is another little freak who will love us and understand us and kiss our three heads and make it all better." – Carrie Bradshaw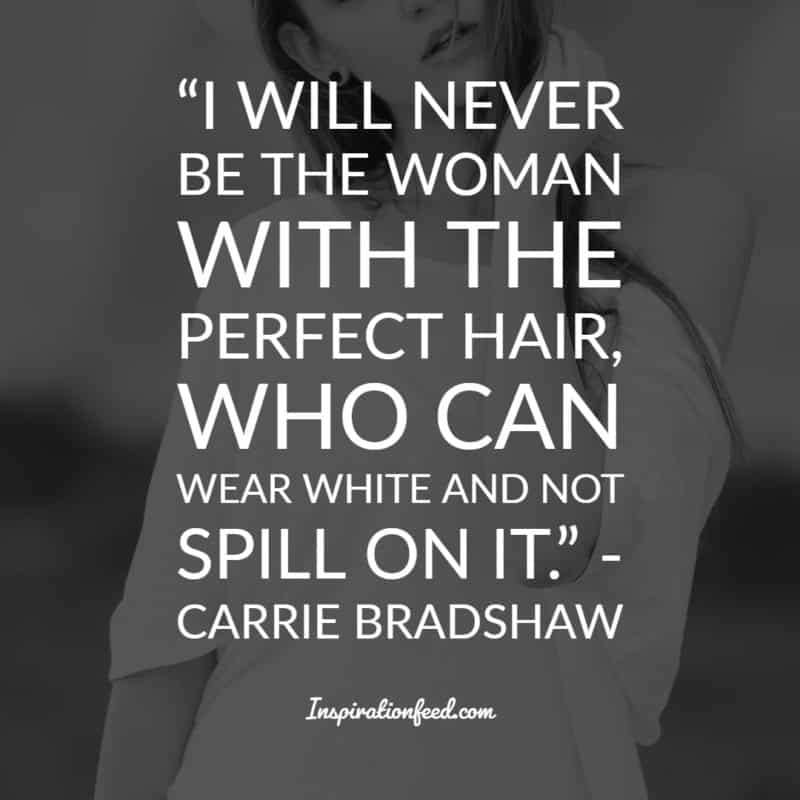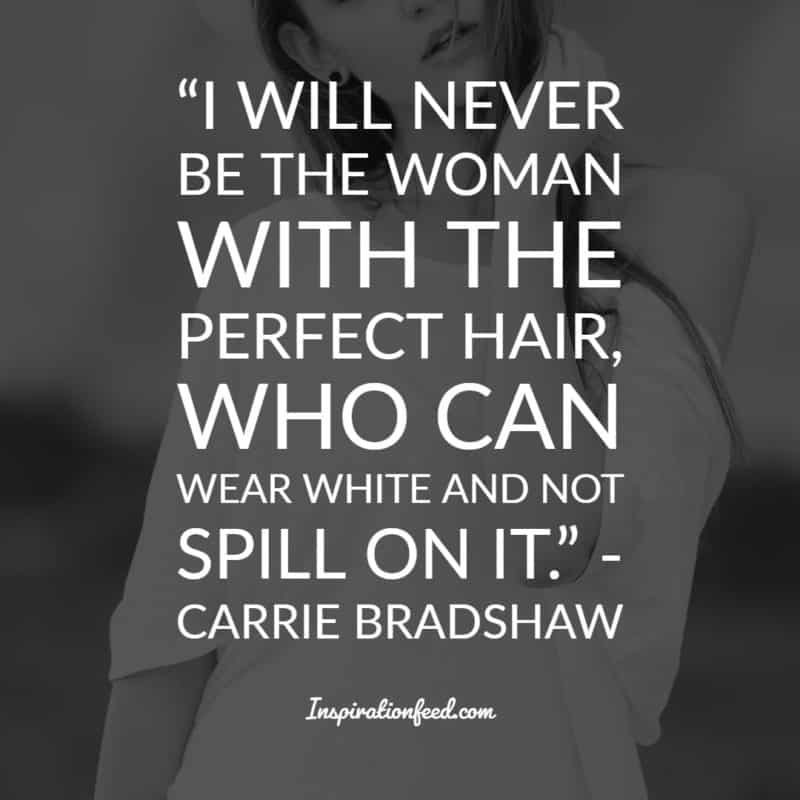 "I will never be the woman with the perfect hair, who can wear white and not spill on it." – Carrie Bradshaw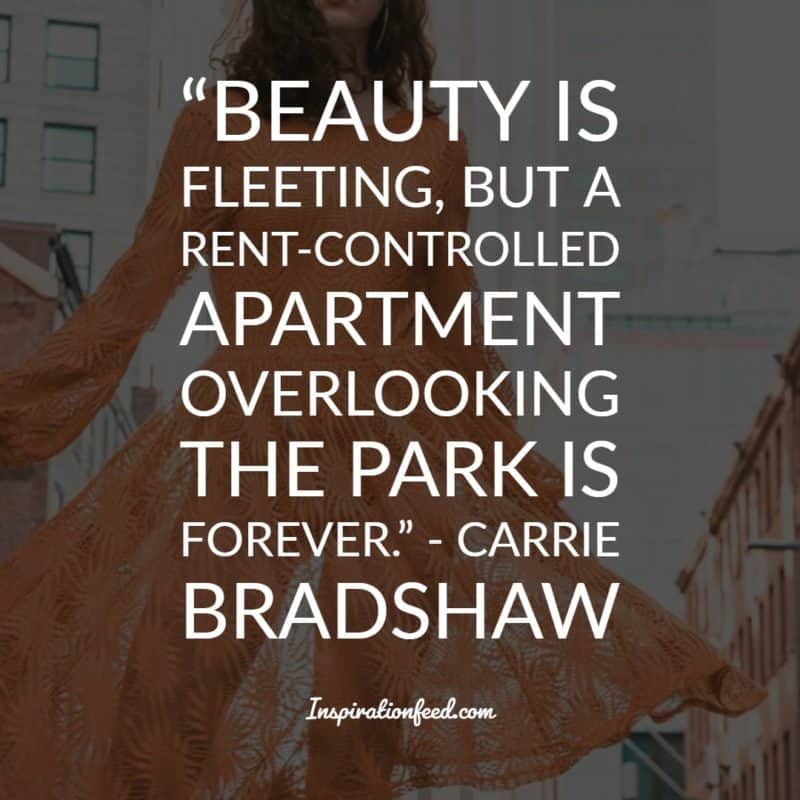 "Beauty is fleeting, but a rent-controlled apartment overlooking the park is forever." – Carrie Bradshaw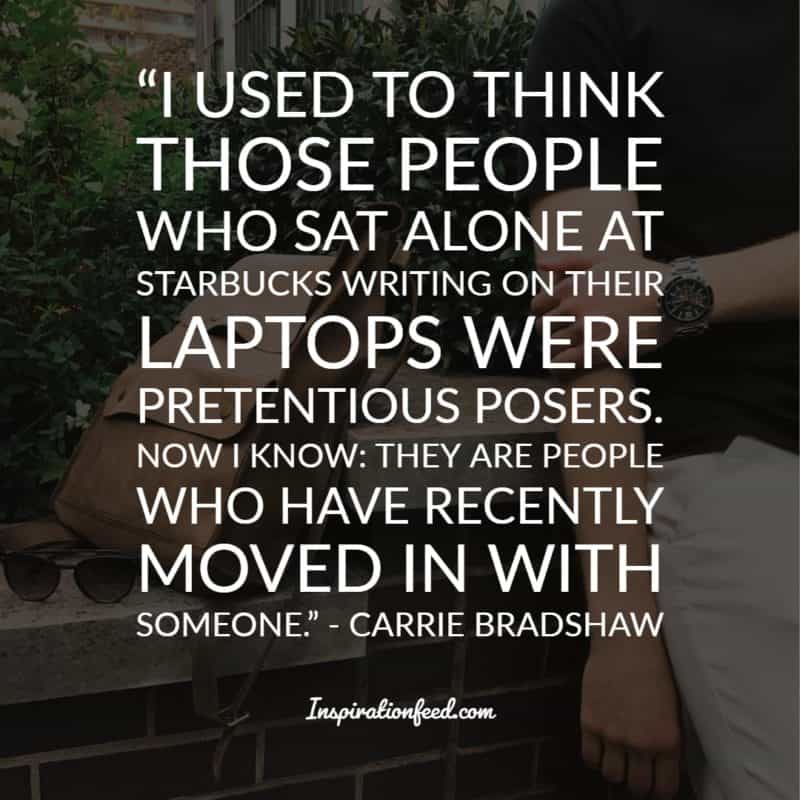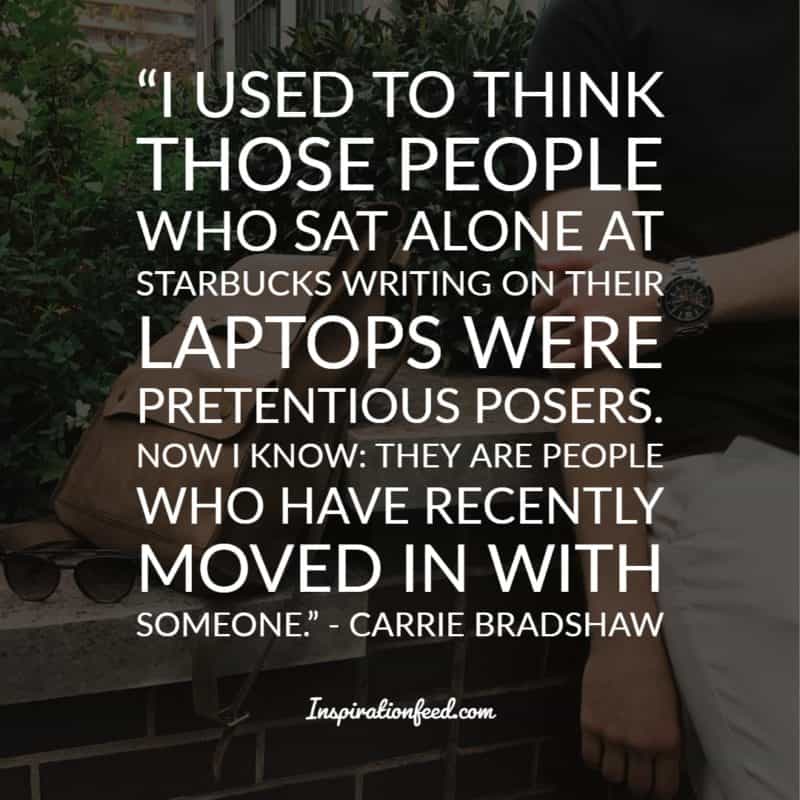 "I used to think those people who sat alone at Starbucks writing on their laptops were pretentious posers. Now I know: They are people who have recently moved in with someone." – Carrie Bradshaw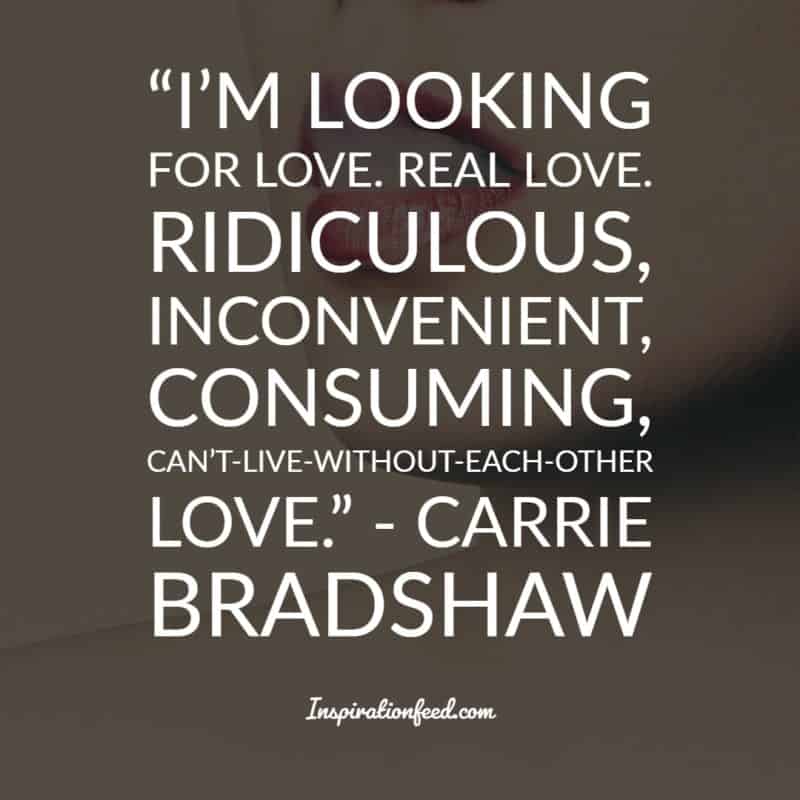 "I'm looking for love. Real love. Ridiculous, inconvenient, consuming, can't-live-without-each-other love." – Carrie Bradshaw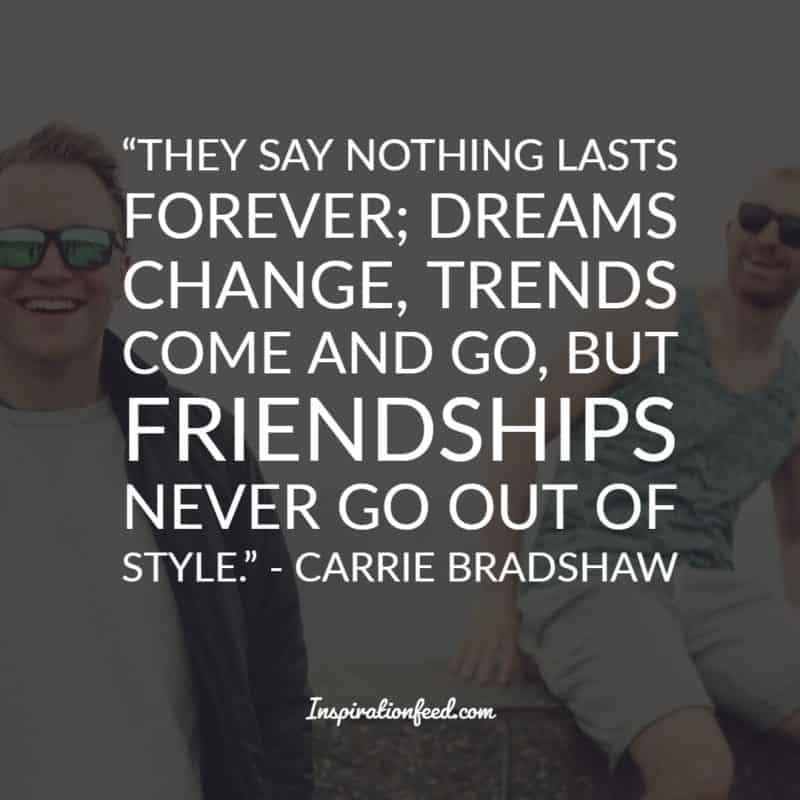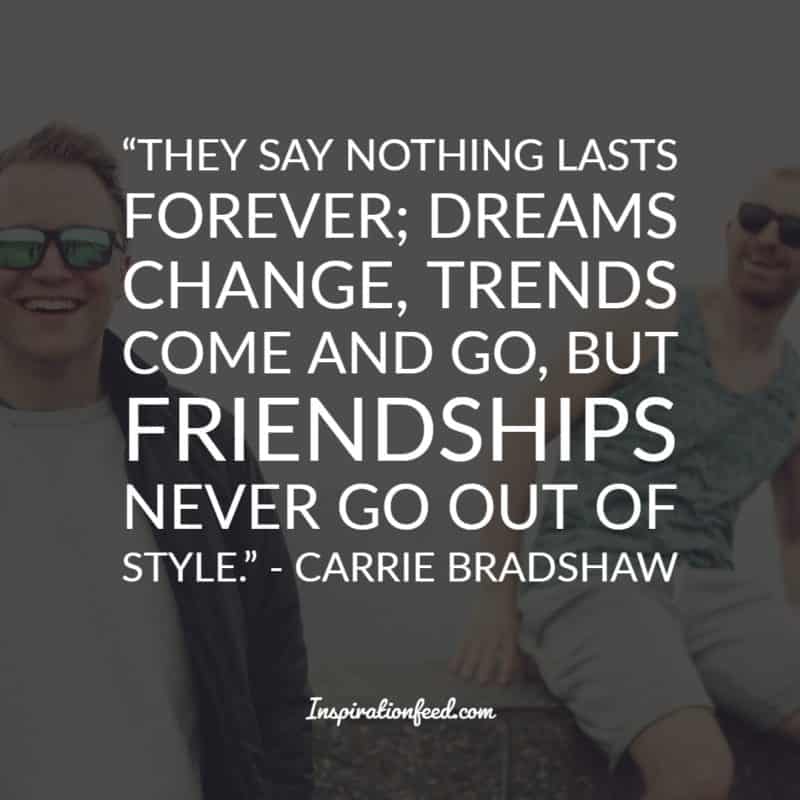 "They say nothing lasts forever; dreams change, trends come and go, but friendships never go out of style." – Carrie Bradshaw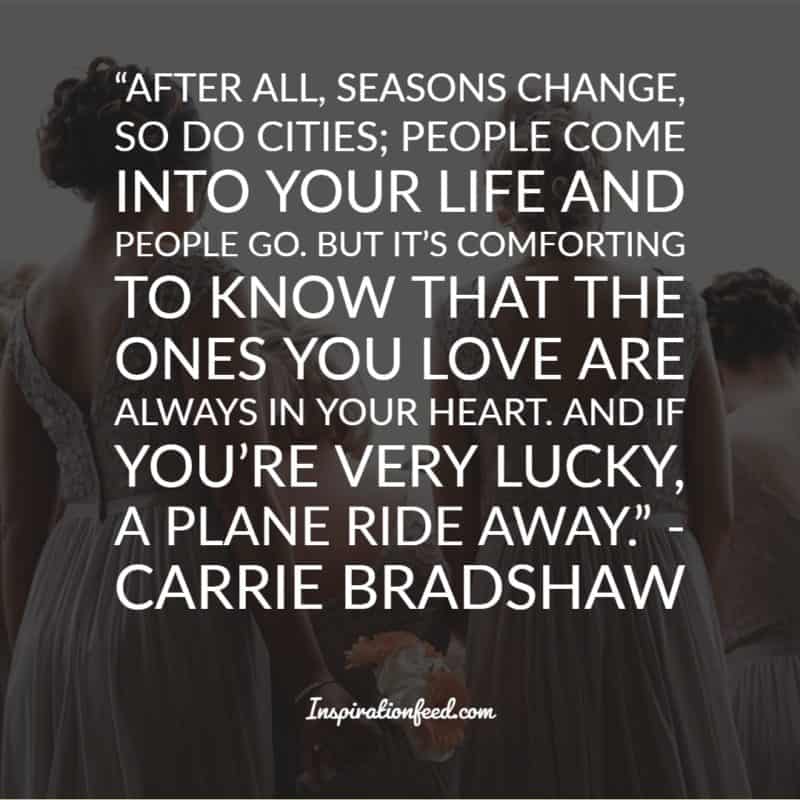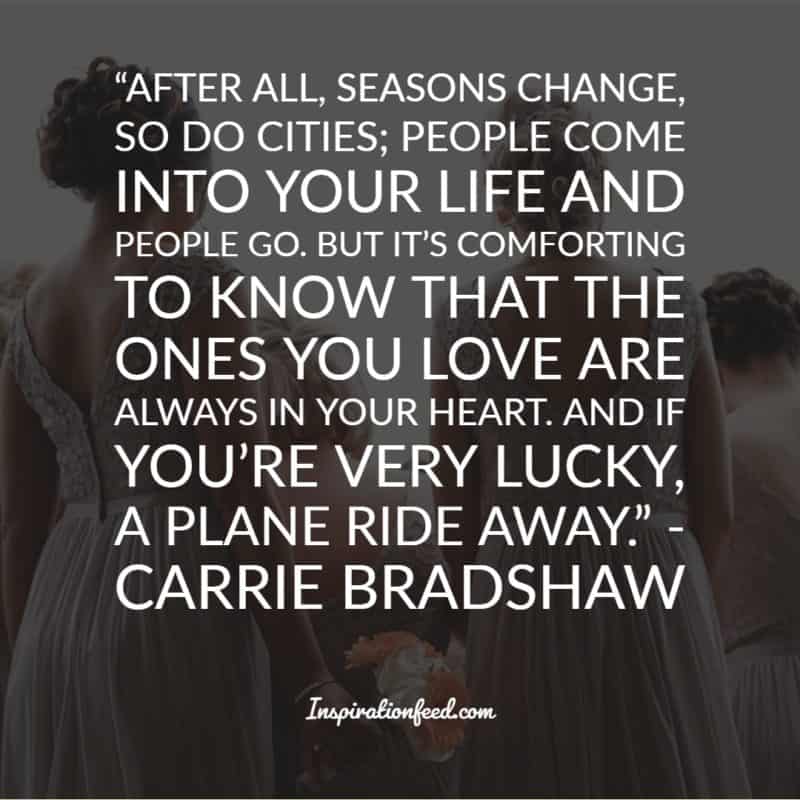 "After all, seasons change, so do cities; people come into your life and people go. But it's comforting to know that the ones you love are always in your heart. And if you're very lucky, a plane ride away." – Carrie Bradshaw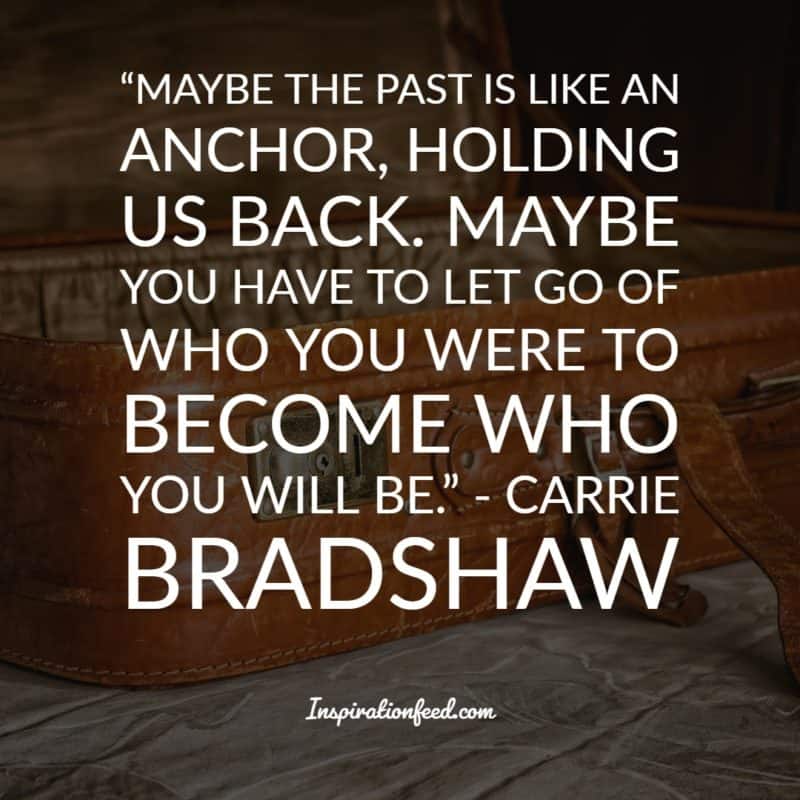 "Maybe the past is like an anchor, holding us back. Maybe you have to let go of who you were to become who you will be." – Carrie Bradshaw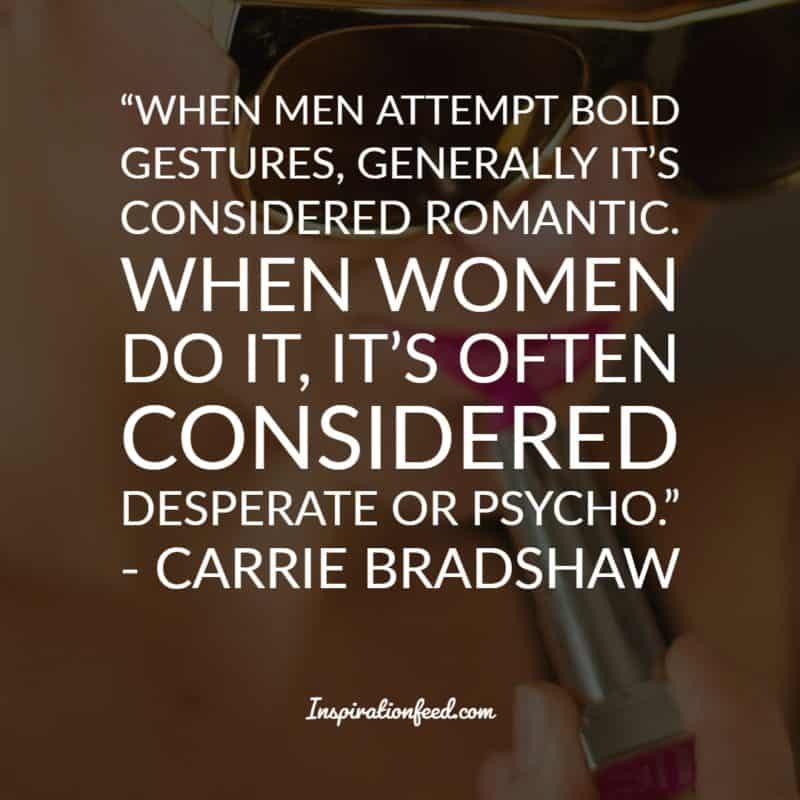 "When men attempt bold gestures, generally it's considered romantic. When women do it, it's often considered desperate or psycho." – Carrie Bradshaw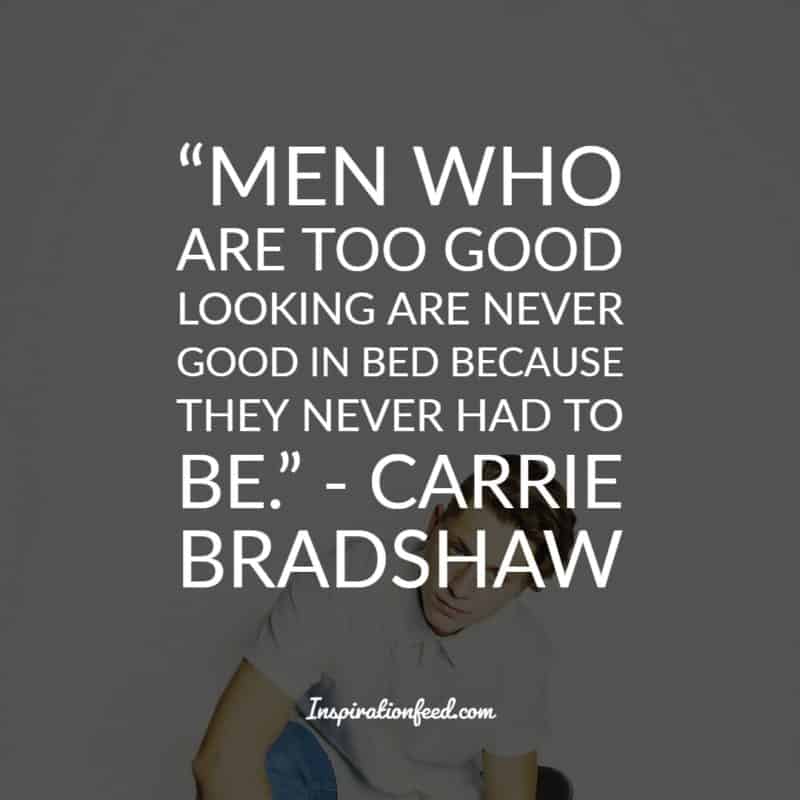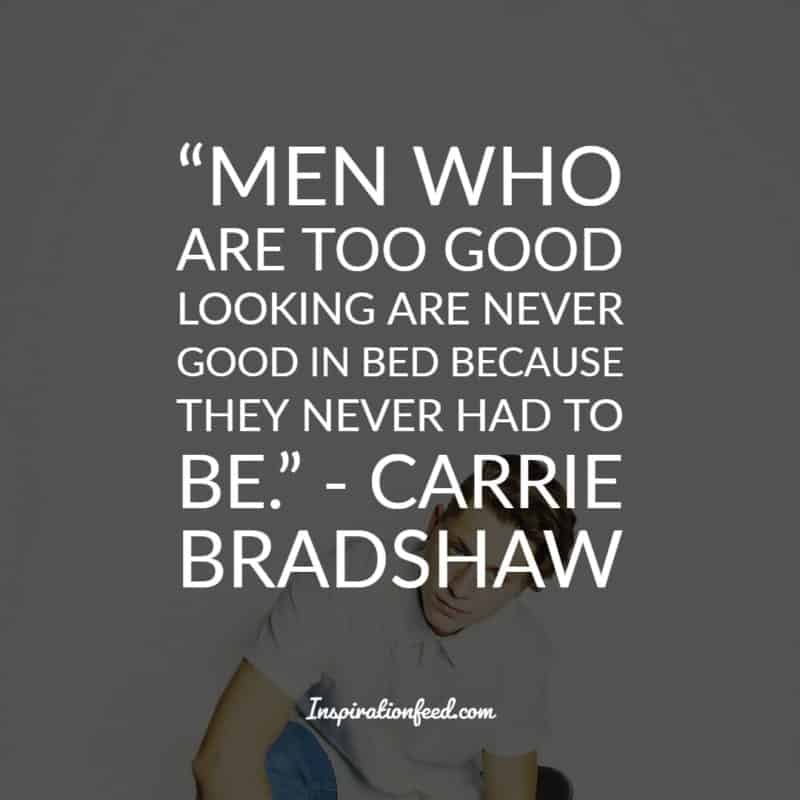 "Men who are too good looking are never good in bed because they never had to be." – Carrie Bradshaw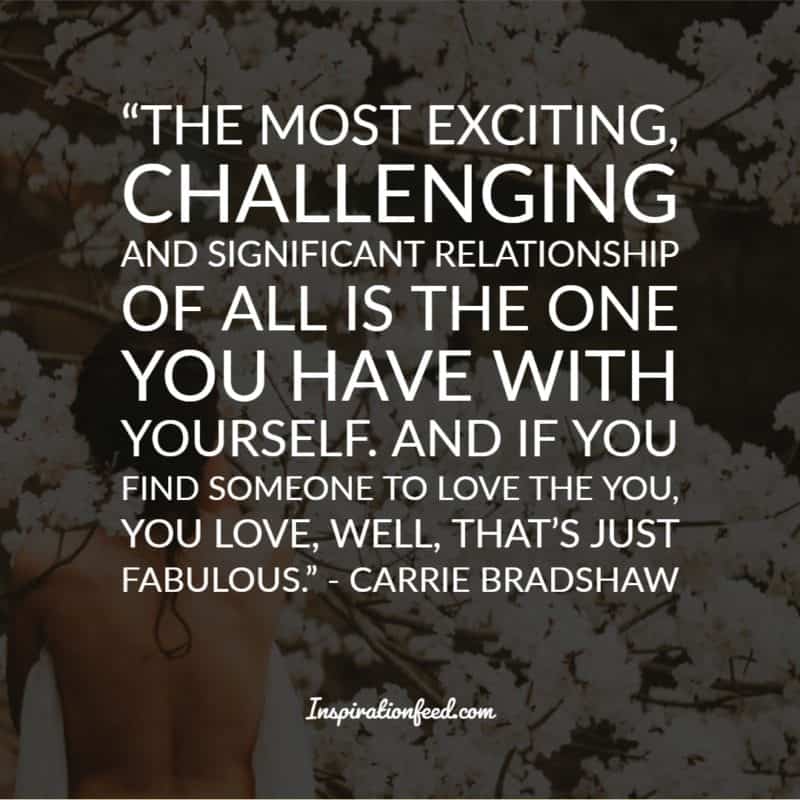 "The most exciting, challenging and significant relationship of all is the one you have with yourself. And if you find someone to love the you, you love, well, that's just fabulous." – Carrie Bradshaw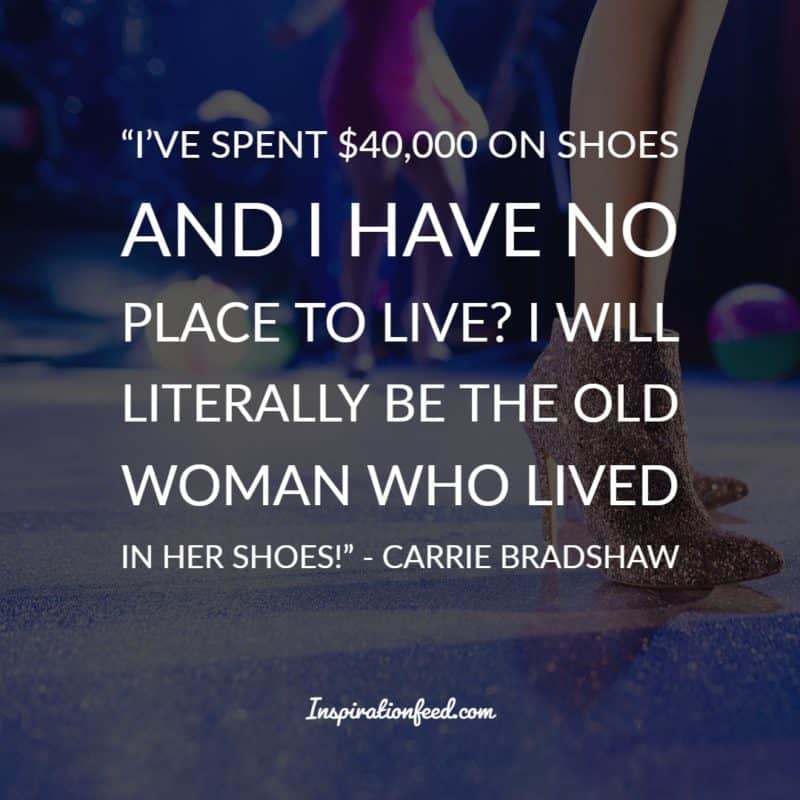 "I've spent $40,000 on shoes and I have no place to live? I will literally be the old woman who lived in her shoes!" – Carrie Bradshaw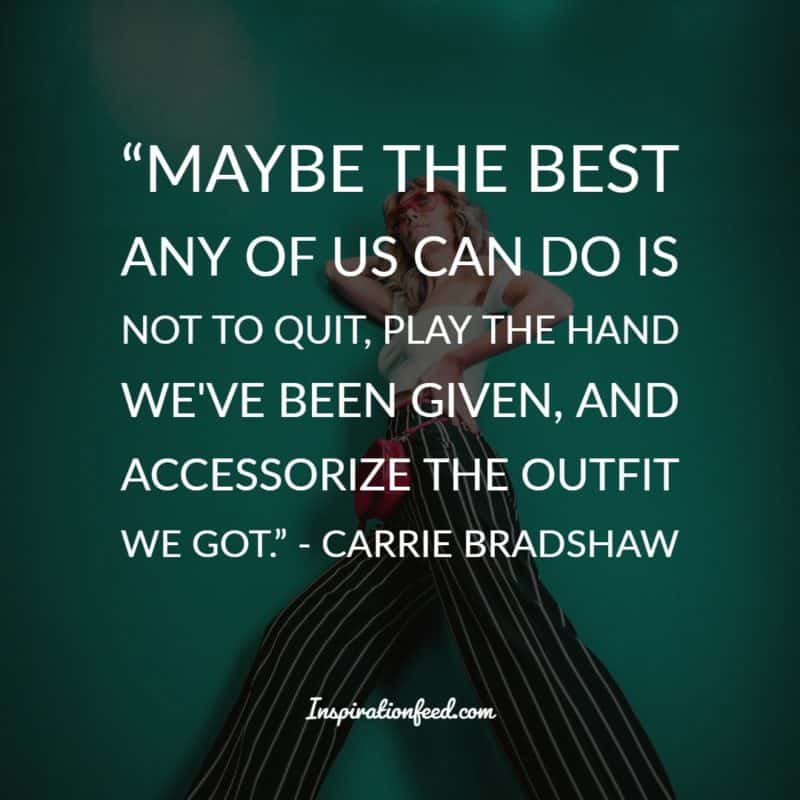 "Maybe the best any of us can do is not to quit, play the hand we've been given, and accessorize the outfit we got." – Carrie Bradshaw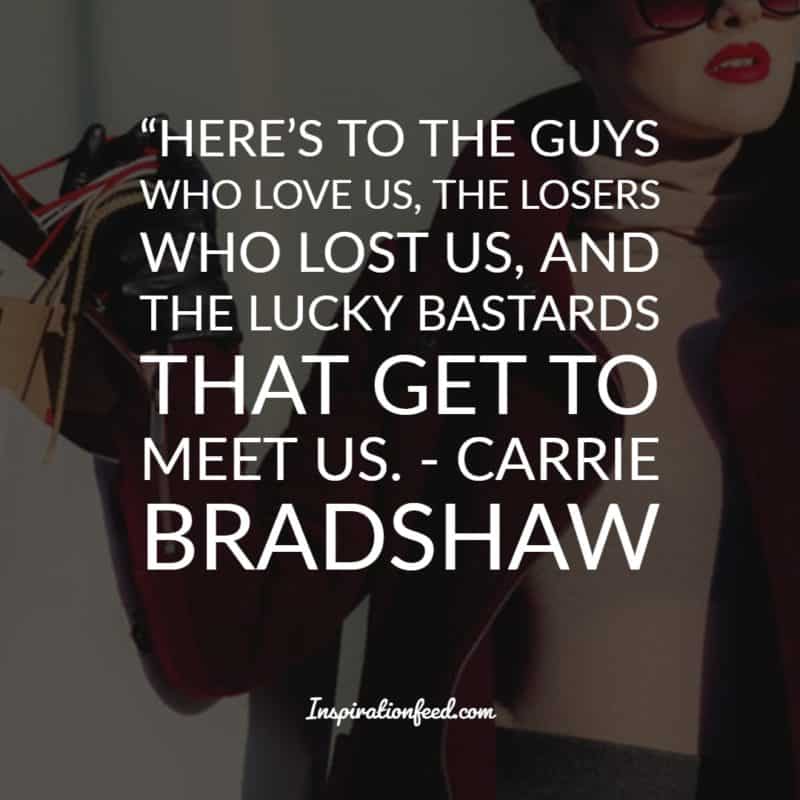 "Here's to the guys who love us, the losers who lost us, and the lucky bastards that get to meet us. – Carrie Bradshaw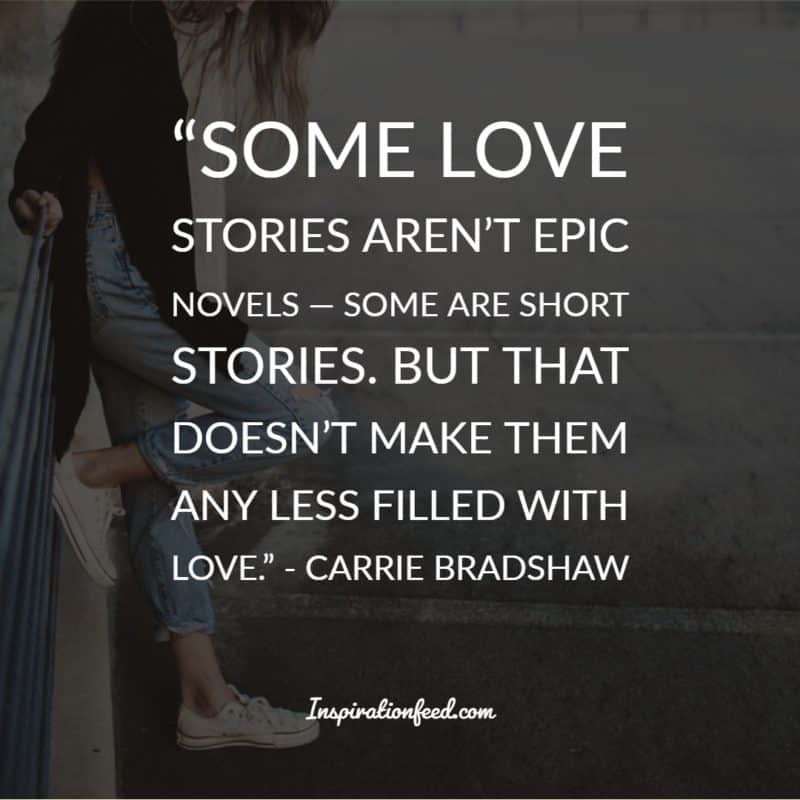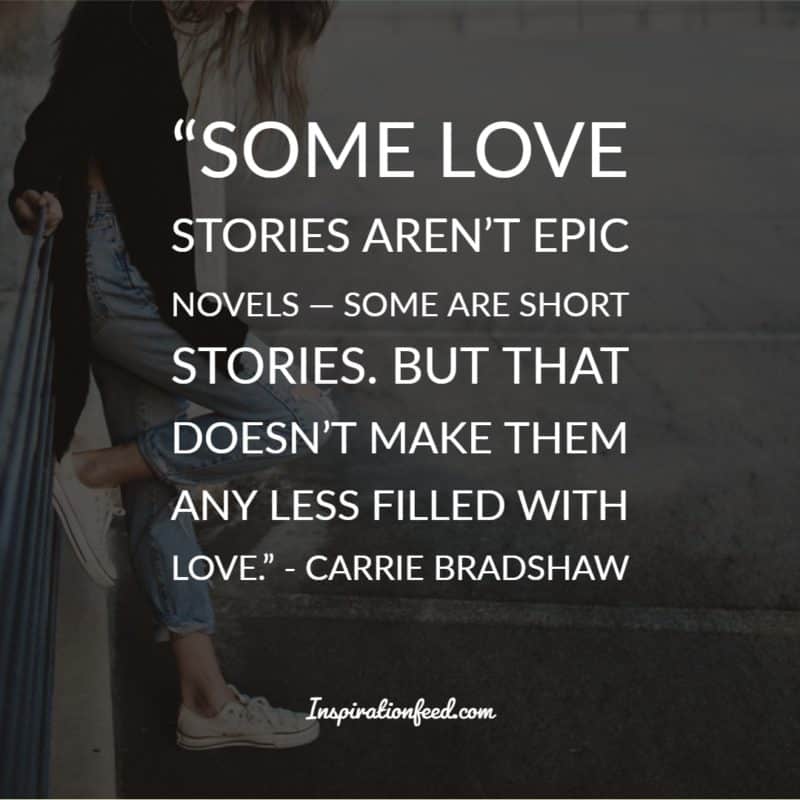 "Some love stories aren't epic novels — some are short stories. But that doesn't make them any less filled with love." – Carrie Bradshaw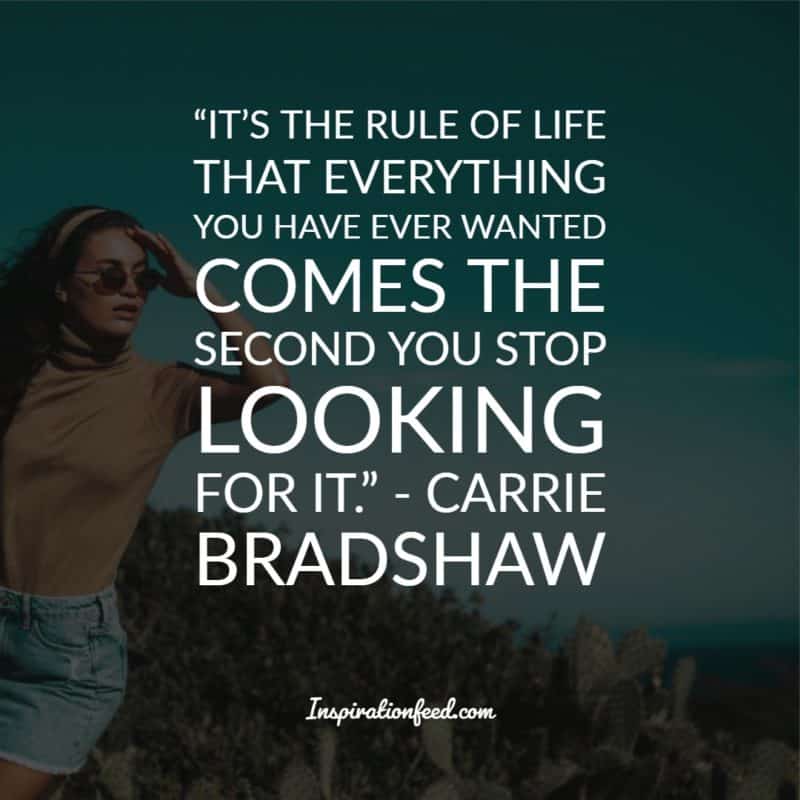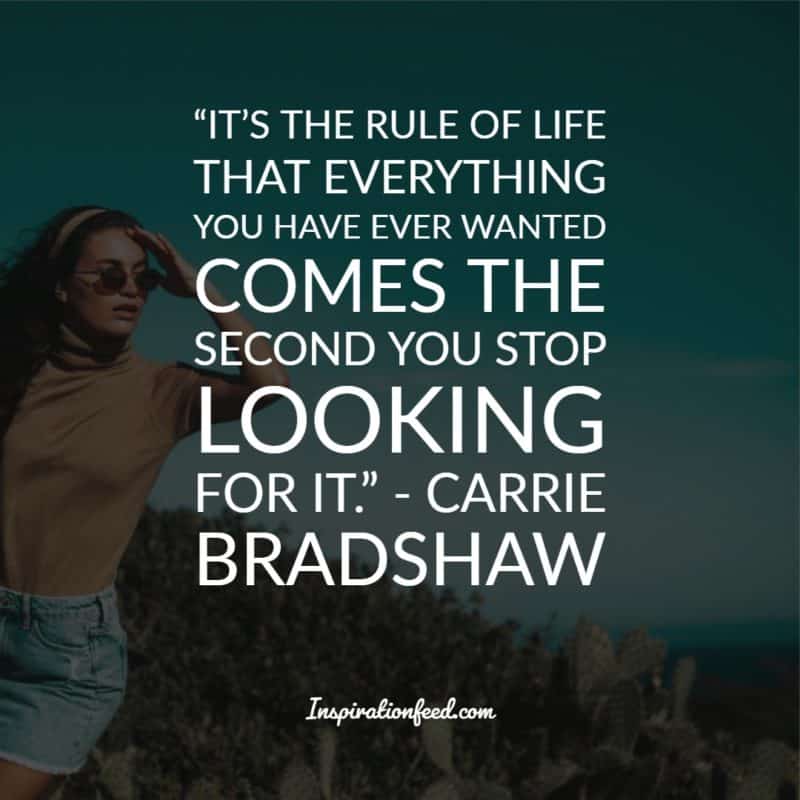 "It's the rule of life that everything you have ever wanted comes the second you stop looking for it." – Carrie Bradshaw
"A relationship is like couture; if it doesn't fit perfectly, it's a disaster." – Carrie Bradshaw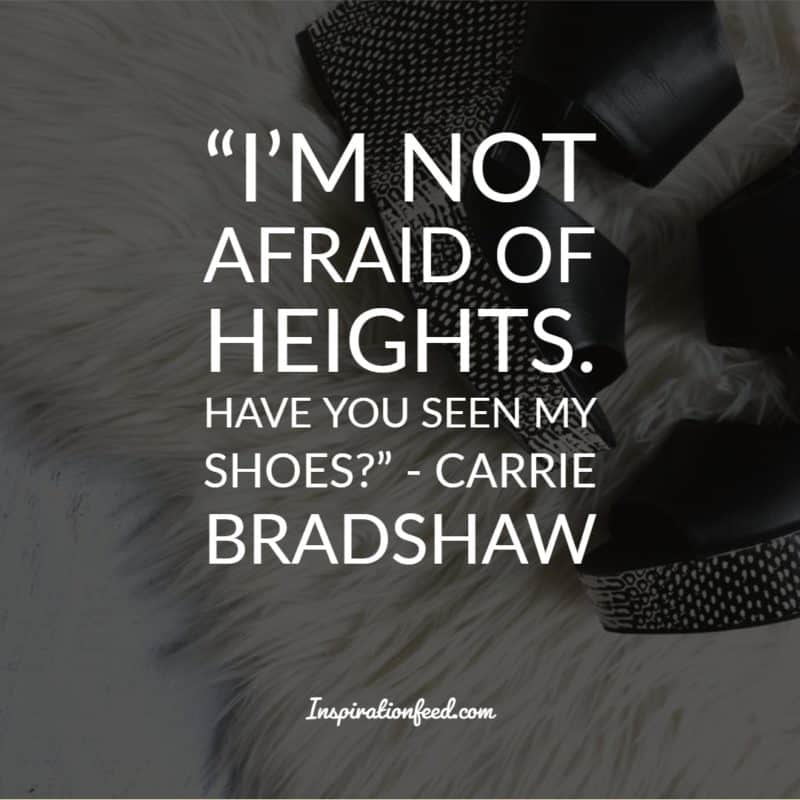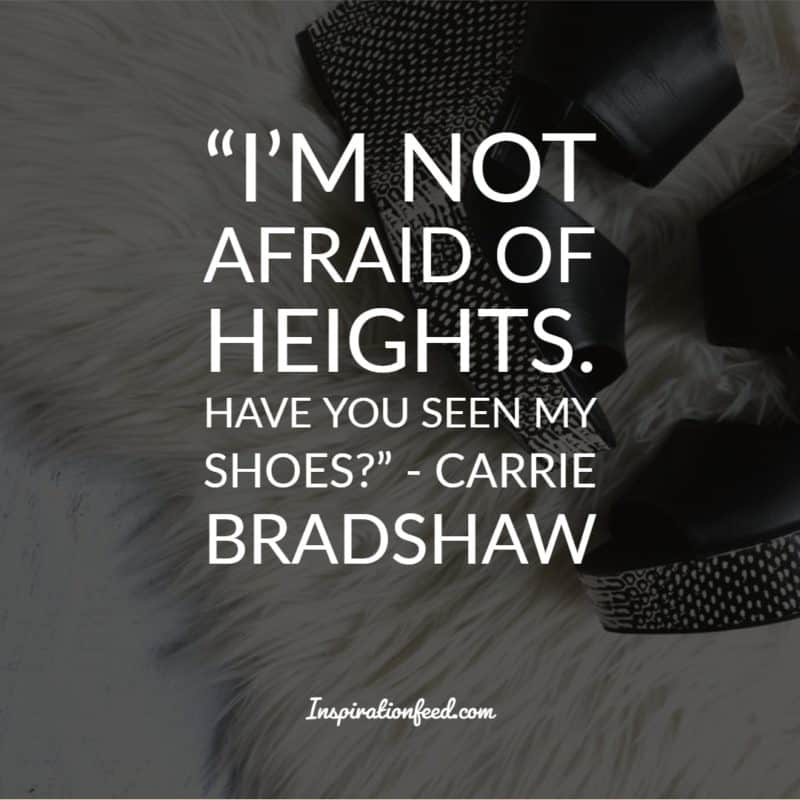 "I'm not afraid of heights. Have you seen my shoes?" – Carrie Bradshaw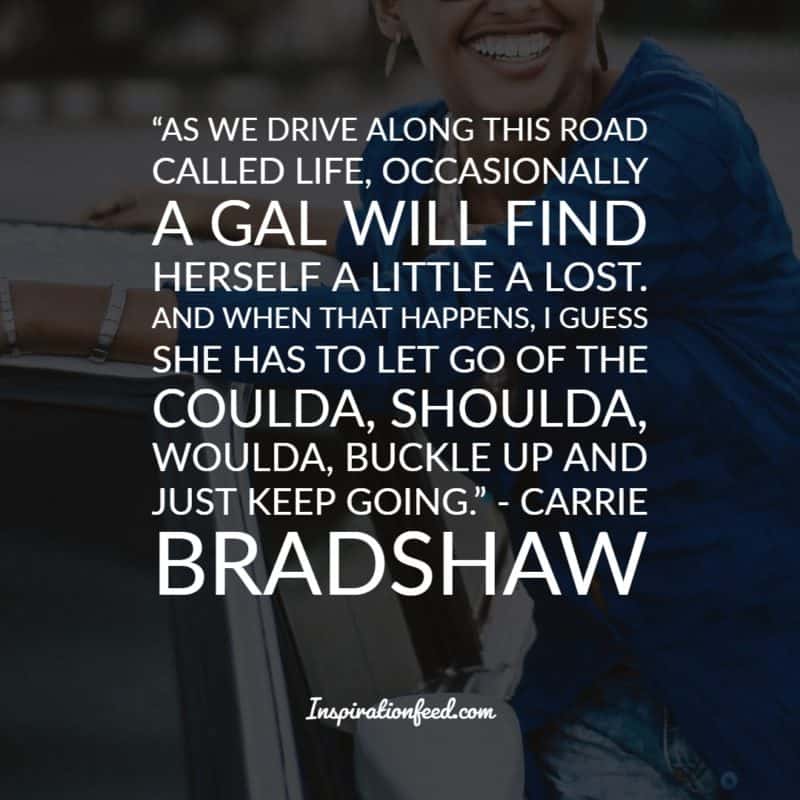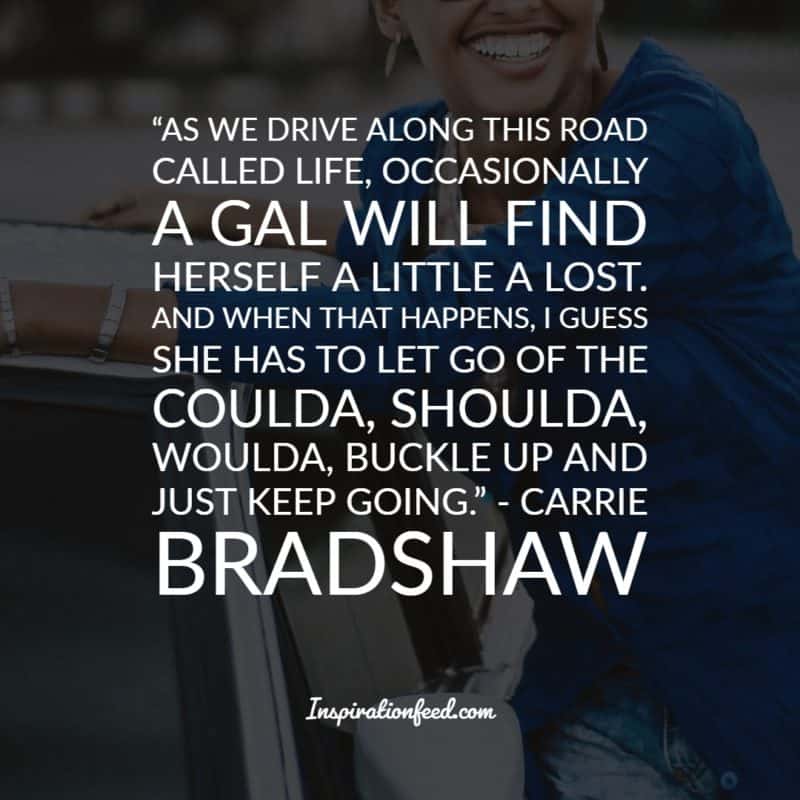 "As we drive along this road called life, occasionally a gal will find herself a little a lost. And when that happens, I guess she has to let go of the coulda, shoulda, woulda, buckle up and just keep going." – Carrie Bradshaw