Last Updated on January 24, 2023
Cats. Kitties. They're adorable and fun. They also enjoy their "alone time" a lot. But there's so much more to your cute feline friend than meets the eye. Here are some fun facts about cats that will make even dog lovers appreciate these omnipresent creatures.
Cat Person? You're Not Alone!
If you categorize yourself as a "cat person," you are a part of an immensely large group. Statistics say that 11.5 percent of people around the globe consider themselves as cat lovers.
The Space-Traveler
The first ever feline to make a trip to space was named Felicette. When she survived the mission, she was given the pet name "Aristocrat."
Brainy Kitty Kitty
Cats are smart animals. It's really not a wonder since a feline's brain is 90 percent similar to the human brain.
Sleep All Day Long
Cats sleep for about 16 to 18 hours a day. Kittens sleep even longer as their growth hormones are discharged when they're napping.
You Hurt Cats; You Get Hurt
In ancient Egypt, anyone who intentionally hurts a cat will suffer severe punishment.
Because Girls are Royalty
A male cat is a "Tom." A female cat is a "Queen."
Night Vision On
Felines are nearsighted. However, their night and peripheral visions are a lot superior to that of humans.
Sneaky Felines!
Cats rarely make a noise when they walk around, thanks to the soft, thick pads on their paws. This makes it easy for them to sneak up on their humans and their prey!
Balancing Act
Felines use their tails to balance themselves, especially when they're jumping.
Built-in Space Detector
Whiskers are important so felines can "feel" the world around them. They use their whiskers to figure out if they can fit into small spaces.
Special TasteTest
Felines have an extra organ that enables them to "taste" the air. So, when you see cats grimacing, they are actually "taste-scenting."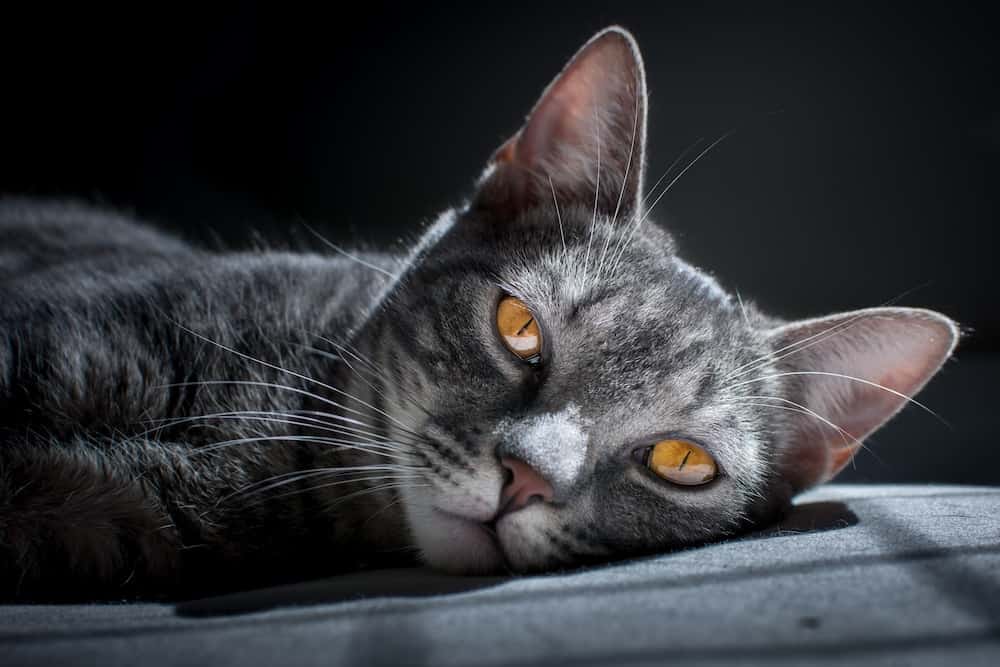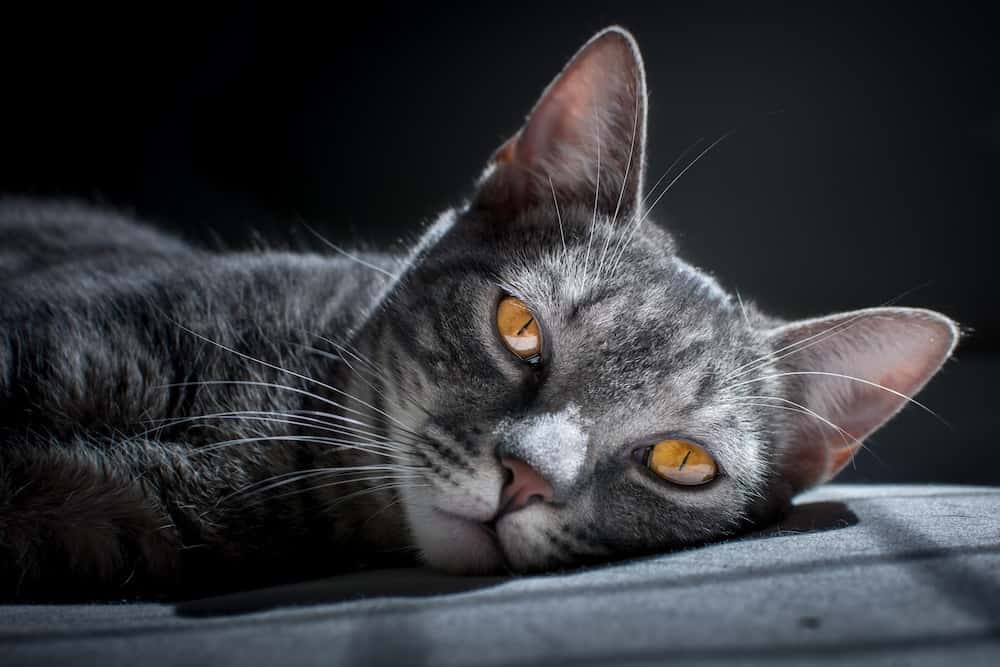 Health Booster
Just by owning a cat, a person can reduce the risk of a heart attack or any heart-related condition by a third.
Special "Cat" Walk
When walking, cats move both of their right feet first. Afterwards, they move both of their left feet. Only three animals have this unique walking pattern: cats, camels, and giraffes.
Rightie or Leftie?
40 percent of felines are either left- or right-pawed. Female cats are more likely to be righties while male cats are more likely to be lefties. Some are also ambidextrous.
Not Afraid of the Water
Some cat breeds can swim well.
Catnip a.k.a. Cat Marijuana
According to research, catnips produce nepetalactone – a chemical that makes cats hyper and crazy. The marijuana effect usually lasts for 15 minutes, and won't resurface for a few hours even if the feline is near catnip.
Spay, Neuter, and Live Longer
According to The Banfield Pet Hospital, spaying and neutering can extend a feline's life. Neutered males can live 62 percent longer than not neutered ones. On the other hand, spayed females can live 39 percent longer than un-spayed ones.
Grooming is More Than Vanity
A cat's grooming process stimulates the feline's blood flow and regulates body temperature. Cats can also groom other cats. It's a feline ritual called the allogrooming.
Old Souls
Research states that cats have been domesticated pets since 3600 B.C., which is roughly 2000 years before the rise of the pharaohs of Egypt.
Let Me Hear Your Purr
Purring can be translated in various ways. If a cat purrs, it can be a form of self-healing. It can likewise be a sign of agitation or anxiety. Furthermore, it's also a sign of contentment.
Human-Cat Conversation
To communicate with their owners – or any other humans for that matter – adult felines meow. Also, cats can easily recognize the voice of their owners.
Millionaire Tabby
To date, the world's richest feline is worth 13 million USD. When his owner passed away, she left a large bulk of her fortune to her pet.
Fussy Kitties
Felines are extremely fussy when it comes to their water bowls. Most choose to ignore their containers altogether and opt to drink from the kitchen faucet.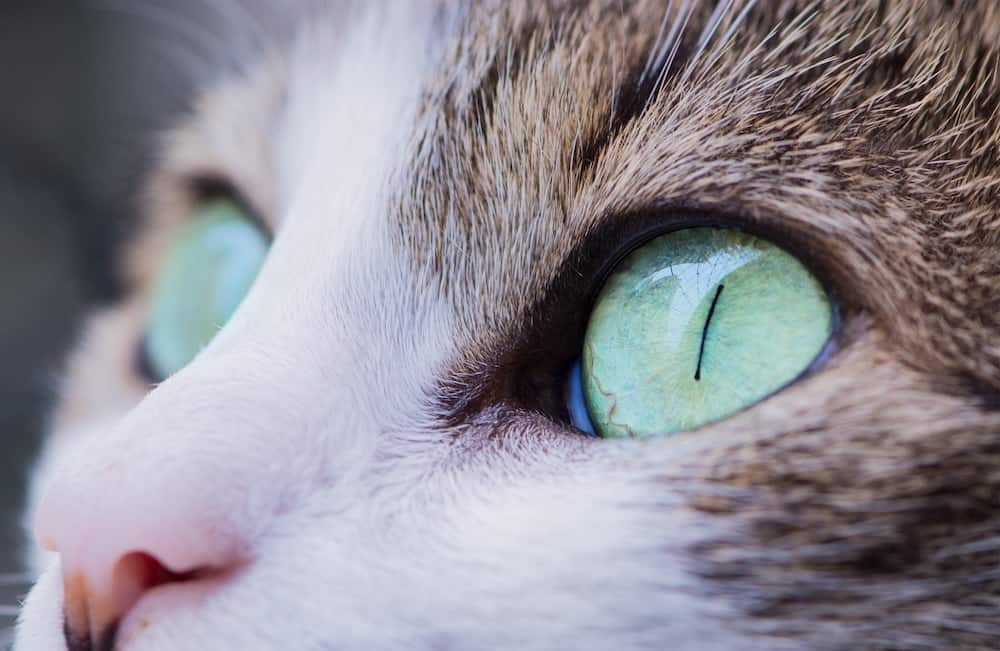 Familiar Scent
Felines love to sleep on things that smell like their humans. They're even known to sleep on their owner's dirty laundry. Speaking of which, cats also love to take naps in laundry baskets as they see it as a fun hiding place with several peep holes.
Sign of Boredom
When a cat attacks her owner's ankles, she's bored.
Sophisticated Palate?
Certain breeds of cats prefer specific types of food that can be a bit bizarre for a pet. For instance, they like potato chips, beer froth, and olives.
Aroused Male Cats Do Crazy Things
Male cats show strange behavior when they try to get a female cat in heat. Some slide down the chimney to demonstrate their excitement.
~
Cats are wonderful. Even if you don't own one, a quick cat .gif online can make you smile. Here are 40 precious quotes about cats that will brighten your day!
40 Cat Quotes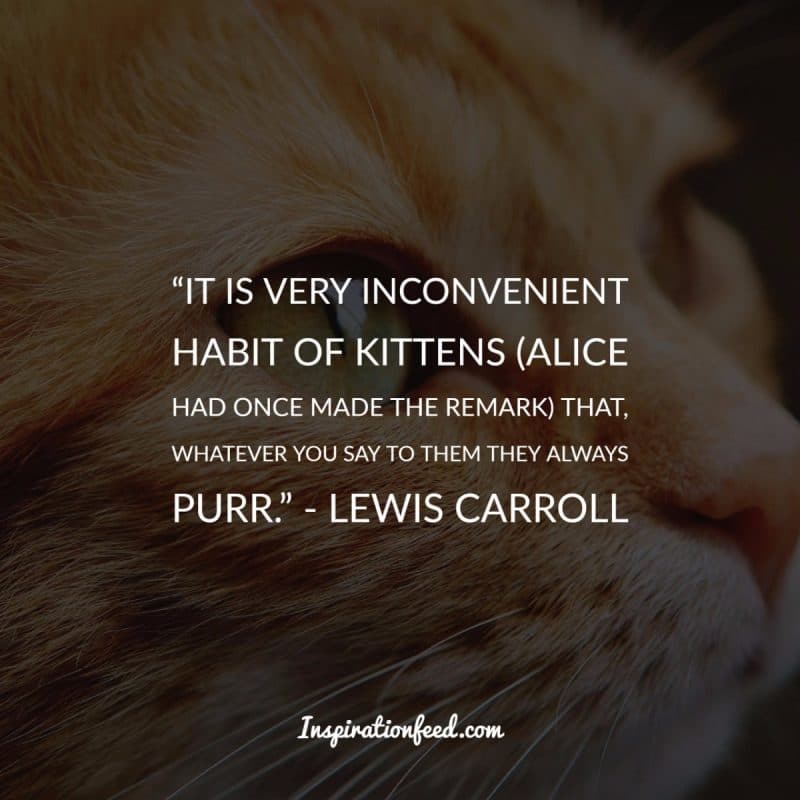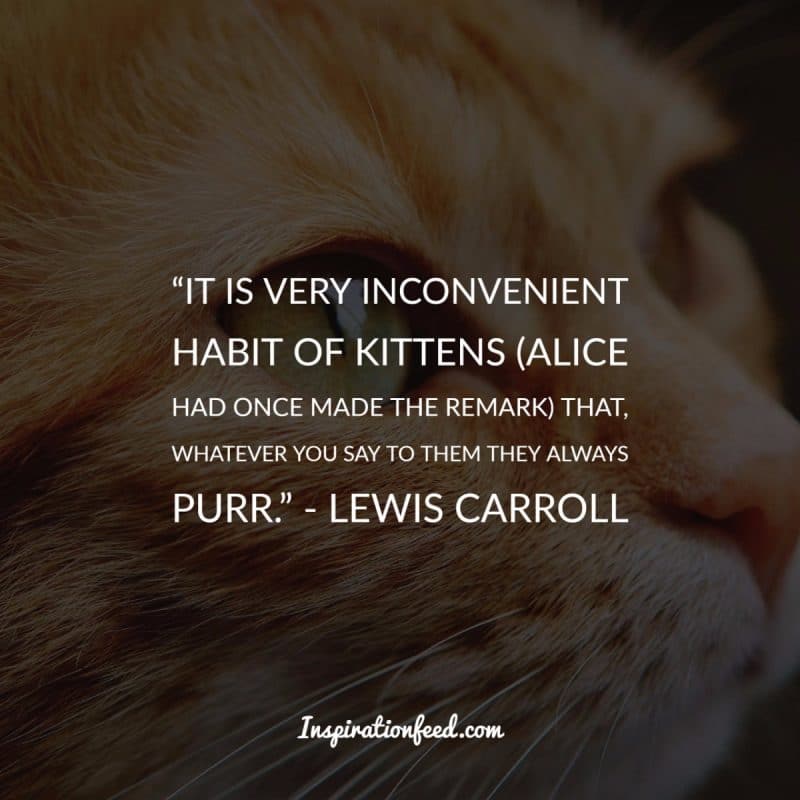 "It is very inconvenient habit of kittens (Alice had once made the remark) that, whatever you say to them they always purr." – Lewis Carroll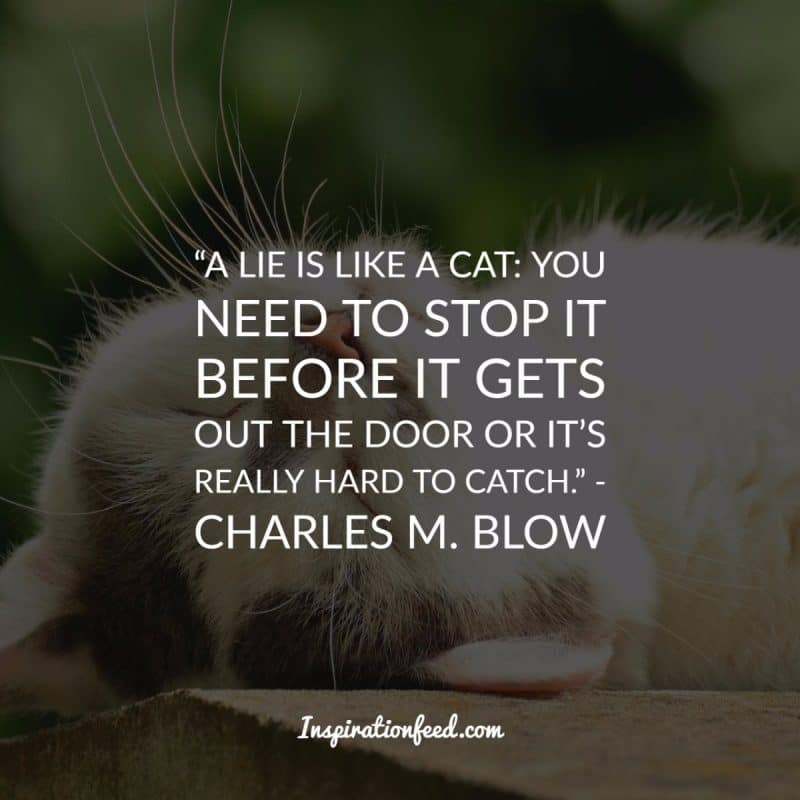 "A lie is like a cat: You need to stop it before it gets out the door or it's really hard to catch." – Charles M. Blow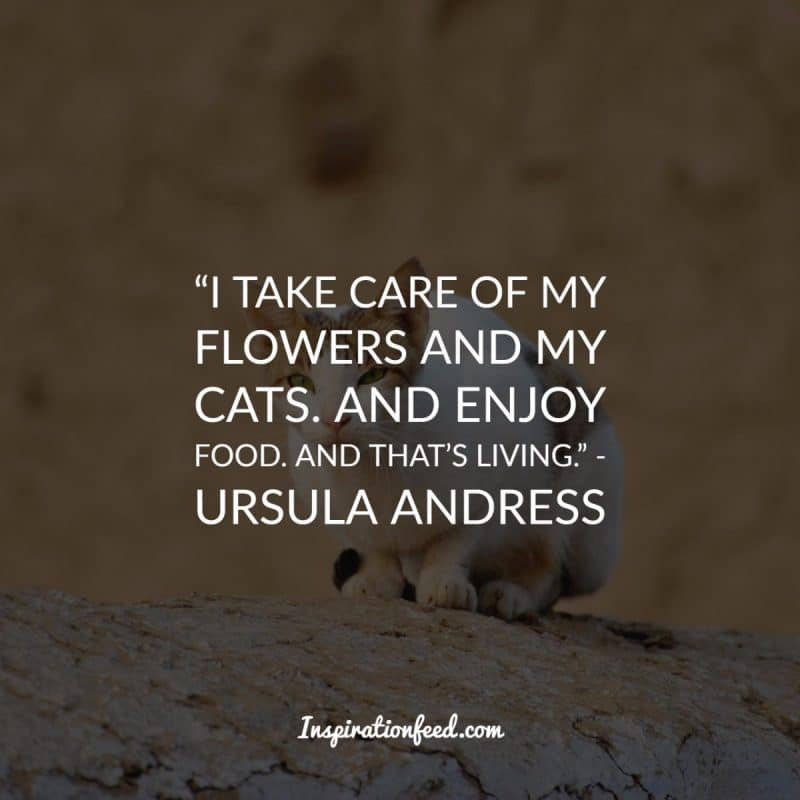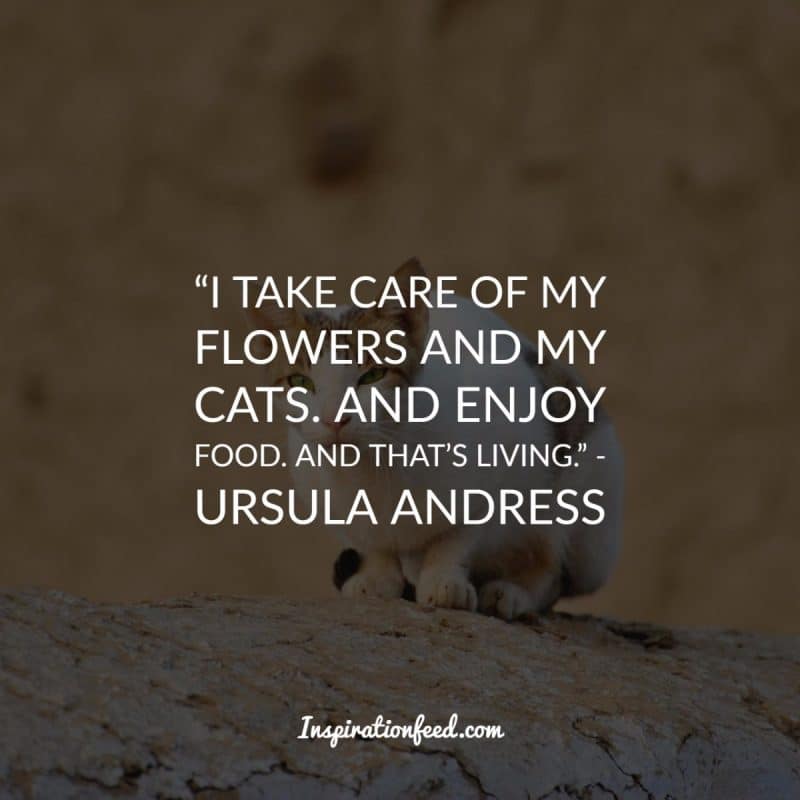 "I take care of my flowers and my cats. And enjoy food. And that's living." – Ursula Andress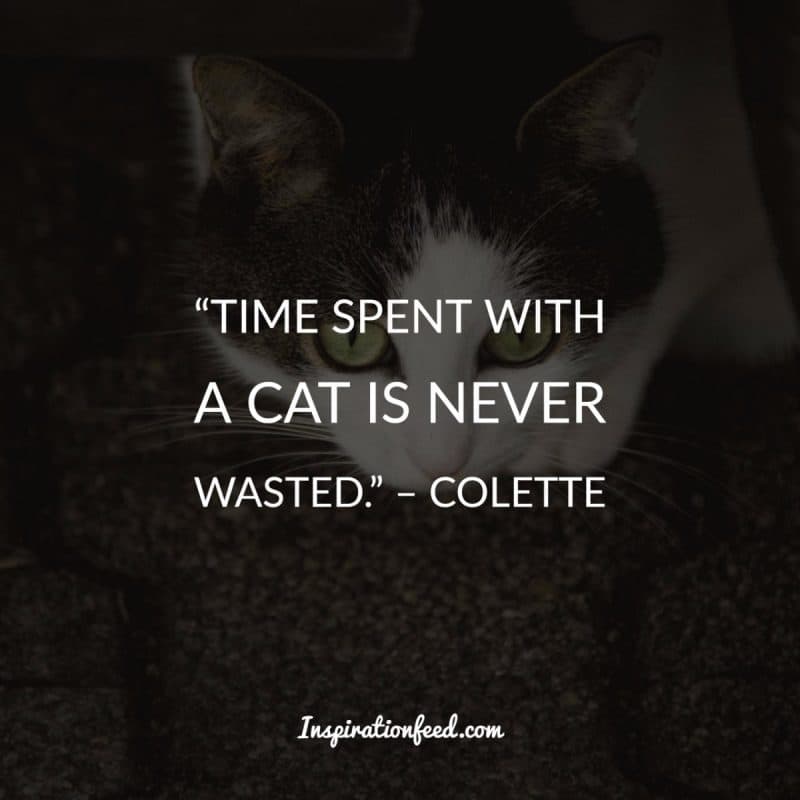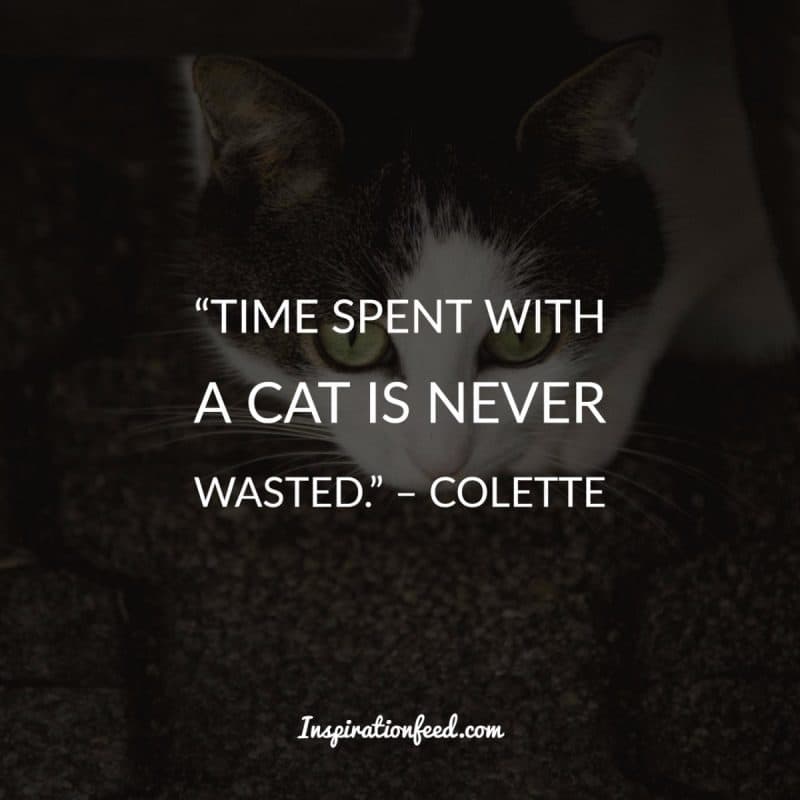 "Time spent with a cat is never wasted." – Colette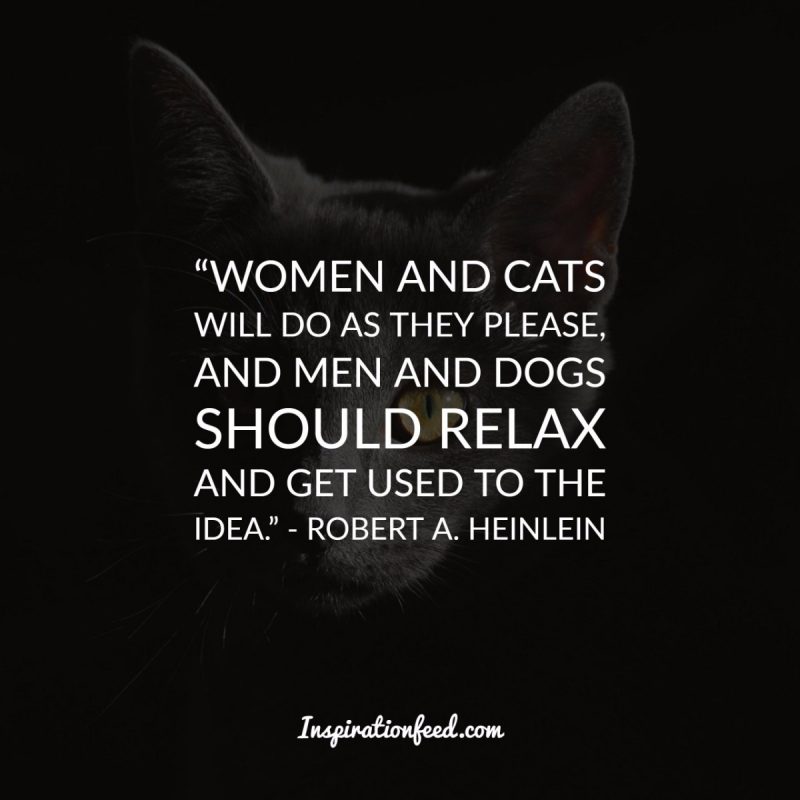 "Women and cats will do as they please, and men and dogs should relax and get used to the idea." – Robert A. Heinlein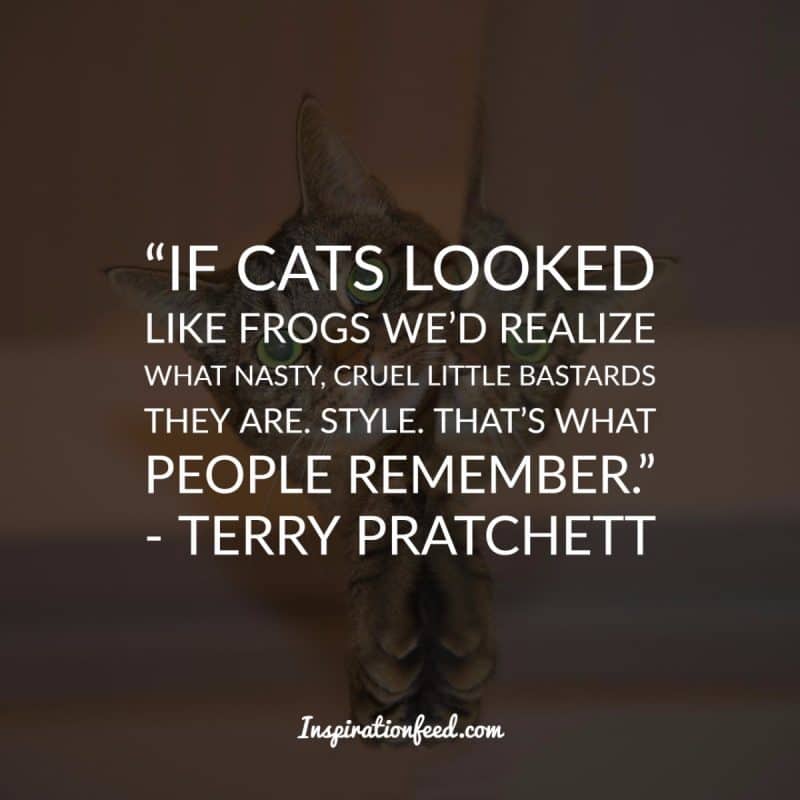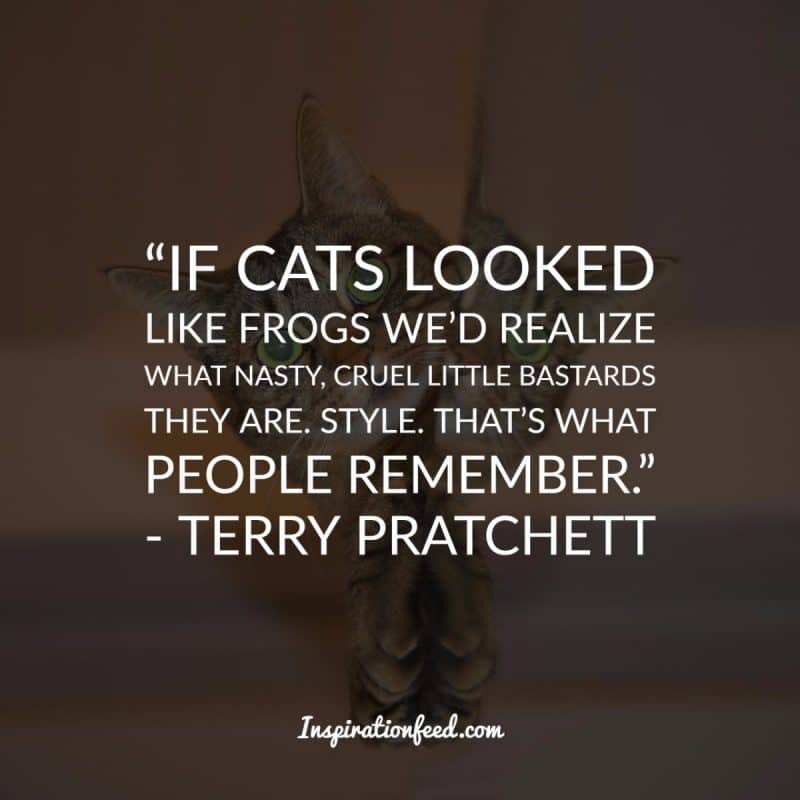 "If cats looked like frogs we'd realize what nasty, cruel little bastards they are. Style. That's what people remember."  – Terry Pratchett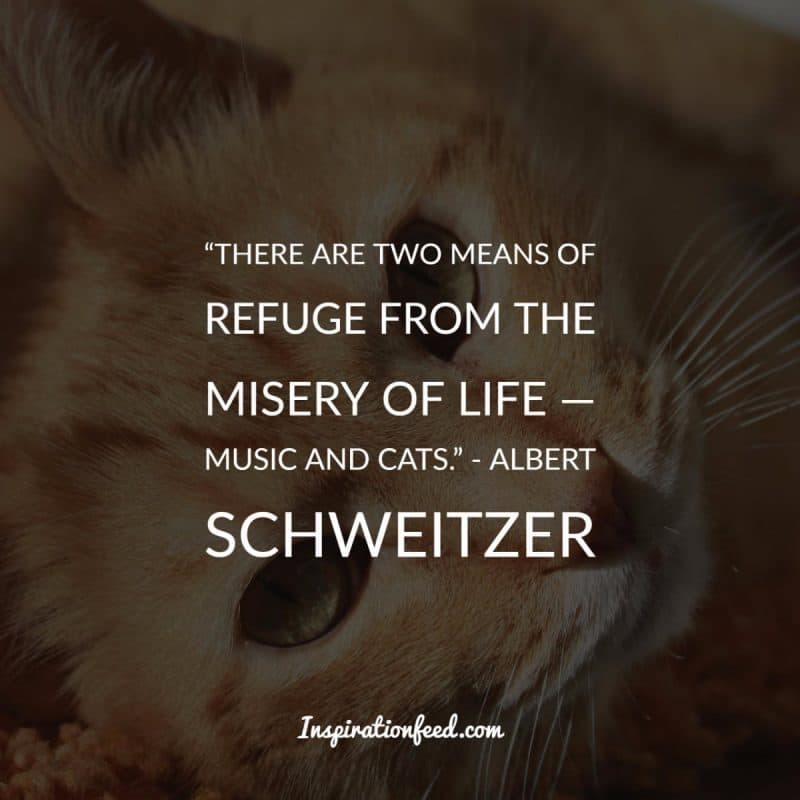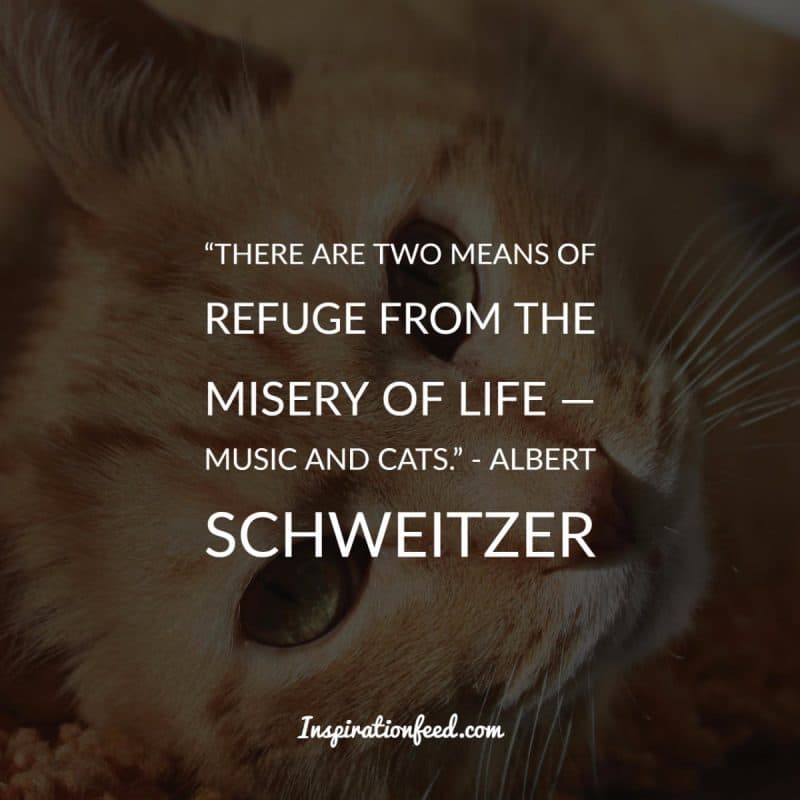 "There are two means of refuge from the misery of life — music and cats." – Albert Schweitzer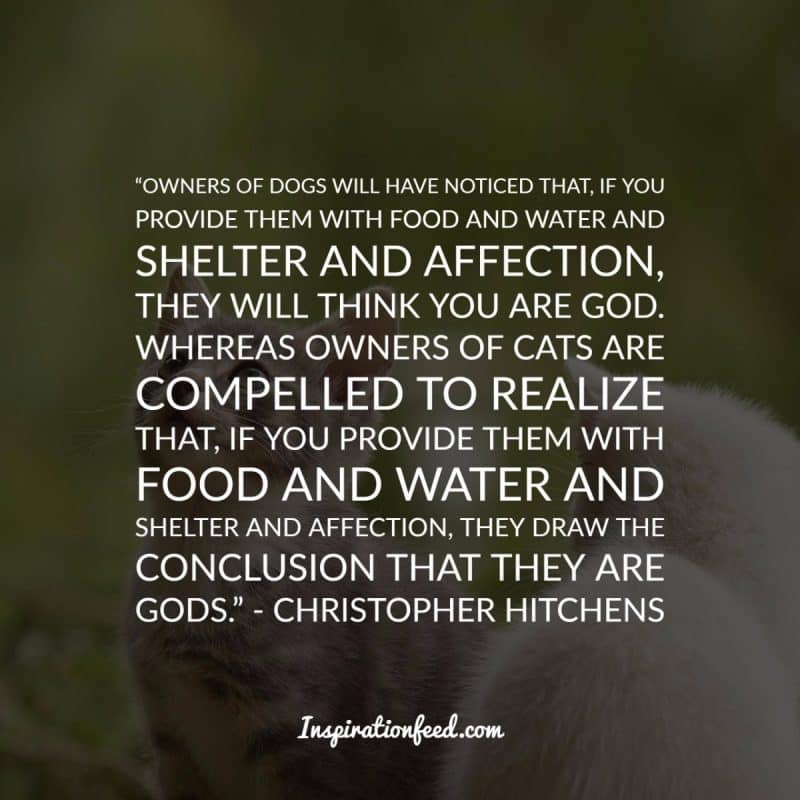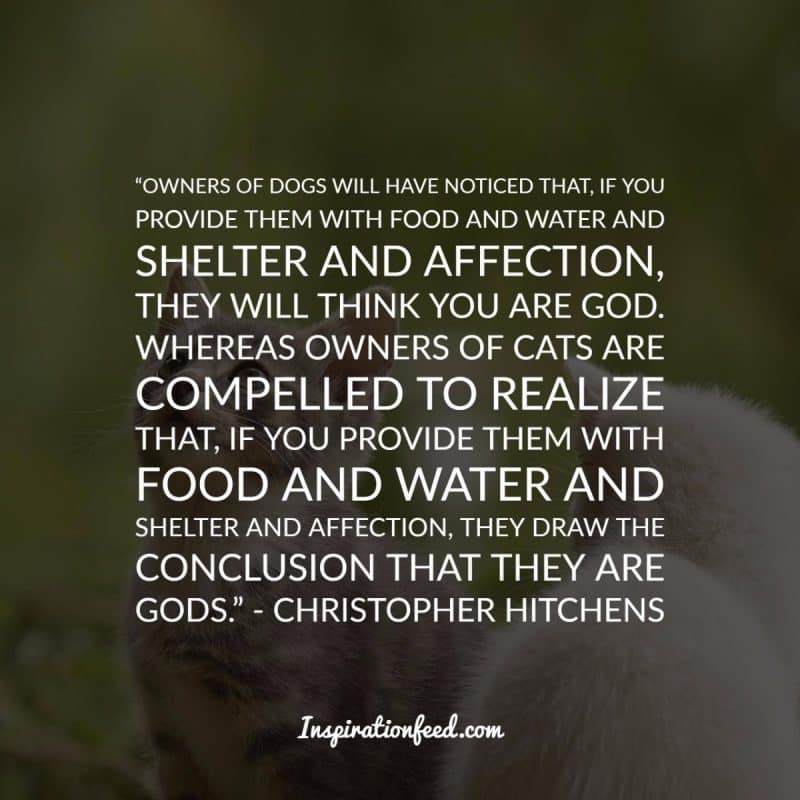 "Owners of dogs will have noticed that, if you provide them with food and water and shelter and affection, they will think you are god. Whereas owners of cats are compelled to realize that, if you provide them with food and water and shelter and affection, they draw the conclusion that they are gods." – Christopher Hitchens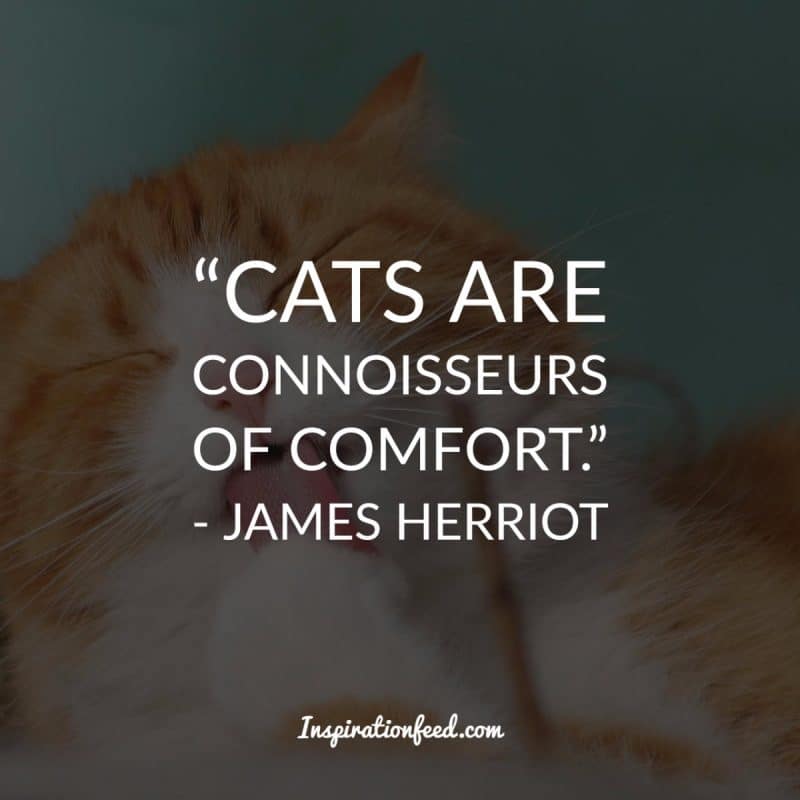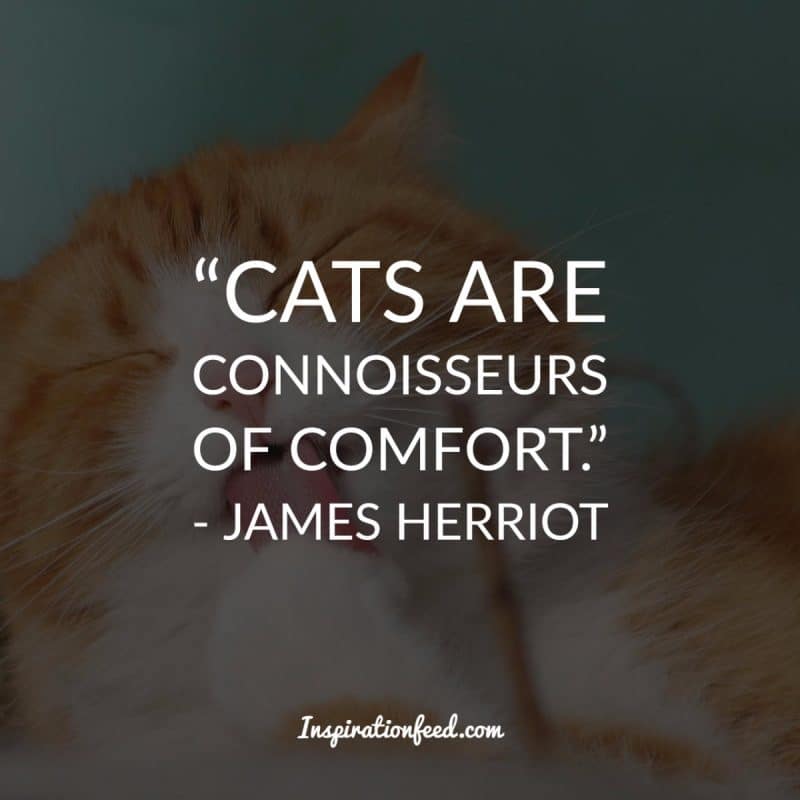 "Cats are connoisseurs of comfort." – James Herriot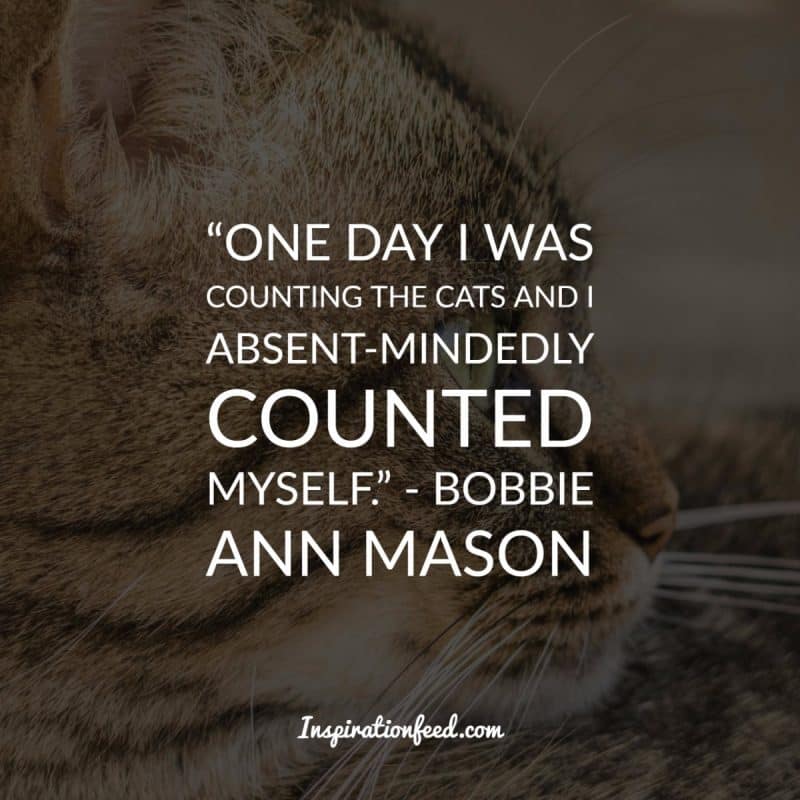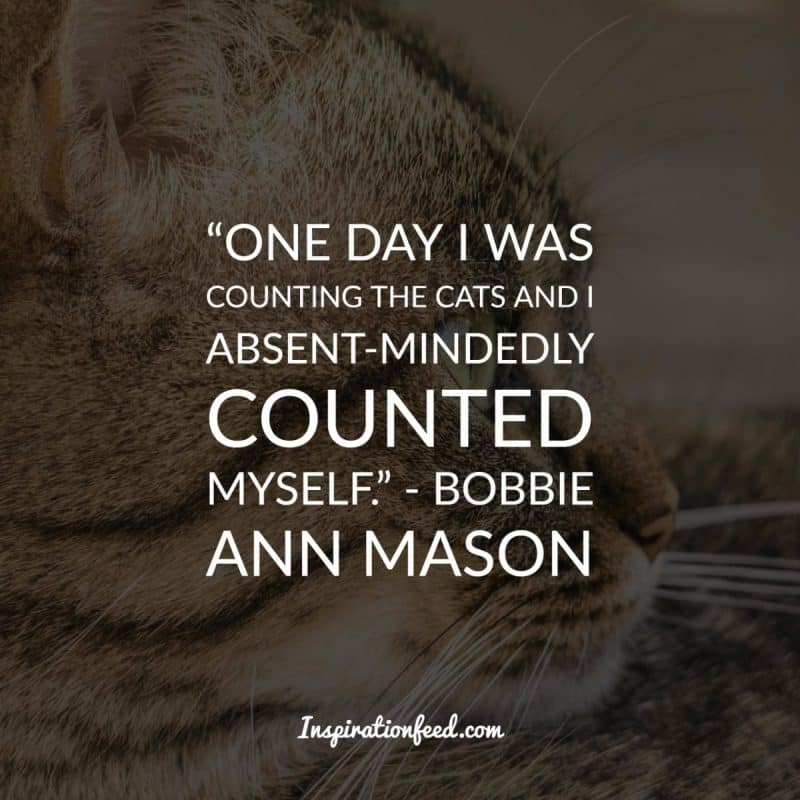 "One day I was counting the cats and I absent-mindedly counted myself." – Bobbie Ann Mason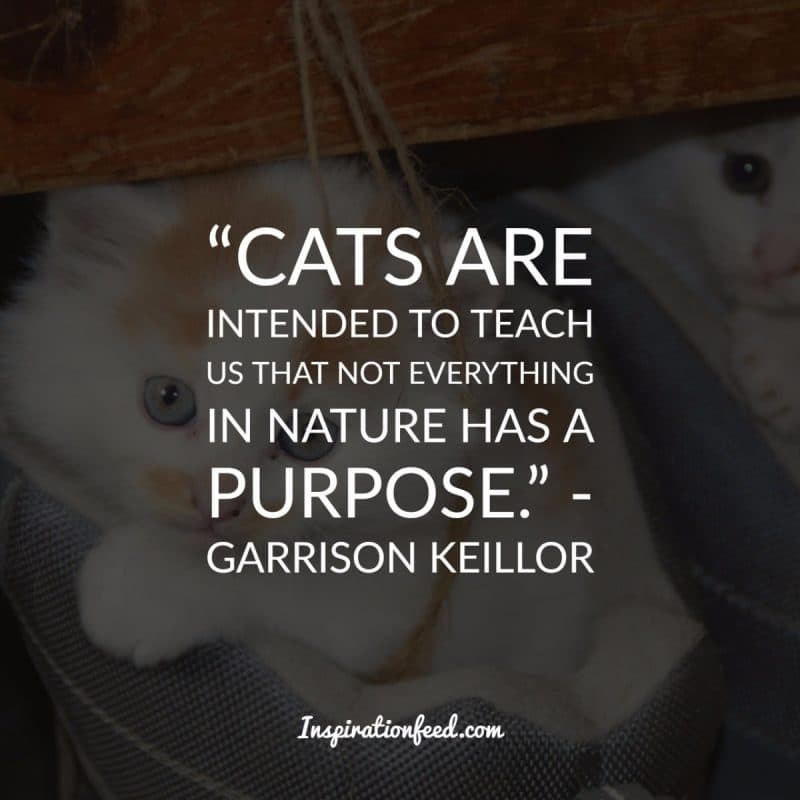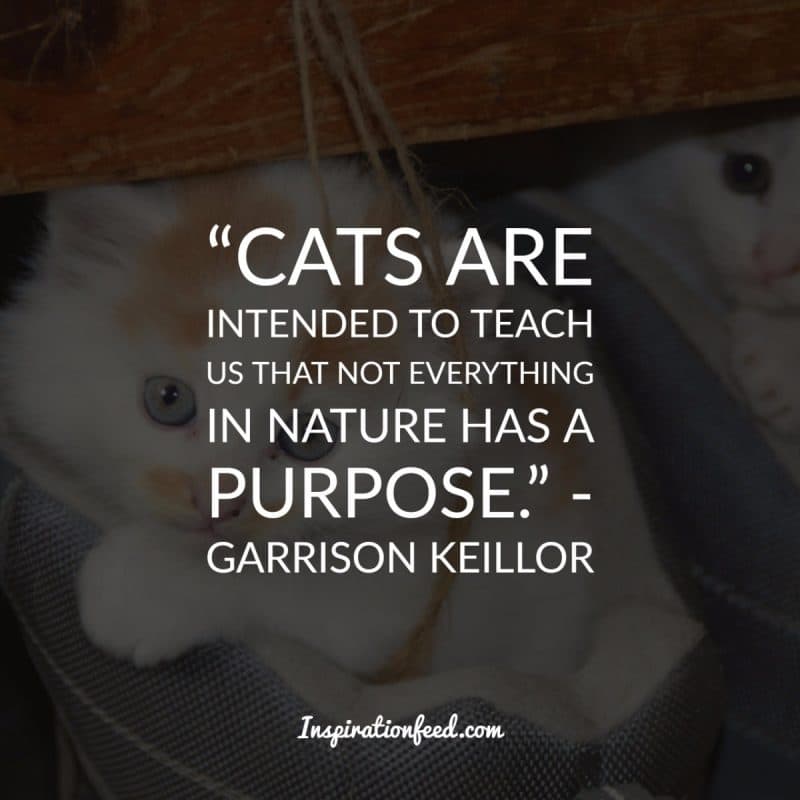 "Cats are intended to teach us that not everything in nature has a purpose." – Garrison Keillor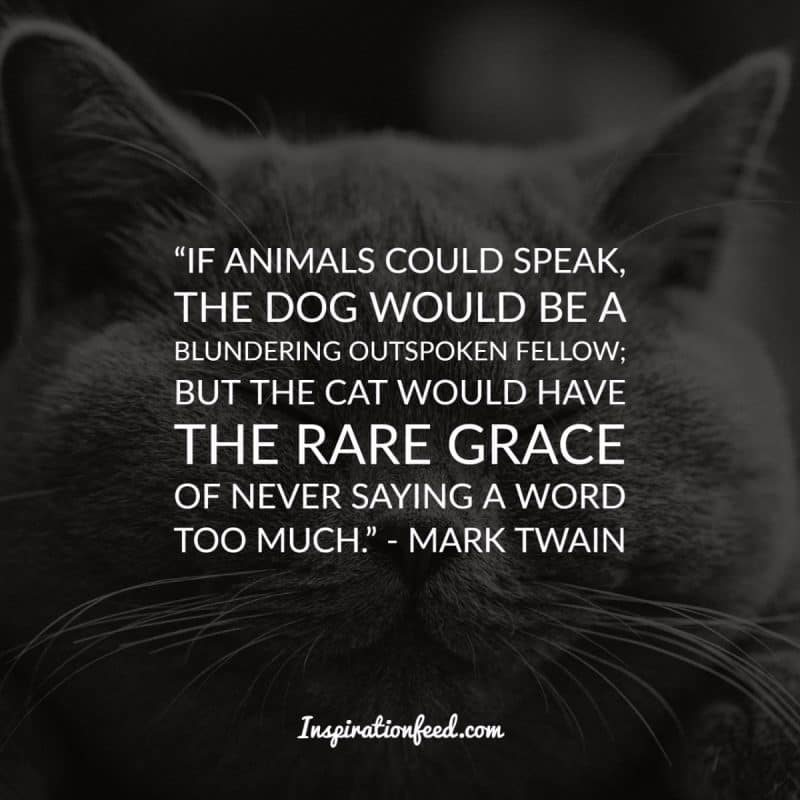 "If animals could speak, the dog would be a blundering outspoken fellow; but the cat would have the rare grace of never saying a word too much." – Mark Twain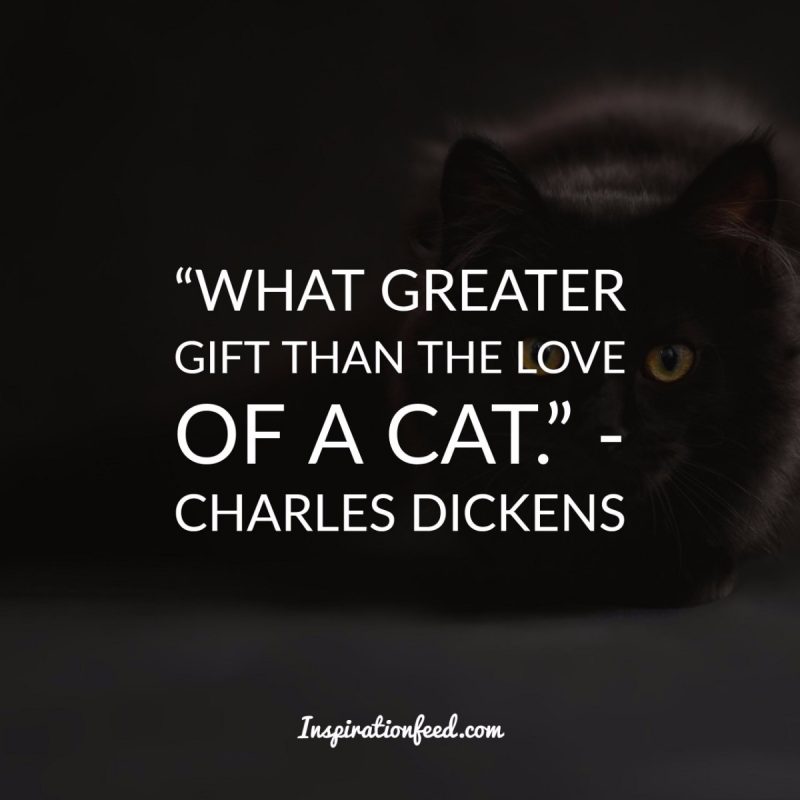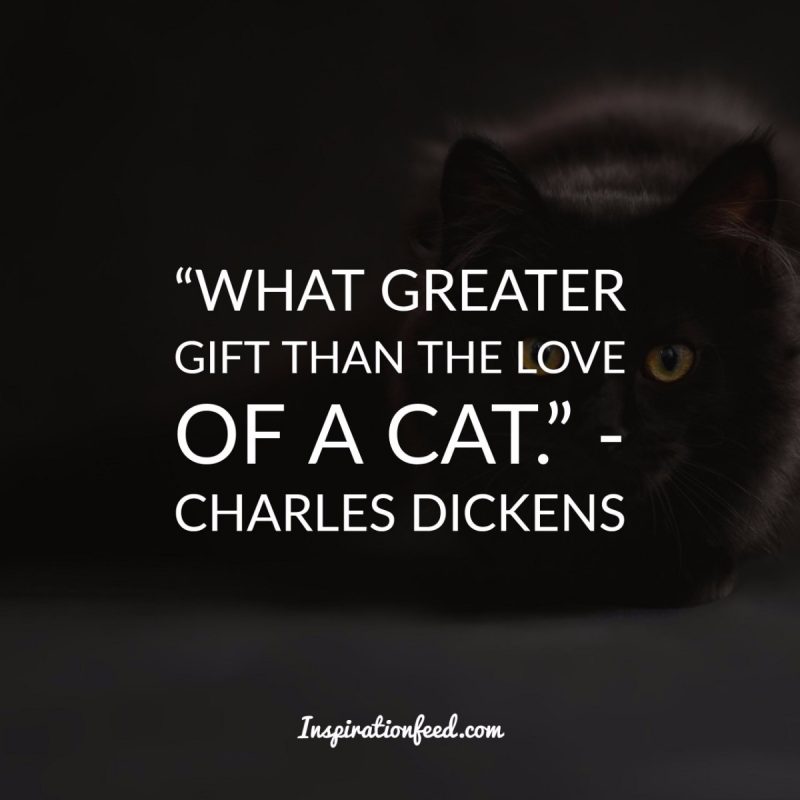 "What greater gift than the love of a cat." – Charles Dickens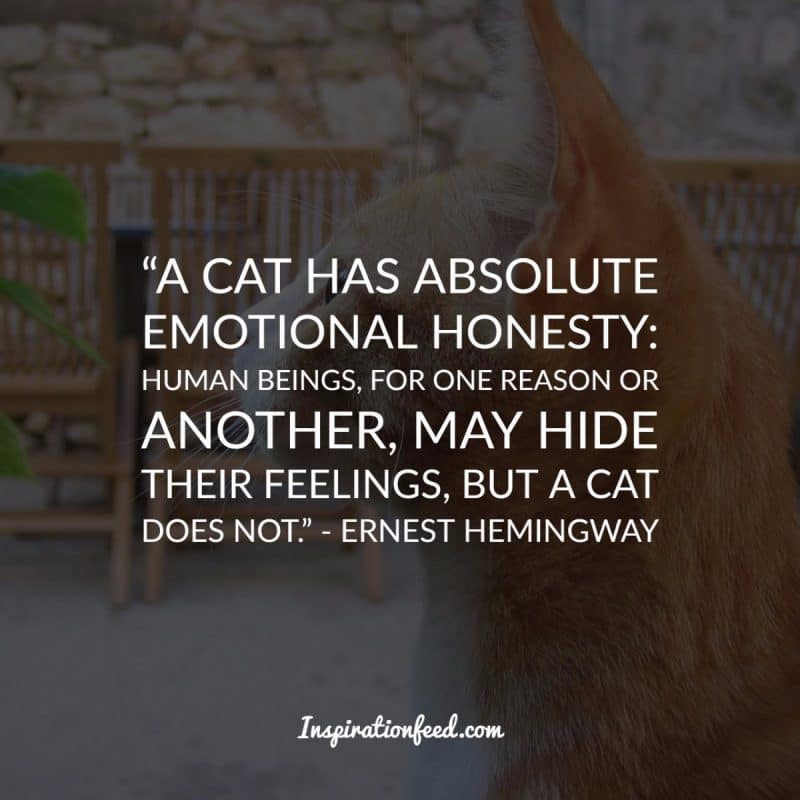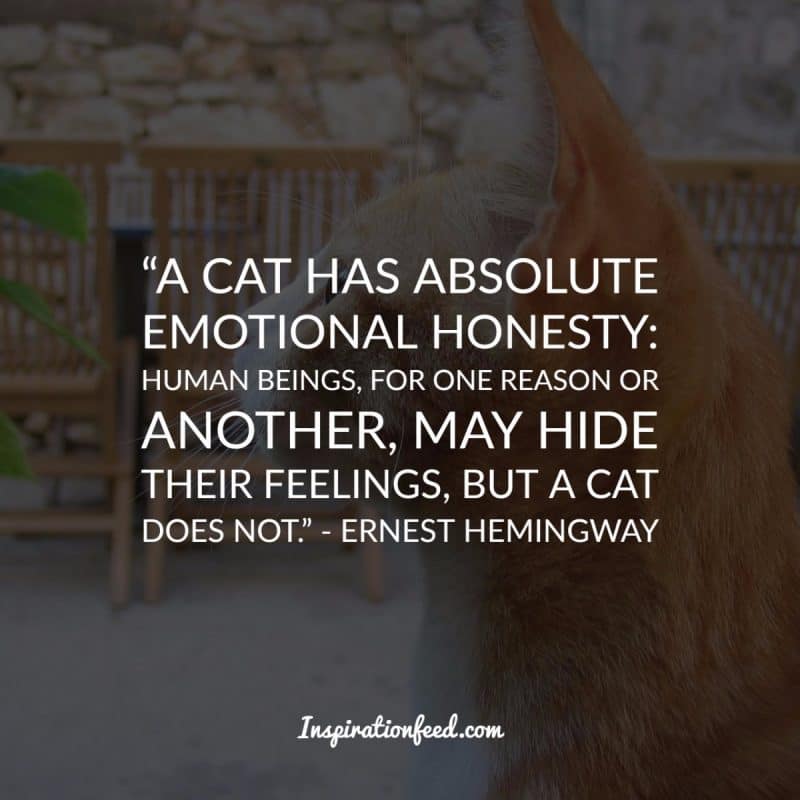 "A cat has absolute emotional honesty: human beings, for one reason or another, may hide their feelings, but a cat does not." – Ernest Hemingway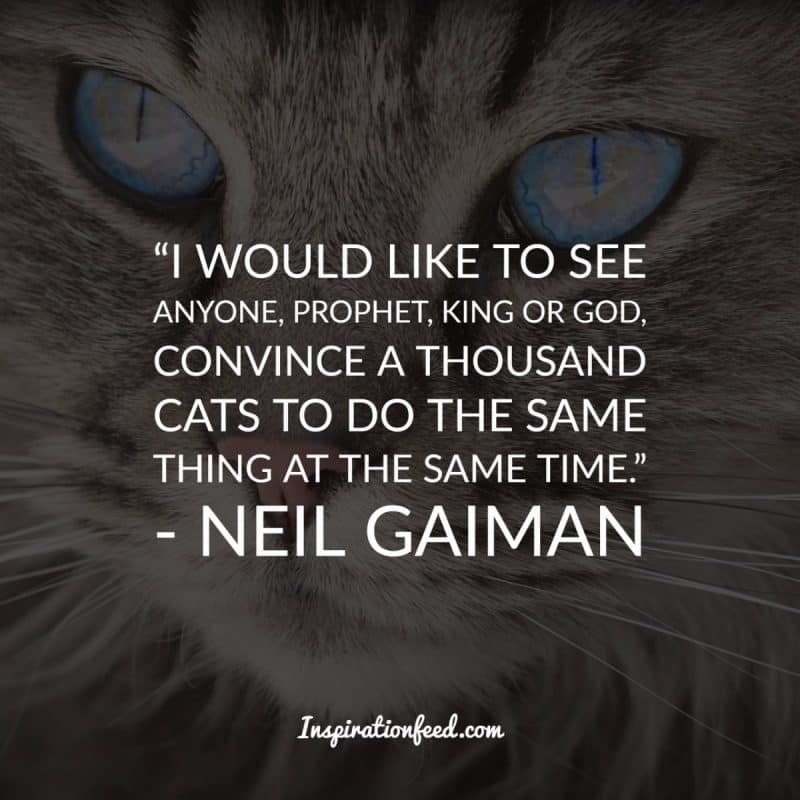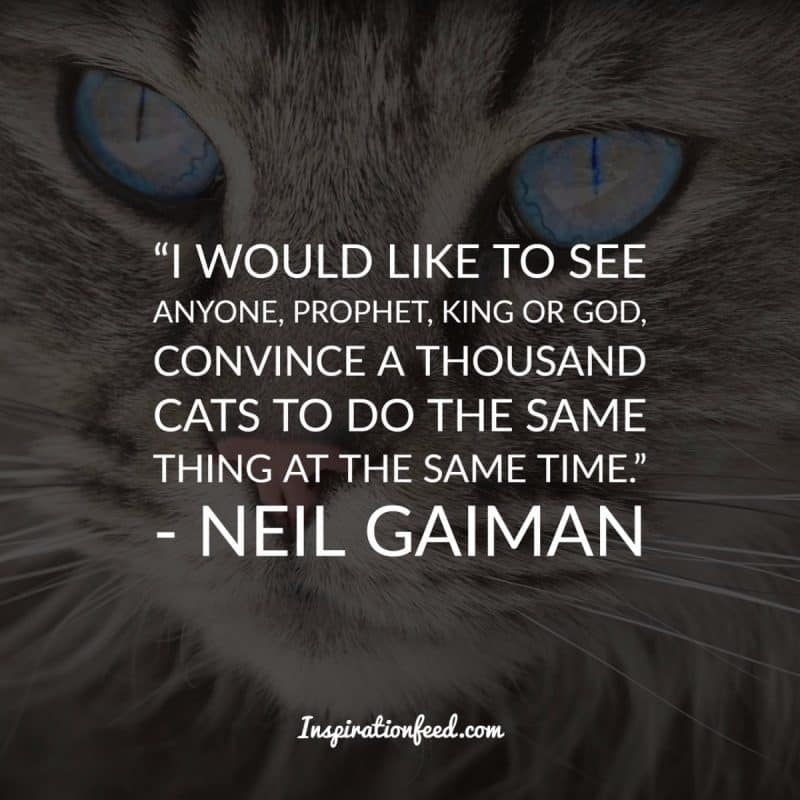 "I would like to see anyone, prophet, king or God, convince a thousand cats to do the same thing at the same time." – Neil Gaiman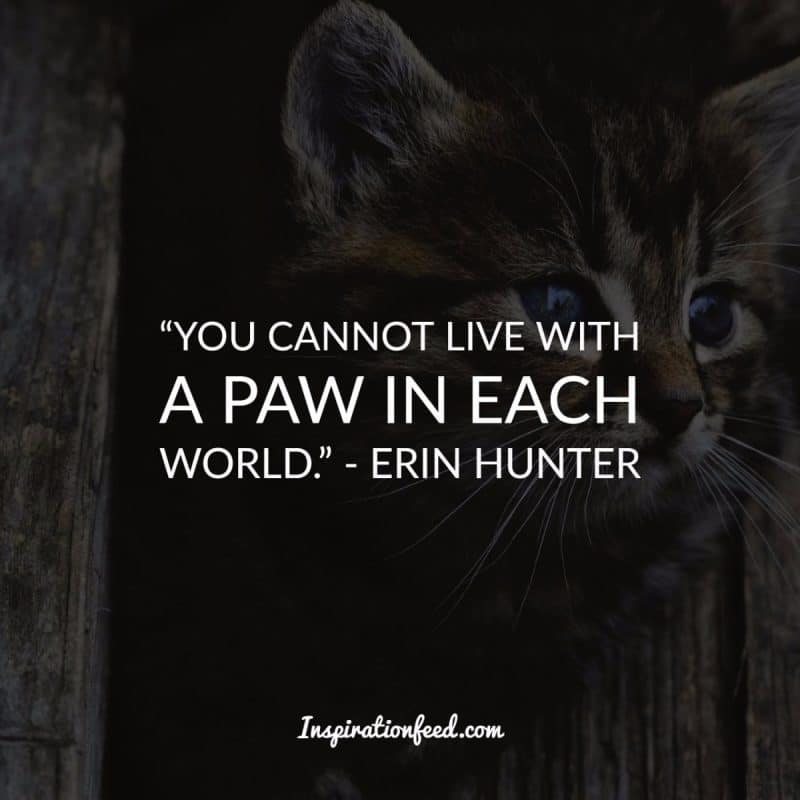 "You cannot live with a paw in each world." – Erin Hunter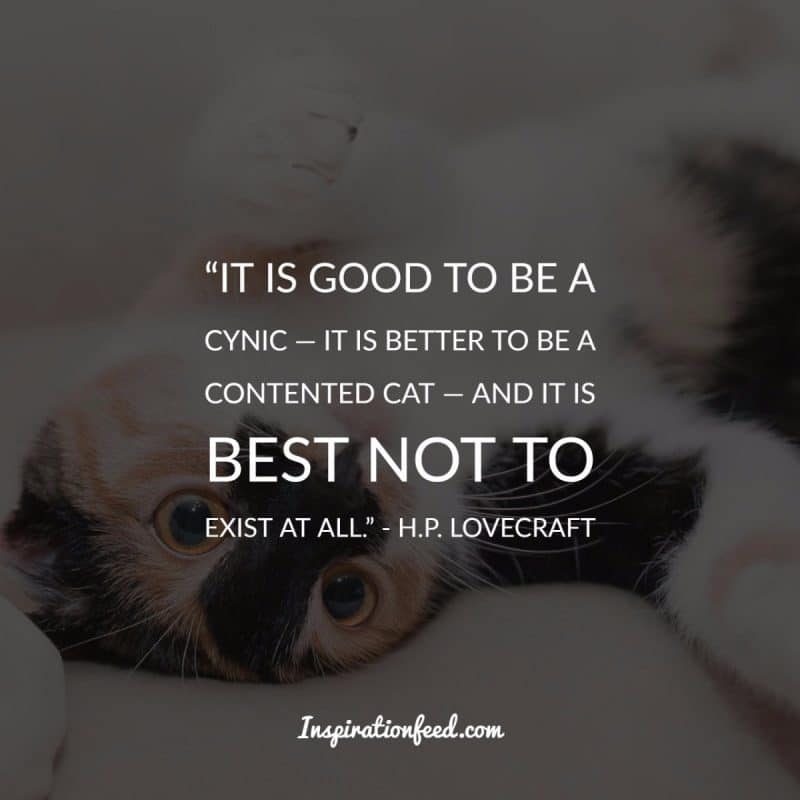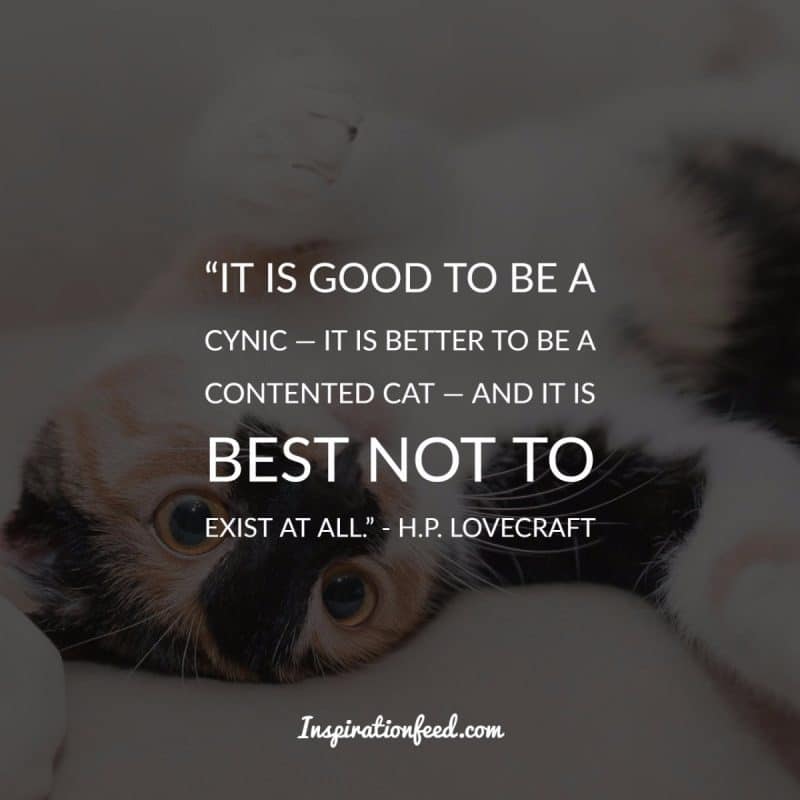 "It is good to be a cynic — it is better to be a contented cat — and it is best not to exist at all." – H.P. Lovecraft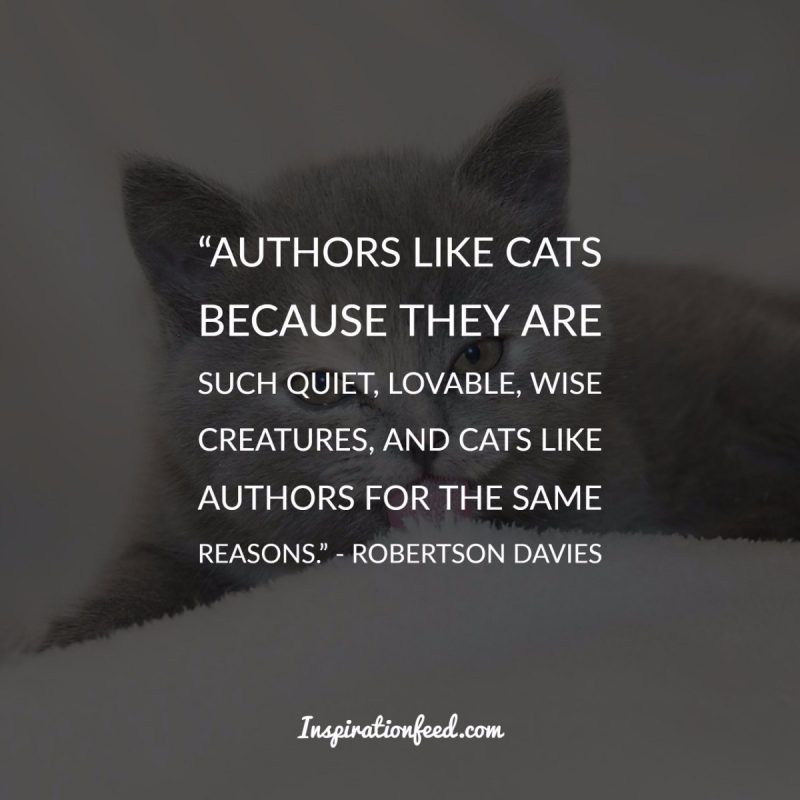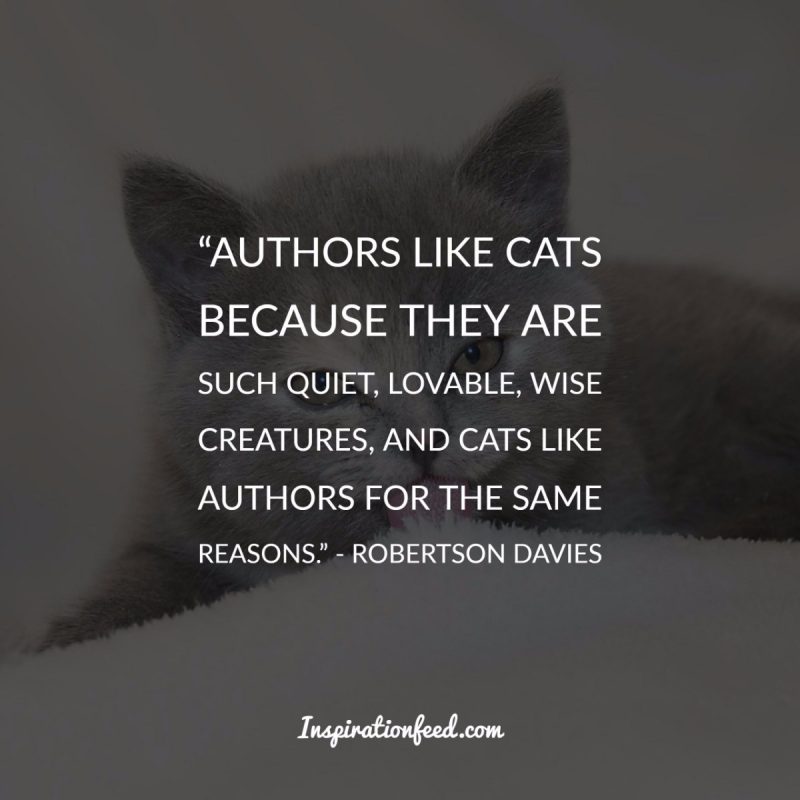 "Authors like cats because they are such quiet, lovable, wise creatures, and cats like authors for the same reasons." – Robertson Davies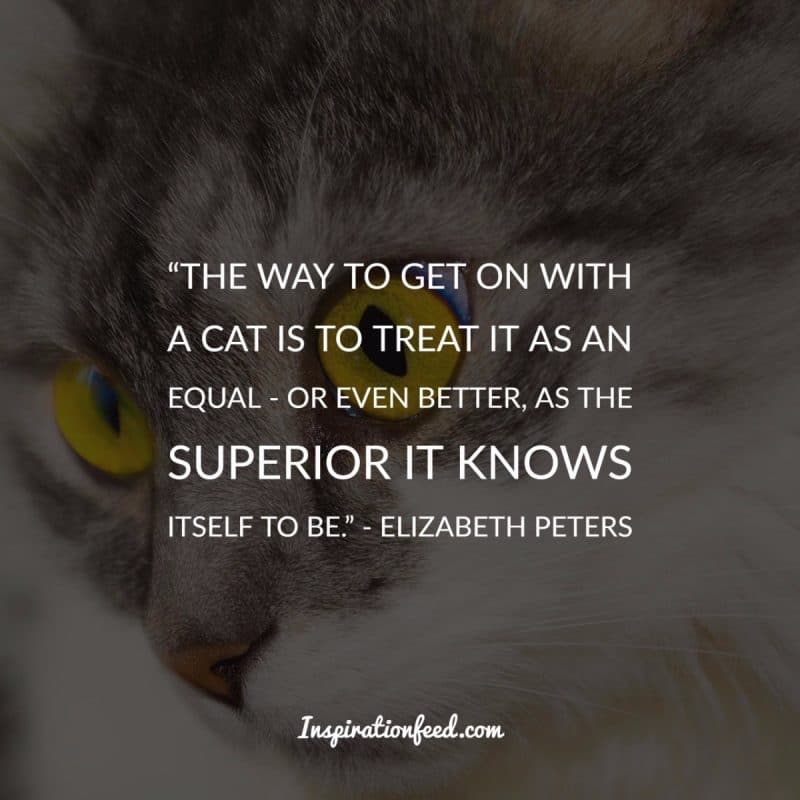 "The way to get on with a cat is to treat it as an equal – or even better, as the superior it knows itself to be." – Elizabeth Peters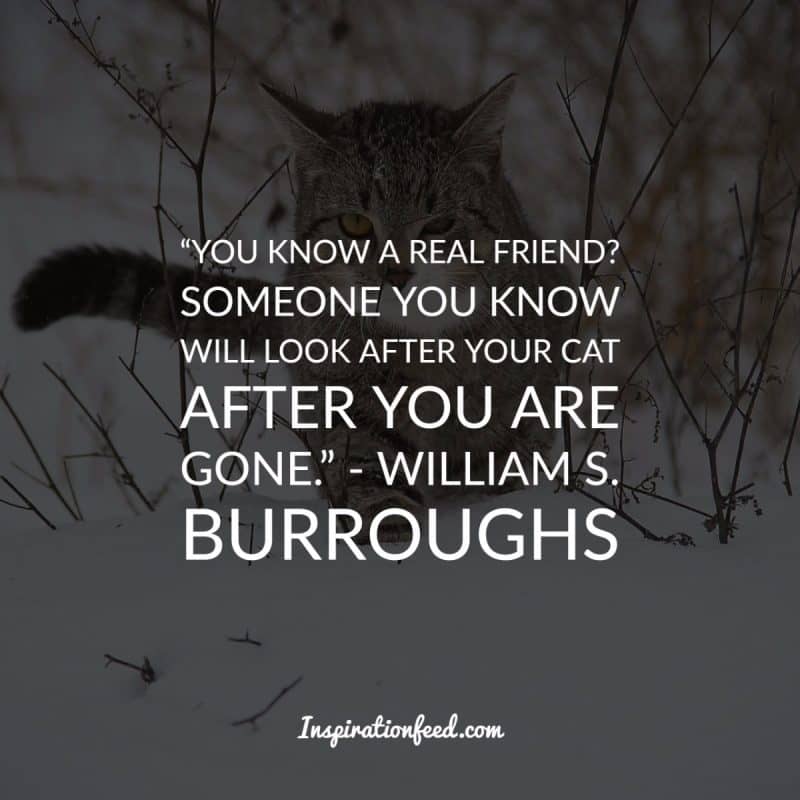 "You know a real friend? Someone you know will look after your cat after you are gone." – William S. Burroughs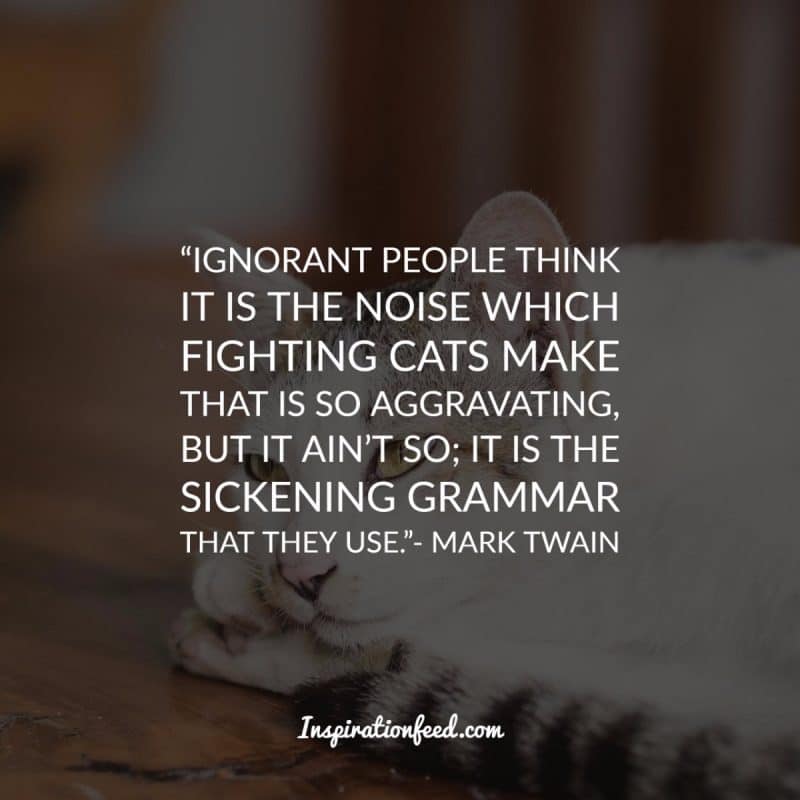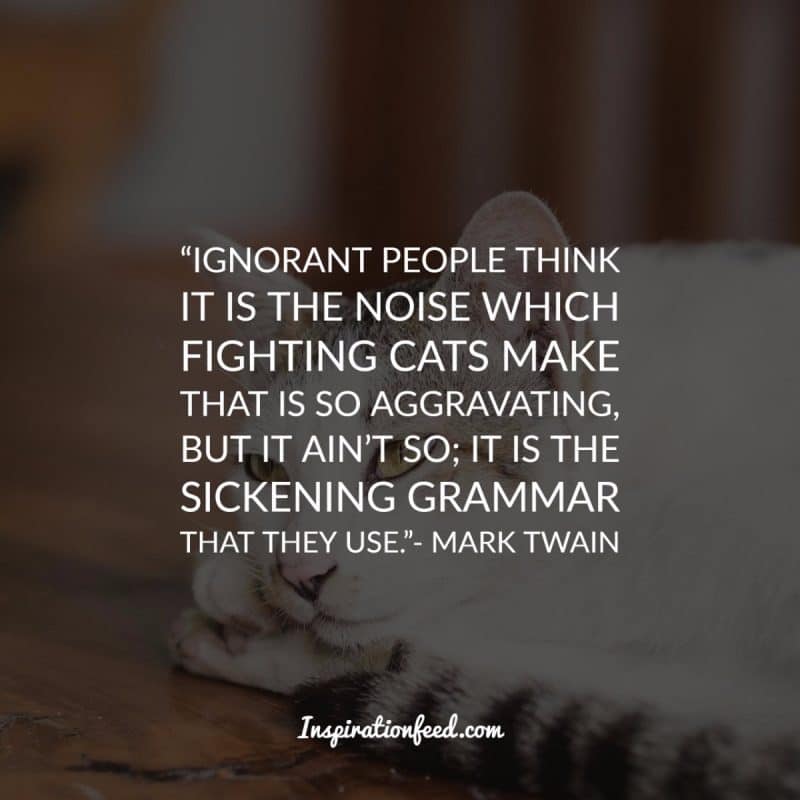 "Ignorant people think it is the noise which fighting cats make that is so aggravating, but it ain't so; it is the sickening grammar that they use."- Mark Twain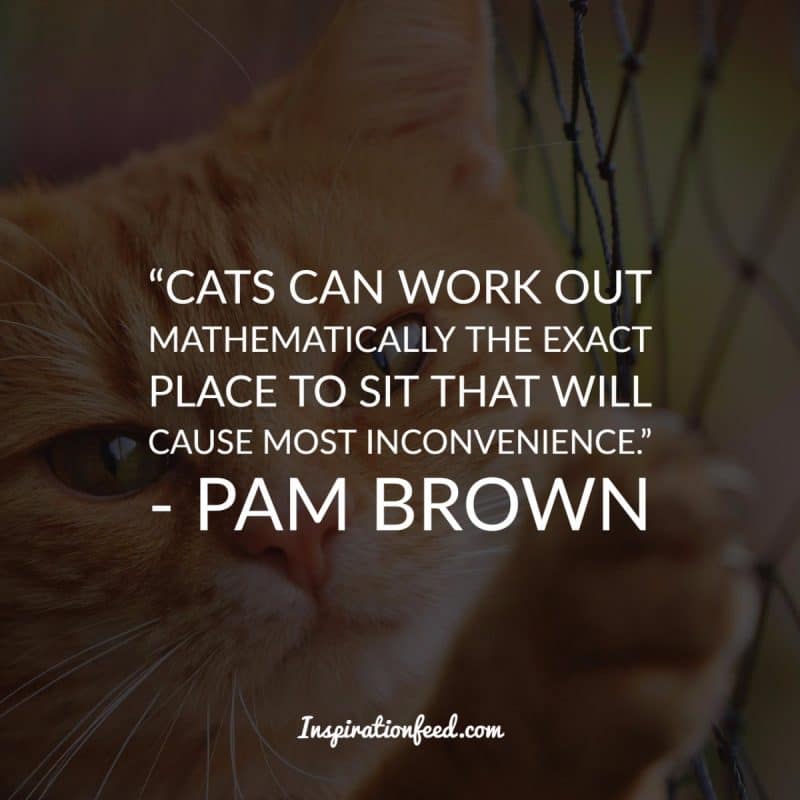 "Cats can work out mathematically the exact place to sit that will cause most inconvenience." – Pam Brown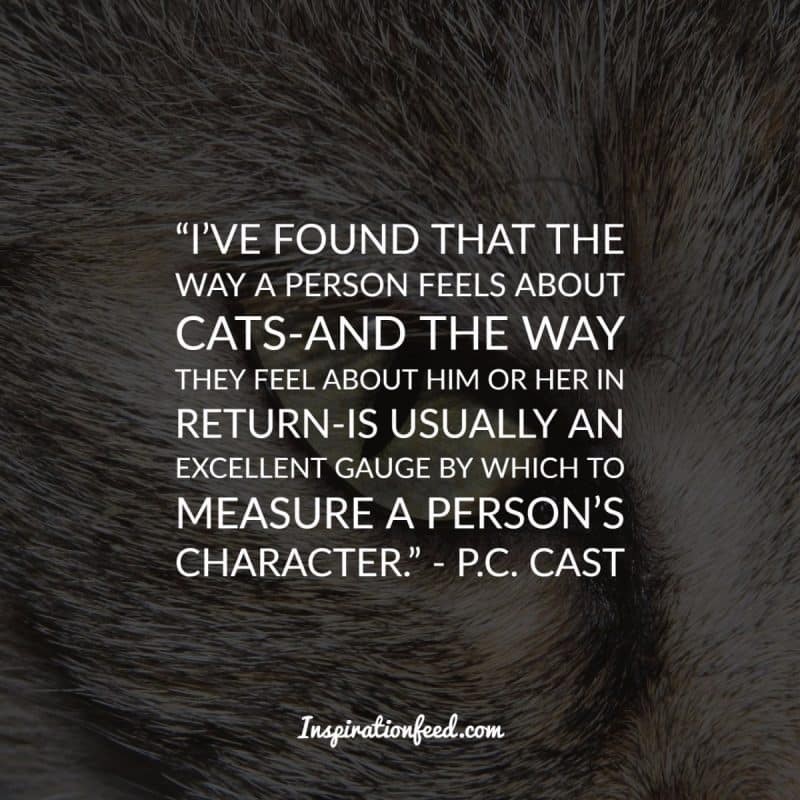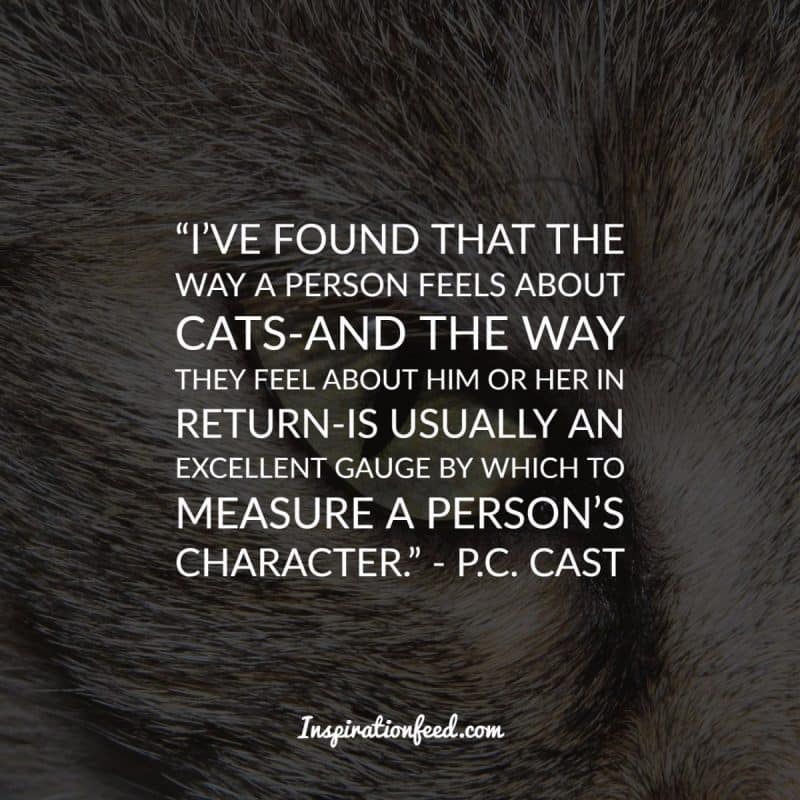 "I've found that the way a person feels about cats-and the way they feel about him or her in return-is usually an excellent gauge by which to measure a person's character." – P.C. Cast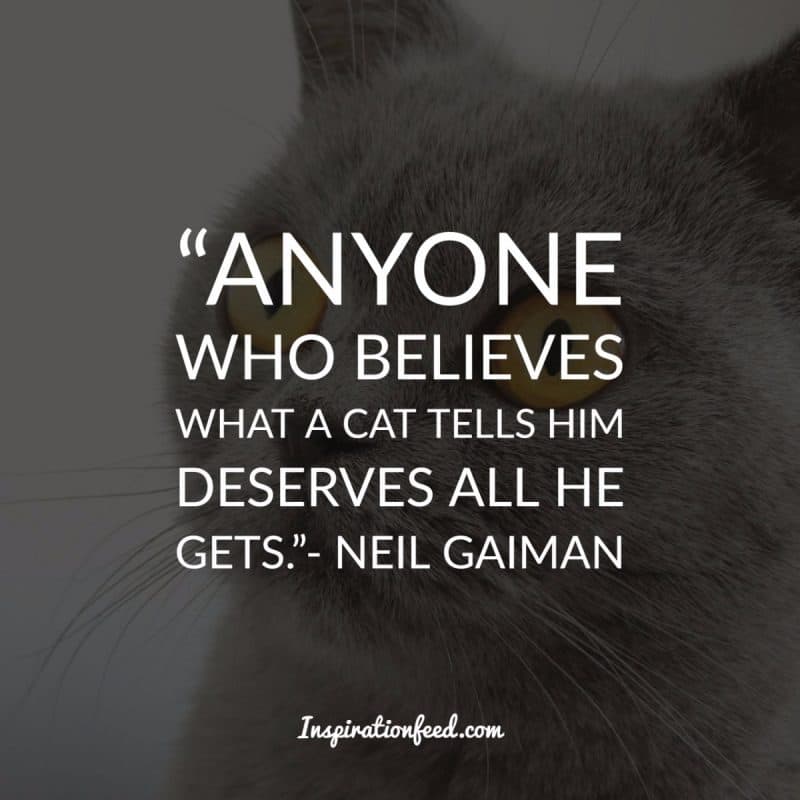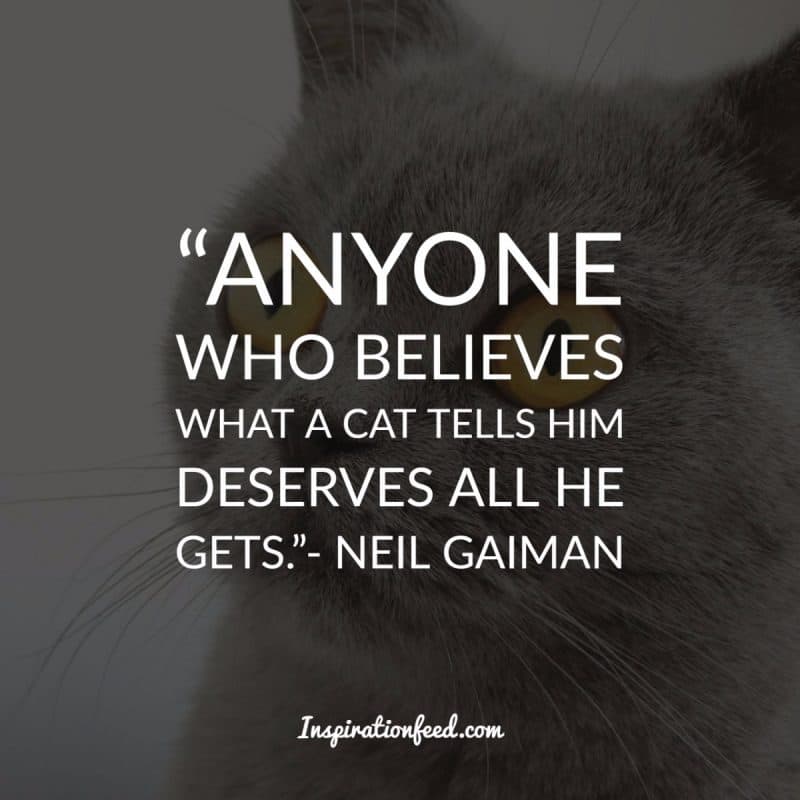 "Anyone who believes what a cat tells him deserves all he gets."- Neil Gaiman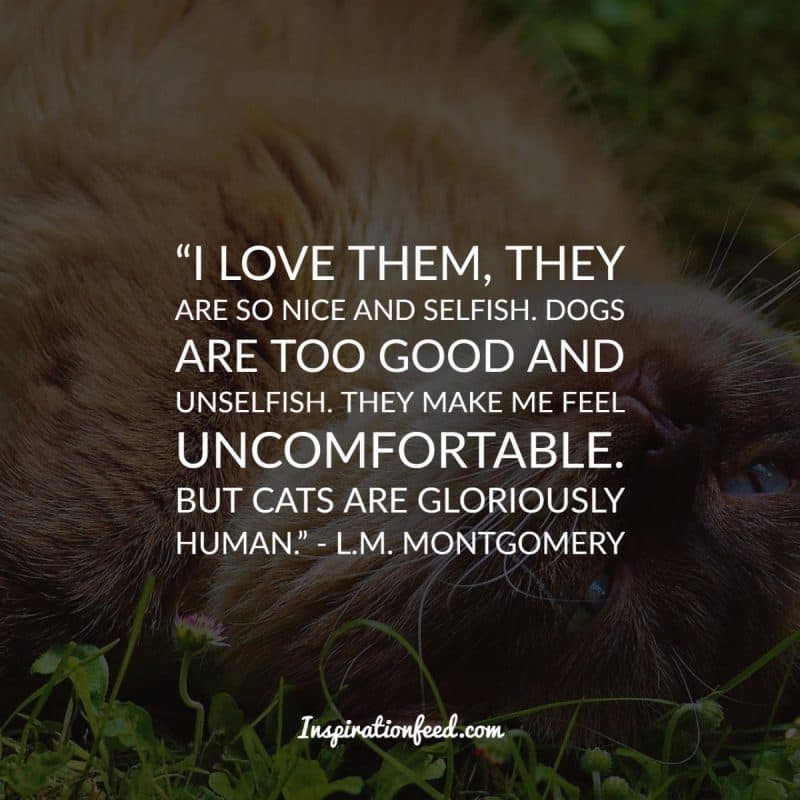 "I love them, they are so nice and selfish. Dogs are TOO good and unselfish. They make me feel uncomfortable. But cats are gloriously human." – L.M. Montgomery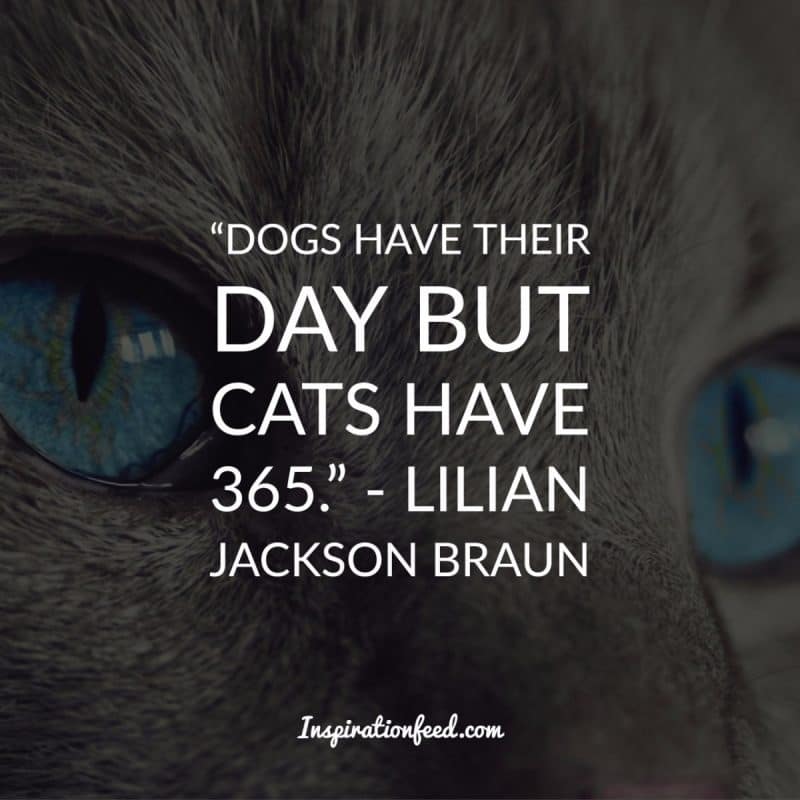 "Dogs have their day but cats have 365." – Lilian Jackson Braun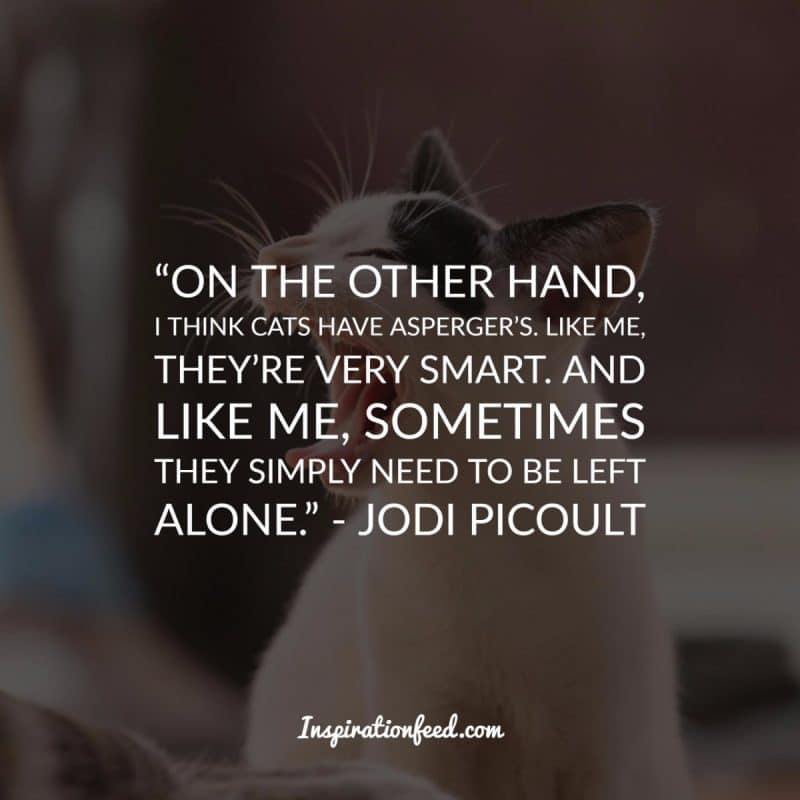 "On the other hand, I think cats have Asperger's. Like me, they're very smart. And like me, sometimes they simply need to be left alone." – Jodi Picoult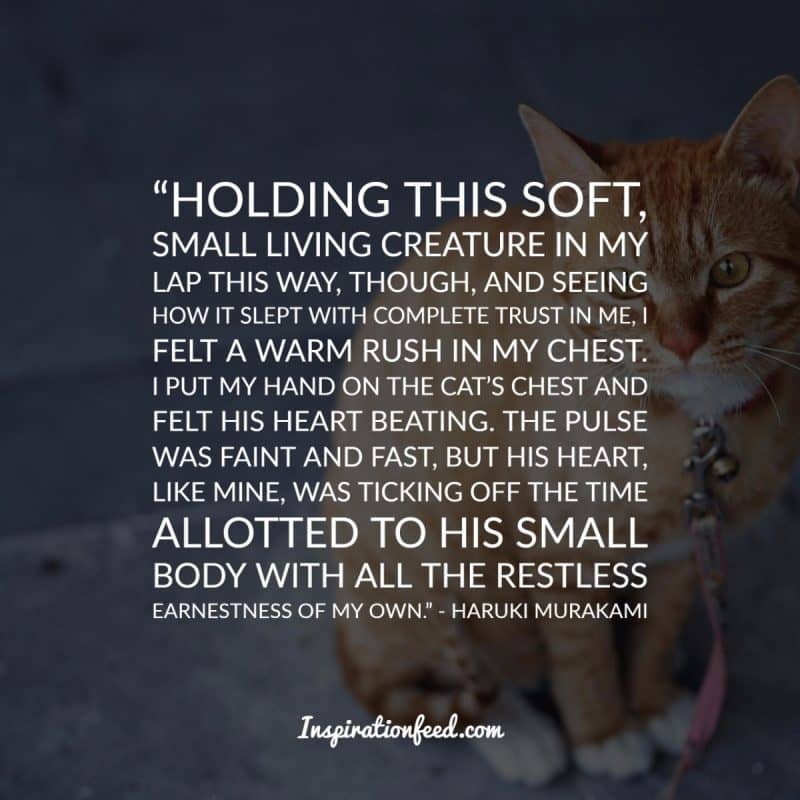 "Holding this soft, small living creature in my lap this way, though, and seeing how it slept with complete trust in me, I felt a warm rush in my chest. I put my hand on the cat's chest and felt his heart beating. The pulse was faint and fast, but his heart, like mine, was ticking off the time allotted to his small body with all the restless earnestness of my own." – Haruki Murakami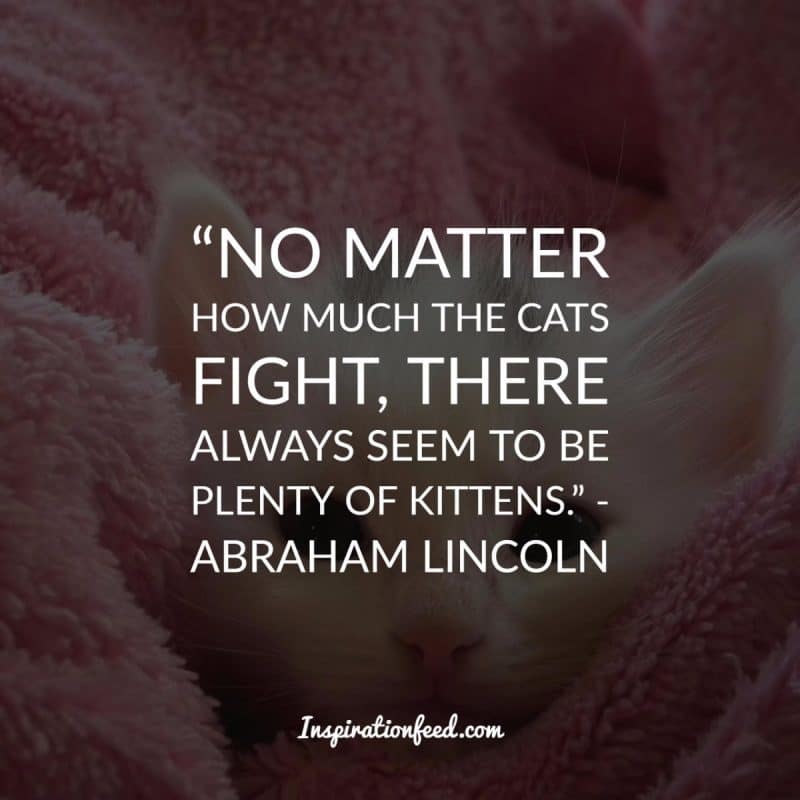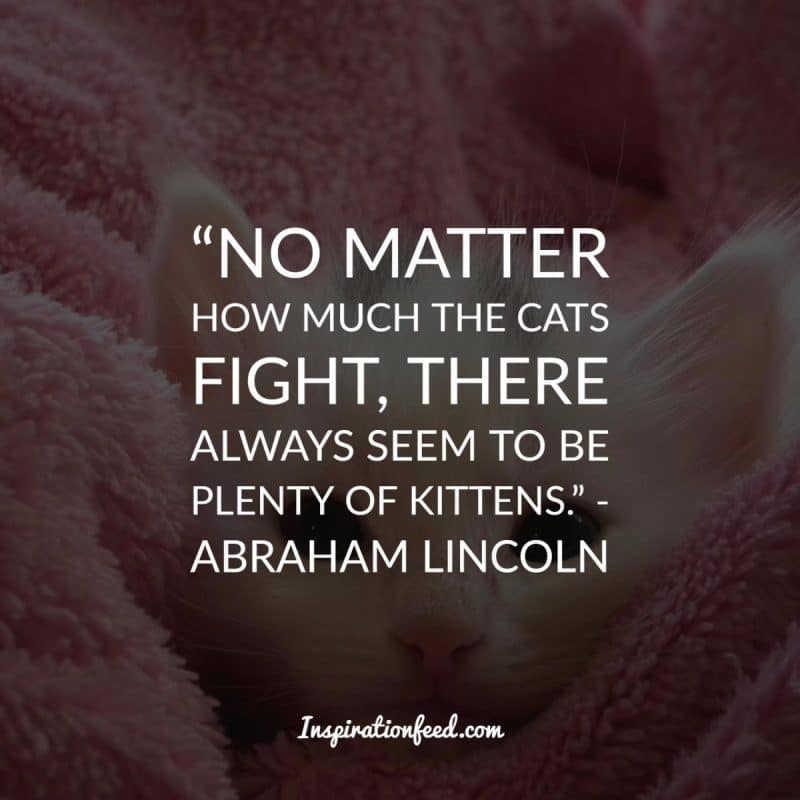 "No matter how much the cats fight, there always seem to be plenty of kittens." – Abraham Lincoln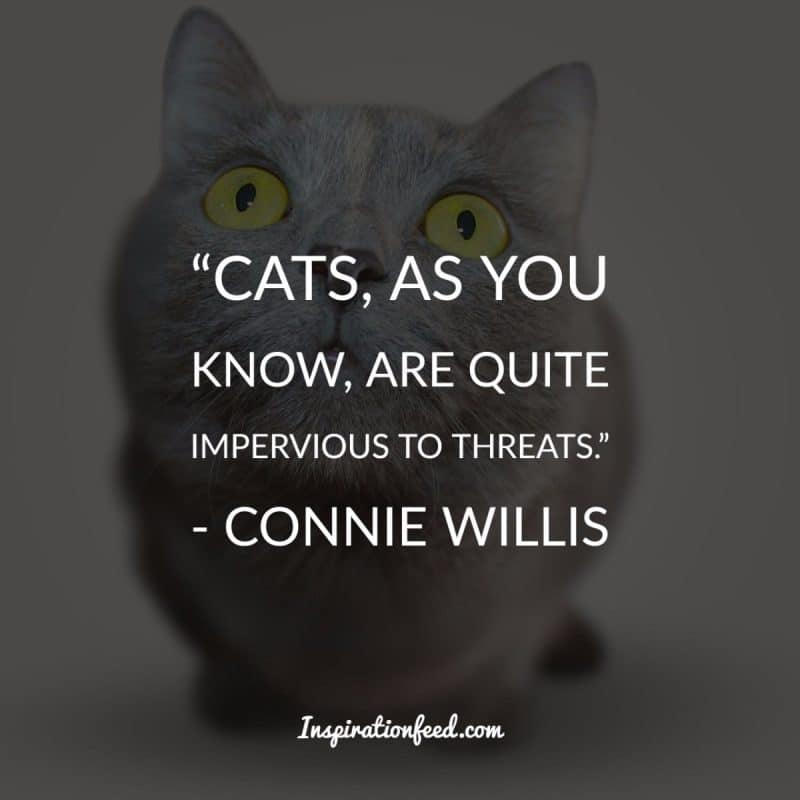 "Cats, as you know, are quite impervious to threats." – Connie Willis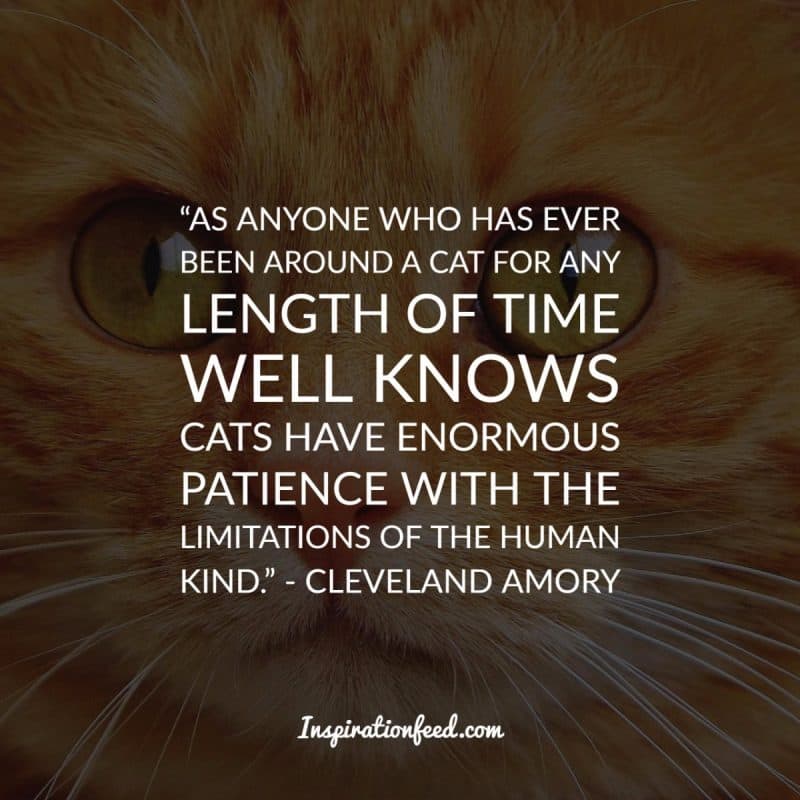 "As anyone who has ever been around a cat for any length of time well knows cats have enormous patience with the limitations of the human kind." – Cleveland Amory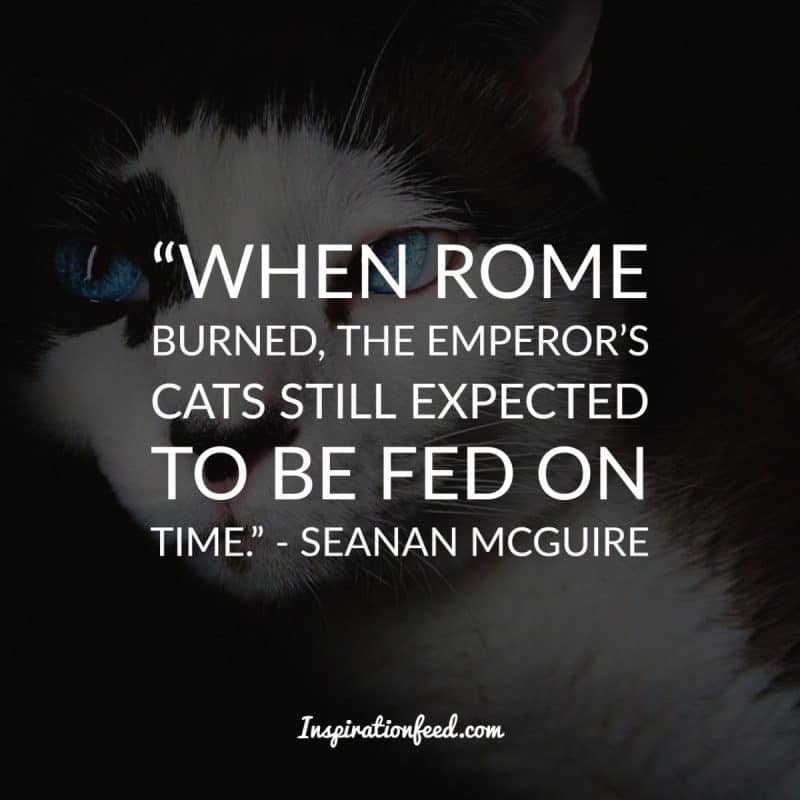 "When Rome burned, the emperor's cats still expected to be fed on time." – Seanan McGuire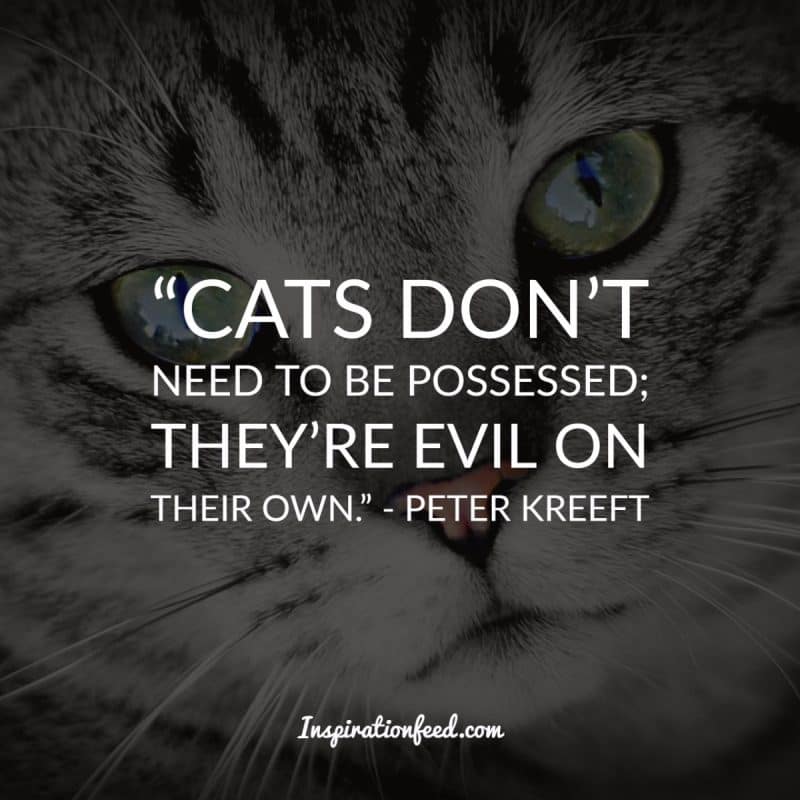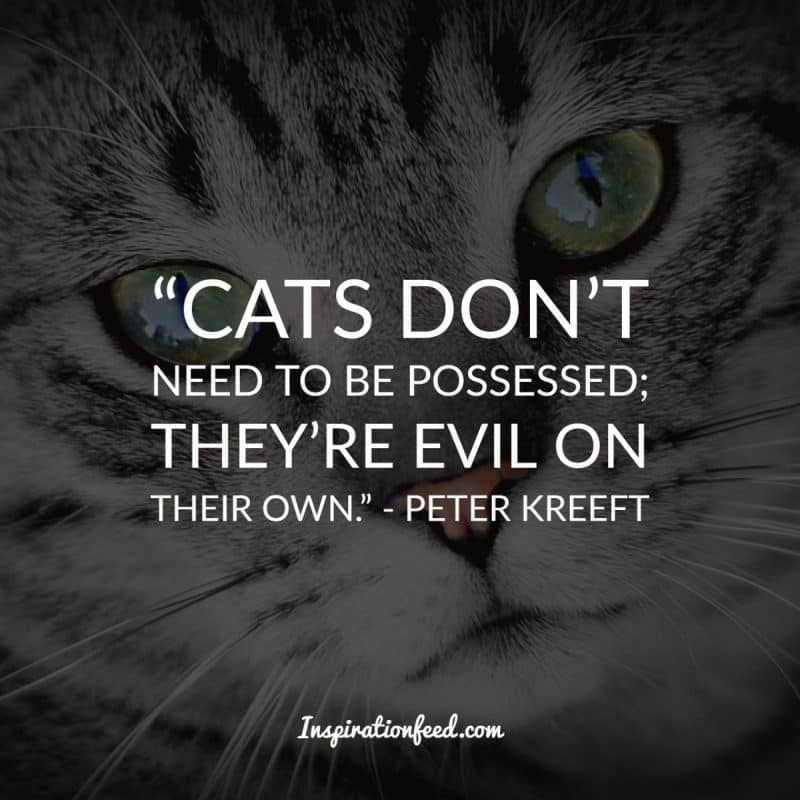 "Cats don't need to be possessed; they're evil on their own." – Peter Kreeft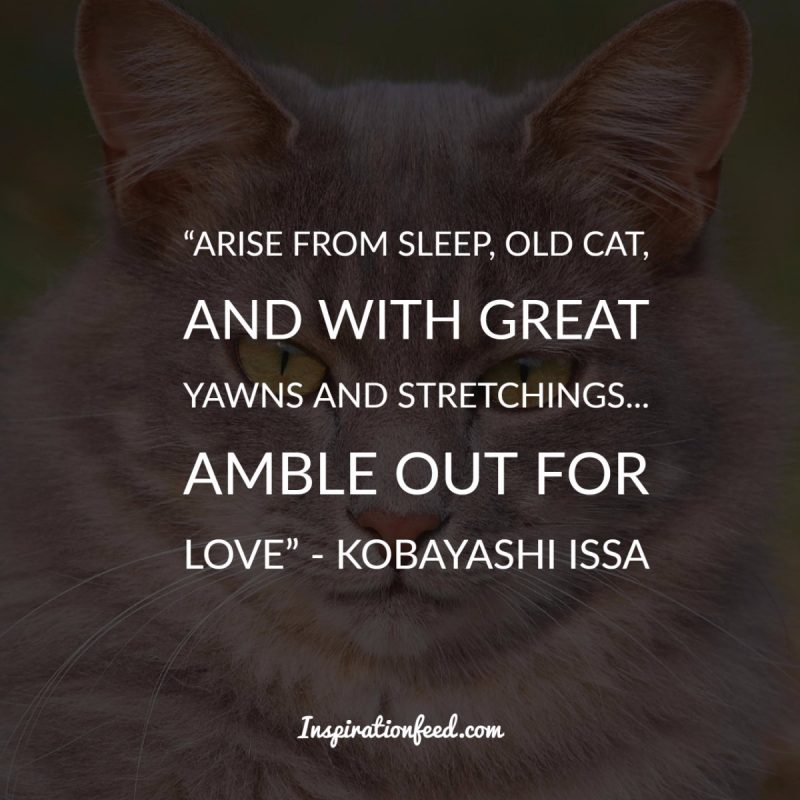 "Arise from sleep, old cat,
And with great yawns and stretchings…
Amble out for love" – Kobayashi Issa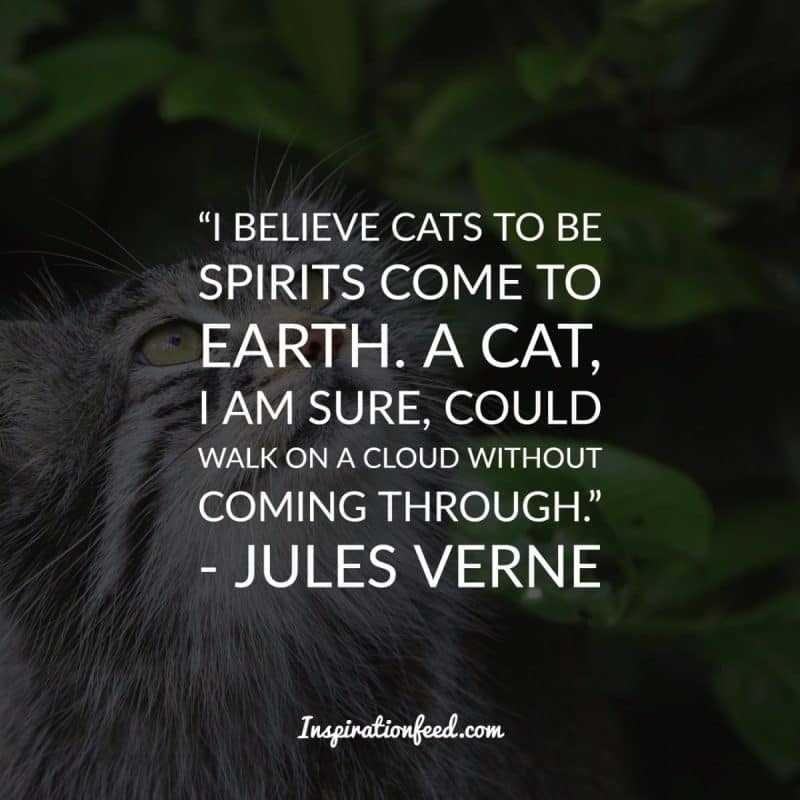 "I believe cats to be spirits come to earth. A cat, I am sure, could walk on a cloud without coming through." – Jules Verne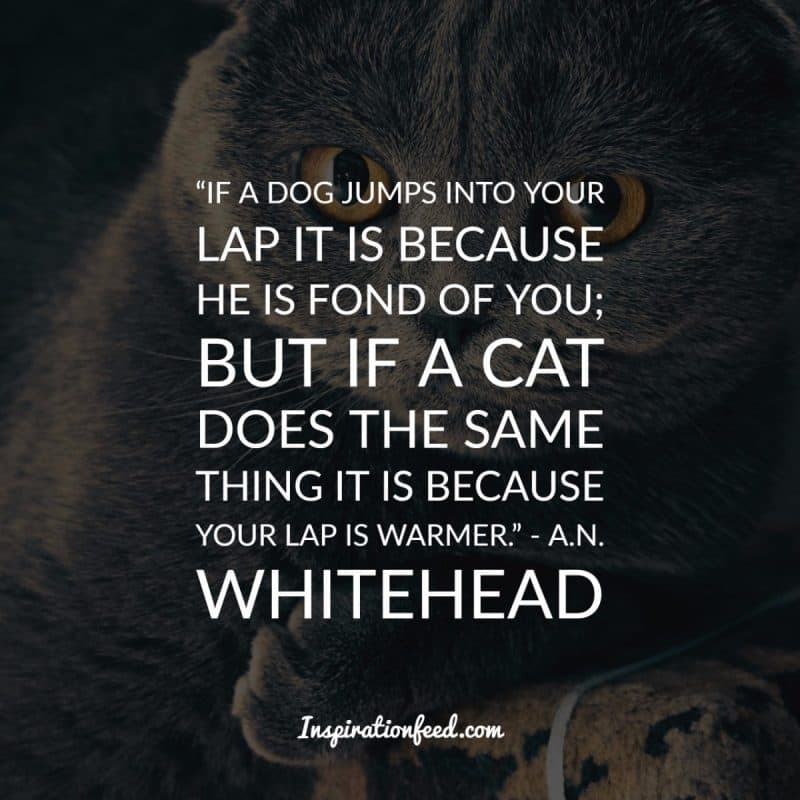 "If a dog jumps into your lap it is because he is fond of you; but if a cat does the same thing it is because your lap is warmer." – A.N. Whitehead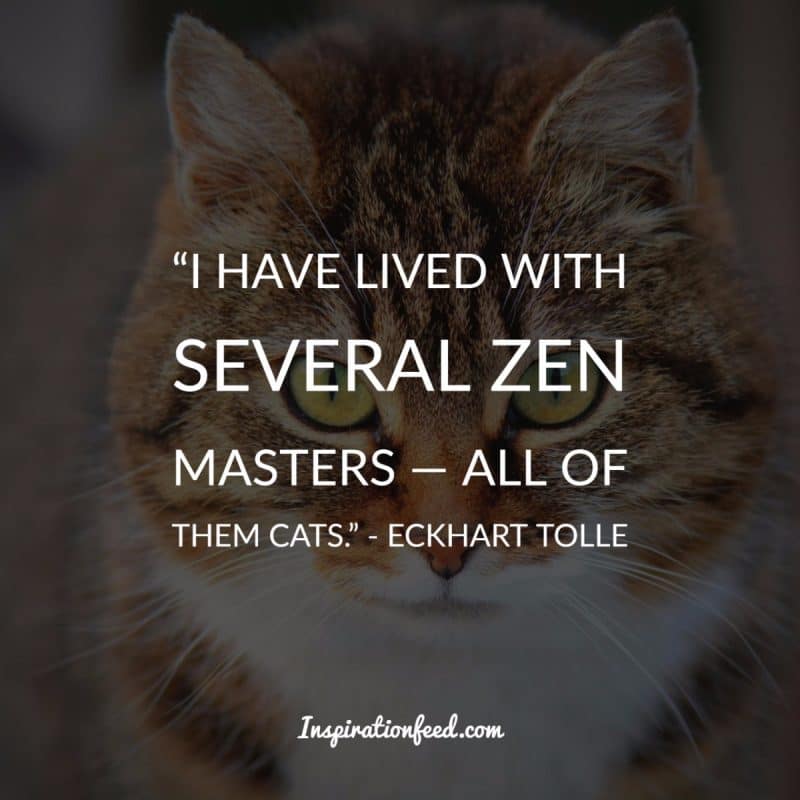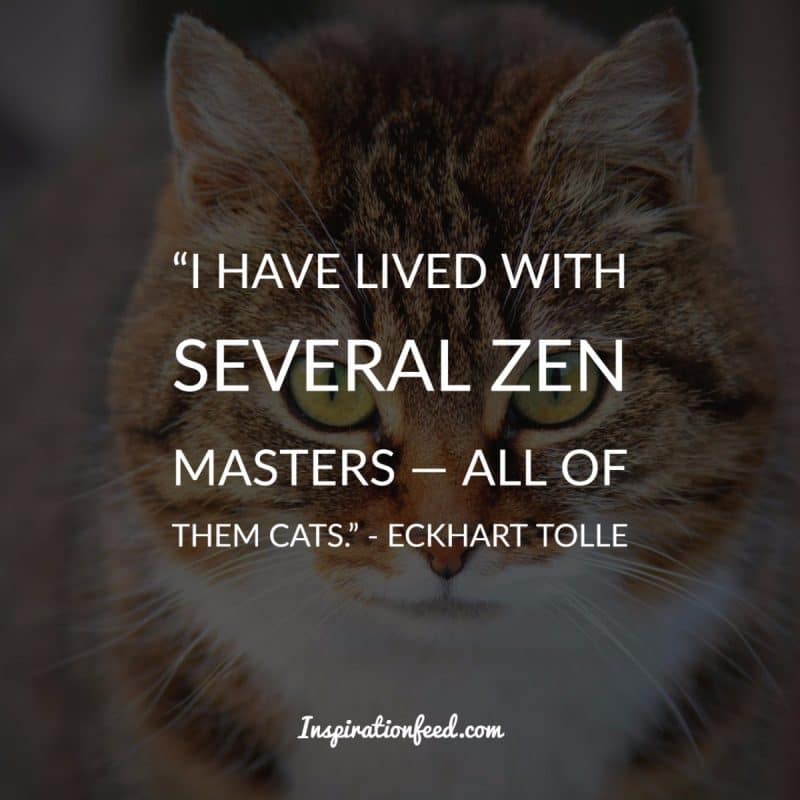 "I have lived with several Zen masters — all of them cats." – Eckhart Tolle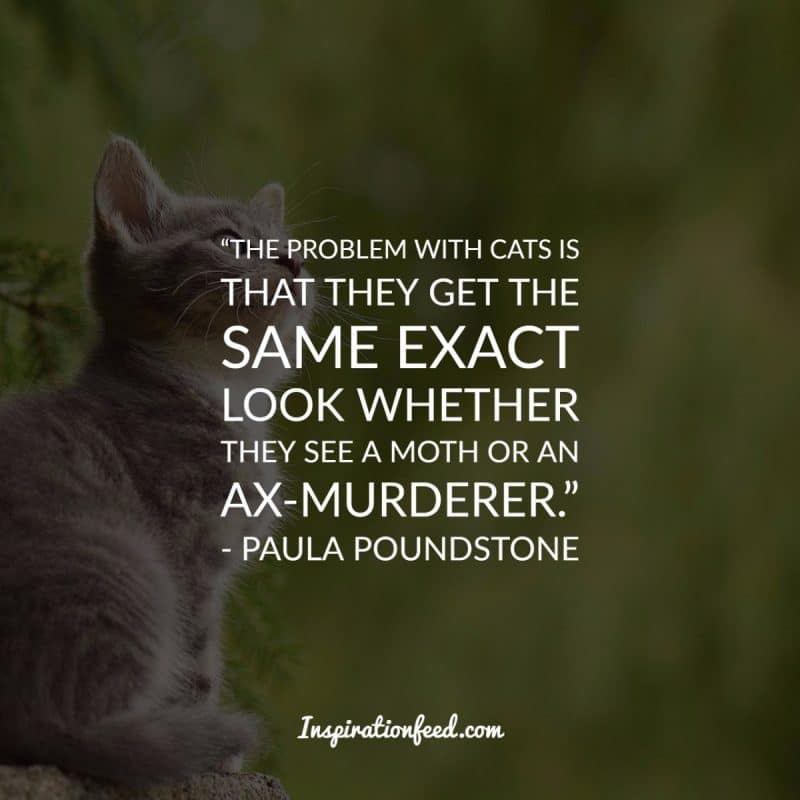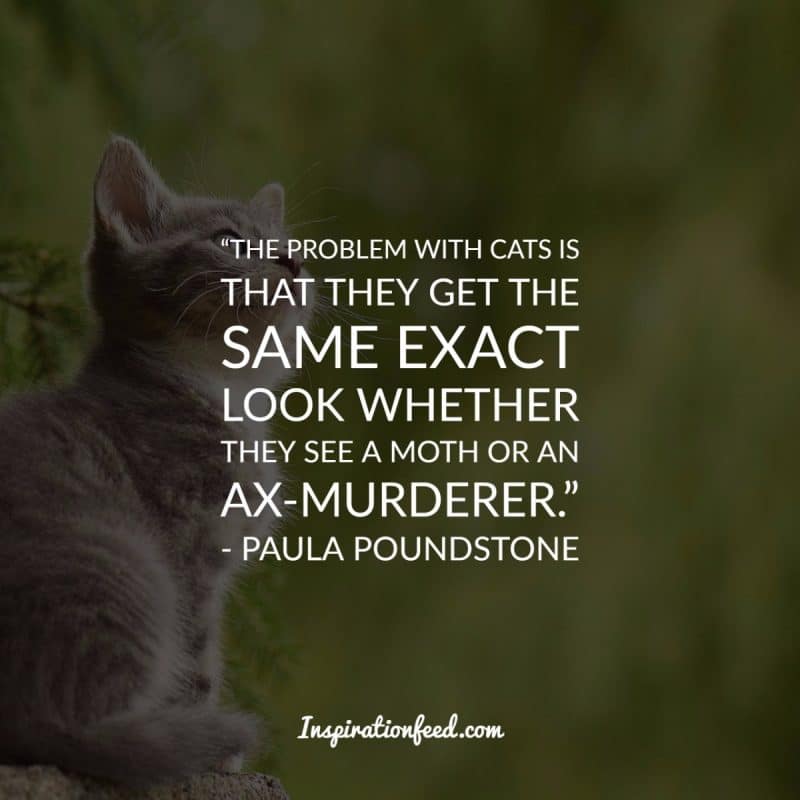 "The problem with cats is that they get the same exact look whether they see a moth or an ax-murderer." – Paula Poundstone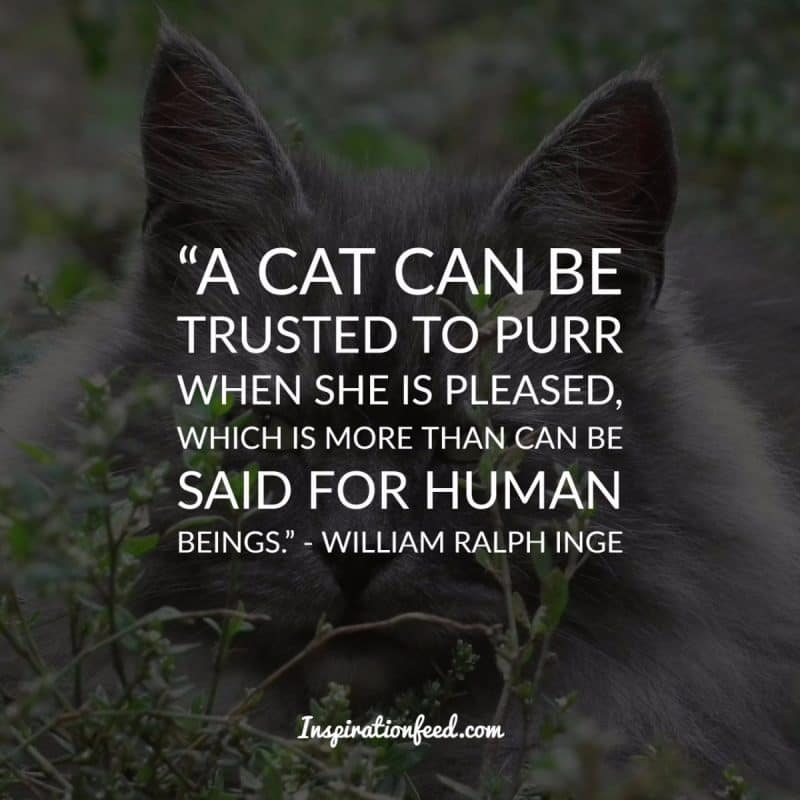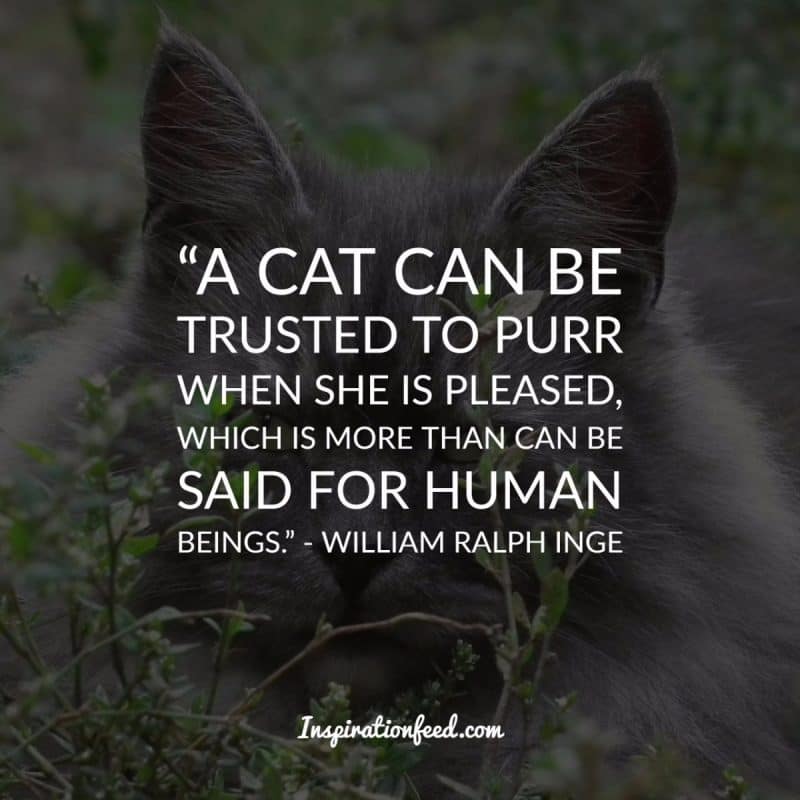 "A cat can be trusted to purr when she is pleased, which is more than can be said for human beings." – William Ralph Inge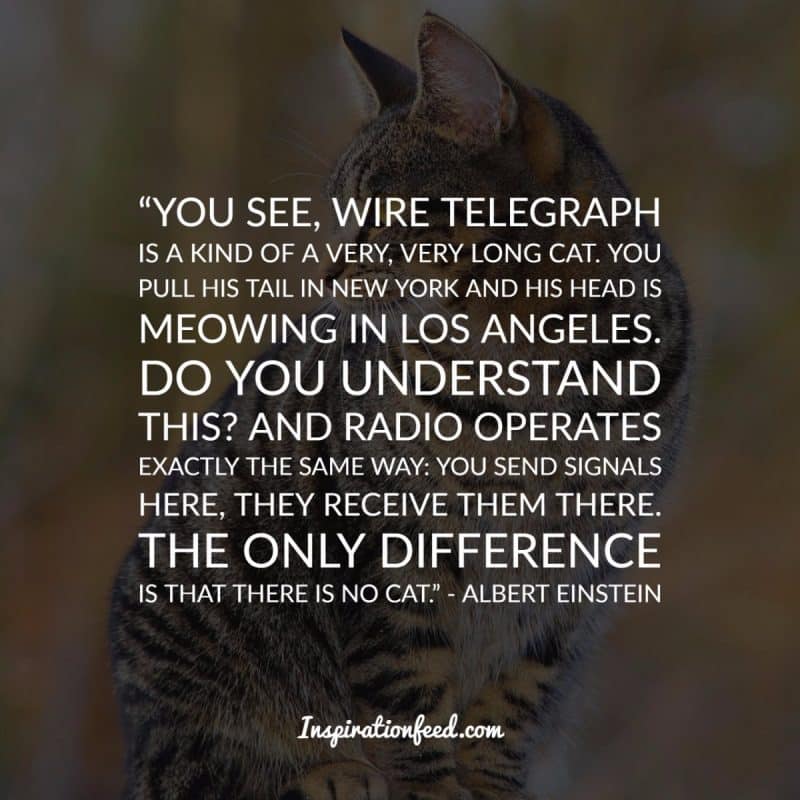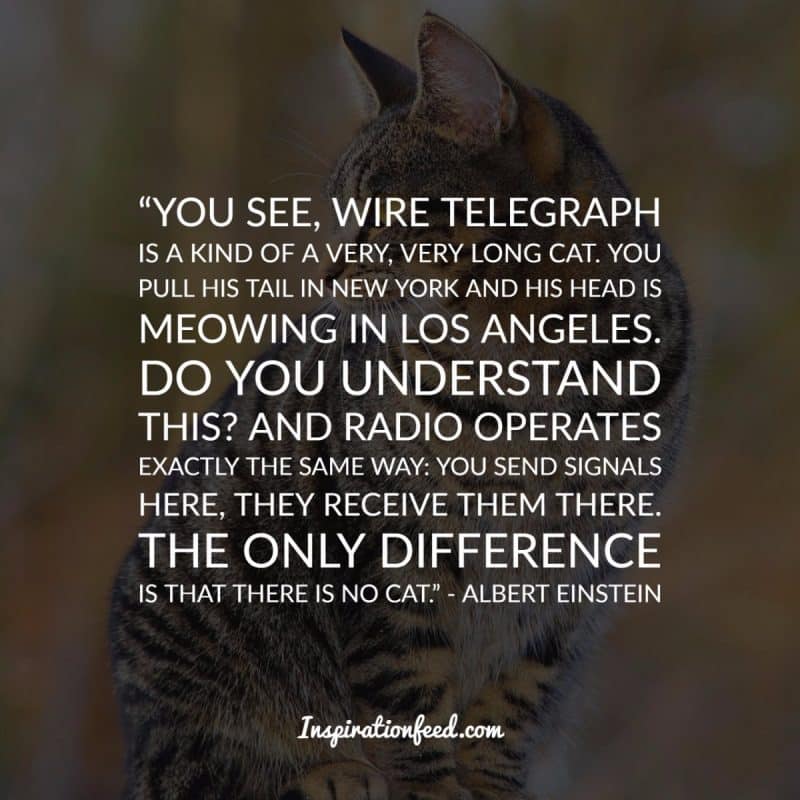 "You see, wire telegraph is a kind of a very, very long cat. You pull his tail in New York and his head is meowing in Los Angeles. Do you understand this? And radio operates exactly the same way: you send signals here, they receive them there. The only difference is that there is no cat." – Albert Einstein