Last Updated on January 24, 2022
While some hairs grow effortlessly down to the butt, many others struggle to keep long, thick hairs.
If you're in the latter group, it's easy to develop self-pity. But no, instead, have you tried out CBD?
Some testimonies, both research and anecdotal, say CBD may be a promising solution to hair growth.
How so? 
Of course, CBD won't magically sneak into the hair follicles and leave you with longer, thicker hairs in a blink. If that's what you seek, sorry, look elsewhere.
Instead, with regular applications, over time, the compound may place your body system in an ideal condition that promotes optimum hair growth.
But what is CBD? 
CBD Explained
CBD – short for Cannabidiol – comes in various products, including topicals, tinctures, oils, and even edibles. The compound is one of over a hundred active cannabinoids (chemical compounds) found in the cannabis plant – whether hemp or marijuana. 
Among these compounds, CBD (or Cannabidiol) and THC (or tetrahydrocannabinol) are most prominent.
A quick reminder: THC is the primary psychoactive compound in cannabis, which is thought to make users' high'. On the other hand, CBD is non-intoxicating, even with high doses, and is legal across most US states.
CBD researches got a remarkable boost after the 2018 Farm Bill decriminalized the use of hemp.
Early reports so far suggest CBD may come in handy for a range of health concerns, including epilepsy, stress, pain, inflammation, and more. 
Interestingly, some indicators perceive the all-natural CBD contains certain properties that aid hair growth. 
How Does CBD oil cause hair growth? 
Let's find out…
Details from research report some ways CBD may help promote your hair growth. Here are some:
CBD Oil may reduce stress and promote rest
While in the zen state, the body releases less cortisol, a hormone that accounts for the fight or flight feeling during a nerve-breaking situation.
Studies show that excess cortisol production may cause hair loss. Inadequate cortisol levels may help improve sleep and, in turn, stop hair loss.
Research shows CBD oil may manage anxiety and aid a long peaceful sleep. Since a good rest would reduce cortisol levels, CBD should prevent your hair loss.
CBD may reduce inflammation
Persistent inflammation will not only cause damage to your overall health; it particularly affects your hair growth and its texture.
Besides reducing inflammation, which offers a healthy scalp for your hair to grow, researchers say the compound may get to the sebaceous glands. The sebaceous glands then release sebum oil to lubricate the hair. 
CBD Oil boosts blood circulation
Proper blood circulation does your body great good. The benefits are particular to the area around hair follicles, which may stimulate hair growth.
CBD is widely known for its impact on cerebral blood flow. This effect aids the distribution of useful nutrients to the follicles and flushes harmful toxins, leaving your hair healthier and stronger, prepared for more length.
CBD may influence homeostasis 
Research links CBD's effect primarily to its influence on the endocannabinoid system, or ECS. The ECS modulates certain biological processes, including pain, appetite, mood, etc. 
CBD supplies the ECS with cannabinoids, promotes the systems' functions, and puts your body in a state of balance or homeostasis. This influences physiological processes and promotes the growth of hair follicles.
Which CBD oil can I use for hair growth? 
If you wish to try out CBD for hair growth, we recommend full-spectrum instead of broad-spectrum CBD oil. 
The full spectrum variant contains all the properties and compounds in the hemp plant, opening you to all the plant's therapeutic offers. 
CBD also comes in tinctures and capsules. However, it can be somewhat tricky to tell the quality, concentration, and manufacturing process of these CBD products. 
Note worthily, CBD also comes in isolates and broad-spectrum oil. 
While isolates contain CBD-only (without any other potential therapeutic compounds in the hemp plant), the broad-spectrum contains all other compounds in the hemp plant, except THC, the psychoactive ingredient in cannabis.
Which product should I buy?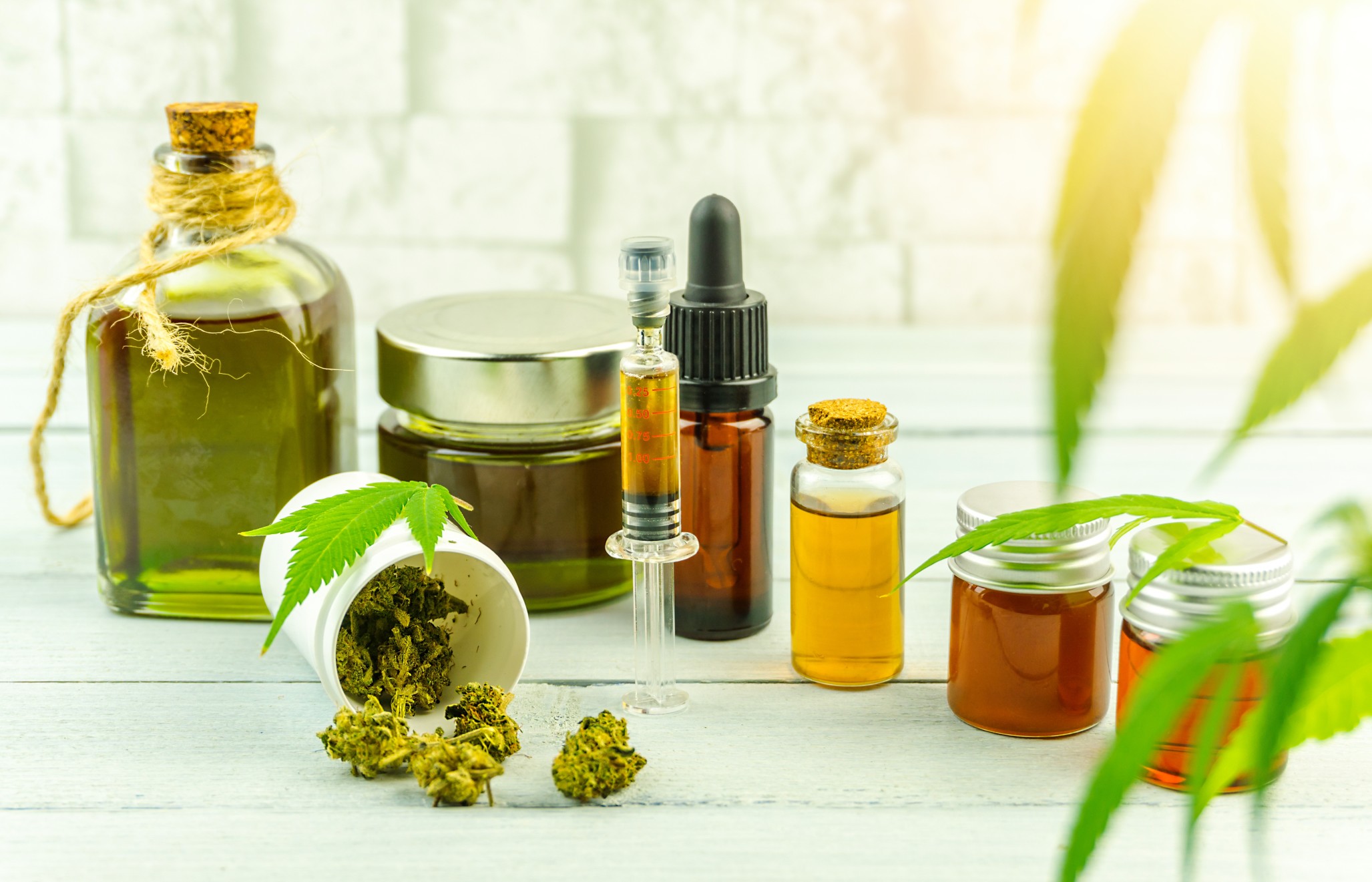 Ignore the smart marketing and all the convincing labels. Mere 'CBD Oil' on the labels does not mean the product actually has CBD. 
Funny, right? 
Most so-labeled CBD products you find on cosmetic shop shelves contain hemp seed oil, not CBD. 
Although hemp seed oil contains fatty acids that promote moisturizing, it can't offer exactly what CBD does to your hair.
Note that CBD and hemp seed oils are two entirely different products –though sourced from the same plant. 
While CBD oil is extracted from leaves, flowers, and stalks of cannabis (hemp or marijuana), the hemp seed oil is derived solely from the hemp seeds.
While CBD oil may contain cannabinoids, like CBD, CBN, CBG, the psychoactive THC, etc., hemp seed oil does not contain any cannabinoids, not even CBD. Hemp seed oil offers more nutritional offers than therapeutic, including omega fatty acid, proteins, etc.  
However, proponents of CBD oil say these hemp seed oil may not match CBD oil's effects on hair growth.
So, if CBD isn't illegal where you stay, prefer CBD-infused oil over hemp seed oil.
Wrap Up
CBD oil for hair growth is a worthy try if you seek an all-natural way to improve your hair health.
These natural properties offer impressive gains, from simple moisturizing to improving hair growth. With regular usage, the benefits are enormous and longer-lasting.
As hemp legalization campaigns surge, the laws are becoming increasingly more lenient, allowing more access to the product.
Remember the price tags may be way higher than your regular shampoos, it's usually a worthy investment, since you use it always, every day.