Last Updated on July 20, 2021
Who Is Charlie Sheen?
Carlos Irwin Estevez, professionally known as Charlie Sheen, is an American actor who's famous for his roles in movies like Platoon, Eight Men Out, and The Three Musketeers. Sheen has a professional acting career spanning more than three decades.
His stellar performance in movies and television shows has earned him several awards and recognitions. And though he has faced numerous setbacks, ranging from alcohol and drug abuse to divorce and HIV, Sheen remains one of the most inspirational actors ever to have come out of Hollywood.
Quick Facts
| | |
| --- | --- |
| Full Name: | Carlos Irwin Estévez |
| Popular Name: | Charlie Sheen |
| Gender: | Male |
| Birth Date: | September 3, 1965 |
| Age: | 54 years |
| Parents: | Martin Sheen and Janet Templeton |
| Siblings: | Emilio Estevez, Ramon Estevez, and Renee Estevez |
| Birth Place: | New York City |
| Nationality: | American |
| Ethnicity: | English, Scottish, Spanish, and Irish |
| Education: | Santa Monica High School |
| Marital Status: | Divorced. Formerly married to Brooke Mueller |
| Sexual Orientation: | Straight |
| Wife/Spouse: | N/A |
| Children: | Cassandra Jade Estevez, Sam Sheen, Max Sheen, Lola Rose Sheen, and Bob Sheen |
| Dating: | N/A |
| Net Worth: | 10 million (as of July 1st, 2021) |
| Source of Wealth: | Acting and Film Production, Screenwriting, Voice Acting, and Television Production |
| Height: | 5′ 10″ (1.78 m) |
| Weight: | 86 kg; In pounds: 190 lbs. |
Early Life and Career Information
Charlie Sheen was born on September 3, 1956, in New York City, to Martin Sheen and Janet Templeton.
Sheen made his foray into the film industry in 1984 by starring in Red Down. From there, he went on to feature in scores of other Hollywood movies as well as television shows, including:
• A Glimpse Inside the Mind of Charles Swan III (2012),
• All Dogs Go to Heaven 2 (1996, voice role),
• Apocalypse Now (1979),
• Badlands (1973),
• Beyond the Law (1992, TV film),
• Courage Mountain (1990),
• Foodfight! (2012, voice role),
• Good Advice (2001),
• Grizzly II: The Predator Concert (1983,
• Hot Shots! (1991),
• Hot Shots!: Part Deux (1993),
• Mad Families (2017) and 9/11 (2017).
• Major League (1989),
• Major League II (1994),
• Men At Work (1990),
• Money Talks (1997),
• Navy SEALs (1990),
• No Code of Conduct (1998),
• No Man's Land (1987),
• Platoon (1986),
• Rated X (2000),
• Red Dawn (1984),
• Silence of the Heart (1984),
• Tale of Two Sisters (1989, narrator),
• Terminal Velocity (1994),
• The Arrival (1996),
• The Boys Next Door (1985,
• The Chase (1994),
• The Execution of Private Slovik (1974)
• The Rookie (1990),
• The Three Musketeers (1993),
• The Wraith (1986),
• Two and a Half Men (2003-2011),
• Wall Street (1987),
• Young Guns (1988),
Charlie Sheen's Net Worth
Charlie Sheen's net worth was an estimated $10 million, as of July 1, 2021. His net worth has shrunk significantly over the past few years, thanks to his opulent lifestyle and expensive divorce cases.
Most people fondly remember Sheen for his outstanding performance in the television show, Two and a Half Men. However, he got fired from the show in 2011 after a public battle with Chuck Lorre, the show's creator.
Soon after he was fired from Two and a Half Men, Sheen landed a role in Anger Management, where he signed a 10/90 deal. The deal would see him earn as much as 30% of the syndication ownership points.
However, the show's ratings fell drastically in the second season and as of May 2016, reports indicated that Sheen was yet to receive a single payment from the syndication contract. Nonetheless, he still bagged a cool $5 million from Anger Management.
But Charlie Sheen's drastic decline in net worth has little to do with his poor business decisions lately. His lavish spending and two divorce cases are to blame for the actor's less-than-ideal net worth.
Charlie Sheen was paying as much as $110,000 on monthly spousal support to his two ex-wives, prior to September 2016. His declining fortunes saw a judge reduce his monthly spousal support to $50,000, which is still high enough for a lavish spender like him. It's also worth noting that Sheen pays another $500,000 in annual child support for his five kids.
Other than family support, Charlie Sheen has spent millions on hookers and drugs, medical bills, as well as settle with extortionists that were always threatening to disclose his HIV status. Well, he doesn't need to pay extortionists anymore, as his HIV status is now in the public domain.
Charlie Sheen's financial woes manifested publicly in 2019, when the actor almost lost his Los Angeles home to foreclosure. But before his fortunes started to dwindle, Sheen was one of the highest-paid actors. In fact, during his peak days in Two and a Half Men, he was the highest-paid television actor, taking home a whopping $1.25 million per episode.
Here's an annual breakdown of some of the actor's most commercially successful years, along with his average salary for each movie, television show, and endorsement deal:
• 1987 – Earned $500,000 in Three for the Road
• 1993 – Earned $4 million in Hot Shots! Part Deux and another 4 million in The Three Musketeers
• 1994 – Earned $6 million in Terminal Velocity Salary
• 1996 – Earned $2.75 million in Spin City and $5.25 million in The Arrival
• 1997 – Earned $4 million in Shadow Conspiracy
• 1998 – Earned $2 million in No Code of Conduct
• 2007 – Earned $7 million from live tours and concerts, as well as appearance fees and merchandise sales. He was also making $350,000 per episode in Two and a Half Men
• 2008 and 2009 – Earned an estimated $20 million and $21 million, respectively
• 2010 – He was earning $1.3 million per episode of Two and Half Men. However, he renegotiated his contract and according to the new terms, he would earn as much as $1.3 million per episode in upfront salary, in addition to $600,000 worth of backend points
• 2011 – Earned $1 million from Twitter endorsements and $7 million from North American tours. He was also making at least $1.25 million per episode in Two and a Half Men
• 2012 – Earned $2 million from the Twitter sponsorship contract with Ad.ly and another $5 million from Anger Management. In the same year, he was earning $700,000 for every episode in Two and a Half Men
• 2013 – Earned $250,000 from Scary Movie 5
In addition to acting, Charlie Sheen has also taken part in various business ventures and endorsement contracts. In 2006, he launched a clothing line dealing with children attire, known as Sheen Kidz. Charlie Sheen is also associated with NicoSheen, a line of disposable e-cigs.
Life Lessons from Charlie Sheen
Charlie Sheen has suffered various setbacks during his acting career, but has always had a way of bouncing back. Through him, we can learn the importance of resilience and tenacity.
Another crucial life lesson we can learn from Sheen is that earning millions is only half the job. The other half is spending your money on the things that make you happy. After all, you only live once.
Lastly, Sheen teaches us about the importance of parental responsibility. Though he is divorced, a substantial percentage of his monthly earnings goes towards supporting his two ex-wives and five children.
Here are notable quotes by Charlie Sheen: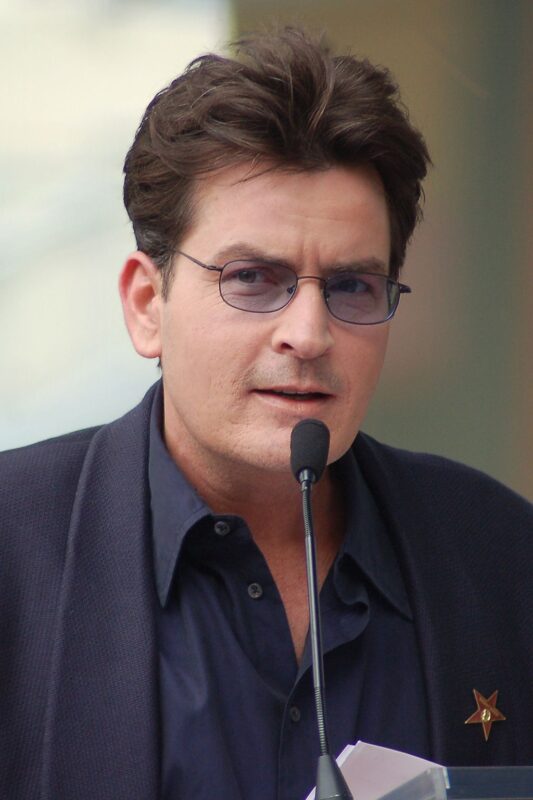 "Every day is just filled with just wins. All we do is put wins in the record books. We win so radically in our underwear before our first cup of coffee, it's scary. People say it's lonely at the top, but I sure like the view."
"I am on a drug. It's called Charlie Sheen. It's not available. If you try it once, you will die. Your face will melt off and your children will weep over your exploded body."
"I mean, what's not to love? Especially when you see how I party man, it's epic. The run I was on made Sinatra, Flynn, Jagger, Richards, all of them, just look like droopy-eyed, armless children."
"I think the honesty not only shines through in my work, but also my personal life. And I get in trouble for being honest. I'm extremely old-fashioned. I'm a nobleman. I'm chivalrous."
"They (porn stars) the best at what they do and I'm the best at what I do. And together it's like, it's on. Sorry, Middle America. Yeah, I said it."
Conclusion
Charlie Sheen may have made some terrible decisions during his professional acting career. But with an industry presence spanning more than 30 years, Sheen is undeniably one of the best actors the world has ever known.