Last Updated on March 15, 2023
Several World Cocoa Foundation surveys have shown that chocolate is the most popular candy in the world. Not only due to its delectable flavors but also because of its versatility. You can eat chocolate, drink it, and even use it as a baking ingredient.
But besides being the most favorite treat for millions of candy consumers around the world, there are many other fun facts about chocolate that most people don't already know. We've taken the liberty of conducting the research and put together a definitive collection of 75 mouthwatering chocolate facts that will make you want to indulge your sweet tooth.
Historical Facts
1. Chocolate is more than 4,000 years old. That's if you consider that the first cacao plants, the plants where chocolate is made from, were cultivated from around 2000 BC.
2. Chocolate traces its roots to Mesoamerica. This is a historical and cultural region that extends from the southern parts of North America to most of Central America. Notable countries in this area include the United States (particularly the southern states), Mexico, Guatemala, Belize, Honduras, Nicaragua, El Salvador, and northern Costa Rica.
3. Although chocolate is currently available in multiple formulations, the product originally came in the form of a liquid beverage.
4. The Olmec, which is considered one of the oldest civilizations in Latin America, is credited with preparing the first chocolate drink.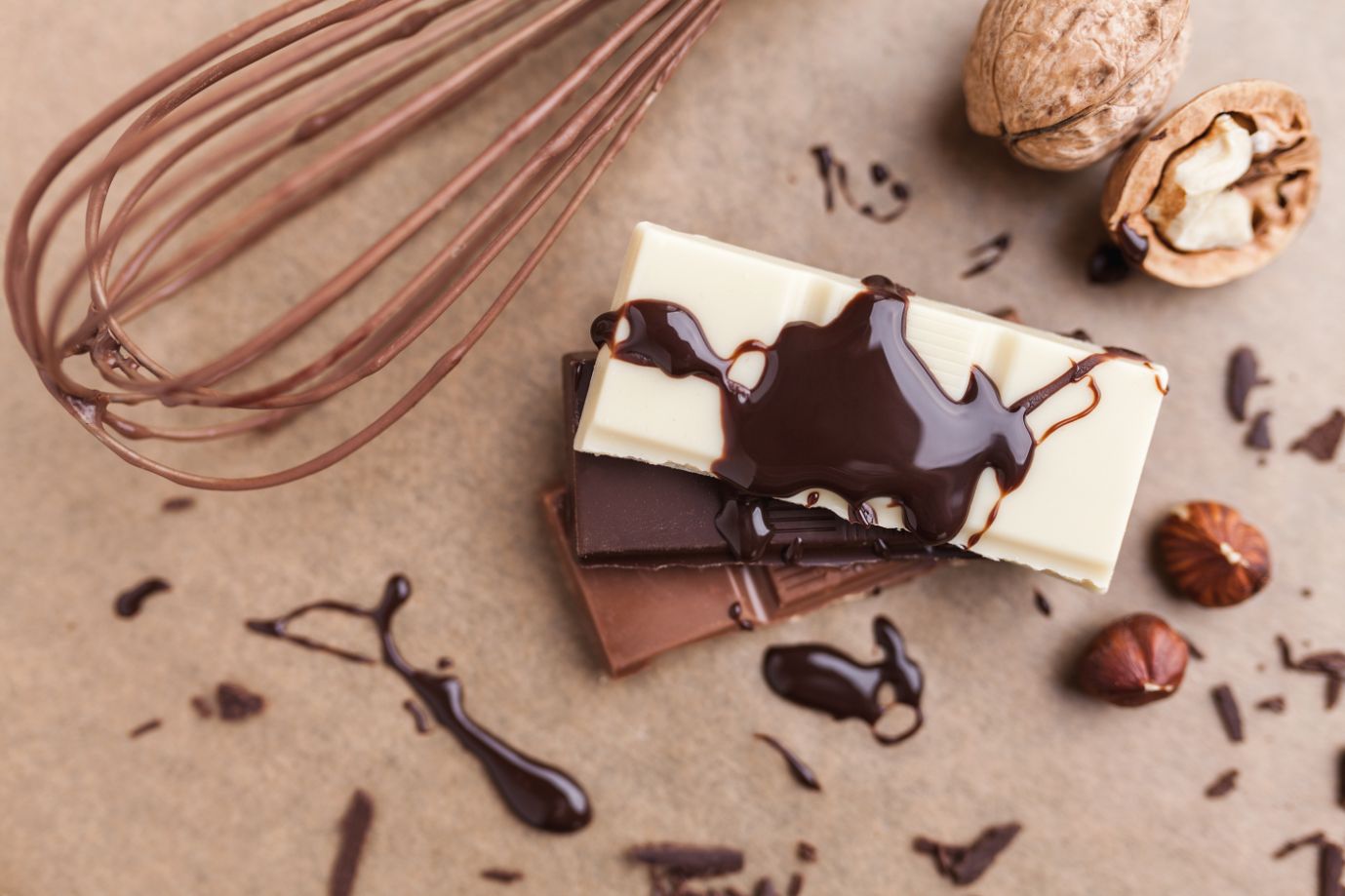 5. Before it became the yummy and delectable treat we know today, chocolate was originally consumed primarily for medicinal purposes. Cacao beans boast a truckload of health benefits. They can aid digestion, increase the frequency of bowel movements, support weight loss, prevent hemorrhoids, and guard against numerous chronic diseases.
6. Centuries after the Olmecs invented chocolate drink for medicinal purposes, the Mayans used it for religious reasons. The beverage was common in Mayan shrines, where it was offered to appease the gods.
7. Around the 15th century, the Aztecs began to use cocoa beans as a form of currency. This decision was informed by the amount of reverence the Aztecs had for chocolate, believing it was a blessing from the god Quetzalcoatl.
8. In addition to drinking chocolate for health and religious reasons, the Aztecs also consumed the beverage while preparing for war and other important quests.
9. Renowned explorer Hernán Cortés is credited with introducing chocolate to Europe. Legend has it that Cortés received a cup of cocoa from the Aztec emperor and brought it to his homeland of Spain in 1528. He subsequently introduced cocoa seeds to his native home of Spain.
10. The Spaniards were the first people to drink sweet chocolate. They added sugar and honey to the drink to neutralize cocoa's naturally bitter taste.
11. After its introduction to Spain in 1528, chocolate was a closely guarded secret in the country. It was not until about 50 years later that the drink reached neighboring France and later spread to the rest of Europe.
12. Chocolate was once considered a royal drink. When French King Louis XIII married Anne of Austria (daughter of Spanish King Phillip III), the couple celebrated their union by bringing chocolate samples to the royal courts.
13. The chocolate press was invented by C.J. van Houten in 1828, marking the revolution of global chocolate production.
Etymological Facts
14. The word "chocolate" derives from the Nahuatl word 'chocol?tl.' Nahuatl is the language of the Aztecs.
15. The Olmecs' pronunciation of "cocoa" is very similar to the Swahili pronunciation of coffee. The Olmecs called chocolate 'kakawa' while the Swahili call coffee 'kahawa.'
16. Theobroma cacao, the tree where chocolate is produced from, loosely translates to "food of the gods."
Facts about Chocolate Varieties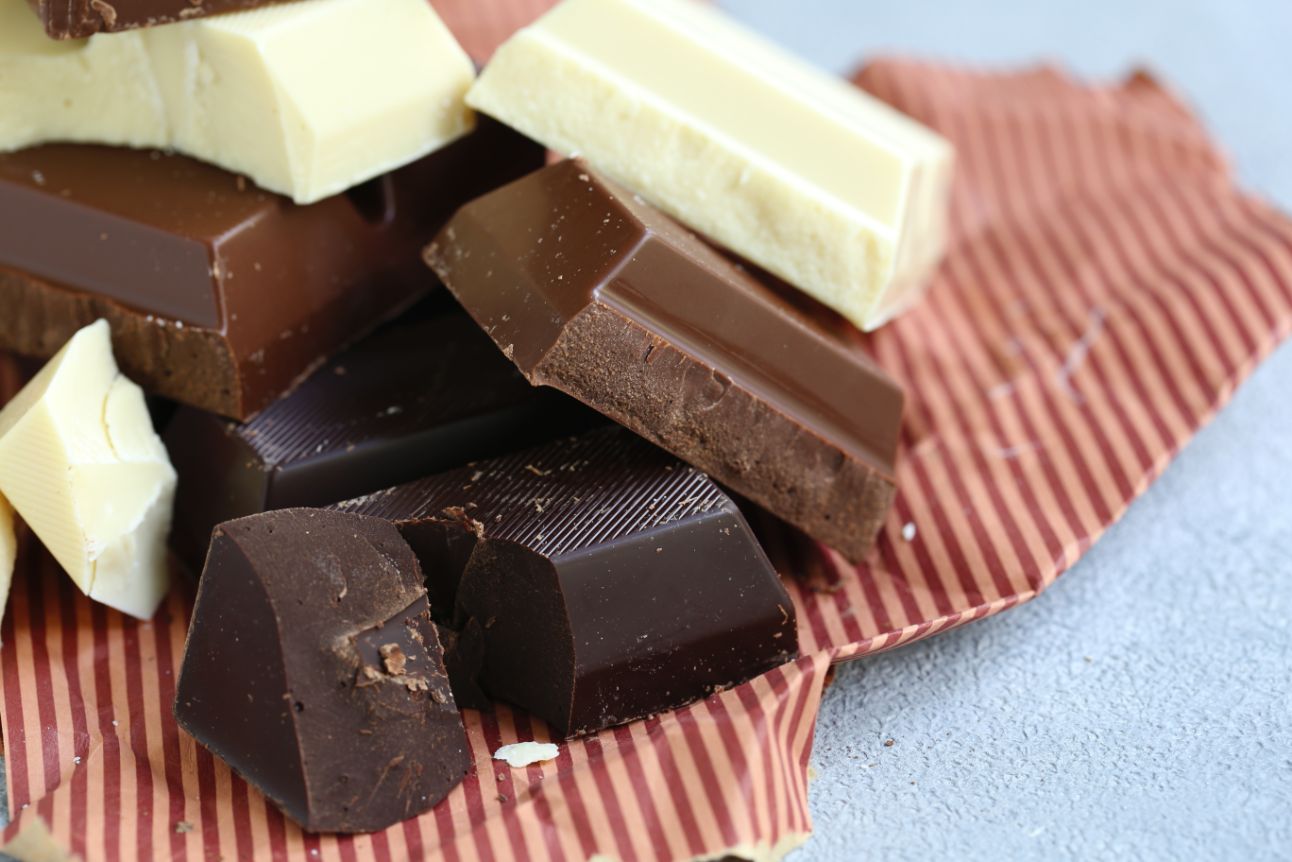 17. Chocolate comes in different forms depending on the cocoa content, the percentage of other ingredients in the product, and its intended application;
18. Raw chocolate – Raw chocolate, as the name implies, refers to unprocessed or unrefined chocolate. The term may also denote chocolate that's not been heated or mixed with other ingredients. Raw chocolate is predominantly available in chocolate-growing countries and is widely touted for its numerous health benefits.
19. Milk chocolate – Milk chocolate is a solid chocolate bar made from milk. The milk could be in the liquid, powdered, or condensed form.
20. White chocolate – White chocolate contains cocoa butter, milk, and sugar but often excludes cocoa solids. And despite the name, white chocolate isn't exactly white but pale ivory.
21. Dark chocolate – Also known as plain chocolate, dark chocolate refers to chocolate products containing a higher percentage of cocoa. Depending on variety, some dark chocolates can contain up to 100% cocoa content and almost no milk.
22. Organic chocolate – Organic chocolates are chocolate products manufactured from organically-raised cocoa beans.
23. Unsweetened chocolate – Unsweetened chocolate simply refers to chocolate that contains no sugars; natural or artificial. They're commonly marketed as healthier than their sweetened counterparts.
24. Compound chocolate – The term "compound chocolate" denotes confections formulated with cocoa and other vegetable fats instead of cocoa butter. Commonly used fats include hydrogenated fats and tropical cats.
25. Baking chocolate – The name gives it all away; baking chocolate is designed primarily for using as a baking ingredient in sweet foods.
26. Modeling chocolate – Modeling chocolate refers to a chocolate paste that's a result of melting chocolate and then combining it with corn syrup, golden syrup, or glucose syrup. This chocolate variety is commonly used to embellish cakes and pastries.
27. Couverture chocolate – Couverture chocolate is a type of premium-quality chocolate made from a higher percentage of cocoa butter. It's commonly used by pastry chefs for coating and garnishing purposes.
28. Ruby chocolate – As the name suggests, Ruby chocolate is made from a special type of cocoa bean called Ruby. This chocolate variety is characterized by its distinct red color and a flavor commonly described as a fine blend between sweet and sour.
Facts about Chocolate Production and Manufacturing
29. Four West African countries account for over 70% of the world's cocoa beans production. They include Ivory Coast, Ghana, Nigeria, and Cameroon.
30. Interestingly, the countries that produce cocoa beans the most also happen to be among the least chocolate consumers. As of 2020, Switzerland held the record for the highest chocolate consumption per capita. Austria, Ireland, Germany, and Norway followed in that order.
31. Over 7 billion chocolate chips are consumed annually.
32. Europeans consume at least 40% of the chocolate produced globally.
33. The average Brit, Swiss, or German eats 24 lbs or 11 kg of chocolate a year. That's according to the International Cocoa Organization.
34. British chocolate company J. S. Fry & Sons invented the first chocolate bar in 1847.
35. The Baker Chocolate Company was the first chocolate producer in the United States.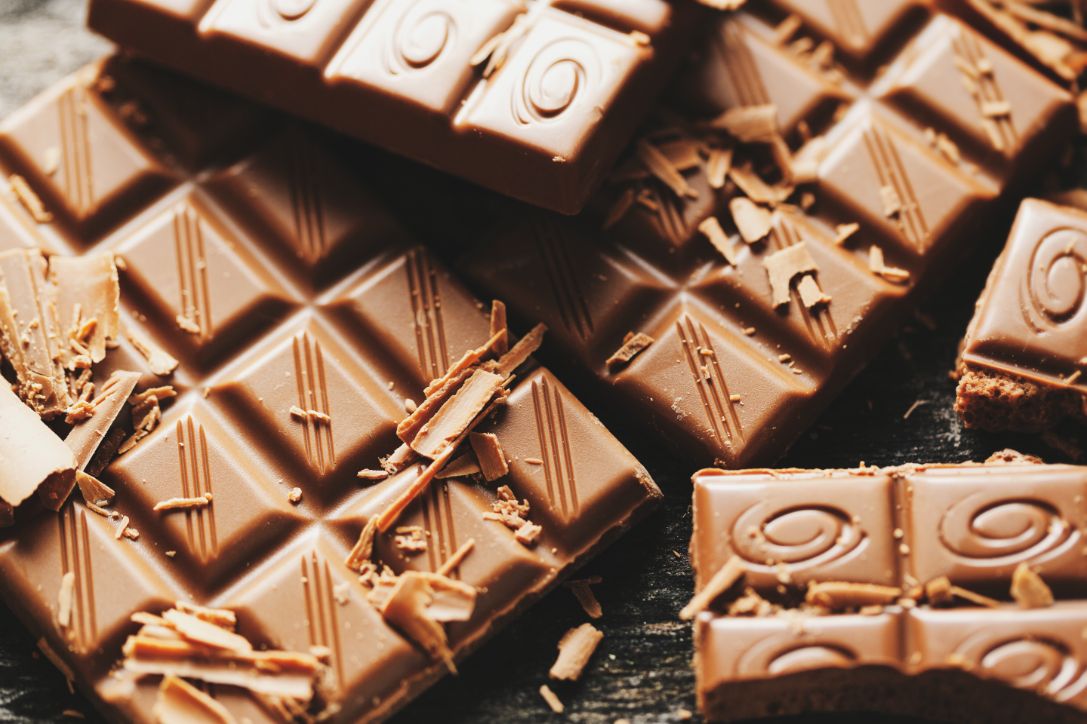 36. Mars Wrigley Confectionery, commonly known as Mars, is the largest chocolate manufacturer in the world by production volume.
37. Hershey's is the most popular chocolate-only producing brand in the United States.
38. Cadbury is the most popular chocolate brand in the United Kingdom.
39. The first milk chocolate was developed by Saxon chocolate company Jordan & Timaeus in 1839 using donkey milk.
40. Belgium is the world's biggest exporter of chocolate. Other top exporters include Germany, Italy, Poland, Switzerland, and the United States.
41. It takes around 400 cocoa beans to make one pound of chocolate.
42. A mature cacao tree yields about 2,500 beans every season. So, for each season, a cacao tree produces beans capable of making only about 6 pounds of chocolate.
43. More interestingly, the cacao tree takes between 4 and 5 years to achieve full maturity. That's an agonizingly long period to wait for a chocolate-loving cacao farmer.
44. Cacao trees have a life expectancy of up to 200 years. However, these trees only produce viable cacao beans for about 25 years of their life.
45. There are two different types of cacao trees. Forastero beans provide the raw materials for most chocolate while Crillo beans provide the tastiest chocolates.
Health and Medical Facts
46. Smelling chocolate can trigger relaxation. That's according to a piece of research by Middlesex University's psychologist Neil Martin.
47. Chocolate is also associated with feelings of happiness, thanks to its ability to stimulate the release of 'feel-good' chemicals known as endorphins.
48. Chocolate can relieve both physical and mental fatigue. That's due to the presence of its primary chemicals – theobromine and caffeine.
49. Chocolate may also induce euphoria as it contains the chemical phenylethylamine known to contain psychoactive properties.
50. Since phenylethylamine is also linked to positive emotional responses, many psychologists believe that consuming chocolate might help improve the relationship between sexual and romantic partners.
51. Chocolate is loaded with antioxidants like catechin, epicatechin, and procyanidins, which can guard against various chronic illnesses.
52. While sweetened chocolate may cause or aggravate tooth decay, pure chocolate can help prevent the condition. Cocoa contains various naturally occurring compounds known to fight the harmful bacteria in the mouth that cause tooth decay.
53. The darker the chocolate, the more therapeutic it is.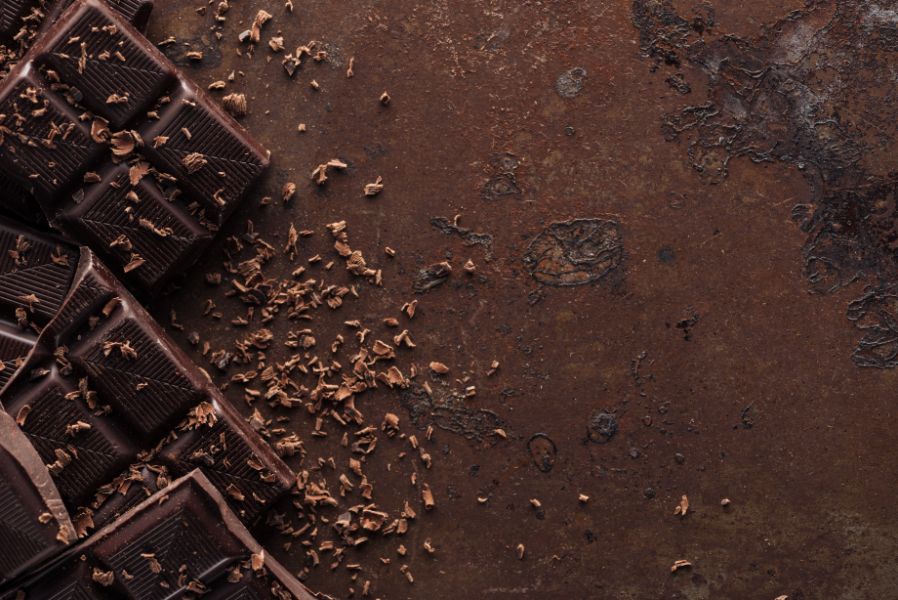 54. Although incredibly nutritious and therapeutic for humans, chocolate is highly toxic for cats and dogs as they're unable to digest theobromine.
55. Xylitol is a common chocolate sweetener that's just as toxic for pets as theobromine.
56. Chocolate could also prove harmful for humans if consumed frequently and in excess. Diabetes, hypertension, and coronary heart disease are just but a few of the medical conditions associated with excess chocolate consumption.
Facts about Chocolate Shapes and Sizes
57. Milk chocolate is the most popular of the many chocolate varieties.
58. Chocolate comes in multiple shapes. The most common ones include bars, blocks, pistoles, chips, chunks, and fèves.
59. The first heart-shaped chocolate box was designed in 1861 for Valentine's Day by Richard Cadbury, the son of Cadbury brand founder John Cadbury.
60. Standard chocolate bars weigh 1.45 oz. However, you can find bars as heavy as 6.8 oz.
61. The largest chocolate bar ever produced measured 4m by 4m by 0.35m and weighed 12,770.3 lbs (5,792.50 kg). It was made as a stunt by Thorntons plc (UK).
62. The largest chocolate sculpture ever made was a 10-foot high Easter egg. It weighed in at 4,484 lbs (2,034 kg) and was made in Melbourne, Australia.
Facts about Chocolate and Famous People
63. Napoleon Bonaparte was a renowned chocolate lover. He ate chocolate primarily for its energy-stimulating effects.
64. A 17th century Spanish Bishop in Mexico who spoke out against eating chocolate during church services was killed by chocolate poisoning.
Chocolate in Literary and Cinematic World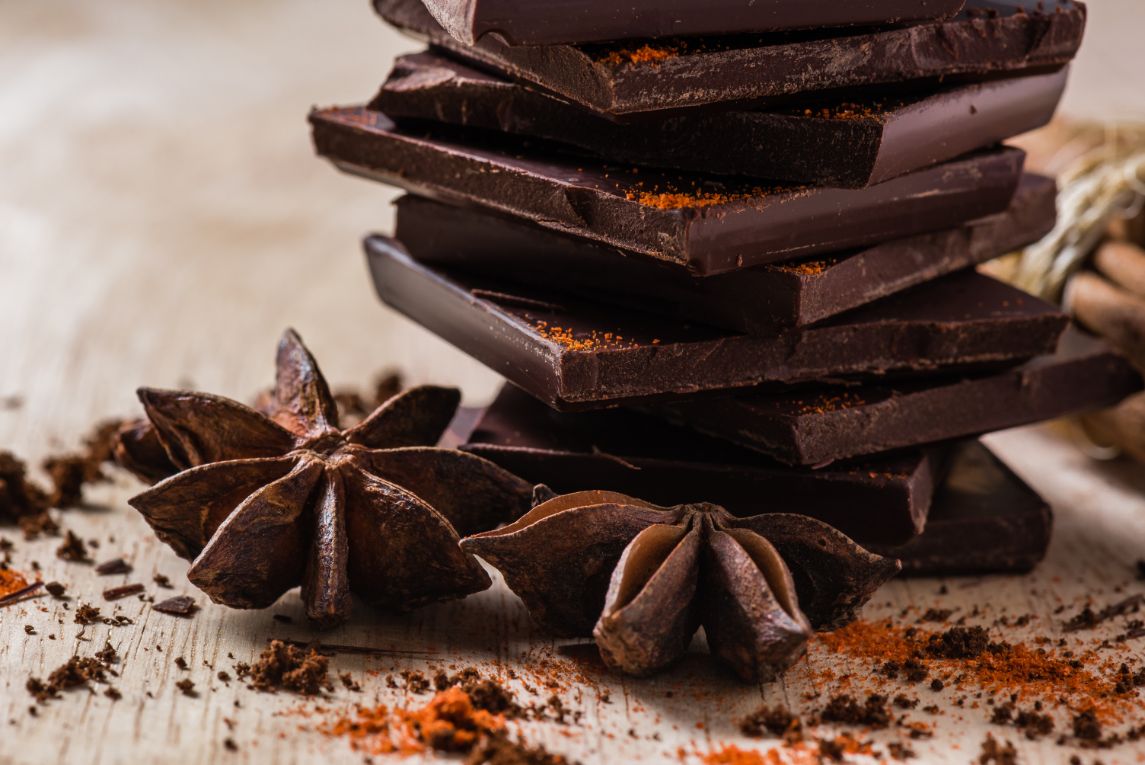 65. The 1964 children's novel 'Charlie and the Chocolate Factory' is one of the most famous chocolate-themed novels.
66. Willy Wonka & the Chocolate Factory (1971) and Charlie and the Chocolate Factory (2005) are the two most famous chocolate-themed movies.
67. In the original Psycho film, the blood in the shower scene was actually created using chocolate syrup.
Other Fun Chocolate Facts
68. Chocolate craving is more common in women than men, with more than twice as many women than men craving the sweet treat.
69. Chocolate is the only edible product that melts around 93° F, just below normal body temperature. That explains why the substance tends to melt easily on your tongue.
70. In 2007, a thief made away with $28 million worth of gems at an Antwerp Bank after gaining the guard's trust by repeatedly offering them chocolate.
71. To'ak Chocolate is made from Ecuadorian Nacional cacao beans, one of the world's rarest cacao beans. That uniqueness makes chocolates by this brand some of the most expensive on the planet.
72. September 13th is International Chocolate Day while November 7th is National Bittersweet Chocolate with Almonds Day.
73. July 7th is National Chocolate Day in the UK.
74. The U.S Army commissioned the D Ration Bar, a chocolate ration supplied to soldiers during World War II.
75. 1 in every 200 workers in Belgium work in the chocolate industry.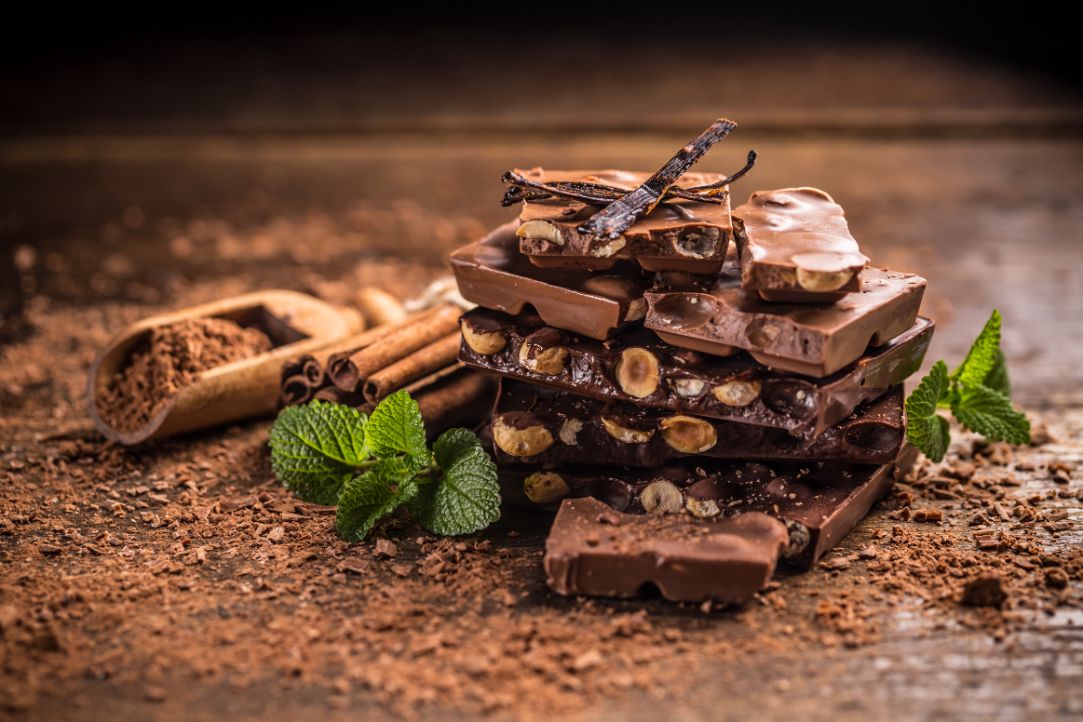 Summary
There's nothing wrong with treating yourself to a chocolate bar from time to time. Just remember to consume the candy in moderation and only as an occasional treat.
Too much chocolate in your system could prove more harmful than useful to your health in the long run.