Last Updated on March 8, 2022
No doubt Christmas is one of the most celebrated holidays to grace the world. Regardless of where you are, what you do, or how you manage in life, there is always the rush of the holiday spirit that makes you feel that the birth of Jesus Christ draws near.
The season will truly ring a bell once you see the world around you change into the familiar sights that mark the start of the holiday season.
Christmas Reflections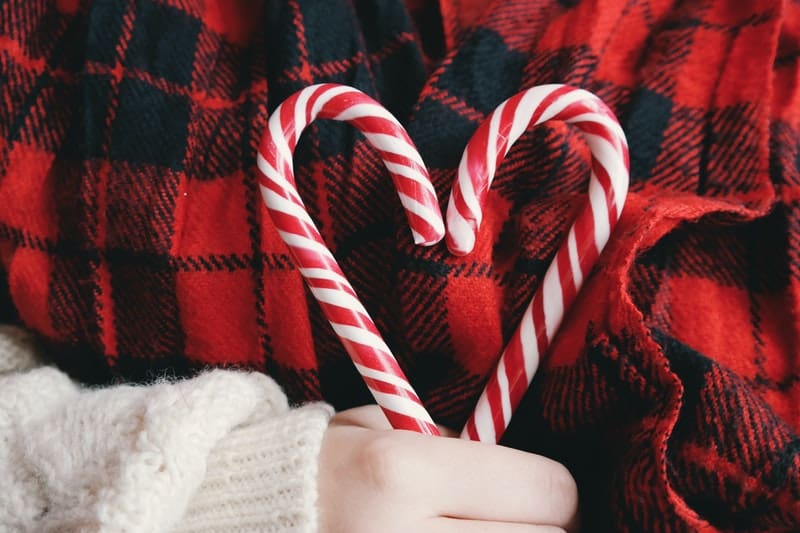 Colors of red and greed against a backdrop of snow show up in a neighbor's house. That shop from a few blocks away brings out the time-revered images of Santa Claus and Christmas stars on display. The other side of your neighborhood sets up a Christmas tree adorned with glittering balls and shiny strings. You also hear a nearby group practicing their carols in anticipation.
Pulling out your bag, you remember that Christmas list of what you're supposed to decorate your own home with, and those promised gifts you are going to be handing out to friends and family who will pay your place a visit in a few months or so.
Soon, you'd be busy doing your shopping like many other people readying for the holiday rush. This will be quite the season to be jolly – even after being tired and beat going from one place or another to complete your list.
Although we celebrate Christmas in different ways, we should bear in mind that this is the season we pay our respects to the Savior born in a manger a long time ago.
Here is a collection of quotes from people, works of fiction, and other sources all throughout time and space, all in the name of keeping in mind what matters as we go through celebrating this holiday season:
Merry Christmas Quotes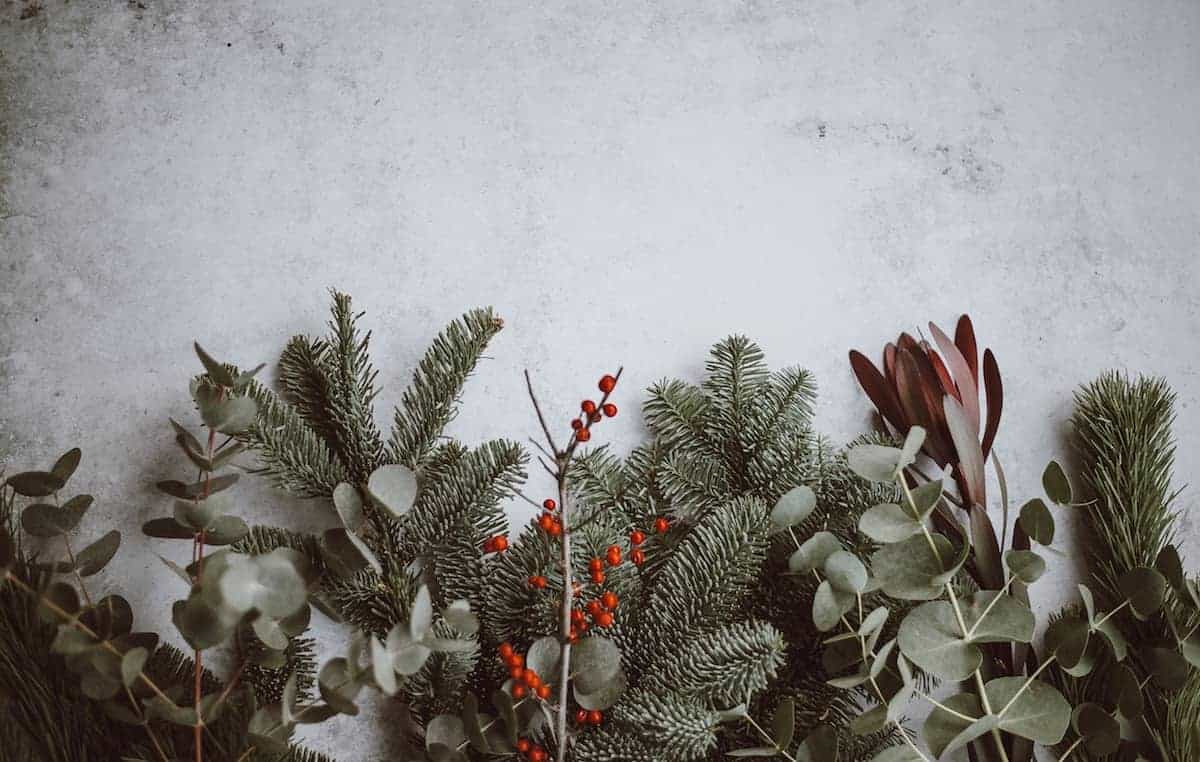 "Let us keep Christmas beautiful without a thought of greed." – Ann Garnett Schultz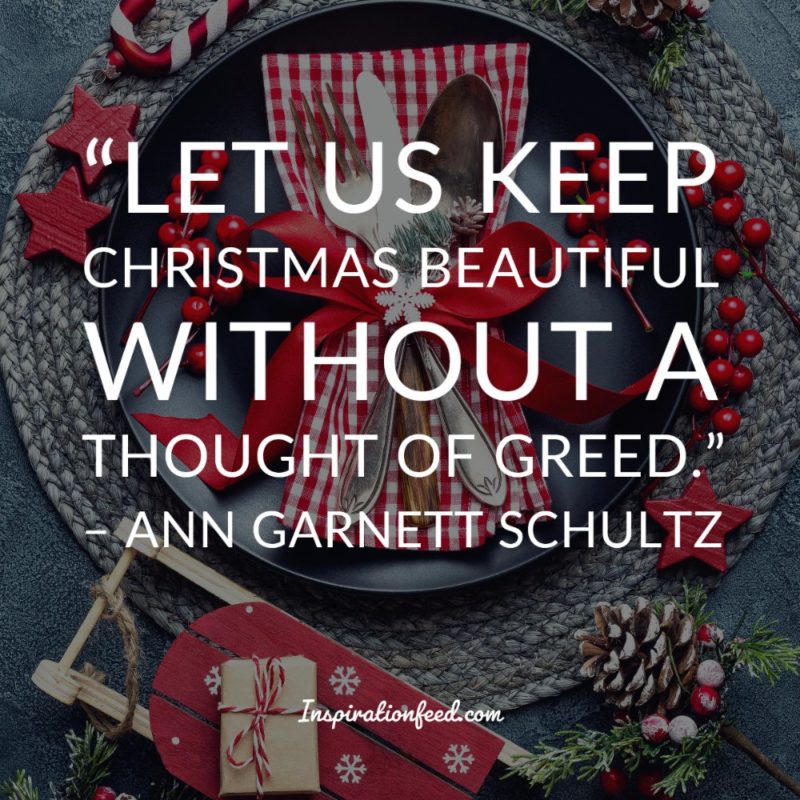 "Christmas will always be as long as we stand heart to heart and hand in hand." – Dr. Seuss
"Christmas isn't just a day, it's a frame of mind." – Valentine Davies, 'Miracle on 34th Street'
"Christmas is a season not only of rejoicing but of reflection." – Winston Churchill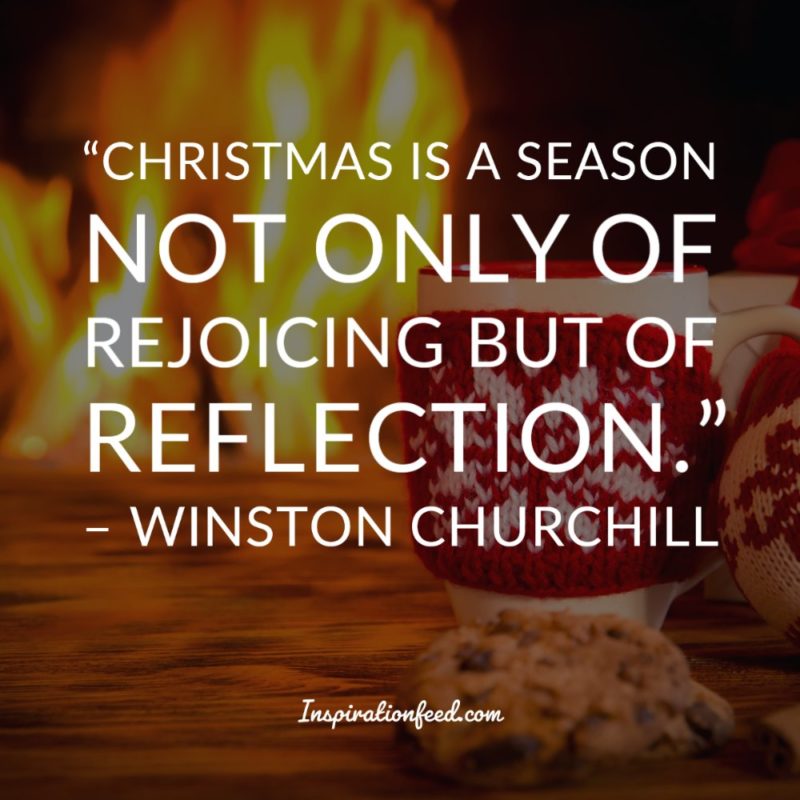 "The best way to spread Christmas cheer is singing loud for all to hear." – Will Ferrell, 'Elf'
"Christmas now surrounds us, Happiness is everywhere. Our hands are busy with many tasks as carols fill the air." – Shirley Sallay
"Peace on earth will come to stay, when we live Christmas every day." – Helen Steiner Rice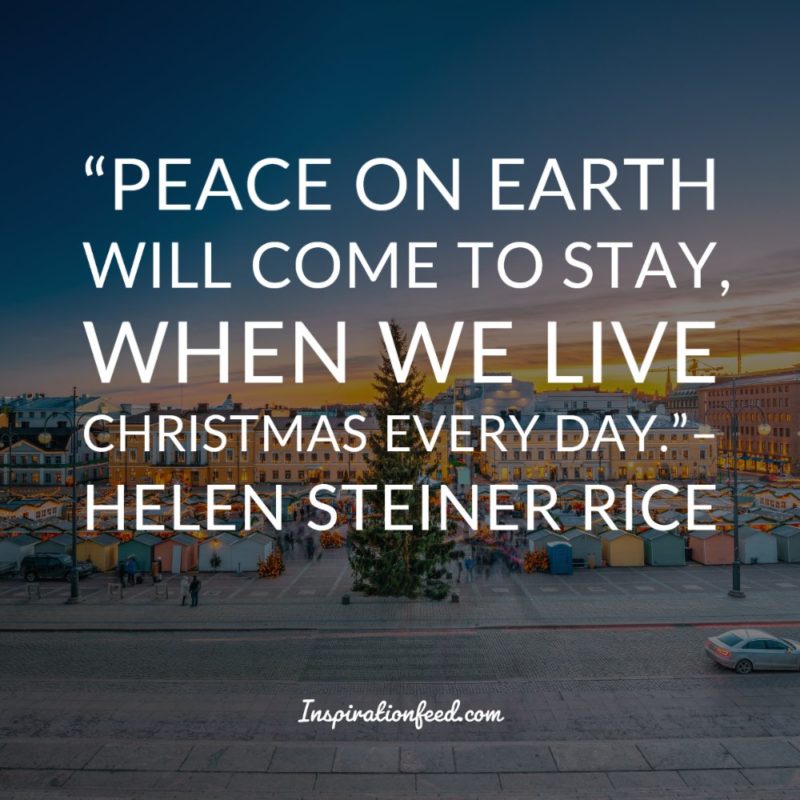 "Just remember, the true spirit of Christmas lies in your heart." – 'The Polar Express' (Movie)
"Teacher says every time a bell rings, an angel gets his wings." – Zuzu Bailey
"Christmas is not as much about opening our presents as opening our hearts." – Janice Maeditere
"Christmas is like candy; it slowly melts in your mouth sweetening every taste bud, making you wish it could last forever." – Richelle E. Goodrich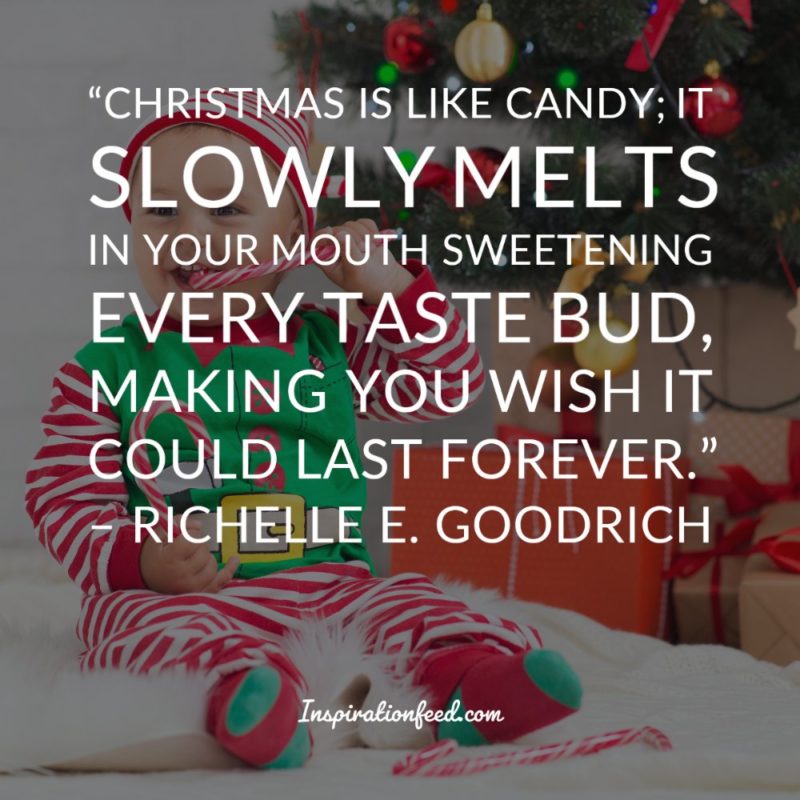 "Christmas is forever, not for just one day. For loving, sharing, giving, are not to put away." – Norman Wesley Brooks
"The Christmas spirit is a spirit of giving and forgiving." – James Cash Penney
"Unless we make Christmas an occasion to share our blessings, all the snow in Alaska won't make it white." – Bing Crosby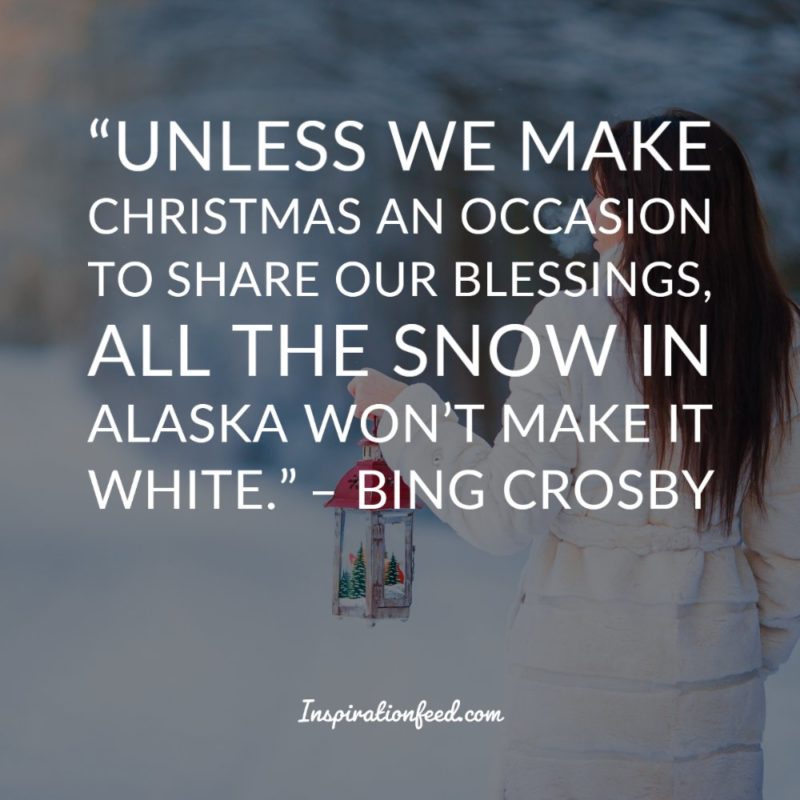 "The world has grown weary through the years, but at Christmas, it is young." – Phillips Brooks
"Christmas is a piece of one's home that one carries in one's heart." – Freya Stark
"Remember this December, that love weighs more than gold." – Josephine Daskam Bacon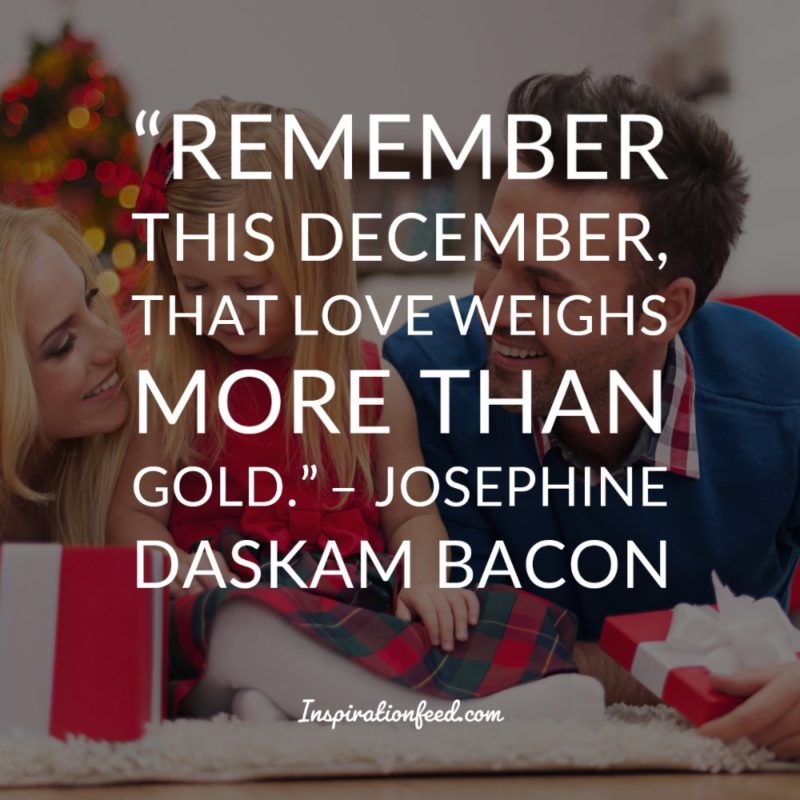 "Christmas doesn't come from a store. Maybe Christmas perhaps means a little bit more." – Dr. Seuss
"Christmas is the season of joy, of gift-giving, and of families united." – Norman Vincent Peale
"Peace on earth will come to stay when we live Christmas every day." – Helen Steiner Rice
"He who has not Christmas in his heart will never find it under a tree." – Roy L. Smith
"Like snowflakes, my Christmas memories gather and dance—each beautiful, unique, and gone too soon." – Deborah Whipp
"What is Christmas? It is the tenderness of the past, courage for the present, and hope for the future." – Agnes M. Pahro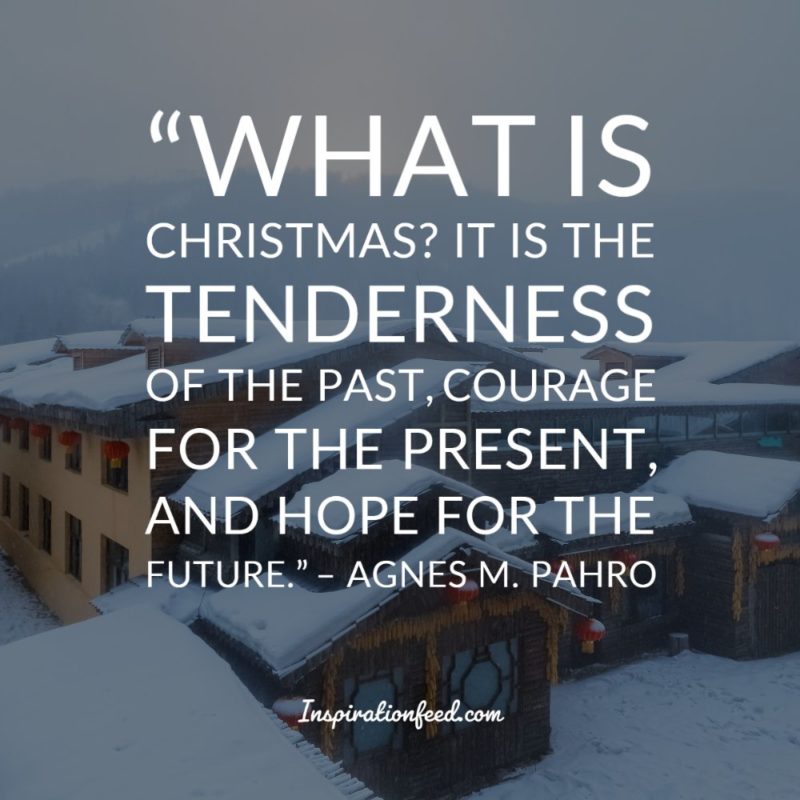 "Gifts of time and love are surely the basic ingredients of a truly merry Christmas." – Peg Bracken
"One of the most glorious messes in the world is the mess created in the living room on Christmas Day." – Andy Rooney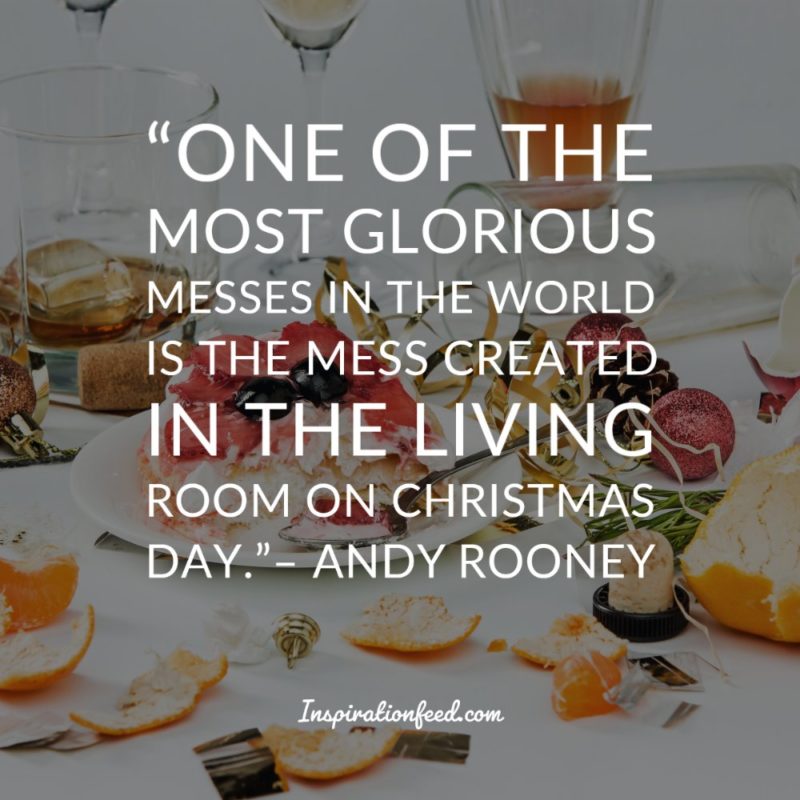 "Love the giver more than the gift." – Brigham Young
"Christmas is the day that holds all time together." – Alexander Smith
"The best of all gifts around any Christmas tree: the presence of a happy family all wrapped up in each other." – Burton Hills
"Christmas is not a time nor a season, but a state of mind." – Calvin Coolidge
"When we recall Christmas past, we usually find that the simplest things—not the great occasions—give off the greatest glow of happiness." – Bob Hope
"Christmas may be a day of feasting, or of prayer, but always it will be a day of remembrance—a day in which we think of everything we have ever loved." – Augusta E. Randel
"I don't think Christmas is necessarily about things. It's about being good to one another." – Carrie Fisher
"Christmas isn't a season. It's a feeling." – Edna Ferber
"I will honor Christmas in my heart, and try to keep it all the year." – Charles Dickens
"Christmas is doing a little something extra for someone." – Charles M. Schulz
"I wish we could put some of the Christmas spirit in jars and open a jar of it every month." – Harlan Miller
"There has to be at least one day of the year to remind us that we're here for something else besides ourselves." – Eric Sevareid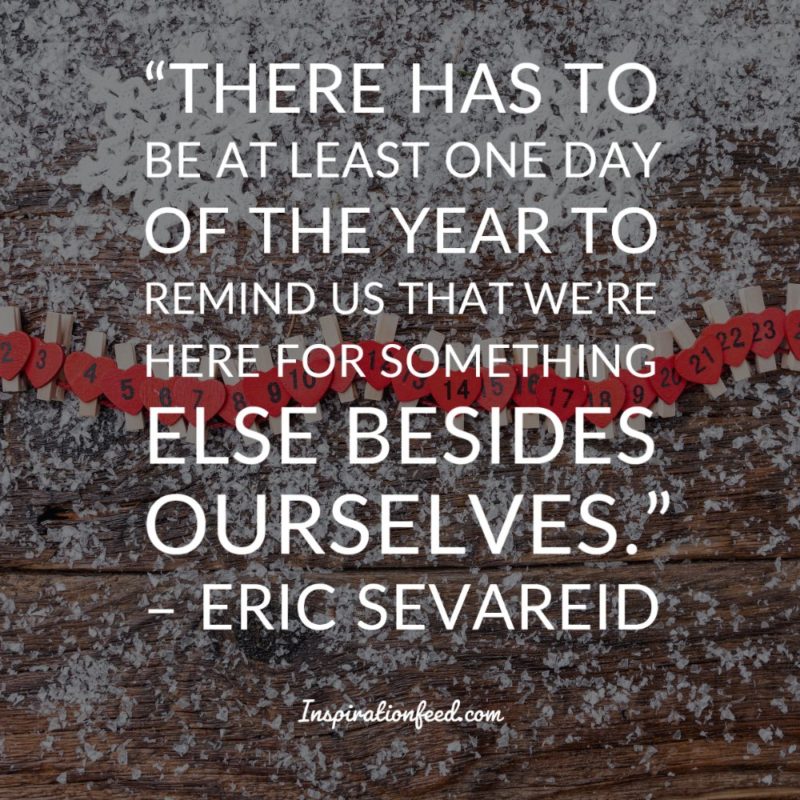 "My idea of Christmas, whether old-fashioned or modern, is very simple: loving others." – Bob Hope
"The joy of brightening other lives becomes for us the magic of the holidays." – W.C. Jones
"Christmas waves a magic wand over this world, and behold, everything is softer and more beautiful." – Norman Vincent Peale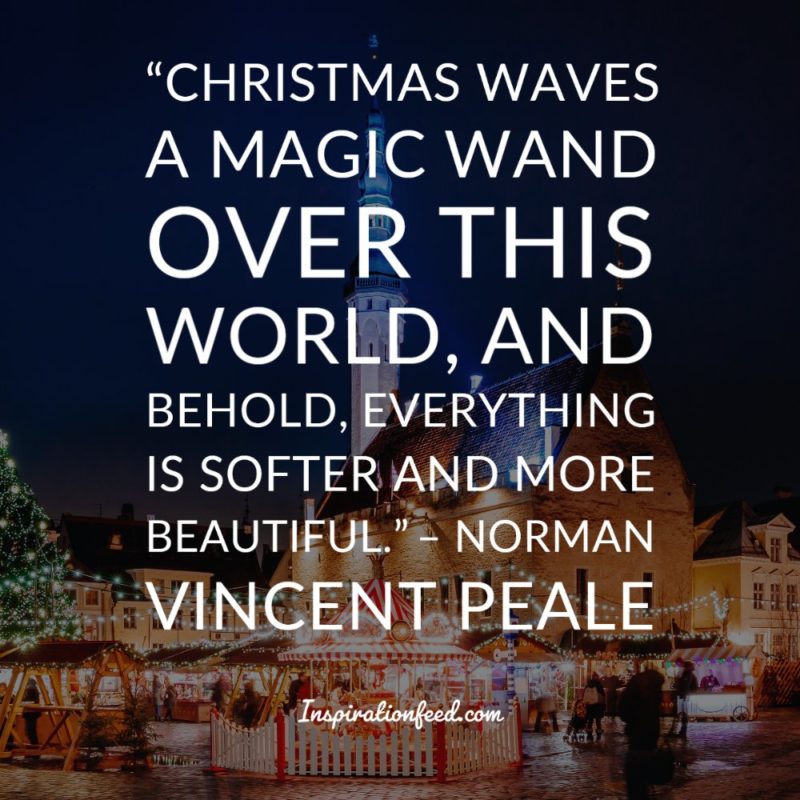 "Christmas, my child, is love in action. Every time we love, every time we give, it's Christmas." – Dale Evans Rogers
"Blessed is the season which engages the whole world in a conspiracy of love." – Hamilton Wright Mabie
"Christmas is a day of meaning and traditions, a special day spent in the warm circle of family and friends." – Margaret Thatcher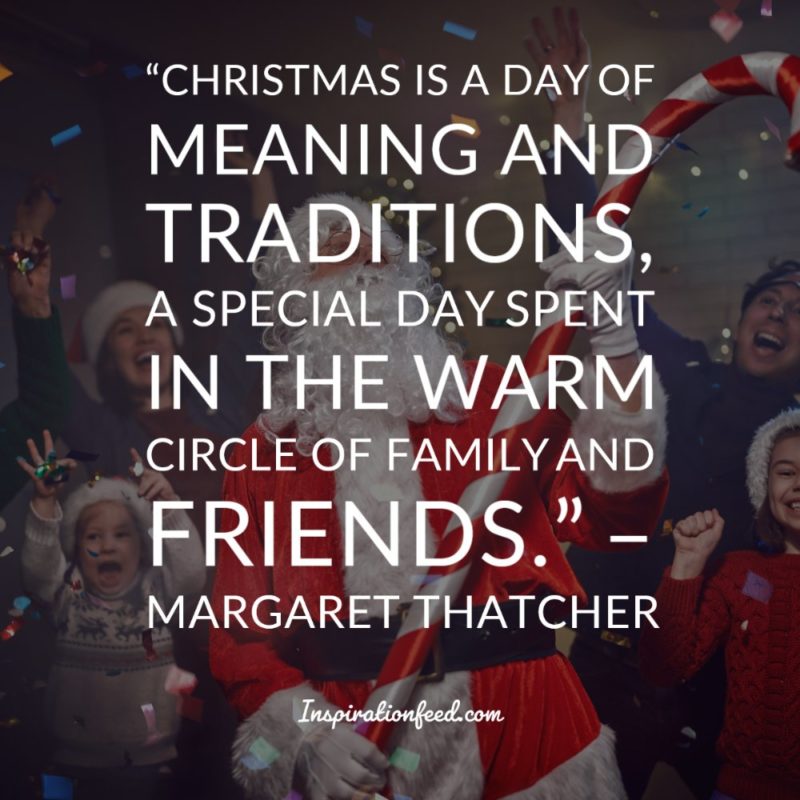 "It is Christmas in the heart that puts Christmas in the air." – W.T. Ellis
"At Christmas, play and make good cheer, for Christmas comes but once a year." – Thomas Tusser
"And we are better throughout the year for having in spirit, become a child again at Christmas time." – Laura Ingalls Wilder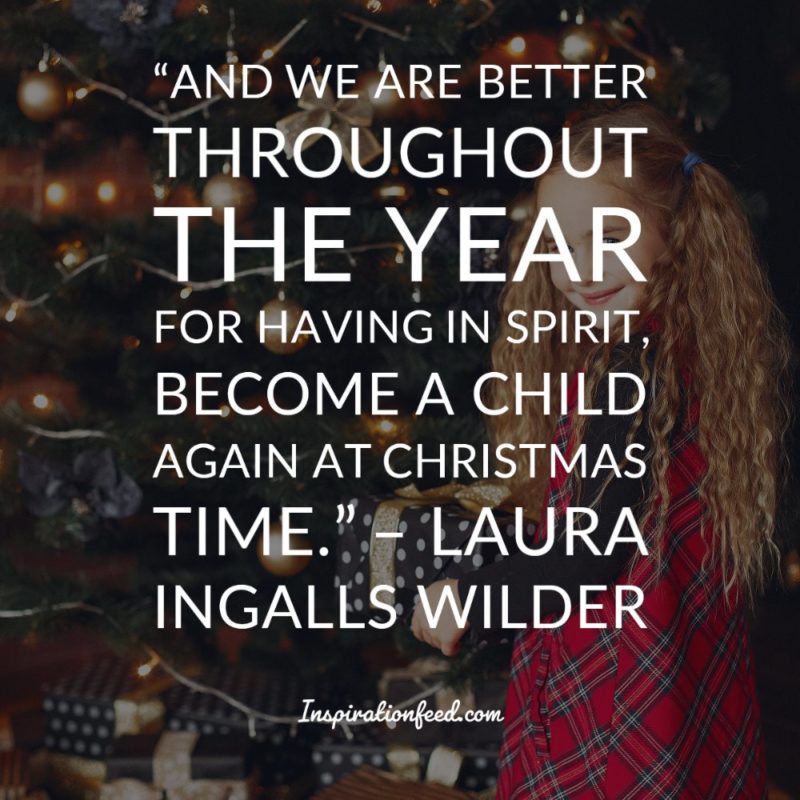 "Every gift which is given, even though it be small, is in reality great, if it is given with affection." – Pindar
"Christmas is a season for kindling the fire for hospitality in the hall, the genial flame of charity in the heart." – Washington Irving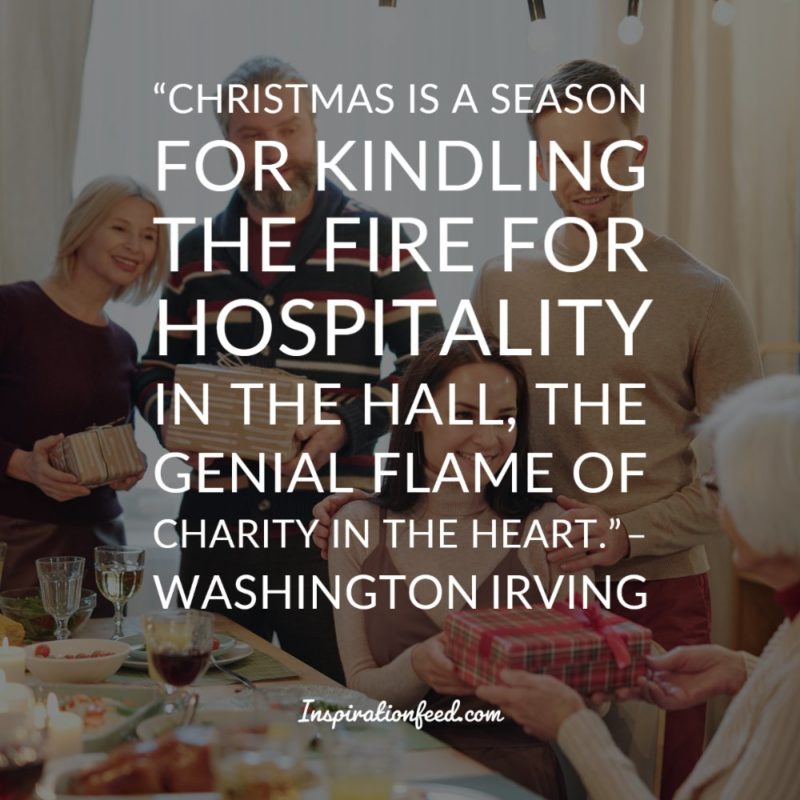 "At Christmas, all roads lead home." – Marjorie Holmes
"Christmas means fellowship, feasting, giving and receiving, a time of good cheer, home." – W.J. Tucker