Last Updated on January 24, 2023
It was in the year 1949 that the greatest contrarian was born. Throughout his life, Christopher Hitchens would be known, admired and respected for his powerful wit and his fearless polemicist views against his contenders, arguably making him an incomparable critic.
Eric and Yvonne Hitchens named him Christopher Eric Hitchens when he was born on the 13th of April in Portsmouth, England. Christopher's parents met during their time as officers in the British Royal Navy.
Because of work, their family of three always found themselves moving constantly. Despite foreseeing a financial strain, his mother Yvonne enforced that he go to boarding school so he could get closer to his school peers, who belonged in the upper class.
In his 1997 interview with The Progressive, Hitchen defined his 7-year old self as a boy who was precocious enough to watch the news and read the papers. He started attending school at the age of 8 in Mount House School in Tavistock, Devonshire and then went to Leys School, Cambridge.
It was in Balliol College, Oxford where he began his long lunches and late-night discussions as he poured his thoughts into his fields of interest: philosophy, politics, and economics.
The Writer and Speaker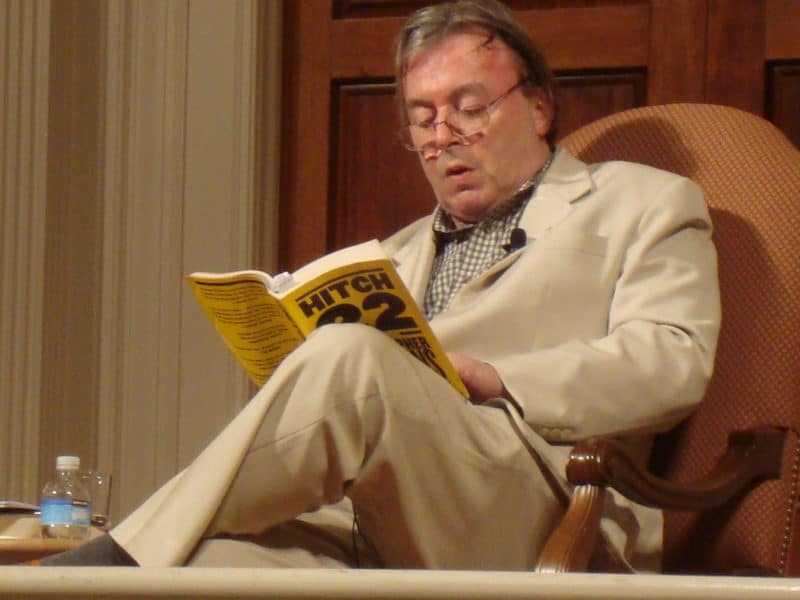 He began his journalistic career as a correspondent for International Socialism while in Oxford. After graduating from Oxford, he continued his career as a correspondent by specializing in social sciences at The Times Higher Education Supplement, and later joined ITV's Weekend World as a researcher. At 21, he left for the United States and made a fearless career not just in writing, but in television as well.
His writing career was built through his contributions to the New Statesman, The Daily Express, and The Evening Standard. His life as a writer was marked with clever paragraphs and with admirable passion and seriousness. Even in his illness, he still writes faster than most people talk, and holds timeless paragraphs.
Armed with his encyclopedic knowledge and quick wit, Hitchens was sought by different radio and television programs. He was known to possess fearless views on relevant international figures and important events of his time such as Bill Clinton, the Royal Family, the Iraq War and Mother Teresa. It was him who dubbed Bill Clinton "a habitual and professional liar" and Mother Teresa, "a friend to poverty and not the poor." It is notable to include that he wrote for the New York Review of Books and Atlantic Monthly.
He was a prolific writer, penning 12 books and was awarded the National Magazine Award for his brilliant columns, essays, and his self-written memoir entitled Hitch 22.
The Traveler and His Vices
Hitchens travelled widely as a young man, mostly at his own expense. He travelled in the most surprising countries during his time, sometimes at the risk of arrest or physical attack, as he visited Czechoslovakia and Argentina during their anti-totalitarian struggles and Iran at the time when Saddam Hussein was being hunted by the United States government.
He was an enthusiastic smoker, and thrived in whiskey throughout his life. In June 2010, he was diagnosed with Stage 4 esophageal cancer. He was greatly remembered for his preference to see himself as living with cancer, not dying from it.
The Antitheist
You would expect that such a person raised in a Christian home and educated in a Christian boarding school will be profound in Christian faith. But it was said that even at an early age, he declined participating in communal worship. He dubbed himself as an antitheist, a word relating to someone who has no notion of a god.
He wrote vigorous opinions against religions in newspapers and magazine interviews. Hitchens was onstage in Toronto debating against the Catholic convert Tony Blair before an audience of approximately 3,000 people. He compared Christianity's Almighty as a "divine North Korea," someone who has arbitrary rules and hatred of freedom.
In 2007, Hitchens authored God Is Not Great: How Religion Poisons Everything. The book campaigned against religious beliefs and people who are famous for their faith. This was the book that gave him The Freethinker of the Year Award from the Atheist Alliance of America.
At the time that his illness began to take a toll on his body, he politely refused anyone who offered prayers for him.
The Relationships
Hitchens wanted to be called Christopher throughout his life, as was his mother's wishes. He adored his mother, and grieved over her death – a suicide. He described it as a "howling, lacerating moment in [his] life."
Hitchens' first marriage was with a Greek woman named Eleni Meleagrou who bore him two children, Alexander and Sophia. In 1991, he was remarried to another woman, Carol Blue, an American screenwriter. He described her as his love at first sight. Hitchens and Blue had a daughter named Antonia. Hitchens was known to have great friendships with important people like Ian McEwan and Noam Chomsky.
In 2011, Hitchens died in his struggle with esophagus cancer at the University of Texas MD Anderson Cancer Center, Houston. He was 62.
To remember him, here are 25 of the best Christopher Hitchens quotes.
25 Timeless Quotes from Christopher Hitchens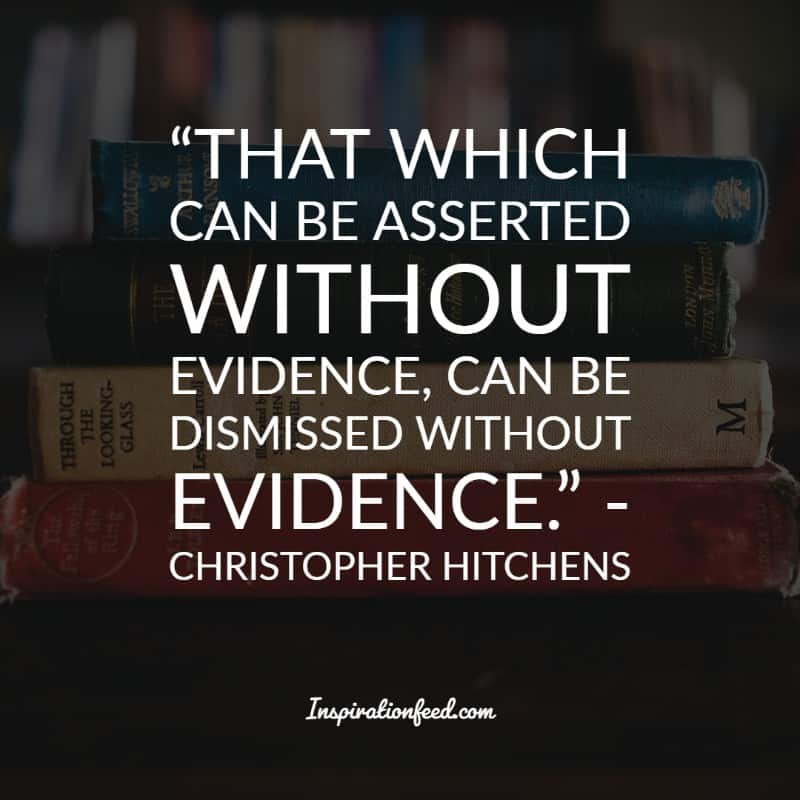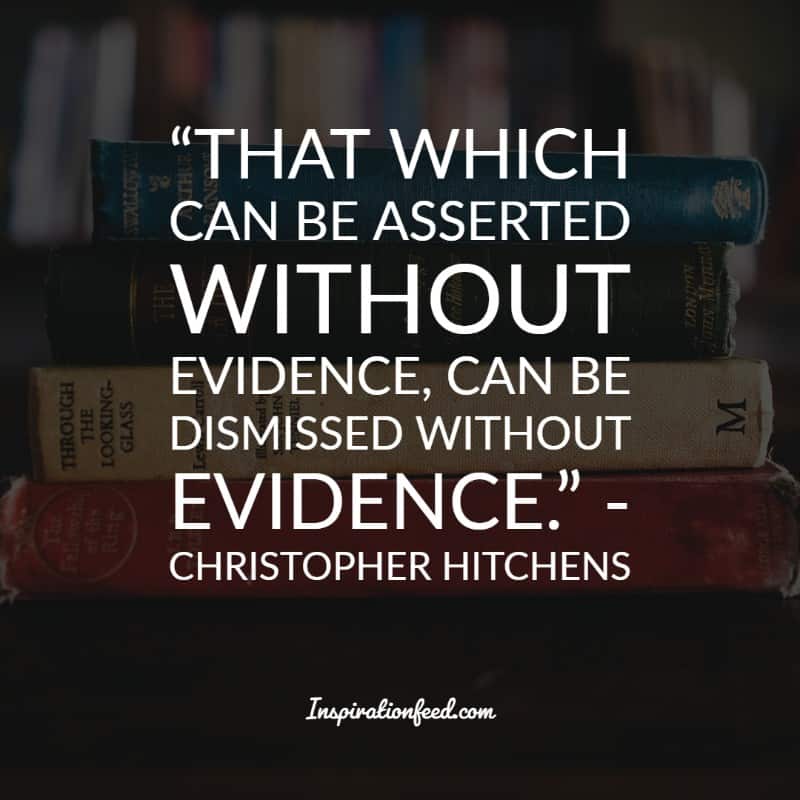 "That which can be asserted without evidence, can be dismissed without evidence." – Christopher Hitchens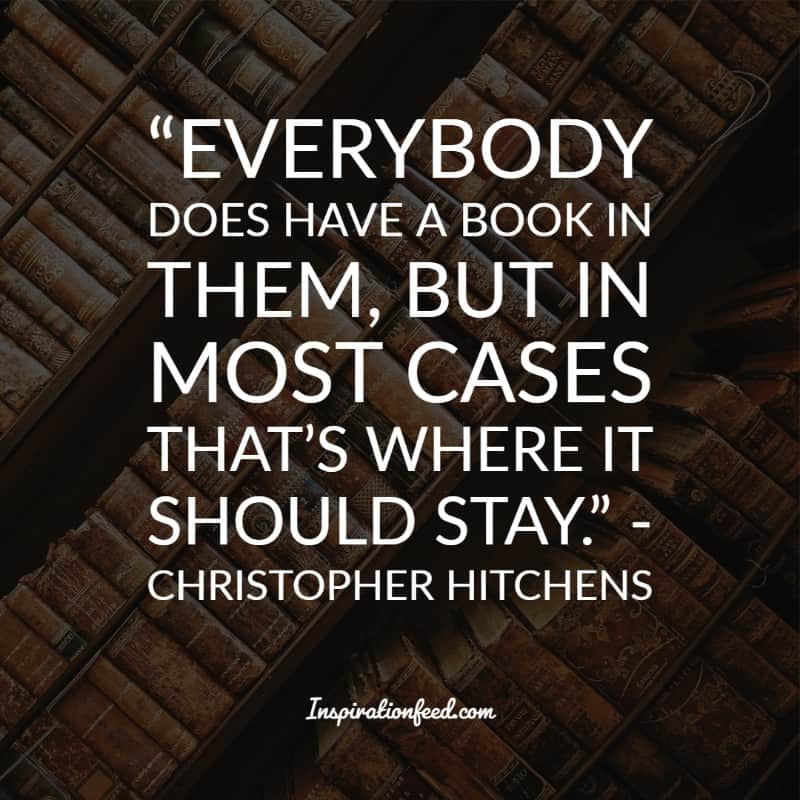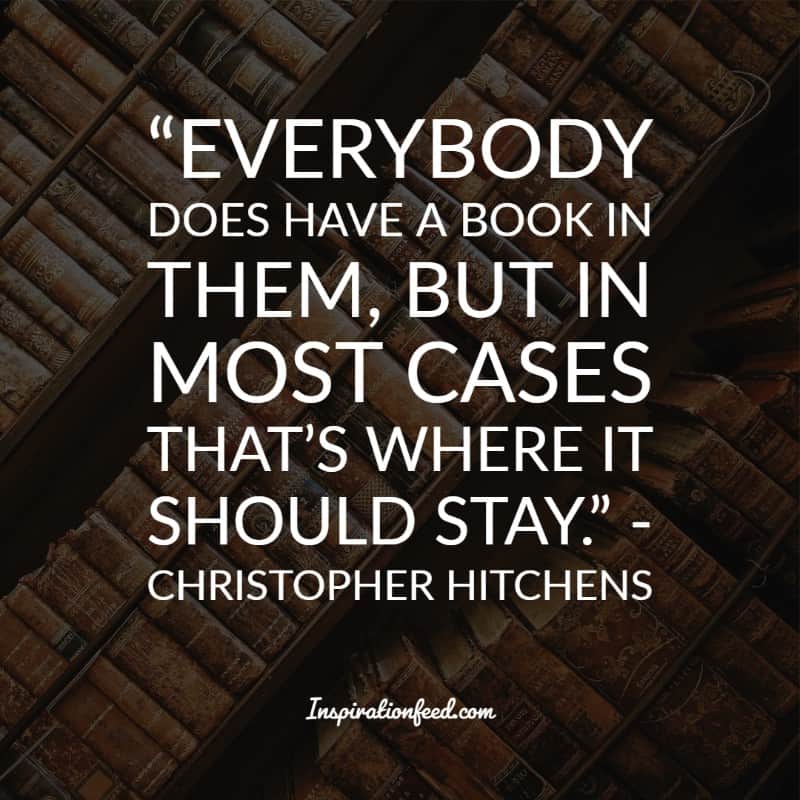 "Everybody does have a book in them, but in most cases that's where it should stay." – Christopher Hitchens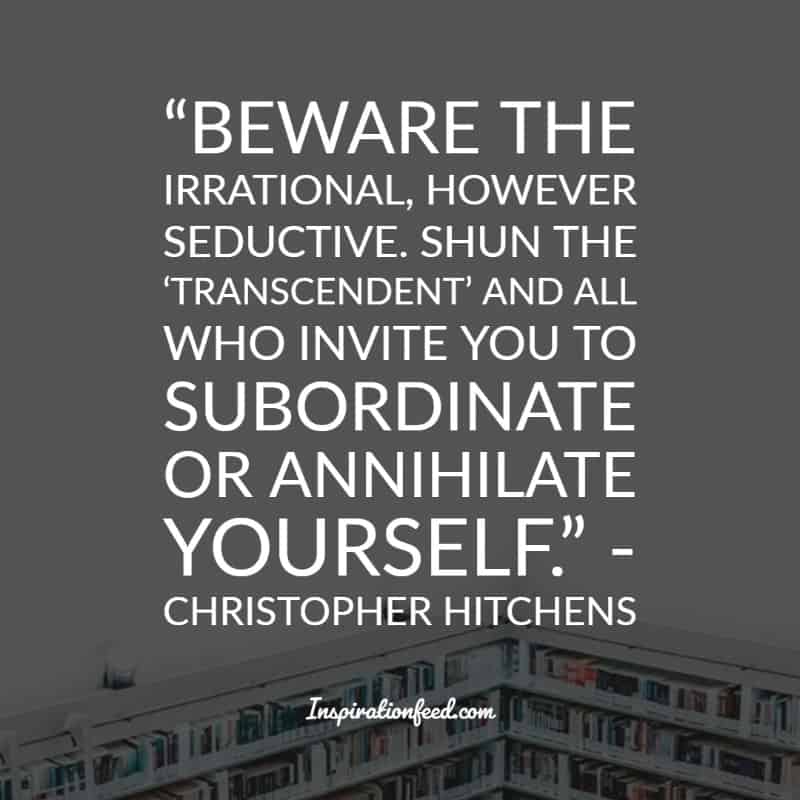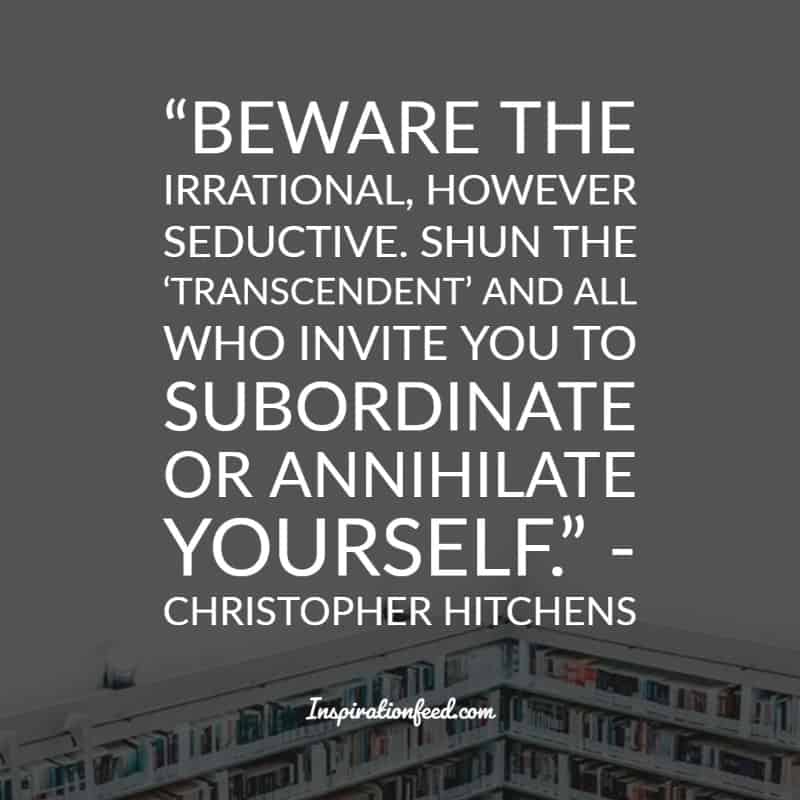 "Beware the irrational, however seductive. Shun the 'transcendent' and all who invite you to subordinate or annihilate yourself." – Christopher Hitchens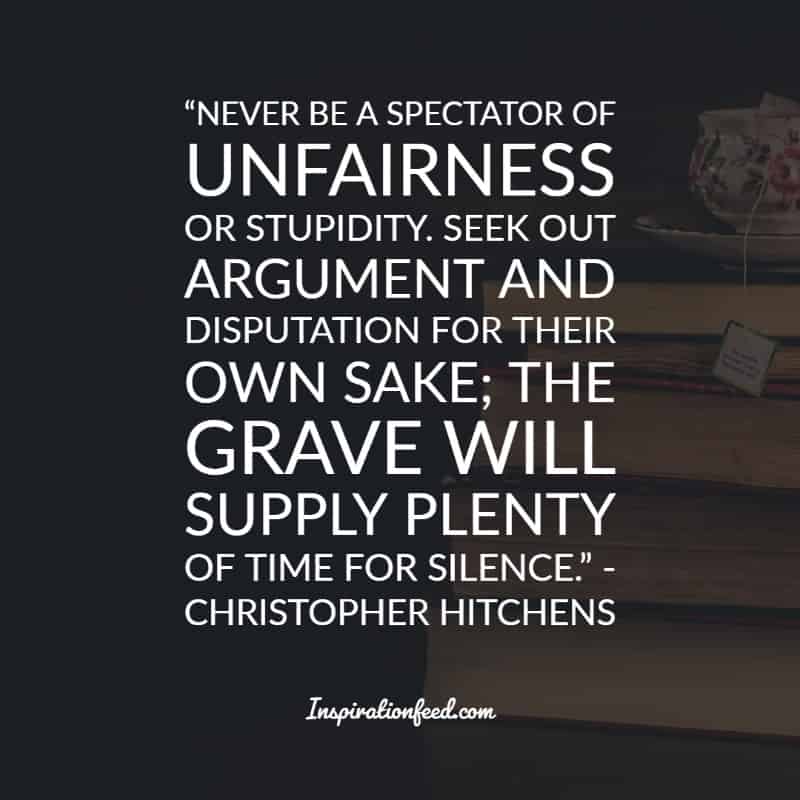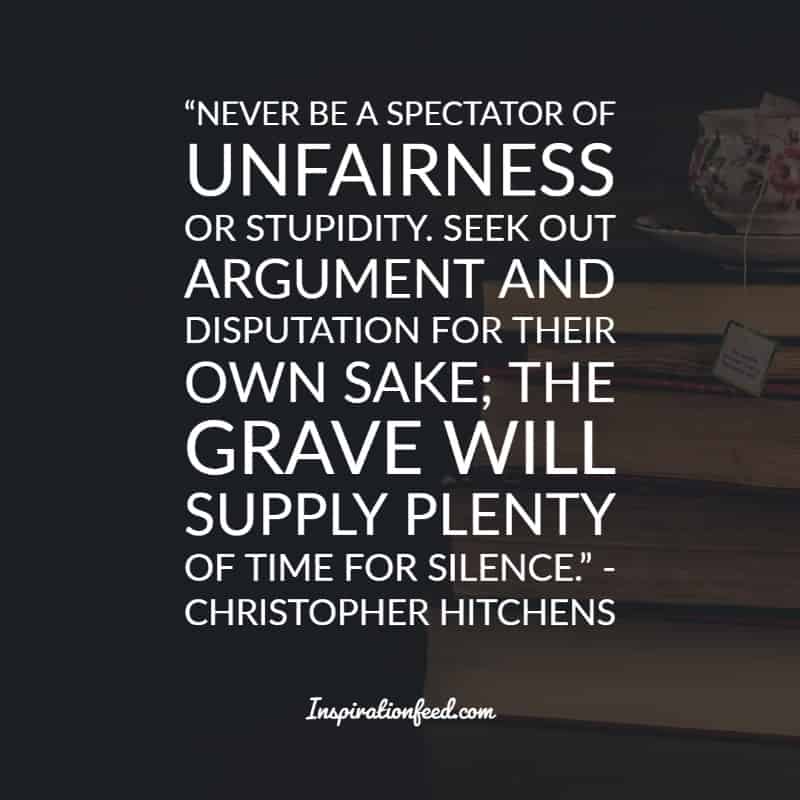 "Never be a spectator of unfairness or stupidity. Seek out argument and disputation for their own sake; the grave will supply plenty of time for silence." – Christopher Hitchens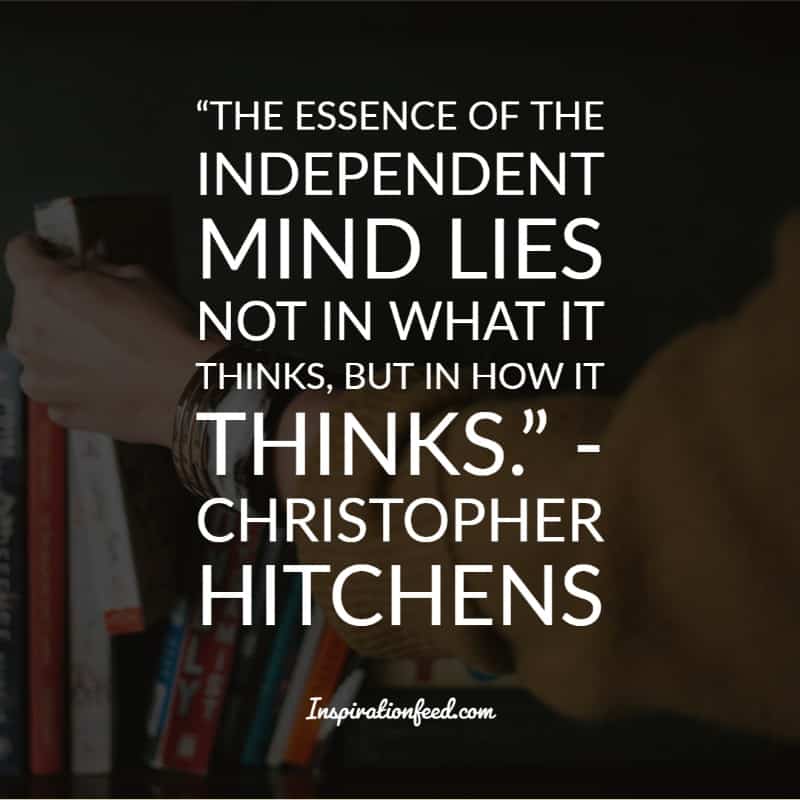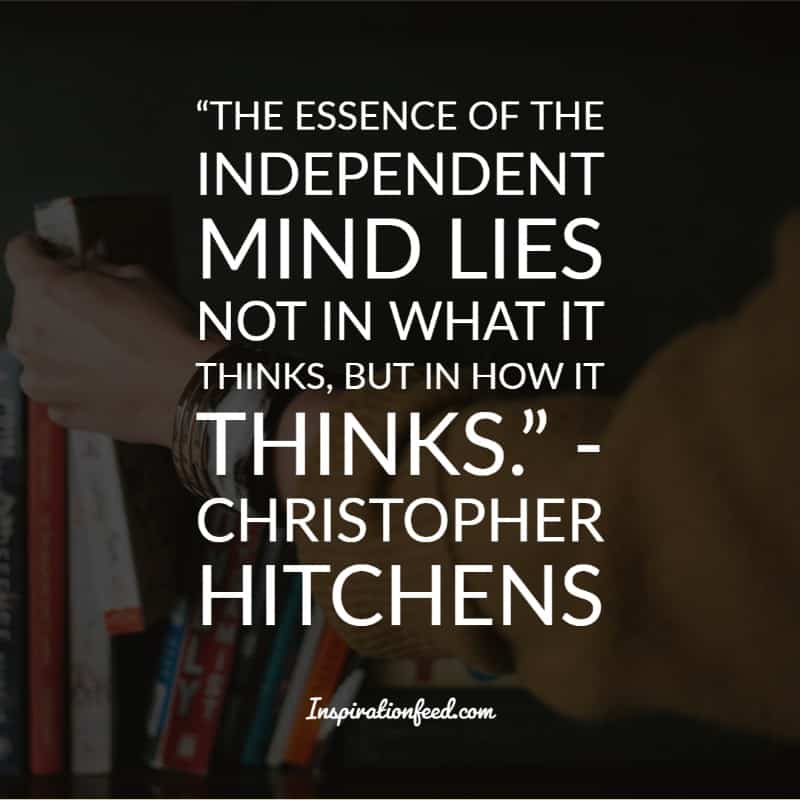 "The essence of the independent mind lies not in what it thinks, but in how it thinks." – Christopher Hitchens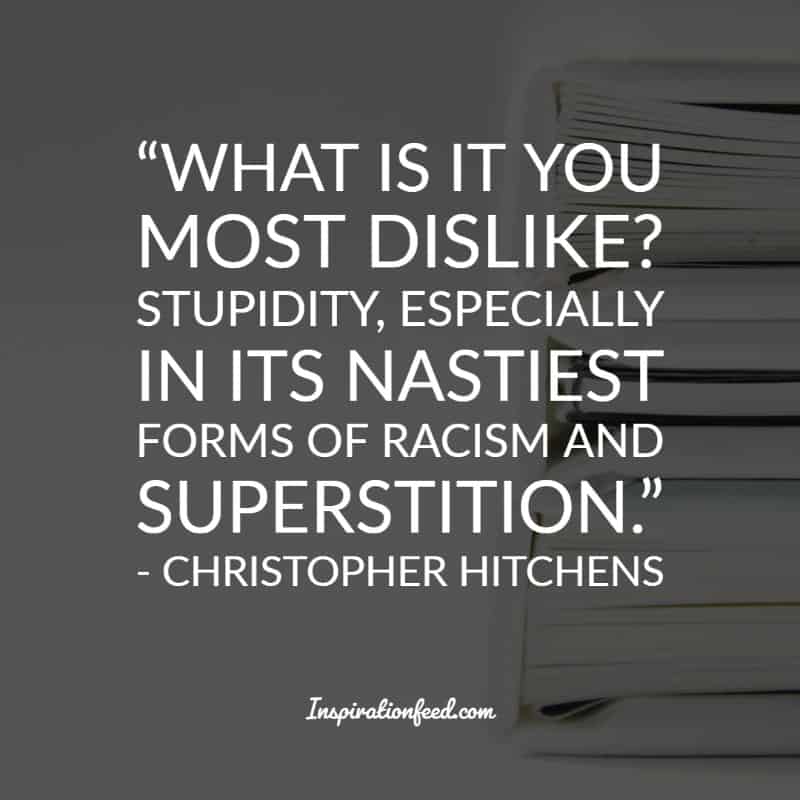 "What is it you most dislike? Stupidity, especially in its nastiest forms of racism and superstition." – Christopher Hitchens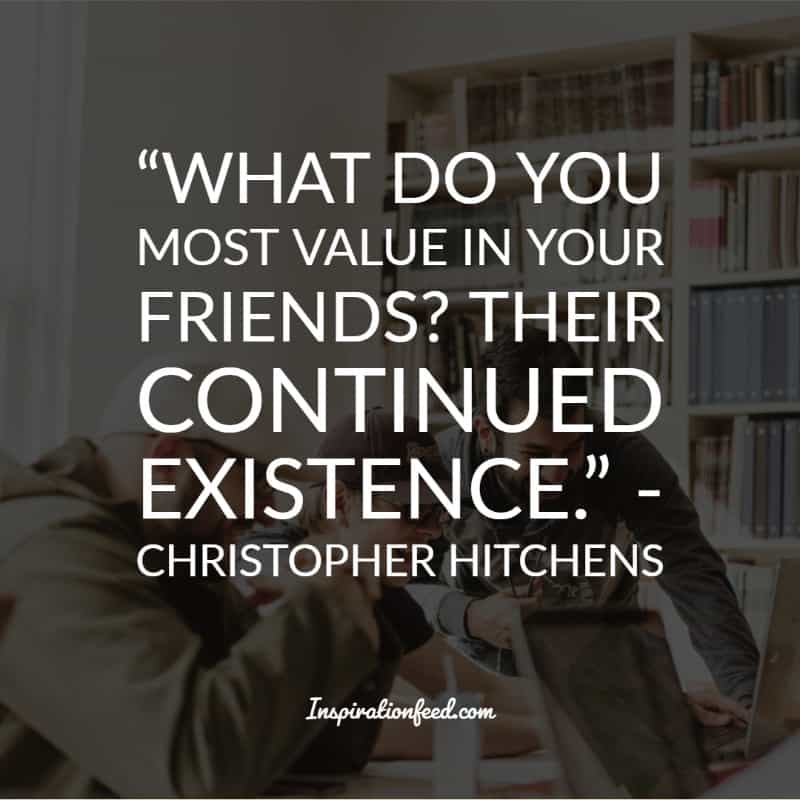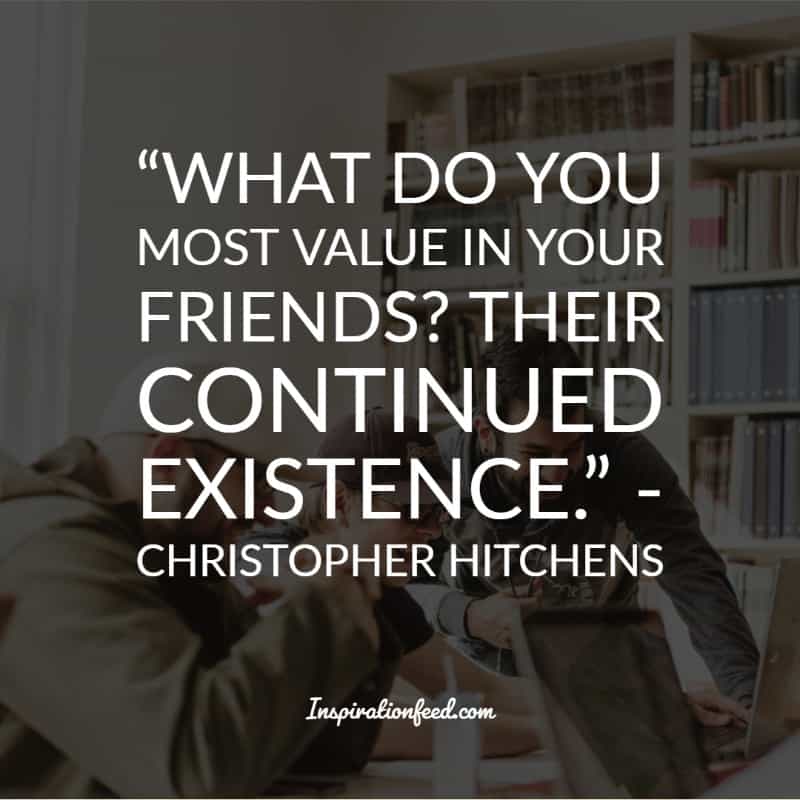 "What do you most value in your friends? Their continued existence." – Christopher Hitchens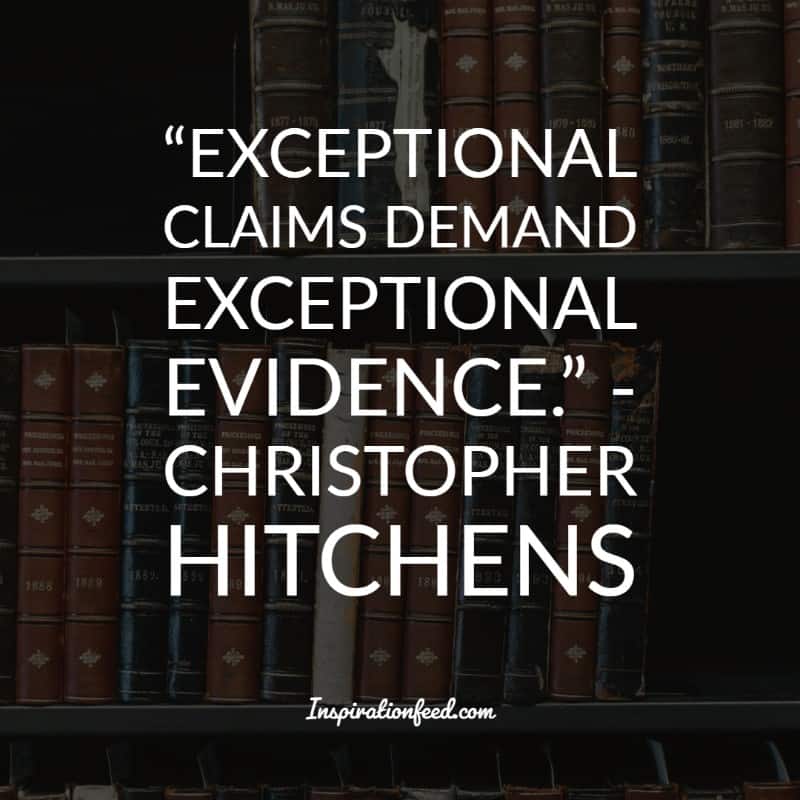 "Exceptional claims demand exceptional evidence." – Christopher Hitchens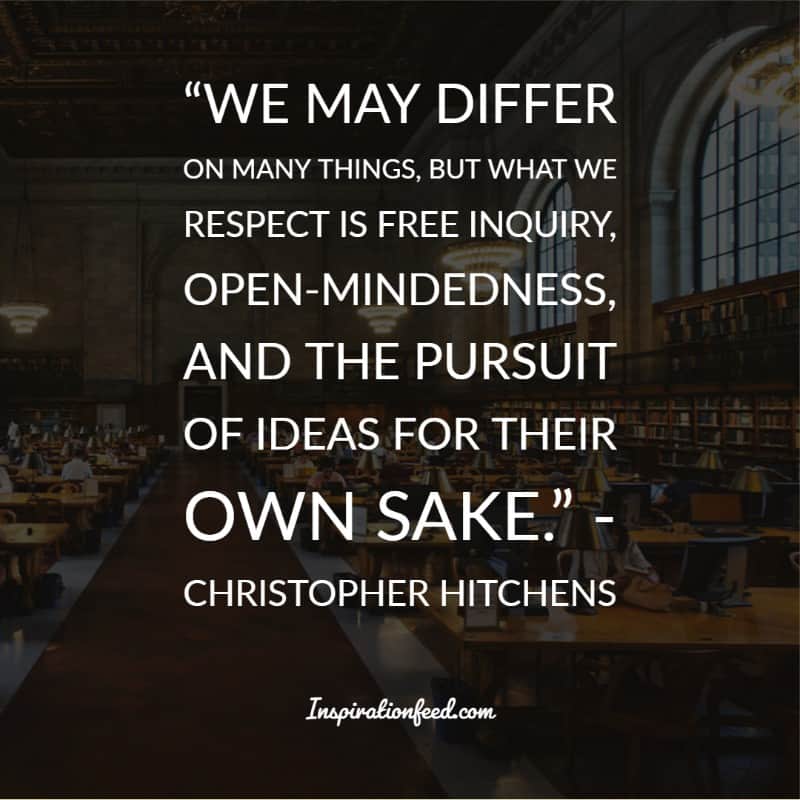 "We may differ on many things, but what we respect is free inquiry, open-mindedness, and the pursuit of ideas for their own sake." – Christopher Hitchens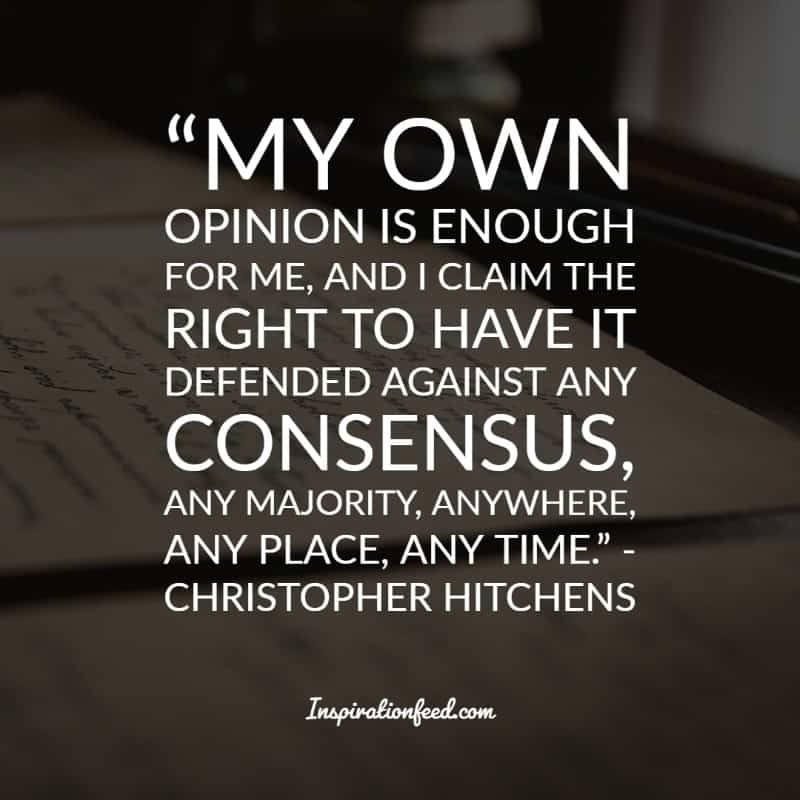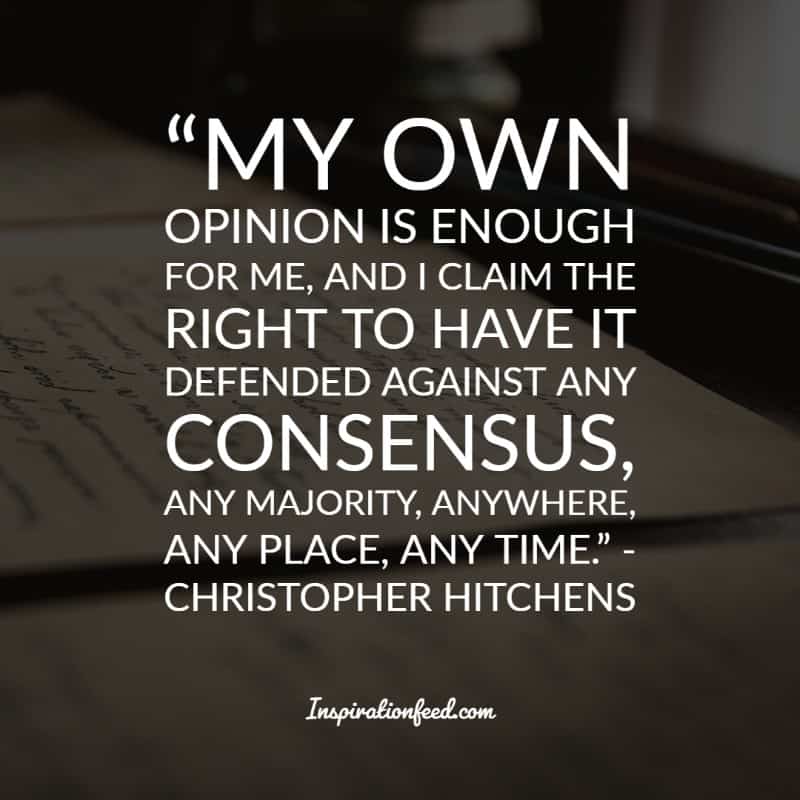 "My own opinion is enough for me, and I claim the right to have it defended against any consensus, any majority, anywhere, any place, any time." – Christopher Hitchens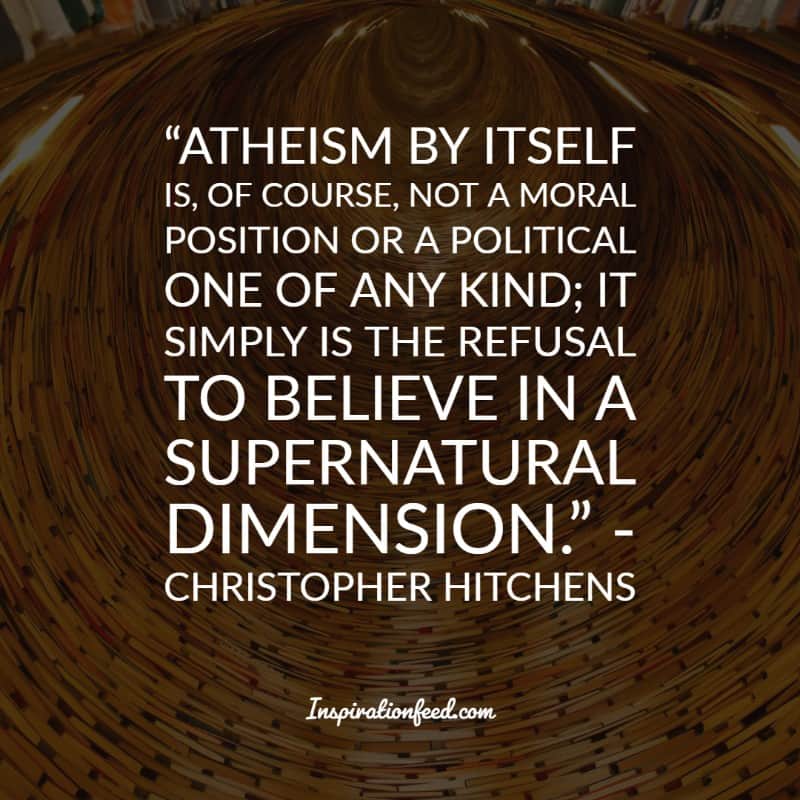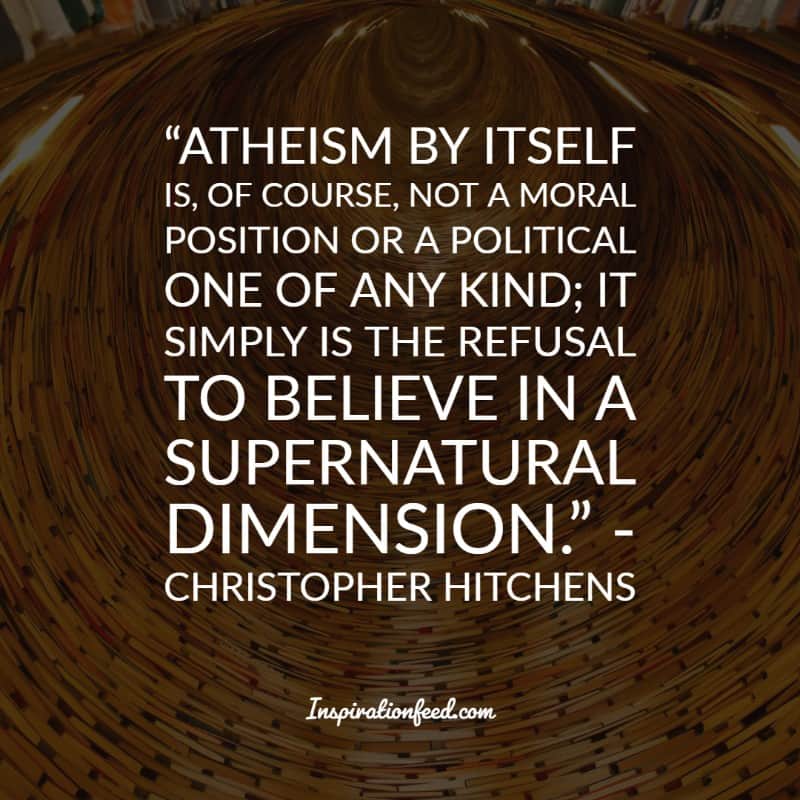 "Atheism by itself is, of course, not a moral position or a political one of any kind; it simply is the refusal to believe in a supernatural dimension." – Christopher Hitchens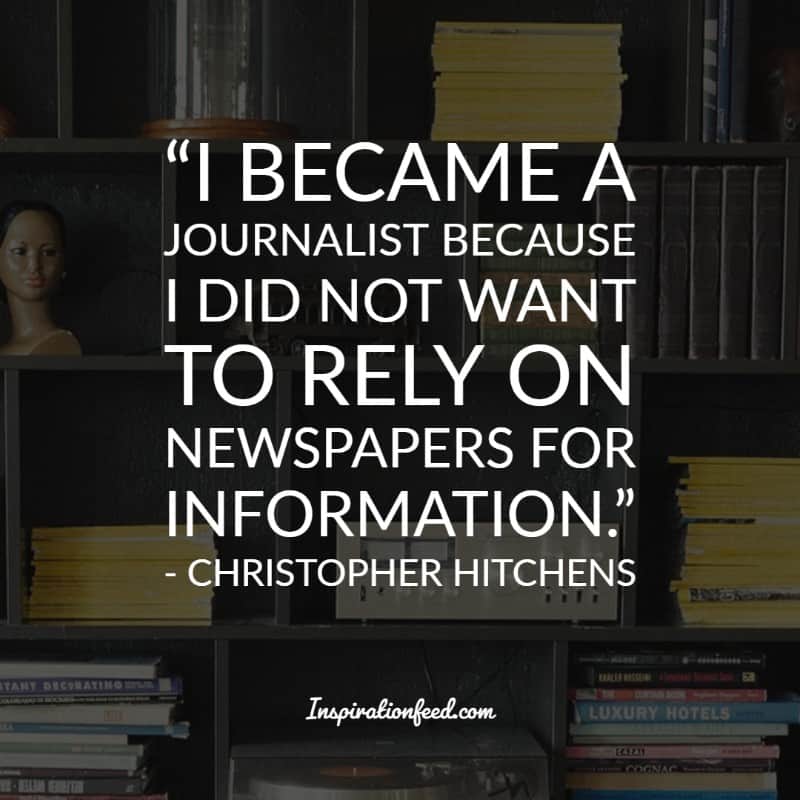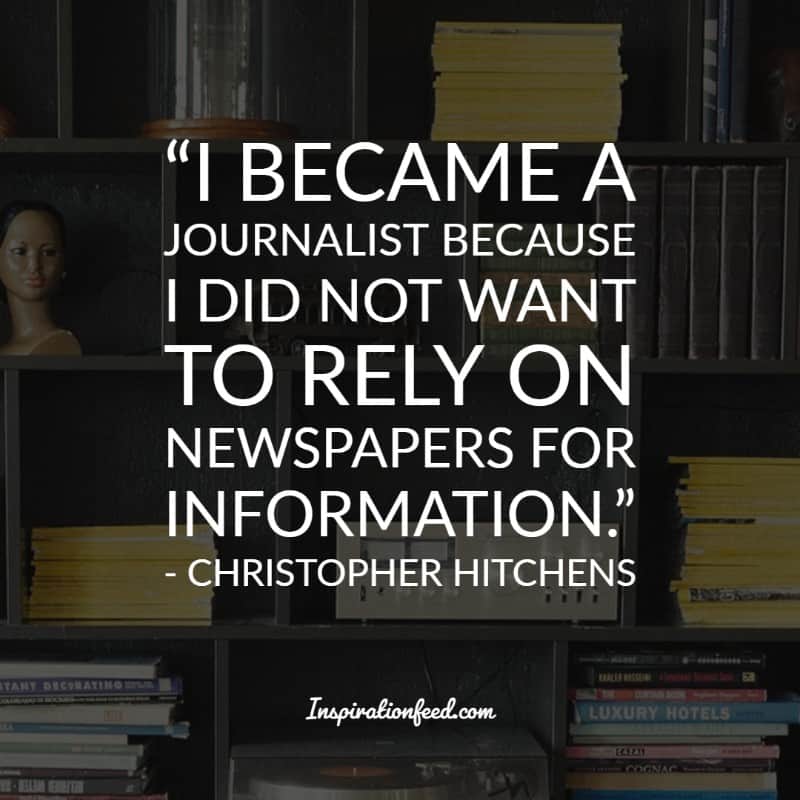 "I became a journalist because I did not want to rely on newspapers for information." – Christopher Hitchens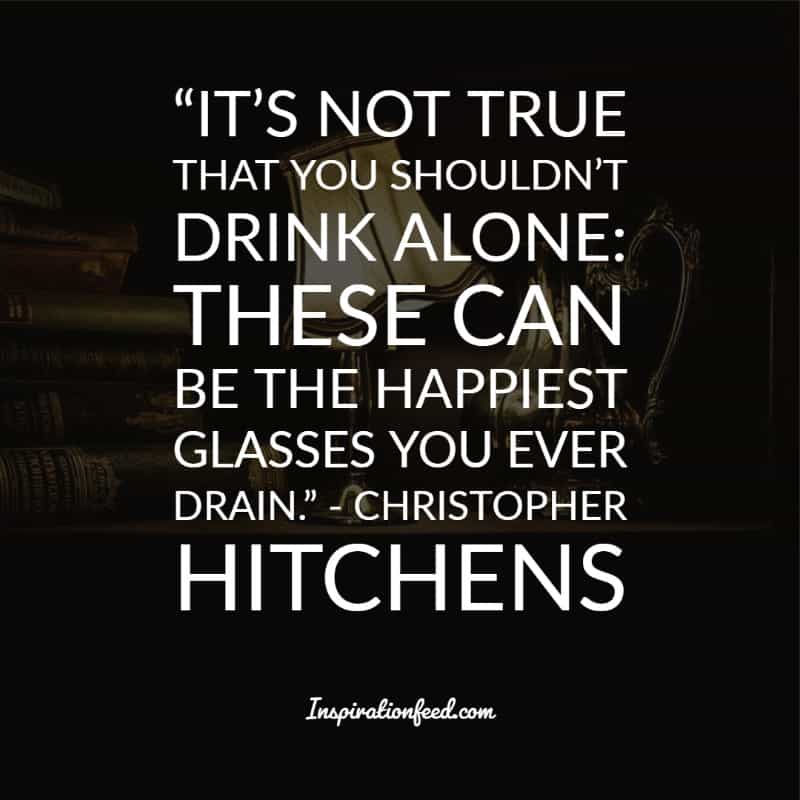 "It's not true that you shouldn't drink alone: these can be the happiest glasses you ever drain." – Christopher Hitchens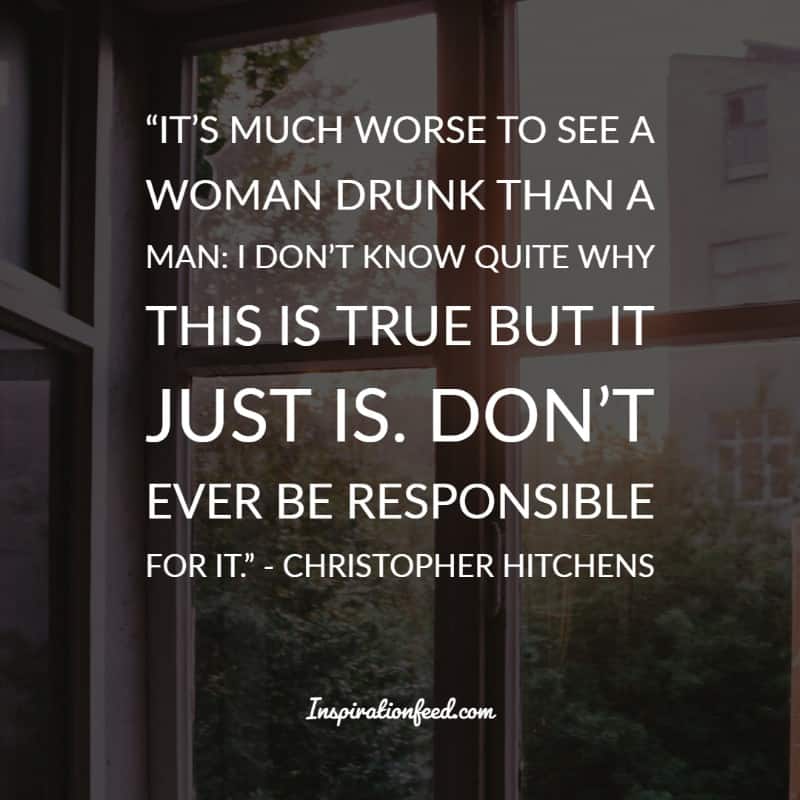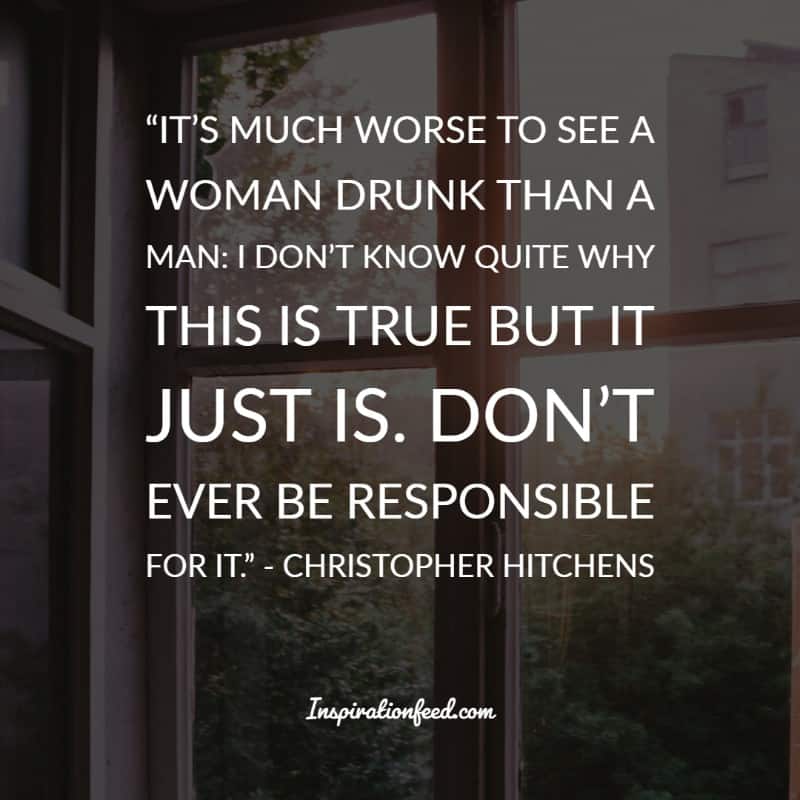 "It's much worse to see a woman drunk than a man: I don't know quite why this is true but it just is. Don't ever be responsible for it." – Christopher Hitchens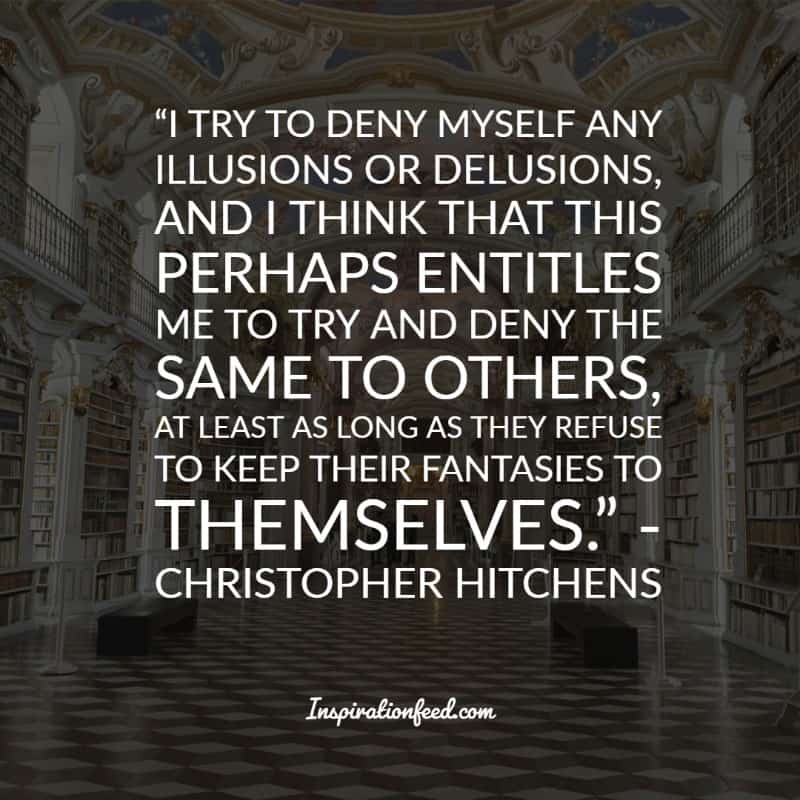 "I try to deny myself any illusions or delusions, and I think that this perhaps entitles me to try and deny the same to others, at least as long as they refuse to keep their fantasies to themselves." – Christopher Hitchens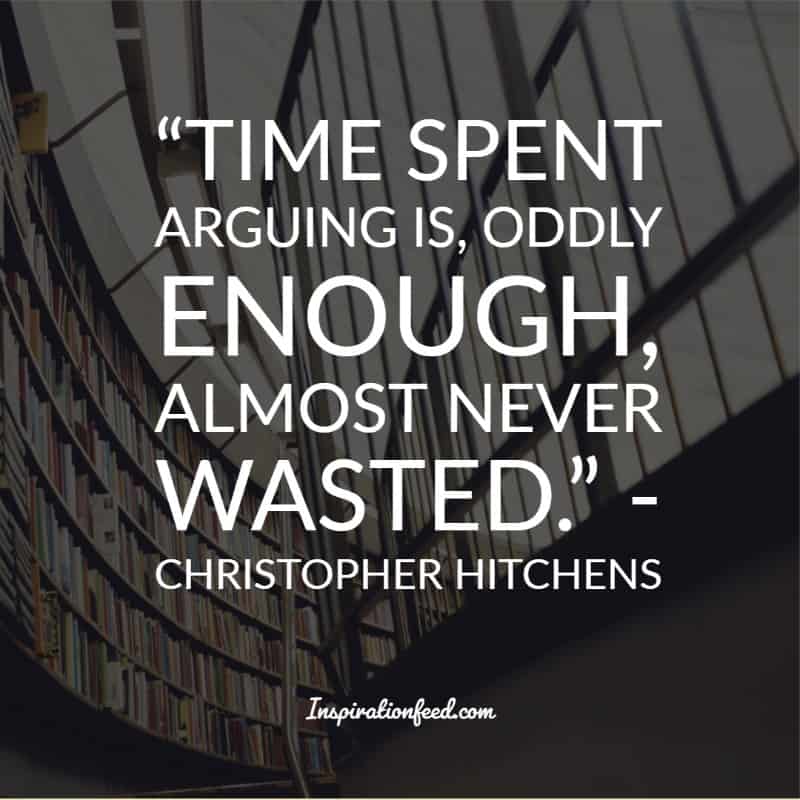 "Time spent arguing is, oddly enough, almost never wasted." – Christopher Hitchens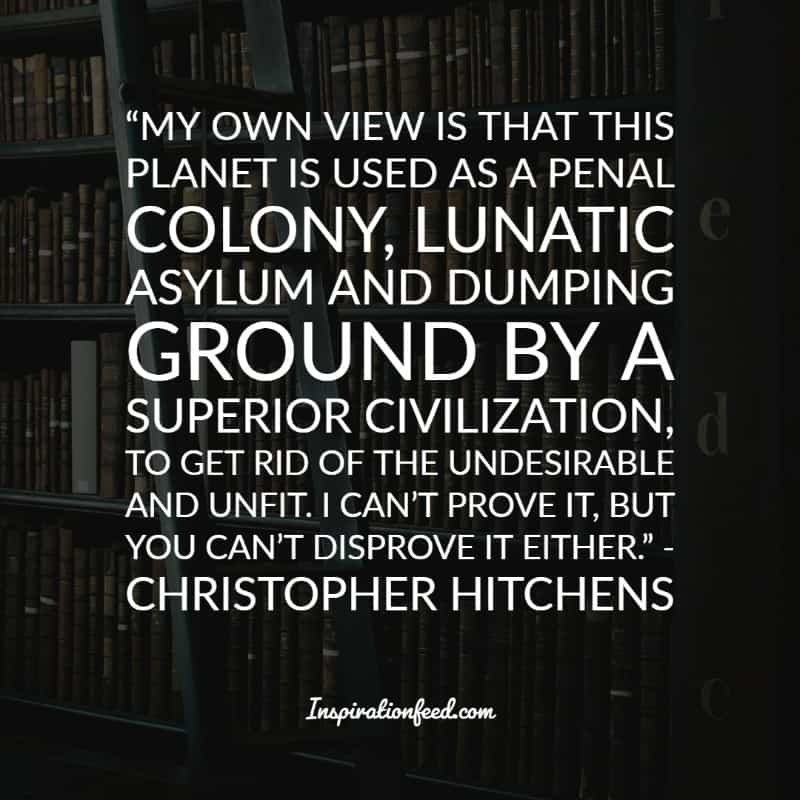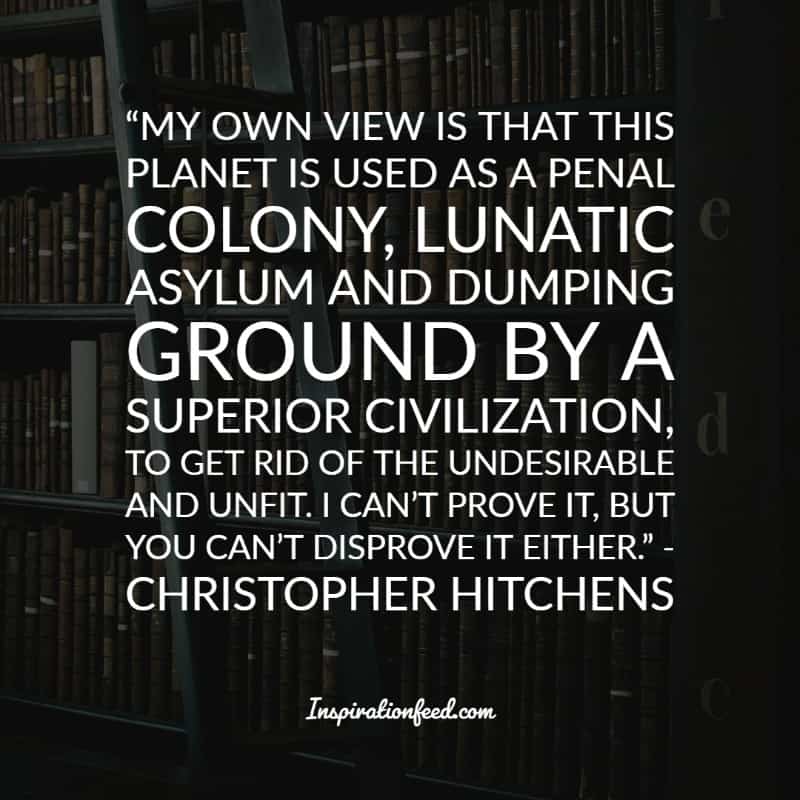 "My own view is that this planet is used as a penal colony, lunatic asylum and dumping ground by a superior civilization, to get rid of the undesirable and unfit. I can't prove it, but you can't disprove it either." – Christopher Hitchens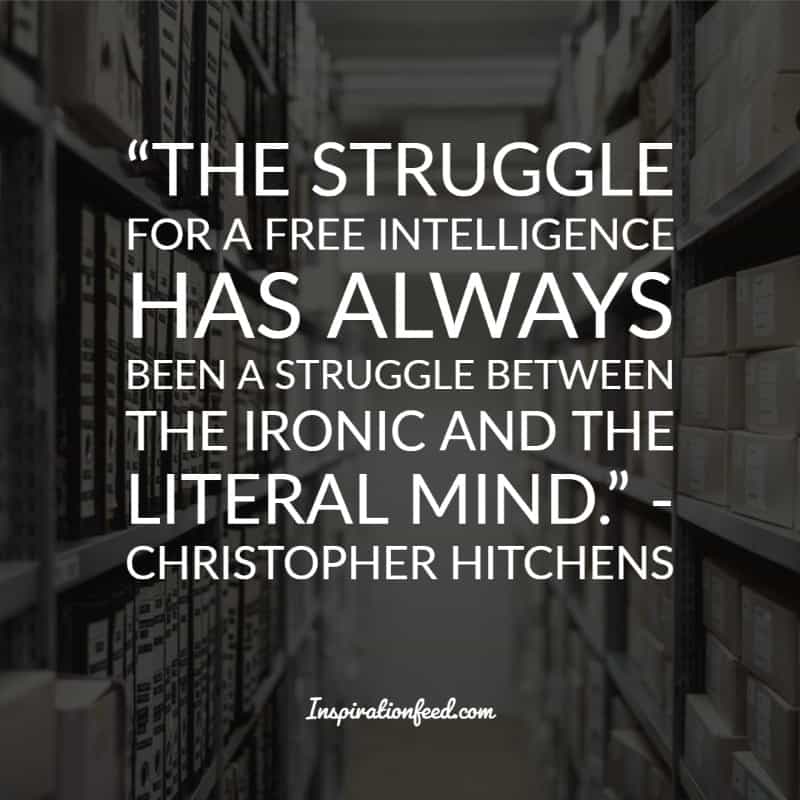 "The struggle for a free intelligence has always been a struggle between the ironic and the literal mind." – Christopher Hitchens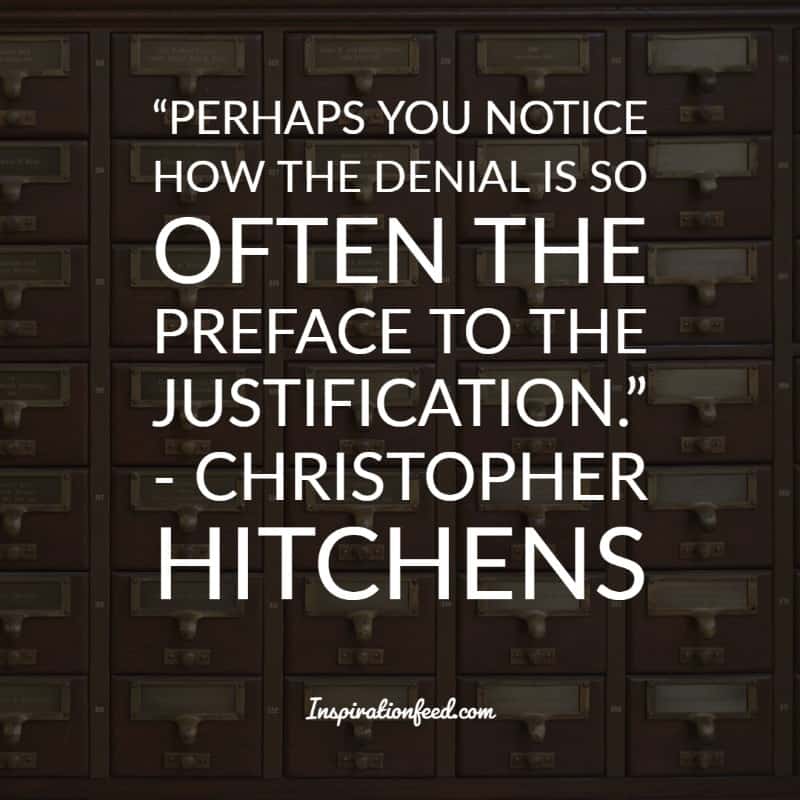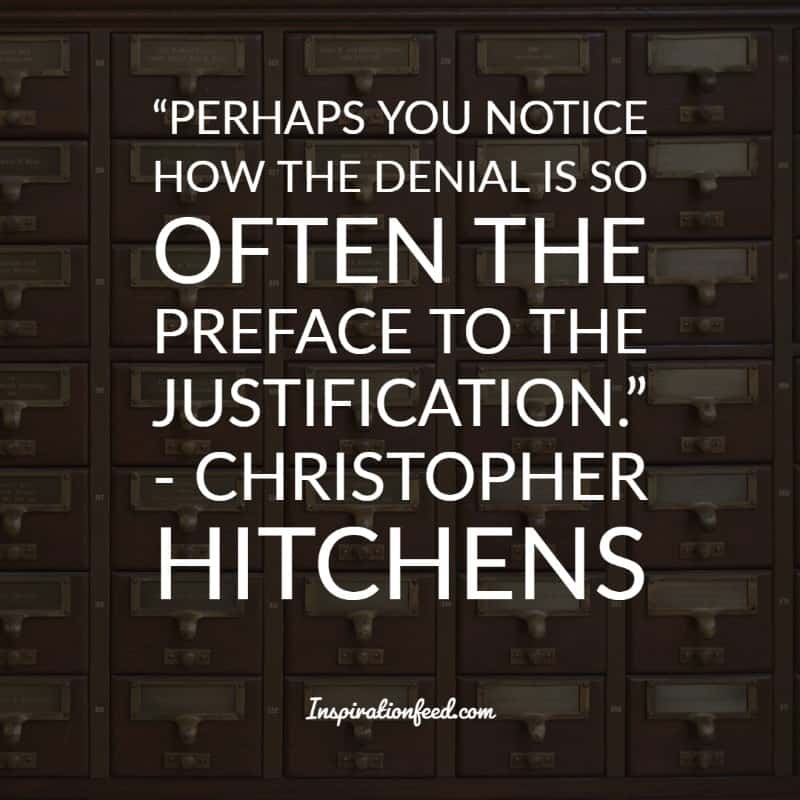 "Perhaps you notice how the denial is so often the preface to the justification." – Christopher Hitchens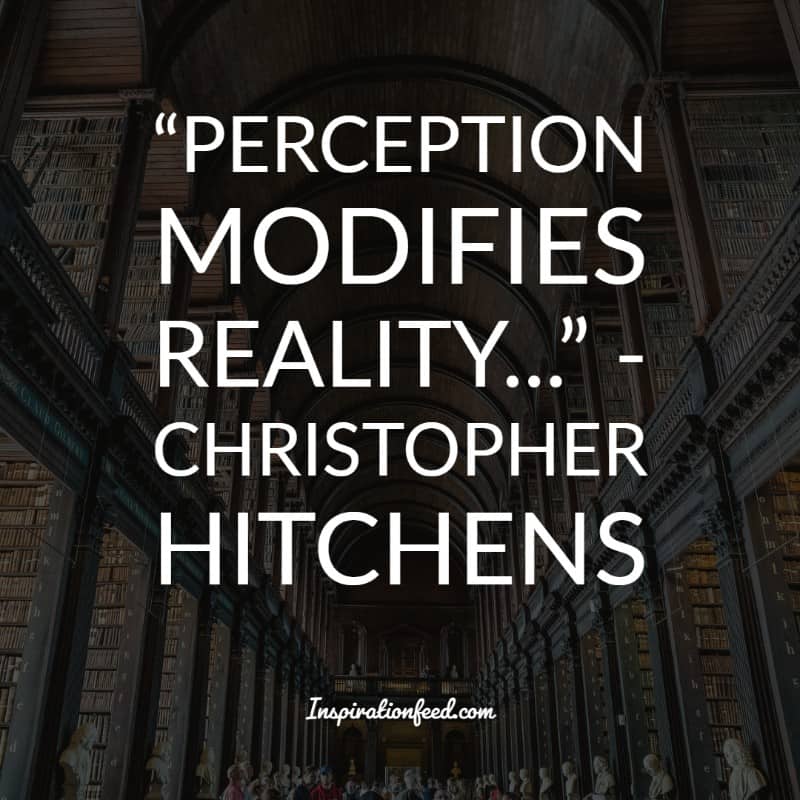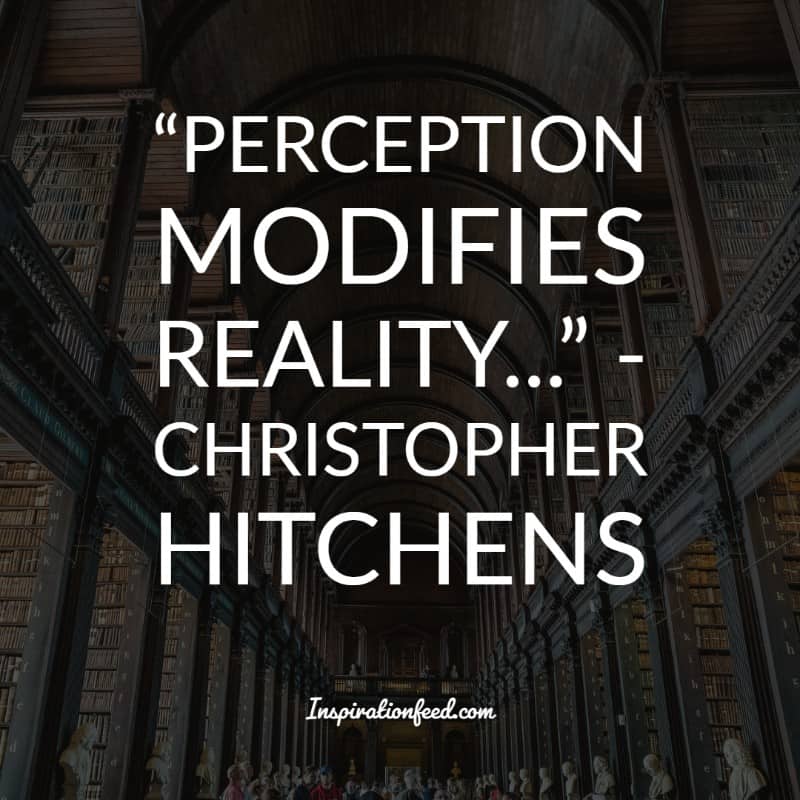 "Perception modifies reality…" – Christopher Hitchens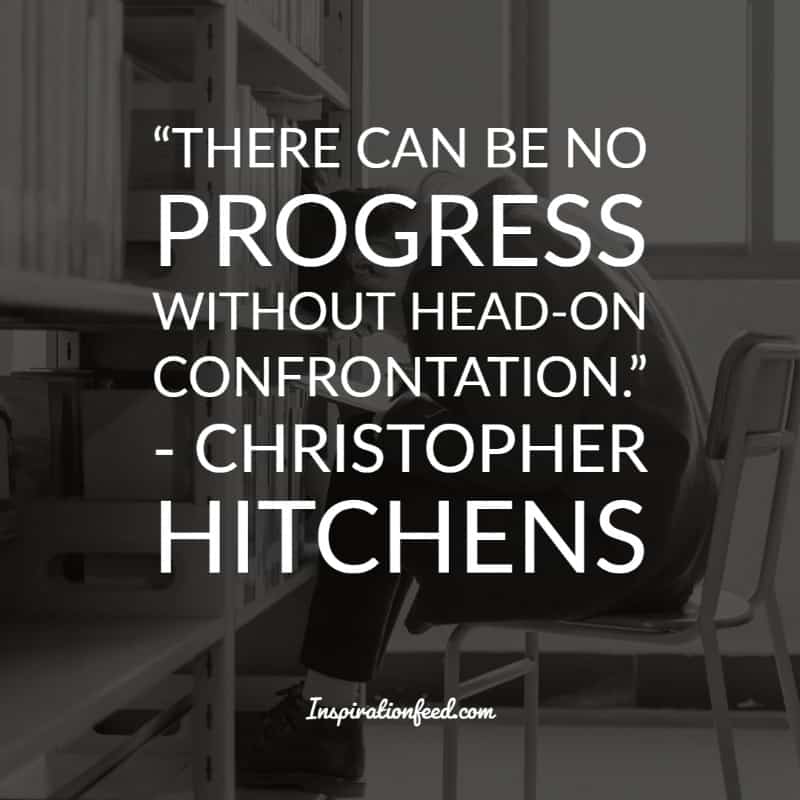 "There can be no progress without head-on confrontation." – Christopher Hitchens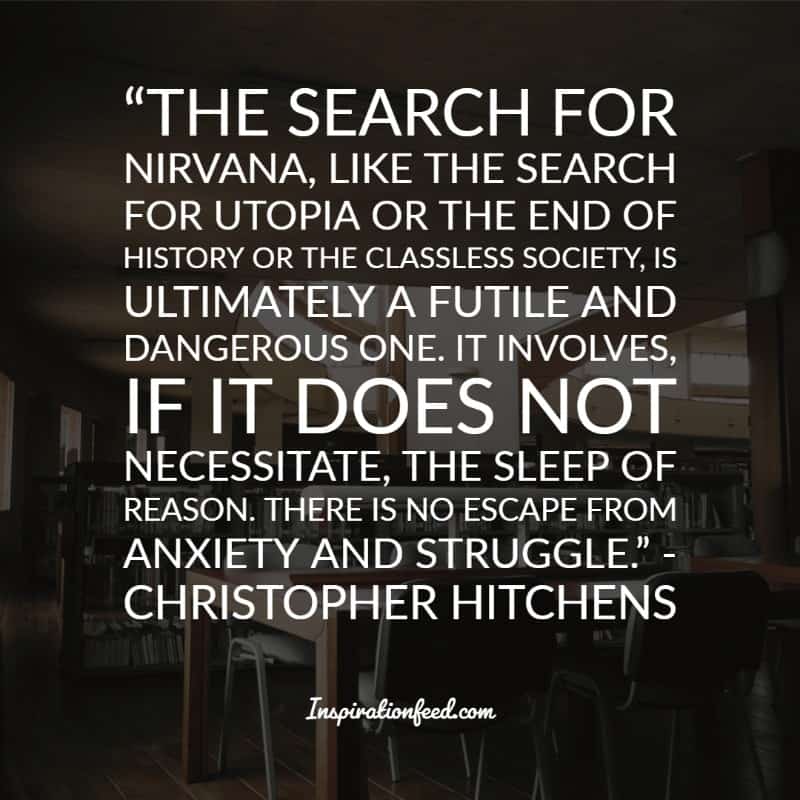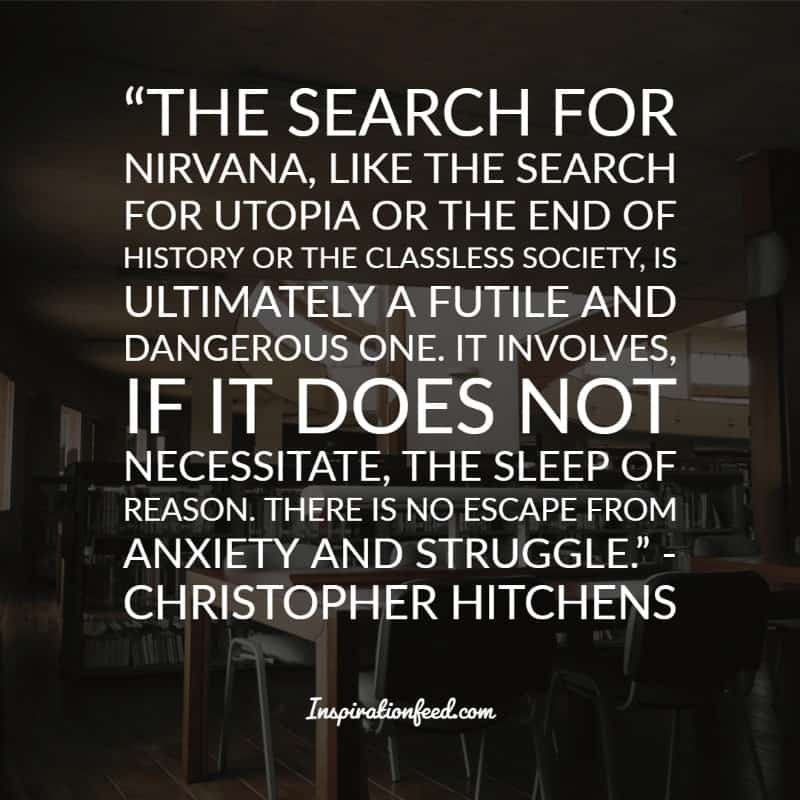 "The search for Nirvana, like the search for Utopia or the end of history or the classless society, is ultimately a futile and dangerous one. It involves, if it does not necessitate, the sleep of reason. There is no escape from anxiety and struggle." – Christopher Hitchens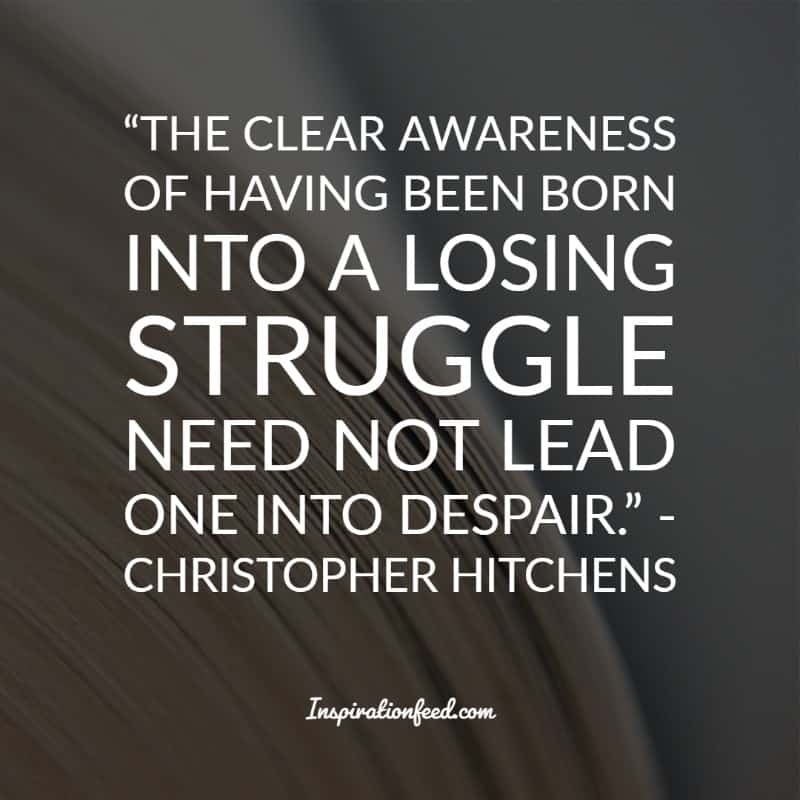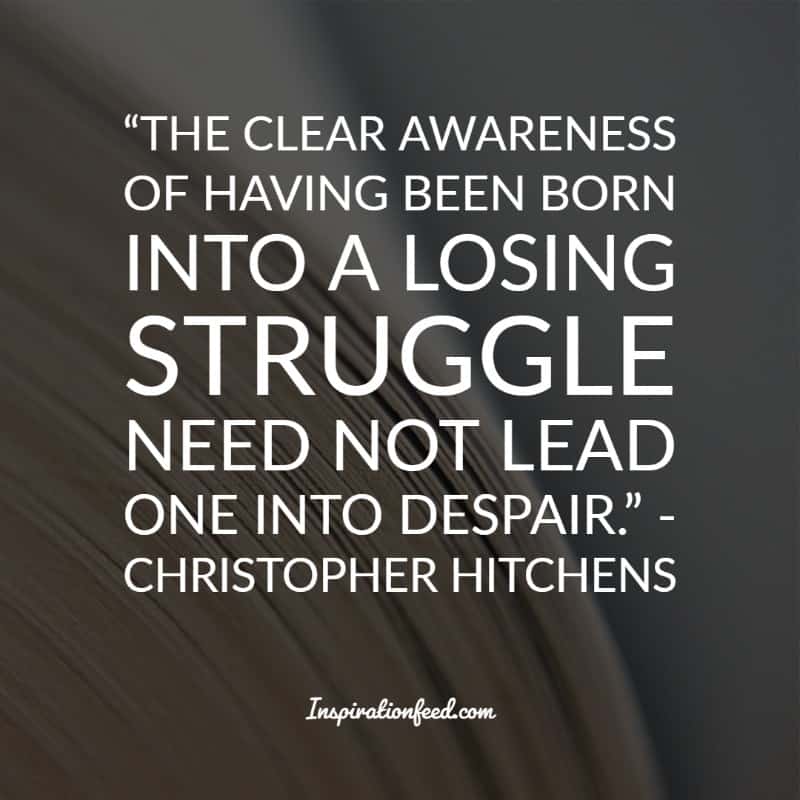 "The clear awareness of having been born into a losing struggle need not lead one into despair." – Christopher Hitchens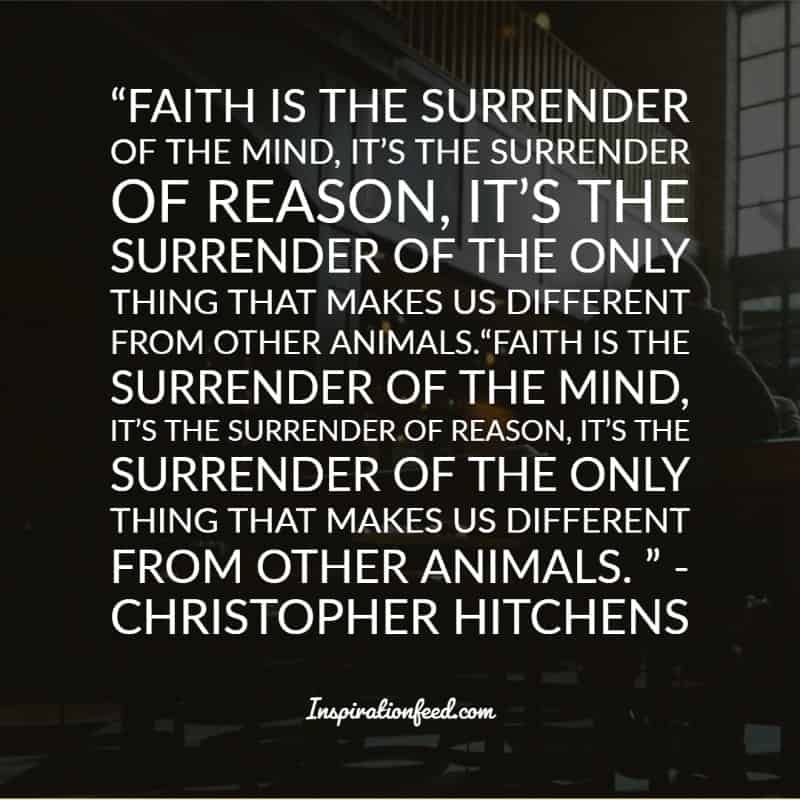 "Faith is the surrender of the mind, it's the surrender of reason, it's the surrender of the only thing that makes us different from other animals."Faith is the surrender of the mind, it's the surrender of reason, it's the surrender of the only thing that makes us different from other animals. " – Christopher Hitchens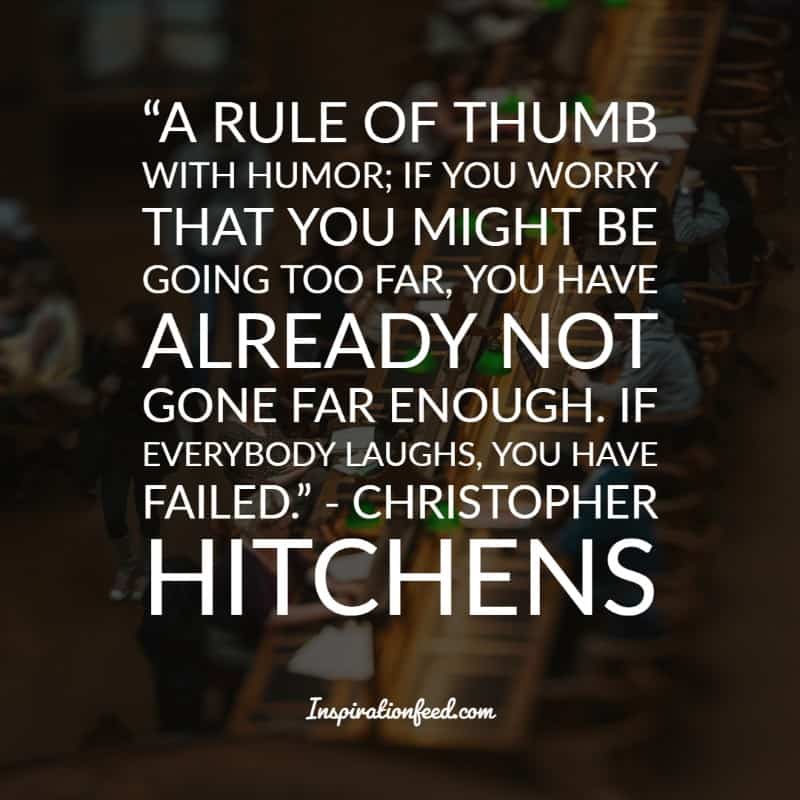 "A rule of thumb with humor; if you worry that you might be going too far, you have already not gone far enough. If everybody laughs, you have failed." – Christopher Hitchens