Last Updated on January 20, 2022
Who Is Colin Kaepernick?
Colin Rand Kaepernick is an American football quarterback who is currently a free agent, as well as a political and civil rights activist.

Prior to becoming a free agent, Kaepernick played six seasons for the National Football League (NFL)'s club, San Francisco 49ers.

As an activist, Colin is best known for kneeling during the playing of the U.S national anthem at the beginning of NFL games in protest of police brutality and racial discrimination in the United States.
Quick Facts
| | |
| --- | --- |
| Full Name: | Colin Rand Kaepernick |
| Popular Name: | Colin Kaepernick |
| Gender: | Male |
| Birth Date: | November 3, 1987 |
| Age: | 34 years |
| Parents: | Heidi Russo, biological father unknown |
| Siblings: | Kyle Kaepernick (stepbrother) and Devon Kaepernick (stepsister) |
| Birth Place: | Milwaukee, Wisconsin |
| Nationality: | American |
| Ethnicity: | African-American and Italian |
| Education: | John H Pitman High School and University of Nevada – Reno |
| Marital Status: | Unmarried |
| Sexual Orientation: | Straight |
| Wife/Spouse: | N/A |
| Children: | None |
| Dating: | Nessa Diab |
| Net Worth: | USD 20 million (as of December 31, 2020) |
| Source of Wealth: | Football Salary, Endorsement Deals, Activism, and Other Ventures |
| Height: | 6′ 4″ (1.93 m) |
| Weight: | 104 kg; In pounds: 230 lbs. |
Early Life and Career Information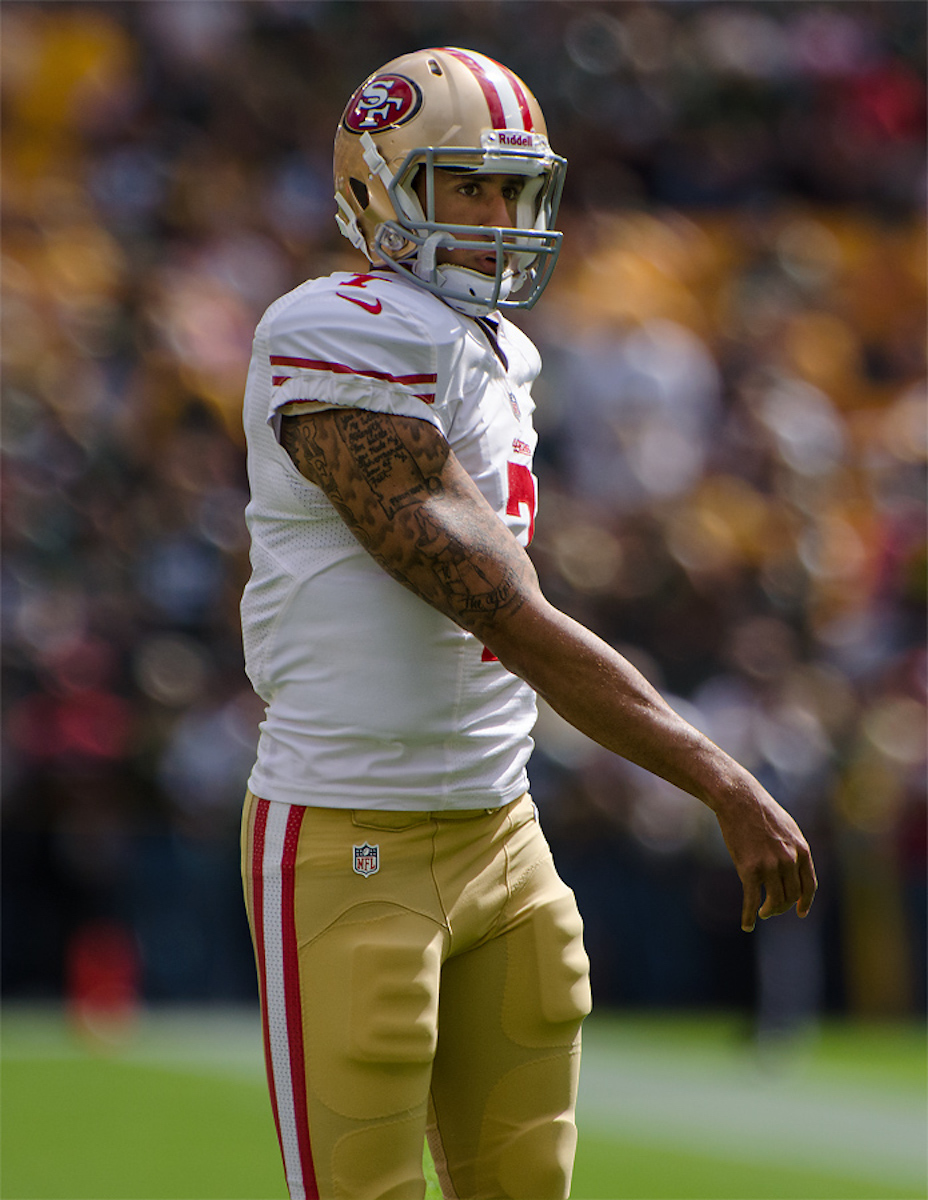 Colin Kaepernick was born on November 3, 1987, in Milwaukee, Wisconsin, to an African-American father and Heidi Russo, a white mother of Italian descent. Colin's father separated from his mother before Colin was born, forcing his mother to place him for adoption. He was adopted by Rick Kapernick and Teresa Kaepernick when he was only five weeks old.

Colin Kaepernick started playing American football as a defensive end and punter when he was eight years old. At the age of nine, he became the starting quarterback for his youth team.

During high school, Kaepernick was able to inspire the school to its first-ever playoff victory. He also had interests in other sports, including basketball and baseball. As a matter of fact, most of Kaepernick's high school accolades came from baseball, where he played as a pitcher.

After graduating from high school, Colin Kaepernick decided to focus on football. He joined the University of Nevada – Reno in February 2006 on a football scholarship.

Kaepernick continued to hone his football playing talents and became the fifth player in the history of National Collegiate Athletic Association (NCAA) to pass for 2,000 yards as well as rush for at least 1,000 yards in one season. He also became the second sophomore to win the Western Athletic Conference (WAC) Offensive Player of the Year award after Marshall Faulk of San Diego State in 1992.

In 2009, Colin Kaepernick was drafted by the Chicago Cubs in the 2009 Major League Baseball (MLB) Draft. However, he turned down the offer and chose to continue playing football at the University of Nevada.

On April 29, 2011, Kaepernick was picked by the San Francisco 49ers in the second round at the 2011 NFL Draft, emerging 36th overall. He played for the club until 2016 when he became a free agent.

In the San Francisco 49ers' third preseason game in 2016, Colin Kaepernick shocked everyone when he sat down instead of standing during the playing of the U.S national anthem. The move was a protest against police brutality, racial inequality, and other forms of systematic oppression in the country. For the remainder of the 2016 season, he chose to protest these injustices by kneeling down instead of standing during the playing of the national anthem.

As of the time of writing, Kaepernick has not signed to any NFL club since he became a free agent, a fact that many pundits attribute to his political activism.

However, Colin Kaepernick's efforts haven't gone unnoticed. He is the recipient of numerous awards and accolades, both for his performance as a football player and activist. Some of those awards include:

• The 2017 GQ Magazine Citizen of the Year award,
• The 2017 Sports Illustrated Muhammad Ali Legacy award,
• The 2017 American Civil Liberties Union Eason Monroe Courageous Advocate award,
• The 2017 Puffin/Nation Prize for Creative Citizenship honoree,
• The 2018 Amnesty International Ambassador of Conscience award,
• The 2018 Harvard University W. E. B. Du Bois Medal, and
• The 2020 Ripple of Hope award from the Robert F. Kennedy Center for Justice and Human Rights
Colin Kaepernick's Net Worth
Colin Kaepernick has not played competitive football since he became a free agent in 2016. However, he still enjoys an impressive net worth.

As of December 31, 2020, Kaepernick had a net worth of $20 million. He has earned much of his wealth from football, a majority of which came during his six seasons in the NFL where he earned slightly over $43 million in pretax salary.

Before leaving the San Francisco 49ers, Colin Kaepernick was one of the league's highest-paid players. His salary for the 2016 season was a whopping $14.3 million.

Kaepernick is also remembered for signing one of the most record-breaking deals in NFL history. In June 2014, he signed a 7-year extension deal with the San Francisco 49ers, through which he would have earned up to $126 million and an additional $61 million in potential guarantees. The extension also included a $12.3 million signing bonus, as well as a salary of $640,000 for the upcoming season.

However, Kaepernick had not cashed in on the full amount of the deal by the time he left the 49ers. Apparently, the $12.3 million signing bonus and the $640,000 salary were the only guaranteed aspects of the deal. According to the terms of the contract, Colin would only earn $61 million in potential guarantees if he suffered a career-ending injury. The terms of the deal also stipulated that Colin's base salary would go down $2 million each year he failed to make the first or second All-Pro team. Nonetheless, the deal was historic in its own right.

Endorsement deals is another notable income channel for Colin Kaepernick. He has maintained a healthy working relationship with Nike since he signed his first deal with the company in 2011.
Lessons from Colin Kaepernick
1. Focus on one ambition at a time

During his high school years, Colin Kaepernick was involved in several sports, including football, baseball, and basketball. But moving to college, he decided to focus on football, a decision that ended up paying huge dividends.

2. Fight for what you believe in

Colin Kaepernick is arguably the highest-rated football player who is also an outspoken political and civil rights activist. Colin doesn't shy away from calling out social and political injustices. And to demonstrate his seriousness to his cause, Kaepernick successfully sued NFL in 2017, accusing the league's owners of conspiracy to keep him from playing on account of his political activism.

3. Know your worth

In February 2019, Kaepernick reportedly declined to join the Alliance of American Football (AAF) and XFL after both clubs failed to meet his asking price of $20 million per season.
Famous Quotes by Colin Kaepernick
"God has brought me this far. He has laid out a phenomenal path for me. And I can't do anything but thank him."
"Going out on the field frantic isn't going to help you score points. You have to try to lead your team."
"I am not going to stand up to show pride in a flag for a country that oppresses black people and people of color."
"If intimidation is your game plan, I hope you have a better one."
"Something you're aware of being a quarterback coming here-you have expectations, and you want to live up to those."
Conclusion
Colin Kaepernick is undeniably one of the most talented yet controversial NFL players. He may not have landed a serious team since he became a free agent in 2016. But in the meantime, Kaepernick continues to inspire change in the political and social spheres through his relentless pursuit for justice and racial equality.